Bangkok, November 19, 2020 – I didn't quite expect to be munching, and enjoying, a mouthful piece of tortilla wrapped with red chicken curry when it comes to eating lunch at a Thai restaurant. Nor did I expect the whole meal to be starting with a green 'amuse-bouche' of chive or 'Gui Chai' crackers, the pieces that we bumped cheers with each other before dunking them into the luscious dark and spicy soy sauce dip! Front Room at Waldorf Astoria Bangkok has reopened since November 6, 2020. This time, they bring back memories of Thai home-cooking, the delicious tastes of mother's secret recipes, and somehow I found their foods steeped with unique characters and flavours of their own.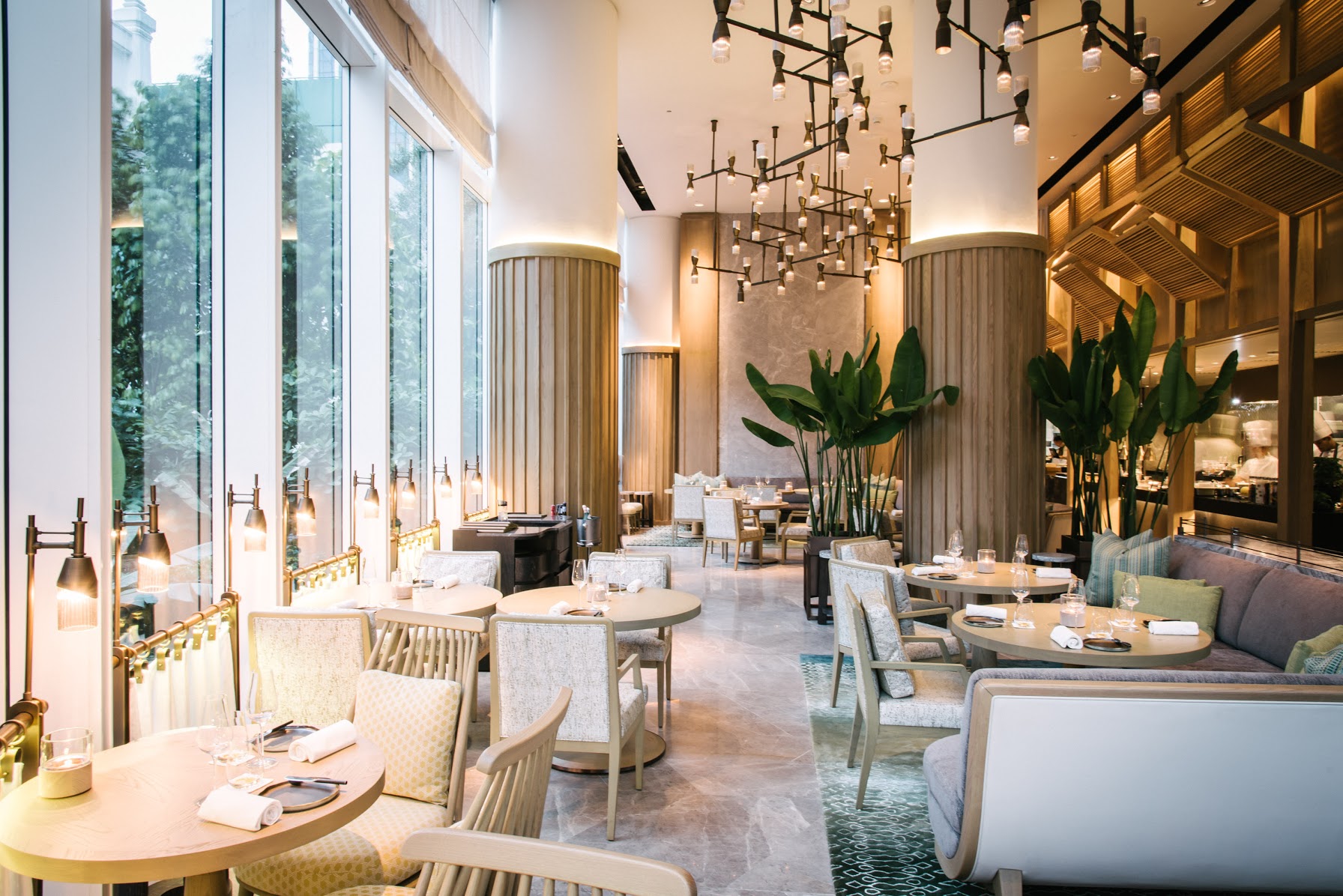 Above: The bright vibes at Front Room, the lower lobby at Waldorf Astoria Bangkok. The restaurant is open for both lunch and dinner. 
Above: The chive or Gui Chai (in Thai) crackers as the amuse-bouche served with dark and spicy soy sauce. A part of the set lunch. 
Now in Thailand, there are no cuisines facing a bigger wave of renaissance than the Thai one. Look around and you will see myriads of Thai food reincarnations – from street foods to single-dish signatures and so on. But then again, Thai food carries with it a lot of tastes, flavours, and characters. The usual combinations of herbs, spices, or even different kinds of typical and staple condiments such as shrimp paste กะปิ and fish sauce น้ำปลา, or palm sugar น้ำตาล, distinguish one identical Thai dish from one another. And if you count the memories, the eating backgrounds, the homes each of us was brought up in, there you go! More varieties, more fun, more dishes we can always talk and ponder about.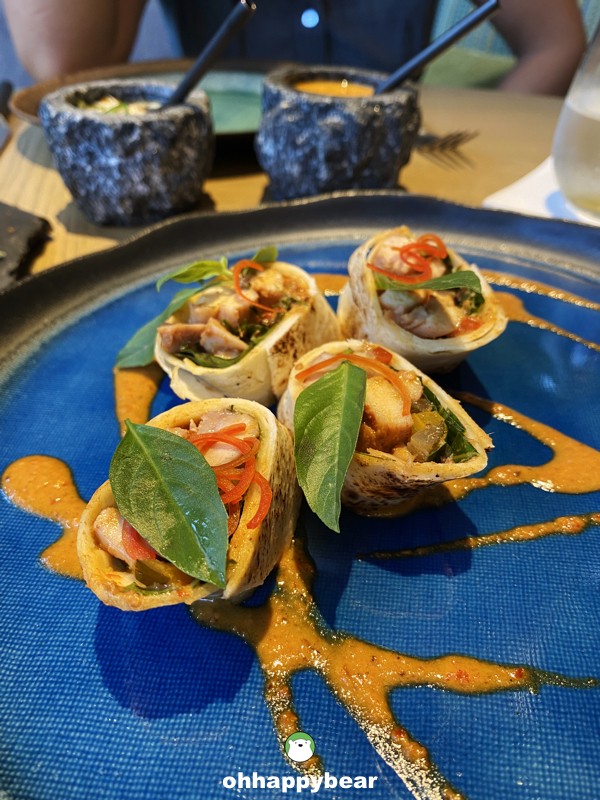 Above: The tortilla-wrapped red chicken Penang curry as part of the set lunch's nibbles!
"Thai foods have not just one or two or three tastes, but as much as eight to ten," Dr. Niphatchanok (Ajarn Ning) Najpinit, one of Thailand's leading Thai culinary figures, once told me in a conversation. "Our foods are never just salty or sweet, or spicy, or sour, we have other elements that make each bite bright and, at the same time, well-rounded and delicious. Also, our cooking involves a lot of tasting. Different condiments make a dish different, and tasting on the go or tasting each condiment before cooking is always crucial!"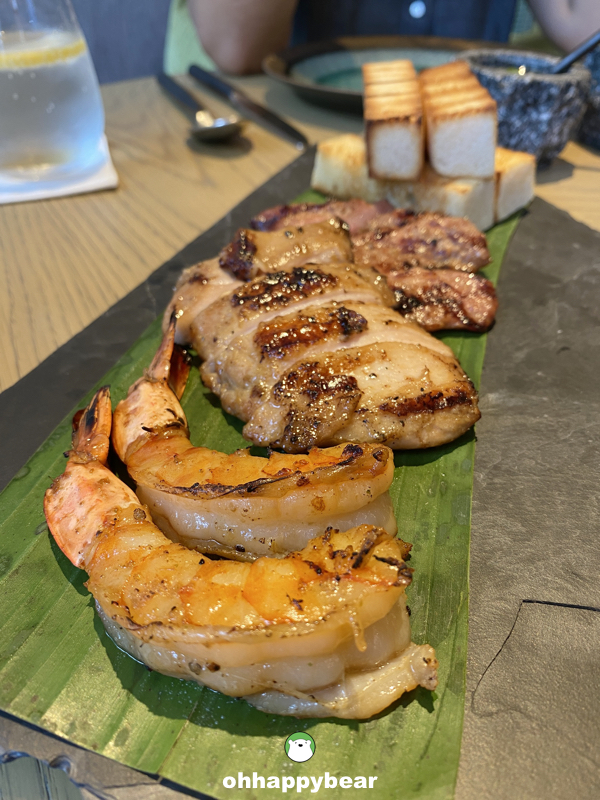 Above: Another nibble of 'Ruammit Yang' with marinated chicken, prawns, and pork juicily grilled and served with red minced pork curry sauce and pineapple relish.   
Ajarn Ning and Chef Supanat (Ann) Khanarak acted as consultants at Front Room during the whole time of the restaurant's hiatus. They worked together with Waldorf Astoria Bangkok's chef team led by Sous Chef Sarocha (Bua) Rajatanawin and the original team of Front Room whose impeccable cooking in fine dining was still pretty much there. The 'reopened' Front Room, while paying homage to many of the Thai old recipes, has created a lot of new and unique deliciousness of their own. For me, this is like eating the foods cooked by a niece or nephew of a well-groomed Thai family, culinary-wise at least.
Above: A main dish from set lunch – Kurubota pork belly with pickled garlic and home-fermented black garlic sauce. 
We were there for a set lunch and some other good-looking a la carte dishes. The launching set lunch is THB900++ per person for 8 different dishes: one amuse-bouche, two nibbles, three main courses, one dessert, and one fruit platter. A great value! Two of us shared a set lunch, and one of us ordered from a la carte. It was a wholesome, delicious, and also eye-opening meal. P.S. Set lunch can be done for a single diner, too, just FYI!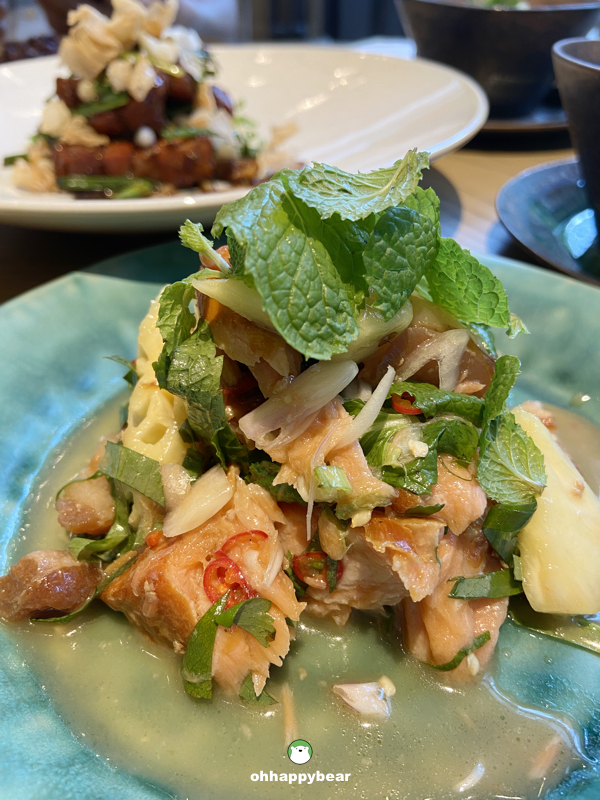 Above: Another main dish of house-smoked trout salad with sweet pork belly and Phuket pineapple!
New cooking methods on old dishes, new combinations and careful selections of ingredients are what make Thai dishes at Front Room different from others. Apart from munching on the chive crackers, imagine digging into the all-time favourite like a plate of stinky beans with seafood. Sator, or the stinky bean, is reincarnated with not the staple of shrimp paste into yet another Sator Pad Kapi สะตอผัดกะปิ that we all know and love, but with a homemade XO sauce (made from dried scallops and toasted chillies), and toast-fried with a distinguished smokiness not with just the shrimps, but also squid, creating a new texture. This, by far, is what I craved most when it comes to all dishes at Front Room. The dish is delicious, spicy with all the aromas of different chillies, and the XO sauce, while being too Chinese in name, brings a whole new flavour profile to this dish! Well-done!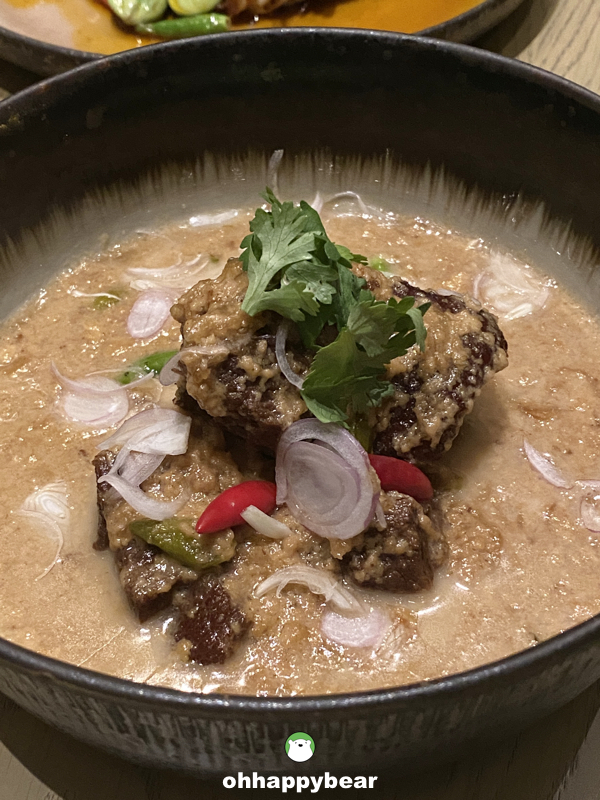 Above: Another main dish from set lunch (this picture taken from an a la carte order) of stewed beef in coconut milk. 
Their 'Neur Tom Kati' or beef stewed in coconut milk is in a different league of their own. While this is a staple dish when it comes to the old Thai recipes, the cooking method here pays serious homage to the ancient way of curdling the coconut milk. We call it 'Kati Kee Lo' กะทิขี้โล้ when the coconut cream, or Hua Kati หัวกะทิ, or the coconut milk that is milked without any addition of water, is slowly simmered until it breaks into oil, its fat creamed and curdled and caramelised and aromatic beyond imagination. It was then that the tenderly stewed beef shank was added, and simmered long until the fresh chillies, added at the same time as the beef, were tendered and released all its sharp aroma. Despite it being around forever in a menu of Thai cuisine, Front Room's recreation makes this soup their unique creation.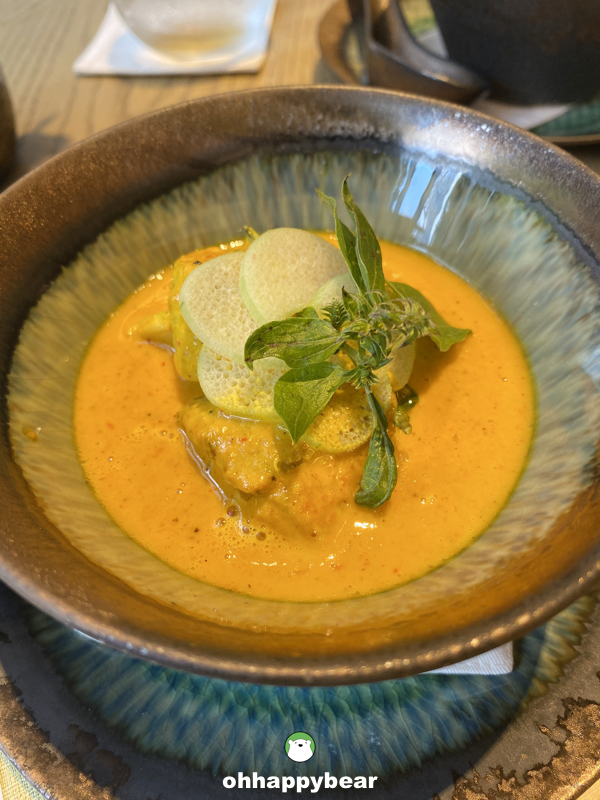 Above: For set lunch, you can opt-out from the beef of the stewed beef coconut to this southern style yellow fish curry.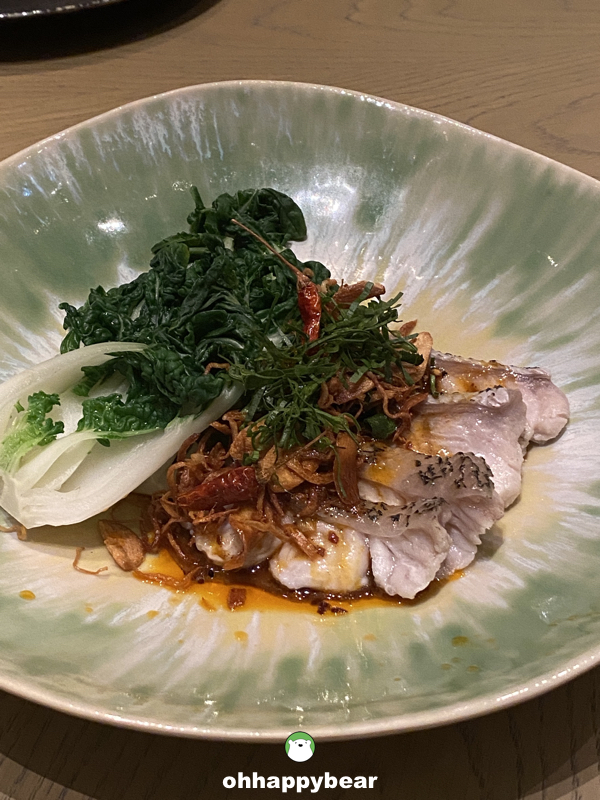 Above: Fish fillets with Makwaen sauce from the a la carte menu. 
Regional condiments are largely applied at Front Room. While Ma Kwaen มะแขว่น or a Thai northern spice not unlike Sichuan peppers is steeped in oil and ladled onto the tender pieces of fish fillets, the GI-protected Phuket's indigenous pineapple สับปะรดภูเก็ต, all with its crunchy and sweet and uniquely aromatic self, is chosen to add to the sourness to the home-smoked trout salad, the latter also a part of the set lunch. Chef Bua herself creates many dishes from her memories, and preferences. For example, the Kurobuta pork belly, sous-vided a la fine-dining, is wok-fried and nicely coated with home-fermented black garlic sauce, pickled fresh garlic, and all parts of spring onion and loads of peppers! Delicious!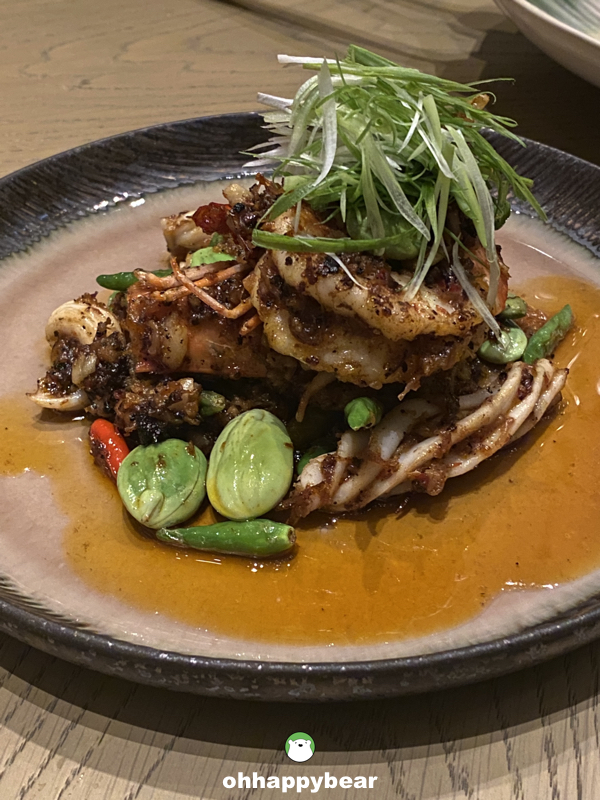 Above: Sator (stinky beans) wok-fried with XO sauce and seafood from the a la carte menu.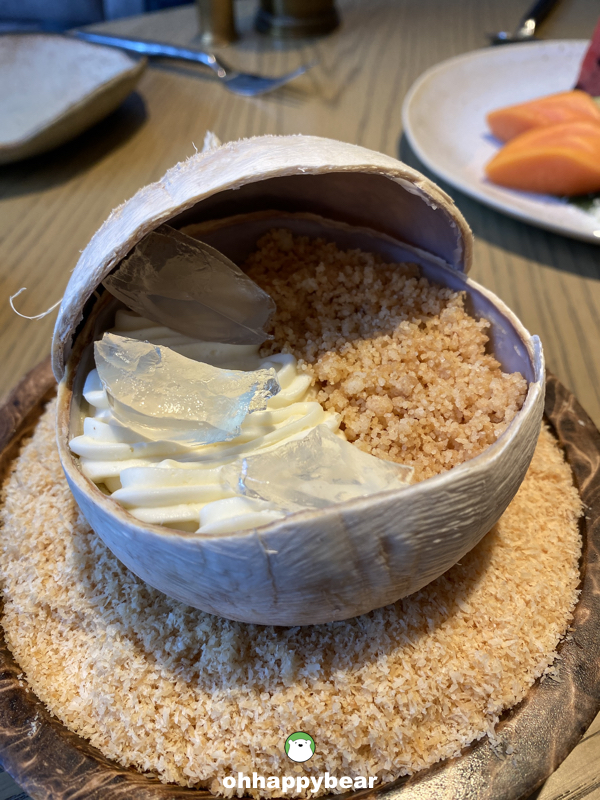 Above: The set-lunch dessert of coconut cheesecake! 
Front Room's desserts are also another reason you will have to come by for a meal! While our set lunch serves their wonderful coconut cheesecake, the soft, almost-creme-brulee-like texture but lighter, cake infused with young coconut flavours, you can also try something on the more refreshing side. Here, Thai tastes and modern cooking techniques merge once again. Som Sa ส้มซ่า – a type of local citrus used to give a unique aroma to Thai crispy vermicelli or Mee Krob หมี่กรอบ – is used to spice the chilli-salt mixture served with fresh fruits. Thai-style sun-dried banana กล้วยตาก with its sweet, sticky chewiness texture is turned into sorbet. A superlative Thai dessert of 'Som Chun,' ส้มฉุน with unique toppings including fried shallot and julienned fresh ginger, is turned into another sorbet and granita! A homage to old recipes, a way to pay respect to our culinary roots, while also going forward yet still staying in touch with the contemporaries!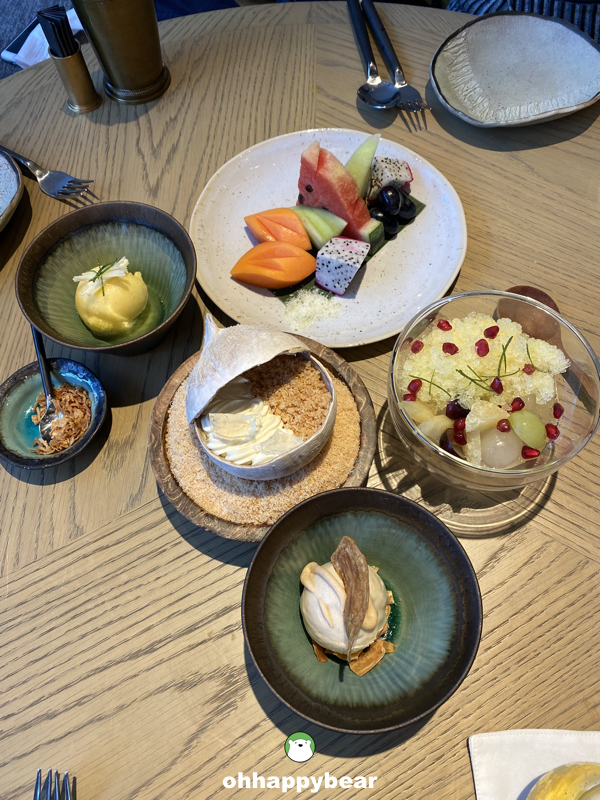 Above: Front Room's Thai and Thai-influenced desserts are innovative and delicious!
Above: Remember Front Room's petit fours? Here is their new petit four inspired from yam in coconut milk มันบวด (กะทิ) Thai dessert!
"We also pay homage to our old Front Room," says Chef Bua who is now thinking hard about the upcoming summer dishes, her mind searching to celebrate some uncelebrated regional favourites. "This is because of who are in the first place. Our foods, like ourselves, can never really deviate much from our roots!"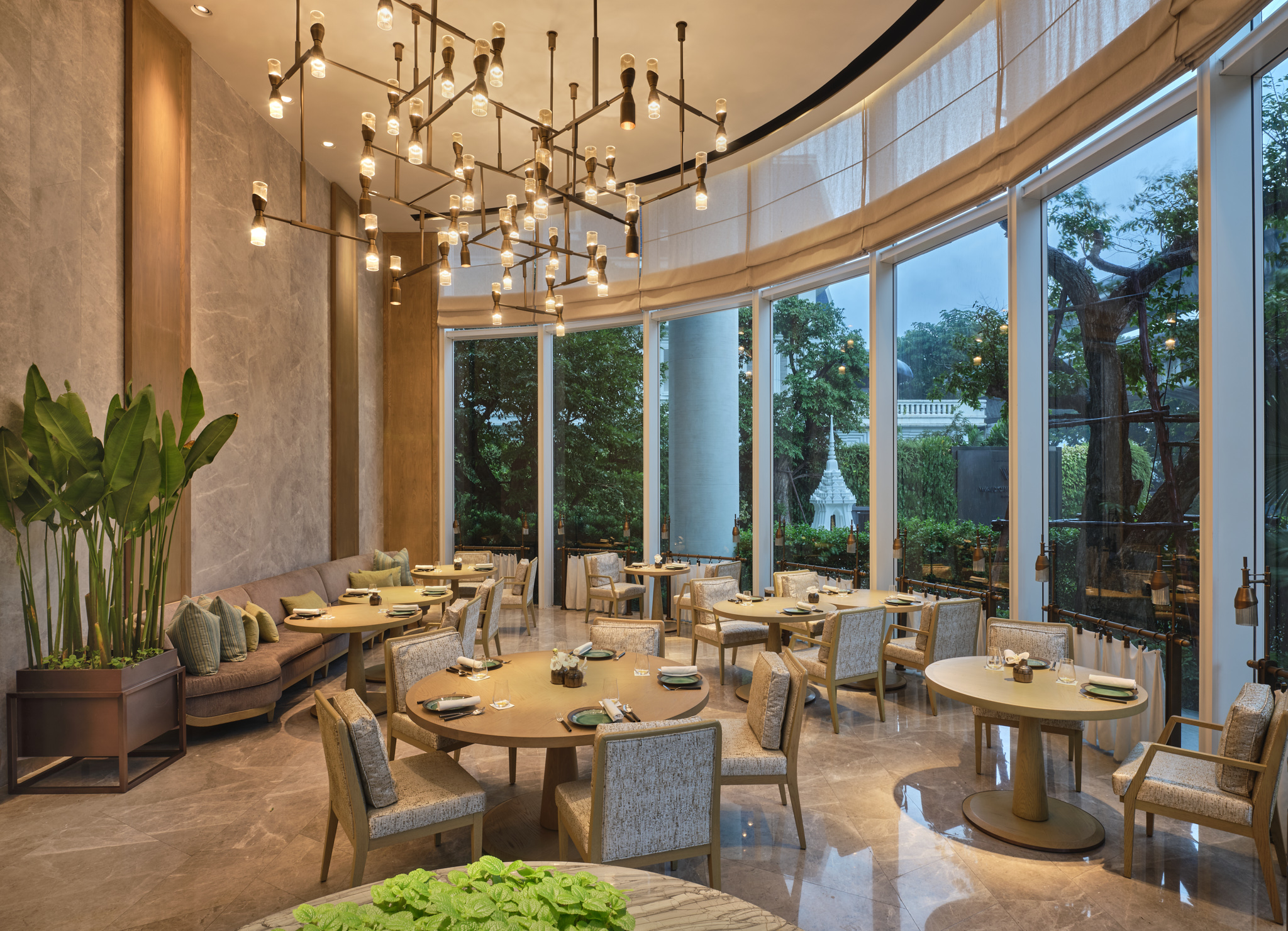 Front Room is at Waldorf Astoria Bangkok, Tuesdays – Saturdays: 11:30 – 14:30, 17:30 – 21:00. For reservation, please call T: (+66) 846-8888. For more updates, visit their Facebook at @WaldorfAstoriaBangkok. 
---