Samui, Surat Thani, 5 December 2020 – Here comes a guide to one of the most popular islands in Thailand. Ko Samui, or Samui Island, is located about 60 kilometres off the shoreline of Surat Thani province, about 750 kilometres south, on the side of the Gulf of Thailand.
One can fly direct to Ko Samui of course, but still, a lot of people make their voyage via ferry which takes about 1:30 hours, give or take, and see all the beautiful blues of the ocean. The fee for bringing the car and two passengers (one being the driver, the other the passenger) is about THB1,100, or USD37. Below is the process of taking the ferry to Ko Samui.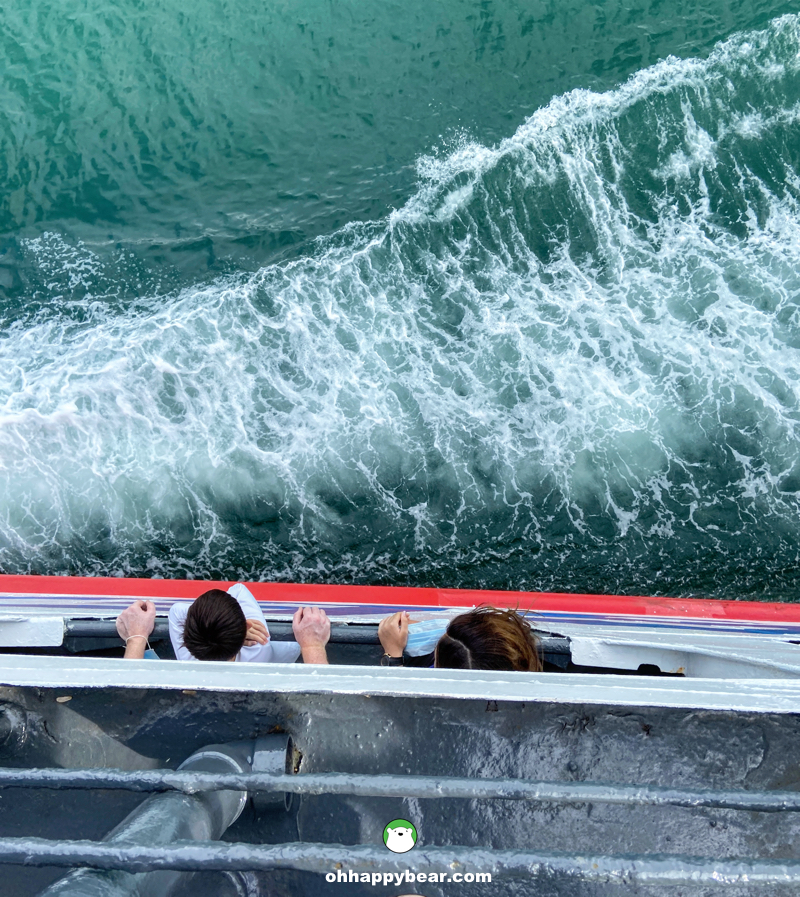 Sightseeing from the third-floor deck of the ferry
HOW TO TAKE A FERRY to Ko Samui
A ferry passage can be booked in advance online, given that you can roughly approximate your trip schedules and timing. It can be done weeks or even months in advance, but then there are the cancellation and change fees in case you need to adjust anything later on. 
The ticket is issued via email. Just bring that email (via your mobile, of course), to the pier about 30 minutes prior to the departure time. There will be a queue, or, if you are like us, too anxious to miss the boat, you can be there earlier and take the first spot on the queue.
The piers to Ko Samui are all located in the area known as Donsak district, about 80 kilometres east of Surat Thani International Airport. There are two ferry companies: Seatran Ferry and Raja Ferry. We went with the Seatran Ferry, out of a recommendation from a local we talked to while planning everything. 
Our experience boarding and leaving the ferry was systematic and quick: one single line in and out from the ship and the first waiting vehicle made the entrance as soon as the last vehicle made its departure. The cars are all parked on the lower deck: passengers can wander around on the two upper platforms. There is an air-conditioned room on the second floor, but given the Covid 19 situation, of course, we opt to stay with the breeze on the third floor. The journey takes almost two hours. So, bring a novel. 😀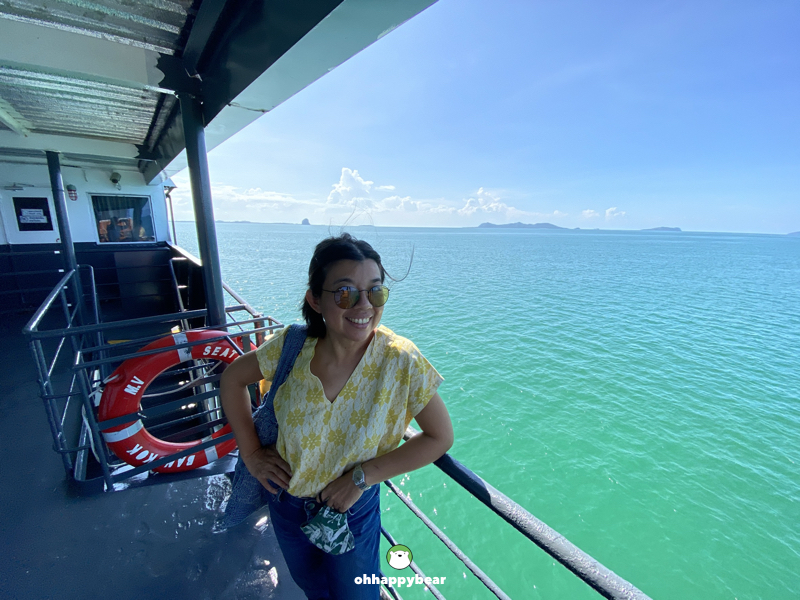 Above: Yours truly 😀
DrivING on Ko Samui
Ko Samui is the third largest island in Thailand with an area of 227 square kilometres, a width of 21 kilometres, a length of 25 kilometres. There's a ring, paved road around the island. From Nathon area, which is also the old town area of the island where the ferry piers are located, it took us about 40 minutes (covering 25 kilometres) to arrive at our resort of choice. In this case, it was Banyan Tree Samui where we got ourselves a super nice and luxurious Ocean View Pool Villa for 5 nights!
This is our second time here at this resort. The first time, according to the records kept by the resort, was back in 2014 when we were there for a work project. Of course, I did a mini-review here in Thai. You might also want to read our review on Six Senses Samui too. 😀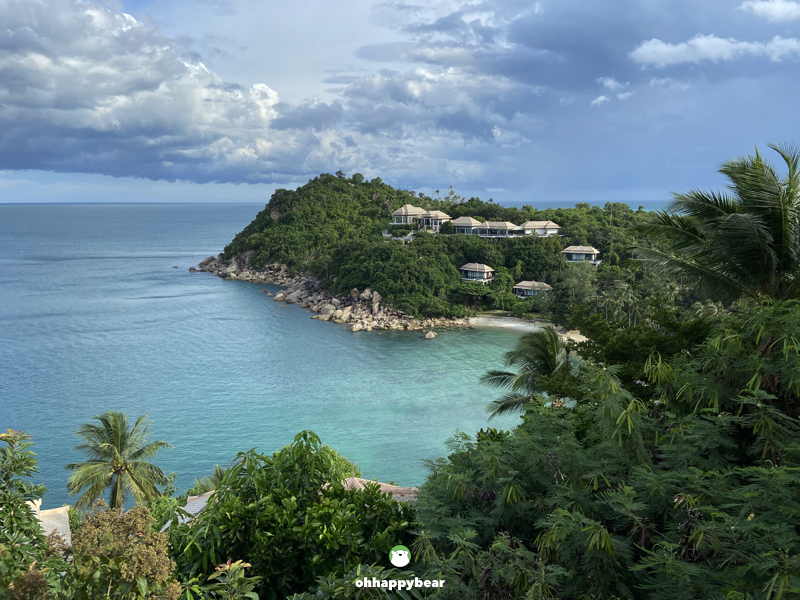 Above: A view from the top of the hill at Banyan Tree Samui. A lovely place.
Banyan Tree Samui has its own small bay of a beach that is locally known as Ao Krok อ่าวครก. Their modern villas are built along the natural steep slopes of the property. Our villa overlooks and is not too far from the beach. This is where most activities are: restaurant, beach bar, and all kinds of water activities. One or two nights during our stay we also experienced some congestion when more families came over during weekends and that kind of crowded the space a little bit.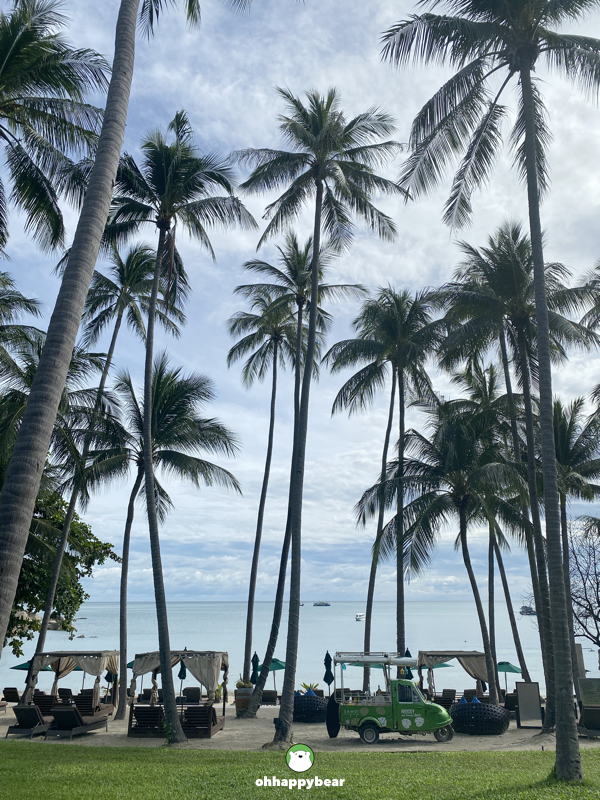 Above: Overlooking the beach at Banyan Tree Samui.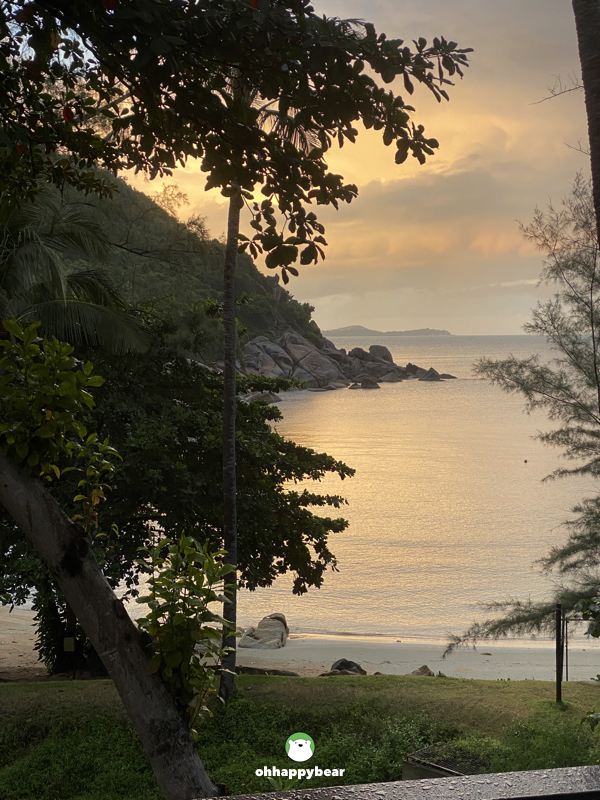 Above: Beautiful dawn from our Ocean View Pool Villa 😀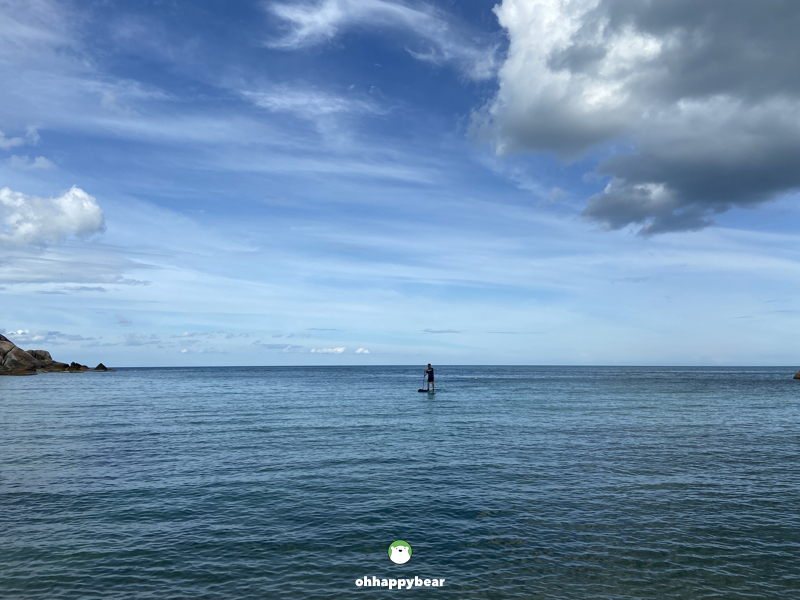 Above: My hubby on a paddle board at Ao Krok, the private beach of Banyan Tree Samui
EATING on Samui + THINGS ON SOUTHERN THAI CUISINE
From the province of Prachuap Khiri Khan – about 300 kilometres south of Bangkok – southwards, foods are turning and tuning into more southern tastes. Certain ingredients become more and more prominent. For example, the bright yellow hue from turmeric is ever-present in many local dishes. The typically red Gaeng Som แกงส้ม – which generally is red in central and other parts of Thailand – becomes distinctively yellow + red when we crossed over to the southern sphere. There are a lot to discover in Thai foods, and our intention is to cover/discover/rediscover them on our YouTube channel here. 😀
Above: A tasty southern Sam Rap or a Thai meal at Marigold Restaurant in Bophut area of Ko Samui. From top left, Nam Prik Yum (Fresh shrimps chilli paste) served with Moo Ko (the deep-fried pork belly), and an omelette.
Among what can be said to be Samui's unique southern dishes are Moo Ko หมูโค which I think was derived from the world 'Moo Koa' หมูโคะ with 'Koa' a way Chinese people preserve meats by toasting them dry with a lot of salt in a wok. I suspect this might be Samui's own version of 'Peranakan' cuisine if you will. Pork belly, a typically Chinese ingredient, is cooked, in case of Samui, with shrimp paste or Kapi กะปิ by toasting it dry as a way for the pork belly to last longer. I found that Samui kitchen has a lot of unique names for ingredients, and the prominent ones include Kapi, the shrimp paste, and small squid they call 'Wai' "วาย" that they cook by simmering them with coconut milk (another of Samui's prominent ingredients), and the shrimp paste.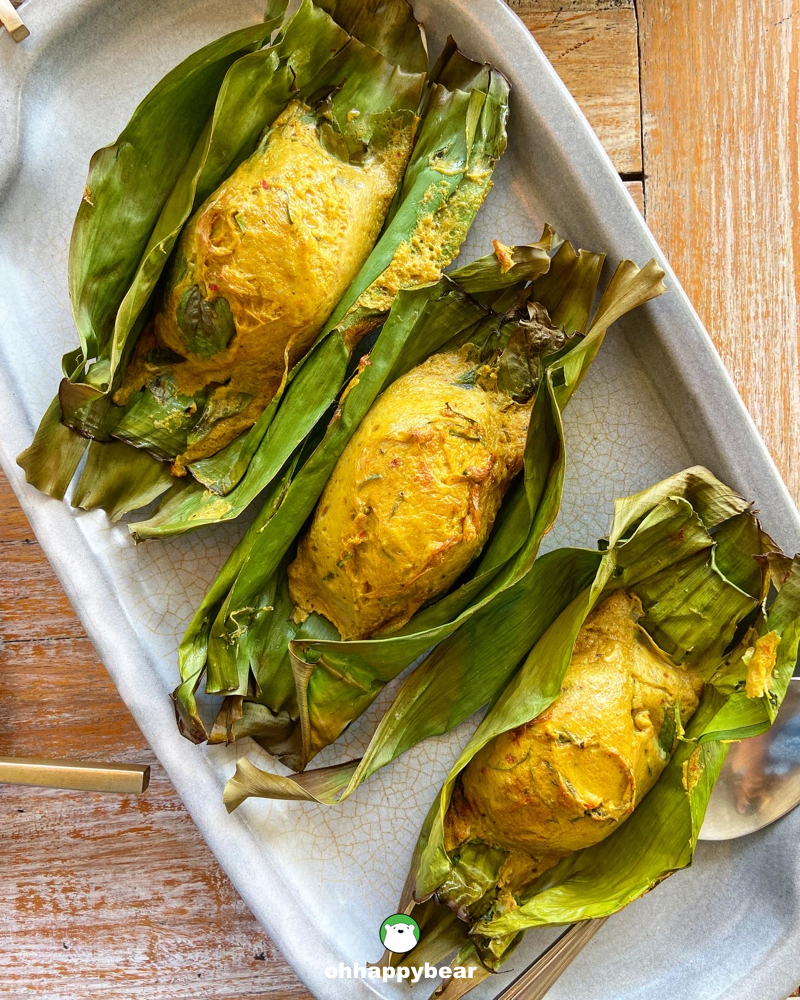 Above: Grilled Hor Mok at Marigold Samui, very delicious.
Seafood, fishes, spices such as turmeric and typical curry paste ingredients such as dried chilies, bergamot zest, shallot, garlic, lemon grass, coconut milk and cream, and the local cooking containers such as banana leaves and coconut shell, all make Samui's foods unique, beautiful, and delicious. 
Above is Hor Mok Yang or grilled fish cake which is another typical local deliciousness. Hor Mok, which is a kind of fish souffle, with the fish flesh beaten and kneaded with curry paste (see the yellow here signifying this one is southern), is here grilled, and not steamed like in any other places, in a wrap of banana leaves. Pretty awesome!
Above: Our delicious meal at Tamarind Springs Spa. Esan or northeastern dishes are ubiquitous in Thailand as they are delicious and easy to like.
Among my favourite places of all times when it comes to Ko Samui is Tamarind Springs Forest Spa a bit north of Lamai Beach. I remember having one of the best spa experiences here years ago. The lush and beautiful landscape here is dotted with massage pavilions, all open to the fresh natural air of Samui. I remember having an hour or two of the best Thai massage ever!
But oh, how Covid-19 has changed everything! Ko Samui without foreign tourists is quiet and different. It is peaceful, but that quietness also hurts the local operators. Tamarind Spa adapted and they were offering meals instead of spa treatments. We were there for a big delicious meal one day and had a walk around the property into their stone-cave what was, in normal times, the spa's iconic steam room and a small dipping pool trimmed by mini-forests. 
*Last time I heard from their Facebook page, they are ceasing that meal operation as well. Obviously, there're not enough tourists to come around to keep their business open. I am pretty sad to hear that!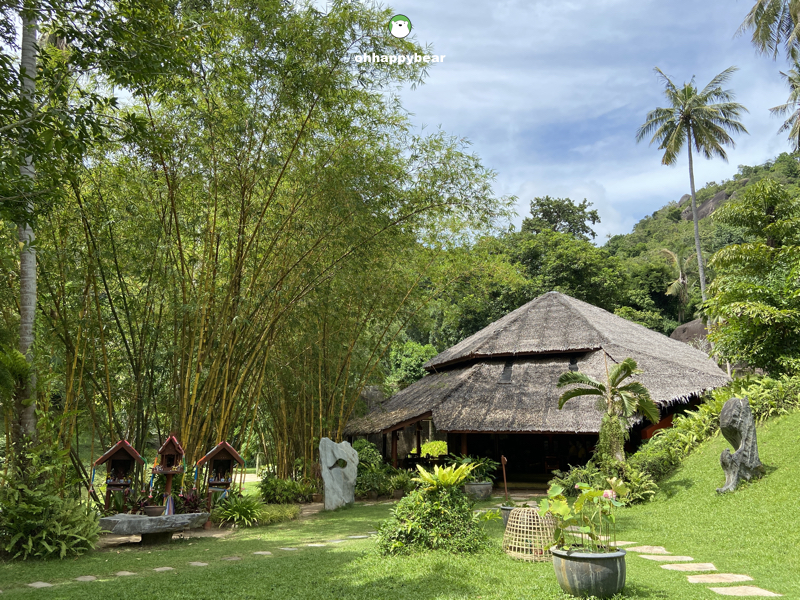 Above: The green and serene vibes of Tamarind Springs Spa.
Above: Deep-fried small squid with roes at Krua Khun Ying in Bophut area, a stone's throw from the airport.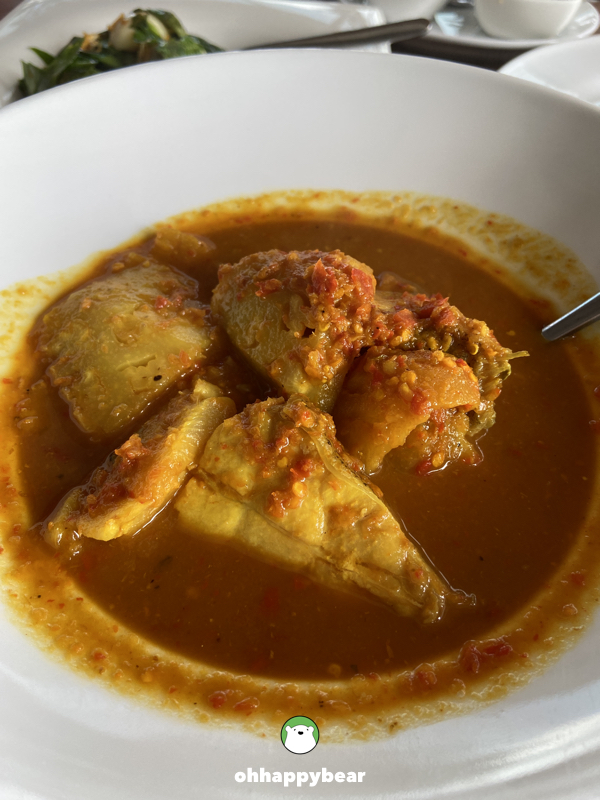 Above: Southern-style Gaeng Som of pomfret fish and fresh pineapple at Krua Khun Ying.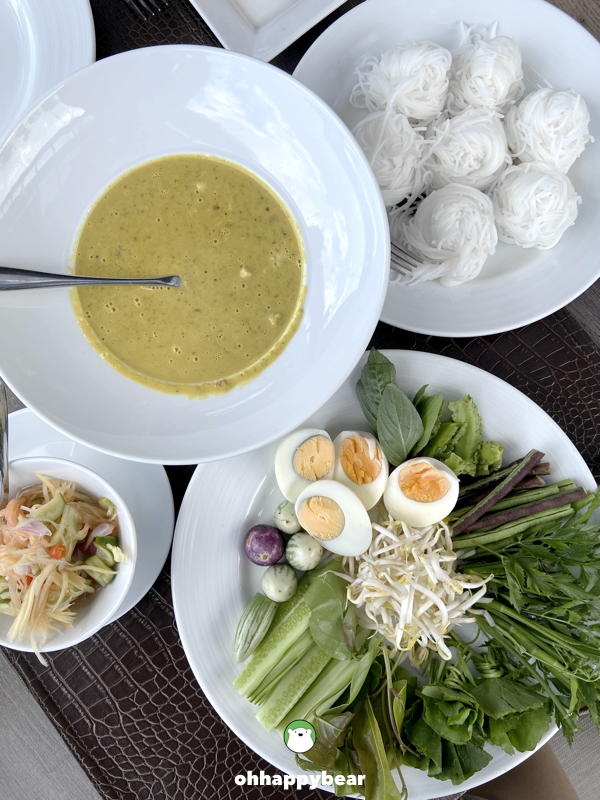 Above: Fermented rice vermicelli with crabmeat curry at Krua Khun Ying.
Kanom Cheen ขนมจีน or fermented rice vermicelli is another staple of Thailand, and in the South, eaters are quite particular about it. Southern people pride themselves in serving the meal with an elaborate display of side dishes and assorted vegetables. A daily colourful and delicious affair that can be served either for breakfast and lunch, but never dinner. 
Kanom Cheen Nam Ya Pu (Crabmeat Yellow Curry) is another luxurious deliciousness of the South. For me, the first place that I came to know that had somehow populated this dish is Raya restaurant in Phuket where lumps of crabmeat, the part from their legs, are mainly featured in the curry, making it even more hearty and OTT.
P.S. Kanom Cheen Namya Pu has now become a ubiquitous dish throughout southern Thailand.
Above: The delicious dessert of crispy crepes called Roti with banana filling at Krua Khun Ying, Samui.

The Overlapping Stone
This Overlapping Stone has become a new sensation of late among local tourists to Ko Samui. The picture here was perfect, but no one prepared us for the real journey up the steep slopes of the hill opposite Lamai beach. 
You can follow Google Map's directions. The paths there was narrow and messy with overgrown grass. We drove all the way until we couldn't, at least by my own standard (since my legs started to shake), and the big sign in front of me saying that 'Beyond this point is too dangerous.' We made a U-turn and paid THB20 for curb side parking.
It was still a long and steep walk-up. I was almost on all fours. After adequate panting and heaving, we saw a hand-written sign for the entrance. As it turned out, this stone is located in a private local home, and what they do now instead of what they have been doing for ages, is collecting THB20 entrance fee from each and every visitors who spent at least 20 minutes painstakingly take hundreds and hundreds of shots of themselves, all decked with gowns and hats, with the stone as the backdrop. Be patient if you want yourself in this frame, for Instagrammers are real serious about their posts and backdrops. Anyway, for me, it was a trip worth making just only once. It was fun to follow the trend sometimes. But then, be warned that the path was really steep and narrow, and the drive-up can be perilous. 
Above: Coconut cake and coffee cake at Lolamui Cafe near Lamai Beach on Ko Samui.
Cafes on Ko Samui
No one needs to tell you how big cafe scenes have been in Thailand, and Ko Samui is no exception. There are local mom-and-pop cafes, 'specialty' coffee cafes, garden cafes, and so on. But what I liked most about Ko Samui's cafes is that many of them use the local natural landscapes as the draw as well. 
As you know, big stones are ubiquitous on this island, as one home-based cafe where a lot of big stones make the scenes, we were amazed by how unique the place is. The cakes were alright, but the shades and the landscape were so particular they make this place so wonderful. You can see the scenes by clicking the arrow on my Instagram post above, the one with the cake.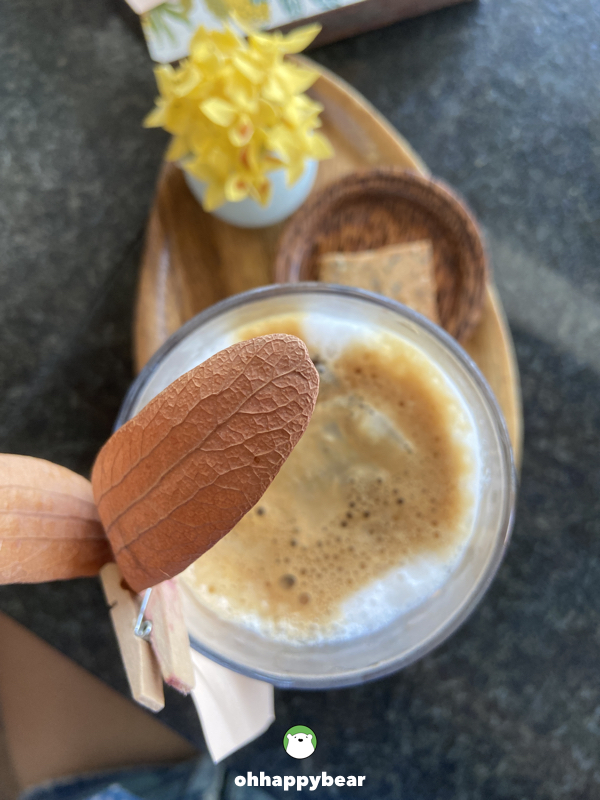 Above: A very good latte at Fisherman's House Cafe in Bophut.
Above: A Thai dessert amidst green fields and lotus ponds at The Nature Samui.
You can also stay tuned with me via Facebook and Instagram. 😀
---