Phang Nga – a coastal province south of Thailand – has a big effect on me. As soon as we landed there, I became super lazy. For a perpetually hyper body, that was huge. But I was just too happy to change anything. 
Post COVID-19 lockdown, around the end of July 2020, we headed south. Like many other people who did this trip before us, we had too many plans beforehand. We wanted to do so many things. Our list was terribly long. But then, we also had no agenda per se. Phang Nga, as under-the-radar as it is, is a spacious province, spreading a lengthy coastal strip on the Andaman side of southern Thailand, and also the gorgeous, gorgeous Phang Nga Bay dotted with the otherworldly sights of the amazing limestone peaks. 
P.S. For the list of places, please see MY IG locations and image captions.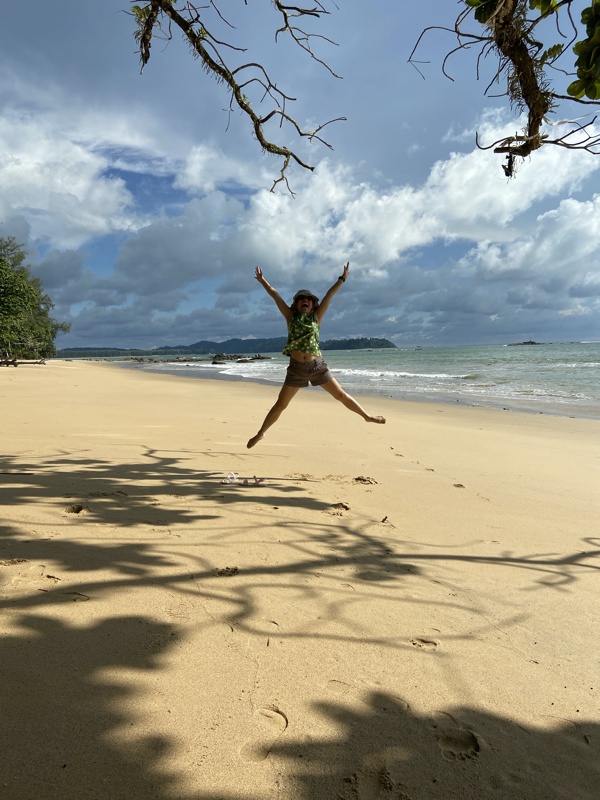 Me, the first second we hit the beach south of Khao Lak beach in Phang Nga. 
We drove from Surat Thani, passing the meandering Highway 401. We were told to avoid the more meandering path of HW 4 that passes through Ranong only because there are too many roadblocks and constructions. Turned out, this 401 highway is perhaps one of the most scenic roads we have ever driven through.
This so-called sister of Phuket has a long coastal trading history and mining industry on par with the Andaman Pearl of a resort island, but somehow, something made it kind of an in-passing destination. Perhaps it was the lack of an own airport. Perhaps it was because of their too-diverse, too far-apart destinations. To understand Phang Nga, you need a map, constantly. You need it to get your bearings and also to pinpoint where to go, sometimes and also understand the roots of all things that made this place so spectacular and serene.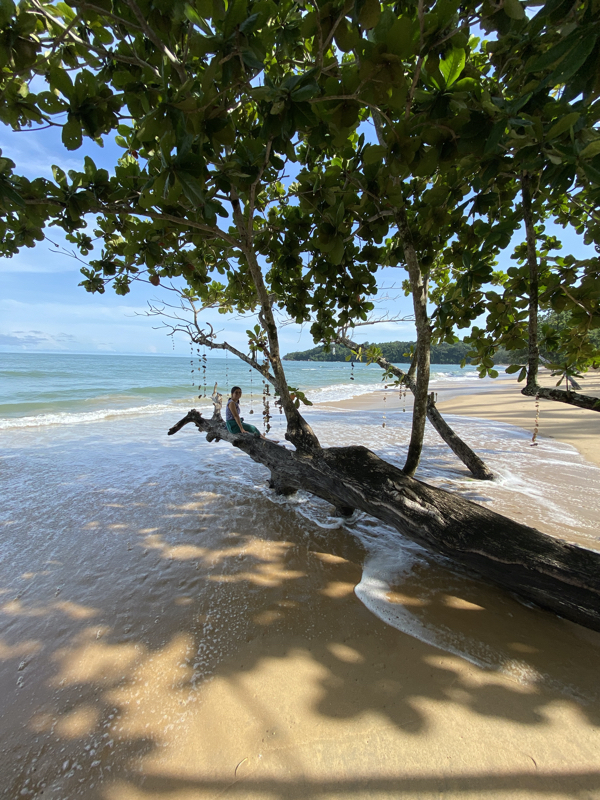 At the beach in front of the resort we stayed for 12 nights. 
But if Covid-19 has any positive effects, it is this. The prices of the beachfront accommodations in Phang Nga has dropped to the levels of being just too irresistible. Too irresistible that we decided to stay not two, not four, not six, but 12 nights in a row. To maximize our long drive, to get the best of everything there is.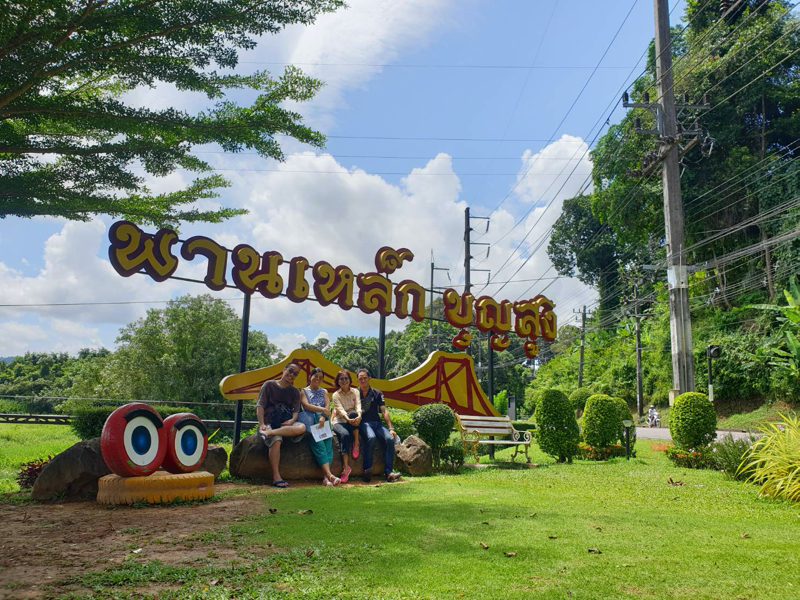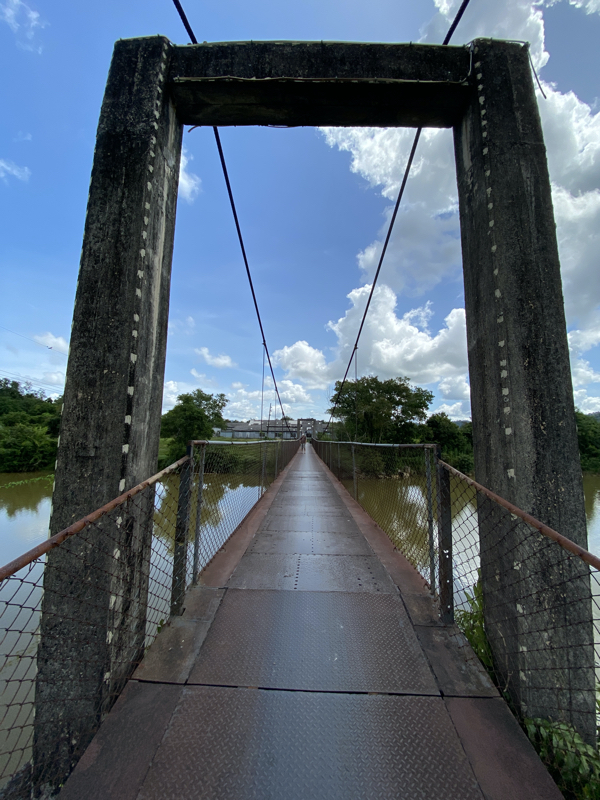 Takuapa's historic Boon Sung Steel bridge. Now a tourist site, this bridge leads to a mining facility. Now, it leads to communities on the other side of town. 
As often said, life has a way to throw a curveball at us. And some curveball put us to back to a place we once were. I found myself chatting with an old friend while planning this trip. Jan and I went to the same junior high school in Bangkok. But she is now back at her native land of Takuapa Old Town in Phang Nga. Her list was short like any real locals who spend more time at home than going places. But then, she knows some real deals as well. 
Reflections of the skies at Mae Nam Takuapa at Boon Sung Steel Bridge
So, a day with Jan was the only activity-filled one. We went places according to her local plans. We went through the list. We talked to people, sometimes pretending to be interested. We even took some photographs, hoping to build some new knowledge. To get excited. To see something with a clean slate. Something I kind of miss doing getting older. 😀 
The Upstair of Tao Sor Tuang Rat in Takuapa
Phang Nga people were born sea people. No matter where you are in the province, the sea is never too far away. The devastating tsunami of 2003 was an extreme, but seasonal and annual deluges are a norm. At this old historic house still lived by a native, we saw a steep staircase to upper floors where not only bedrooms but also bathrooms are situated – their ways of dealing with nature. Takuapa Old Town is sleepy, but still very charming to walk around. If you are early, you might be able to catch the morning vibes complete with dim sum and rice and curry for breakfast. 
An Old House in Takuapa
Me and Jan – friends since junior high school. 
For me, life is all about memories. And life, even day-to-day, minute-to-minute, breath-to-breath, is happening fast. While I can vividly still remember a lot of things 20-30 years back, I know I could never go back to that age again. When we were fuller of energy. Still bright eyes, unjaded. Still black-and-white in opinions. Still think people feel ashamed of things they do out of selfishness. 
Hope you are a cloud chaser like me. Rain clouds make amazing sight in Phang Nga
Bright Day at Bang Sak Beach, Phang Nga.
In this turbulent time of the world, I make a deal with myself. Be always mindful. Thankful. Grateful. Things change. I can get nothing back. Life is always and only about memories. 
Tsunami Memoria at Ban Nam Khem, Phang Nga
With Social Distancing in Place at Lampi Waterfall, Phang Nga
Lampi Waterfall
TonPrai Waterfall, Phang Nga

This dog accompanied us to the end of the beach. He had a bad hip, and rest occasionally. We became friends with daily beach-walking rituals. 

Here are some unreal sunsets
With a heron at the horizon
Another magnificent moment 
Signing off here then, until next time 😀
---