Life is all about memories. The pandemic has come and hopefully almost completely gone in Thailand. We were lucky enough to have done a road trip to the south earlier after the lockdown. But last week, we stayed in. August is the month of our wedding anniversary, this year our 17th, and we decided to spend a night 'staycationing' at the Waldorf Astoria Bangkok.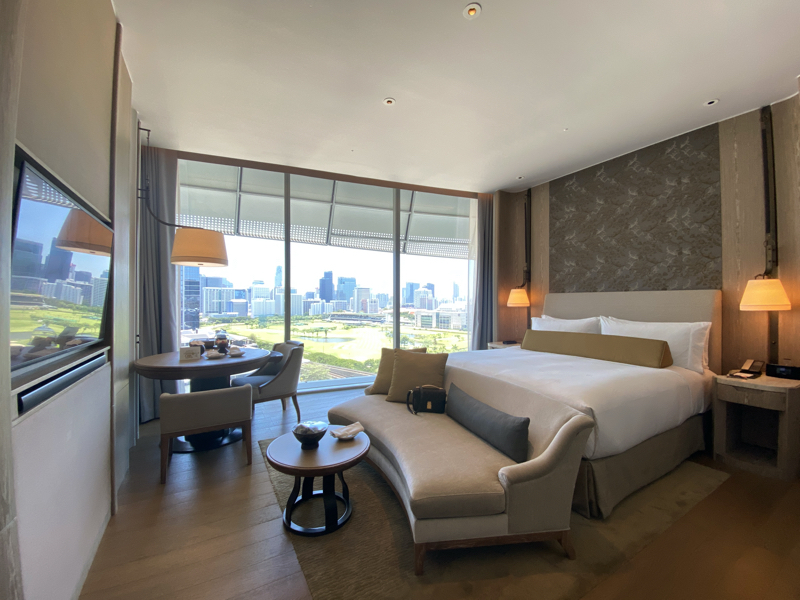 Our room on 14F, a King Deluxe Park View Room, a signature room at the Waldorf Astoria Bangkok.
King Deluxe Park View Room
If you have visited this blog before, you'll notice that I am quite a fan of the Waldorf Astoria Bangkok. I found this hotel very interesting in all dimensions. The name Waldorf Astoria brings back a lot of memories. Not that I was born back in the day when the hotel was first conceived in the late 1800s, in the very location that is now the Empire State Building in New York City. But because, for the most part, I am a history buff, and my husband and I spent a lot of time in the state of Oregon, USA, where we also did quite a bunch of travelling, and among our favourite places was the coastal town of Astoria, Oregon – the town where John Jacob Astor – the German-American mogul and the biggest name back in the day – staked the first claim of the US west coast continent. You might have come across the towns called 'Astoria' both in Oregon and in New York, and they are sisters for they both have their names derived from this same guy.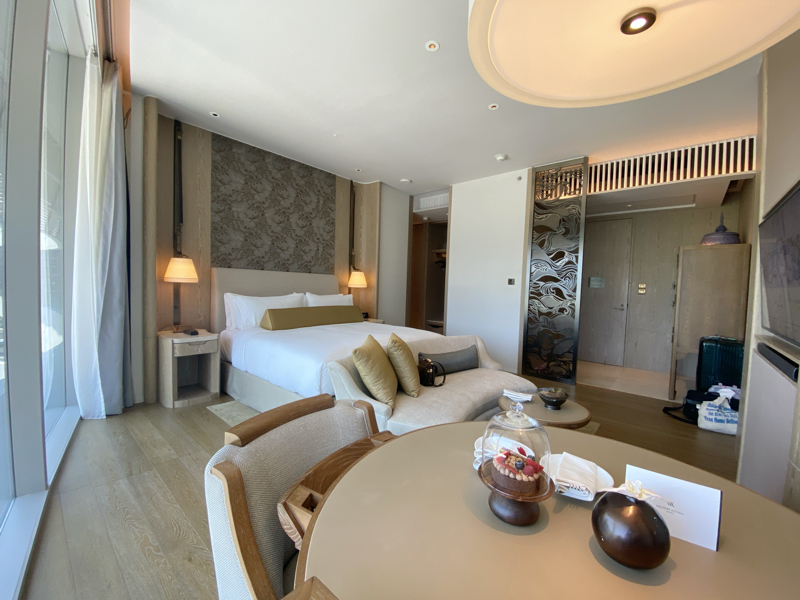 This modern room is about 50 square metres, with walk-in closet and bathroom. On the table is our very decadent chocolate wedding anniversary complimentary from the hotel. Love it so much. Thank you very much. 
History aside, the original hotel – which was a huge deal in New York City – turned into a top-notch global brand when Conrad Hilton bought the management rights in 1949, only to pave way for the Hilton Hotel to purchase the entire business in 1972. Since then, Waldorf Astoria has become Hilton's highest echelon of a hotel brand with properties clustering in big and glamorous cities in the United States, a few in Europe and the Middle East, a few in China, and only one right here on the elegant Ratchadamri Road of Bangkok where it was inaugurated back in August 2018. 
Facing the vanity. 😀
One thing you'll see immediately is the beautiful design of this hotel. The entire building is modern. The Art Deco elements and motifs inside reminisce the idea of the place's past and present grandeur. While the whole theme of the common spaces from the lobbies (lower and upper) to the lower-floor restaurants and the guest rooms are light and bright, their top three floors which house our favourite Bangkok haunts (The Loft and Bull & Bear) are amazingly glittering, wilder and more sophisticated in designs and uber-glamorous in a uniquely elegant way.
This is why when we thought and thought and thought where we would celebrate our wedding anniversary this year, our votes unanimously went to Bull & Bear for the dinner, and then to top everything off, a night at the hotel for a staycation for this special occasion.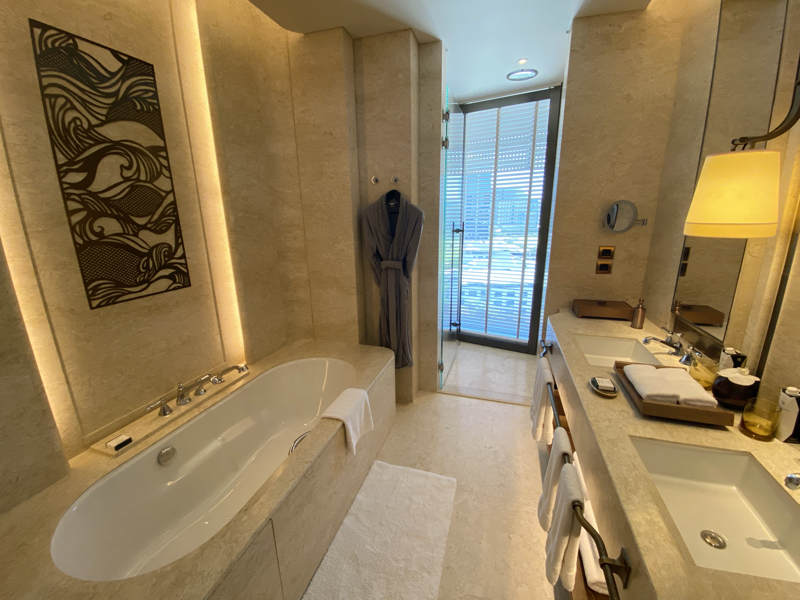 The bathtub, the shower room with a view and ceiling-high rain shower and very very good temperature-controlled water system. Love it.
The Package
Waldorf Astoria Bangkok, like many luxurious hotels in town these days, is offering a staycation package starting at Bt4,900 net (room only, from normally at Bt13,500++ per room night) and a Bt9,000 net package with a room night, breakfasts for two (starting at the check-in day), two sunset drinks, Bt1,000 F&B rebate, and 50% discount on all spa treatments. We got ourselves a King Deluxe Park View Room on the 14F. Please see the captions of each image for details. Also, as a part of Hilton, Waldorf Astoria Bangkok is in Hilton CleanStay program, with the seal of deep cleaning, to ensure guests' health and safety. Below, in my IGTV post here, I showed our room using the Hilton Honors App to unlock the elevator, enter the room and so on.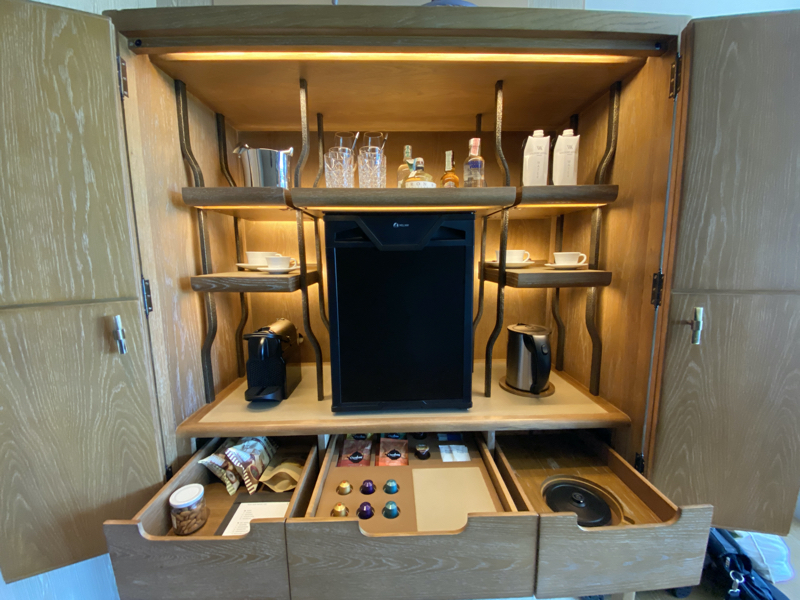 For those into the arts of drinking, you will like this well-curated in-room bar area. 
I'll tell you what I like most about the room. Modern facilities aside, I love that they use technology to save energy. It is only when we enter the room that the curtains begin to roll open. That means when we are not in the room, the curtains are automatically shut, blocking off Bangkok's scorching sun, saving the electricity that has to cool down the room again upon our re-entry. I also love their modern toilet facility with the warmed seat (it's addictive:), and also the very precise and comfortable temperature-controlled faucet in the shower room. Small details, large and lasting impacts!
THE WALDORF ASTORIA SPA & ICONIC Pool 
The spa, pool, and fitness room of the Waldorf Astoria Bangkok are all on 16F. The fitness is a 24-hour place, good for those needing day-through-night access to their unbreakable sweat-out regimen. The spa is beautiful, airy, with soft hues in pink and beige. The treatments, as earlier mentioned, are now 50% off. The Waldorf Astoria Massage, their signature natural oil massage of 90 minutes, is Bt4,700++ before the discount. This is a limited time offer, so please go visit their Facebook for further details.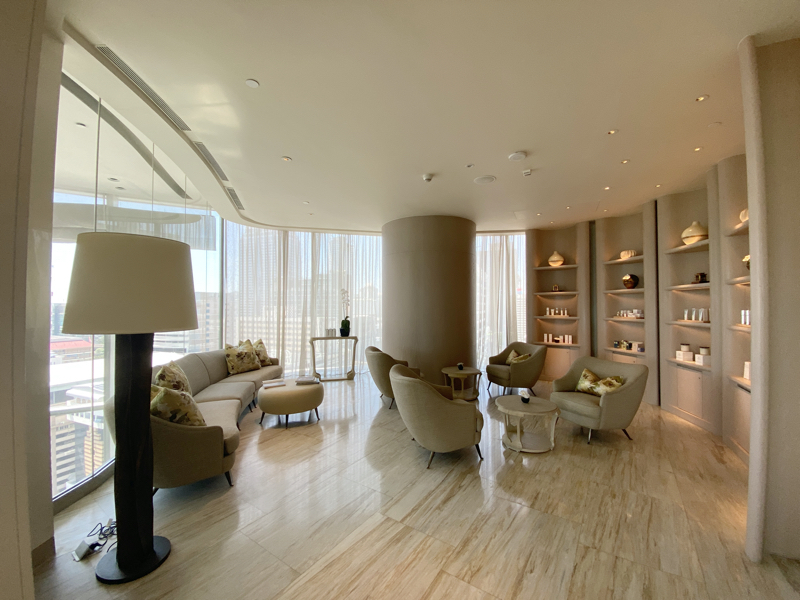 The Waldorf Astoria Spa is on 16F, the same floor as their worldly famous pool. This is their waiting area. A good inspiration, or should it be a good beginning, of self-care.
Their spa is cosy. Not a whole lot of treatment rooms, although most come with this amazing view (please see the image below). If you like self-pampering, a good relaxing massage, this is the place to be. My 90-minute treatment was really relaxing. Their natural oils are in the scent of Magnolia, but in the end, they use a citrus-scented oil that rejuvenated me back to reality. 😀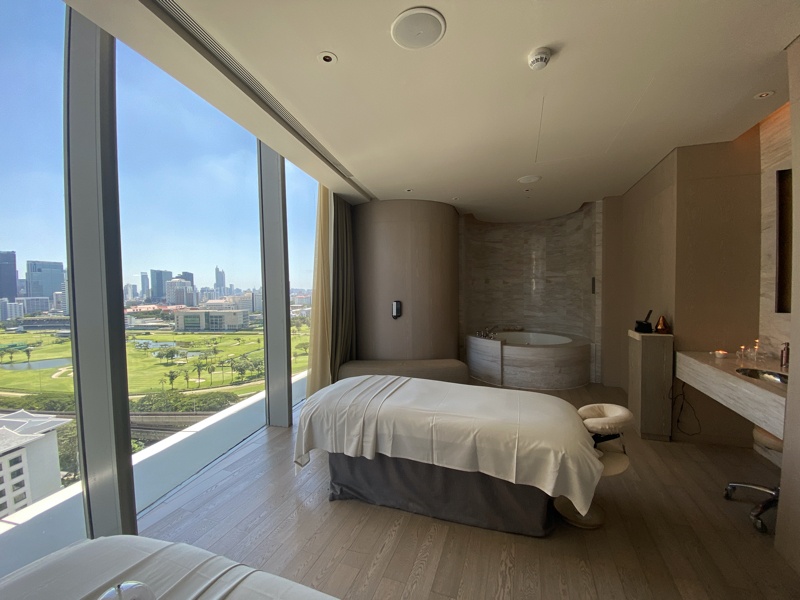 The Spa treatment room. This is a double room with an iconic bathtub. And the view, which you won't see during the treatment, is still the Royal Bangkok Sports Club.  Their treatment beds are warmed, so comforting and relaxing.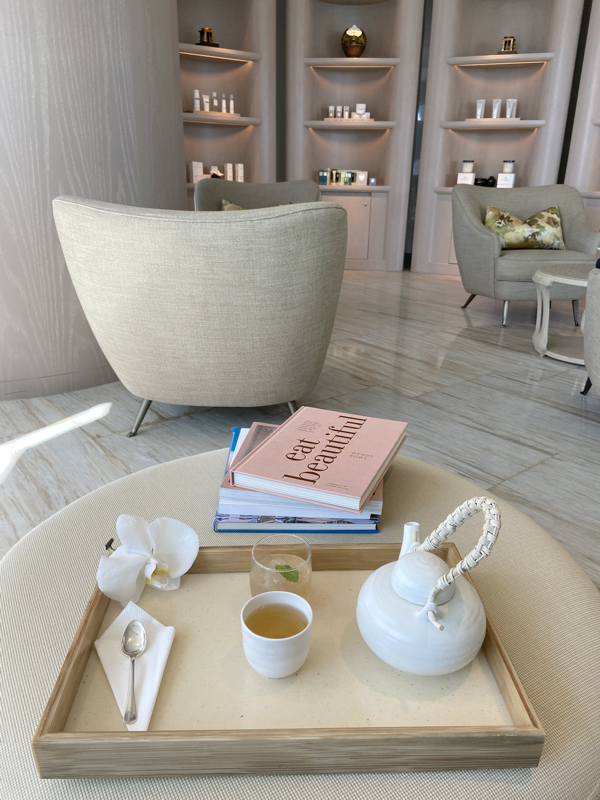 The Spa's after-treatment refreshments of lemongrass tea and aloe vera pudding. 
Here is the pool. The icon of Bangkok's vacation. You have to take pictures here. It's a rite of passage. 
THE LOFT 
This air-conditioned rooftop bar is truly swanky, and its sweeping views are second to none. Their cocktails are all premium. If you are a connoisseur, you'll immediately detect the difference. True to the Waldorf Astoria's story, many drinks here refer back to the much-revered and classic Old Waldorf Astoria Bar Book. You can also peruse their food and drink menu, a thing that I love to do quite often, right here. 
Aunty Oh about to have her sunset drink 😀
I was sitting for a post at their large table splashed with colours that supposed to reminisce the place's artistic roots. I love the whole entire space. So special, elegant, and still friendly. There's also a bar seating overlooking the views. The bar area, manned by the talented Michele Montauti, is where drink-connoisseurs come to have a great time, a party, or even a pensive evening. You can very much chat with the handsome Michele, he is a top-notch mixologist through and through – ready at the bar with all ears. I wrote a separate review of The Loft – their foods and signature drinks – before, you can read it right here.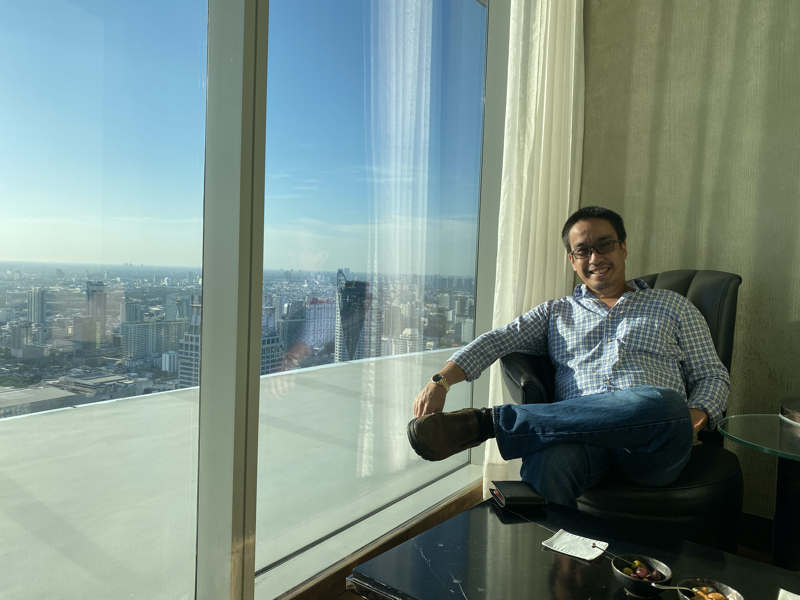 And her spoiling husband <3 <3 <3
As a daughter of Bangkok, I come here to this 55F bar for a panoramic view of my city. On a good-weather day, I can see Wat Arun all the way across the river and also the Golden Mount in the Old Quarter to the east. The magnificent bridges of Rama 8 and Rama 9 – both suspension bridges crossing the Chaophraya – can be spotted right here.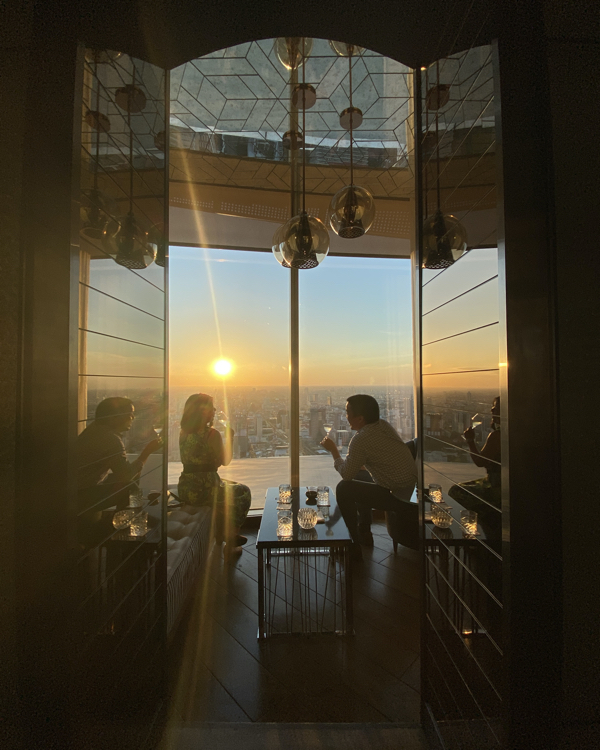 The snug seating at The Loft faces the setting sun and us celebrating our lives together. Gratitude in every way. 
Bull & Bear
Please play the IGTV below in which I was walking down to have our dinner at Bull & Bear. This restaurant – with everything they possess – has been our favourite since the opening. We have been here so many many times and still like everything. They are now also open for lunch with set lunch and a la carte. Their menus are here. And I also wrote about their first-anniversary media lunch here. You must come here if you like what you see. A real special place.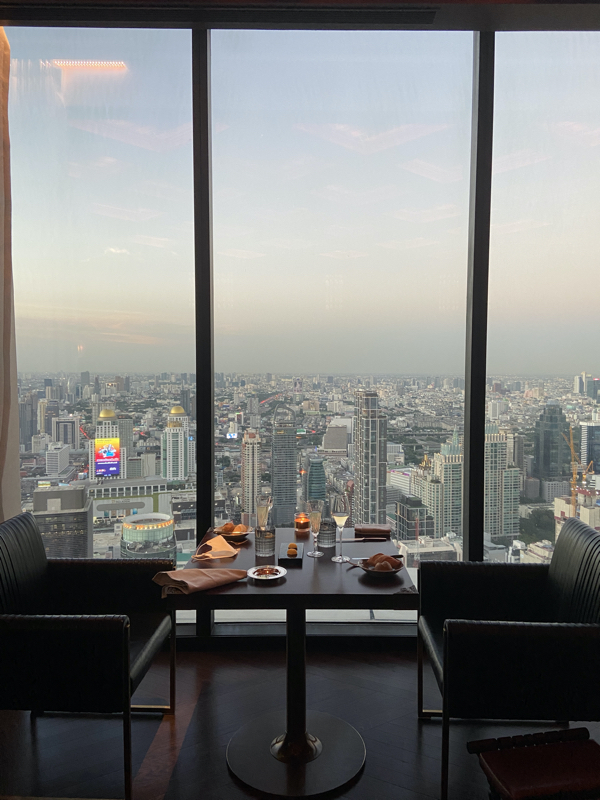 Our table at dinner. You'll need to call and book in advance if you are, like us, particular about the views 😀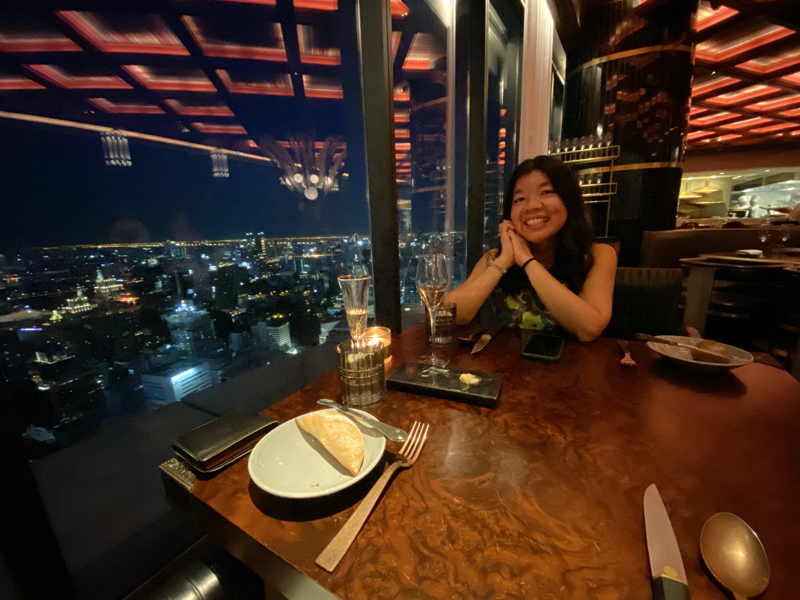 Smiling after polishing off their very delectable house-made smoked butter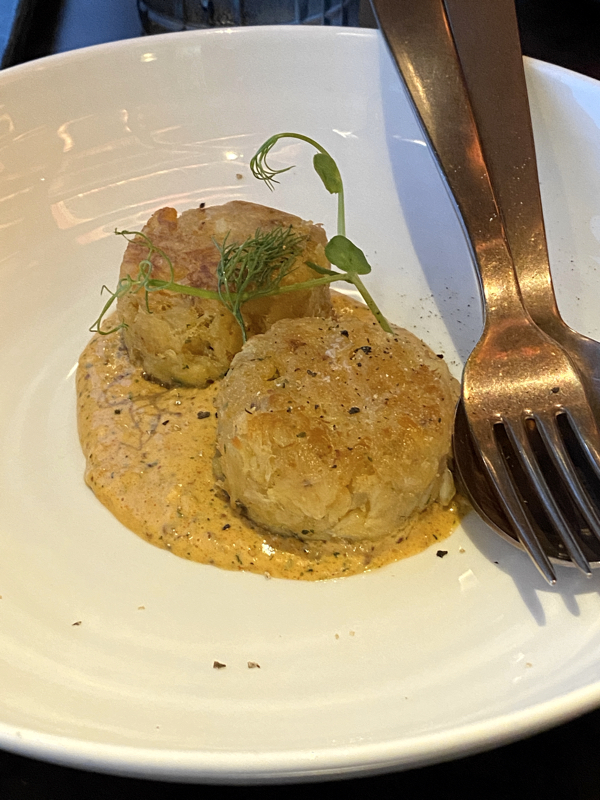 Jumbo Crabcake with smoked celeriac and remoulade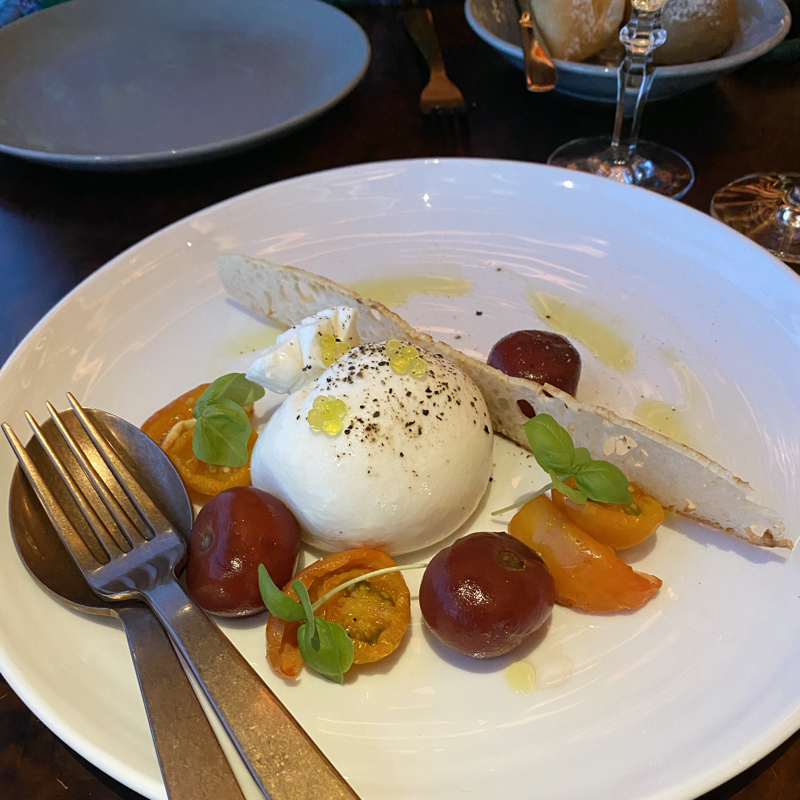 My all-time favourite: Smoked Burrata with Dried Tomatoes and Basil. The tastes of the dried tomatoes are explosive. So intense. Delicious!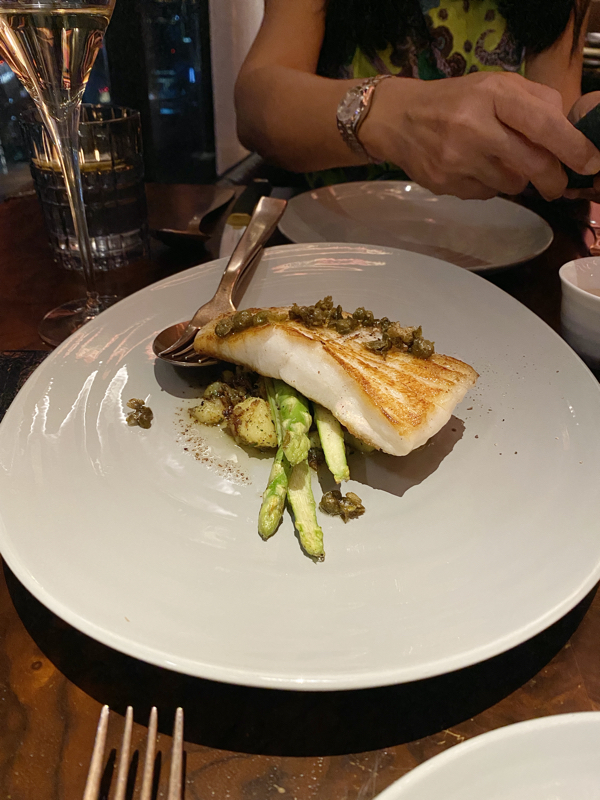 We ordered their off-the-menu special which was grilled turbot fish served with potatoes, asparagus, and caper sauce. Its Mediterranean tastes throw us back to our last out-of-the-country vacation in Portugal.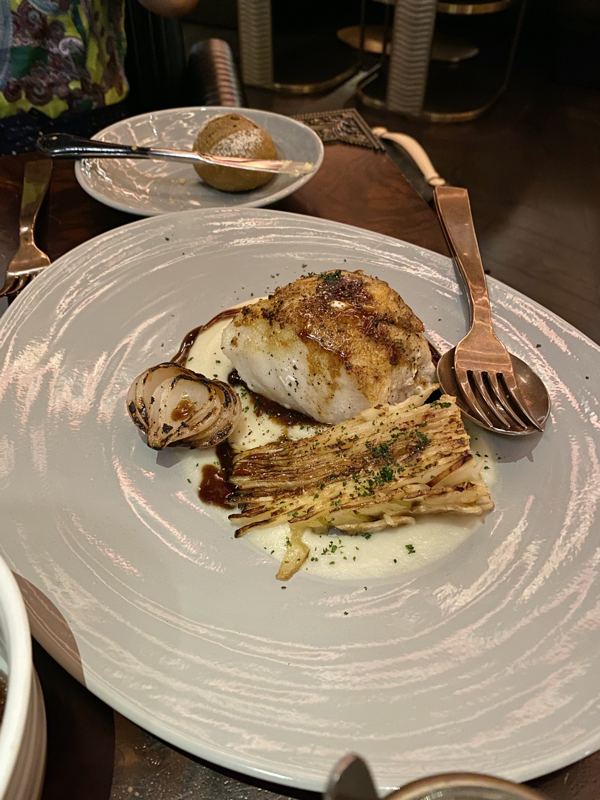 From their seafood menu, Grilled Glacier 51 Toothfish with roasted celeriac, apple gratin, roasted shallot, and red wine jus. The fish was thick, juicy, and deliciously fatty.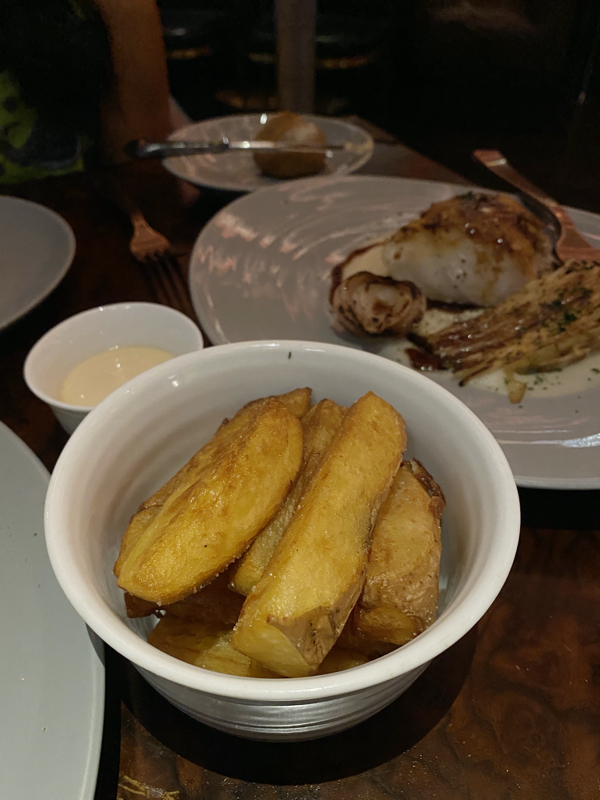 Duck Fat potato fries with herbed salt and garlic aioli 😀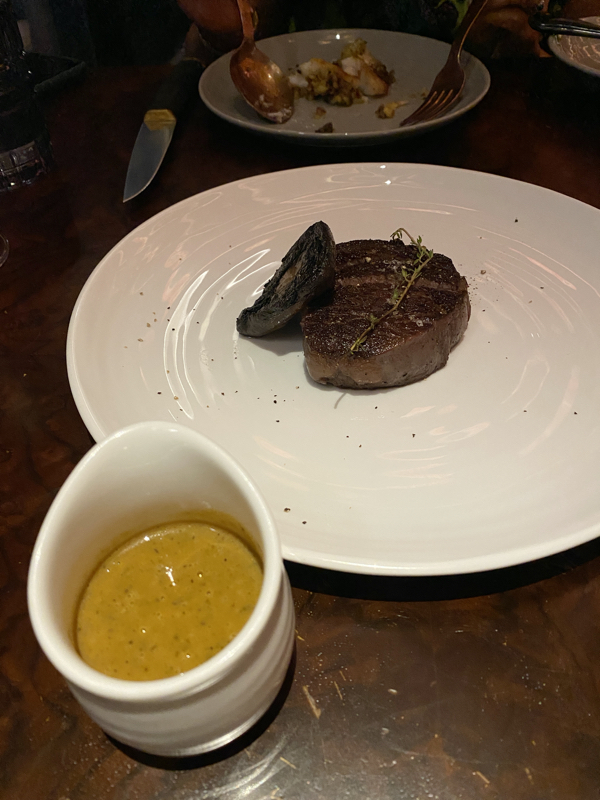 Tenderloin (Australian Stockyard 200 days Grain Fed), 150 grams, in medium, served with a peppercorn sauce. 😀
---
Since the night was still young, we went back at The Loft again for a nightcap.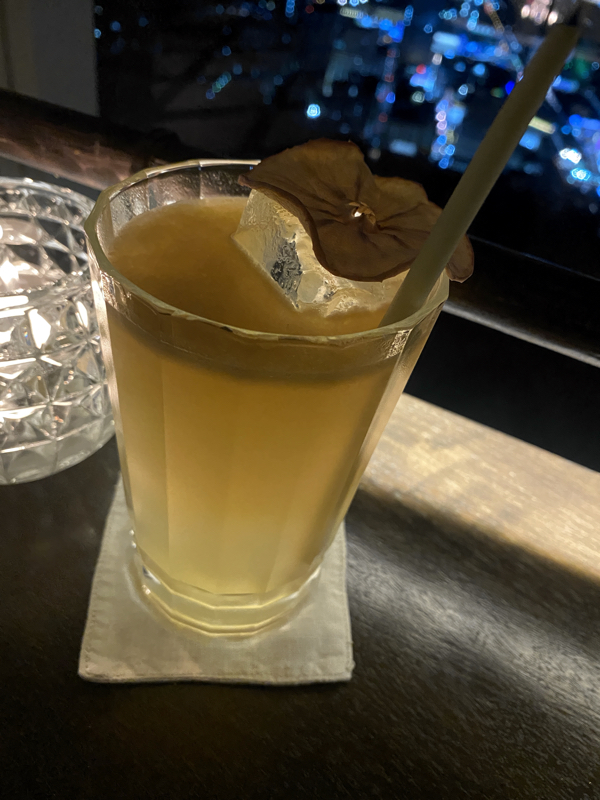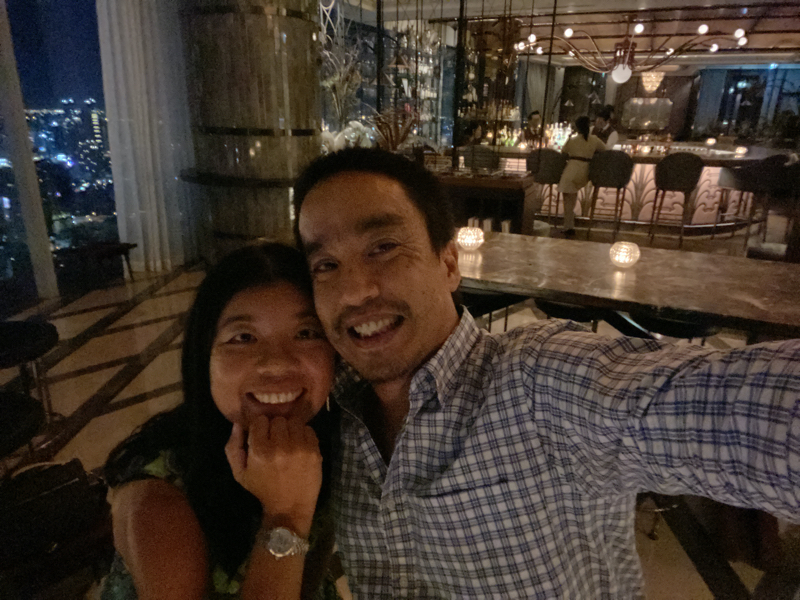 ---
The Breakfast 
I cannot write about the Waldorf Astoria Bangkok without mentioning their phenomenal breakfast. This breakfast has been top-rated among visitors the world over. 'Best breakfast in Bangkok,' many said. And here is our chance – like many local visitors – to enjoy this special treatment and the vibes in our own hometown.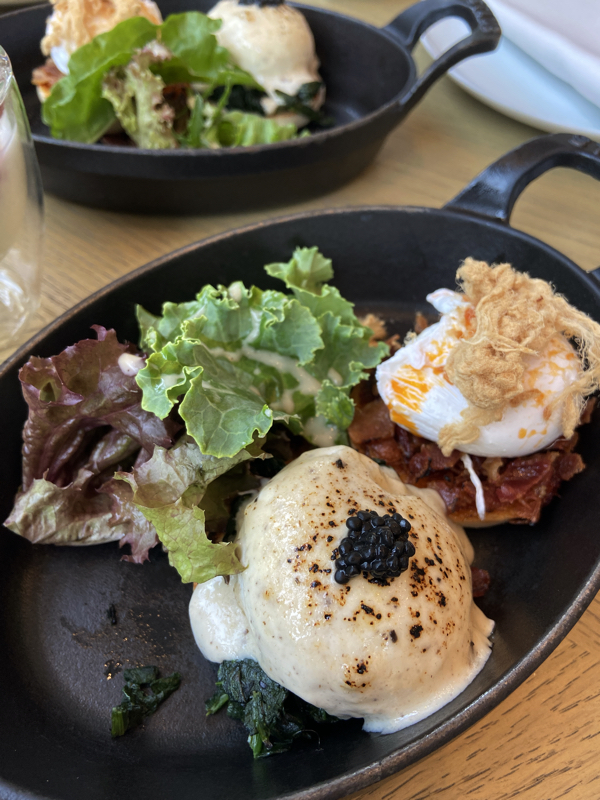 An order of poached eggs – one Truffle Egg and one Chilli Egg at the breakfast of Waldorf Astoria Bangkok
What makes the buffet spread here different from other five-star places, in my opinion, is the quality of their ingredients. The freshness, the tastes, and the well-preparedness. People come here for the Eggs Benedict, of course. But I also love their tasty spin-offs – the Truffle Eggs and the Chilli Eggs above. The portion for the freshly-made eggs here are hearty. If you want to sample everything they have to offer, you might want to ask for a smaller portion. Or just one single egg (instead of two) in the case of the poached variety.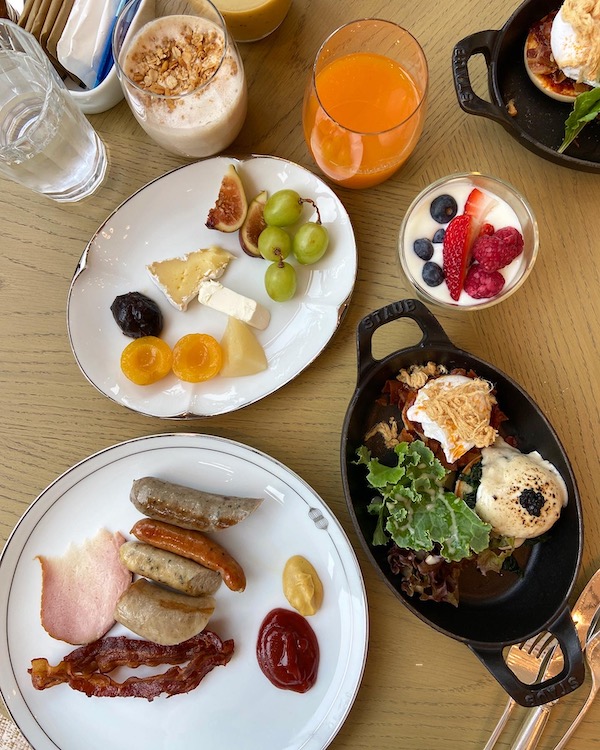 Breakfast for one that includes everything and more
Also very special are their freshly made juices and smoothies. They are all very refreshing. And you cannot miss their Greek yoghurt table, with healthy condiments – fresh berries, candied and confit fruits, and so on. Also in the buffet line are salad, fresh fruits, loads of so-very-delicious pastries, and bread. Their freshly kneaded butter (aerated, smooth, and almost sticky in texture and so very creamy and delicious) is a must. You just skip your calorie-counting regime for once. And it is worth everything.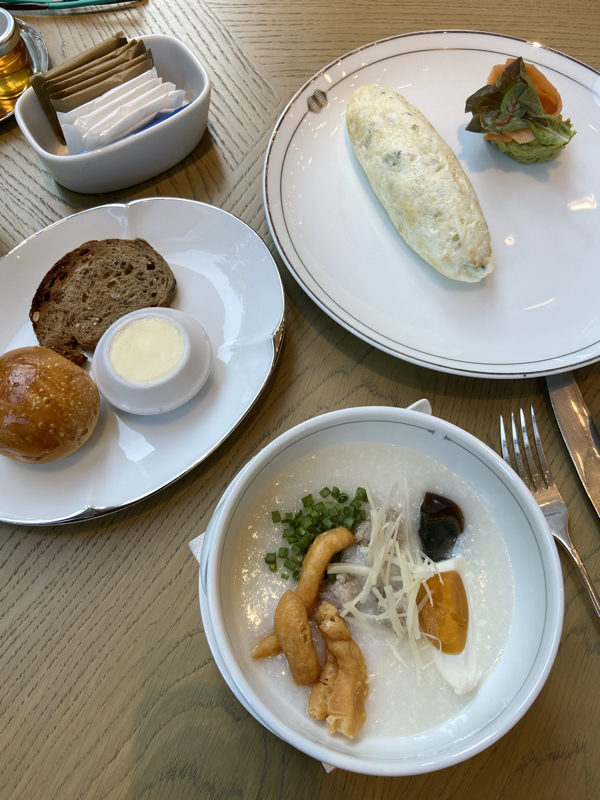 Clockwise: A roll and multi-grain bread with their super delish kneaded butter, egg white omelette, and pork congee, crispy dough, thousand-year egg, and salted egg. 
---