There's no doubt in my mind about the importance of Sukhothai – known as the Kingdom of Siam's founding capital city. But the city, located about 500 kilometres north of Bangkok, has somehow escaped most of our visiting intentions. But there's one time, about two or three years ago, that we ventured north, with an intention to hit the far-flung borders up there. We then made an overnight stop in Sukhothai, to revisit the glory of the town, and also as a way to reminisce and pick up what we had left from our last previous trips.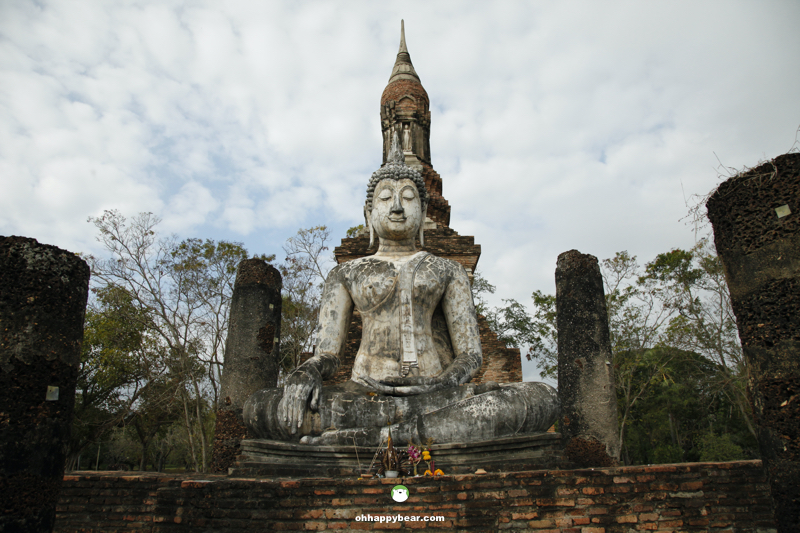 As the world has already known, Sukhothai is an enlisted UNESCO Historical Site. And that recognition also includes two other associated historical towns of Si Satchanalai about 60 kilometres north and Kamphaeng Phet about 95 kilometres south.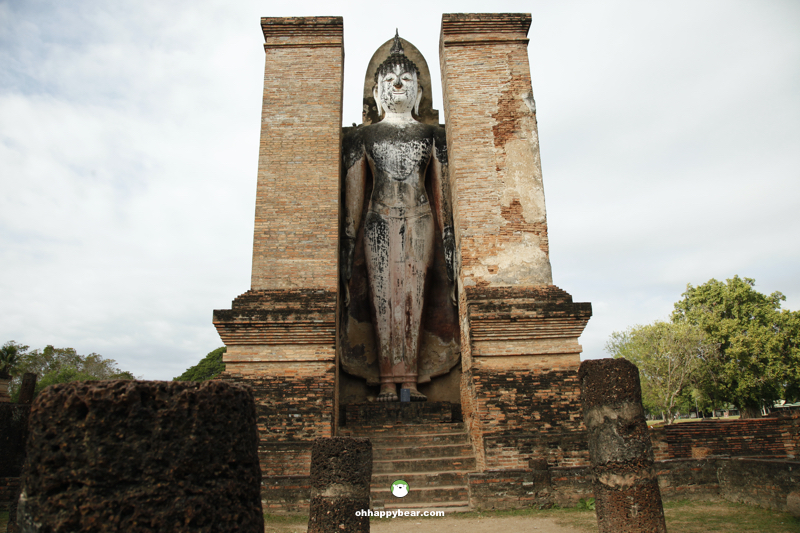 In the past, the Kingdom of Siam was divided into sovereign regional kingdoms. The north has its own kings, the central and the south did as well. The dynasty of Sukhothai prospered during the 13th – 14th Centuries, and among their kings were Phor Khun Si Inthrathit and his son Phor Khun Ramkamhaeng under whose sovereign Sukhothai dynasty expanded greatly and was governed down by his lineage.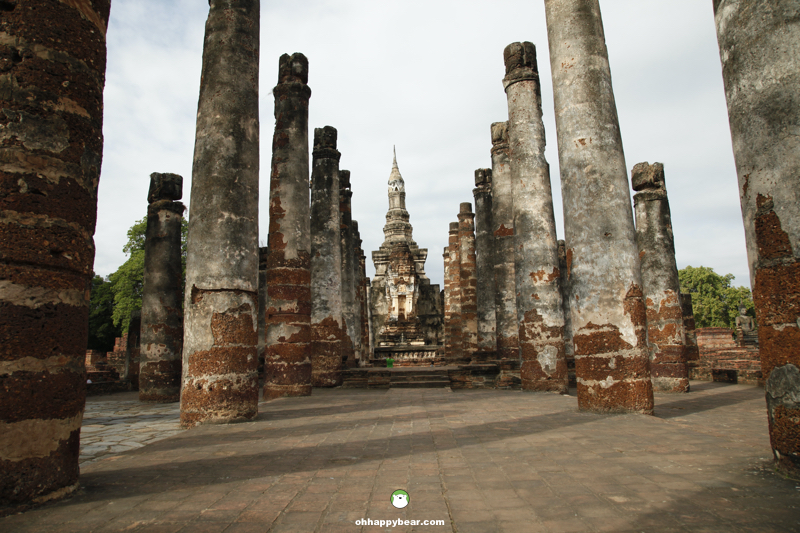 So to give you a whole picture, here are the dynasty lineages of our Kingdom. 1. Sukhothai Period from 1238 – 1438; 2. Ayutthaya Period from 1350 – 1767; 3. Rattanakosin Period from 1782 – present. 
So, as you might have guessed from the above, Sukhothai was later evolved into Ayutthaya Period which, later on, evolved into what we now have as the Rattanakosin Era with now King Rama X as the direct lineage.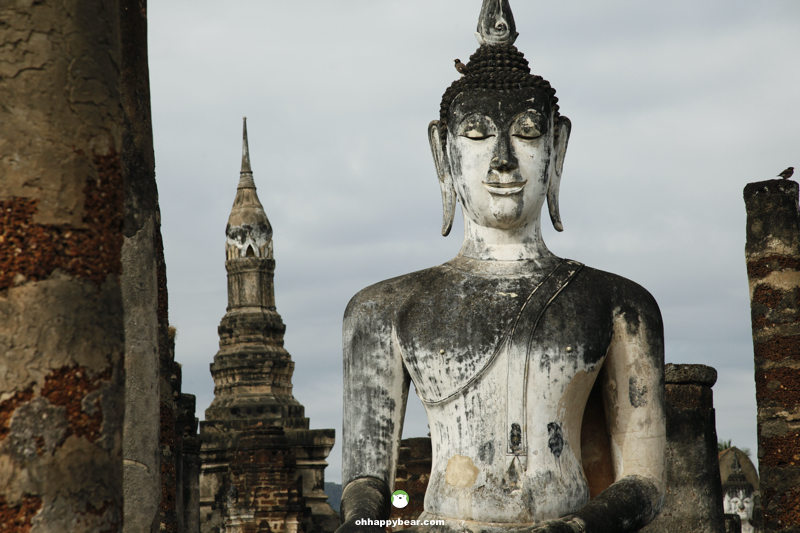 Sukhothai Historical Park
The best way to explore Sukhothai is by biking around the beautifully preserved 13th-Century Sukhothai Historical Park. Entrance fees apply (truly worth it) and you can rent a bike there at the entrance and enjoy your day. There's a moated area where you can bike freely, but you'll need to be extra careful when venturing outside that area. Say, to see Wat Chang Lom (east) and Wat Sri Chum (north). I have included a map of the historical park right here.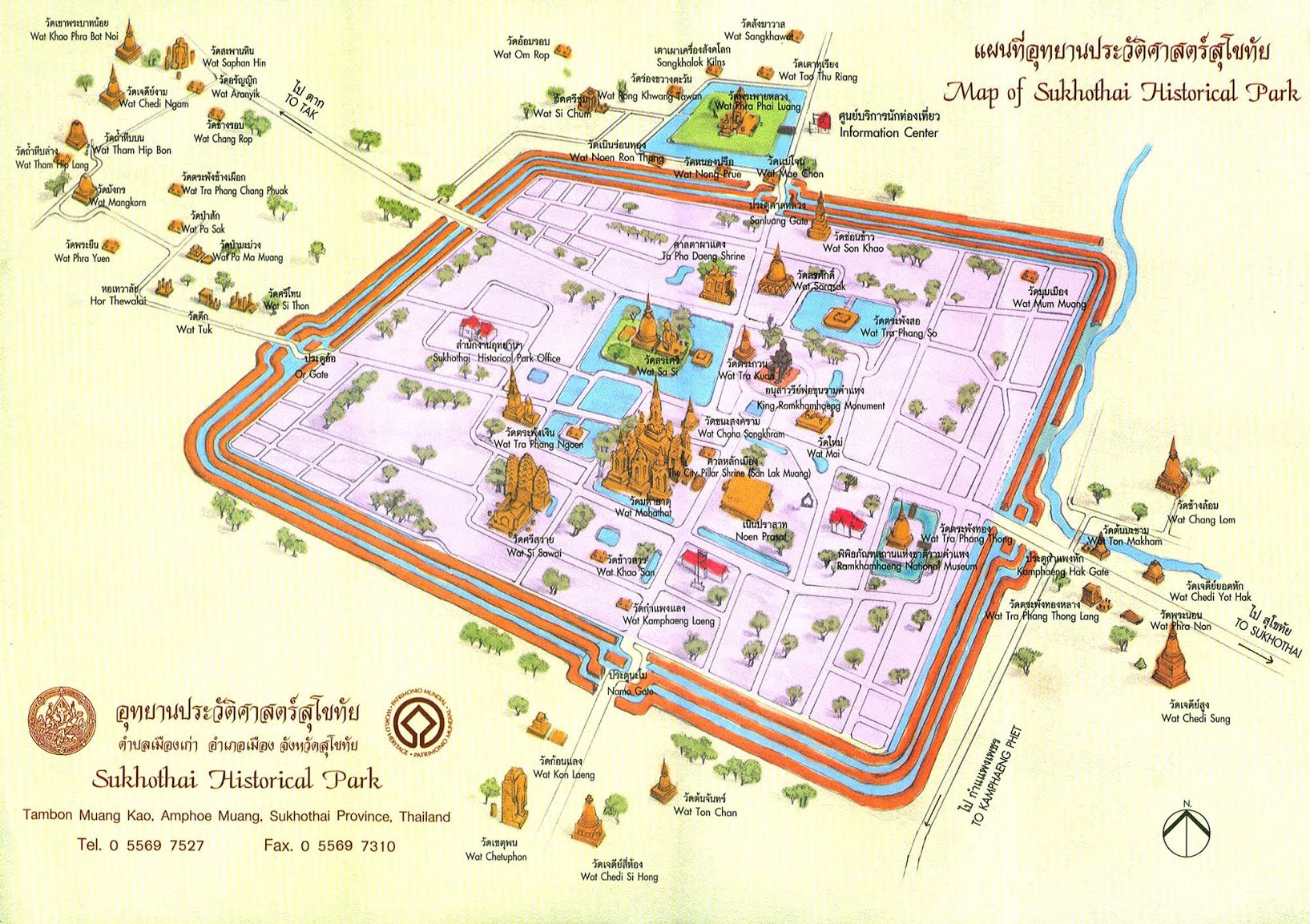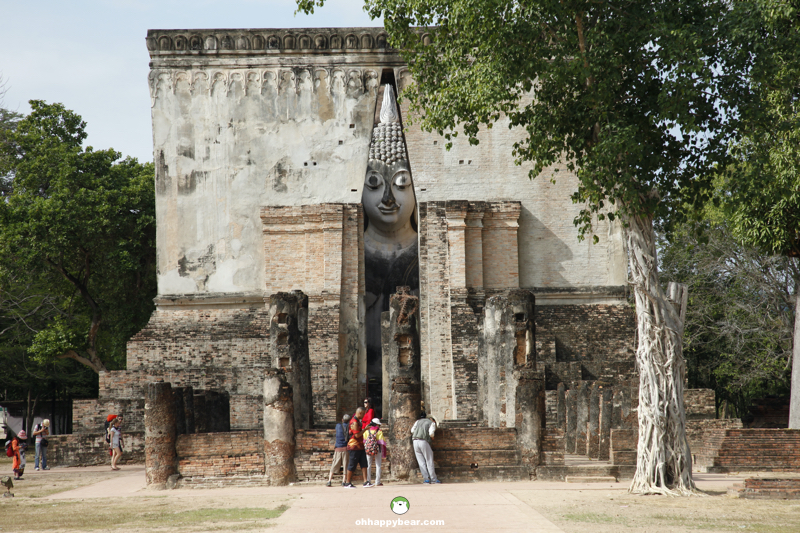 Wat Sri Chum and the famed Buddha image in Mara post.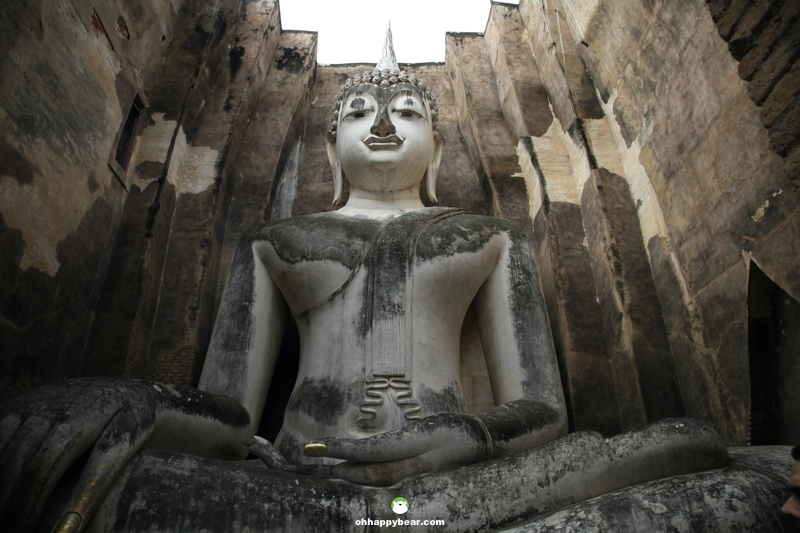 ---
What to eat in Sukhothai
You might have heard about 'Sukhothai Noodle' before. It is a pork-based noodle, usually with a type of chewy and thin rice noodle known as 'Sen Lek' as the main carb. The trimmings include sliced and minced pork, toasted peanut, long green beans sliced, with balanced flavours with lime, toasted chillies, and fish sauce. Sukhothai Noodle is widely available in Thailand, but somehow eating one in Sukhothai feels more real and delicious.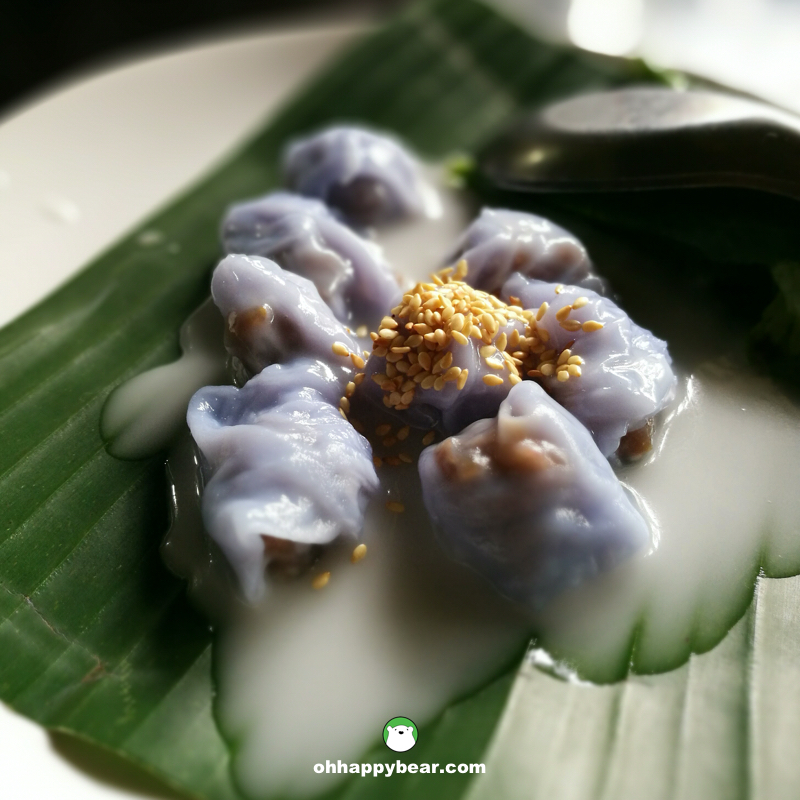 Among many restaurants that we went on this trip, I liked Mai Klang Krung (ร้านไม้กลางกรุง) the best. This place is a shophouse decked into a homey shady place with lots of decor items crammed together everywhere, ceilings and staircases included. Their dry and soup versions of the noodles ก๋วยเตี๋ยวสุโขทัยแบบแห้งและแบบน้ำ were tasty, as well as their rice crepes above called Pak Mor ปากหม้อ that they served with a ladle of creamy coconut milk. I also liked their Khao Kluk Kapi ข้าวคลุกกะปิ – rice with shrimp paste below.  
Khao Kluk Kapi ข้าวคลุกกะปิ at Ran Mai Klang Krung in Sukhothai. 
But then, you might want to venture north. To Si Satchanalai district, about 88 kilometres north of Sukhothai city. There's a place called 'Khao Perp Yai Kreung' ข้าวเปิ๊ปยายเครื่อง. Despite being in the middle of nowhere (at least the last time we were there a couple of years back), the place was packed right before noon. You will see steaming smoke drifting above their charcoal setting where all the cooking is done above steamers – old-school through and through.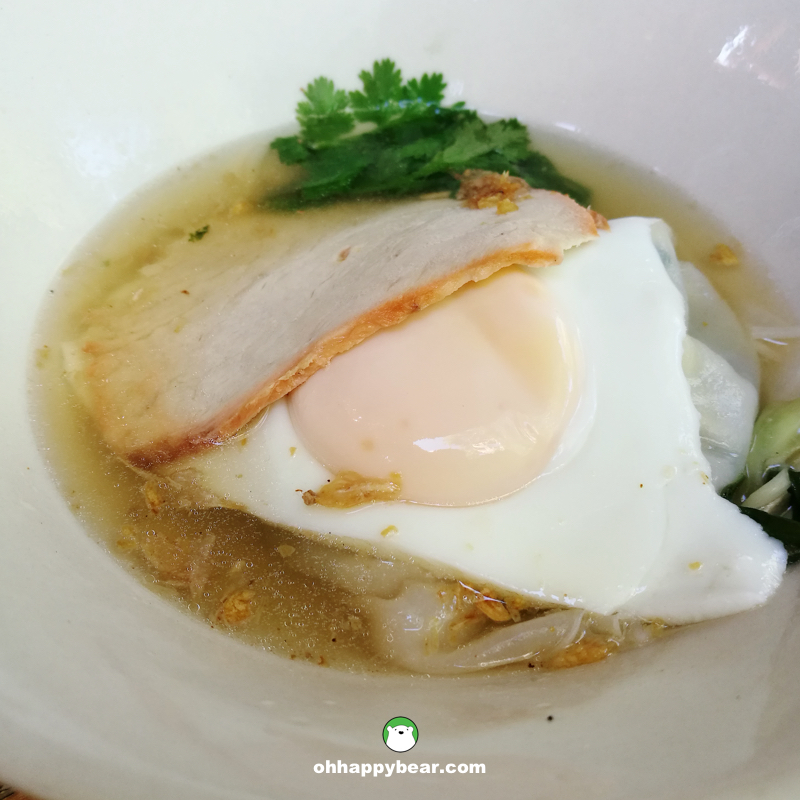 Khao Perp is the local dialect for 'folded rice crepe.' The rice slurry is thinly spread onto a cheesecloth stretched over a wide-rimmed pot with simmering water inside. The crepe is steamed to cook along with the assorted veggies. Shredded cabbages, beansprout, kales, and so on. The egg is also cooked the same way but on another pot of steamer. You can even tell them the preferred doneness of your eggs. When the steaming is done, both crepes and eggs are assembled with a thick slice of BBQ pork and a ladle of clear pork soup. A hearty deliciousness.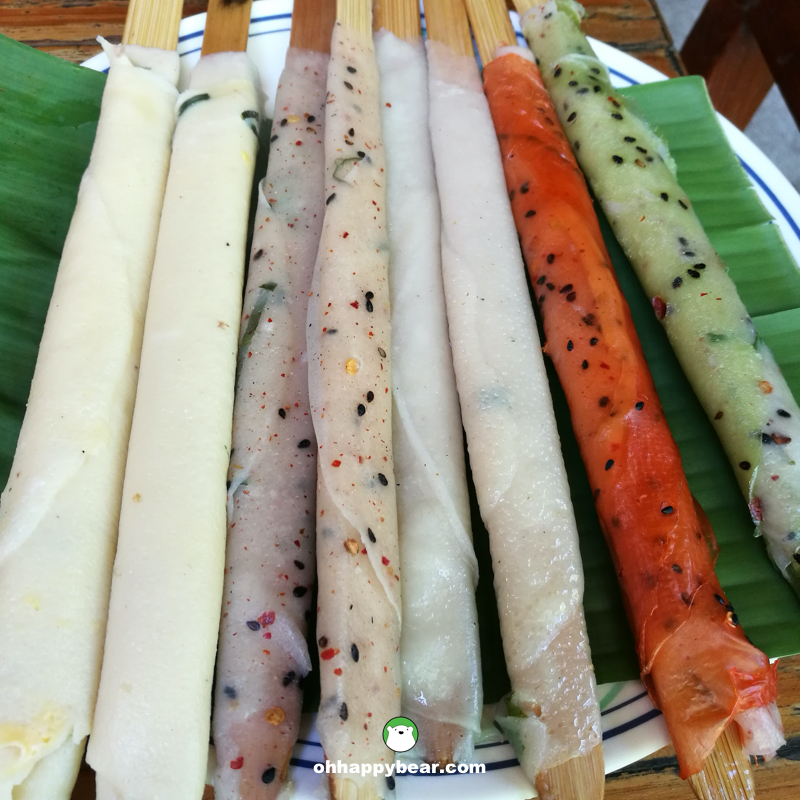 Rice is always the heart of Thai cuisine. From the rice is cooked as is into steamed rice to the rice kept and milled and made into flours, and turned into a slurry, and also into various forms of crepes seen here. The above bowls of soup and dry versions of Khao Perp aside, there's also something called Khao Oap ข้าวโอบ which is another form of crepes wrapped with Khao Khab ข้าวแคบ or dried rice crepes available in different flavours (chillies, included) served as snacks.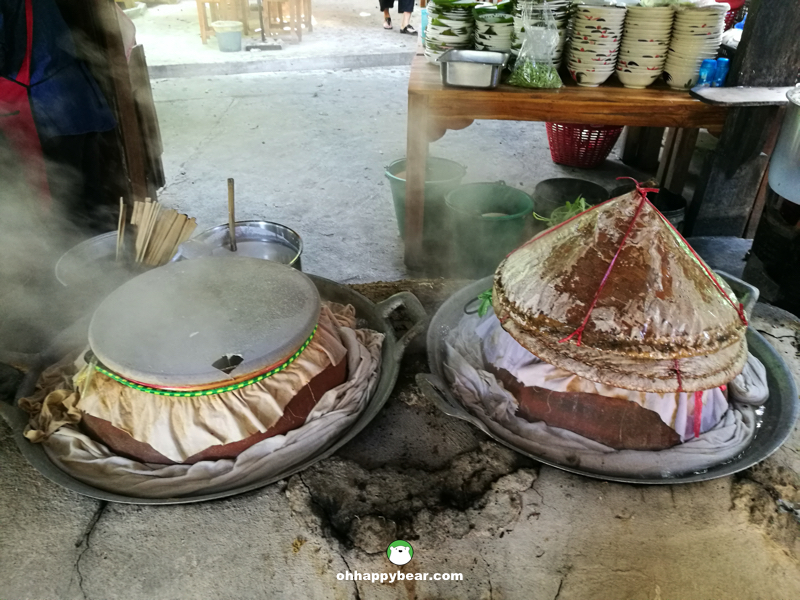 ---