Our first post-COVID-19 lockdown getaway went like this: a long road trip to the south, shared driving, and whoever was driving got to choose the music, no fixed schedules, lots of eating, lots of beach-walking, and save the best for last. Rayavadee in Krabi was our last stop. We were there for a couple of days, and we also took a day out touring Ko Klang to get to know the locals nearby a little bit better.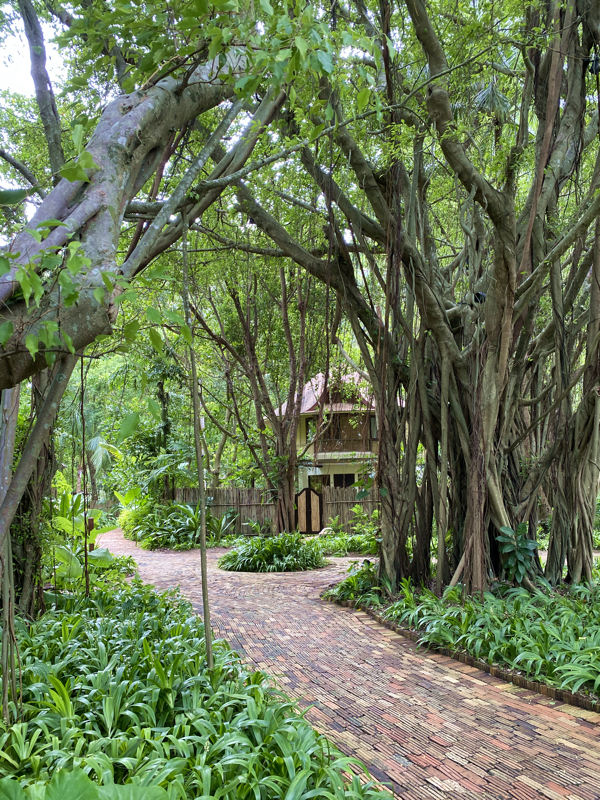 Above: Rayavadee's iconic circular two-storey pavilions are nestled in a lush, wild garden dotted with overgrowing banyan trees. 
Like many top-notch hotels and resorts around Thailand at this time, Rayavadee is now making do with local tourists, offering an all-in package like never before. We were there late in July, mid-way into the annual low season that usually stretches from June – September for this part of the country. The high season for the Andaman Sea destinations starts from October and lasts until May. That's when you'll have to expect the crowds, pay a steep price for everything, but then the emerald sea and clear blue skies would be your guaranteed rewards.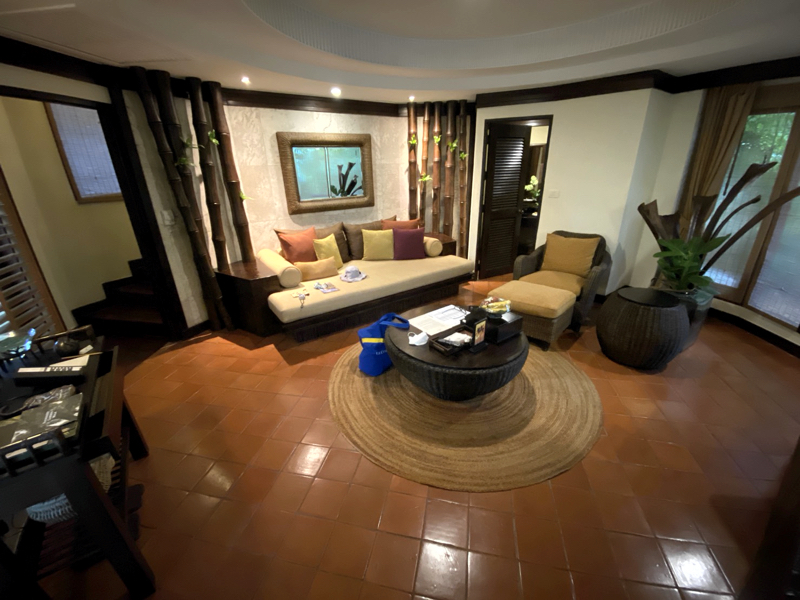 Above: The first floor of our pavilion, a dedicated living room with separate bathroom, plush, heavy wood-framed furniture, and coffee making corner. 
Rayavadee has been around since 1993 as one of Thailand's very first and very few five-star establishments back in the day. Perhaps, that was around the time that I started to get my own 'independence' of adulthood – the ability to go places with friends. I remember a trip to this part of Krabi with two friends – just after graduation. I remember being completely awestruck by all the limestone peaks at Railay. Everything was just so amazing. Postcard-perfect. And three of us, one evening skirting about on Railay Beach, stumbled upon Rayavadee – hidden in the thickets of trees, coconut groves – dimly, yet, like-a-dream, lit up with the illumination of lanterns here and there. It was like a secret place – somewhere only people who know it would know where it is. Coming here again this time, 27 years later, I got a full story of the place that has been, for many occasions, listed as the world's best resorts in Asia and the world.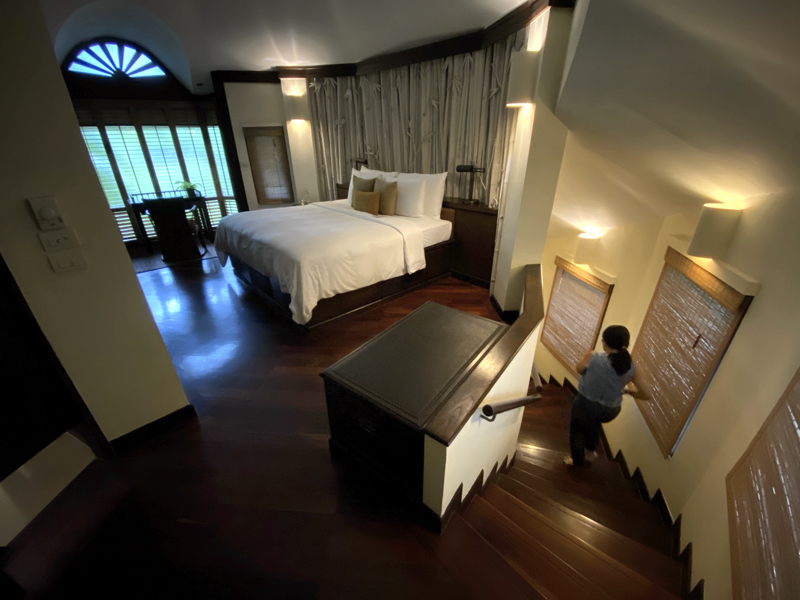 Above: The bedroom upstairs with a spiralling wooden staircase. 
Our room was a deluxe pavilion – a two-storey unit of 90 square metres – with a dedicated living room downstairs and bedroom and bathroom upstairs. The circular plan of all pavilions here was conceived by M.L. Chainimit Navarat, the architect who wanted to fit all the 102 buildings into the entire space without having to bulldoze the original trees. His inspiration, as it turned out, was the ancient forts built along the length of the Chaophraya River to guard Bangkok back in the era of King Rama I. The spiral staircase fits the dreamy concept, the whole ensemble exudes old-time luxury, everything is opulent in every way. Big rugs on the floor, heavy, all-wooden framed furniture, custom-made slidable coffee-and-tea prepping deck, a big plush bed that can fit three. All things you would expect to see in a rich people's home back in the day.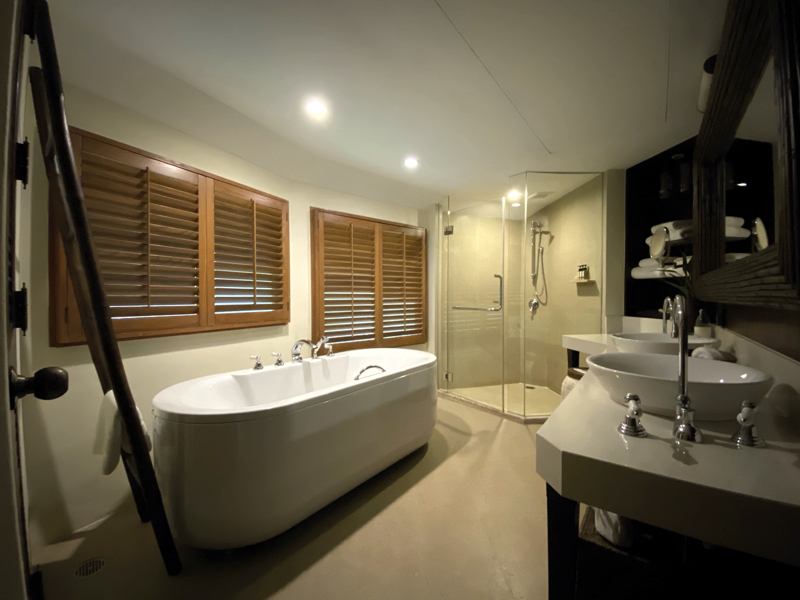 Being at the tip of the Railay Peninsula, Rayavadee is flanked by three beaches: East Railay which is the boat's entrance, Railay Beach to the west, and the much-coveted Ao Phra Nang to the southwest with the Happy Island (Ko Rang Nok) as the iconic sunset backdrop. This last beach is where we spent a lot of time – with The Grotto restaurant running from noon onwards, and the beach being the most powdery. When the tides were low, we walked all the way to Had Tham Phra Nang Beach to the westernmost point, got all bewildered by the ever-changing scenes of the overlapping Ko Rang Nok and the limestone caves that apparently never cease to amaze me. I later learned about these limestone mountains later on our trip to Ko Klang. Please stay tuned to read further.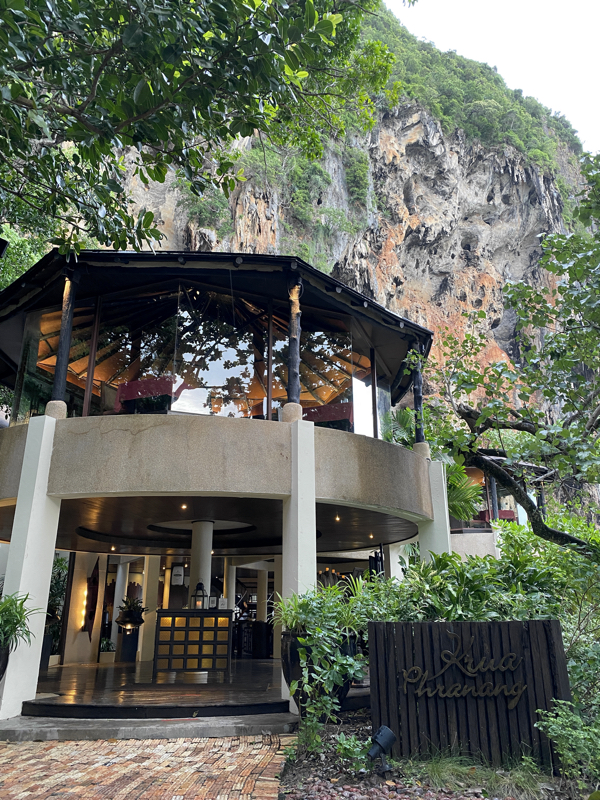 Above: The entrance of Krua Phranang – backdrop here is the famous Phra Nang Cave. 
We arrived at Rayavadee first day late in the afternoon. Our stay was three nights, and we were taking the second day off to Ko Klang. Our first dinner was at Krua Phranang where they serve Thai and southern Thai dishes where I heard their chef de cuisine, a native of Krabi herself, has been with the resort since the opening day. 
Krua Phranang is open for dinner only. The vibes are casual, the view amazing. I felt so very lucky to be there. The food, meanwhile, was wholesome, spicy, flavourful, and delicious. We were here for two dinners. So below are what we ate for the two meals.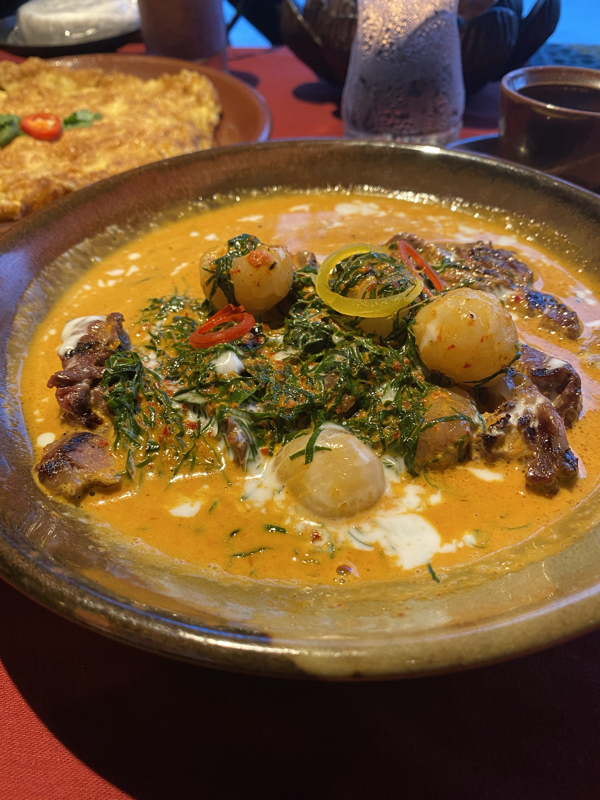 Above: Curry of grilled beef, longan, and betel leaves.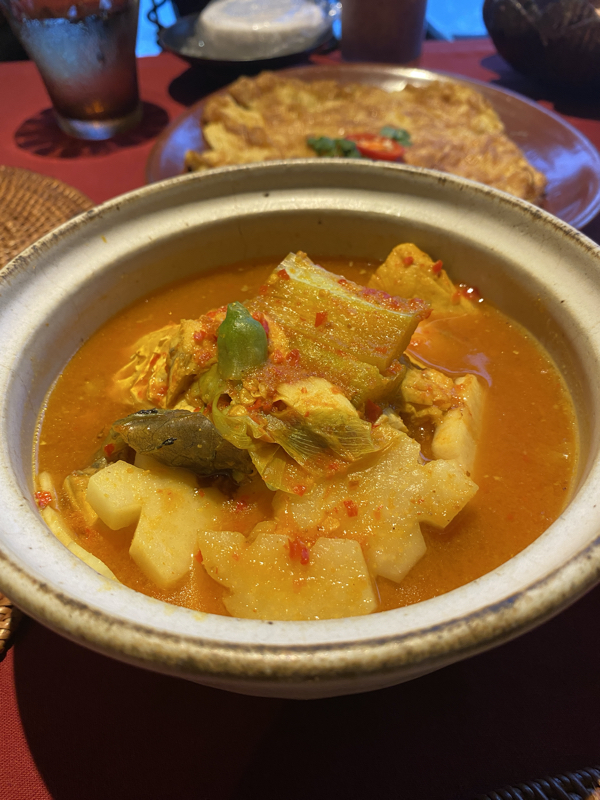 Above: A southern Thai staple of Gaeng Som. The yellow from turmeric makes it particular. This one is mixed veggies and snapper.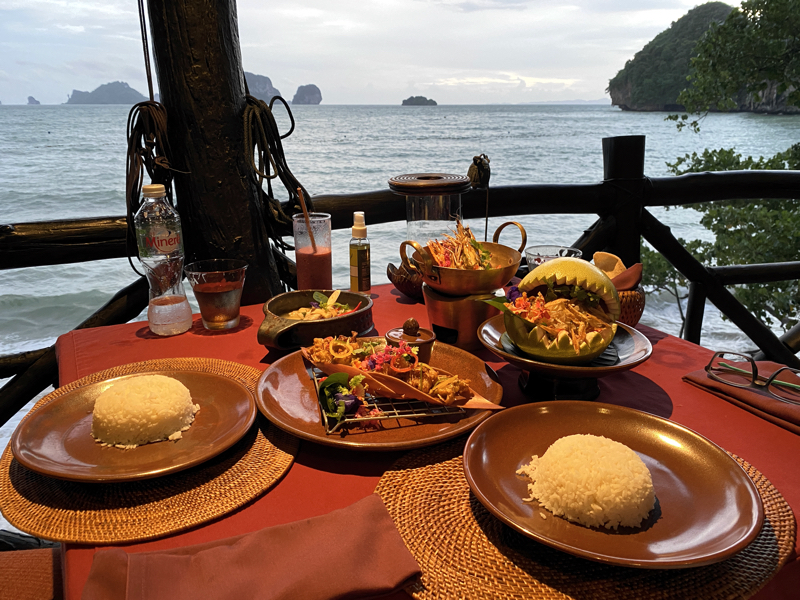 Above: Our first night dinner of (clockwise) prawns with stinky beans, pomelo salad and crispy fish, banana blossom fritters, and tom yum pla since I felt a bit under the weather. 
The Grotto is Rayavadee's iconic restaurant. As the name suggests, this place is partially inside the overhangs of a limestone cave. While you might want to be closer to the beach, let me tell you that a table inside, overlooking the beach dotted with the Rang Nok Islands, was equally, if not more, amazing. I got the picture below from our table.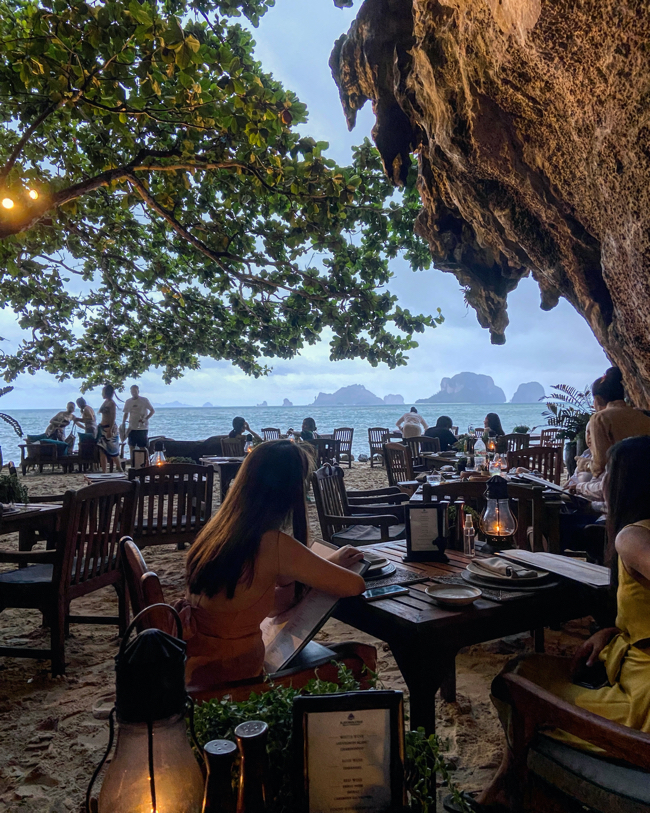 Above: Rayavadee's iconic restaurant The Grotto can be crowded during weekends, so book your table (and food) in advance. 
What I love most about the beachside dining is the ability to dip my bare feet into the sand. No matter what dress you are in, make sure that the shoes are not heels. I found those in-room provisions of brown rubber thongs suitable for any dress. Go for it. Below is what we ate for dinner the second night. The portions of the food here are hearty, so you know what to expect. 😀
Above: Caesar Salad with prawns. Love love the parmesan crisps and crouton. Delicious.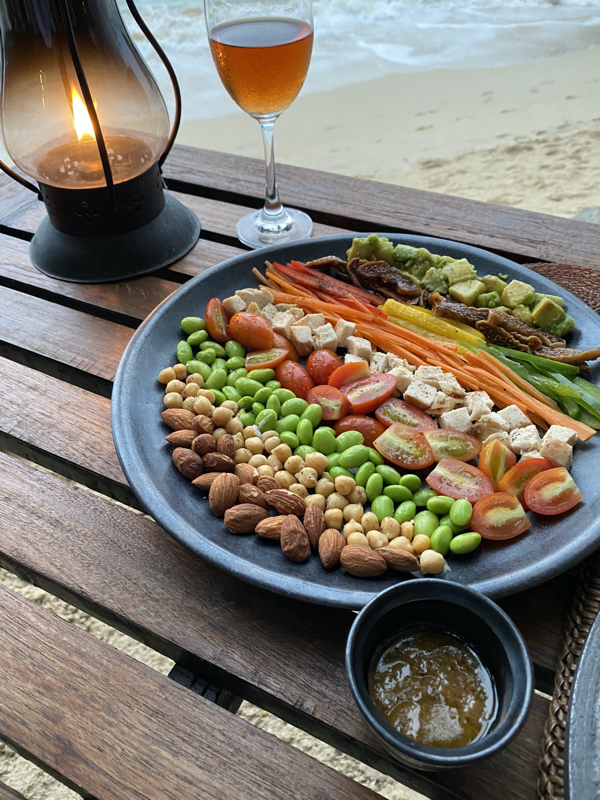 Above: Mediterranean Cobb Salad. I love the combination of this plate, so plentiful and healthy.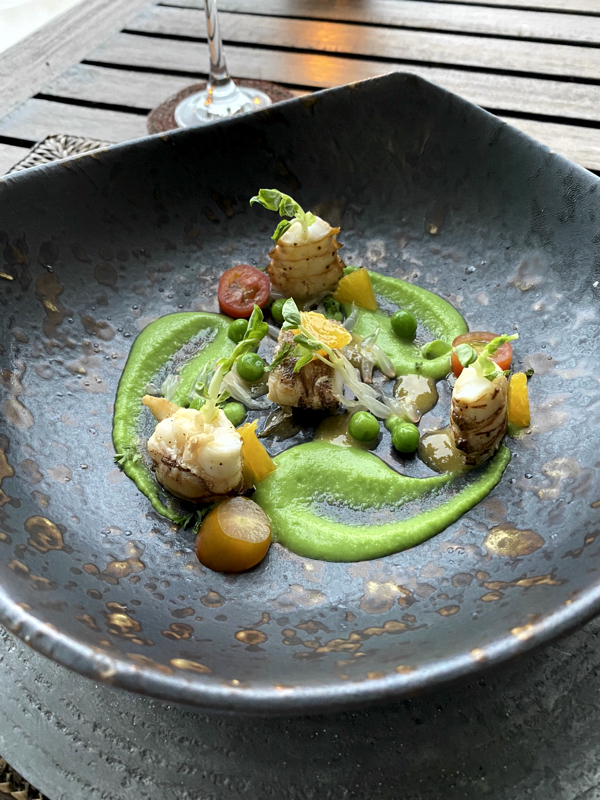 Above: Rock Lobster salad that comes with the set of BBQ platter. Juicy lobster, gourmet touch, delicious,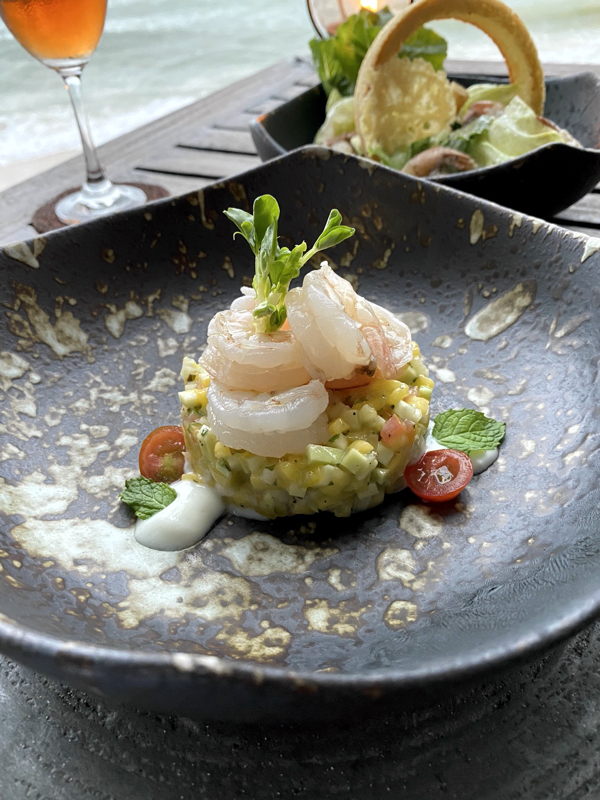 Above: Mango avocado salad with prawns. Very refreshing and clean-tasting. This dish lifted me up wholesomely. Love it.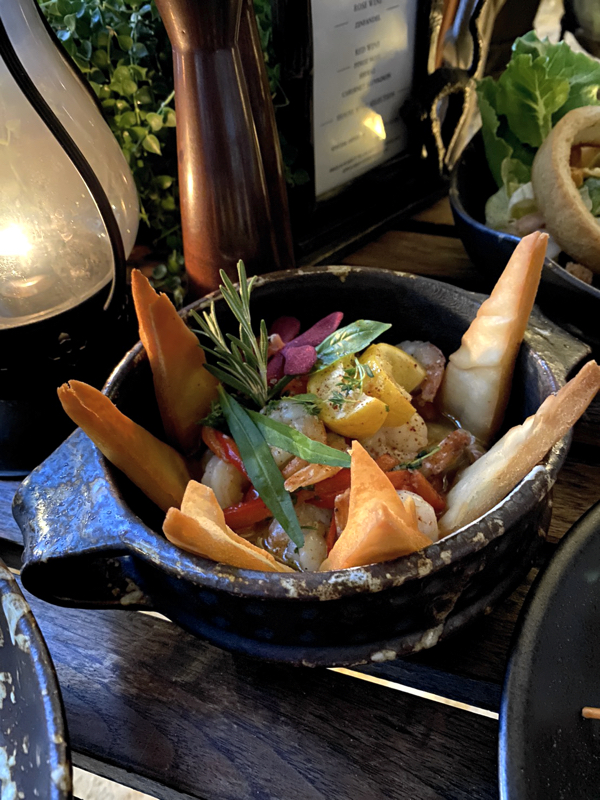 Above: Prawns with lemon garlic sauce. Quite buttery and tangy. A bit herby. Good combo of tastes.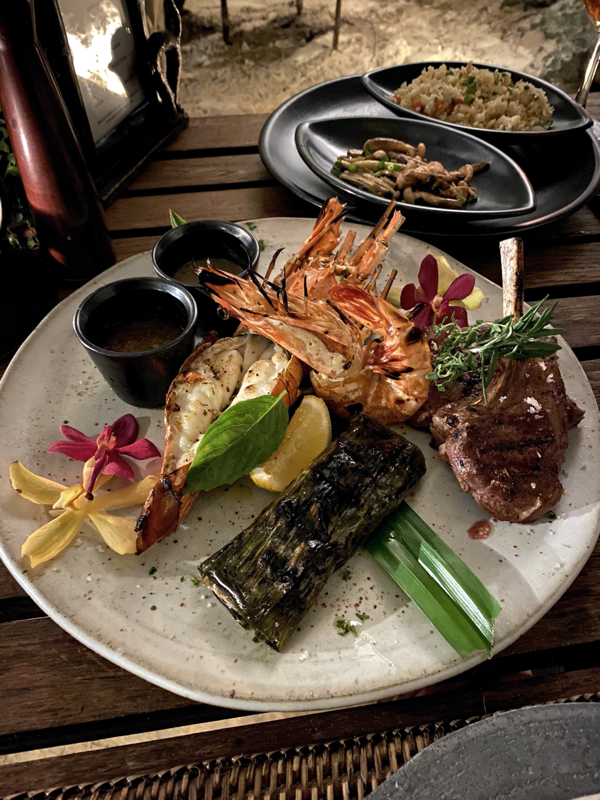 Above: Here comes our main event – the BBQ set that has to be ordered one day in advance. Surf and turf this one with one giant lobster, one tiger prawn, juicy-grilled fish in banana leaves, lamb chop, and sirloin. We chose peppercorn sauce and seafood sauce to go with everything.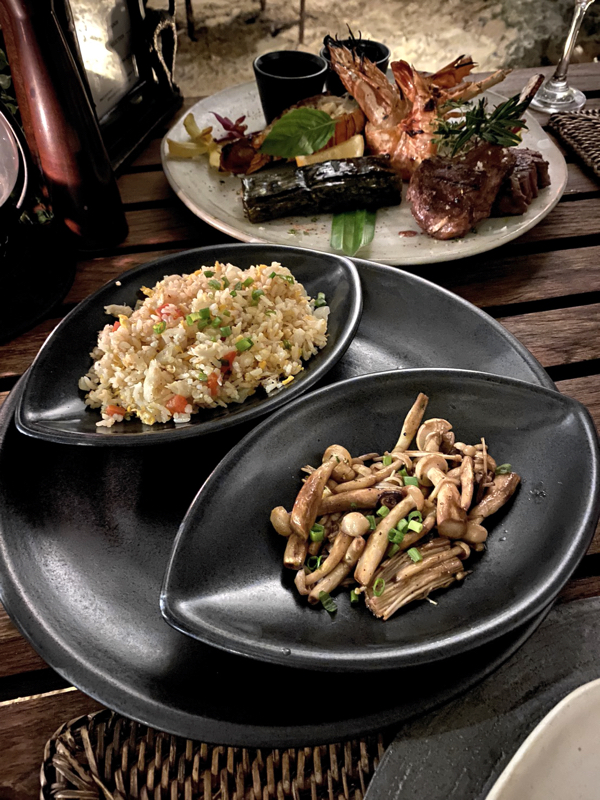 Above: Two sides that we chose with our BBQ fried rice and marinated mushrooms.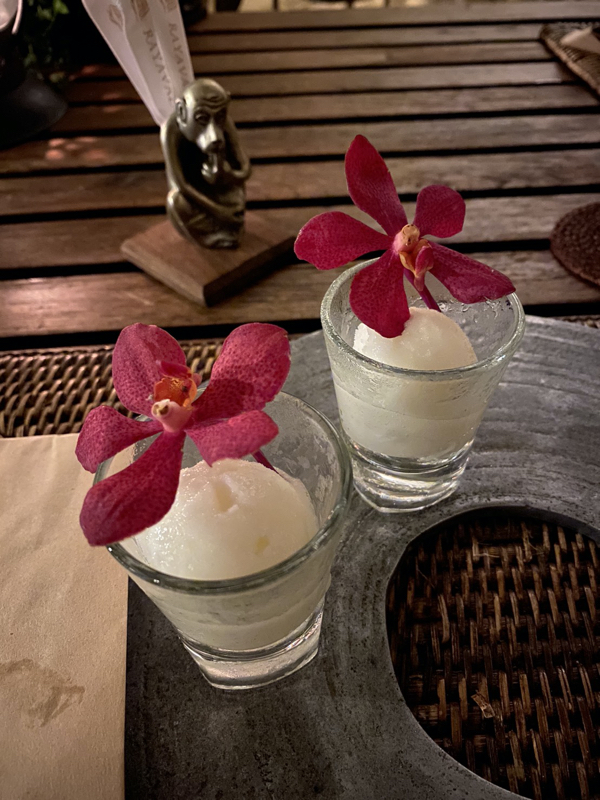 Above: Another gourmet touch – a palate-cleansing sorbet is served prior to our dessert which is the delicious crême brûlée ensemble below.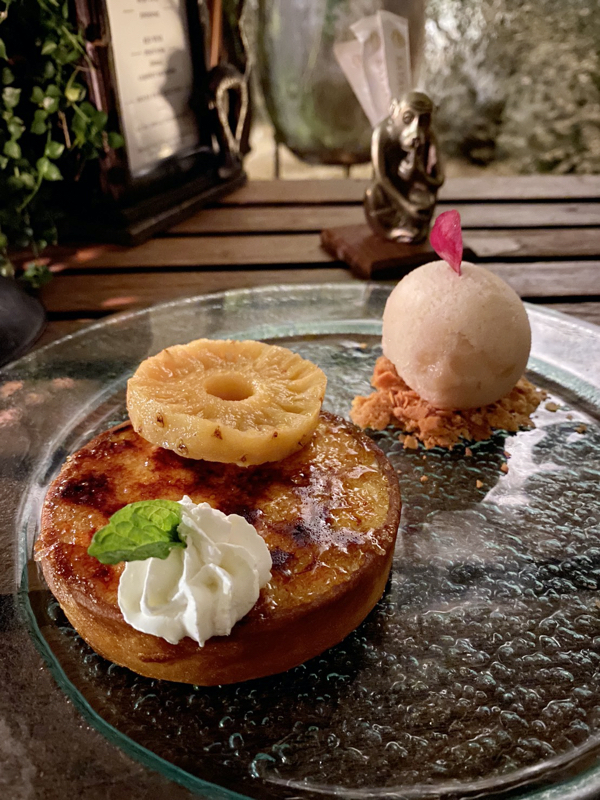 The breakfast at Raya Dining – This is something I really look forward to at Rayavadee. The breakfast comes with the room and it lasts a couple of hours which, if you manage it right, you might be able to sample a bit of most things they offer on the menu. You can go all-out savoury and greasy, or you can opt for something light and healthy, or go for tasty Asian selections. I found their healthy selection filling and refreshing. I also found their fresh juices so so delicious it made me forget about my coffee. 😀
Above: Rayavadee's wholesome breakfast starts with juices, coffees, baskets of baked goodies, and your choices of hot plates. Here are our full English breakfast and Eggs Benedict – classic style with ham on English muffin, Hollandaise sauce and dill, and nothing else. 
Above: Quinoa Bowl with a soft-boiled egg, avocado, almond, and feta cheese. Filling and refreshing at the same time. I love feta cheese that spiked the whole plate up.  
Lunch at Raya Dining – There's also one lunch at Raya Dining. And despite being an all-day kind-of-utilitarian cafeteria, we found their food exciting and tasty. I would recommend it if you want a quiet place to grab a hearty lunch, for most people will be at The Grotto :D.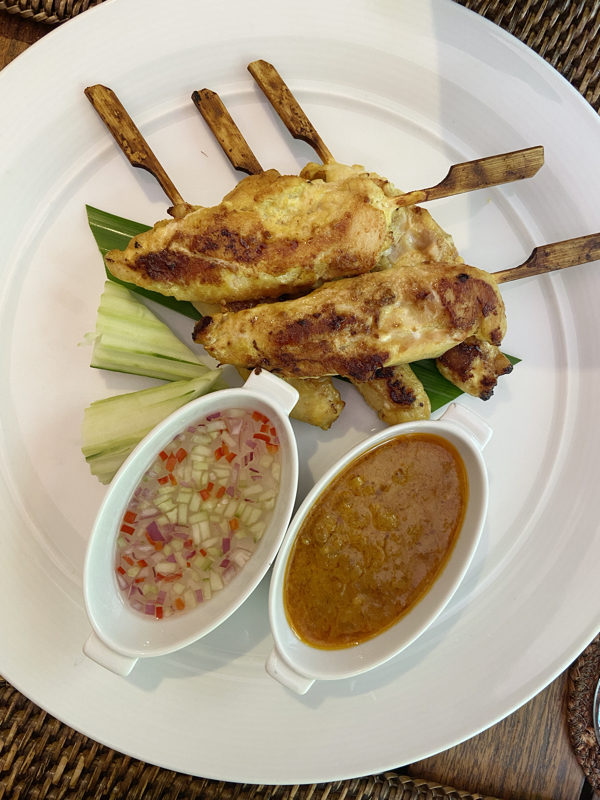 Above: Chicken satay as the appetiser for a lunch at Raya Dining. Thick, fat skewers, juicy, delicious.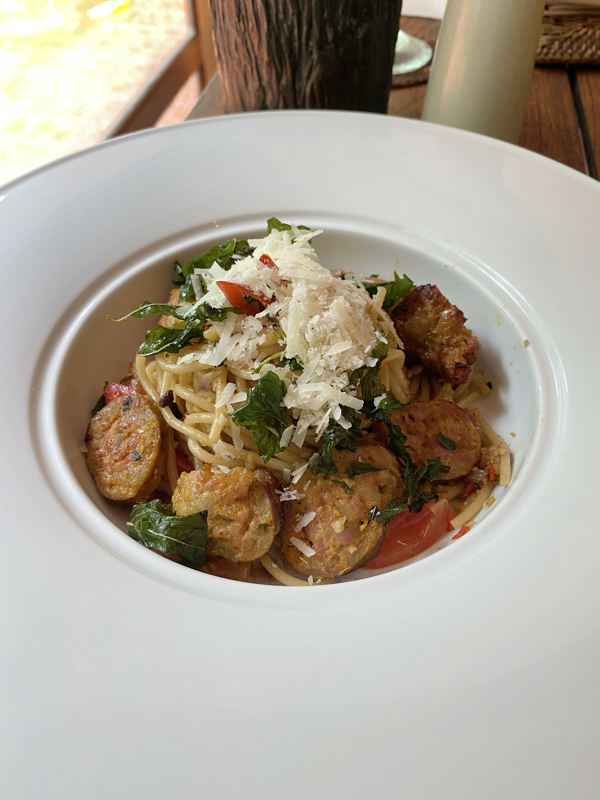 Above: My spicy Thai northern sausage (Sai-Ua) with spaghetti.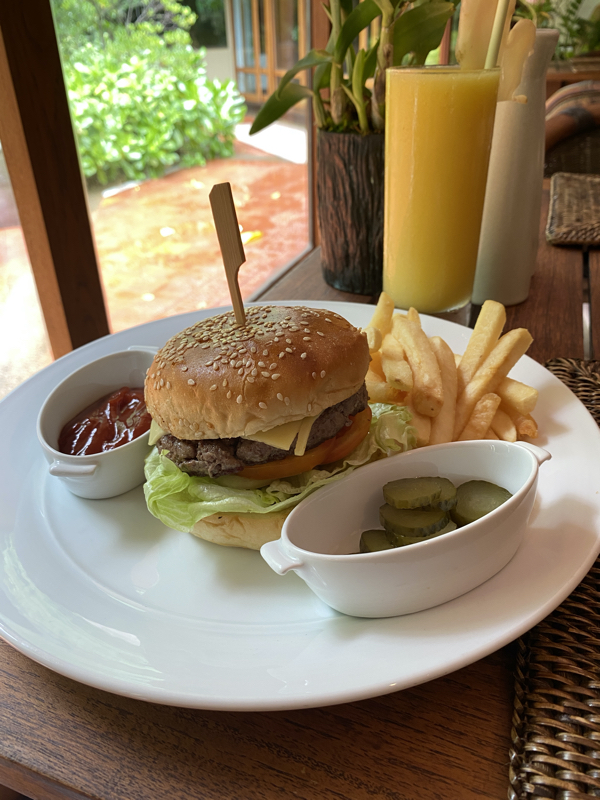 Above: Raya Dining's hamburger with all the trimmings.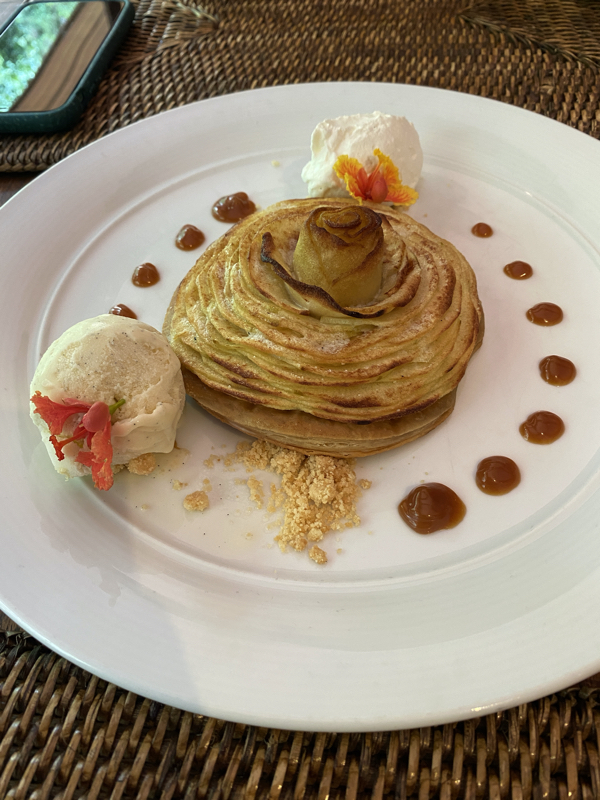 Above: Apple pie at Raya Dining was beyond my expectation. This gorgeous is made fresh and served warm with gooey caramel and ice cream. So so delicious. A must-eat. 
I would think that Rayavadee is a place for family. But couples would love it, too. And definitely a heaven for nature lovers. What I love most about the place is their lushness. The whole place is dense with trees, coconut groves, palms, and so on. If you have time, grab their in-room 'Garden Walk' map and explore away. Use the map to walk through the three routes, spotting the tree varieties as you go. There's also a list of wildlife that could be spotted in this area on the map, should you be so lucky to ever encounter some. 😀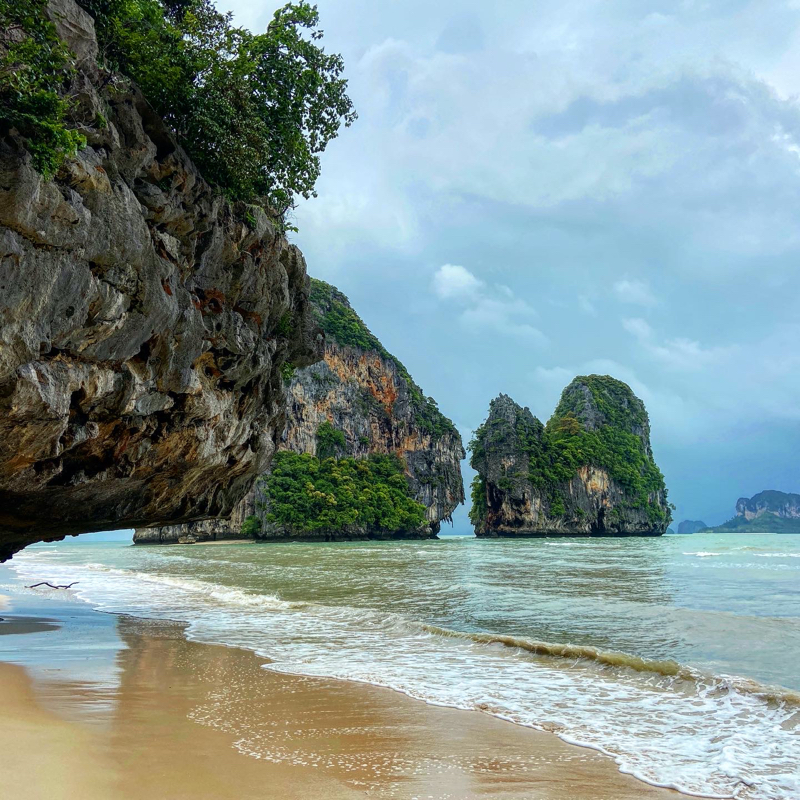 Above: From the west-end of Phra Nang Beach, these are the overlapping Ko Rang Nok islands.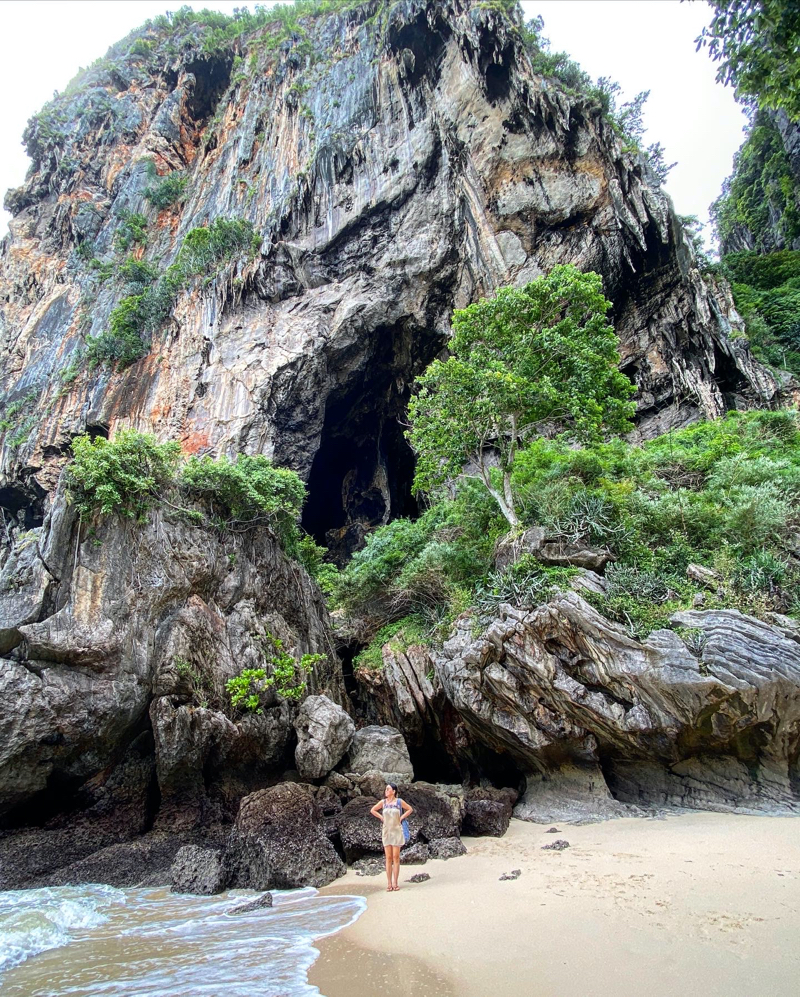 Above: Me at Phra Nang Cave Beach 😀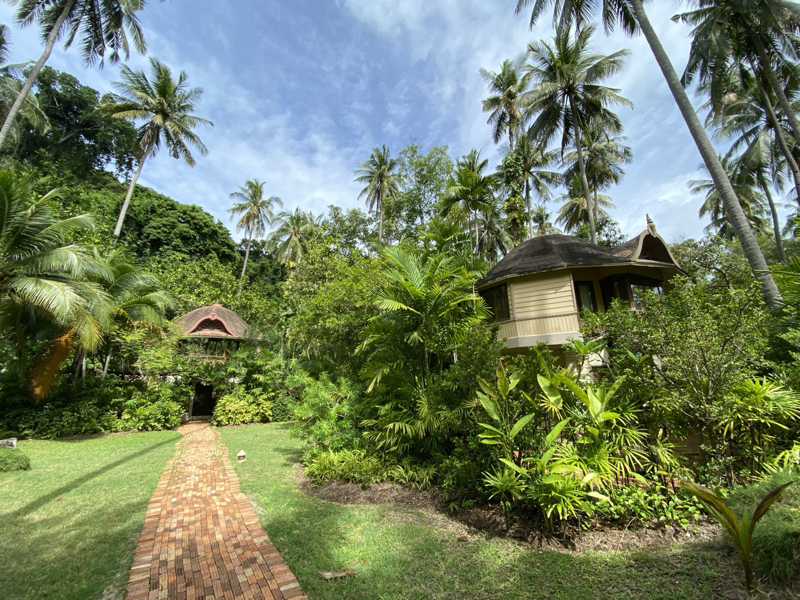 Above: Rayavadee's vibes.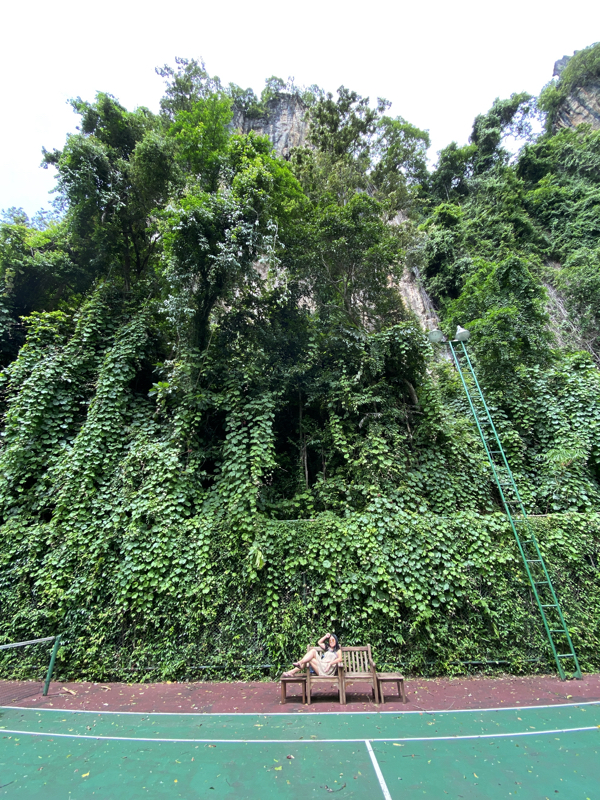 Above: Me again. 😀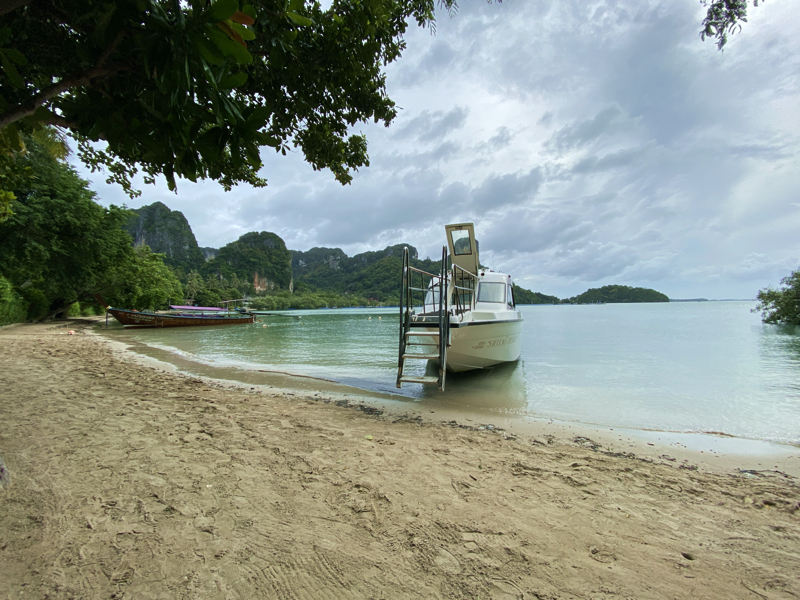 Above: Rayavadee's speedboat that shuttles guests from their Nong Nuch pier to the resort and back. 
Rayavadee's website + Facebook.
---