สำหรับภาษาไทย อ่านได้ที่นี่ค่ะ 
Long before it became a frequent tagline in business plans, sustainability used to be a simple act of human instinct. 
For example, preserving all the land's wisdom and passing it down to the next generation, "or gathering old recipes of Lanna dishes and making sure future generations have access to them all," says Khun Pongsak Siriphan, Chief of Village, Tamarind Village Chiang Mai, "or by reaching out to friends in the communities and cooperating in some good causes, making sure that everyone has a good part to keep the local goodness alive."

If by sustainability we mean preserving all the good things to pass on to the next generation,' the only sensible thing we'll need to do is preserve and manage well and always think long-term. Because, as we know, all things can live much longer than our lives are allowed to.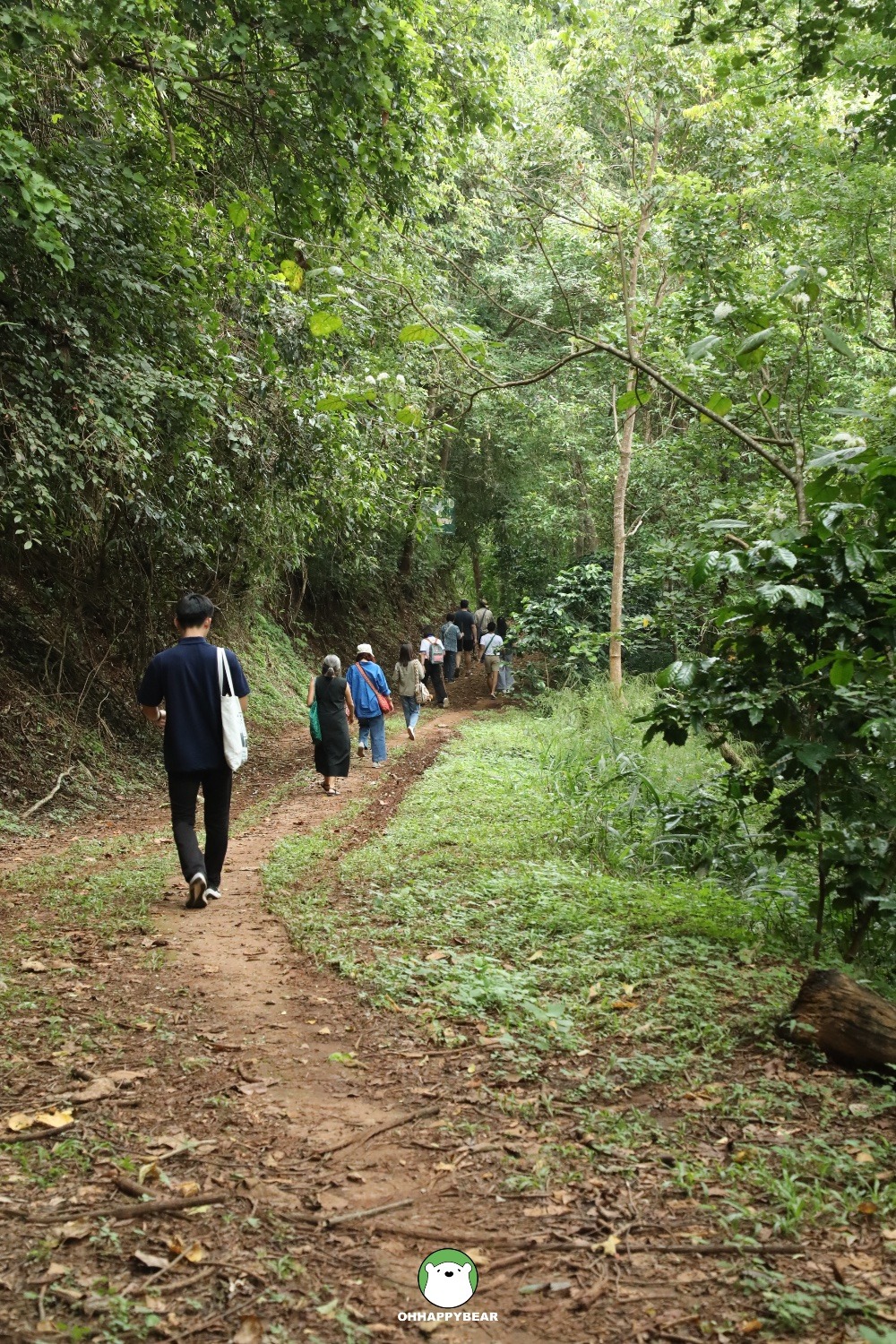 Above: Exploring Nature Trails and Organic Coffee Plantations in Pong Krai Village, Mae Rim     
The concept of sustainable development is not new. In fact, the attempt to attain sustainability has been a hot issue in the worlds of science, business, and international affairs for over 50 years. 'To keep the world going,' as many put it, has become much more difficult after the mass production and mass exploitation of natural resources since the industrial revolution of the 18th century. Humans might have been enjoying it since it brought about daily convenience and cheap products, but nature suffered, and now we are all feeling it. The world is facing more extreme and changing weather, natural catastrophes, pollution, loss of biodiversity, food shortages, poverty, stark inequality in everything, perennial stress, and so much more.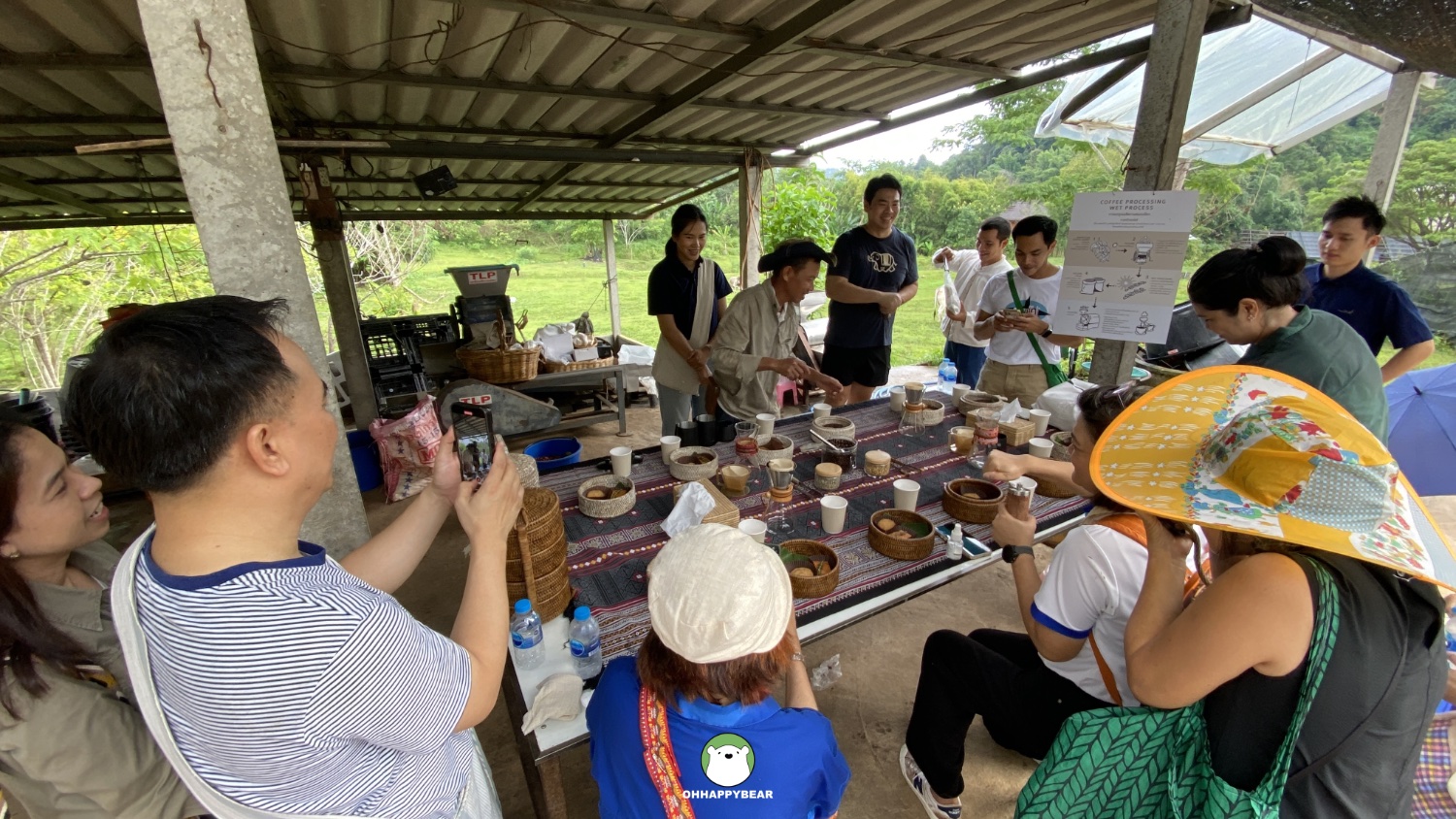 Above: Trying out the organic coffees at the Pong Krai Village. 
So, what can we do to help?
The attempt to sustain a good balance between economic growth and the state of our planet has been the world's priority for decades. The United Nations has made it a top priority with 17 goals that address the overall wellbeing of humans worldwide; its annual reports measure each of 193 countries, all UN member states, on those goals, analyse the results, and find better ways to handle the issue.
In 2023, Thailand was ranked 43rd out of 166 countries on the UN SDG Index, with significant improvements in poverty and quality of education. However, issues that we still need to address better include health and well-being, as well as land and underwater environments.
Small is Beautiful 
On our recent trip to Chiang Mai, we found out how sustainability lies in the core values of two Thai hotels and an airline.
Tamarind Village, in the heart of Chiang Mai, works closely with local communities to gain their wisdom and knowledge and then preserve them. They also buy fresh produce from their staff, in small batches, to help them with the extra income and also to make sure that the fresh produce they buy is from a household and not industrialised farms.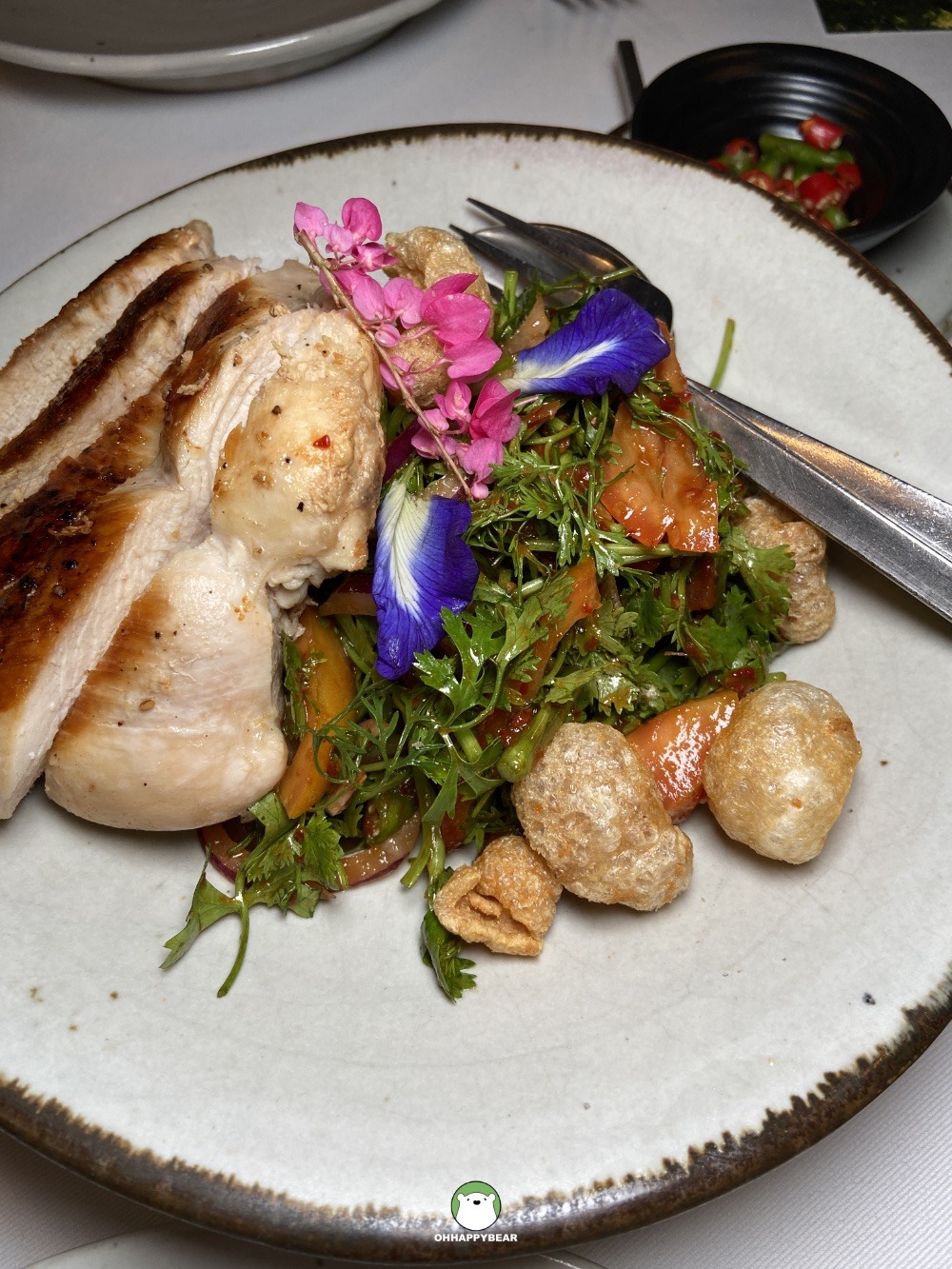 Above: A Burmese-style spicy coriander salad with crispy pork rind and grilled chicken, a local Lanna dish at Tamarind Village.  
"Our aims are to preserve the valuable Lanna cultures and ways of life," says Khun Pongsak Siriphan, Chief of Village, Tamarind Village. "So, we had collaborated with many local sages in all areas, from crafts to cuisines, to learn and preserve them as much as we could. We want to make sure that future generations get to appreciate these beautiful cultures for as long as possible."
Tamarind Village is also a certified Green Hotel with a gold award from the Department of Environmental Quality Promotion (DEQP) of the Ministry of Natural Resources and Environment. This award means the hotel has demonstrated a distinct commitment to comprehensive environmental protection and resource efficiency.
At Raya Heritage in Mae Rim, also in Chiang Mai, all things Lanna are conceptualised into the hotel's main designs and interior decorations. The riverfront resort worked closely with local weavers, potters, woodcarvers, and other artisans in small towns and village communities around the north of Thailand for two years prior to opening, and their work is showcased throughout the resort with sustainability as a key element of the overall design. The concept behind Raya Heritage stems from Lanna culture's simple, elegant approach to life and art and the social value placed on living in balance with nature and the surrounding community.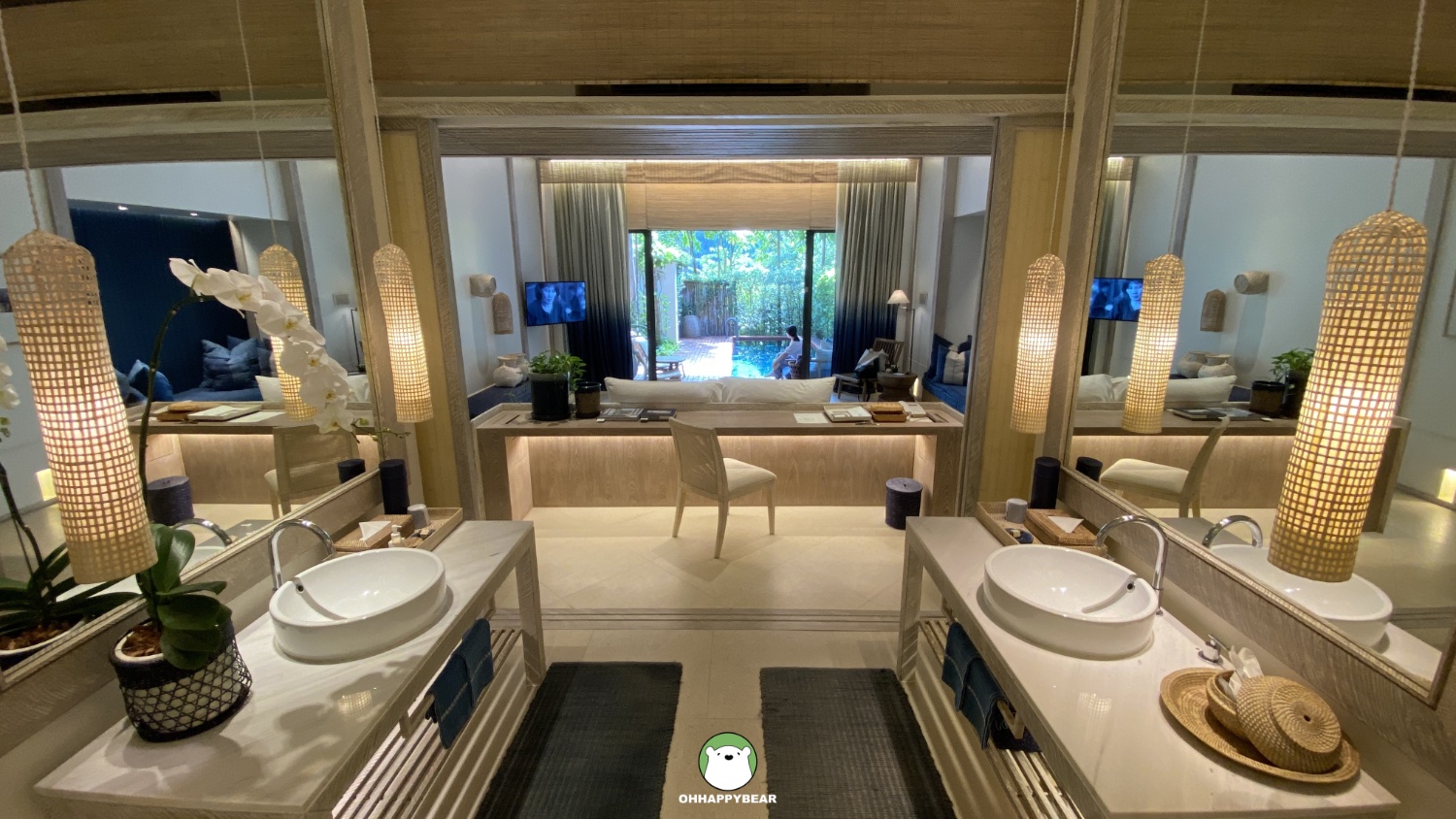 Above: Guest rooms at Raya Heritage is designed with the Lanna handicrafts in mind. 

The old ways of doing things and the way people in the past approached artistic endeavours underscore the resort's appreciation for culture and artisanship. This concept also carries over to Raya Heritage's dining concept, with virtually all ingredients sourced from local, sustainable farms. Income back to the local communities.
"We're going back to a better future right now," says Naphat Nutsati, Raya Heritage's General Manager. "People in the old days, whether in design or architecture, paid attention to the details. And so are we.
At Bangkok Airways, a Thailand-based small boutique airline, changes appear in all areas to ensure a strong path towards sustainability with three-pronged policies on planet, people, and performance. The airline aims to ensure that all things are operated with thoughtful care.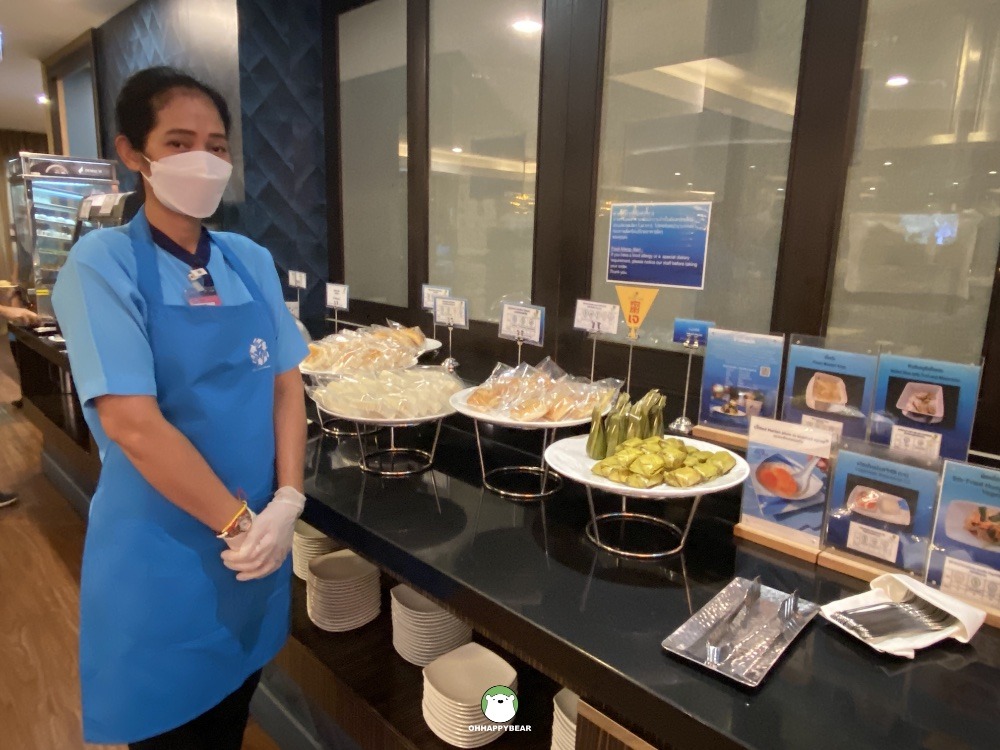 Above: Aprons of the staff at Bangkok Airways' passengers lounge are made from the up-cycled fabrics from the used uniforms that are by rules usually incinerated to destroy. 
In their passenger lounges, food served is sourced from local producers as much as possible: vitamin-rich green-grass juices and their famous sticky rice with banana. The staff's aprons are made from up-cycled uniforms, and water bottles now go without extra plastic labelling.
Bangkok Airways works closely with the communities of their destinations. In Sukhothai, for example, where the airline maintains direct flights from Bangkok, there are workshops to promote sustainable incomes for the community. Services such as pro-bono haircuts and donations to local hospitals are always scheduled, while close relationships between the airlines and the communities are maintained through many long-term projects.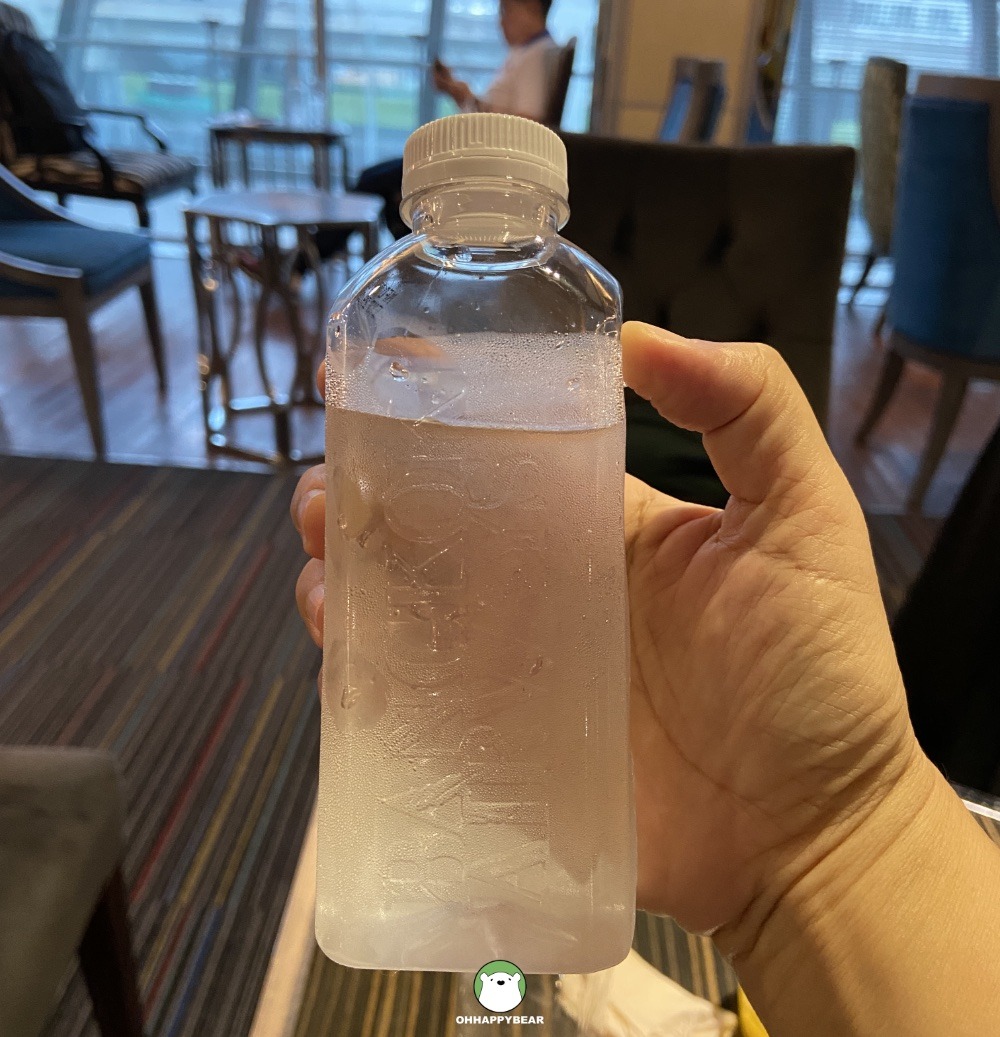 Above: Here is Bangkok Airways' 'label-less' drinking water. A lot of plastics are saved from this simple act of consideration. 
The airlines' sustainability policies also echo the Tourism Authority of Thailand's long-term goals of STAR, or Sustainable Tourism Acceleration Rating, where the airlines have achieved a 5-star accomplishment in 2023, reflecting their thorough commitment to the national agenda towards being more sustainable in all areas of their core business.
🍀🍀🍀