สำหรับภาษาไทย อ่านได้ที่นี่ค่ะ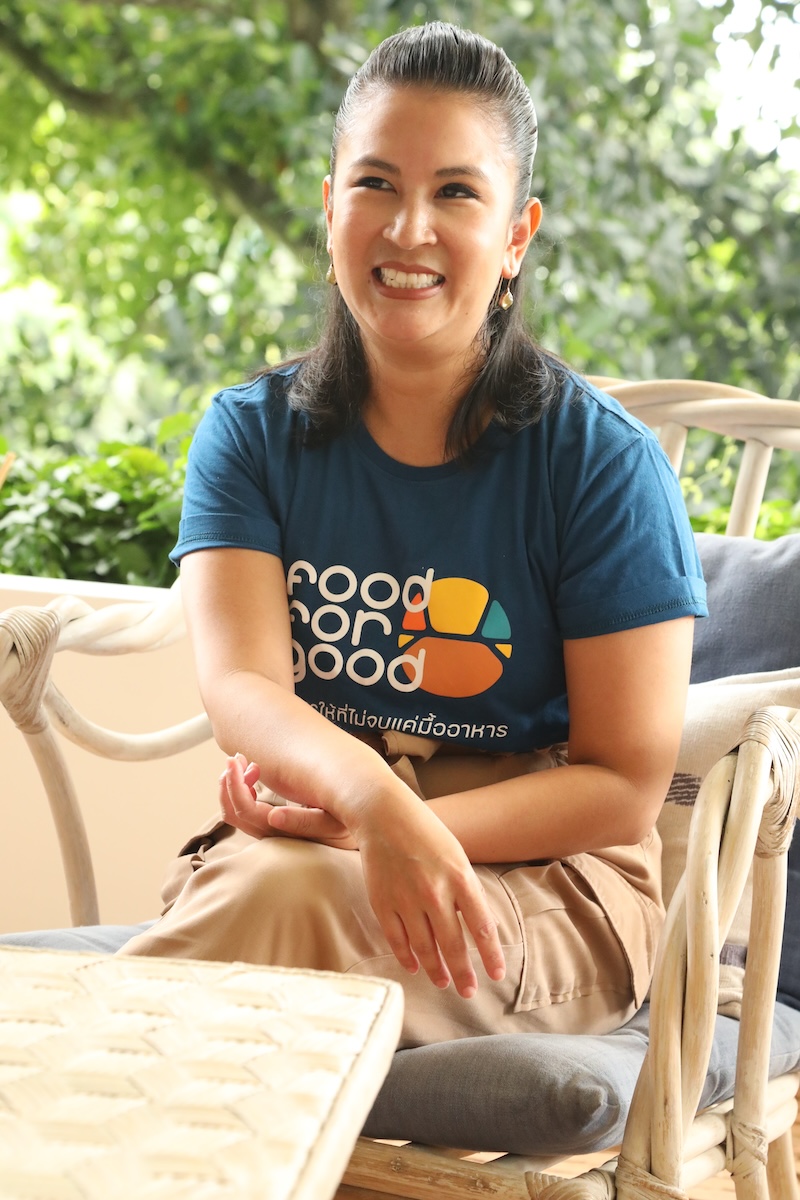 Above: Khun Tipchaya Phongsathorn, Founder, Food for Good Programme, Yuvabadhana Foundation
To eat well takes more than just money. You can have all the means in the world and still choose to eat the wrong food. And eventually, your body will pay the price.
"That's basically what we learned throughout our 9 years working behind the 'Food for Good' school lunch programme for children," says Khun Tipchaya Phongsathorn, Founder of the Food for Good Programme and Chief Executive Officer, Real Estate and Hotel Business Group at Premier Group of Companies Thailand. "First, we thought raising funds and supporting the schools financially should be enough. But we later learned that without good knowledge about what good food is, money can actually be useless."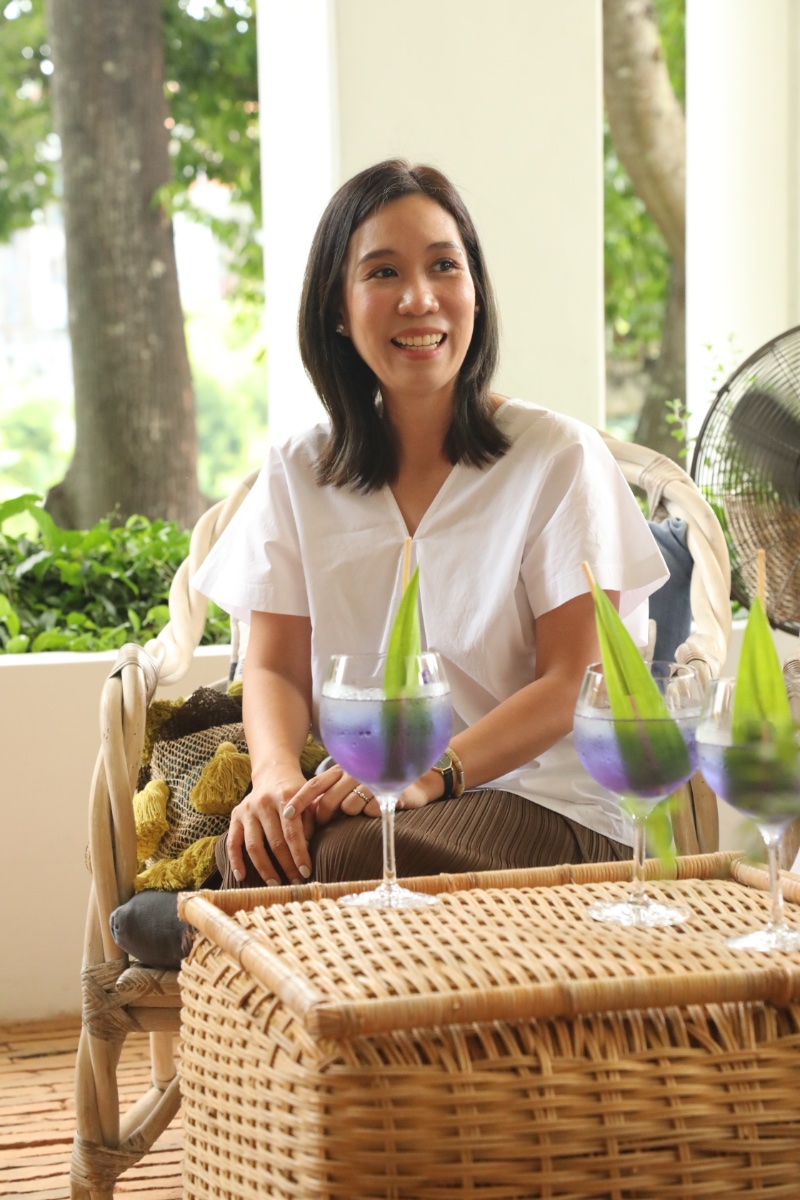 Above: Khun Prapapan Banlusiplp, Deputy Director, Food for Good Programme, Yuvabadhana Foundation
Malnutrition is a major—although quiet—problem in Thailand. Despite being a food-producing country, a large number of schoolchildren in remote areas still lack access to healthy meals. Currently, statistics says about one-third of Thai children are suffering from malnutrition. Overweight children can be malnourished if they are exposed to too many imbalanced meals, say, too much fat, especially the bad fats, processed food, and bad carbs. So, providing them with a healthy and balanced meal at school along with the basic knowledge about sound nutrition so they can choose to eat wisely throughout their lives has become the priority of Food for Good.
As a section of the Yuvabhadhana Foundation, Food for Good gives training to school teachers and children in their programme. Started in Mae Hong Son back in 2014, where the situations are the direst, the programme has gradually expanded its reach. From 7 schools at the beginning, they are now offering supporting funding and training to 125 schools in 36 provinces nationwide. That translates to 23,790 schoolchildren and more than 4.5 million meals so far.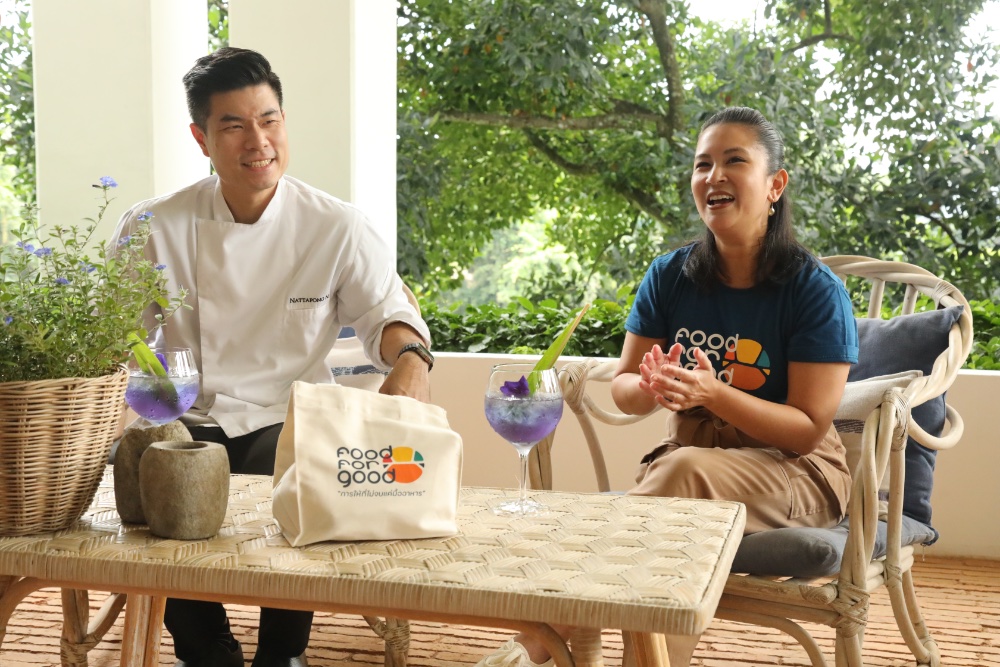 Above: Celebrity Chef, Chef Fang Nattapong Norchoovech (left) says good food should be as healthy as it is delicious. 
Public schools in Thailand receive state funding for school lunch. Ranging from THB22 to THB36 per child per day, depending on the number of students. The smaller the school, the bigger the budget. But then, the subsidy only covers students from kindergarten to Pathom 6. For some schools that offer higher classes, the funds need to be stretched to cover the entire student population. And we haven't figured in the expenses of procuring the ingredients, especially for remote schools, and the kitchen staff.
"But then, through a series of trials and errors, we began to approach the problems by connecting the schools with their own community," says Khun Tipchaya. "Local farms can provide the schools with their fresh produce at lower costs. In Mae Hong Son, for example, where we all know that the poverty rate is the highest, a lot of fresh produce goes to waste. But if well managed, all things can be of good use. And we aim to point out that fact."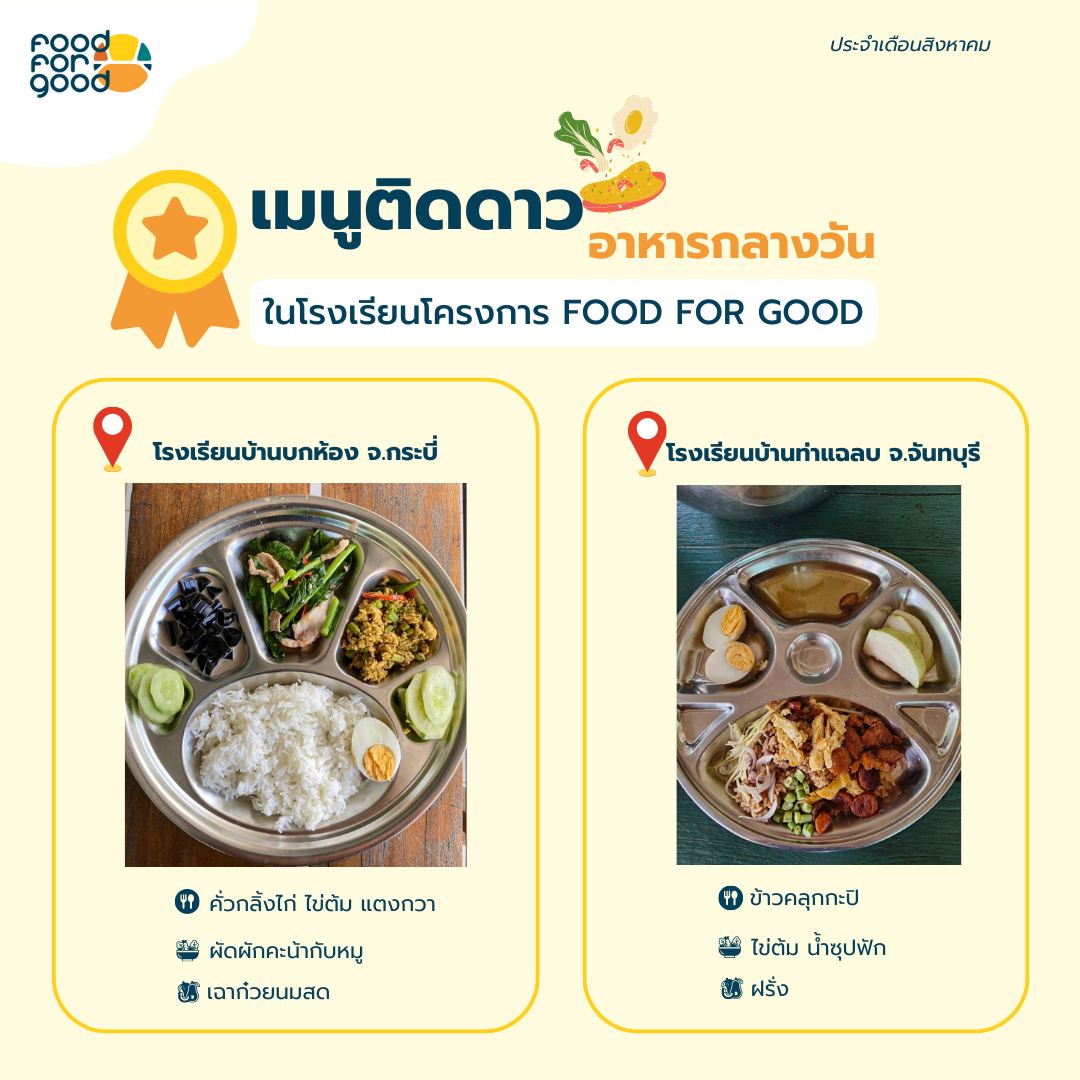 Above: 'Starred 'school lunches at Ban Mae Wak School in the Mae Chaem District of Chiang Rai. A testament how a humble meal well-thought-of-and-prepared can be all you you need. 
Interested schools can apply for the Food for Good programme. The training and funding period runs for one year. There are interviews where the team measures the determination of the schools, especially their headmasters. Joining the programme, Tipchaya said, is "as much their own doing as ours. School teachers in remote areas already have a tough day-to-day job. They don't just teach; they are everything to their kids. In some schools, there are only a few teachers to take care of everything. And by committing to the Food for Good programme, they must work even harder."
"We are really hands-on," added Tipchaya, whose idea of setting up Food for Good means a chance to employ her existing expertise in the hospitality industry for public use. "And we also monitor everything. The teachers need to design healthy lunch programmes based on their local ingredients and submit pictures of their daily lunch to all of us. We also have them evaluate the outcome of their meal plans and adjust as needed. We have them send in the follow-ups. But all in all, so far, most of them are happy to be in the programme. The children are more healthy and happy. So are the teachers and families."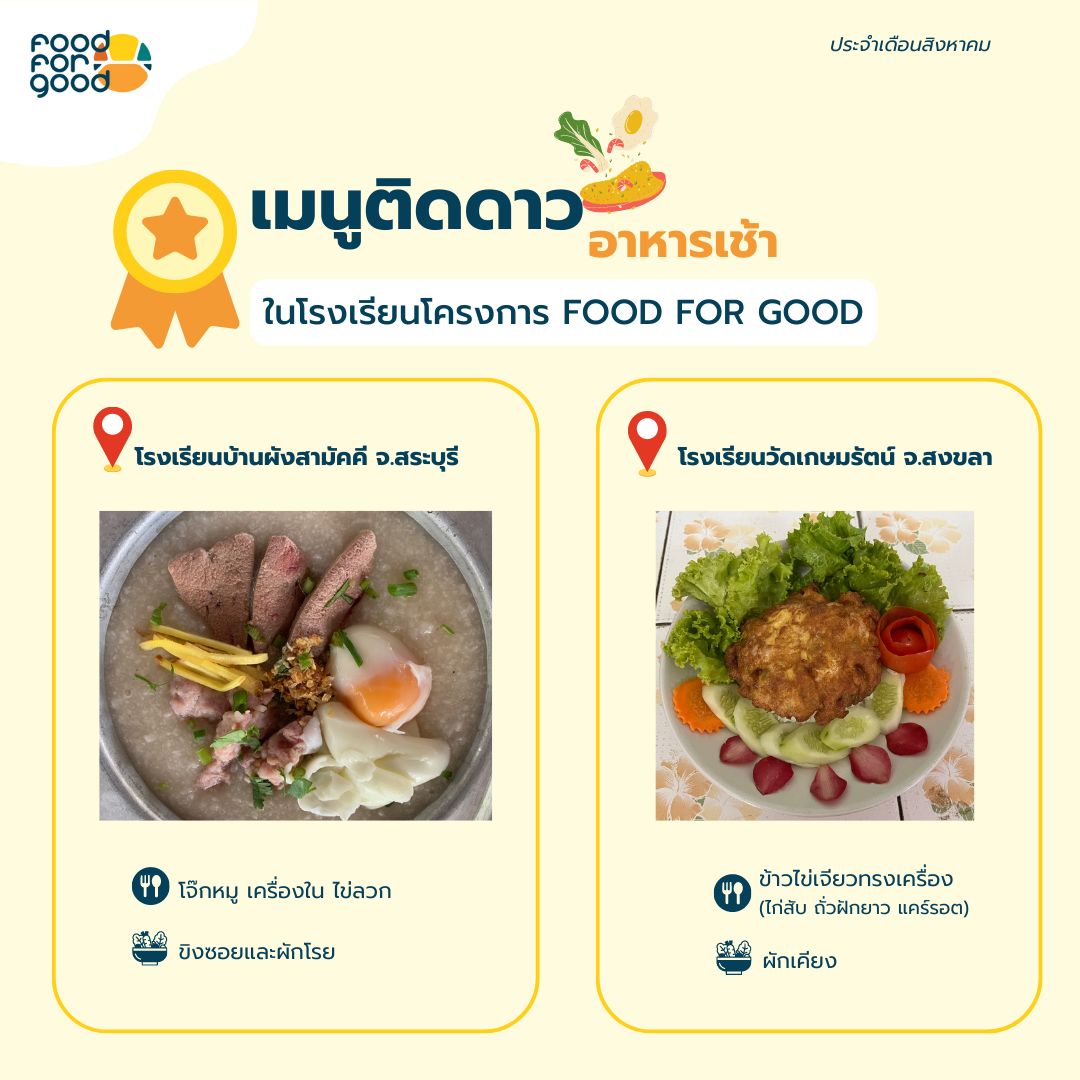 Above: 'Starred 'school lunches at Ban Mae Wak School in the Mae Chaem District of Chiang Rai. The school designed their own weekly menu based on local ingredients and health guidelines from Food for Good's nutritionists. 
And to widen the awareness of their programme, Food for Good just had their first charity dinner at Khu Khao Restaurant at Raya Heritage in Chiang Mai. For this occasion, celebrity chef Fang, Nattapong Norchoovech, took over the kitchen, where he and the Raya Heritage's team created a French-inspired 6-course dinner all made from local ingredients.
"As a father and also a health-forward person, I know how important good nutrition is for the children," says Chef Fang. "It is important for all of us, young and old alike, to realise that our food choices have a long-term impact on our health. So, a solid understanding and knowledge of how to eat wisely is most important."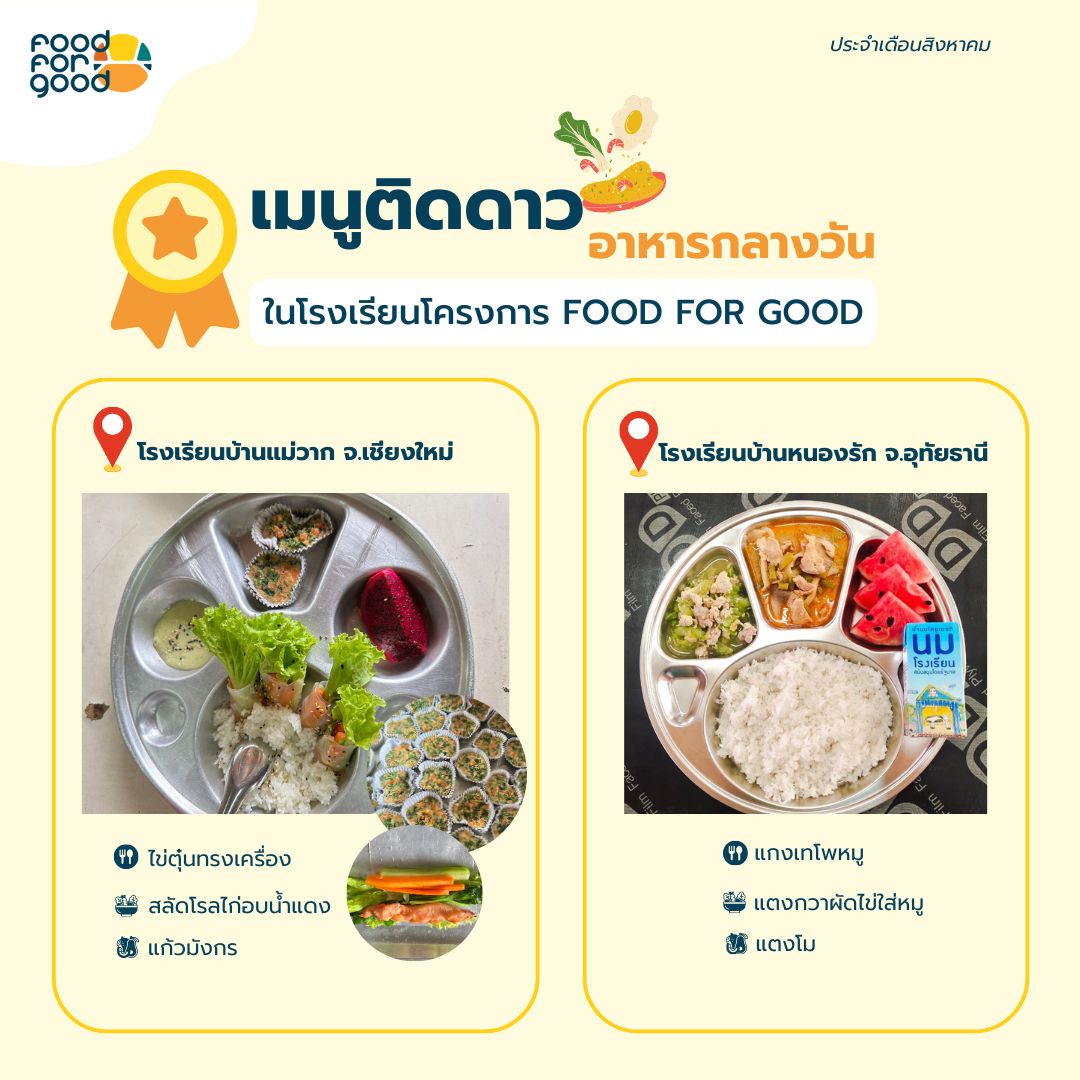 Above: Creativity is as important as knowledge when it comes to cooking and feeding oneself well. Same ingredients, when prepared differently, can make the school lunches colourful and interesting. 
And healthy food can be wholesome and delicious, too. And it doesn't have to cost much. Humble dishes well thought out and prepared are much preferred at anytime.
"A lot of people think that our own cooking can't be compared to the restaurant or takeout," Chef Fang explains. "That's because we have been exposed to too many big flavours and too many seasonings in our everyday diet. Try unloading that, and you will enjoy the subtle tastes of natural ingredients. You will enjoy it like you should and get healthier in the process as well."
"The key is balance and moderation," he offers. "I eat everything and enjoy everything, but I check myself and make sure I do not overdo it. Also, don't forget to exercise regularly. It really helps."
For more information about the Food for Good programme, visit: FOOD FOR GOOD.
---
The Charity Dinner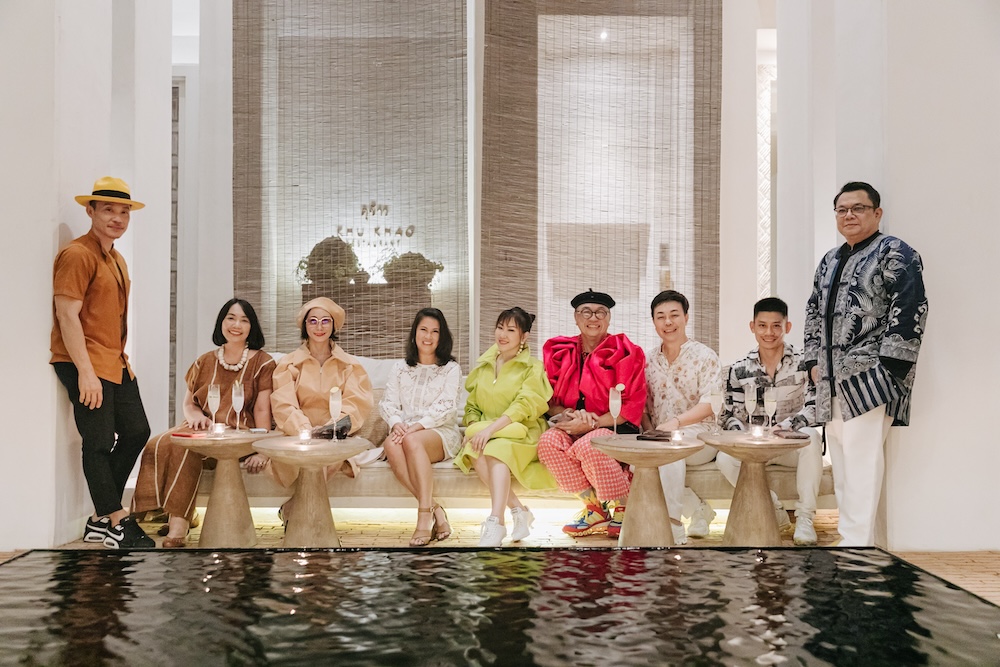 Above: The charity dinner at Khu Khao Restaurant of Raya Heritage welcomed kind-hearted luminaries of Chiang Mai and beyond.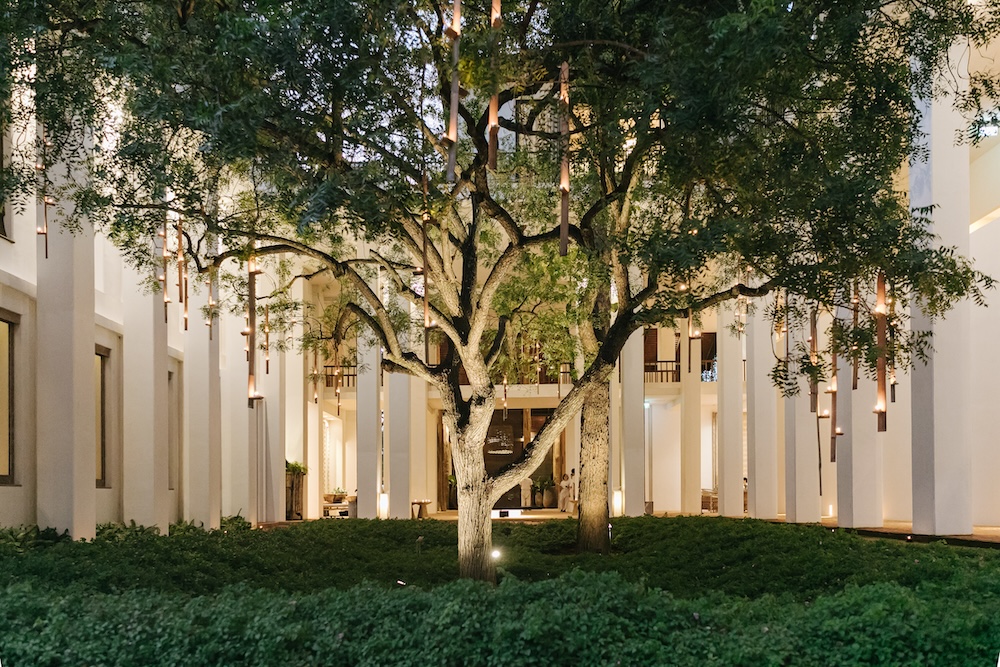 Above: Raya Heritage lit up at night. Run by Premier Group, the riverside resort is a serene sanctuary in Mae Rim, Chiang Mai.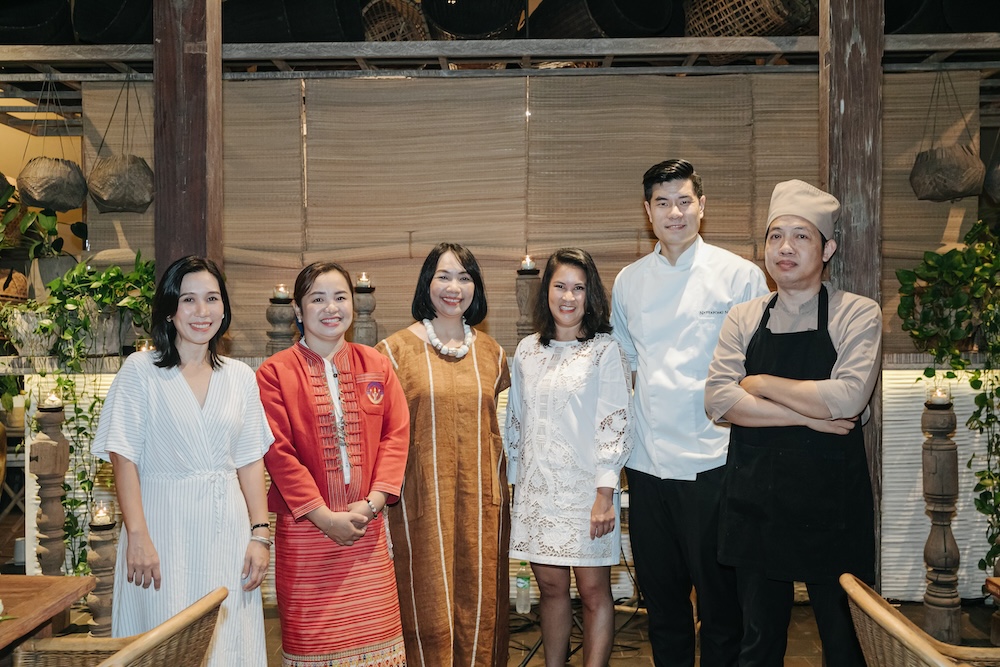 Above: Ready to eat. Raya Heritage's team welcome the headmaster of Ban Mae Wak School, Khun Supitcha Punsiri, second left. 
---
The Menu
It takes local ingredients, wisdom, and tastes to create this dinner menu. This is Chef Fang's second year contributing to Food for Good's cause. The first one, he said, was spent designing the actual school lunch for the children. Choosing what delicious and healthy things to put on the kids' lunch tray. This year, he got to show us all how his background in French cuisine, combined with local ingredients and northern Thai recipes, could create a wonderful meal for all of us. Here, let me walk you through his delicious creations.
Amuse-bouche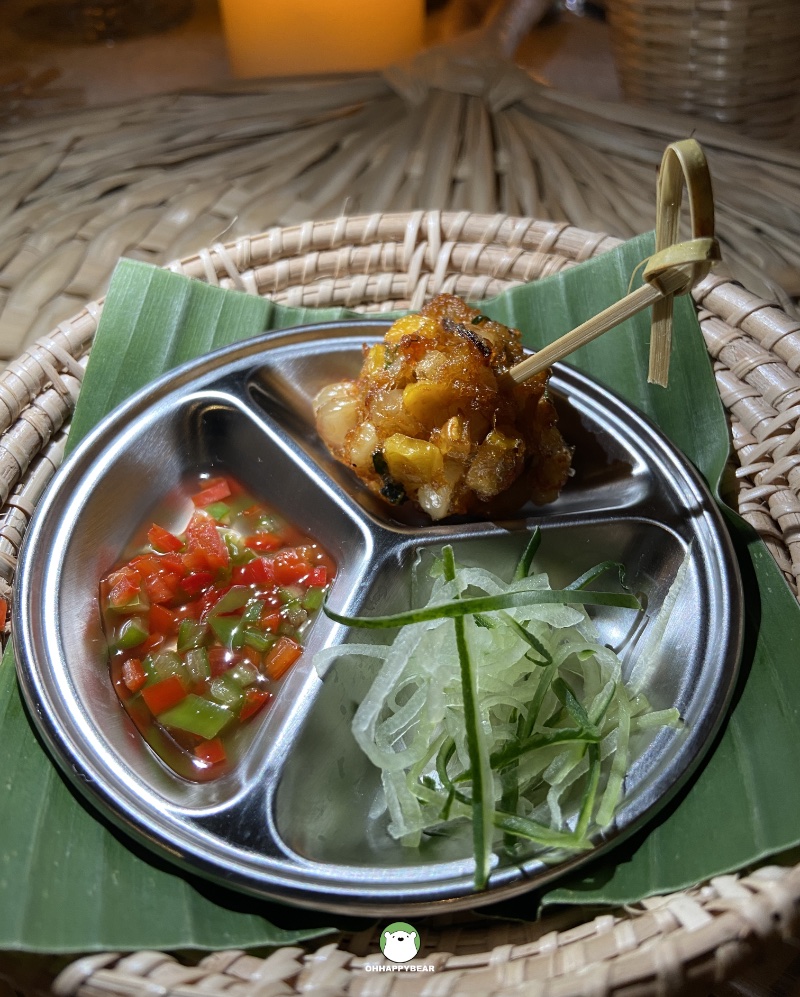 Above: This lunch-tray amuse-bouche sets the mood and tone. A delicious and well-balanced meal for the children and for everyone else as well. Protein and Omega-3 fatty acids from eggs, minced fish and shrimp. Vitamins from the curry paste and herbs. Good carb and fibre from the corn. More fibre from cucumber that helps balance our cholesterol, good with fried food.
Grilled Seasonal Mushroom Salad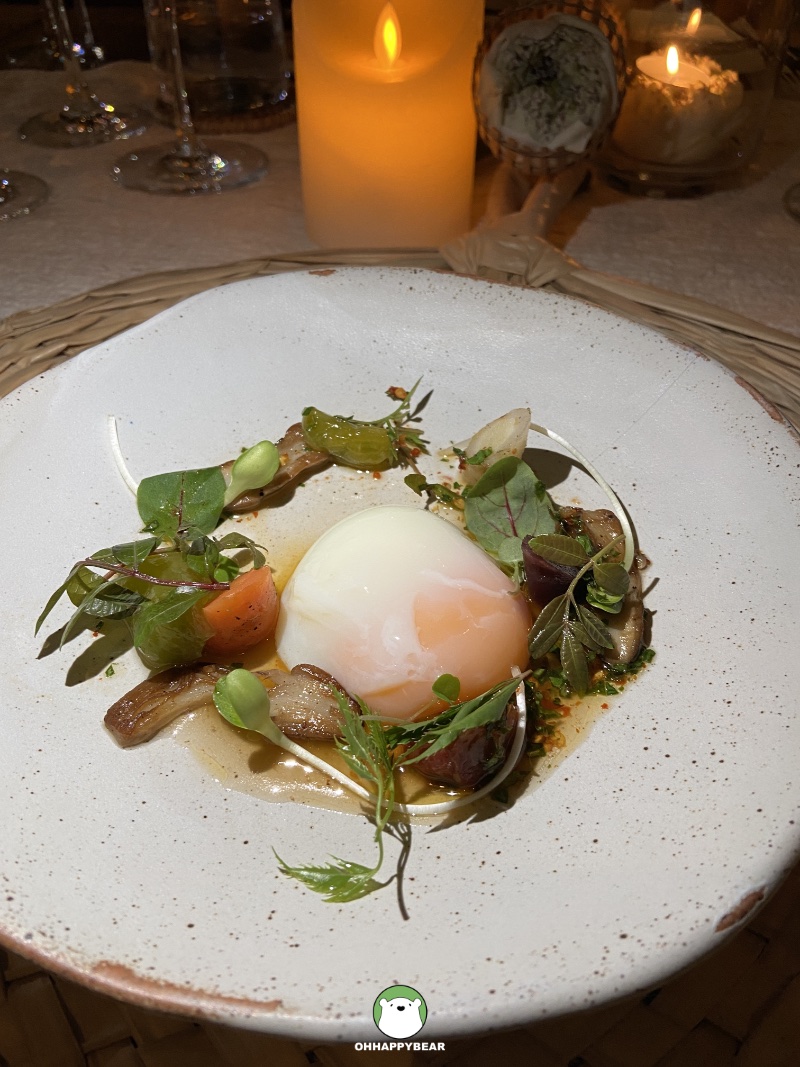 Above:  'Hed Tua,' a local mushroom mushrooming during the rainy season, is paired with seasonal greens and herbs, roasted local carrot, and dressed in galangal and Karen chilli dressing
Green Onion & Ginger Sand Goby Larb Kua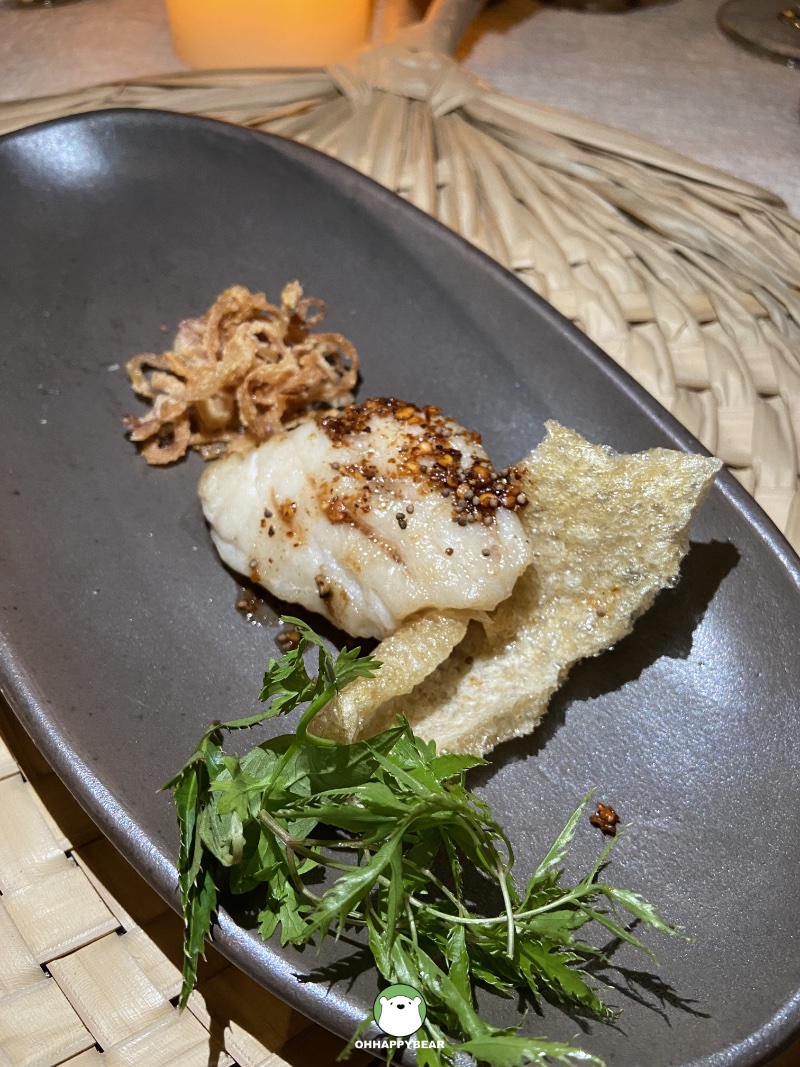 Above: The local sand goby is in season. It is confit-ed in herbal oil and served with roasted perilla seeds, herbs, dried chilli, and chicharon (a Mexican-style pork crisps)
Consommé Omm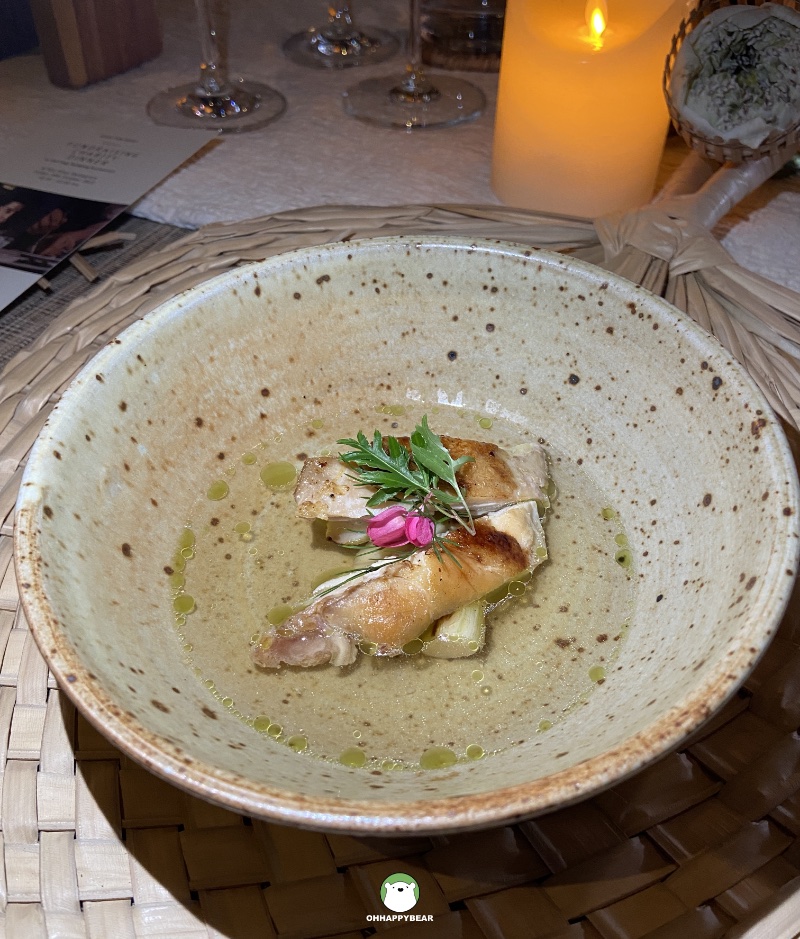 Above: A consomme with Thai northern Omm (a very delicious herbal soup), served with poached chicken and local citrus
River Prawn Risotto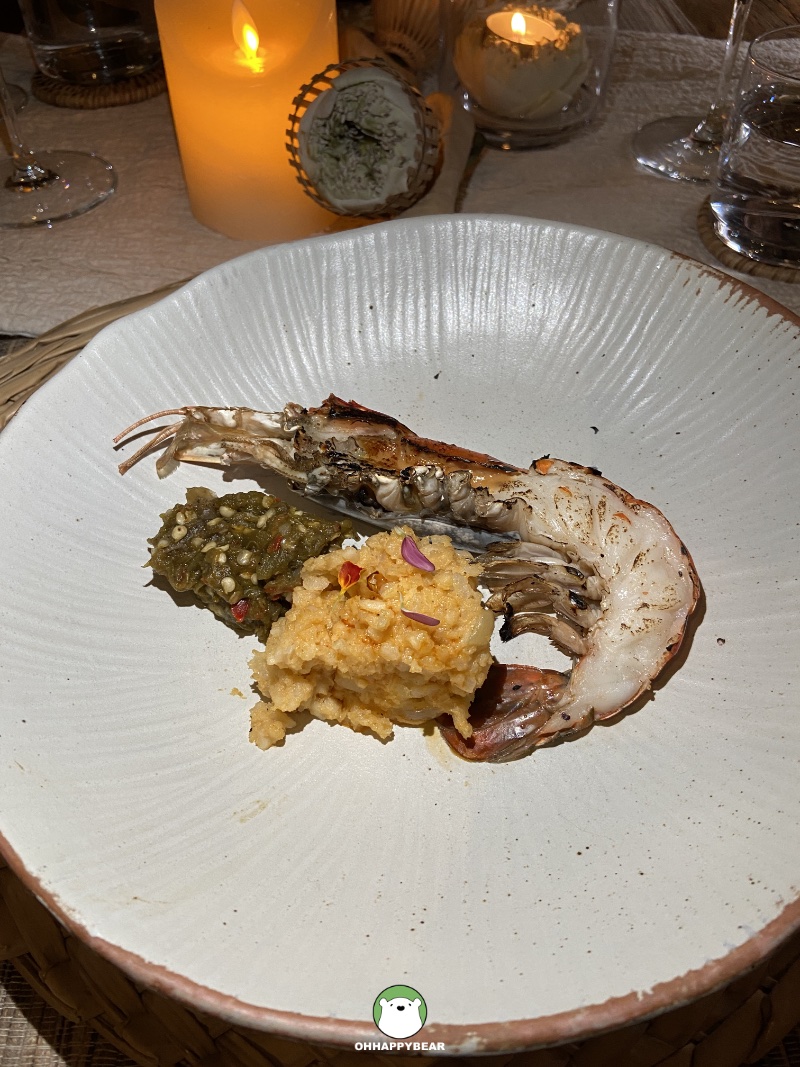 Above: Local river prawn grilled and served alongside prawn butter risotto, chilli oil, and Namprik Noom, a northern staple of a chilli paste
Braised Beef Cheek Hungley (with alternatives being lamb and duck)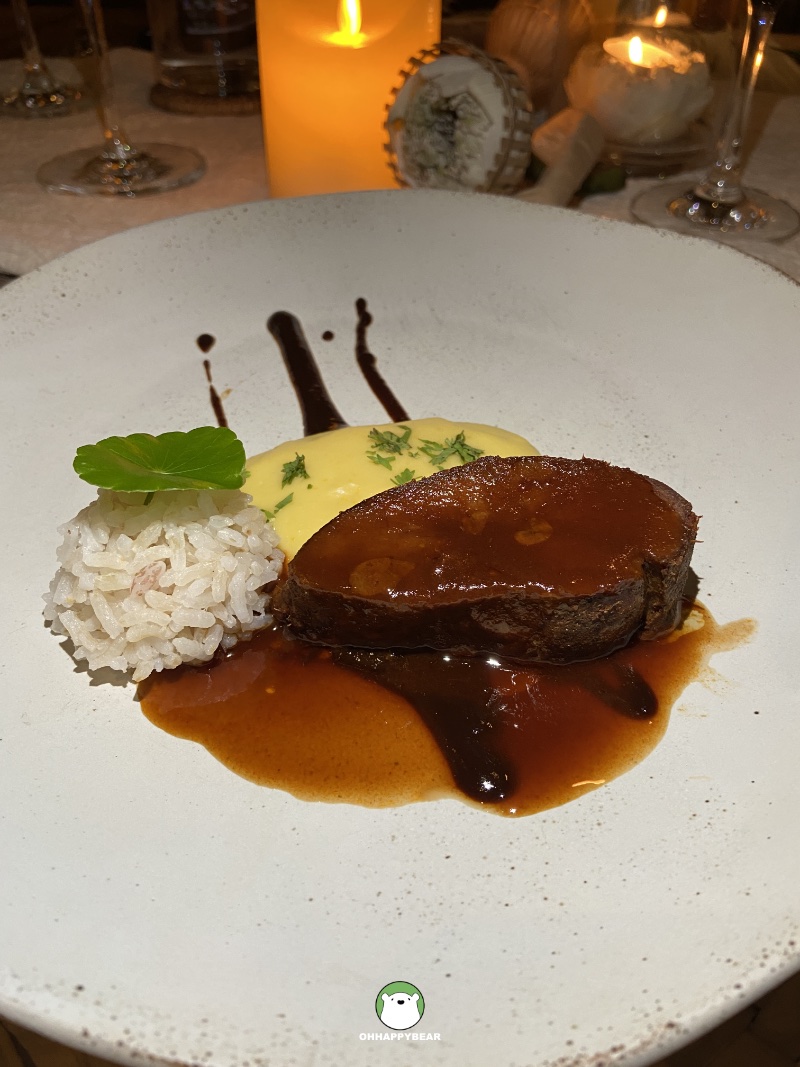 Above: Brown Hungley sauce, cilantro and garlic creamy mashed potato, ginger oil, black garlic cream, organic rice
Choco' Tam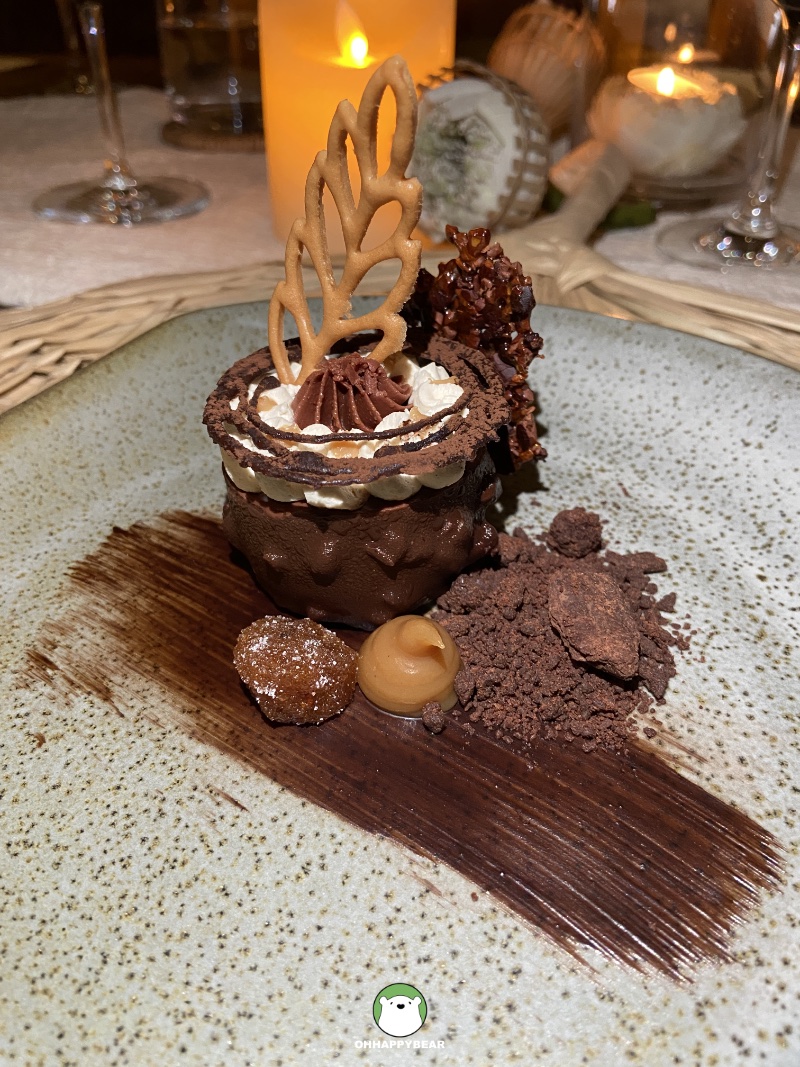 Above: Chiang Mai chocolate moelleux cake, 70% dark chocolate ganache, tamarind cremeux, chocolate tamarind caramel
---
The Teachers from Ban Mae Wak School Joined the Dinner     

Ms. Supitcha Punsiri, Head Master of Ban Mae Wak School in Mae Chaem in Chiang Mai, also attended the charity dinner with two of her teaching team members, Ms. Hathaichanok Boonrang and Ms. Supattra Phothana. The distance from the school to Chiang Mai is roughly about 160 kilometres, but the hilly sites means the car journey takes at least 3 hours. "If it doesn't rain," Ms. Supitcha supplies. 
Ban Mae Wak School has 28 students, from kindergarten to sixth grade. They have been with the Food for Good programme since May 2023, at the beginning of the academic year. 
"We have become more discerning in our food choices," she said. "Instead of eating whatever is available because it's what most people eat, we now know better. For example, we now choose natural ingredients over processed products as often as we can. Noodles with fish balls have become noodles with pork or shredded chicken. It's taste better and healthier."
🙏 Photos also courtesy of Raya Heritage and Ban Mae Wak School, Chiang Mai. 
🍀🍀🍀