It was once explained to me that the hot and humid climate of the Thai south is the reason why the food there is heavy on the chillies.
"Spicy food helps the body ventilate," said my source for a story a while ago. "We sweat by way of cooling down when we eat spicy food. And that explains why southerners, who have to always deal with hot and humid weather, usually wake up craving spicy stuff for breakfast."
And I just agree with that. Spicy dishes come naturally in southern parts of Thailand. And they start as early as dawn when shops selling Khanom Cheen screech open, their humongous trays of assorted veggies spring to life, and people come in droves, getting their way into this local treat.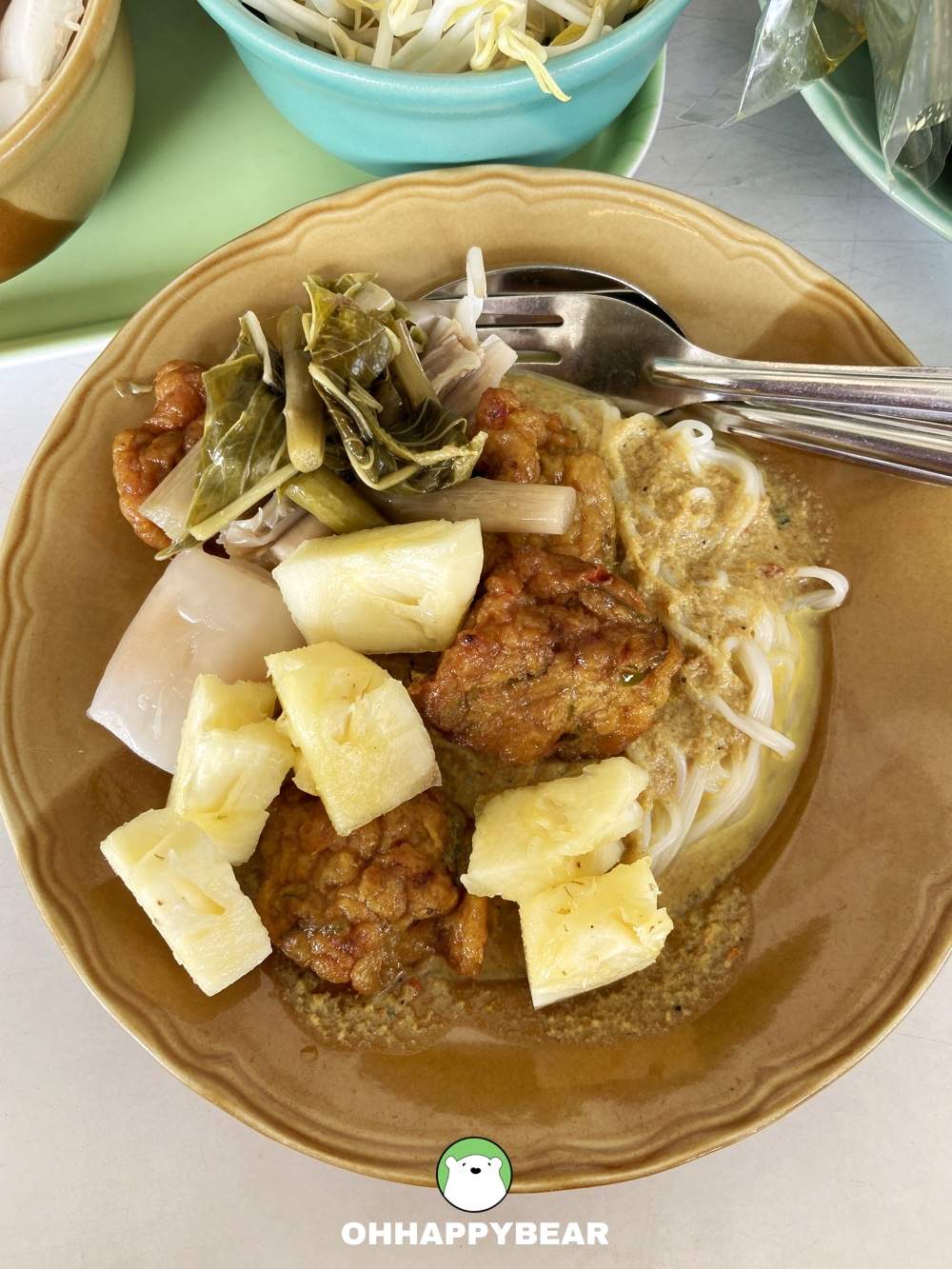 We eat Khanom Cheen in every part of our country, but southern folks do it with their special flair. Khanom Cheen is a type of Thai rice vermicelli, traditionally made from days-fermented rice flour. But now that that kind of village-taking rice vermicelli-making is out of the question, people resort to store-bought or fresh Khanom Cheen, which uses fresh rice flour kneaded into thick and gooey slush, then squeezed through a Khanom Cheen presser into the waiting simmering water.
They are fresh, boiled, and pickled. They come in all forms: stems, roots, leaves, sprouts, and fruits. Use the communal spoons or tweezer. And best you try a little bit of everything, if you ask me.
But no matter what kind of Khanom Cheen you get, chances are when you are in the south, having Khanom Cheen for breakfast, you will be faced with at least three choices of curry to go with it. Typically, there will be Nam Ya, Nam Prik, and Tai Pla. Nam Ya is a thin fish curry with a spicy level of about medium; Nam Prik is the sweet one, and among its ingredients are toasted peanuts and kaffir limes. Tai Pla is the one you'll want to watch out for. It is the fiery one, with all the heavy herbs and chilies. Gang Tai Pla is a thick curry of fermented fish gut with the meat of grilled mackerel (pla too), kaffir lime leaves, bamboo shoots, eggplants, assorted local yams, and sometimes pumpkin.
A Khanom Cheen shop in southern Thailand can be a self-serving affair. You grab a plate of plain Khanom Cheen and ladle your own curries. You can mix Nam Ya and Nam Prik to tone it down. Or you can mix all three. And from here, the real fun is about to begin.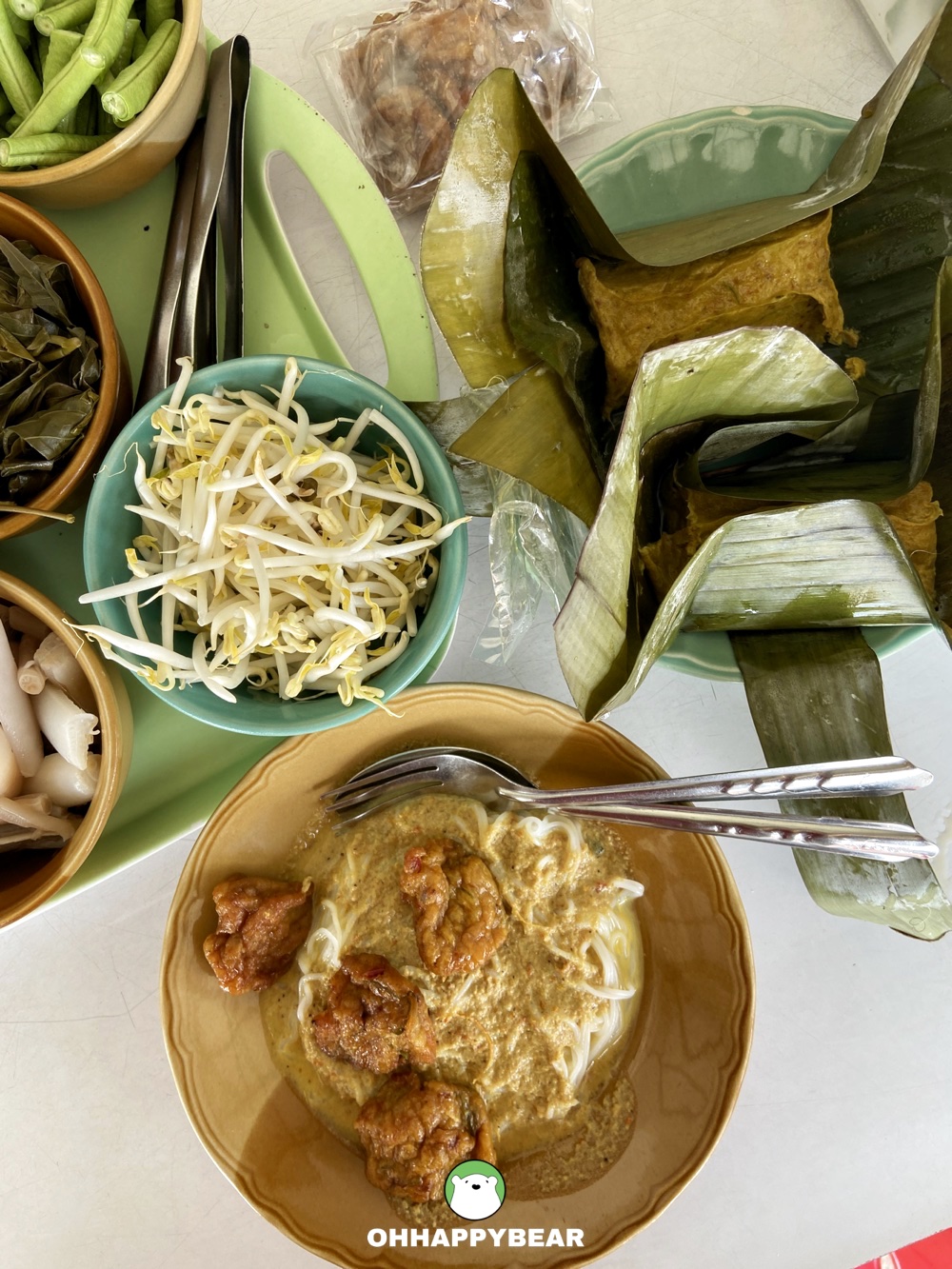 I am always totally fascinated with the magnitude of the 'side' items available at a southern-style Khanom Cheen place. The variety and amount of the side vegetables. The freshly steamed Hor Mok and also the 'Look Chin,' which, for many southern folks in Trang, Phang Nga, and Phuket, refer not to the typical fish balls in noodles, but to the local type of Tod Man, the deep-fried fish cakes. Look Chin are also made from fish, in this case sea fish, pounded with curry paste and formed into round shapes and deep fried.
While Tod Man usually contains the sliced long green beans (Tua Fak Yao), Look Chin, at least in Phang Nga and Phuket, does not have that. Instead, they can have coconut meat, which makes it differently delicious and fragrant. 
Ok, now time to start picking the veggies. They are fresh, boiled, and pickled. They come in all forms: stems, roots, leaves, sprouts, and fruits. Use the communal spoons or tweezer. And it's best to try a little bit of everything, if you ask me.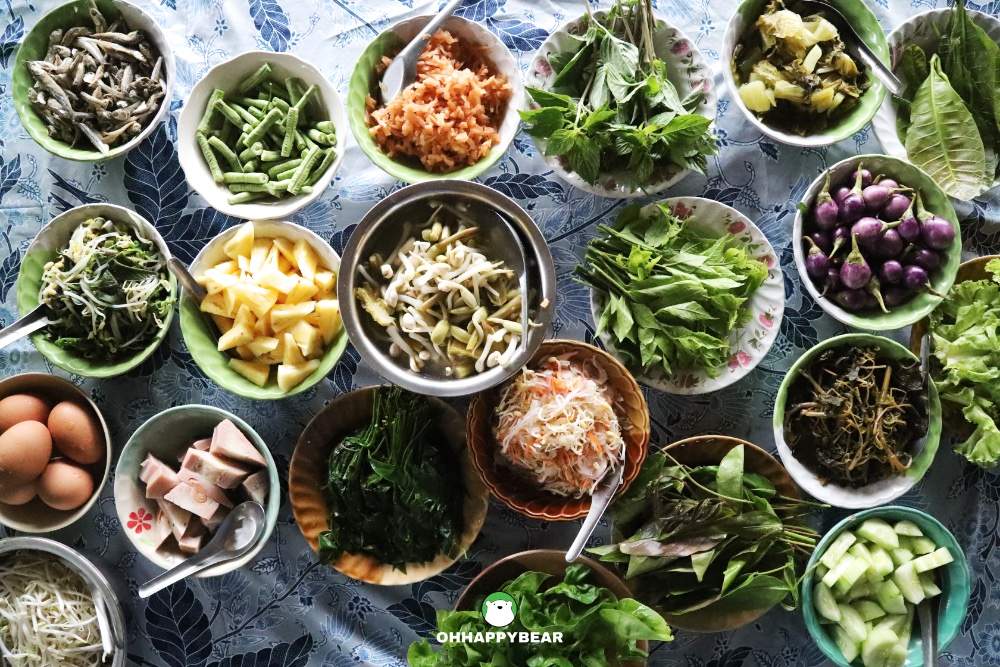 These vegetables are such a clever way southern folks deal with the fiery base of their Khanom Cheen. Boiled morning glory, or Pak Boog Tom, for example, tames down the flavours while the fresh pineapple adds zing to the curry. I love all kinds of side veggies, and they always blow me away in terms of how each makes each bite taste differently. And if your mouth is suddenly on fire, help yourself to those boiled eggs on the table, or the mall salted fish, or Pla Ching Chang. Just bibble away and stay cool.
But then, as if we can't allow our palate to be at peace for too long, we would go on and order a plate of Hor Mok to go with this meal. Hor Mok are jelly-like spicy fish cakes, usually served steaming hot and just so tasty. I always find myself loading on these spicy delights whenever I have Khanom Cheen for breakfast.
Some places, if you are lucky, will also have crispy fried chicken as a side dish. The southern Thai-style fried chicken is famously delicious. And you can have it with steamed sticky rice topped with deep-fried shallot.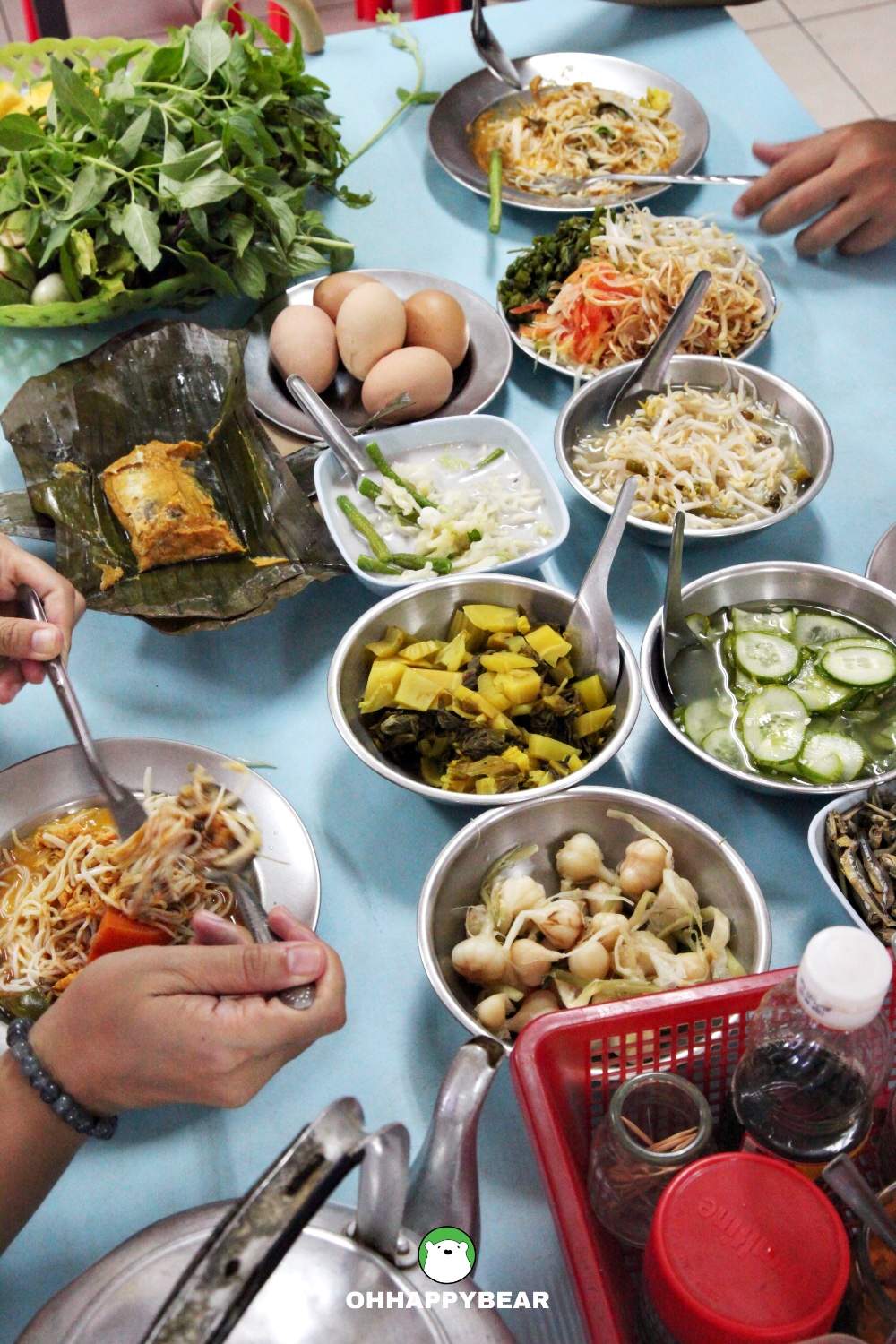 When they refer to their 'Look Chin,' and I thought they meant 'fish ball,' like always in all other parts of our country. But no, Look Chin, if you find yourself in a Khanom Cheen Place, refers to Tod Man, the delicious deep-fried fish cakes that are also part of the deal in a Phuket-style breakfast. 
One thing about southern Thailand is their unique lingo. They came by way of mixed cultures, between the locals and the migrating Chinese. Or it is simply the way they are. And for this meal, I now know what they mean with the question  'Any Look Chin with your Nam Ya today?' And don't ever forget the southern tunes of dialects and I am there!
P.S. The side vegetables are usually complimentary, but you need to pay a bit extra if you pick the boiled eggs and, of course, Hor Mok, Look Chin, and fried chicken.