By definition, a Global Geopark means a "UNESCO-designated area containing one or more sites of particular geological importance, intended to conserve the geological heritage and promote public awareness of it, typically through tourism." Thailand's first UNESCO Global Geopark, inscribed in 2018, is in Satun, a coastal province almost 1,000 kilometres south of Bangkok and one of the most picturesque provinces of the Thai South.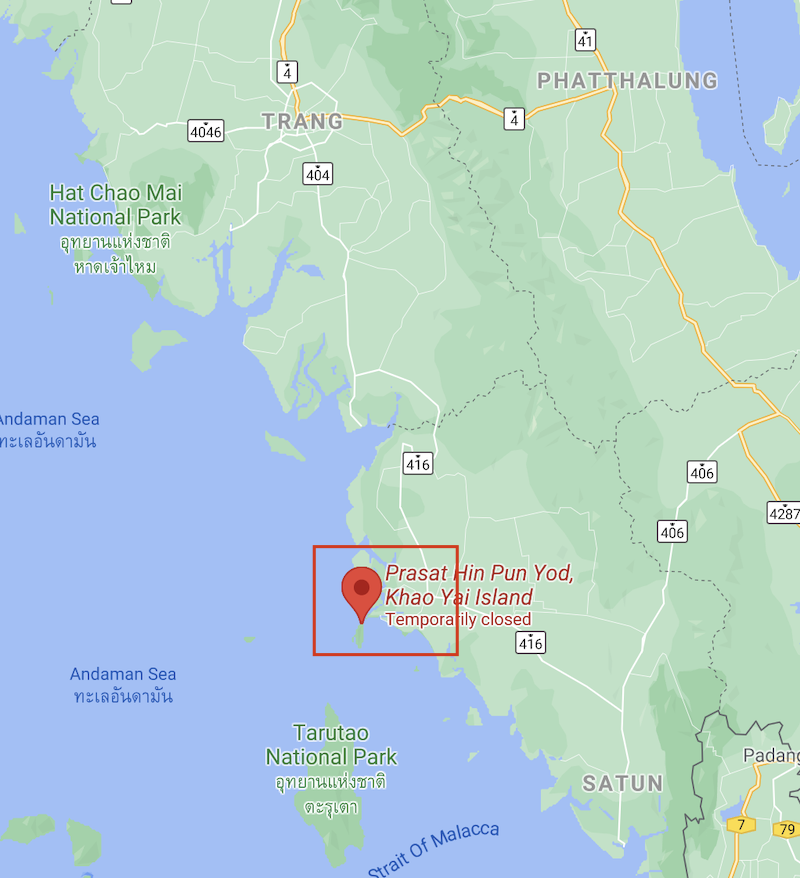 Above: Satun UNESCO Global Geopark on Google Map.
As you might be able to tell, I am managing my mood swings – something between lethargy and depression – by browsing through my old pictures. From my last post about Kaeng Krachan Forest Complex, my country's latest pride and joy as the latest addition to the list of our UNESCO Natural World Heritage (inscribed July 2021), I came across our old pictures when we were visiting Satun's UNESCO Global Geopark back in early 2019. On the same trip, we also visited Lipe Island and Hat Yai. It was our first time in both places, and especially Hat Yai where we enjoyed its food so much we went back a couple of times since.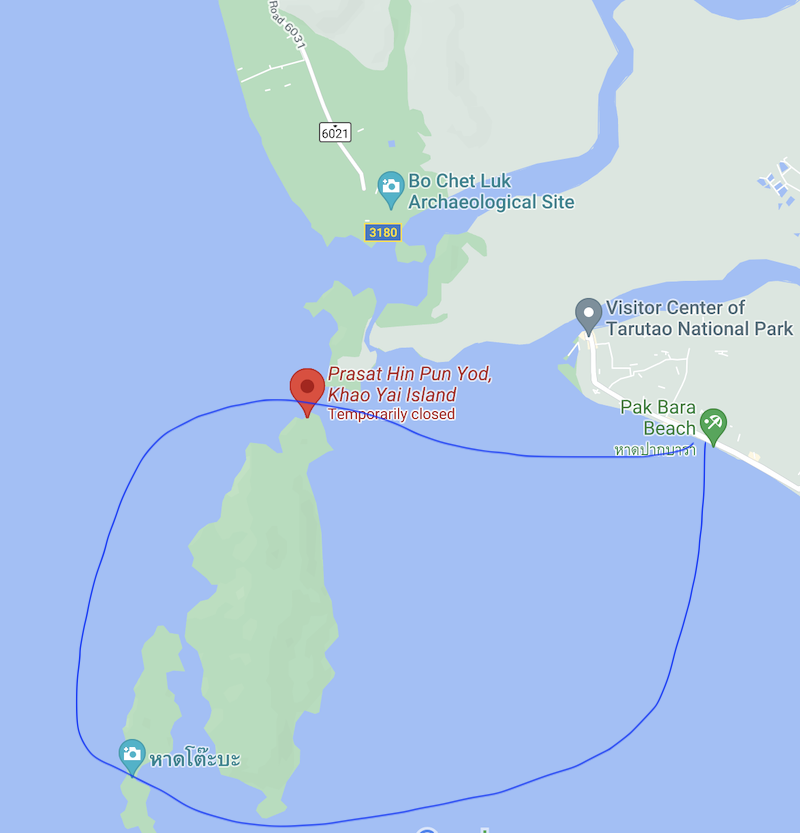 Above: A rough plot of our tour route.
Satun came as a surprise, at least for me, when it comes to being a Global Geopark though. After all, the province was known mostly for its pristine beaches and islands. But then, the geologists there knew better, and in the course of writing this blog, I learnt that Thailand has a network of 'geoparks' which is a collection of sites around the country with monumental geographical significance. Within this network, there are places like Wat Khao Chan Ngam in Nakhon Ratchasima (Korat) with its ancient cave painting, Tarutao Island also in Satun, Tham Pha Hong Viewpoint in Nam Nao National Park in Phetchabun, Petrified Wood Forest Park in Tak, and Pha Chan – Sam Phan Bok in the easternmost corner of Ubon Ratchathani. All, apart from the Tarutao Islands where we had briefly been, were immediately added to my travel wish list. Can. Not. Wait!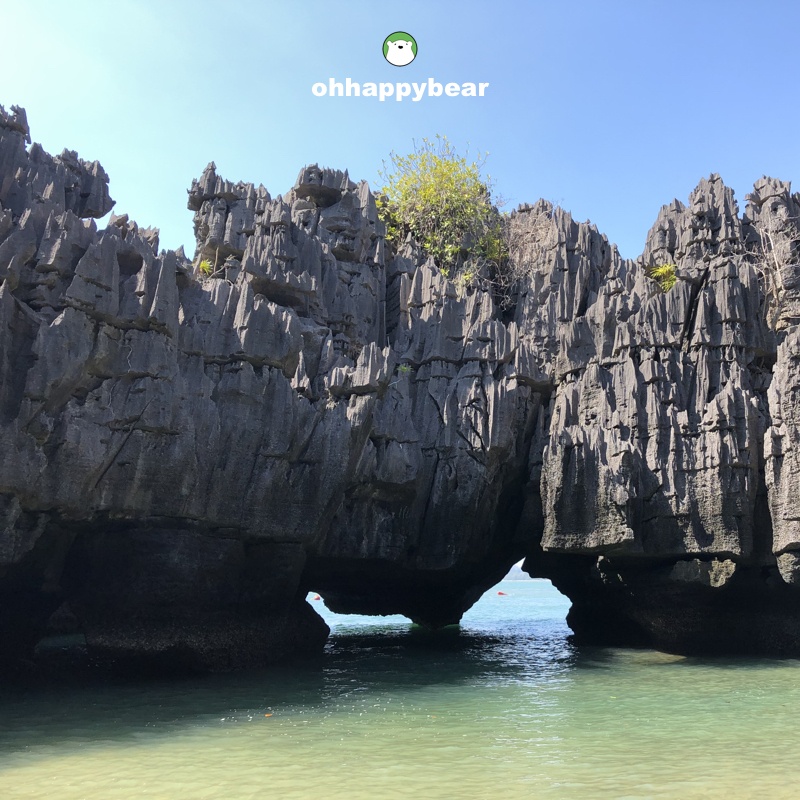 Above: A highlight of Satun Global Geopark is this Prasat Hin Pun Yod or the 1,000-spire stone castle. The entrance, seen above, collapsed in February 2021, and the place has been closed to visitors since.
So, my loose but true conclusion is this. The world, as we all know, is ancient. We all are walking on the zillion of years of collections, past debris, past dust, during our very brief time in life. With Covid and all, our life is even more fragile, shorter, and much more valuable. Every second counts. Every breath. Every one of our actions, intended and un.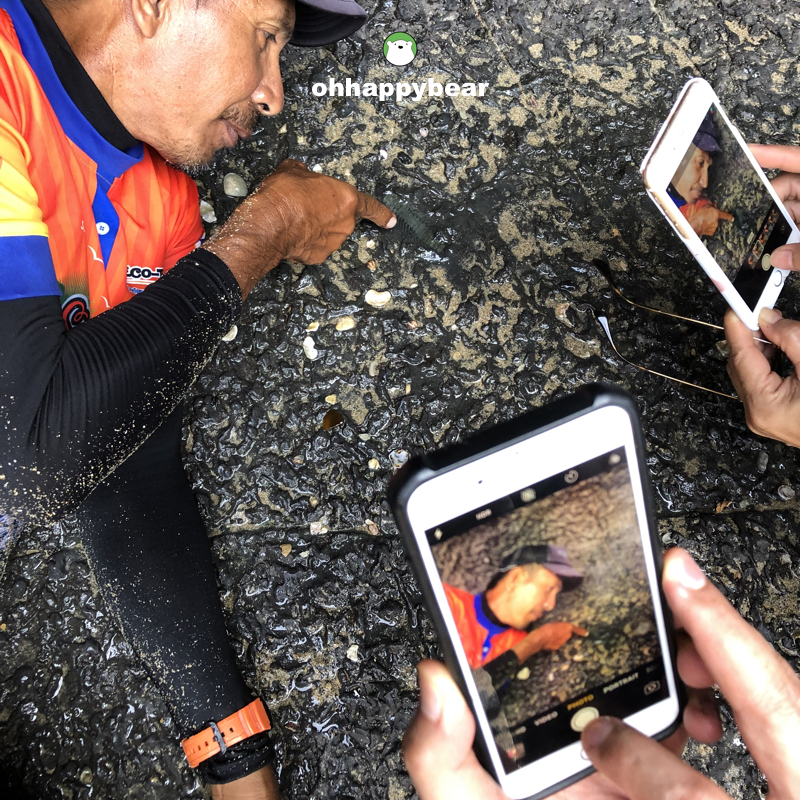 Above: Our dedicated guide pointing the fossil on the wall at the lagoon of Prasat Hin Pun Yod – a part of Satun UNESCO Global Geopark.
Our tour to Satun's Geopark was right after our three nights on Lipe. Just prior to our van ride into Hat Yai. We booked a shared tour with Pak Bara Community for THB800 per person. The tour took about 4.30 hours along to the highlights of the geopark that you can see from the maps above, including the now-closed Prasat Hin Pun Yod or the 1,000 spires stone castle whose parts of its entrance collapsed in February this year. But as long as my last check, the operator is still going on, even with some adapted itinerary that doesn't include the stone castle. 
Above: That fossil at close-up.
The Satun Global Geopark is another whole new world. Once you are into it, you'll have to go down the rabbit hole of all things concerning the places. We are talking about the areas as old as 500 million years, or more, with rare remnants of those times that would make avid geologists giddy and exhilarating as it would me for new delicious dishes. 
The entire area covers 2,597 square kilometres of land in the districts of Thung Wa, Manang, La-ngu, and Mueang Chapo which also includes Mu Ko Phetra National Park and Tarutao National Park. These areas are riddled with tourist attractions in both mountain and sea forms. There are caves, karst topography, waterfalls, islands, and even diving spots at the Chabang river channel. The rich biodiversity of the areas and the beauty of everything makes this place a dream for nature lovers, myself included. But then, it would take months, if not years, and definitely not hours, to explore them all.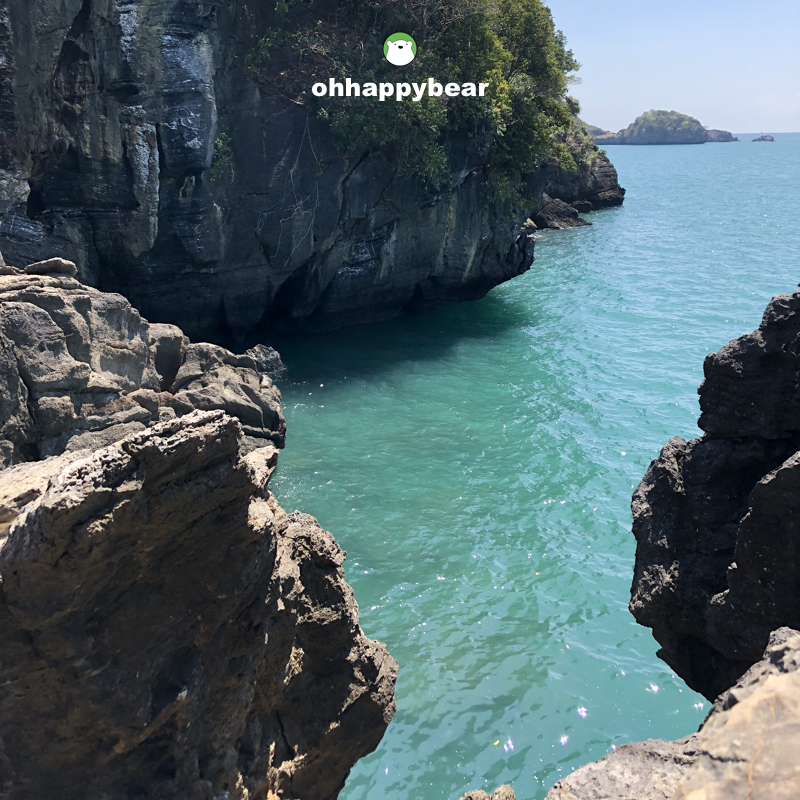 Above: The aquamarine sea at Talay Hua Jai at Had To Ba.
On the official website of Satun Global Geopark, which is only available in Thai, there are lists of places to visit categorized by their nature. From islands and beaches to waterfalls and caves. This is the link to those lists. Geological nerds can opt for more in-depth geological sites with all the fossils as the highlights. These, I guess, should be accompanied by experts because then they can tell us stories behind those findings. And to maximize the use of time, Satun Global Geopark folks have also included some itinerary guidelines, designed into zones, so visitors can spend their time wisely and cover the most spaces efficiently.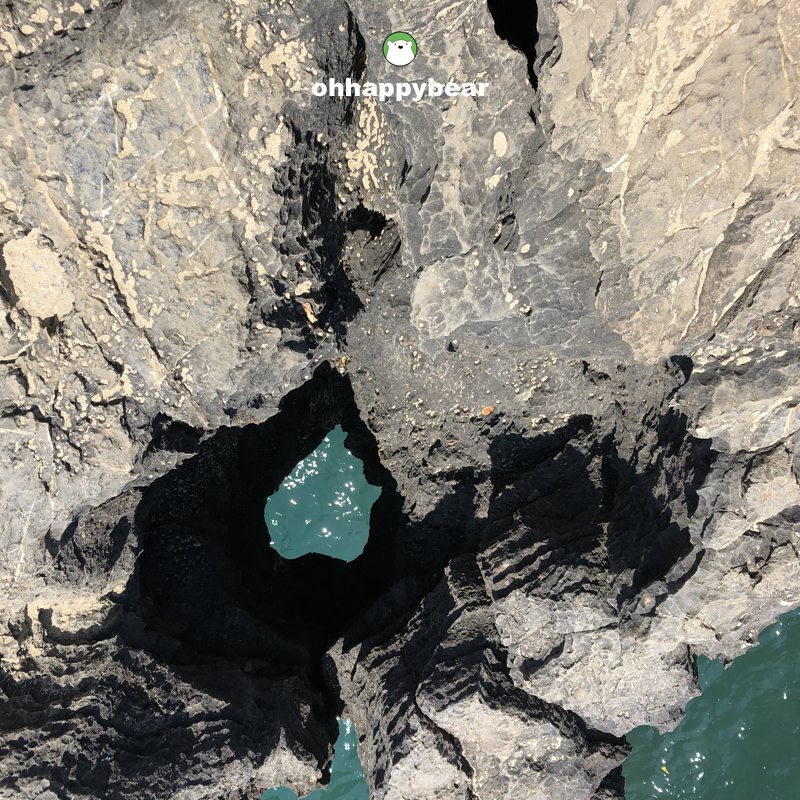 Above: The heart-shaped cliff where brave ones can jump down, at your own risk, to take pictures with it.
Our tour was on the water. The long-tail boat took off from Laem Tae Pan (แหลมเต๊ะปัน) in Pak Bara area, not too far from the pier we got off from Lipe trip. There is one guide and six of us. And one helmsman. There are snack boxes, kayaks that were towed along with the main boat, and we were off. Although it doesn't look far on Google Map, it is. And this is an open sea. The long-tail boat was small, but we got to put our minds at ease by trusting the guide and the helmsman. The thing is, make sure you go on the day that the sea is calm and the water is not swelling. Those who cannot swim should be extra vigilant because this, again, is an open sea.
Above: The fossil at the crack of the rock, not too far from the heart-shaped cliff.
Getting inside the lagoon of the Prasat Hin Pun Yod required getting on the kayak. Life jackets were provided to wear from the first moment of the tour, and the guide was very helpful. Remember to bring your dry bag to keep your mobile phones and stuff dry. 
We spent quite some time at the lagoon of Prasat Hin Pun Yod. We were lucky to be the only group there and our guide took his time taking us lots and lots of pictures (Thai-style, a la Thai soap operas, very fun). There are some fossils, hidden in corners that he pointed for us to see. These are the evidence of time.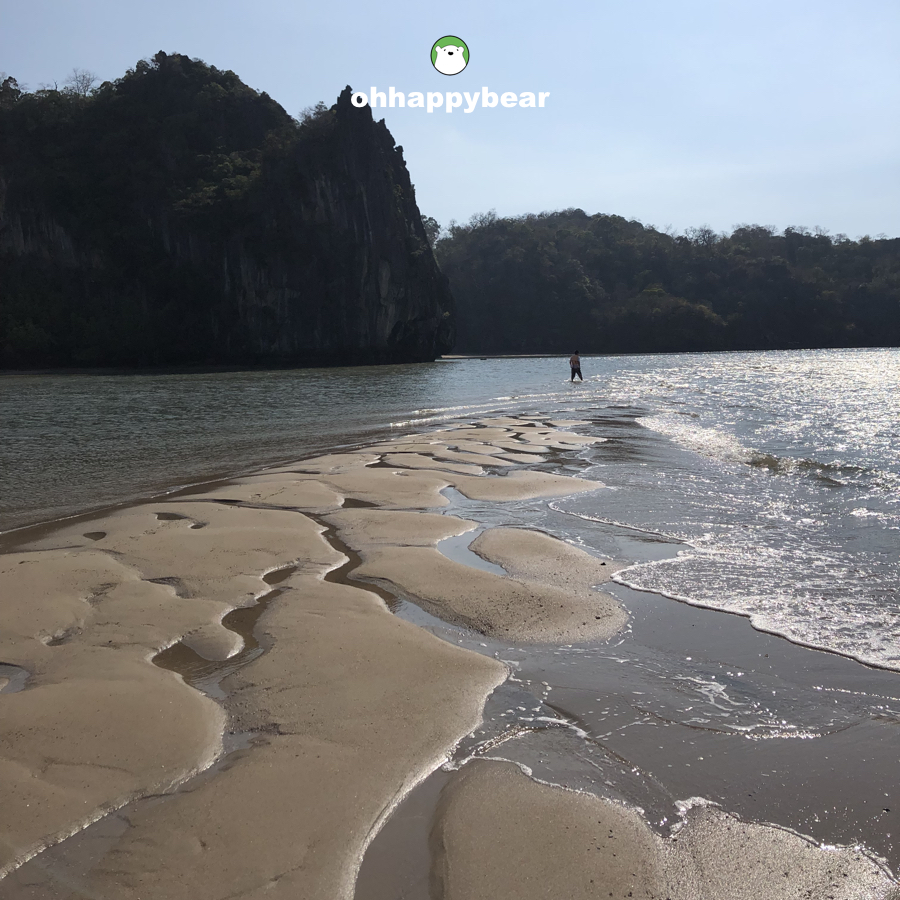 Above: The dragon back sand bar in the middle of the open sea. Another stop on this tour. A perfect spot for backlit photos.
The heart-shaped cliff at Had To Ba หาดโต๊ะบะ at Lintee Island just south of the area required quite a hike. A good pair of snug shoes would be helpful when climbing. The highlight there is 'Talay Hua Jai' or a cliff where one who is brave enough can jump down and pose with a heart-shaped hole with the aquamarine sea as the backdrop. Not too far from that viewpoint is another fossil at the crack of the rock, as little as a small one-Baht coin as pictured above. Our last stop is the above San Mangkorn or the dragon back sand bar that is located somewhere not too far from all places that we have been. The long stretch of the bar provided a great place for backlit photo ops.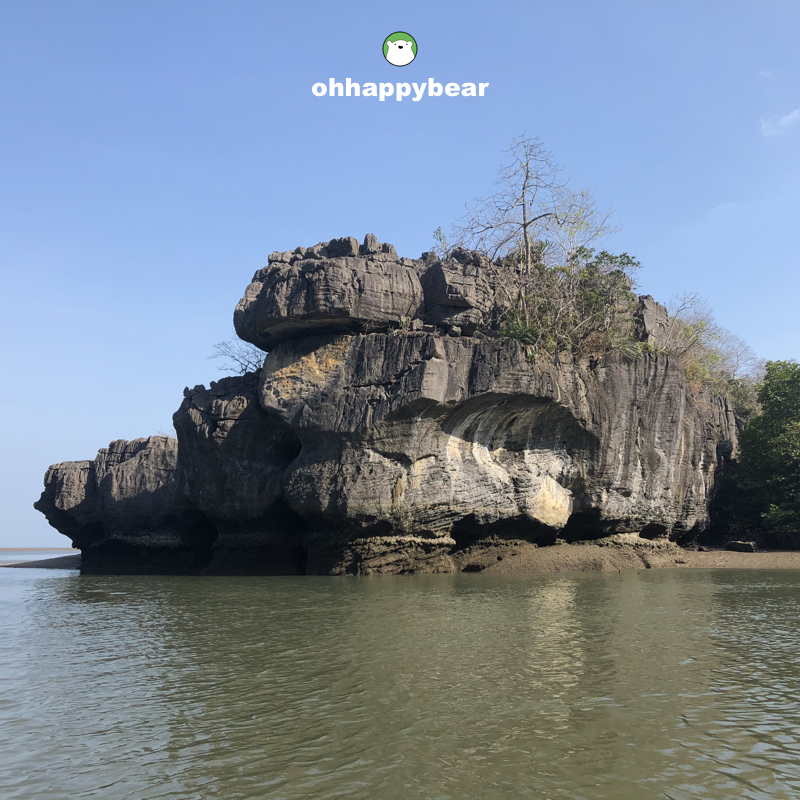 Above: Another evidence of times. Something that an avid geologist might scream with excitement. 😀
---
A LITTLE NOTE FROM US: If you are enjoying reading this blog, as we hope you all are, please kindly consider making a donation to charity causes listed HERE as a way to give us support. Your acts of kindness are always appreciated. Many thanks. 
---
MORE ABOUT THAILAND'S UNESCO WORLD HERITAGE SITES
---