Above: Pa Dib Lang ป่าดิบแล้ง or Dry Evergreen Forest in Sakaerat Biosphere Reserve in Wang Nam Khiao District, Nakhon Ratchasima
Talk about the one thing that tends to be widely under-appreciated, taken all for granted, but yet so precious, then trees and forests come to my mind. When in urgent need of an escapade, a quick respite from it all, I'd just slip into a nearby park and suddenly feel restored – if not healed – and energised. Nature has a great ability to stir insight within me, reminding me of a mere mortal that I am, and steering me back to the right and worthwhile course of my life.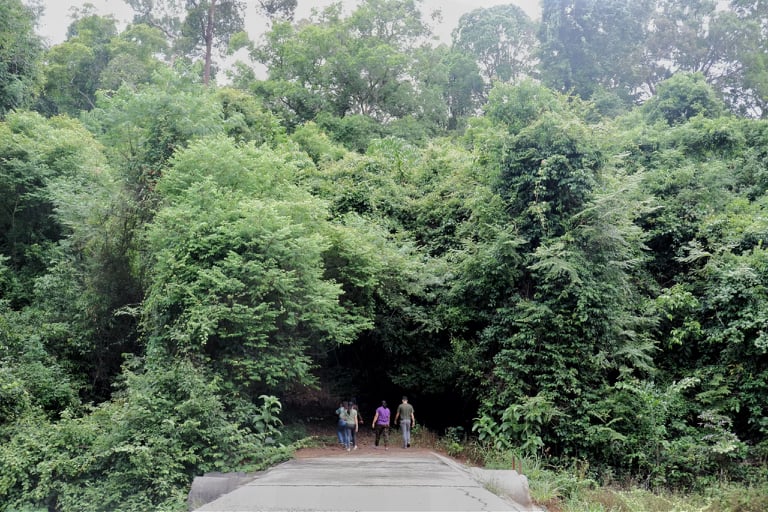 Above: Pa Teng Rang (ป่าเต็งรัง) or Dry Dipterocarp Forest is a native forest of Nakhon Ratchasima.
It's been a grand year for forests in Thailand. Earlier in July, our Kaeng Krachan Forest Complex in our western sphere became the latest UNESCO Natural World Heritage. And then in September, Doi Chiang Dao in Chiang Mai was enlisted as another of our country's UNESCO Biosphere Reserve. We are now having five biosphere reserves running from the north to the upper south of our country. 
Above: A path into the wild at Sakaerat Environmental Research Center (SERS)
And for such a great occasion, let's look back to the beginning of it all. To our country's very first UNESCO Biosphere Reserve that has been enlisted into this hall of fame for its natural abundance and biodiversity aplenty since 1976.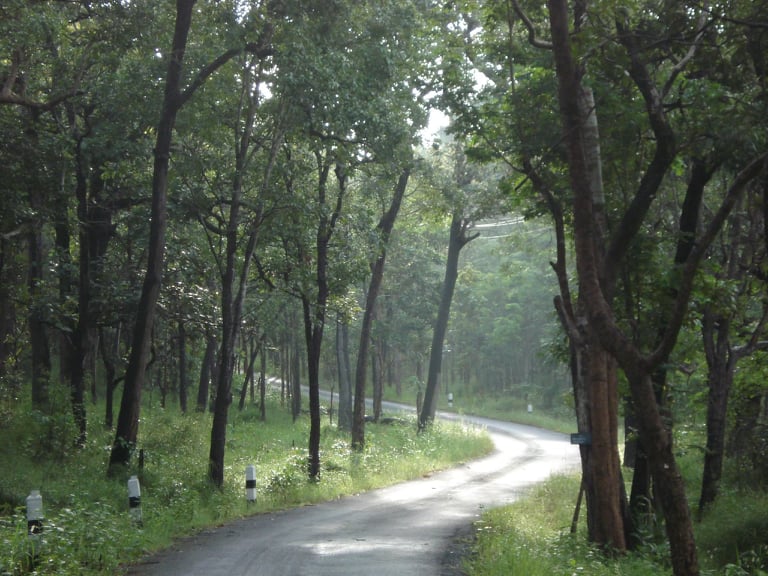 Above: A wise man once said, and I would never forget, that 'No great art can equate to a single tree.' 
"We were established following the then government's policies that scientific and environmental research was a crucial tool to propel our country's growth and development," explains Dr. Surachit Waengsothorn, the current director of Sakaerat Environmental Research Station (SERS) and manager of Sakaerat Biosphere Reserve. "And that coincided with UNESCO's founding principals that value precious wildlands with good missions. The year 1976 was the starting point of the global recognitions that would today help to preserve the great nature around the world."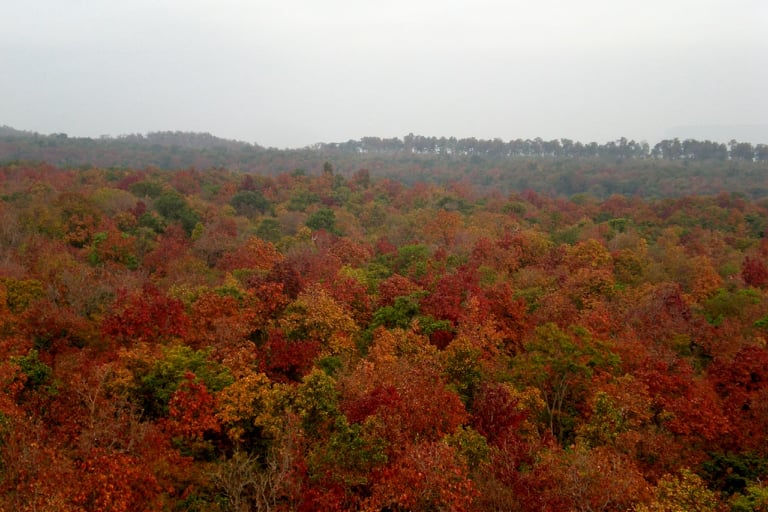 Above: Pa Teng Rang (ป่าเต็งรัง) or Dry Dipterocarp Forest is also known as 'Pa Dang' or red forest in Thai. This is a typical forest in the central, northeast, and northern regions of Thailand. 
Located south of Nakhon Ratchasima city centre and a bit west of Khao Yai National Park, Sakaerat Biosphere Reserve started off with an area of about 50,000 rais, roughly about 78 square kilometres. While preserving the native Pa Teng Rang (ป่าเต็งรัง) or Dry Dipterocarp Forest and Pa Dib Lang (ป่าดิบแล้ง) or Dry Evergreen Forest, Sakaerat is also home to more than 500 species of wildlife, some very much threatened and on the list of extinction. The entire place is a great wild wonder of creatures and critters, large or small, all with unique traits and characters to learn and understand.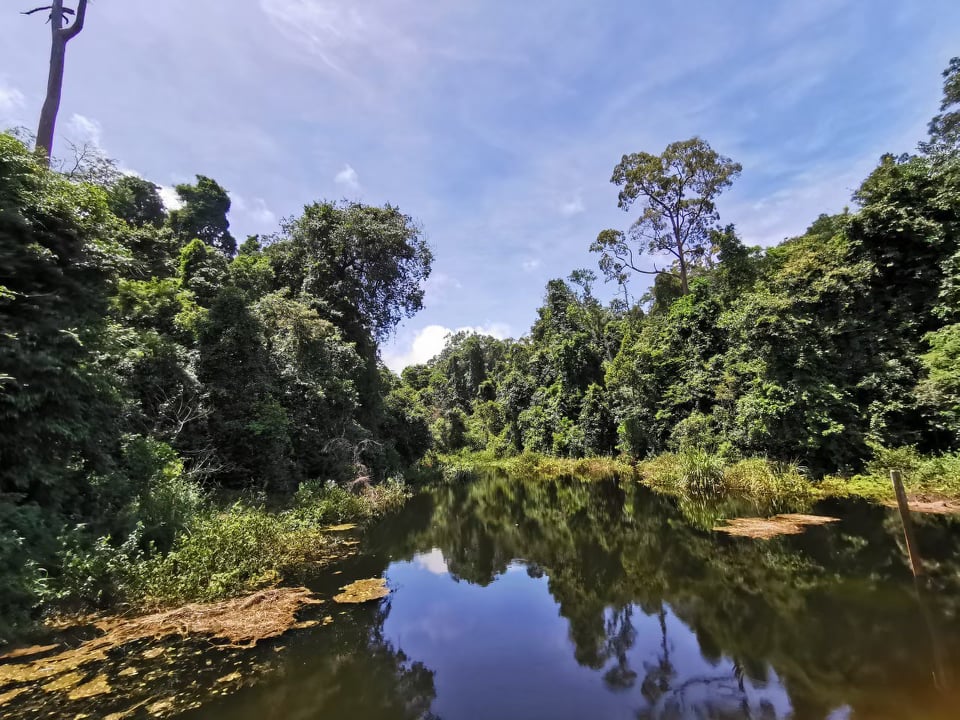 Above: Sakaerat Biosphere Reserve benefited from the restructuring of UNESCO's Biosphere Reserve zoning policies, and it now has over one million rais of the area that includes 12 sub-districts of Nakhon Ratchasima. 
"And there's really so much to learn in the forest," says Dr. Surachit. "And as an environmental research center, SERS has a mission to provide education of the wild to all the people who are interested in being here."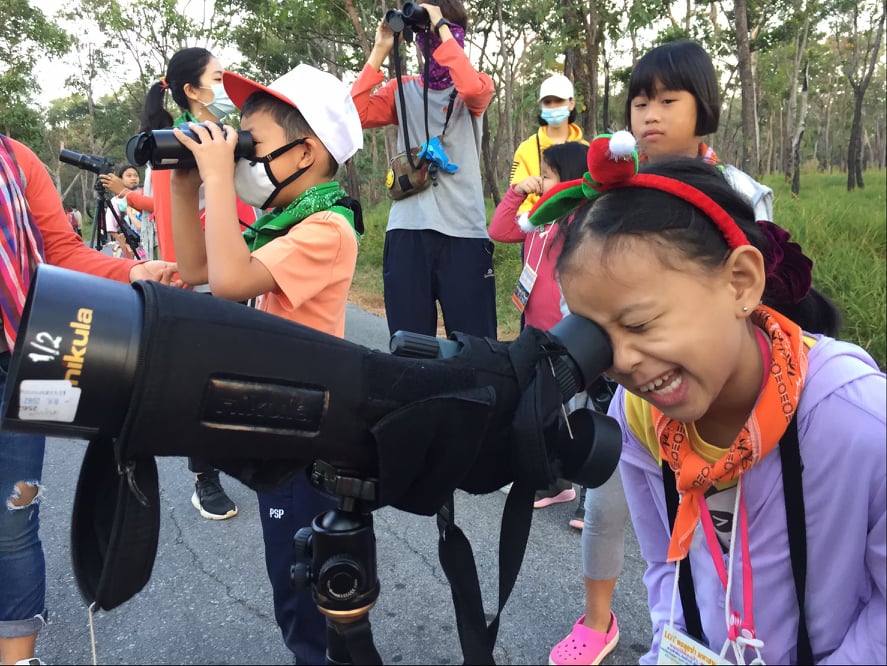 Above: School kids, armed with binoculars, learn how to stalk wildlife and recite birds.
As part of Thailand Institute of Scientific and Technological Research (TISTR), a unit under the Ministry of Higher Education, Science, Research and Innovation, SERS emphasises learning. During the non-Covid times, SERS is a popular option for overnight school outings where children get to explore the area, led by the expert team of SERS, immersing themselves in all things wild and wonderful.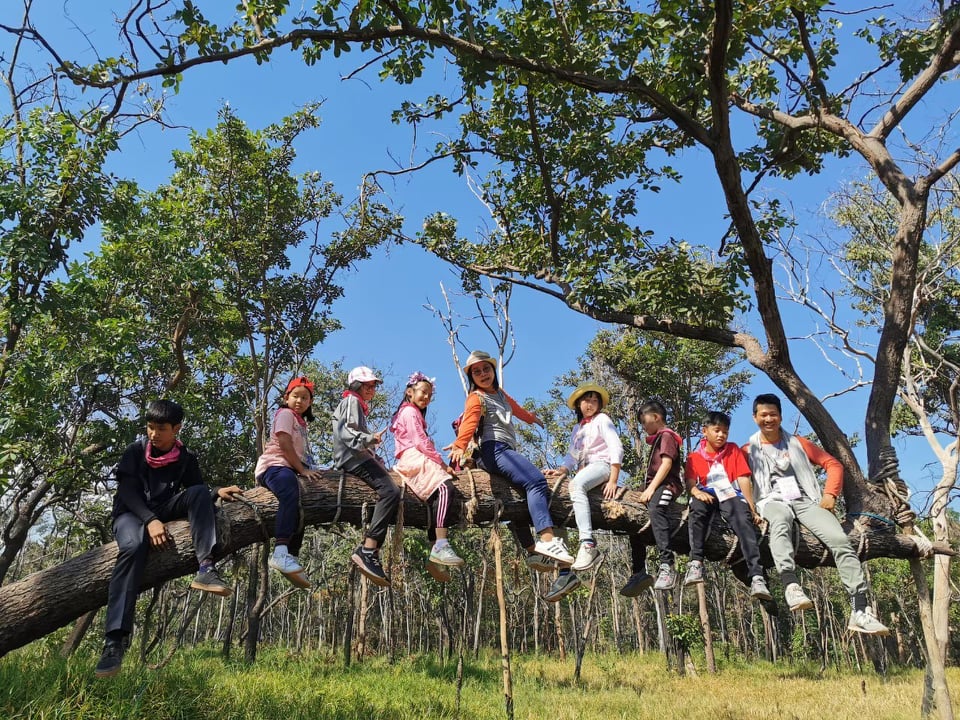 Above: School kids and SERS' staffers are having a blast in the forest. 
"Children coming here will each be dispatched with a binocular, at dawn, to learn how to artfully stalk birds," says Dr. Surachit, a forester, and a wildlife expert. He directs SERS with a big team of staffers who are willing to don bright bumble bee costumes and borrow their dance moves from Lisa, when needed.
"With only a water flask with them, the children will start their day trekking into the forest, learning everything there is all the way to their breakfast under the canopy. Adults will be more accommodated during the weekends when there're fewer school activities. Our itineraries and programs can definitely be tweaked to accommodate our guests, but we will make sure everyone learns something on their way out."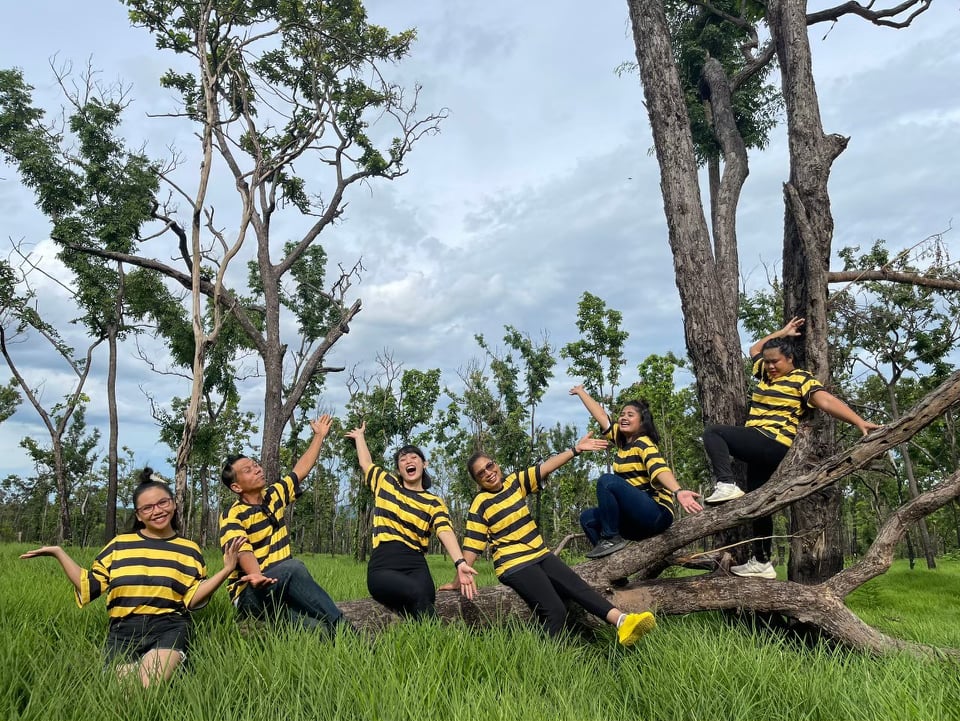 Above: Part of the job here at SERS is to educate visitors about the preciousness of the wild. But education doesn't have to be boring. In fact, it should always be fun and relevant. 
In the late 1990s, UNESCO restructured the patterns and layouts of biosphere reserves. It introduced that a reserve must contain 3 zonings to make sure that the forests and wildlife are not only well-protected but also coexist in good harmony with the surrounding communities. That restructuring effectively increased the area of Sakaerat Biosphere Reserve. From their initial 50,000 rais, the biosphere now covers about 1 million rais. This is a humongous twentyfold increase. The protected area has now become massive, extending into 12 sub-districts of Nakhon Ratchasima as well.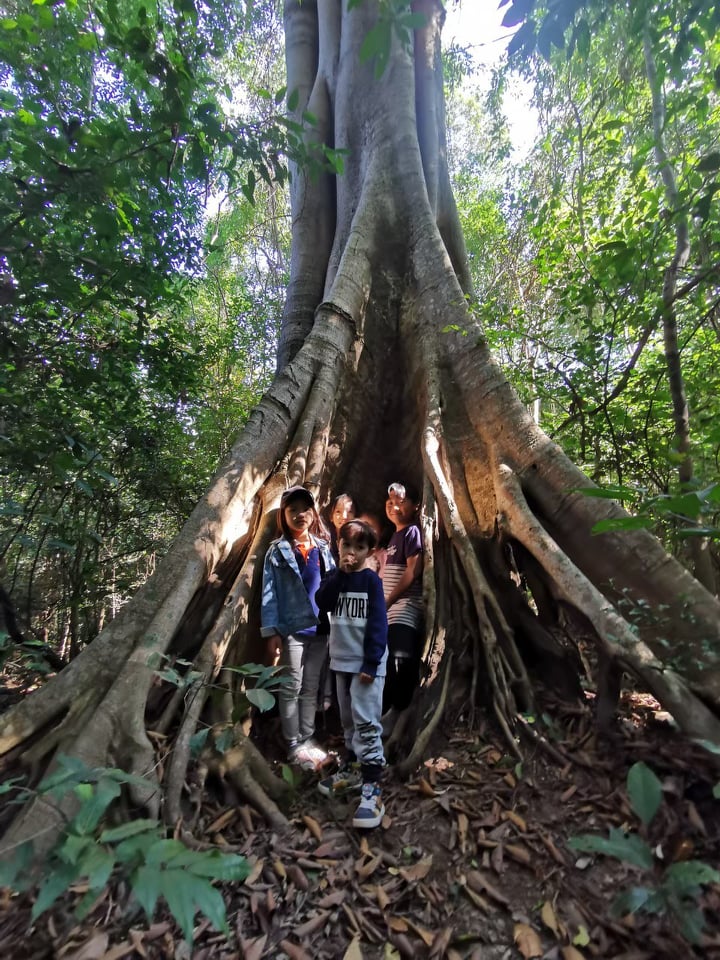 Above: We are all part of nature. We are all just the tiny, mere mortals.  
So far, UNESCO has listed 727 Biosphere Reserves in 131 countries, including 22 transboundary sites around the world. In Asia and the Pacific, there are 168 Biosphere Reserves in 40 countries. In Nakhon Ratchasima alone, Khao Yai National Park, which is a part of Dong Phayayen – Khao Yai Forest Complex, is also a UNESCO World Heritage Site. The province is now proposing its lower Lam Takhong basin to become a UNESCO Geopark so it can achieve a UNESCO trinity hall of fame.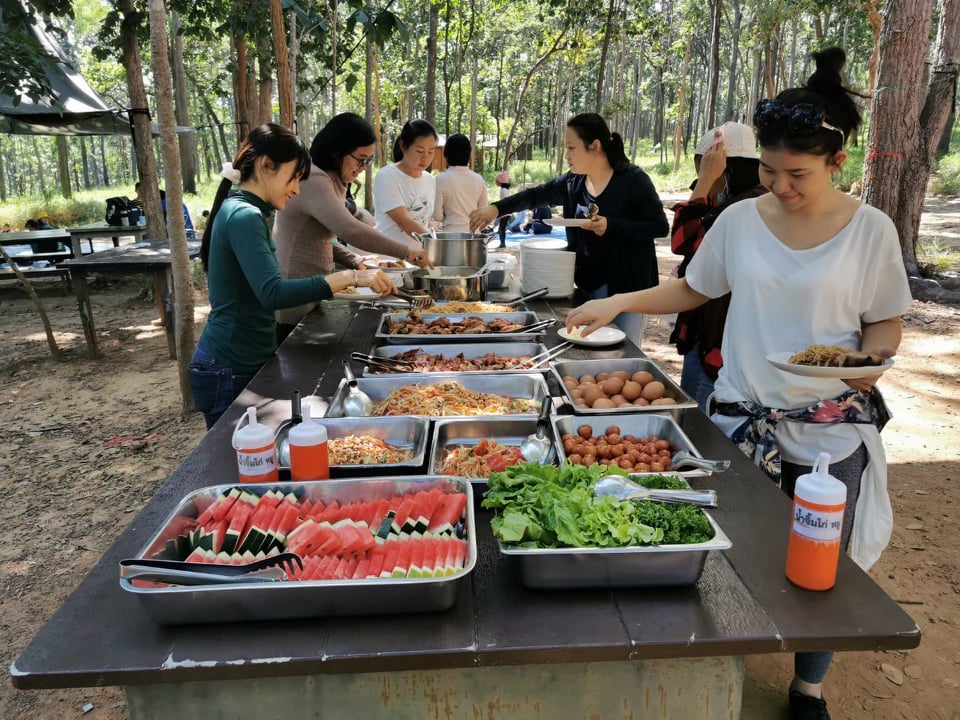 Above: Sakaerat Biosphere Reserve serves an all-you-can-eat breakfast under the canopy. Dr. Surachit says the food here got 'good reviews,' and that his team of over 10 cooks are all for hearty souls. 
"Being a part of the global conversation network has been beneficial for our country," says Dr. Surachit. "Apart from keeping us in the line with the global preservation and conservation efforts, the status also gives a chance to exchange and share ideas among other biosphere reserves around the world. It is a treasure, I believe it is always wonderful to learn and improve ourselves through others. And we want to keep doing our job well."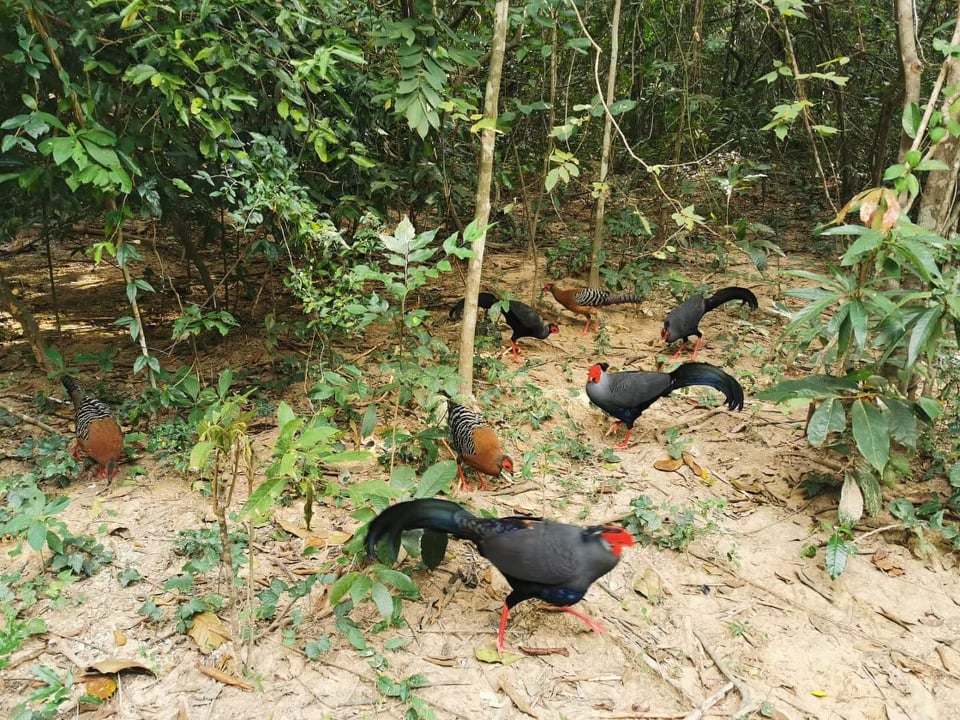 Above: Gai Fa Phaya Lor (ไก่ฟ้าพญาลอ) or Siamese Firebacks – a protected species considered one of the most glorious birds in the Kingdom – are roaming free at Sakaerat Biosphere Reserve. 
The other four UNESCO Biosphere Reserves also represent Thailand's diverse forests, Dr. Surachit explains. "And having each of them being recognized on a global basis is like having another measure to protect and preserve our environment. We are keeping treasures for generations to come."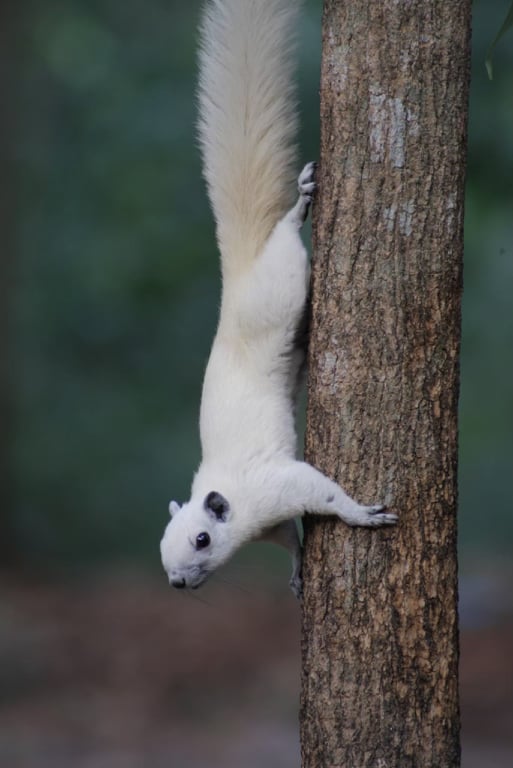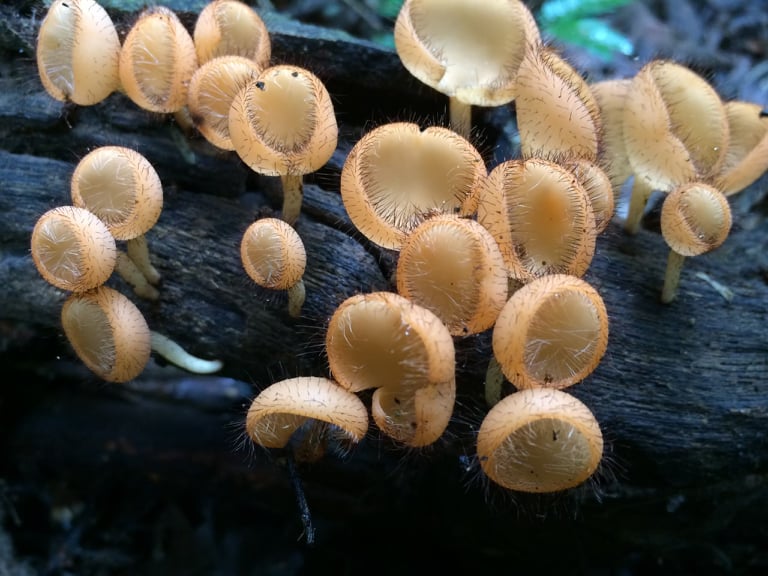 List of Thailand's all five UNESCO Biosphere Reserves (as of October 2021)
– Sakaerat Biosphere Reserve พื้นที่สงวนชีวมณฑลสะแกราช in Nakhon Ratchasima represents dry dipterocarp forest or Pa Teng Rang ป่าเต็งรัง and dry evergreen forest or Pa Dib Lang ป่าดิบแล้ง (listed 1976)
– Huay Tak Teak Biosphere Reserve พื้นที่สงวนชีวมณฑลป่าสัก ห้วยทาก in Lampang represents Thailand's teak forests (listed in 1977)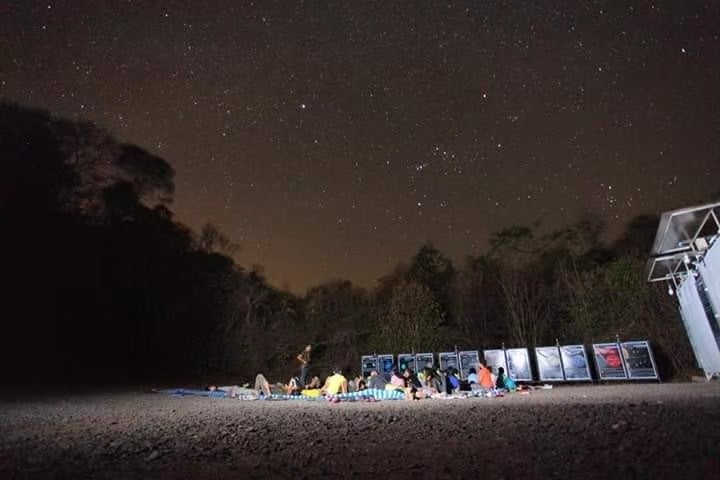 Above: Children camping out at SERS got to learn all about insects under the blankets of stars. 
– Mae Sa – Kog Ma Biosphere Reserve พื้นที่สงวนชีวมณฑลแม่สา คอกม้า in Doi Pui, Chiang Mai represents hill evergreen forests or Pa Dib Khao ป่าดิบเขา (listed in 1977)
– Ranong Biosphere Reserve พื้นที่สงวนชีวมณฑลระนอง represent the mangrove forests (listed 1997)
– Doi Chiang Dao Biosphere Reserve พื้นที่สงวนชีวมณฑลดอยเชียงดาว in Chiang Mai represents karst highland forest or Pa Khao Hin Poon ป่าเขาหินปูน (listed 2021)
For those who are interested in Sakaerat Biosphere Reserve, visit their Facebook page. For more details about camping and trekking, call T: 0982195570, and 0611021707. 
All photos are courtesy of Sakaerat Environmental Research Center (SERS), and I would like to express our thanks to Dr. Surachit Waengsothorn for his time and valuable knowledge. 
---
A LITTLE NOTE FROM US: If you are enjoying reading this blog, as we hope you all are, please kindly consider making a donation to charity causes listed HERE as a way to give us support. Your acts of kindness are always appreciated. Many thanks. 
---
MORE ABOUT THAILAND'S UNESCO WORLD HERITAGE SITES
---