Unlike the French, Thai cooks don't really perceive an omelette as a rite of passage or something to prove his or her own worth. Rather, most of the time, an omelette from a Thai kitchen is a mean of survival. A desperate act in a pinch. A kid with a pan and an egg should be able to whip up a simple omelette for a hearty meal with rice when needed. A Thai-style omelette is easy and homey. There're no rules of their shapes and forms. But at the same time, they serve a myriad of purposes: from mains to sides, and they are with more reiterations than I can count. 
Most Thais associate a plate of the omelette as ultimate comfort. The baseline version contains nothing but an egg (or as many as one wishes), fish sauce or soy sauce with an optional addition of crushed white pepper. As a purist, I love my omelette without the pepper. The taste of that simple Thai omelette with steamed rice is enough to take me home. And I usually need nothing more. That is already perfect. 
The eggs always act as a wonderful blank canvas though. Additional ingredients can be added to diversify the tastes. Traditional versions include shallot and chillies (below), minced pork (Kai Jiew Moo Sub), minced meats anything, but hardly beef or chicken. Shrimps and crabmeat are also very popular.  
My favourite version includes an omelette with sliced green onions. I love the herb's natural sweetness and aroma when cooked. Cilantro, although not orthodox, creates a wonderful taste in an omelette too when paired with roughly chopped shrimps. For those into historical tidbits, you might have already heard about Kai Jiew Khun Chai ไข่เจียวคุณชาย which includes in the filling a bunch of Thai basil leaves and pickled radish that we call Hua Chai Po หัวไชโป๊ว. This is another classic, but not something I would whip up on a whim. Maybe it is because I don't really carry those two specific ingredients in my fridge like I do shallot, green onions and chillies.  
I grew up eating my mother's omelette soup or as she calls it 'Kai Jiew Nam' ไข่เจียวน้ำ. This is not a common dish in the Thai omelette repertoire, but it is delicious. She would fry an omelette first, plain or with something like minced pork if that was available. Then, she would use the spatular to cut the omelette into small bite-sized pieces, add some water, and garnish the whole thing with cilantro and green onions, chopped, as per a typical Thai soup. In this case, freshly cracked white pepper is a must to flavour the soup. The residue oil from frying the omelette gives this soup a distinct taste and aroma, too. It is another of my favourite dish. And I grew up eating and making a great number of it for a real homey feel.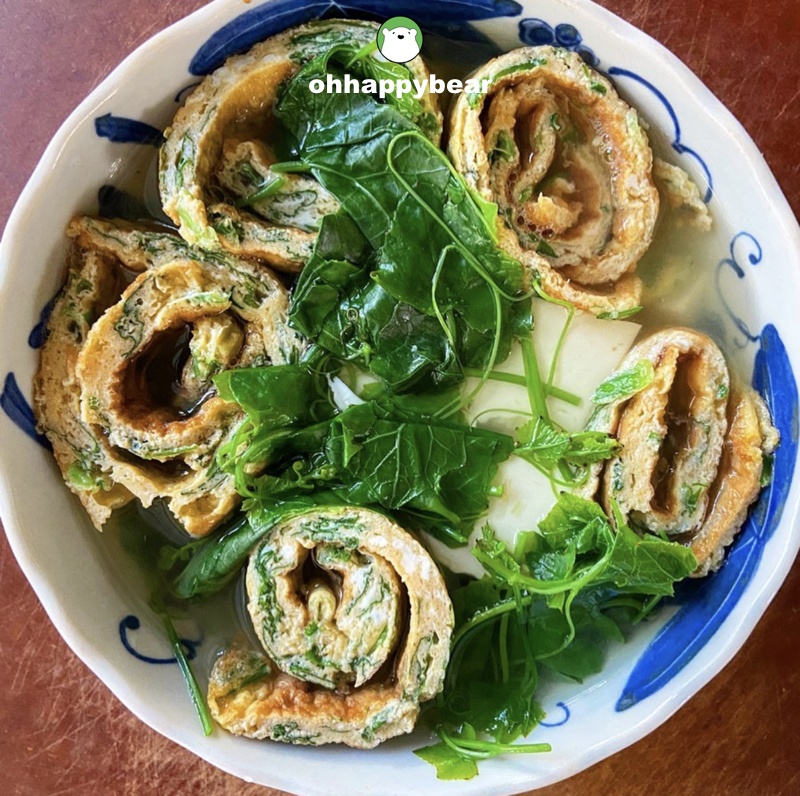 This soup was so common to me and I didn't realize it to be something else until I was cooking for myself a lot in the US, attending school. It seemed, at least in my days, that cooking for oneself was a crucial part of being a 'Nak Rein Nok,' a Thai student studying in whatever country not his or her own. Usually, in a Thai family, at least back in my days, the children were fed with their mom's cooking until the day they left home. Many who left home to study abroad, out of homesickness and the need to save money, started to cook. The references at the time then were series of long-distant phone calls back home for recipes and advice and cookbooks. There's no YouTube, no Internet, nothing. Just us, out there in the world, scouting for the precious precious Asian ingredients wherever we were, and learned to cook by memories and adaptations.  
Somewhere, pre-millennium, in the Pacific Northwest of the US, I was cooking my mother's omelette soup again, when my then-boyfriend (now husband) who'd eat everything I cooked without saying much, noticed the dish. 'Why there's water in the omelette?' he asked, clearly he was surprised by the concoction. But then, he cleaned the bowl as always. 
Apart from being on its own as a main dish with rice, an omelette also serves as a wonderful side dish in a Thai meal we nostalgically call 'Samrap' สำรับ with its comforting tastes going so well with anything, especially all the spicy curries of southern Thailand. It offers a nice break from the fiery stuff I would be munching and enjoying. It assuages my palate that was being assaulted by the brutal but all delicious tastes. 
MY OMELETTE SOUP or Kai Jiew Nam ไข่เจียวน้ำ
This one-pan recipe is only a guideline. Make your own variations as you go. Steamed rice is required though. 
Ingredients:
Two or three eggs (I'd go for one egg per person)

Soy sauce, pepper to taste

Minced pork or minced shrimps (optional)

Chopped cilantro + green onions

Any additional vegetables that you have. I found spinach or Ivy gourd vines or Yod Tam Lung ยอดตำลึง above work very well. Another great option is soft tofu.
Preparation:
Make the omelette first. Beat the eggs vigorously, add the soy sauce to the eggs. This is not a dish to be oil-and-heat-timid. Enough oil and high heat will fluff the omelette and that gives the result the unique aroma of the Thai omelette you don't want to miss.  
Once the omelette is nicely browned and done, cut it into small chunks with your spatula. Set the omelette aside by scooping them all into the serving bowl. Add the soup or plain water into the pan, let the liquid boil, add the extra meats or vegetables or soft tofu, flavour it with soy sauce, taste until you like it. 
Pour the soup into the waiting serving bowl with the cut omelette. Garnish with more chopped cilantro and green onion. Enjoy! 
---
A LITTLE NOTE FROM US: If you are enjoying reading this blog, as we hope you all are, please kindly consider making a donation to charity causes listed HERE as a way to give us support. Your acts of kindness are always appreciated. Many thanks. 
---