Methinks it might have started innocently enough. From a pure, simple quest for something with good smells to eat. But when the ordinary thrills weren't enough, we moved further. And further, we go to the point that we are now enjoying something downright 'stinky' and still feeling so right and happy about eating them all. 
The dish that I made was not new. In fact, it was derived from the famous 'Pad Sam Men' ผัดสามเหม็น or stir-fry of three stinky ingredients: Cha-Om ชะอม, Sator สะตอ (stinky beans), and not fresh but pickled garlic or Kratiem Dong กระเทียมดอง
I recently made this dish called 'Pad Woon Sen Kai Cha-Om Goong' ผัดวุ้นเส้นไข่ ชะอม กุ้ง which is a stir-fry dish with glass noodles, climbing wattle or Cha-Om in Thai – a vegetable known for its strong pungent smell, eggs, and some shrimps. The process was simple: starting with the typical Thai 'stir-fry' staple mixture of chopped garlic + chillies, then shrimps, glass noodles, some water to cook the glass noodle through, some soy sauce to taste, and once everything was almost done and the mixture was drier, in go the eggs and the Cha-Om. A few stirs later, the dish is done. Below is the dish I made, and you can see the frying process in the last slide. The result, though, was mind blowing. It was really that good. And I was beyond delighted. But then, it left me wonder, why do stinky stuff taste so good?
The dish that I made was not new. In fact, it was derived from the famous 'Pad Sam Men' ผัดสามเหม็น or stir-fry of three stinky ingredients: Cha-Om ชะอม, Sator สะตอ (stinky beans), and not fresh but pickled garlic or Kratiem Dong กระเทียมดอง which lends an even more powerful smell than their fresh counterpart. Somehow, though, when combined together, those three make a real tasty wonder. It is one of the best-loved Thai dishes if you ask me. Below is the link from my favourite YouTube Cooking Channel: Jee Pek of Phuket. Thank you kha Jee Pek! ขอบพระคุณจี๊เพ็กค่ะ
The thing is, once I look around, I found that Cha-Om and Sator are also frequently and lovingly paired with something even stinkier. Things like Nam Prik Kapi or the chilli paste that is made from the pungent shrimp paste. And to eat that shrimp paste spectacularly, we also pair it with Cha-om Choop Kai ชะอมชุบไข่ or a Thai omelette with Cha-Om (see the picture below). And if Sator beans happen to be in season, why not, let's get the party going with a double smelly wham, too! See, in certain Thai recipes stinky + stinky + stinky = bam delicious! 
I remember Sator being a precious ingredient of southern Thailand when I see how locals there just treasure them. They are seasonal and folks there savour them both in fresh and pickled forms. The beans make their appearance everywhere, from the morning stall of rice vermicelli or Khanom Cheen to a side tray of mixed veggies served with curry to something that showcases the peak of the season, beautifully charred on their pods for a mature but still strong Sator-only aroma. But below is one of the most-known dishes where Sator beans are the centrepiece. It is Sator Pad Goong สะตอผัดกุ้ง with the ingredients being the fresh Sator beans and shrimps. The variation is the base of the stir-fry: red curry base or shrimp paste. Below is a red-curry base from a place in Pranburi or Prachuap Khiri Khan, about 350 kilometres south of Bangkok.  
Many Thai southern recipes contain stinky beans in one form or another. The beans, even with their strong smell, can take a supporting role in certain dishes. For example, unlike Sator Pad Goong where the beans are there to give all of their tastes, in the thick wild mushroom curry of  'Gang Kua Hed Krang Gap Goong' แกงคั่วเห็ดแครงกับกุ้ง (pictured below), Sator is there just for occasional accentuations. They were meant to be bitten into here and there, but not everywhere. Hed Krang or Spitgill mushrooms is another seasonal ingredient in southern Thailand. We had that dish last time we were in Phang Nga. You can see it by sliding to the right in the below IG post. 
In Bangkok where most grocery shopping takes place at a supermarket, Sator beans lose their pods entirely. Peeled beans in various sizes and stages of maturity are usually packed in plastic trays and sold at a price sometimes as expensive as shrimps. But I love it, I am Bangkok people, I love to eat this stinky stuff and happily pay for it.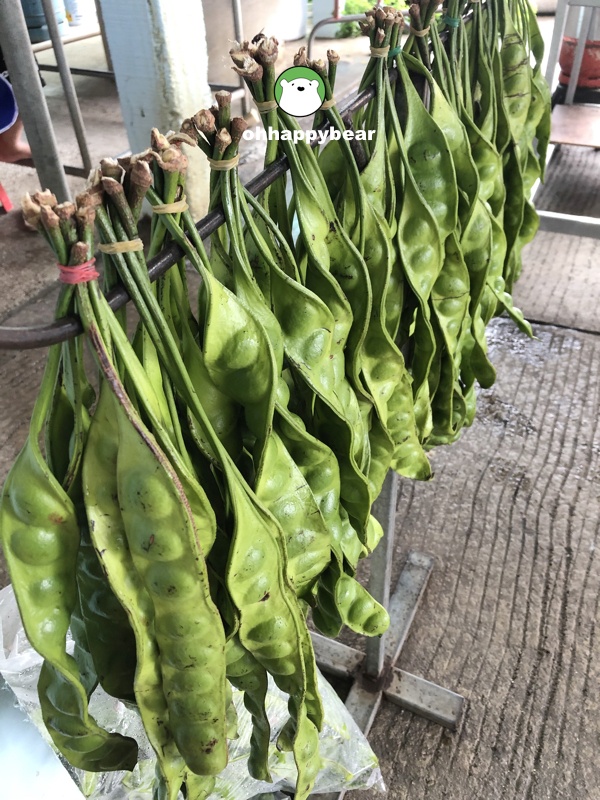 Above: Stinky beans in their pods at a rice-vermicelli place in Phang Nga. When in season, they are sold everywhere, but off-season, these are priceless, and people who have a glut of them would have pickled them to savour all year long. 
NOW THE RECIPES
Sator Pad Goong สะตอผัดกุ้ง Stinky Beans with Shrimps and Shrimp Paste, or Curry Paste
Ingredients:
Shrimps, washed, peeled and deveined. 

Fresh Sator beans

A spoonful

of shrimp paste or curry paste

Soy sauce

A squeeze of lime 
If you are using shrimp paste, please note that you will also need some chopped garlic and chillies to get the taste going. But if your option is the curry paste, you are ready to go.
P.S. I'd say shrimp to Sator beans proportion can be 1:1.
Preparation:
In a pan, put in the chopped garlic and chillies, stir-fry until aromatic (when you start to sneeze you head off), then add the shrimp paste. If you are using the curry paste, put the paste into the oil and stir-fry until aromatic, or when you start sneezing too. 😀
When the sauce is nice and fragrant, add the shrimps. Gently toss the shrimps over into the sauce. When the shrimps are 90% done, add the stinky beans. Toss everything together quicky but gently. The stinkly beans don't need to be overcooked. You want them to be brightly green and still crunchy. Squeeze in the green lime at the end, just when you have turned off the heat. The lime is only used when you are on the shrimp paste option, though.
In the picture above, I added some minced pork into the dish too. Minced pork can also be used au lieu to shrimps, in a pinch. 
Hope you are not confused. Happy stinky-eating everyone!
---