Above: Wannee Thai Kitchen's curry puffs. 
In the recent search for my hometown's best available curry puffs, I was transported to so many places from my memories. Given that I am not a staple fan of all things deep-fried, the cravings for that specific pastry opened up a tasty revelation. I now have a handful list of the places I would go back for my curry-y stash. Along the way, the search also led me back to our photo archives of the trip we made eating around Singapore in May 2018. 
While it is understandable why Singapore has such an obsession with curry puffs, I have completely no idea why in Thailand, the deep-fried goodies got to be the iconic souvenir of Muak Lek district in Saraburi. 
Friends brought me curry puffs, their favourites, after I posted on my Facebook the day I needed the puffy fix. But it was not until I visited this small stall near BTS Ari, also recommended and vouched for by many friends, that the whole experience took me back to that trip to Singapore. To me, that stall exudes an imaginary caricaturistic vibe. It is tiny, but somehow all three adults fit in. Upfront is the aunty who does the selling, packing, talking. The other two: one was rolling the dough with his back to the storefront, the other one, with her profile to me, was busy stuffing and crimping the puffs. The frying is done in batches, per stuffing: chicken, tuna, ham, soybeans, right there in a large pan. In a good fashion of a nameless stall famed for the taste of their curry puffs, they ran out of the classic chicken filling fast, and I needed to wait. But not for too long. This stall, for all their Bangkok fans, claims to perpetuate the style of the famous curry puffs of Muak Lek district in Saraburi where the curry puffs are known to be the best in Thailand.  
If the place is not fancy, I'd say, the food must be fantastic.
I remember queueing up for curry puffs at a similar-style tiny hole-in-the-wall curry puff stall in Singapore. The name is Wang Wang Crispy Puff at the Old Airport Road Hawker Centre. This place is known among curry puff aficionados there as one of the best. If the place is not fancy, I'd say, the food must be fantastic. All walls were oily, and the place was manned by a couple. Dough-rolling, stuffing, and crimping were done furiously, one by one, with all puffs neatly arranged onto a round perforated tray that is lowered and jiggled into a large wok to golden fry. Wang Wang's puffs were crumbly, hearty, delicious. But vividly I remember the layers, very pronounced and beautiful.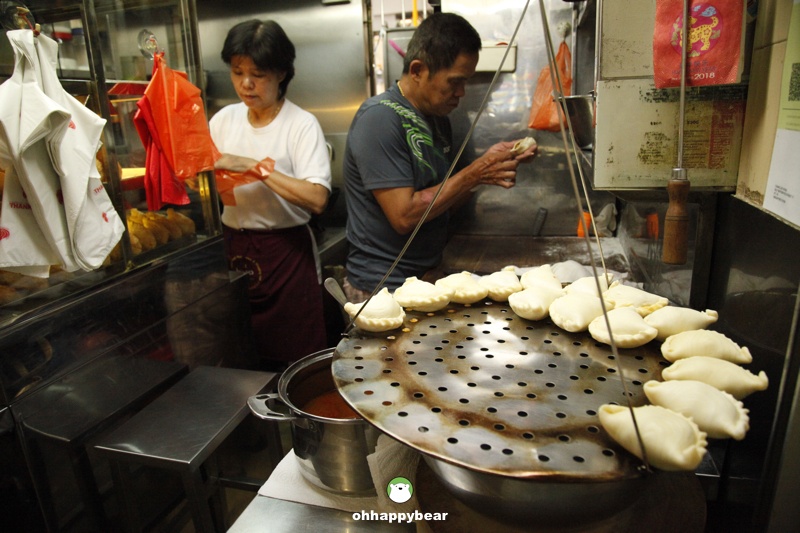 Above: Wang Wang Crispy Puff at the Old Airport Road Hawker Centre in Singapore is known as one of the best in town.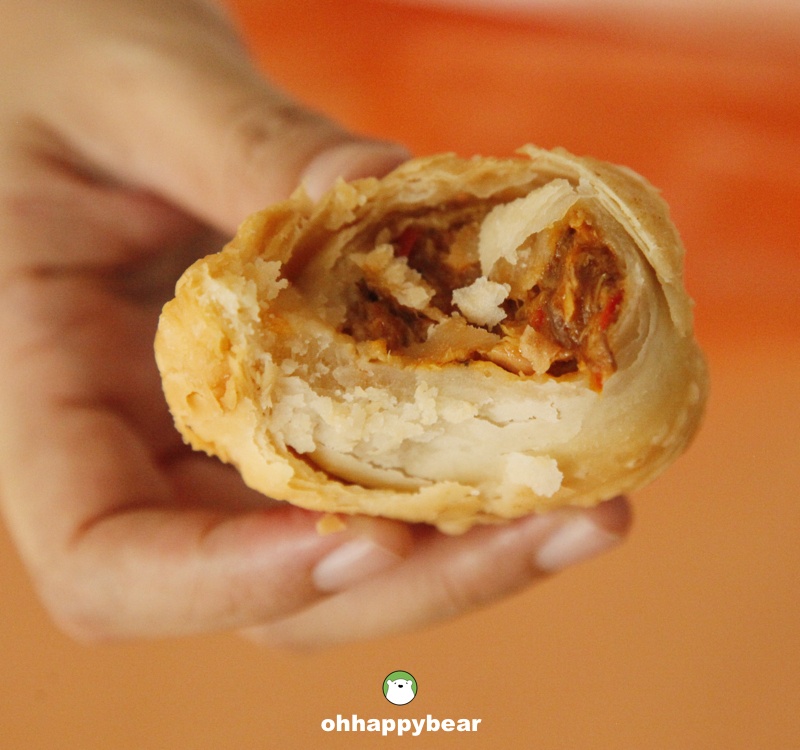 Above: The deliciously crumbly texture of a curry puff from Wang Wang Crispy Puff above. 
Still in Singapore, at Soon Soon Huat Curry Puff on East Coast Road, I was confirmed that the beautiful puffy layers are in fact a presence of the mastery act in the curry puff making. The puff's shape here is more crescent than half-moon, with the two endpoints twisted up like a man's handlebar moustache. Curry puffs in Singapore, I also found out, diversified into new fillings, too. Apart from the traditional chicken curry, the recipes now include something contemporary like custard and durian. Below are the curry puffs we ate at Soon Soon Huat. Fat, filled, hearty, delish!
At this point in life, I think we can all agree that foods, just like people, have legs. I have covered enough food stories and eaten enough things to make my own tasty connections here and there. However, while I can understand how Singaporean obsession with the curry puff had come to be, I have no clue why in Thailand the very same puff has got to become an icon of Muak Lek district in Saraburi, the province about 150 kilometres northeast of Bangkok. The area, a passage to the northeast, is known for their undulating hillside landscapes. 
Curry puffs of Muak Lek have been so famous that they became a synonym of the place. They are the main souvenir and a part of the provincial's motto:  'เนื้อนุ่ม นมดี กะหรี่ดัง,' meaning 'good beef, excellent milk, and famous curry puff.' See? But why so?
My scrupulous online 'research' led me to a Facebook post that claimed to be by an offspring of the very 'first' founding curry puff stall of Muak Lek. As the story goes, the writer recalled that it was his mother who, out of a financial need, took on the idea of selling curry puffs as a road-friendly edible snack for passing-by travellers. But because her curry puffs were so extremely delicious, they soon became the destination themselves. It didn't take long for more stalls to open and imitate her puffy success. And there you have it, a whole length of a highway section with more curry puff stalls than anywhere else in the world.  
It could be because we are a big city, always in a big rush, and competition for Instagram fame value more than real taste.
Back in Bangkok, though, I found the story of our curry puffs lacks not only the ear-twitching dramas but also the beautiful layers. It could be because we are a big city, always in a perpetual rush, and competition for Instagram fame value more than real taste. 'Famous' curry puff places that I have seen on IG rarely contain that layering proof of a well-mastered dough. Swipe up and you'd see how most curry puffs in Bangkok compared to the ones in Singapore. There're just no layers here. 
But then, as if to prove me wrong, I found the beautiful curry puffs at Sun and Son Cafe in the On Nut area of Bangkok. I am here thanking my friend Pang Rum who posted them first on her Facebook. Go ahead, click the link to their Facebook page and savour their puffs all mastered with the exquisite layers. I fell in love. I love my food as delicious as they are beautiful, respectively. And here, I got my wish.
Sun and Son Cafe delivers via postal mail, or if you are nearby their place, you can also pick them up yourself. I was lucky that my package was not destroyed along the process and I got to see those beautiful layers in the flesh. The crumbly texture and tasty stuffing make them another of my favourite treat.
But then, just like Vanessa Williams' mega-hit song, sometimes life is all a big surprise and the best is really saved for last! A friend, Khun Pete, has been running his Wannee Thai kitchen for years. His cooking appeared in so many places, and the famous of all is his Chef's Table Thai dinner where he serves the old Thai recipes of his own grandmother Wannee. Not too long ago, after I thought I had enough of the curry puff saga, he was posting that the order can now be made for his famed 'curry puffs.' And here I am posting on my IG upon eating and loving them so much. These chicken curry puffs are THB250 for 8 pieces with Ar Jad, a clear tangy and sweet pickled side that is served to brighten the puffs all so well. Since we are friends, he gave us his exquisite pickled vegetables as an option. Please click on the right arrow to see more. 
Unlike all the above curry puffs I had tried. Wannee's puffs are meant to be eaten on the day they are made. You can try keeping them in the fridge for a few days, but I don't think they would be as good. The reason is that from the stuffing to the dough, to frying, everything is very very delicate. The stuffing, in particular, won me over because not only that it contains more chicken than potato, but it is visibly clearly freshly made. The colour is still bright, not yet dulled by time, and not overly salted or sweetened. The usual potato is also replaced by sweet potato which is lighter and fluffier. The curry powder is also wholesome, aromatic, vibrant. Also, the dough is paper-thin. Being deep-fried, the ones at the bottom of my box were a little soggy, their skin turning almost transparent. You'd have to try them. They are lovely.
And for those who want to follow my trail, here is my list of curry puff favourites:
#1 For every day's curry puff treat, I would go to Curry Puff Pa near BTS Ari, those on the bamboo basket on my IG top of this post. I have already included their phone number in that post, so please click through the right arrow to see their contact info. Although without the coveted layers on the puffs, I found their pastries, made fresh, are hearty and delicious. And at just THB14 apiece, they made wonderful afternoon snacks and will cost you next to nothing. By having no delivery service, I have to go there and buy, hence controlling my intake and also reduce the packaging trash.
#2 My number two for a long-term stash goes to Sun and Son Cafe. I adore their layers and attention to detail. And the price is also friendly at THB15 apiece. But then, since each puff here is individually wrapped in a plastic bag, I am put off by the amount of trash I created just because I wanted to eat some curry puffs. That practically refrains me from ordering them too often, or I will try to be there to collect my pre-orders with a big container of my own.
#3 You might have guessed, if I have another rush of curry puff cravings and Wannee's has an opening for their puffs, I would order them for us. This is a bit of a treat because these are the most expensive ones, about THB30 apiece. But then, I got all the tasty bang I want. I'd order one box with eight wholesome pieces, each a size of a fat palm, for each of us. Plus, the provided Ar-Jad pickled sauce just elevates the whole eating experience. These curry puffs are elegant and would be perfect if you are having a tea party at home. They will surely make you look super cool as a host. 
That's it. Have a puffy day you guys!
---