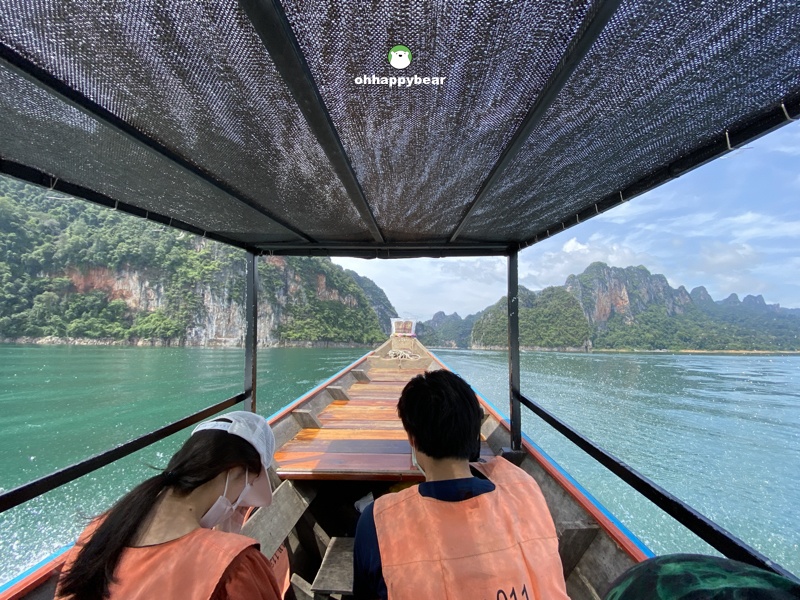 Above: The boat ride into the rafting resort at Ratchaprapha Dam, or Cheow Lan Dam, in Surat Thani in October 2020. 
Surat Thani, Thailand, (Updated 22 January 2021) – We made this trip earlier, prior to the second surge of COVID-19 in Thailand that happened around the end of 2020. This is a one-night stopover at Ratchaprapha Dam as part of our trip to Samui and Phang Nga (again). I have been hearing so much about this beautiful place, but being us, meaning we always think way too much, going there seems for us a way to ruin than to cherish the place.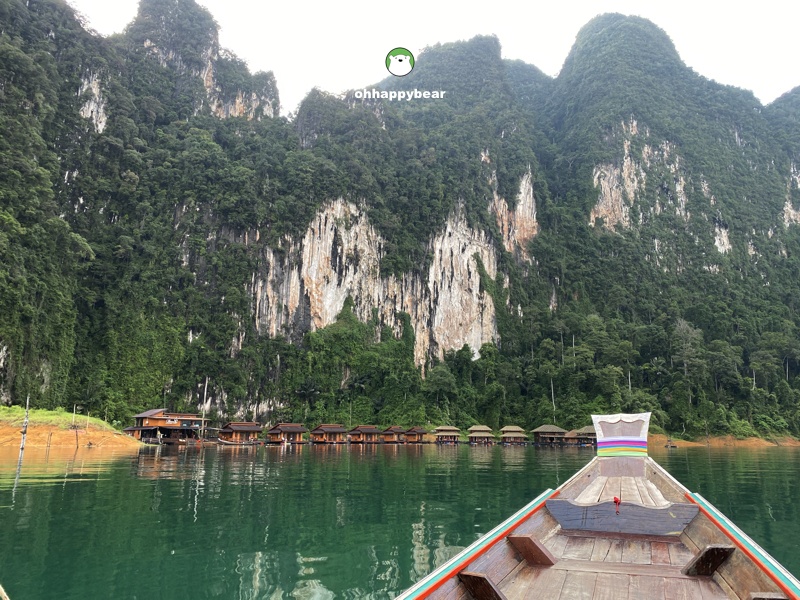 Above: From the boat, looking into the resort, lined at the back with soaring limestone cliffs. 
Ratchaprapha Dam is a huge multi-purpose dam smacked in the middle of Khao Sok National Park in Surat Thani (click for Google map here). The dam, built over the course of 5 years, was completed back in 1987. With a capacity of 5,639 million cubic metres, this dam retains rainfalls, distributes water for irrigations, provides a breathtakingly scenic space, generates electricity, and also being a vast natural fishery. At the same time, though, this dam has erased over 385 families that used to live here before the flooding took place. 
Now, the dam offers day and overnight trips. The whole place is run by the Electricity Generating Authority of Thailand (EGAT) who also offers accommodations along with about 20 other private operators with long-term concessions to do business in this place. Below is the overall map of the place.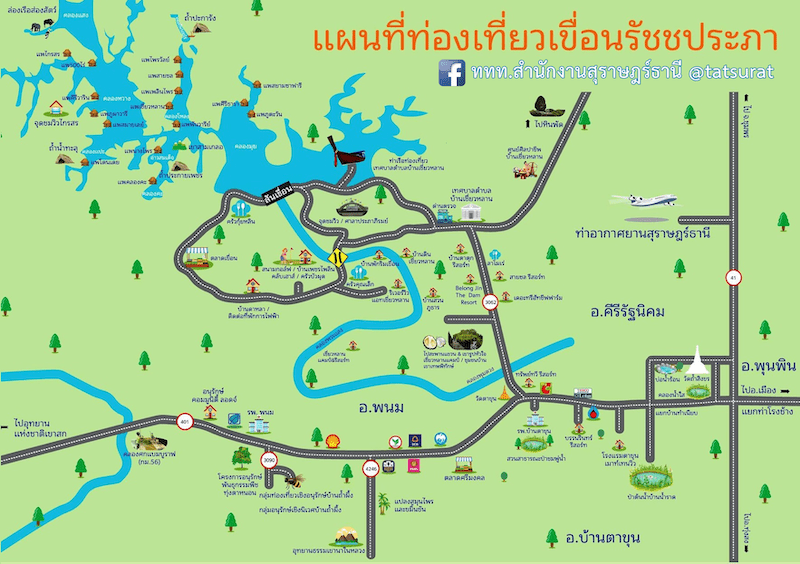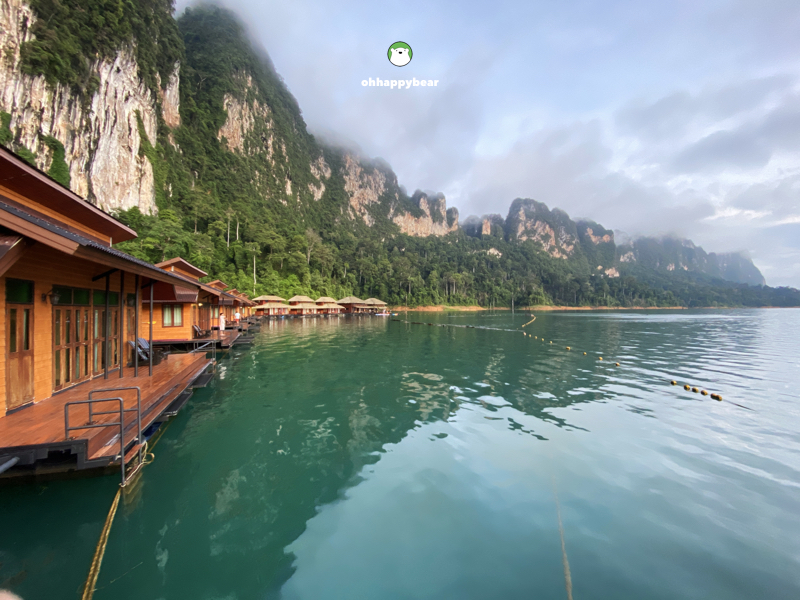 Above: This small rafting resort is our destination. There are twin rooms (with attached wall) and single rooms. We chose the latter. A bit more expensive, but then, less noises. 
♣
The place that we stayed was Panvaree, a small rafting facility with double and single rooms of about 10 rooms in total. The package is all-inclusive with long-tail boat transportation from and to the Ratchaprapha Marina or Tha Reur Thetsaban, three meals (lunch and dinner the first day, and breakfast the following day), two half-day tours (first tour the first evening, the second tour the morning after), a room for two, and insurance for two. We paid about THB8,000 for two. And that was a COVID-19 deal. But all in all, it was worth every Baht we paid.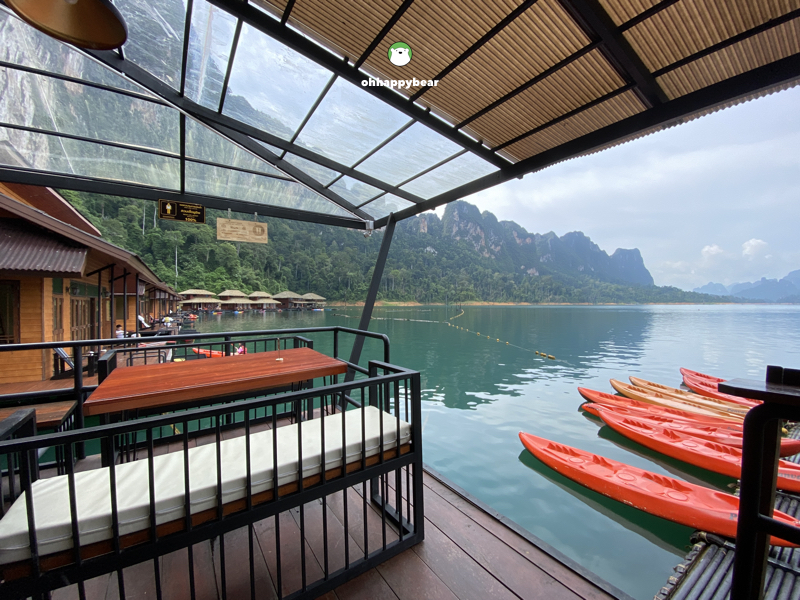 Above: From the lobby (where some WiFi signal is available). There was no cellular reception from room, peace of mind, but then…:D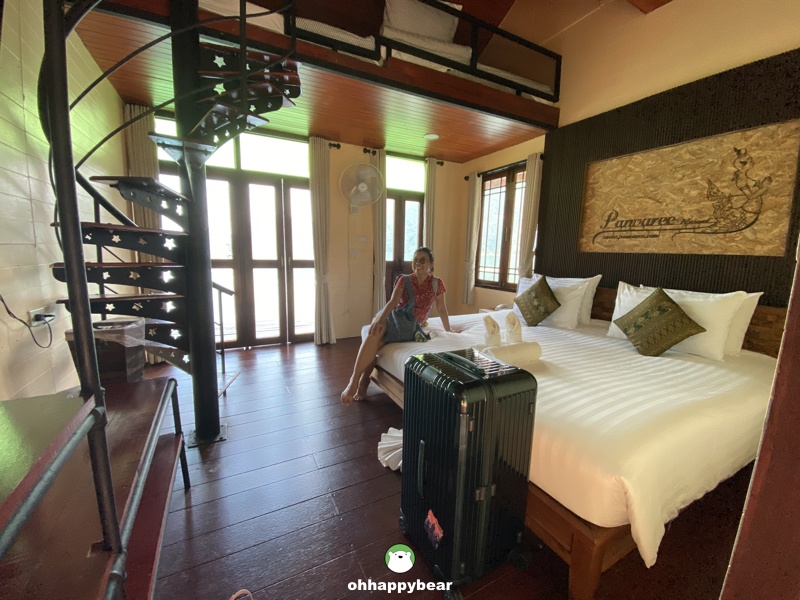 Above: The room and me. The room also has a small upper level, meaning if you have children, they can also sleep up there. 
We chose a single room towards the back of the line, just to avoid the neighbours and the noises. Above is our room, the bathroom is outside the main room. The room is air-conditioned, but during the daytime, only the fans work. The air-con will be working only during the nighttime when the generator is turned on. But even that, there's no coolness coming out. It was like a noisy fan, if you know what I mean. Luckily, the weather was not that hot and humid. In fact, it was quite cool even with the windows and all closed. 
♣
So, here is the itinerary: 2 Days, 1 Night
DAY 1:
11:30 a.m. – Leaving the pier. Parking is available at the pier at THB80 per day/night. The shuttle is a long-tail boat with a flimsy roof. We were lucky it was raining, otherwise…
I also learned later that the resort doesn't own the boat, but hire it from the pool of permitted boats. The quality of the boat and the steerer varies greatly as well. It was about the end of the rainy season the day we were there, but it was still pretty cloudy, but the water was smooth, yet the boat-operator made it so fast that we were rocking on the water with surrounding splashes to boot!
1:00 p.m. – Arrival at the rafting resort. First meal = lunch. 
It was not a full house during our trip, but their food was scrumptious and hearty. It was also refillable. We were starving when we arrived; we drove all the way from Surat Thani town where we stayed overnight after coming back from Samui. We had just a bowl of fish noodle for breakfast. 😀
Below is our multi-course lunch. Water was included, but extra charges were applied if you ordered soft drinks. About THB40 per can, if I'm not wrong. 😀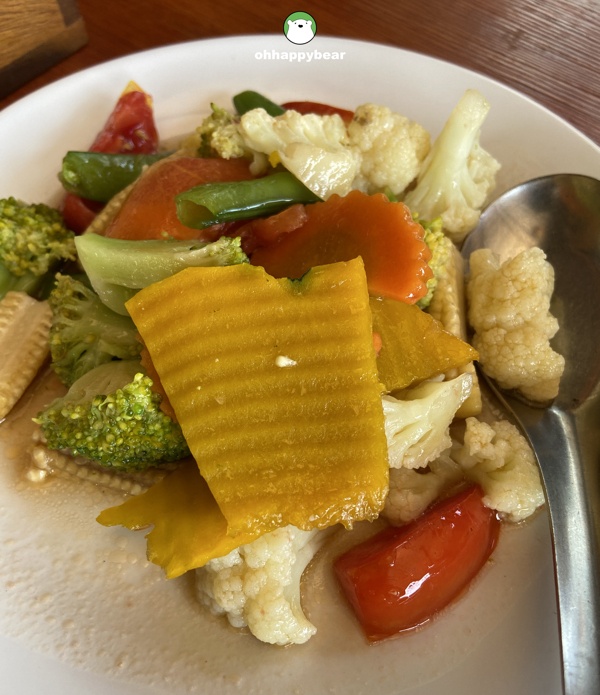 Above: Lunch – mixed veggies.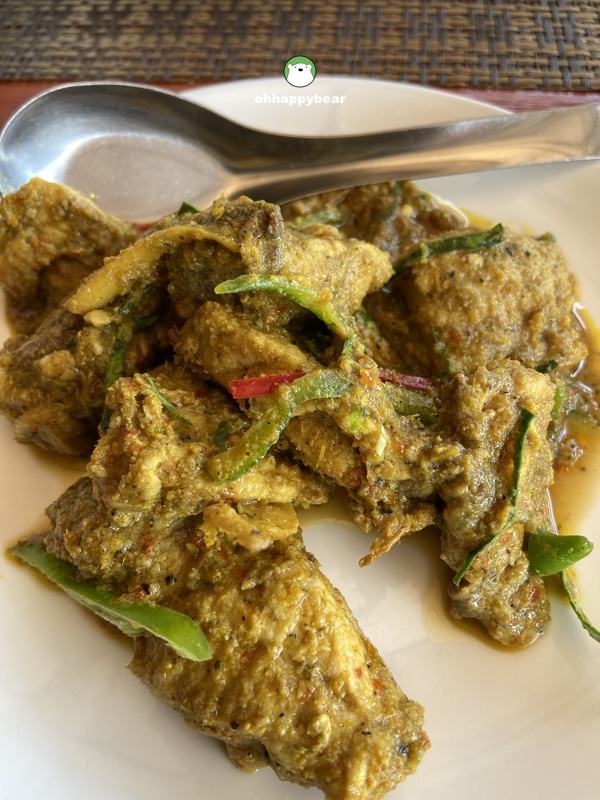 Above: Lunch – a freshwater fish fillet (supposedly from this very dam) in herbal curry. Tougher flesh than most fishes, but not too bad.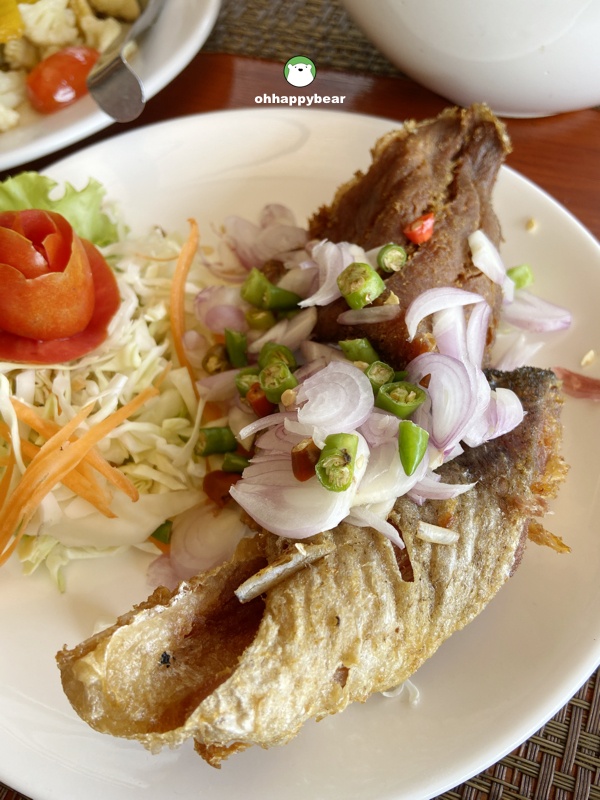 Above: A kind of preserved fish called Pla Som, deep-fried and served with shallot and chilies. Another lunch item.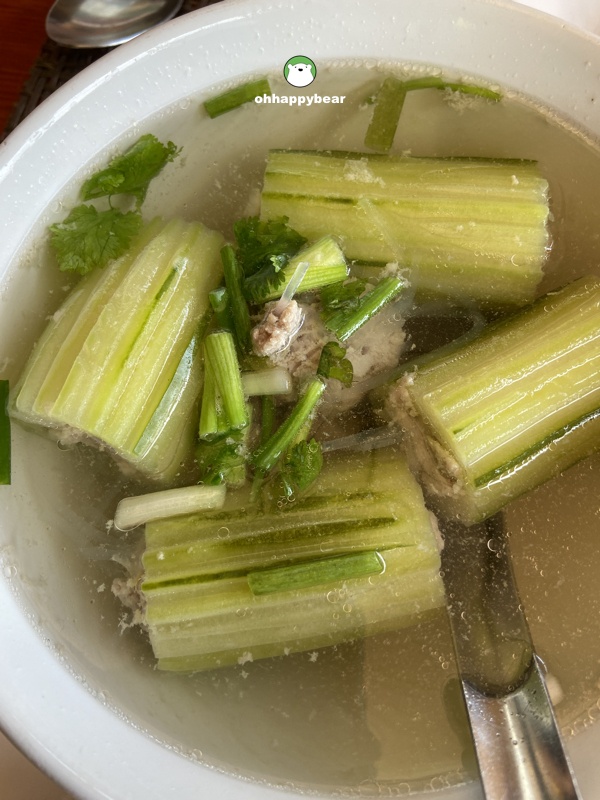 Above: The lunch soup of clear stuffed cucumber soup. Very very delicious. I loved this one a lot. 

After lunch, it was leisure time in the room. For a lot of people, it means posing for IG in front of their own room. Some people brought drones, some people read, some people actually took a dip in the lake. But for us, being all suspicious about their sewage system, with the accommodation being rafts in the middle of nowhere and all, we decided to just chill at the terrace, read and take in some snacks we bought over with us. Below is our terrace views.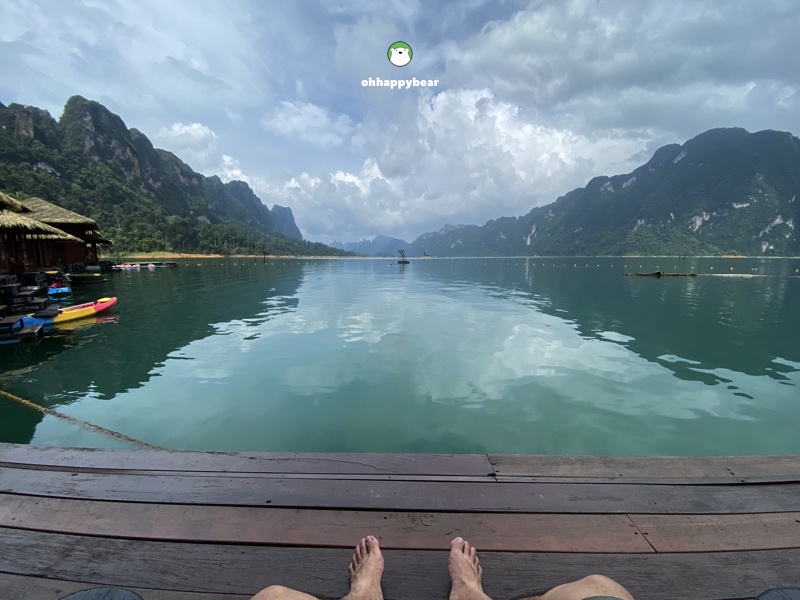 Above: My hubby, legs and all, chilling out at the front terrace on the first day. 
4:00 p.m. – Yeah! Touring time. This is the first tour of the package, and it took us to the signature sight of the lake. The Khao Sam Kleur area which, no matter how long you stay here, even those day-trippers, you will have to come to this spot and take a shot. Ratchaprapha Dam's former name was known to be 'Cheow Lan' Lake or Dam, but then King Rama IX named this place 'Ratchaprapha' that means 'Light of the Kingdom.'
The tour was done in a long-tail boat accompanied by a guide from the resort, Khun Apple. Along the ride, she recited tidbits and stories about the dam, pointing to us some significant areas and habitats of elephants, monkeys, hornbills, etc. The soaring limestone cliffs and the emerald-green waters are everywhere. It was just stunning. 
We were lucky that this tour was made almost private for us. Other groups, one in large, about 10 people, and another in couple, decided to make their own separate tours, hence there were just two of us and only another couple who hailed, on a big bike, no less, from Pattani. 
6:00 p.m. – The tour took about two hours. We snapped may be hundreds of pictures and video clips. The scenes that I had been dreaming of, seeing other people's experiences, were right here in front of me. Dreamlike, so special. And that it was dinner time. 
Below was our dinner. Except for the whole deep-fried fish, everything else was refillable. Everything was delicious, even more so than my expectation. It was an excellent trip all in all.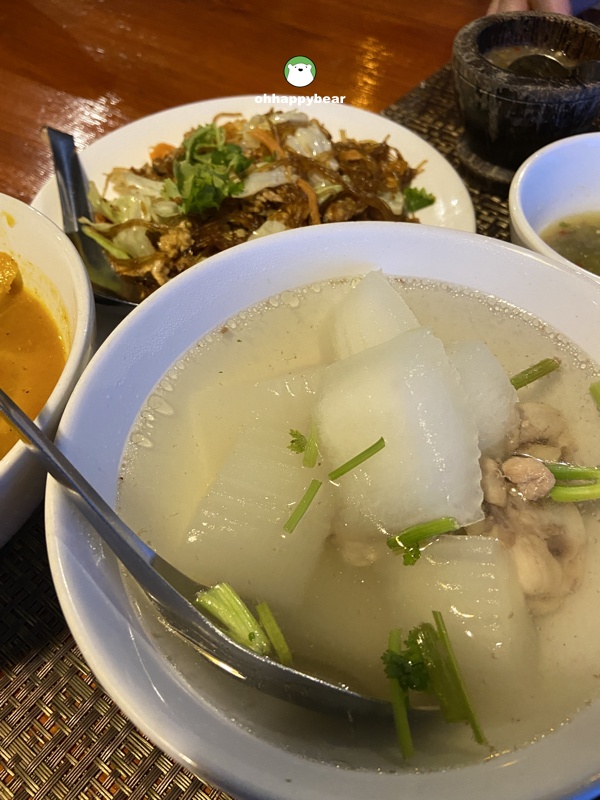 Above: The dinner was hearty and delicious! And refillable. This is a clear chicken melon soup.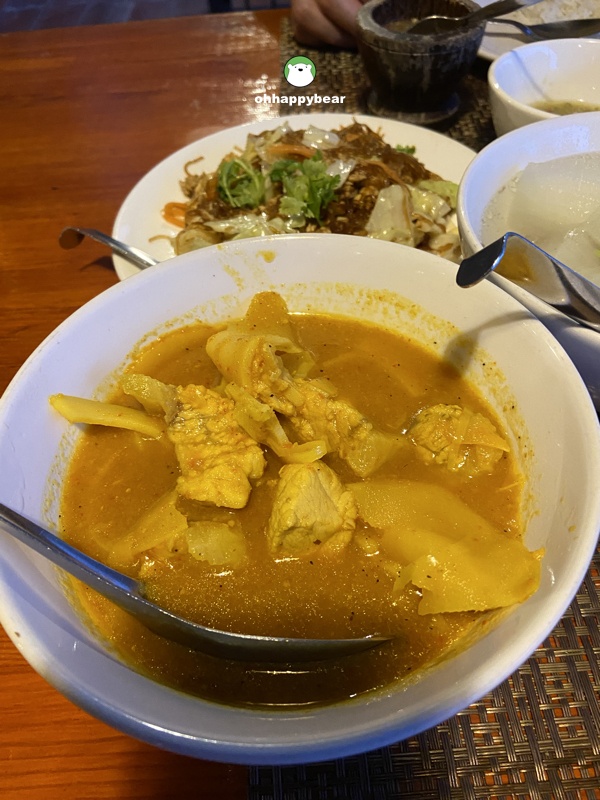 Above: A kind of Gang Som or clear + super spicy southern style curry with freshwater fish (again, probably from this very lake), preserved bamboo shoots or Nor Mai Dong. This one was pretty strong in all tastes. But was quite delish.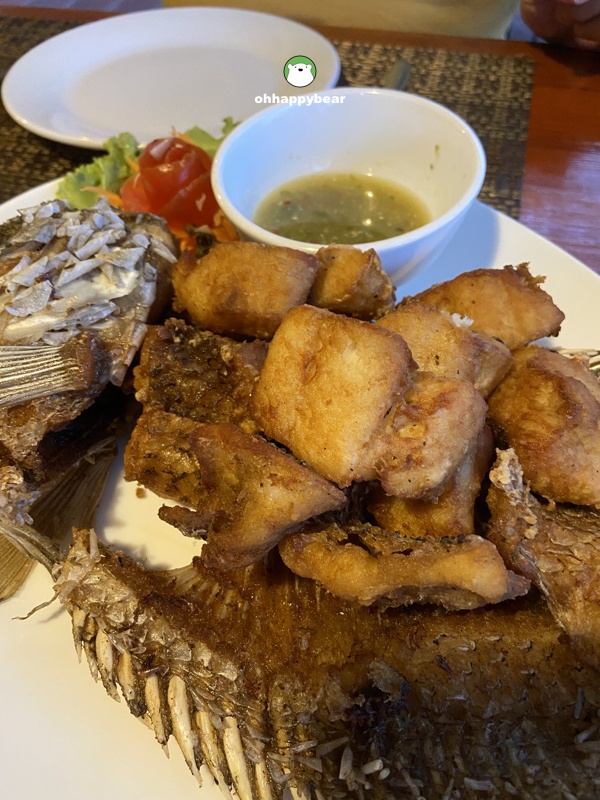 Above: A deep-fried whole fish at dinner. This one is one per room. 
♣
DAY 2:
6:30 a.m. – The morning tour, the second tour of the package, began super early. The purpose here was to see the famous misty scenes. The sun was not fully there and everything was in greyscale. It was picture-perfect and, again, dreamlike. This time, however, we were in a large boat, the whole group of about 16 people huddled together. 
The boat took us here and there, stopping to see some cliff and overhanging highlights. We spotted monkeys hunting for breakfast in the morning. The boat slowed down for us to take pictures. There were iconic scenes, the spots you'll take not and propagate as the fact that you have been here. 
Ratchaprapha Dam is a freshwater dam. A place plenty with all kinds of fishes. Some ended up as our meals as above, but then, the density of the forests, the clouds hanging low, the mist, the fresh air. I felt totally blessed and blissful, absolutely lucky to be there.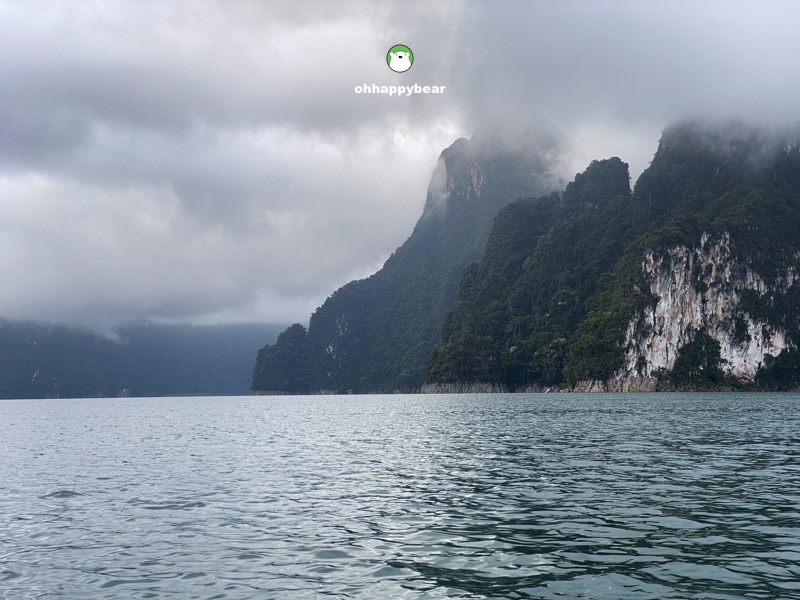 Above and below: The greyscale beauty of the morning in the mist.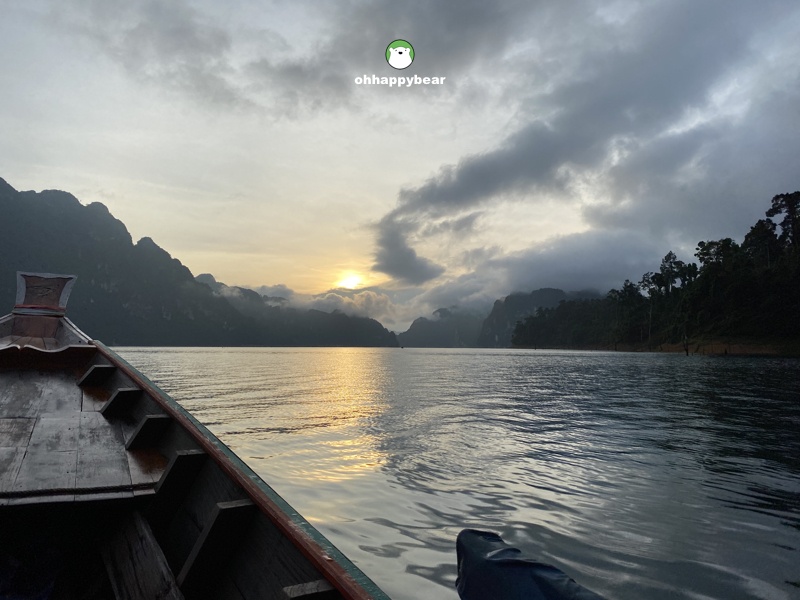 8:00 a.m. – We came back to the resort at about 7:30 a.m., everyone was crying food! Breakfast was a typical buffet with corners for hot drinks, toasts, pancakes, savouries, and eggs cooked fresh. We stayed on the course of things being freshly cooked, so eggs and toasts and some fruits, and we were ready to pack our bags and leave. 
9:00 a.m. – Leaving the resort. It was a fantastic stay. Although again, we would treat this experience as a rare treat, it was a memorable one. The resort was run by a Thai family, and they did a fantastic job in hospitality and services. I am writing this based on our real, paid-ourselves, experiences, so you know the unbiased information. 
---