Bangkok, Thailand (10 Jan 2021) – I remember how it went the first time I had my share of the Thai boat noodles, so-called Guay Tiew Reur ก๋วยเตี๋ยวเรือ, the one that was actually sold directly from the boat once, hence the name. That meal actually happened in Rangsit, a canal-lined district of Pathum Thani, a rice-growing province about 30 kilometres north of Bangkok.
From my memory, the seller had an actual boat, a large one. But instead of working it up and down the canal, they had it permanently tied with a big raft at the shore and that was the dining area. The boat had pots, pans, all things you would need to make the noodles. Each bowl of the noodles was ridiculously tiny. I could finish it in one or two, maybe three slurps. And we each ended up with piles of those bowls at the finish line. Something not unlike the piles of dishes after a hearty meal at a conveyor-belt sushi restaurant. 😀
Guay Tiew Reur has always been a part of the Thai food staples. Usually for lunch. Usually, at least for my family, during weekends when we gather for a casual deliciousness. This kind of noodle, as it turns out, runs deep in the Thai culture. For this writing, I managed to do some research on their origins. Turned out that this noodle was, in fact, originated and populated in the Rangsit district where their systematic canals, dug out since the era of King Rama V, was actually used by the communities as the highway of this delicacy back in the day. 
The Origins of Guay Tiew Reur | กำเนิดก๋วยเตี๋ยวเรือ
It is always amazing to me as a writer, that the food I am going to write about always has a life way beyond its mere presence on the table. Oftentimes, those lives are linked, tightly more than loosely, with the ways of life that spawned it in the first place. In the case of Guay Tiew Reur, out of my memory, I search for "Guay Tiew Reur Rangsit," and there it is. Some long-winded accounts of how noodles first appeared in the Thai kitchen back in the Ayutthaya Period when Siam first traded with foreign merchants, but then, a lot of findings also pointed out that this particular noodle was first cooked up in the Rangsit's canals where I happened to have my first taste of the noodles. Thank you mom and dad for that original food trail.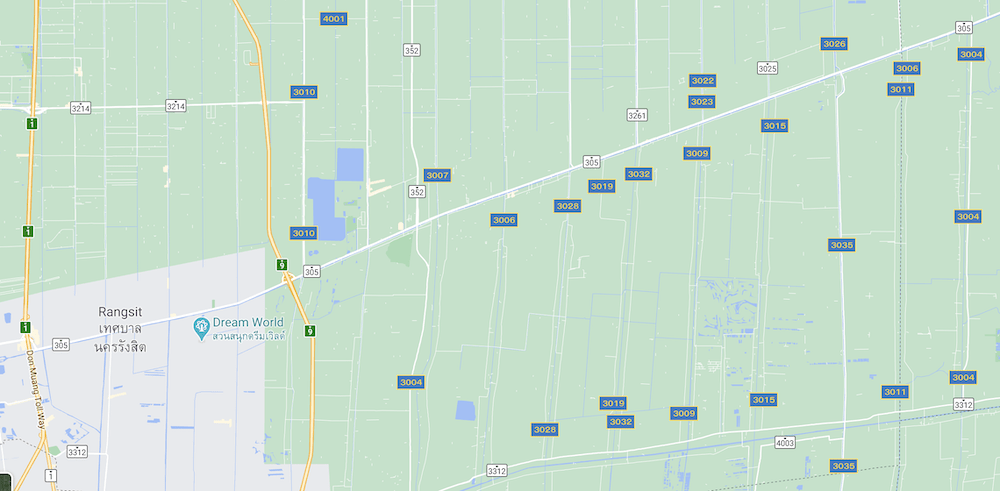 Klong Rangsit, as they are collectively known, is actually a lot of canals. As you can see from the map above, those canals created a grid-like pattern of the green lands as they were intended to provide systematic irrigation to the region that King Rama V himself deemed to promote as a rice-growing county for Siam. Today, Rangsit is designated by the numbers of the canal. Rangsit Klong 5 means exactly at the location of Canal No. 5, which sits between Canal No. 4, and Canal No. 6. And that system has been perpetuated as the official postal addresses of the present as well. 
The story also has it that Guay Tiew Reur was really first sold off a boat in Rangsit. The characteristic tiny bowls stemmed from the very nature of the sellers who usually operated their typically narrow boats singlehandedly. And from rowing their boat, singing their noodle songs, and making the noodles, they have no time and energy left to handle any larger containers. These tiny bowls were also considered to fit the narrowness of the boat. But market-wise, I guess they did it so that people would ask for more and more. After all, who could have stopped themselves at the first few slurps of these delicious noodles?
What does a bowl of Thai-style Guay Tiew Reur taste like? ก๋วยเตี๋ยวเรือรสชาติเป็นอย่างไร 
As you can see from the pictures, a bowl of Guay Tiew Reur has a distinctive look. The broth is deep reddish-brown, speckled with pork or beef blood. It is usually spiced with a concoction of secret herbs. In the old days, there were even some mentioning of cannabis as part of the 'addictive' broth, but of course, there's no way someone would confirm that. The noodle choices in Guay Tiew Reur are usually Sen Lek (mid-width flat rice noodle) or Sen Mee (rice vermicelli), but hardly Sen Yai (wide flat rice noodle) and never Ba Mee (egg noodle). The choices of meats usually oscillate between pork and beef. And you can order the broth with or without blood by saying 'Nam Tok' = with blood, or 'Mai Nam Tok' = without blood. My choice is always the latter because I am a proud wimp. 
Unlike other types of Thai noodles that usually contain beansprouts as the main veggie, a bowl of boat noodle's staple green is the fat and crunchy morning glory. We call this one Pak Bung Thai ผักบุ้งไทย. I think this is geographically correct, given that this noodle was originated by the canals, the place where lots of that kind of morning glory thrive naturally. The garnishes are also different, with the inclusion of sawtooth coriander or 'culantro' or Pak Chee Farang ผักชีฝรั่ง, with its distinct aroma and texture, into the common mixture of cilantro and spring onion. 
In terms of the broth, boat noodle is usually spicy and tangy, to begin with. The broth is usually pre-seasoned with toasted chilies and chili-vinegar before serving. And of course, people will add more condiments at the table, plus some fresh sprigs of Thai basils (called 'Horapha'), beansprouts, and puffy pork crackles called 'Kap Moo.'
And now you know why one bowl is never ever enough. 
How Thai People Eat Boat Noodles | วิถีก๋วยเตี๋ยวเรือของคนไทย
Going to a boat noodle place exudes a uniquely fun vibe. A license to load up. Sometimes, sanitary and hygiene just go out the window. In some people's minds, the dingier the place, the better. So, it is not unusual that someone you know, either self-proclaimed or otherwise, to be foodies, would let it slip that their favourite spot for boat noodle happens to be at a water-clogged area near a very dirty canal, under dilapidating canvas umbrella shades, complete with the smell from that canal. 😀 But then again, life always bestows us with more options should we care enough to look around. 
I usually associate a boat noodle meal with lots of side dishes. BBQ pork or beef balls on skewers, so-called 'Look Chin Ping' ลูกชิ้นปิ้ง, for one. Moo Satay หมูสะเต๊ะ, if available, is also another delicious option. If that place serves the noodles in traditional tiny bowls, I would have to have at least five bowls and then we can speak. But now that the noodle has become urbanised, and lot of places had upsized the containers, and that means one or two bowls will fill me happily. A lot of places in town also serve these fiery boat noodles in a much cleaner, if not posh, environment. A proof that you don't have to endure the canal smell to get to the real tastes. 
But then, a meal of boat noodles can never be completed without the sweet ending. And, for me, the staple must be Kanom Tuay ขนมถ้วย – the very delicious steamed coconut custard puddings served in shallow sauce bowls. This Kanom Tuay, as in passing as they are when it comes to a boat noodle meal, is something I think that makes or breaks the deal for me. A good Kanom Tuay, the one that is creamy, fragrant, with a nice touch of soft and chewy texture and pandanus scent, is something someone like me lives by as they are the sweet ending perfect for this fiery meal.   
---