Above: An early dinner in Krabi Town – a curb-side rice vermicelli meal or Khanom Chin with not just the typical trio-curry, but also a green chicken curry and the delicious sides of deep-fried chicken and steamed curried fish cakes or Hor Mok.
Bangkok, Thailand (29 Jan 2021) – There's one meal in Thailand that I am sure to flummox visitors at the spot. The meal itself is simple enough. It is a plate of fermented rice vermicelli, so-called Khanom Chin (ขนมจีน), served with assorted curries. But in some places like southern Thailand – say from the provinces of Chumphon onwards – things can get much more complicated. More often than not, the meal can be downright over the top, with the long tables packed to the brim with all kinds of trimmings that range from boiled eggs and crispy small fishes to pickled young jackfruits and coconut-milk-blanched sprouts.  
The most mind-boggling Khanom Chin meal that I ever had was at the small hole in the wall inside the main ancient shrine in Phang Nga city centre. This place has a name, and it's Khanom Chin Pa Son, although people usually refer to it as 'Khanom Chin San Chao.' Of course, San Chao means a shrine in Thai. 
There, I found not only the typical set of Khanom Chin, but also a more-than-I-can-count number of assorted vegetables, pickled and boiled, some fresh, some ladled with coconut milk, cut pineapple, wedges of boiled-to-soft young jackfruits, and many other things that totally overwhelmed me. The price? They only charge per plate of Khanom Chin one eats. All the trimmings are on the house! You can eat those side veggies as much as you like, except for, of course, the number of boiled eggs for which you will need to pay extra accordingly.
♣
WHAT IS KHANOM CHIN?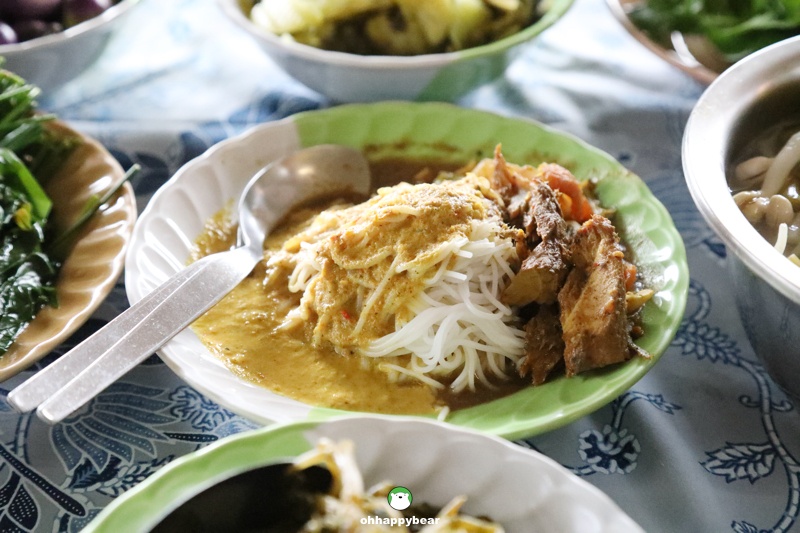 Above: A plate of Khanom Chin with Nam Ya (left side of the plate) and a bit of Gaeng Tai Pla (right side) with chunky mackerel and sweet potatoes to balance out the taste! This is from Khanom Chin Pa Son in Phang Nga.
Kanom Chin or Kanom Cheen ขนมจีน is basically a rice noodle. Traditionally, it is made from fermented rice flour and usually takes literally a village to properly prepare a batch. For that reason, Kanom Chin is closely associated with the communal religious rites and celebrations, the events that gather people for a huge merit-making occasion. Usually, the rice noodle needs to be prepared a couple of days prior to the main event through series of steps – from soaking and fermenting the rice, to flouring, to multiple straining, and kneading, and then, to passing those thick wet rice dough through a strainer into a waiting pot of boiling water, resulting in the noodles that we know it at last. For the whole process of making it, you can watch this fantastic program here. 
Khanom Chin is a staple throughout our Kingdom. But in the south, they eat it for breakfast and lunch. It is definitely a ritual, a delicious rite of passage that visitors will need to properly take once entering the region.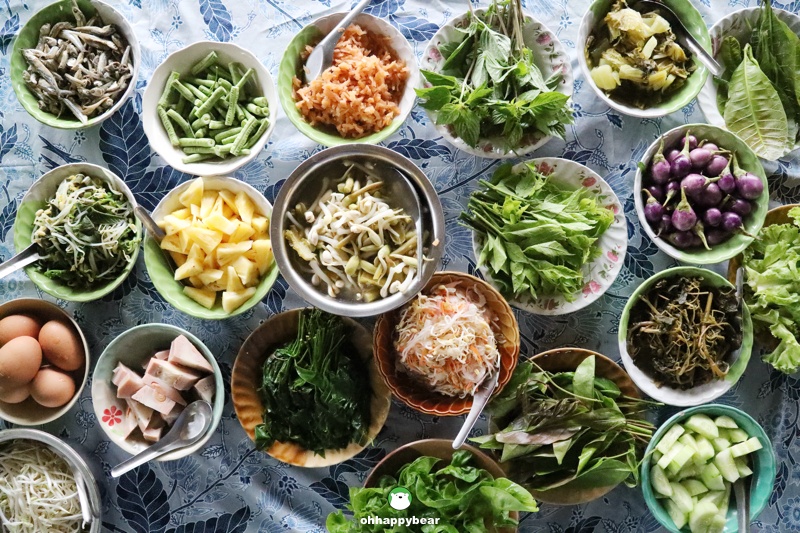 Above: Assorted vegetables, fresh, boiled, pickled, and ladled with coconut cream at Khanom Chin Pa Son in Phang Nga. Each vegetable and fruit has a tasty purpose in each bite of your Khanom Chin.
♣
Khanom Chin as a breakfast or lunch staple in SOUTHERN THAILAND
While a plate of Khanom Chin acts like an empty canvas – not unlike a plate of pasta – the way people of the Thai South eat it makes the whole experience kind of a big deal. On any given day, there are usually three types of curries at a Khanom Chin place. They are Nam Ya (fish and mild), Nam Prik (peanut and sweet), and Tai Pla (pickled fish guts and super spicy). The last one, in some provinces, can be called 'Pung Pla' with 'Pung' meaning stomach or gut in Thai. 
All aforementioned curries are murky and brown. And that can be a put-off for many. But allow me to explain. A Thai curry usually consists of pureed herbs, chillies, shallots, lemongrass and so on. The thickness in these cases are from grounded peanut (Nam prik) and pounded fish (Nam Ya). Nothing to be scared of, trust me. Thai curries can be pungent, but for us, these aromas equate deliciousness! 
Above: Some places tout their 'freshly-made' Khanom Chin. Above is from Nakhon Si Thammarat where most shops make their own noodles. You can also scroll right for more pictures.
'Pak Nor' or 'Pak Kred,' depending on where you are in the south, are what they call those spectacular side vegetables. In some old-school places, big baskets are communal, meant to be shared. In some places, though, a fresh basket is brought out for each group of the new arrivals. 
And these vegetables do have their purposes! They are to make each bite different in tastes and more interesting. The tart and bitter bites of the small eggplants blunt the fieriness of the Gaeng Tai Pla, while the sharp tang, the sweet aroma, and the slight sourness of the fresh pineapple perk up the usual creaminess of the Nam Ya curry. The pickled vegetables, meanwhile, create a sharp break from it all. The boiled eggs, the salty dried small fish, and the deep-fried chicken southern-style are there to soothe your tongue, to keep your ears from popping deaf – the very immediate impact after eating something too spicy. Try!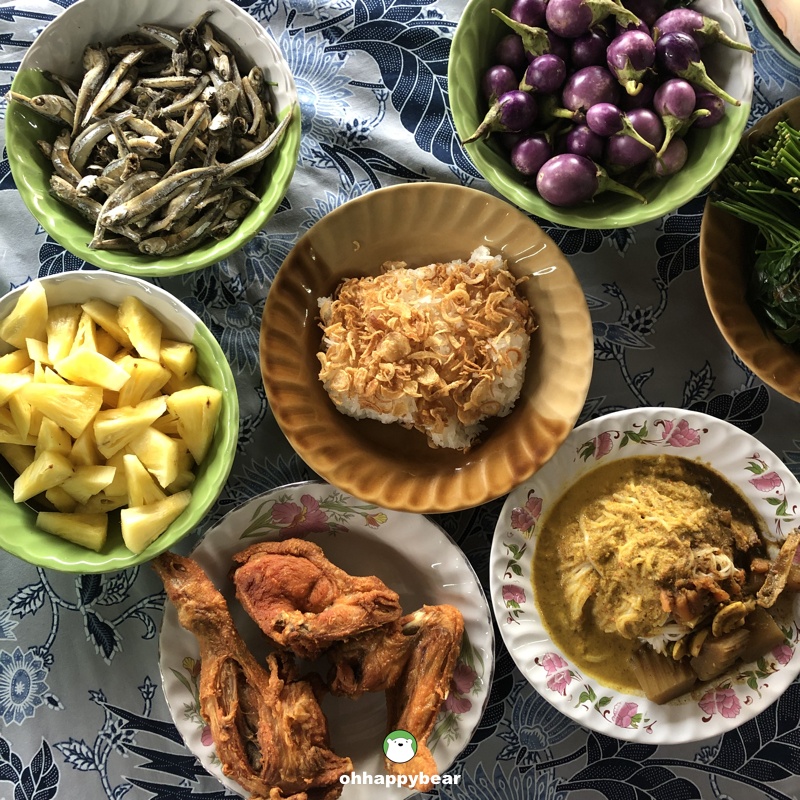 Above: A plate of Khanom Chin with a usual set of trimmings. Deep-fried chicken southern style and sticky rice with toasted shallots are among the popular sides. Here you see fresh pineapple making a scene for their sweet, aromatic tastes. Yumm!
Beginners can always sample each curry in a small amount first and see how it goes. Nam Prik, with the thick peanut sauce and mild sweetness, is usually picked as the balancer of all things. Some folks order their Khanom Chin in half-and-half: half Nam Prik, half Tai Pla, I think just to play safe. For me, I would go for Nam Ya, pure and simple, or, if I feel like it, with a healthy dash of Gaeng Tai Pla. Spicy as it is, Gaeng Tai Pla has a unique funky taste that I cannot resist, especially when it comes with chunky bamboo shoots and sweet potatoes. 
Above: This small place is Phang Nga is run by a small family. They have daily specials and their Hor Mok runs out fast! I also love that they have Thai desserts, steamed in banana packets, ready for those with deafening ears from eating too much Gaeng Tai Pla. (Scroll to the right for all pictures). 
In southern Thailand, a lot of Khanom Chin places are run by families. I would give my target a call a day or so in advance and see if they would be open the day of our arrival. If so, I would also gather info about their prospective specials or the extra curries. And more importantly, if they have Hor Mok or the steamed fish cakes, I would reserve some, too, just in case they run out fast. As a visitor, I make the most of my voyage. I make sure I get to eat everything in one go. It is usually a long drive from home in Bangkok!
Above: My own Khanom Chin, made at home during the lockdown from dried and reconstituted rice noodles. Here I used a packeted curry paste of 'Khanom Chin Tai curry = southern style Khanom Chin Nam Ya.' I added fishes and then prepared some side vegetables myself. Delicious and healthy!
---