Phang Nga, Tuesday 24 November 2020 – One of the upsides, if you will, of Covid-19, at least in my home country Thailand, is that now we feel like we were back in time when it comes to domestic travelling. Back in time when the Grand Palace in Bangkok, one of the busiest attractions of the Thai capital, is so scarce that we can actually take our time in silence in front of the Emerald Buddha. During rush hours on BTS or MRT, on weekdays when it used to be downright horrid, it now became bearable. Back in time when while doing an island-hopping, even to one of the most popular destinations, Similan Island (no less), we could really feel and breathe the islands. Not the rush of the crowds. Not the cacophony of the hordes. Not the maniac drives of visitors who elbowed one another for the picture-op spots. 
Above: Similan Islands National Park is about 1.30 hours from Phang Nga shores. This is my Google Map with blue dots showing our visits to places in Phang Nga. 
To drive the spending and shoring up local tourism, the government and tourism operators are offering steep discounts and various forms of stimulus. Our government, apart from providing a huge tax break alongside a series of relief packages since the outbreak of the pandemic, has also been busy promoting 'Rao Teaw Duay Kan' #เราเที่ยวด้วยกัน #WeTravelTogether tourism campaign in which the government pays 40% of the trip, including hotel, plane tickets, and food and beverage. 
This is how it works: All Thais are eligible to register. There are practically millions of rights offered through the official site online. Once one got registered, one was entitled to 1. Hotel discount, up to 40%, 2. Plane ticket discount, up to 40%, and 3. A daily THB900 food and beverage discount coupon throughout the entire time of our stay at a checked-in destination. Each person is entitled to 10 rights, including 10 hotel nights, and 20 plane tickets (very considerate for the package considers one person can travel with a partner). 
Above: Similan Islands Archipelago explained. Pictures from The National Park's Archives. 
I registered for the rights when it first opened back on 1 July 2020, and now I have used up all of them. We spent 3 nights in Kanchanaburi (you can read my guide here) earlier in October, 2 nights in Chumphon, and 5 nights in Samui just in November. All in all, I think we had saved as much as THB40,000 – 50,000 (US$1,300 – 1,600) or more throughout those trips, thanks to this campaign. This is just great!
We were in Similan on a day-trip during our recent stay in Phang Nga, where, most, if not all, luxurious resorts there are now practically on huge sales. We spent 6 fabulous nights at JW Marriott Khao Lak, which I will blog about later. But here we are talking about the Similan Islands, the jewel of a marine national park off Phang Nga shores. It has always been my dream to visit, but the journey has always been too much given the prices and the crowds, but now the situation made it possible, so..
Similan Islands are part of Mo Ko Similan National Park อุทยานแห่งชาติหมู่เกาะสิมิลัน that was established back in 1982 with an area of 128 square kilometres. Later in 1998, the park also included Ko Ta Chai, which is about 40 kilometres north of Similan, into its administration, so the national park's area is now increased to 140 square kilometres. 
Look who's photo-bombing us!!
Similan Islands are an archipelago of 9 small islets, a result of 'submergent shorelines' that took place zillions of years ago. To get to Similan Islands, one would need a day-trip tour, and there are so many operators to choose from and they are all based in either Phang Nga or Phuket (less likely). The annual tourism season to the archipelago begins in October throughout May each year, before being closed in other months for restoration during the monsoon season. According to the park's website, in normal times, a limited total of 3,850 visitors a day are allowed into the national park a day: 3,325 numbers for day-trippers, the rest of 525 for deep-sea divers who must spend their nights on boats. All visitors must have their names and IDs sent to the park prior to the trip. The travel agencies arrange this procedure for their clients. 
Browsing my way through the post-pandemic-lockdown, and 11.11 sales, I saw a package from 'Fantastic Similan Travel' at THB1,600 net per person and that included park's entrance fee (THB100 for a Thai adult), breakfast, lunch, snacks, insurance, and guides and of course the transportation. It was a fantastic deal, usually, we would have to pay at least THB3,000 per person in normal times. 
Above: Similan Island (Ko 8)'s iconic Bay called 'Ao Keuk อ่าวเกือก' or Donald Duck Bay
We met at the port at Tha Reur Tao Than ท่าเรือเตาถ่าน where the tour company has a private pier and private parking. This is great and I felt like winning a lotto or online karma did me good because we drove our way from Bangkok while doing this a southern loop touring, and it felt much better to park our car at their property instead of parking at public parking at a communal pier (where other tour operators operate out of).
They even have a breakfast bar should someone hadn't had their breakfasts. From the capacity of about 40-45 people per speedboat, there were just 13 of us that day. The sky was clear, despite the storms earlier in the week. We were good to go.
From shores, it takes about 1.20 hours to reach Similan Islands, and the first stop is the national park's office at Ko 8 เกาะ 8 or the namesake Ko Similan. The white powdery sands are real! and the highlights here, apart from the crescent beach, is the viewpoint known as Hin Reur Bai หินเรือใบ or Sail Rock which is about 10 minutes walk up the hill. It is quite a rough walk, though, through stony steps and tree roots and a lot of slippery stairs. Wear a comfy snug pair of shoes will help. 
Hin Reur Bai is crowded with tourists who are all taking a mandatory shot up there. There's no railing whatsoever and that posts a real problem for me who is a big-time acrophobic person. Now, our guide Khun Tom came into play. He was the one who kind of kindly nudged people who took too long at that iconic photo spot and got us the slow with no one else. While other people COULD stand at the edge of the rock, that spot in the below picture was as far as I could be. The sea was just gorgeous!!  

Above: Us at the iconic viewpoint of Similan Island (Ko 8) called Hin Reur Bai (Sail Rock). Behind us was 'Ao Keuk' or Donald Duck Bay. 
Our lovely guide, Khun Tom from Fantastic Similan Travel 😀
After an hour at the main island, it's time to go snorkeling!! The first stop is Ko 9 or Ko Bang Ngu เกาะบางงู, about 5 minutes from Ko Similan. Remember that this is an archipelago in the open sea, the tides can be strong, and it is a great idea to wear your lifejacket tightly for it really helped. The first snorkeling was about 40 minutes.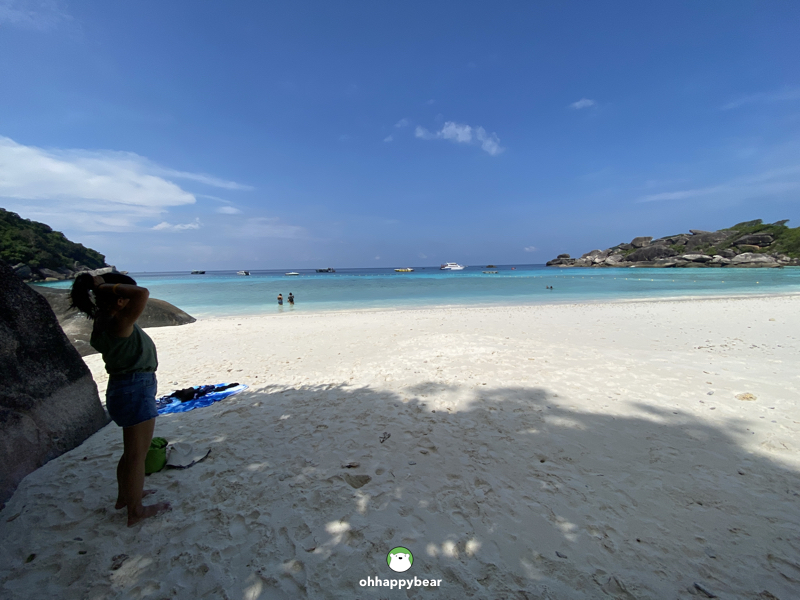 At Similan Islands (Ko 8), the main island in the archipelago and the park's office.
But that's not all, we were then taken to another snorkeling site at Ko 7 or Ko Bayu เกาะบายู, about 15 minutes away from the previous one. We were supposed to spend 40 minutes sightseeing the underwater worlds, but perhaps all 13 of us were just too hungry, so we boarded the boat early, forcing, without needing to saying it, the guides to take us to lunch.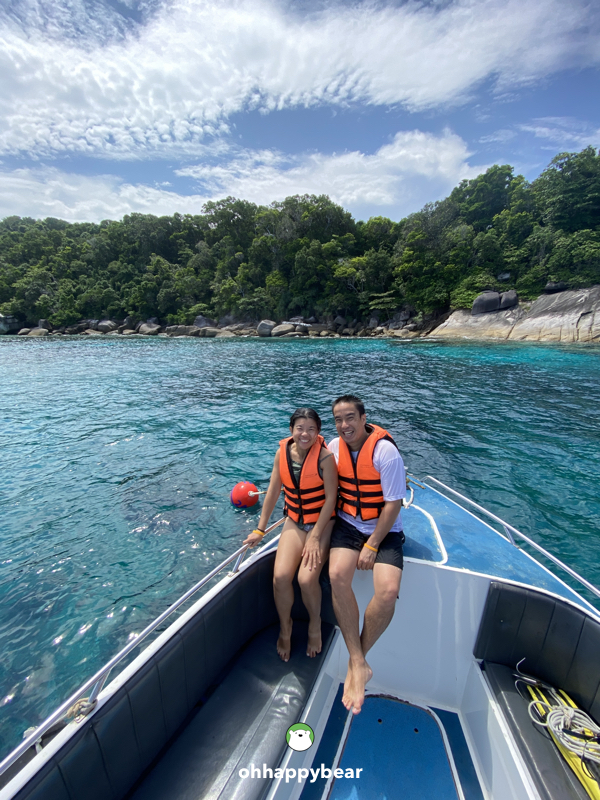 About to jump off the boat for a round of snorkeling!
Above: A water monitor roaming the dining area at Similan Islands.
Lunch was at Ko 4 or Ko Miang เกาะเมี่ยง which is the southernmost islet in the archipelago. Lunch was served in plastic, reusable containers (per below) as part of the national park's efforts to reduce rubbish at sea. Each of us was given 2 boxes, one with steamed rice, the other with all the sides. Fried chicken drumsticks, omelet, mixed veggies were our savouries, and then the fruit (pineapple) was served separately. It was delicious. 
Above: As part of Thailand's national parks' efforts to reduce single-use trashes, only reusable packages are allowed in. These are our lunch packs. Delicious. 
After lunch, it was free time!! We were allowed almost 2 full hours on this island. The beach was small but so so beautiful. The sand was so white, so powdery, so pristine. We felt so blessed. We set up camp under a shade and took our time snorkeling around. And got ourselves tanned and glowing!! It was a day well-spent. 
Above: Me under the shade at Ko 4 where we spent hours snorkeling and just be there.
We left the island for shores at 3:00 p.m. and arrived at the pier at 4:30 p.m. per schedule. There're even bathrooms for those wishing to take a shower or change at the pier. This tour company was wonderful. We paid our own way for this, so I wrote this out of my own impression. 😀 Please stay tuned for more stories. You can also follow me via all my social media platforms.
😀 at Ko 4, still.
An extra for you all! Me as a mermaid!!
For more information about Similan Islands, visit the national park's Facebook. For Fantastic Similan Travel, here is the link. 
---