Sometimes, doing our best is the best thing we can do. For a long, long time, I have wanted to save cattle from the slaughterhouse. In Thailand, we deem this act a magnanimous one. Saving lives, releasing fish destined for food into the river, and releasing birds out of cages, are things we do often when we make merit. But then, as always, there're those who take advantage of this act. And that turns this 'merit' thing into something of a devious business.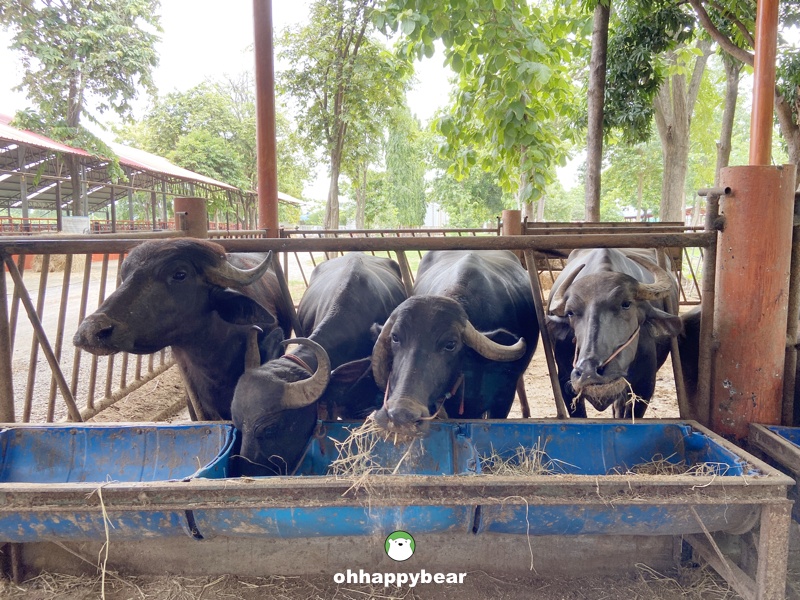 Above: These buffaloes are owned by the slaughterhouse in Ratchaburi, where we went to save some for the Royal Cattle-Buffalo Bank for Farmers, founded back in 1979 by King Bhumibol Adulyadej as a way to help farmers reduce costs.
Somehow I found this slaughterhouse in Ratchaburi that offers a co-program with the Royal Cattle-Buffalo Bank for Farmers (RCBBF). Cattle and water buffaloes saved from this program will be sent to the bank, which will loan the animals to the member farmers, with a legal contract not to sell or kill the animals for at least the next five years.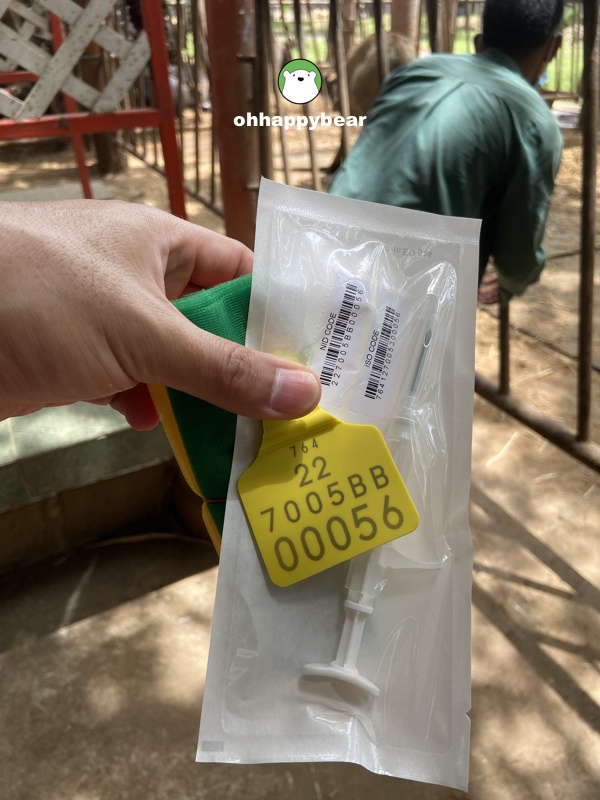 Above: Each animal saved will be assigned a trackable serial number. The yellow tag will be attached to their ears along with a microchip (the one in the syringe) will be implanted into the animal.
The RBCB was founded back in 1979 by King Bhumibol Adulyadej as a way to help farmers save their recurring costs of borrowing the cattle and buffaloes needed each year to plow and farm the land. The bank is now run by the Department of Livestock Development, a part of the Ministry of Agriculture and Cooperatives. Animals saved from slaughterhouses around the country will be registered, each with their own trackable serial number, and sent to locations where the bank operates. Provinces riddled with poverty, such as Sakaeo, Prachinburi, Ratchaburi, and Sakhon Nakhon, will be the priorities of this program.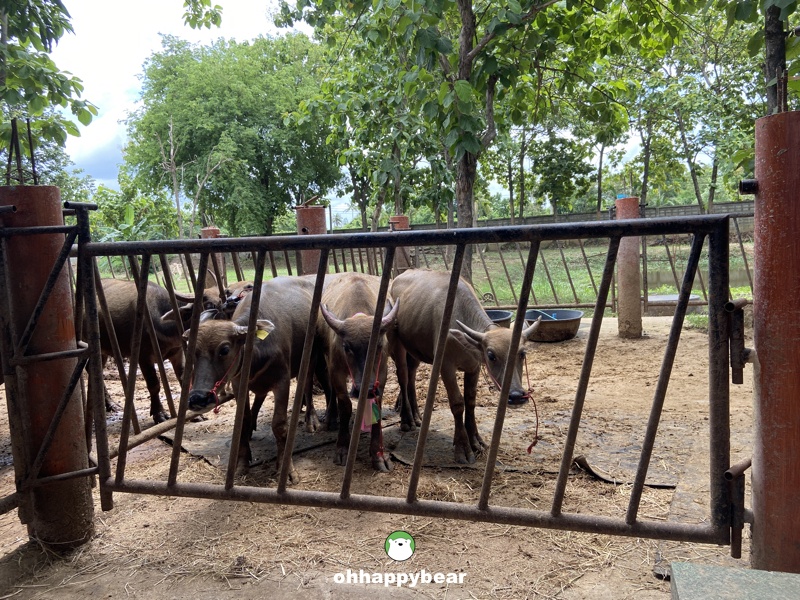 Above: Animals raised for slaughterhouses are perpetually riddled with fear. And they are constantly herded. My saved buffalo, Mang Kood, hurried back to her peers, squeezing herself in the middle, after being dragged and secured to a post for tagging. At least, I hope, this should be the last time she is frightened.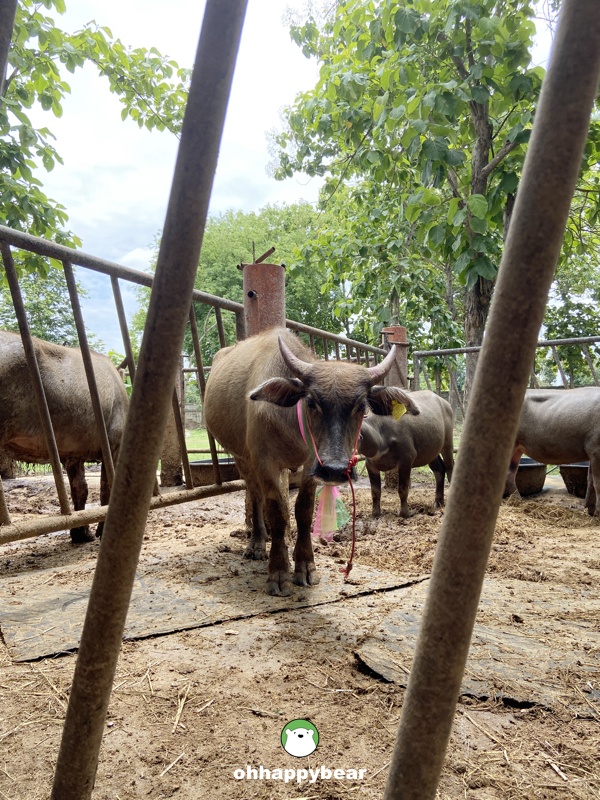 Above: It's my Mang Kood again, looking at me with dread. And distrust! Saving cattle is a huge act of merit. The saved ones will be tied with 'Pha Jed See'—a set of colourful felt as an act of being blessed and being saved.
All of us have seen it. On our way somewhere up country, trucks packed with cattle on their way to slaughterhouses. A silent vow uttered, sometimes a deep sadness, helplessness. A will of quitting all meats that can never be fulfilled. But here, a part where I can do, at least one cattle and one buffalo at a time.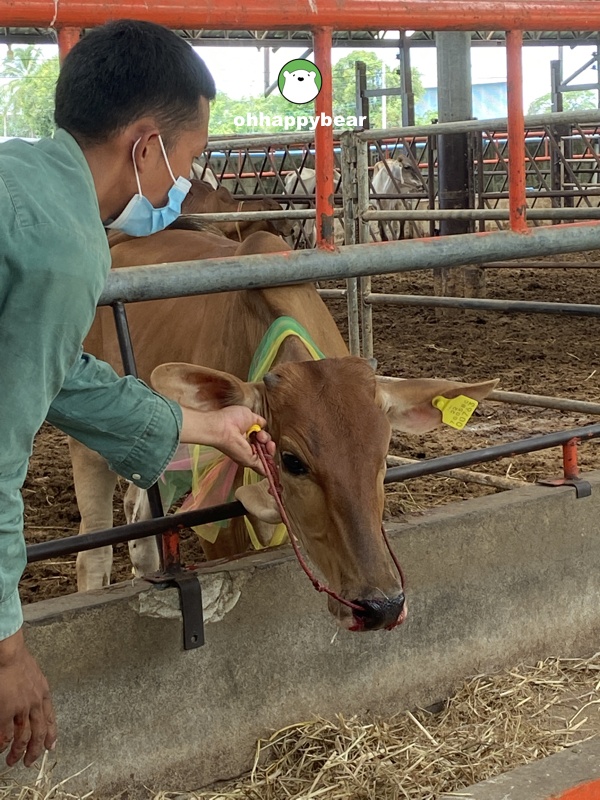 Above: This is the heifer I saved, Mon Thong. She was so scared that she ran and bumped her head into the rails so many times. She was then dragged, her nose bleeding, to the pole for the tagging process.
Animals that can be saved from slaughterhouses must all be heifers for they are to be bred for calves which will be the 'rights' of the borrowers. Once the calves are 18-month old, the farmers need to return the cow to the bank. Farmers can also buy the heifers or the cows outright, should they wish. The installment can be arranged and the cows are theirs for keeps. But the initial contract is that for at least the first 5 years, the borrowed cattle and buffaloes can not be slaughtered.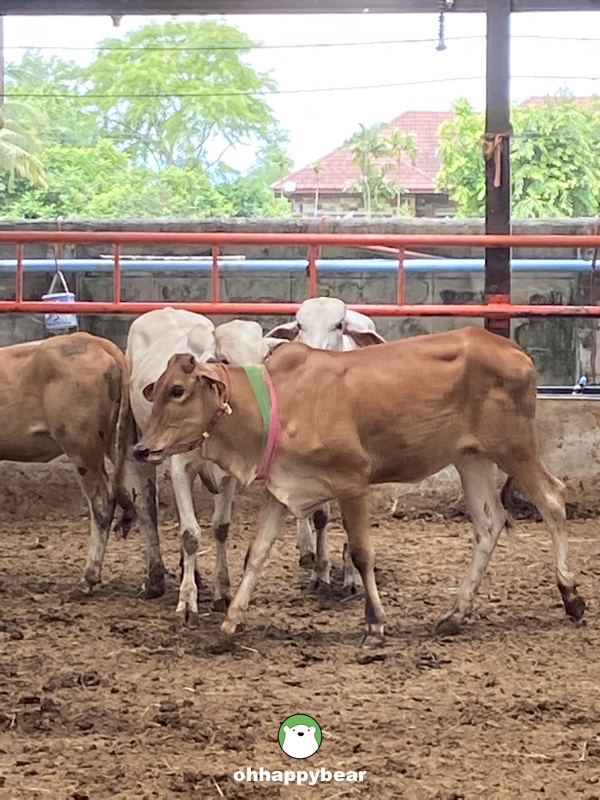 Above: It is clear! Mon Thong, now released after tagging, wants nothing to do with me. I called and begged, but all she did was turn her rear toward me. "Go away!" she said with her eyes :D. Have a happy, healthy life!
My heifer is named 'Mon Thong,' my buffalo 'Mang Kood' – both my favourite fruits. I wish them the best of lives, for them to meet kind and gentle new owners, and that they are happy and healthy for as long as they lived.
** For those who are interested in saving cattle, a word of advice: please make sure, or do your best to make sure, that the animals will actually be saved and sent to a proper place. Cattle and water buffaloes cost a lot. They eat a lot. And they are prone to burglary. Sometimes, cattle showcased to be 'saved' is actually rental, a prop, for swindling. AI-generated ads on Facebook and IG are big proof that there are tons of cheaters out there looking to loot our money using animals as the victim. Choose carefully!
For more information about the RCBBF, visit www.dld.go.th. T: 02-653-4926, 02-653-4411. Email:drasa4@dld.go.th.