Yesterday it rained the first summer rain here in Bangkok, yet less than a week ago, I was savouring my first set of Khao Chae (Thai Summer Rice) of the year at one of my favourite Thai restaurants, 'Sanguan Sri' on Wireless Road. It was scorching at the time, and the chilled rice had a wonderful cooling effect on me.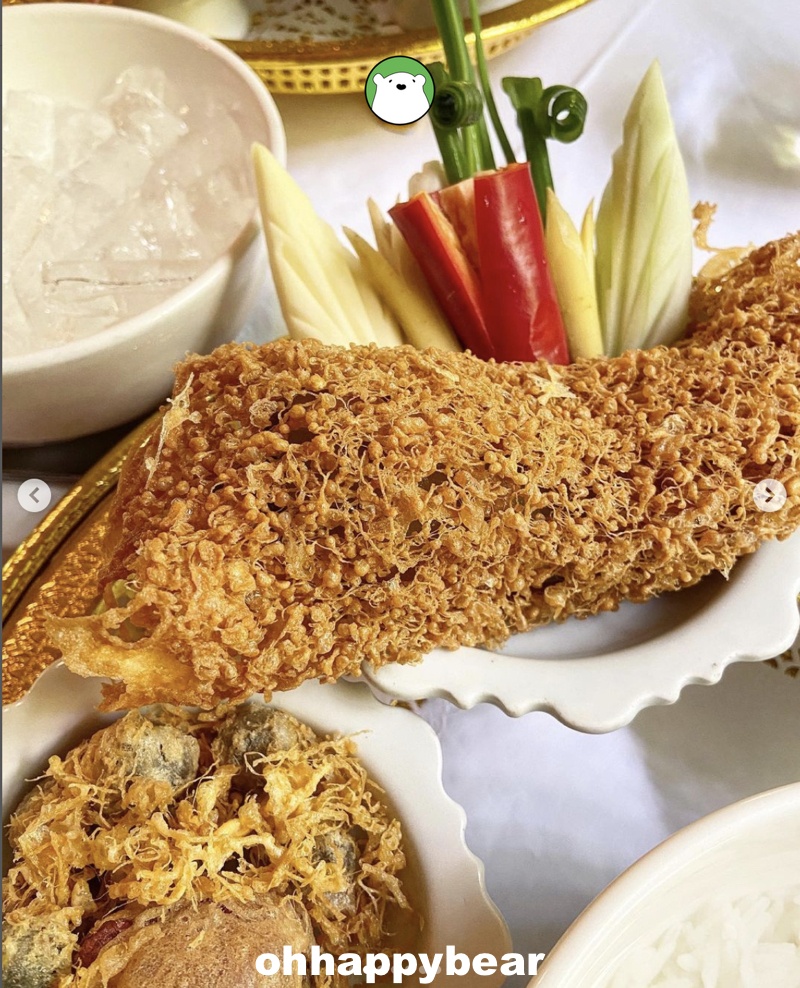 Above: The intricate work of 'Rhoom' หรุ่ม at Than Ying Restaurant in Soi Pramuan of Silom in Bangkok. Rhoom is an egg blanket hand-sprinkled to form a beautiful knitwork. A true effort that is now harder to see.
Khao Chae is something of an old-school Thai meal. It was first perceived, according to my readings, way back in the Mon communities residing in the western parts of Thailand. Now, thanks to all things renaissance that has been happening a lot in the Thai food repertoire, we are now seeing a strong comeback of Khao Chae every summer. This is good news for all of us. And for those who don't know what Khao Chae is and why and how we are eating it, I am available here to help.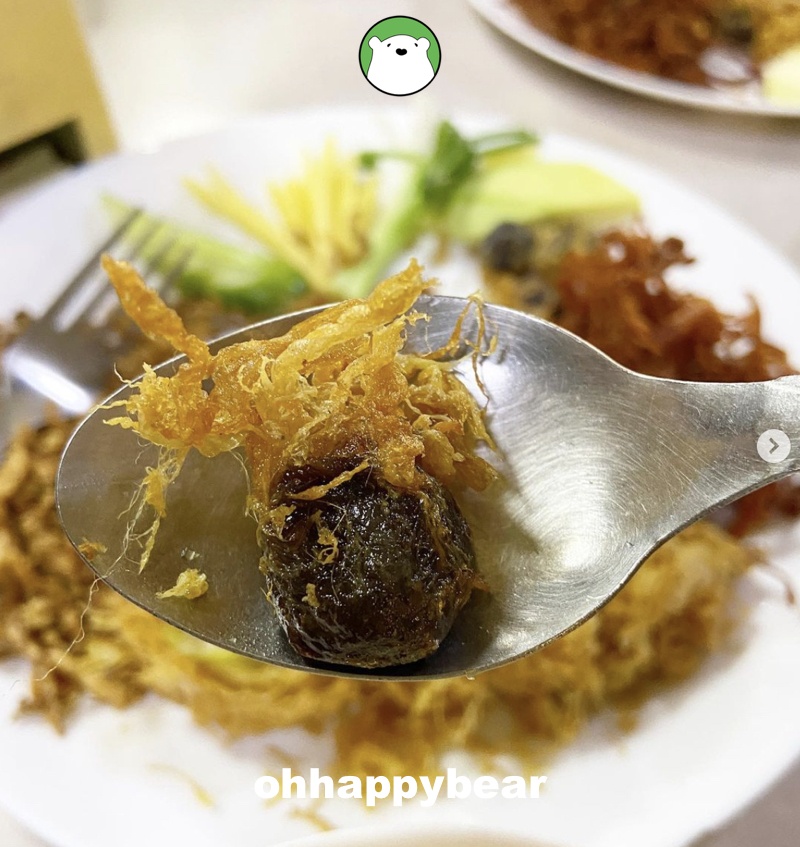 Above: Look Kapi ลูกกะปิ – one of the key sides of Khao Chae. This one is so gorgeous. The shrimp paste was mixed with dried fish and herbs before being formed into tiny bite-size balls, fried in the translucent coat of egg, with the evidence of its being fried appearing only on the top, like a big wild hair. Such a gem!
Khao Chae is called 'Thai Summer Rice' for a reason. It is our summertime ritual to eat something of a staple such as rice, but not steamed and served warm like usual, given the weather conditions. In this case, the rice is cooked al dente, polished to remove the starch, and then served in cool, perfumed water. In the old days, when there was no ice, the perfumed floral water was chilled naturally in a large earthenware pot. But now, a lot of places drop the temperature of the rice with crushed ice. Good rice for Khao Chae is soft yet chewy, and never so starchy that it clouds its water. Prepping the rice right, as many Khao Chae experts will tell you, is the first step to prepping everything Khao Chae right. And now you know it, Khao Chae is an elaborate affair. It literally takes a village to get ready for this beautiful summer ritual of a refreshing meal.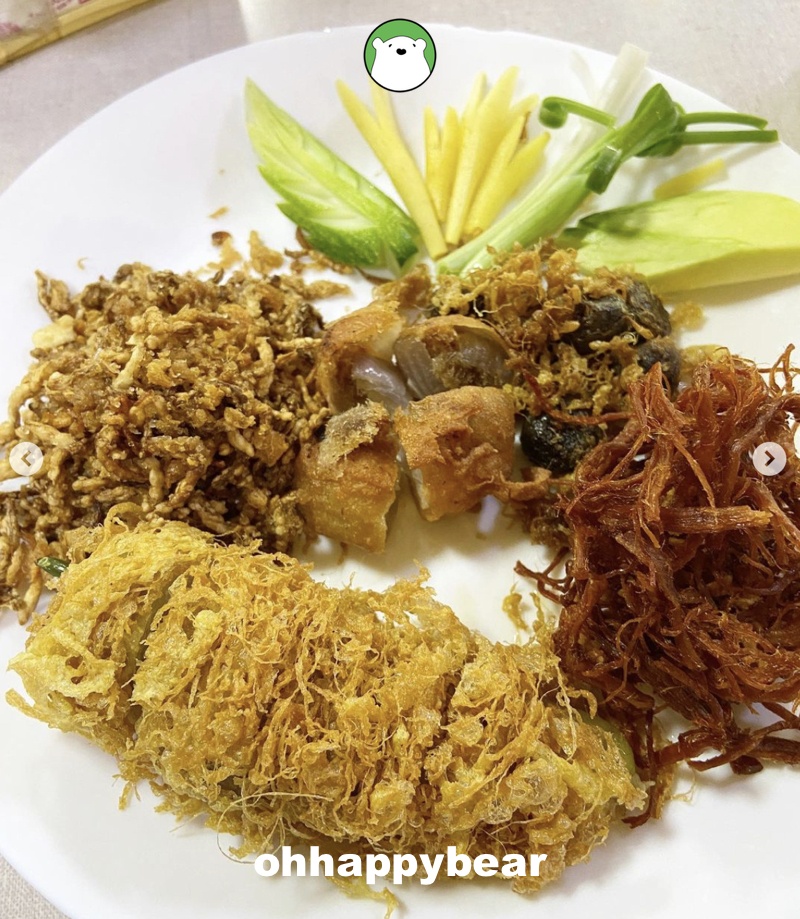 Above: This is my first set of Khao Chae in 2022. At Sanguan Sri restaurant. It is always my favourite place. The "Rhoom" was beautiful, all things delicious. And the rice there was so perfect. My ten stars for this place.
A set of Khao Chae consists of a bowl of rice and a collection of side dishes. The numbers and looks of the side dishes depend, but usually, there are staples such as: 'Look Kapi' (shrimp paste mixed with dried fish and herbs), 'Chai Po Wan Pad' or candied radish, "Prik Yuak" (steamed green chillies with minced pork filling and 'Rhoom' – the intricate hand-sprinkled egg blanket), "Moo Foi" or crispy sun-dried meat, "Khao Mao or crispy rice, Hom Daeng or stuffed shallots, and a set of fresh vegetables that include fresh finger roots, green mangoes, cucumber, and big red chillies.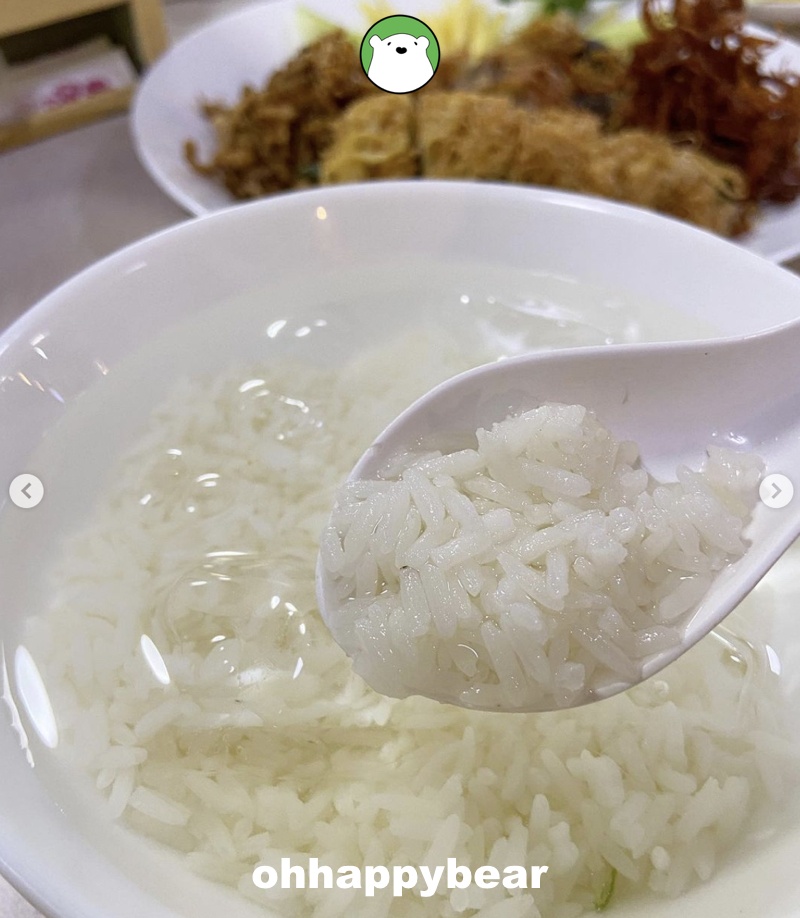 Above: It might not look much, but this is my Khao at Sanguan Sri. Polished off the starch, the rice is perfectly prepared to give an al-dente crunch and chew!
The way to properly eat it also matters. The rule is to never put or mix the sides with the rice. Because that will dirty your rice bowl. It's an uncouth thing to do. Take one bite of the savoury, followed by a spoon of rice. Chew, appreciate, take it all in, the concoction of flavours that are so unique and particular. Once you get too many salty and sweet things in your system, it's time to nibble on the finger roots, or the green mango, or the cucumber. We call this break 'Kae Lian' แก้เลี่ยน or our own 'palate cleansing' course. 
Khao Chae – The Ritual of Eating Chilled Thai Summer Rice วัฒนธรรมการกินข้าวแช่
---
More of Our Bangkok Food & Places Guides
---