Above: A trip to Bangkok should always include a boat ride on Chaophraya River. The cruise to the Old Town or Rattanakosin Area is easily accessible via BTS from Bangkok's city centre. 
With the long-awaited, much-anticipated additional stretch of MRT underground system between Bangkok's Central Business District and Bangkok Old Town (Rattanakosin Island) finally opened, Bangkok has become so much easier to navigate and explore.
The City of Angels is boundless for inspirations and motivations. While Bangkok has so many facets, there's always one thing that is ultimately unique – our rich culture, arts, and traditions shaped by centuries of being ruled by the long line of monarchies. Treasures of those days are still evident in our exquisite foods, intricate handicrafts, and ways of life – manners and etiquettes that make a home for Bangkok natives.
This is a local guide, hopefully, an essential one, for those wishing to get the most out of Bangkok during, say, a long weekend. Let's say you stay at one of the hotels in downtown, with access to BTS, MRT which also means you have good access to everything else that entails. 😀
Arrival:
Day 1: Midday
You have heard it before, Bangkok's traffic is notorious. You will be much better off staying at one of the BTS-connected hotels. If you want a recommended itineraries, read Bangkok by Itineraries, Top 10 Things to Do in Bangkok, with a guide to our public transportations and taxi. Just in case you need to get your bearings.
Lunch – Sa-nguan Sri (สงวนศรี)
Address: Witthayu Road, Bangkok, Mon-Sat: 10.00 – 15.00, T: +66-02-251-9378.
Let's start your Bangkok exploration with a good, solid, delicious Thai lunch. This local favourite and long-standing Sa-Nguan Sri Restaurant (สงวนศรี) is just a stone's throw from The Okura Prestige Bangkok. They serve the best of simple fare, homestyle, unpretentious, locally priced, Thai dishes. This is a lunchtime restaurant and a popular one it is. Expect big crowds if you are going to be there by midday. Some tips for visitors, go there early, say about 11 am, or on Saturday for more comfy seating and eating.
Recommended Dishes: 
There are daily specials – for easy, delicious, and quick lunch. But the all-time favourites include green curry with fish balls, tod man (curried fish cakes), namprik kapi (shrimp paste chilli dip), and if you come on a Saturday, try the very delish chicken sago dumplings (Sakoo Sai Gai) served with sprigs of fresh cilantro, chillies, and lettuce.
For a full review of this Long-standing establishment, click here.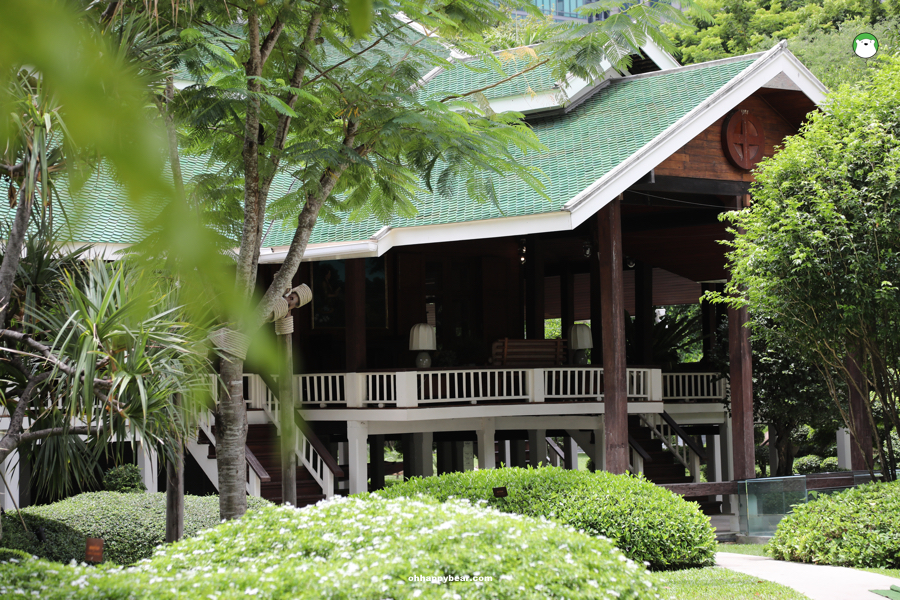 Sightseeing – Nai Lert Park Heritage Home
Visiting Info: Soi Somkid, Chit Lom (BTS: Phloen Chit or Chit Lom), Thursdays and Fridays, guided visit at 11 am, 2 pm, and 4 pm. Ticket Bt300 with a classic welcome drink or Bt500 with a personal afternoon tea set.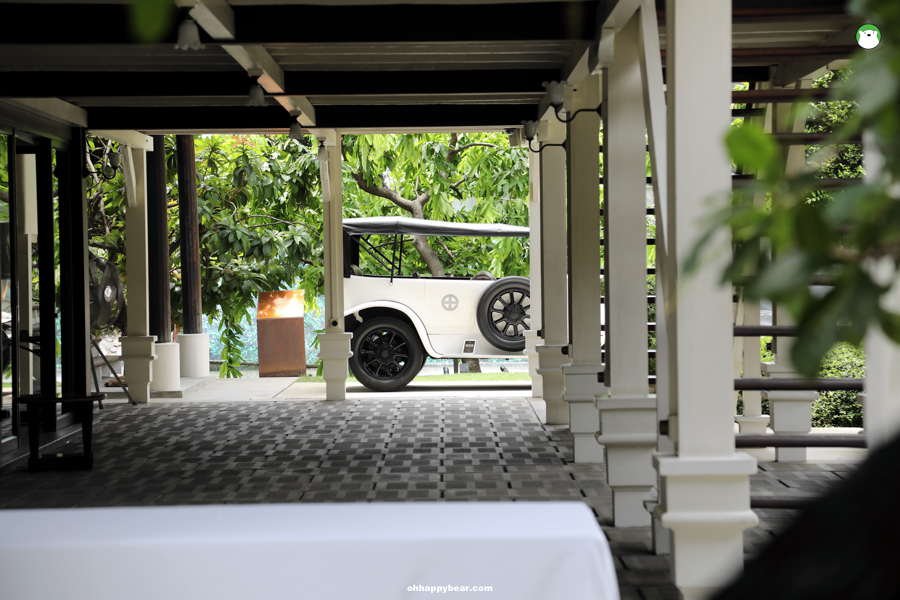 If you like backstories, and a lush oasis, Nai Lert Park Heritage Home would be a gem. Harking back about a century ago, the areas of Phloen Chit and Chit Lom were considered a far-out, a remote area out of town when the city centre then was around the Charoenkrung Road cluster which, by the way, was Bangkok's first paved road that weaves from Rattanakosin Island through to the Chinatown, all the way to Bang Rak area.
Nai Lert Park Heritage Home was built in 1915, and it has been lived and maintained through a series of interesting histories of Bangkok and Thailand since. Now in the hands of the family's fourth generation, the original homes have been restored and open as a private gallery surrounded by large, shady trees, some as old as the house or older.
For a full review of the house and museum, please click HERE. 
---
Sightseeing & Eating in Bangkok Chinatown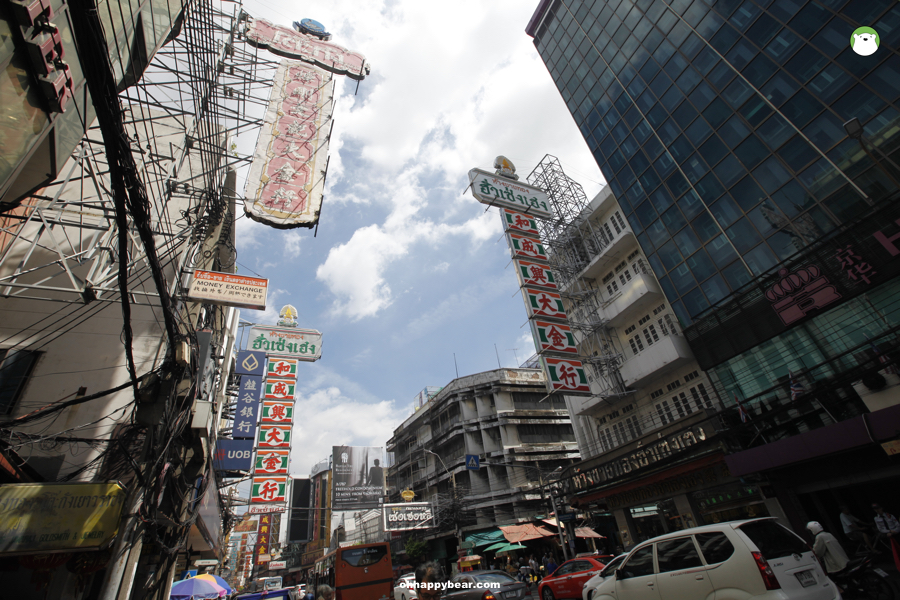 Bangkok's Chinatown or Yaowarat is known for many things, especially the traditional Chinese vibes and the vibrant food scenes – night and day. These days, apart from the usual nighttime street foods, one can also do the cafe-hopping during the day thanks to the throng of hardy new-gen entrepreneurs that came back and restored many of the beautiful buildings into lavish and chic establishments.
P.S. Street food scenes at Chinatown are available nightly, except Mondays when most shops are closed, from 18.00 onwards.
For things to eat in Chinatown, day and night, read my other, read here.  
---
MORE Options
How to Get there >> MRT: Sanam Chai, Tue-Sun, 10.00 – 18.00, T: (+66) 02 255 2777, Bt200/adult. Check out the Muse Pass if you are museum bugs and want to explore them all. 
Thought-provoking exhibitions and fun tales of Thailand can be the summaries of what to expect at Museum Siam. Multi-media technologies and unconventional ways of storytellings make this museum a local favourite.
Dinner with Sunset at one of the riverside restaurants.
Opposite Wat Pho is narrow alleys lined with shophouses that used to be riverside warehouses where products and produce were loaded. Now many of those shops and warehouses are turned into hip cafes and restaurants, hence a great spot to soak in the sunset atmosphere with the glowing masterpiece of the Temple of Dawn.
Above is a glowing sunset scene from a riverside restaurant near Wat Pho.
---
Day 2:
Exploring Bangkok OLD TOWN
If you like to get to the roots of Bangkok, spend at least half a day roaming the Rattanakosin Old Town and see all the must-sees at one go. Now that the new MRT can launch you directly to that area (MRT Station: Sanam Chai), it is easier than ever to visit all the places you want in that area. You can also read a full guide to Rattanakosin or Bangkok Old Town here. 
Sightseeing:
The Grand Palace and the Temple of the Emerald Buddha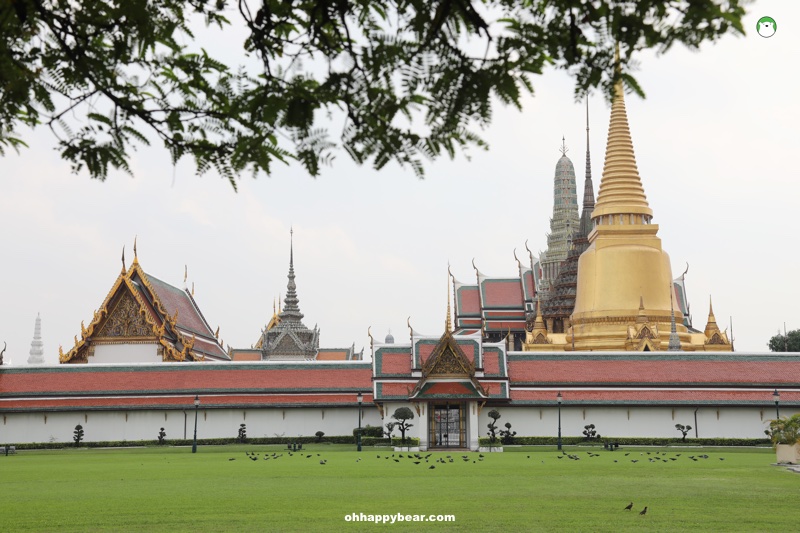 A top priority for most visitors, especially those into Thai exquisite arts and culture. The Grand Palace is the founding palace of the Rattanakosin Period, hence the epitome of the upper-crust Thai arts. In the same premises is the deeply venerated Temple of the Emerald Buddha. Also, take your time walking through the compound wall, all 2 kilometres in length, that is marvellously covered with the hand-painted murals depicting the Ramayana sagas. 
Visiting Information: daily: 08.30 – 15.30 (except for days with royal ceremonies), Ticket: Bt500 inclusive of access to Wat Phra Kaew, The Royal Thai Decorations & Coins Pavilion and Queen Sirikit Museum of Textile (all located within The Grand Palace). Additional 200 Baht for a rental personal audio guide in English, French, German, Spanish, Russian, Japanese, Mandarin and Thai. Also, beware to dress appropriately, more info on how to dress and online ticket purchase, visit their official website here.
Wat Pho (Wat PHRA CHETUPHON)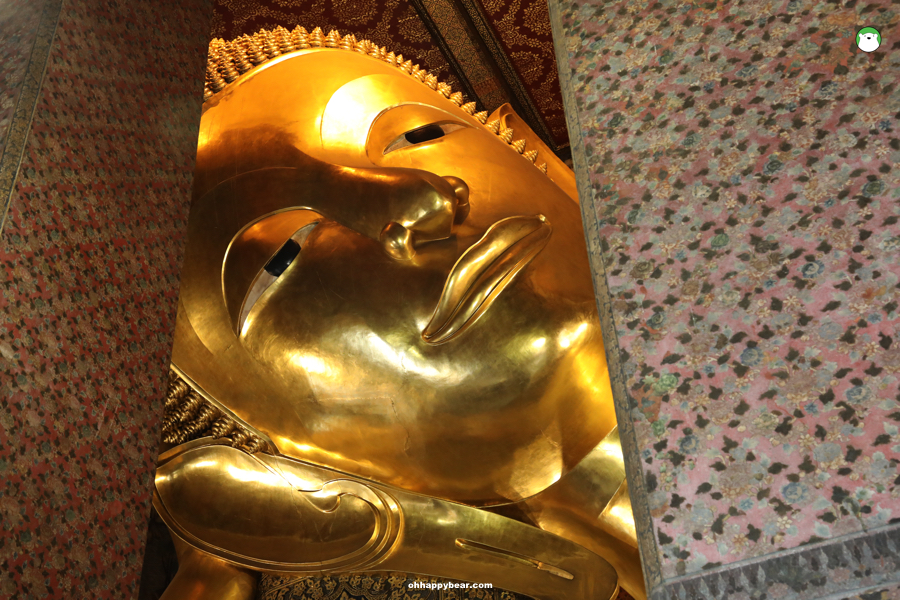 Widely known for the Reclining Buddha, Wat Pho – one Bangkok's first-class royal temple – was Siam's premier public education centre. Today, you can walk through the temple's exquisite compound and observe all the engraved human anatomy – the founding wisdom of the Thai traditional medicine – that earned the temple a UNESCO recognition as a world heritage wisdom.
Visiting Information: daily: 08.00 – 18.30, Ticket: Bt100. More information and map, visit their official website here.
National Museum Bangkok (Phranakorn)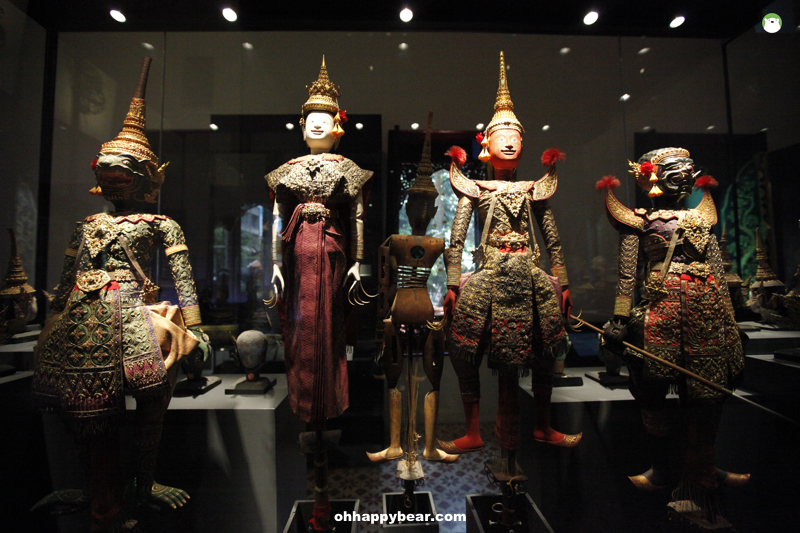 Located in what used to be 'Wang Na' or the Front Palace for the royal viceroys, The National Museum Bangkok keeps key national treasures in one place. Their newly arranged halls exhibit Khon masks, and Thai puppetry – so exquisite and delicate. Rotating exhibitions are equally interesting. Check their Facebook page for updates.
Visiting Information: Wed-Sun: 09.00 – 16.00, Ticket: Bt200. More information and map, visit their official website here.
Wat Bowonniwet Vihara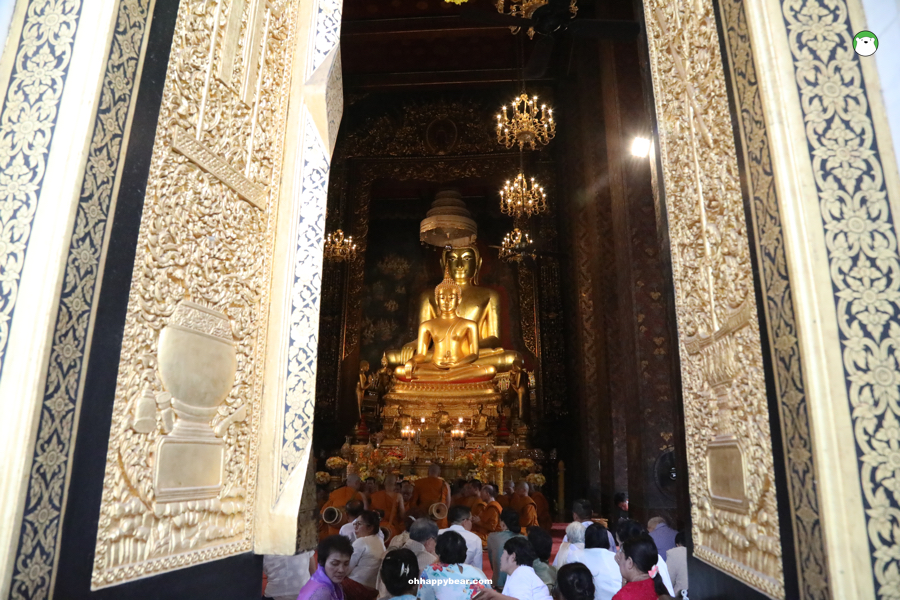 Relatively small and less majestic than many other royal temples in Rattanakosin area, but Wat Bowonniwet Vihara is none less important. This temple has been under the royal patronage since the time that then Prince Bhikkhu Mongkut became its first abbot in 1836. The traditions were perpetuated by his great-grandson, King Bhumibol Adulyadej who also stayed at this temple during his monkhood in 1956. Now, this temple enshrines the King Rama IX's ashes.
Pictured above is Wat Bowonniwet's unique double presiding Buddha statues: Phra Buddhachinnasri and Phra Buddha Suwannakhet.
Visiting Information: daily: 08.00 – 17.00. For updates, visit their Facebook here.
---
LUNCH
Methavalai Sorndaeng
Address: Ratchadamnoen Klang, daily: 10.30 – 22.00, T: (+66) 224-3088. Their Facebook is here. 
One of the oldest Thai restaurants in town (opened since 1957), Methavalai Sorndaeng received a one-Michelin-star status in 2019. In their western-style lavish dining hall is also a small platform where a live band plays nightly. Expect old-school, non-twisting, Thai dishes such as Tod Man, Mee Krob, Yum Som-O, and all those things that complete the picture of old-school Thai food.
---
MORE Options
Sightseeing
Bangkok Art and Culture Centre (BACC)
Address: opposite MBK, BTS: National Stadium, Tue-Sun: 10.00 – 21.00. More information on their website.
A creative space for local artists of all kinds, BACC's building is a spectacle on its own with its unique circular atrium bright and inspiring. Come here for a coffee and cruise up to the top floors, oftentimes with no solid agendas, and check out their current exhibitions. More times than not, you will be greeted with great artistic surprises.
---
Jim Thompson House & Art Centre
Address: Soi Kasemsan 2, Rama 1 Road, BTS: National Stadium, Daily: 09.00 – 18.00, Bt200 ticket. T: (+66) 02 216 7368, www.jimthompsonhouse.com.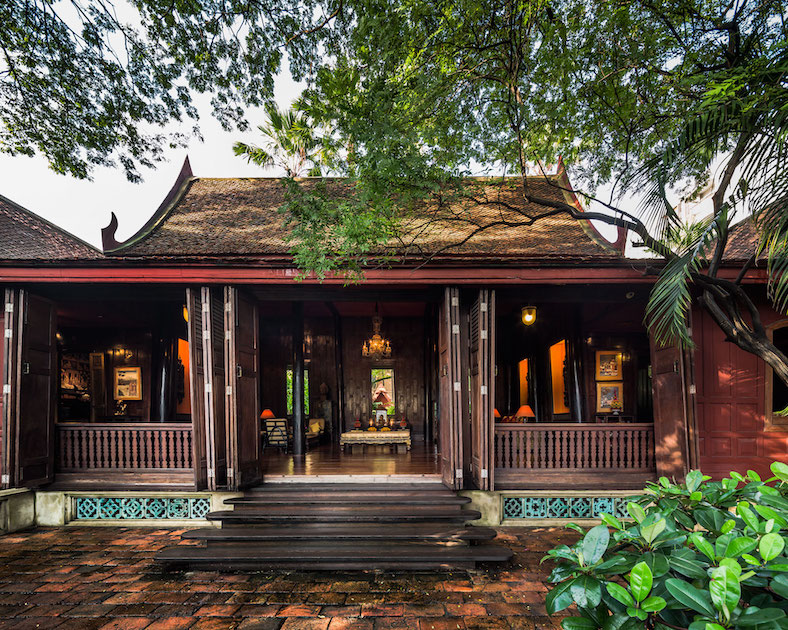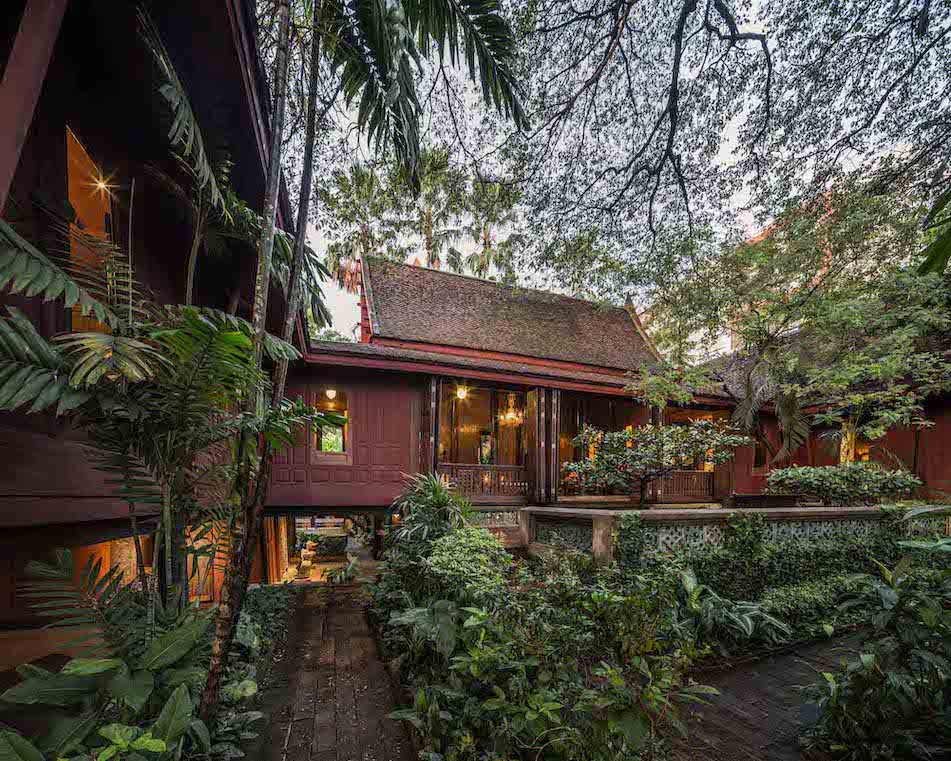 The story of Jim Thompson, an American Thai-silk-promoting businessman, has captured the world when he disappeared with no traces back in 1967. His stories, his heritage of good quality Thai silk, as well as his home, have become a centre of interest since. The Thai teak house now houses a Thai restaurant and an Art Center. A good escapade into the past of Bangkok and dote on the glories of the 1960s.
---
Shopping
Asiatique
Address: Charoen Krung Road, BTS: Saphan Taksin + Free Shuttle from 16.00 – 23.30, T: (+66) 02 108 4488, Their website is here.
Set in an old, once deserted, warehouse along the Chaophraya River, Asiatique is now an open mall in themed vibes of old Bangkok. A great place for souvenir shopping, outdoor drinking and eating, and perhaps check into one of their nightly live performances. Choose from Muay Thai, Calypso, Joe Louis Puppetry, or a ride on the giant Ferris wheel of 'Asiatique Sky.'
---
Cafe-hopping
Coffee at Factory Cafe
Address: BTS: Phaya Thai Station, daily: 08.00 – 18.00, T: (+66) 080 958 8050, or their Facebook here.
A non-mall cafe run by award-winning baristas with great coffees to prove. They are good with black, milk, and fancy types. And the prices, when compared to other hip places around town, are also competitive. Friendly, busy vibes. If you like strong, iced coffee, go for their luscious Mrs. Cold (Bt90), or a cold-brew iced latte.
---
Muay Thai Experience
Rajadamnern Stadium
Address: Rajadamnern Avenue, Mon, Wed, Thurs, Sun: 18.30 onwards, T: (+66) 02 281 4206, click here for their WEBSITE Facebook updates are here.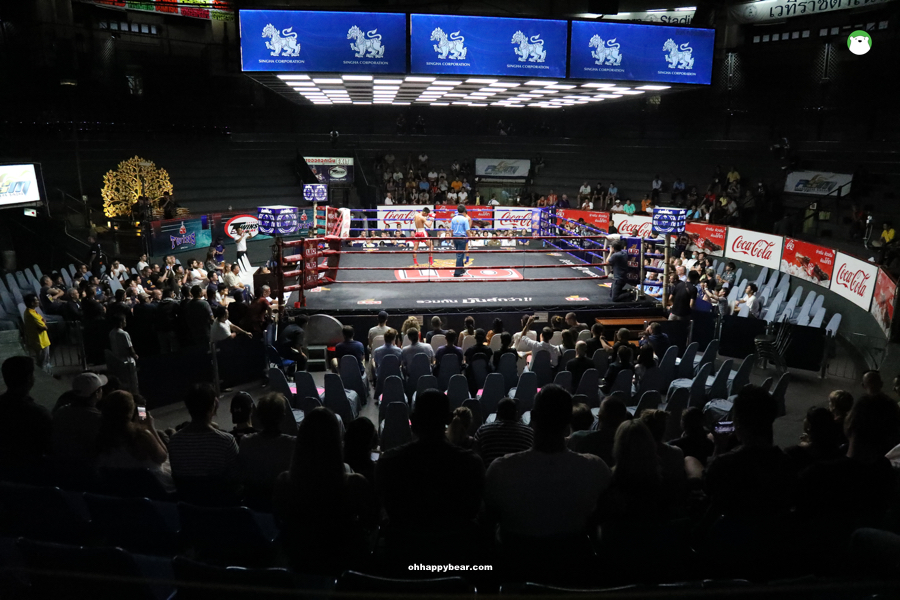 Many Thai people grew up watching Muay Thai on their telly with all the fanfare there is prior to the real competition. And there's nothing like immersing in all the raw vibes of the legendary Thai boxing in Thailand's oldest boxing arena of Rajadamnern Stadium. Since 1945, this is Thailand's oldest boxing arena where you can enjoy the front row seats with popcorn and beers. 😀
---
DINNER
Yamazato
Address: The Okura Prestige Bangkok, Lunch: 11.30 – 14.30, Dinner: 18.00 – 22.30. T: (+66) 02 687 9000, For menu and more information, visit their website.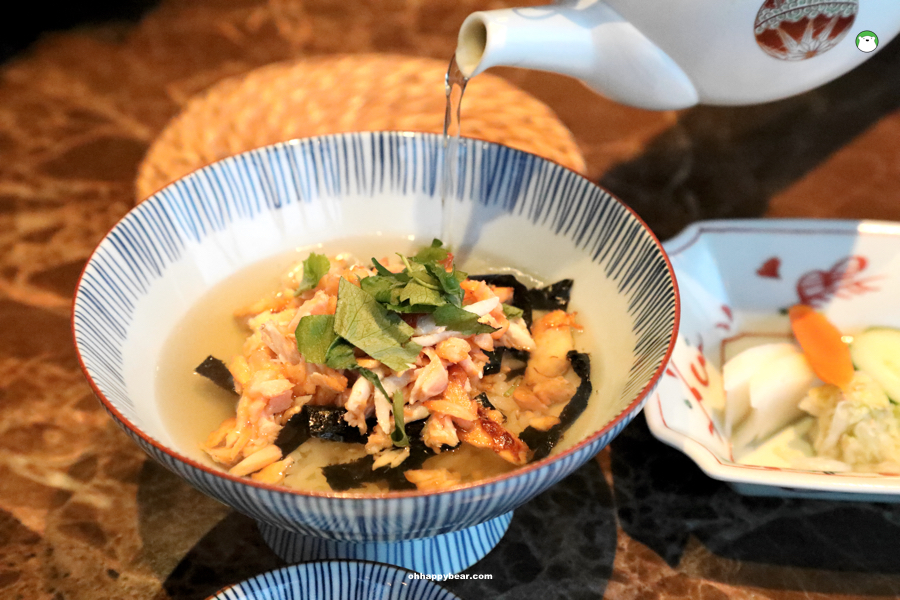 Yamazato is an award-winning fine-dining Japanese restaurant at The Okura Prestige Bangkok. While during lunchtime, they serve an array of good-value lunch sets along with their signatures of traditional Kaiseki sets and much more, at night, they tuck you in with light bowls of rice, noodle, served with refreshing steaming broths. And that's might be just what you need after a long day touring Bangkok. Above is Salmon (Sake) Ochazuke which is rice served with tea broth and pickles (Bt250++), so comforting and tasty. You can also opt for their varieties of udon and soba noodle soups, too.
For the full review of Yamazato, click here. 
---
Day 3:
RUN + EAT + SHOP
Suan Lumpini (Lumpini Public Park)
Address: Witthayu + Rama 4 Roads, Daily: 05.00 – 19.00.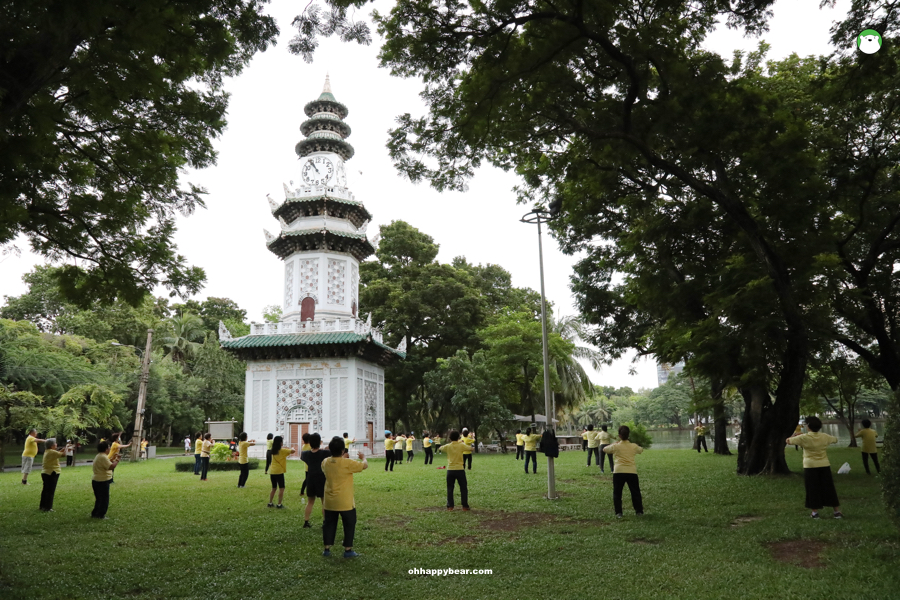 Without any exaggeration, Suan Lumpini, as Bangkok's premier public park since 1925, has been Bangkok's most important green lung. Now all 360 rais of it (or about 145 acres) is covered in lush gardens and ponds, it is the place for all people to come and enjoy a cleaner version of Bangkok air for free. Morning times are most vibrant when people of all walks of life come together and run, or walk, or simply to swing their arms. This is a great equaliser of the capital. And afterwards, these runners usually compensate their supposedly lost calories with hearty morning bites (wonton noodle soup, BBQ duck, thick and steaming hot fish-maw soup and so on) at the food court known as Sri Thai Derm, which, from within the park, is opposite to U Chu Ling Building on Rama IV Road.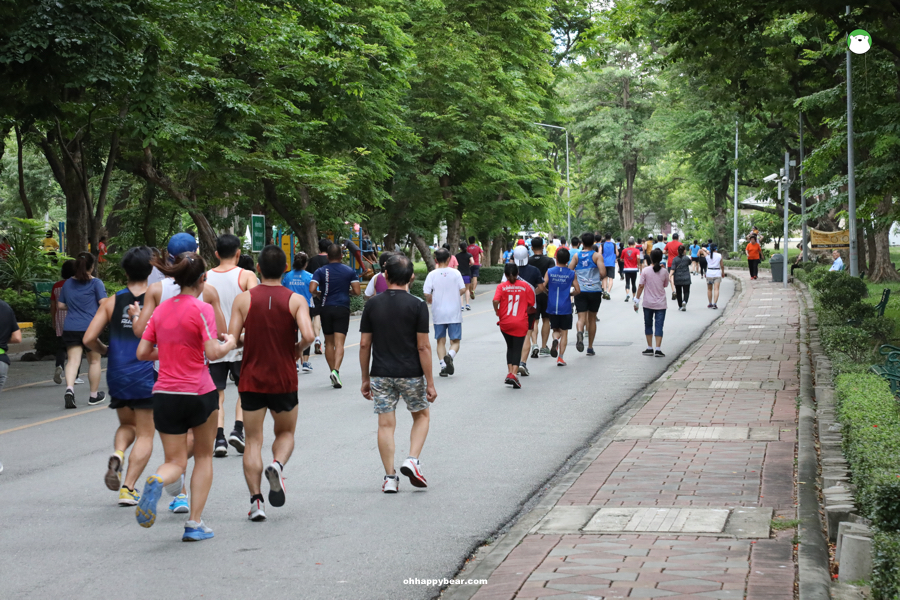 Above: A great equaliser of Bangkok dwellers, Suan Lum attracts people from all walks of life and age groups to come and break some sweats.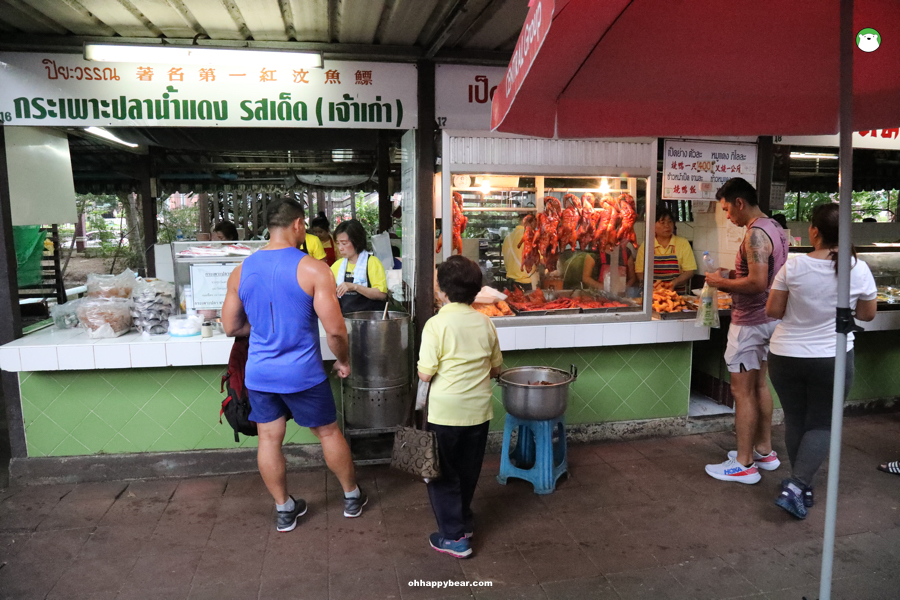 Above: After the strenuous run, who can resist a hearty breakfast at Sri Thai Derm?
---
LAST DAY
SHOPPING in Bangkok
Chatuchak weekend market
Address: MRT: Kamphaeng Phet, Fri, sat-sun, 08.00 – 21.00
This is so to give you a choice. On Fridays, Chatuchak is open for the ceramic and clothing sections. But on weekends, as everyone knows, everything is open, including a local favourite stall of Thai rice and curry called 'Prik Yuak.'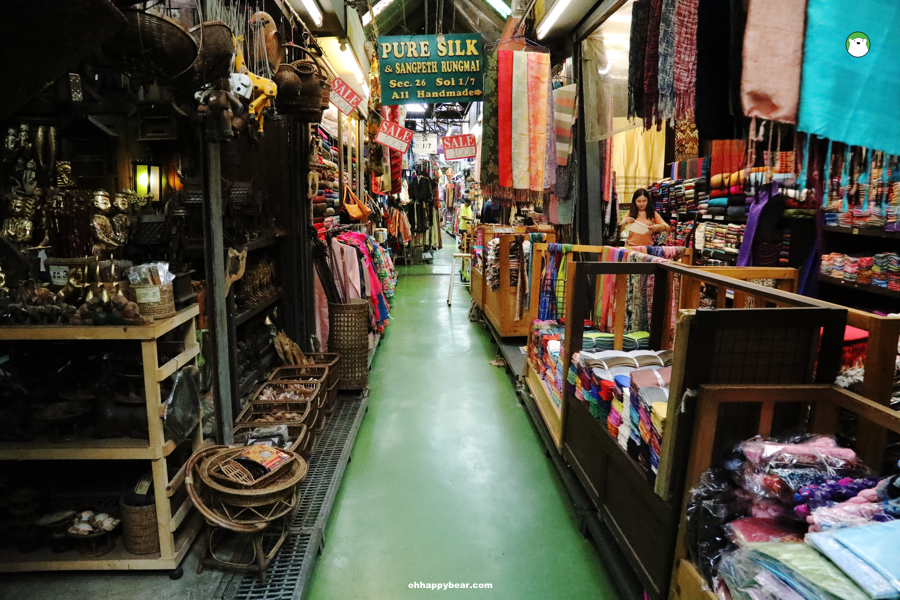 Above: Shawls and scarfs in various kinds of Thai silks are available at Chatuchak Weekend Market.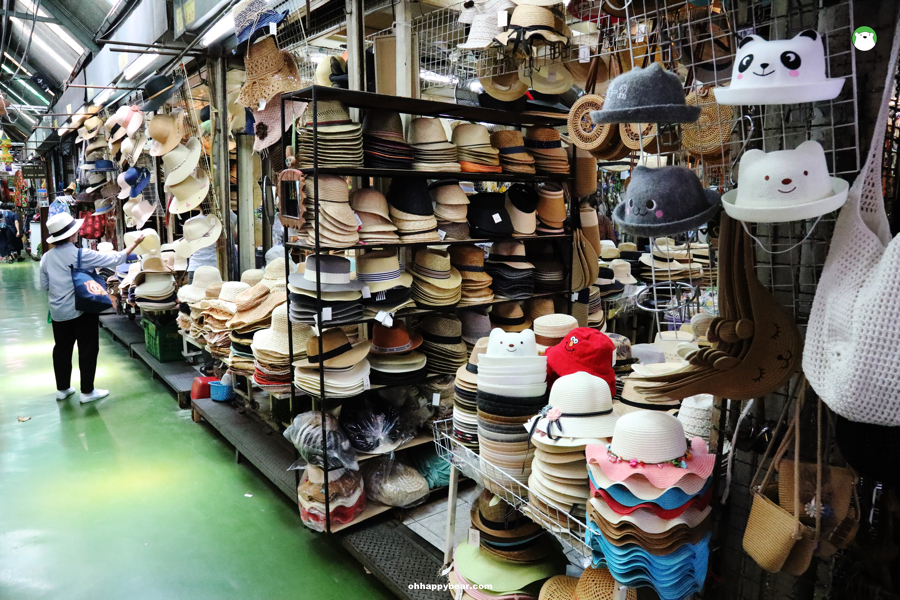 But if you look for something closer to Bangkok's CBD, there are also plenty of choices. From Central Embassy to Central Chidlom, all the way to MBK and Siam Center. Also popular and vibrant is Terminal 21 on BTS; Asoke.
Read further on Bangkok Shopping Guide 
---
STAY
The Okura Prestige Bangkok, BTS: Phloen Chit Station, T: (+66) 02 687 9000, WWW.OKURABANGKOK.COM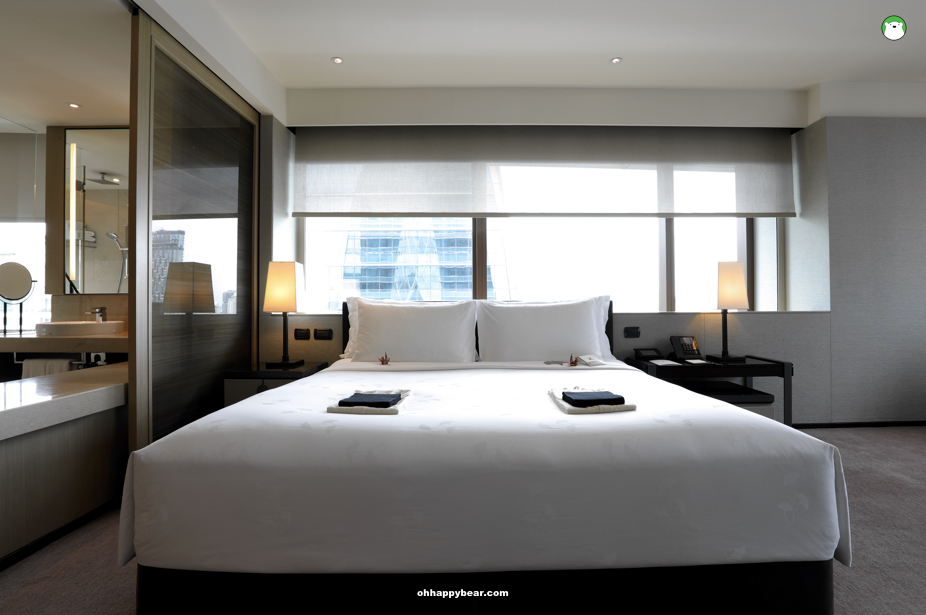 The Okura Prestige Bangkok in Phloen Chit area has direct access to the BTS (BTS: Phloen Chit), hence a perfect location for those wishing to get the most out of Bangkok. This luxury, five-star hotel carries a strong Japanese heritage of Japanese hospitality or 'Omotenashi,' combined with Thai style local hospitality from the heart. Great dual breakfast (traditional Japanese and international buffet) is also a great hearty draw.
---