This is an eating guide to Bangkok Old Town or Rattanakosin Island. This area contains Bangkok's ultimate gems, which make them mandatory sites for anyone visiting the town. It is a long shot trying to compile all the goodies in the area, but here's our attempt. Bon appetit!
1. Seri, Prang Phuthorn (เสรี แพร่งภูธร)
Mon-Sat: 11.00 – 21.00, T: (+66) 02-223-8416, MAP. 
Thanks to my friend @yuwachana who runs a bike-touring group @betterthanwalkthailand, we found a new favourite in the old town of Bangkok. Prang Phuthorn is one of the most charming areas there, still with lines of old, King Rama V-era buildings, lots of oldie restaurants, shops, and lifestyle. Seri is a typical jack-of-all-trade place, their crispy fried fish of all kinds are excellent, along with many other considered 'drinking dishes' such as fermented pork sausage stir-fried with eggs. Families come here for a hearty meal. Bring your own bottle, should you like.
2. GoJo Hakka Noodle (โกโจ ก๋วยเตี๋ยวแคะ นายอ้วนหลังวัดสุทัศน์)
Mon-Fri: 07.00 – 14.00, T: (+66) 02-222-7331, MAP. 
An old-school Hakka noodle with homemade pork-stuffed tofu varieties, this small noodle shop has been around for decades, and is now run by the third generation. Order a special bowl so you get the best of their pork balls and tofu. Love their clear pork consomme, freshly-pounded chili vinegar, and overall pleasant hygiene of all. Can be crowded, so go early, or avoid rush hours. Mon-Fri only. For those wishing to see more about Hakka noodles a minority bowl, watch our video here.
3. Jeng Kung Fish-Ball Noodle (เจงคุง ก๋วยเตี๋ยวลูกชิ้นปลาบ้านหม้อ)
Mon-Sat: 10.00 – 14.00, T: (+66) 087-082-5142, MAP. 
This could be one of the longest-standing and most secretive fish-ball noodle shops around. Jeng Jung is tucked deep in a narrow walkway opposite Bangkok Bank Ban Mor branch. This place has been around since the war times, and now it is being perpetuated by the second generation. Highlights include their shrimp wontons and selections of fish balls. Big bowl, and good value. Go early, for it now is getting more and more popular thanks to social media.
4. NattapHon Ice Cream (นัฐพร ไอศกรีม)
Mon-Sat: 10.00 – 16.00, T: (+66) 02-221-3954, 081-437-7377, MAP. 
My best-loved ice cream parlor of all time. No frills, just good stuff. Their ice cream and granitas are made from Thai flavors. Why the fragrant coconut juice and coconut milk are their signatures, we also love their mango and durian flavors (no coloring, too:). Loads of topping options, but still on top of my list would be the above simple and best combination of coconut juice granita and look chid (candied palm seeds).
Daily: 06.00 – 16.00 or from 06.00 – noon during weekends. T: (+66) 02-281-2134, MAP.
A bit out of the usual parameters of the Bangkok Old Town, but a draw in itself, should you are looking for a real, charming oldie cafe. This place, as it turns out, has been around since the wartimes, too. Now, their daughters are still making drinks from socks — sock teas, coffees, etc. This is a place for breakfast with old-style toast and gaya (egg custard), poached eggs, and a cup of black coffee. If you like their natural Gaya, buy one tub back (Bt80). The portion is huge and should last you weeks.
Daily: 10.30 – 22.00, Chakkaphet Road, Wang Burapha Bhirom, Bangkok, MRT: Sam Yod, T: 02-221-6565. MAP.
Another small place tucked in a narrow walkway, Royal India claims to be Bangkok's first Indian restaurant, and now it has expanded into a multi-branch empire. This original place, though, still draws crowds, so you might have to wait sometimes. I like their cheese curry and nan the most. Milk flavours, though. But their nans are the best. Click through the above slides for more dishes.
7. Nai Meng Thaweesak Fish Ball Noodle (นายเม้ง ทวีศักดิ์)
Daily: 10.00 – 16.00. T: (+66) 081-448-4834, MAP.
Not too far from Wat Traimitr (The Golden Buddha Temple) of the Chinatown Bangkok is this street food stall that specialises in fishball noodles. The most coveted item seem to be their fish wontons. I love everything about this place. Clean enough place, albeit on the street with limited access to running water, but clear broth and good fishballs. The overall taste, on the day of our visit, was a tad too salty sometimes. But still, a great choice for the area.
8. Methavalai Sorndaeng (เมธาวลัย ศรแดง)
Daily: 10.30 – 22.00. T: (+66) 081-224-3088, MAP.
This place is one of the longest-running Thai restaurants that I know of. And it somehow managed to be on Michelin Bangkok Guide, too. No matter what the red books say, I would say that not all Thai people come here for the tastes of the foods (which I found ok, but not that great to be honest) alone, but also for their plush interior, good services and the fact that their foods are not that horrendously expensive. An overall good place should you are in the area and look for a comfy, reliable place to munch upon.
9. Krua Apsorn (ครัวอัปษร)
Daily: 10.30 – 20.00. T: (+66) 02-685-4531, 080-550-0310, MAP.
I could have skipped this place thanks to their already enormous popularity, but I decided to include it because I still like it, very much. Reliable foods, reasonable prices, comfy vibes and clean enough. Their crabmeat omelette used to be better, but my new favourite is now their clear-broth tom yum goong (above), and their green curry of fish balls are also great. They now have branches around Bangkok, but for me, this one on Dinso Road is still da best.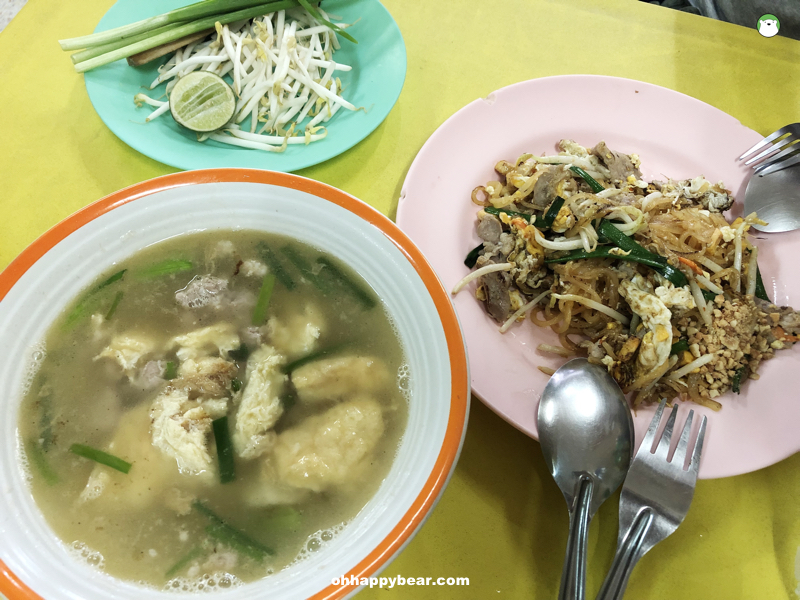 10. Jit Tao Tan (จิตเตาถ่าน)
Daily (CLOSED THURSDAYS): 11.00 – 21.30. T: (+66) 087-090-8744, MAP. 
I would leave this list with this place that I found super-warm and charming. Jit Tao Tan lives to its name, using only charcoal stove to cook everything. This is what we call Ran Tam Sang, meaning they take orders and make them for you. Highlights are all things simple and tasty, one-plate meals if you will. I love their Pad Thai, omelette soup, and rice with spicy basil stir-fries or Pad Krapraw of all kinds.
---