สำหรับภาษาไทย กดอ่านได้ที่นี่ค่ะ
Top Photo: from left, clockwise: At Mae La Pla Phao, smoke-grilled Pla Chon and all the trimmings, crispy Pla Chon with curry past (Pad Prik King Pla Chon), bitter melon sprout stir-fry with garlic, Gang Som Cha-Om Khai, and Pu Lon Pak Tom (coconut milk dip with veggies). 
For such a small town, Singburi, which is about 77 kilometres north of Ayutthaya, or about 150 kilometres north of Bangkok, has made an oversized impression when it comes to food.
Smacked in the middle of the small but steady tributaries of the Chaophraya, Singburi is a place people come for their freshwater delicacies. You can splurge on their famous grilled giant river prawns (expect to pay at least THB1,800 per kilo), or you can go for their one-of-a-kind grilled Pla Chon, or Snakehead Murrel, that is so famous in this province it has become its GI (Geographical Identification) product.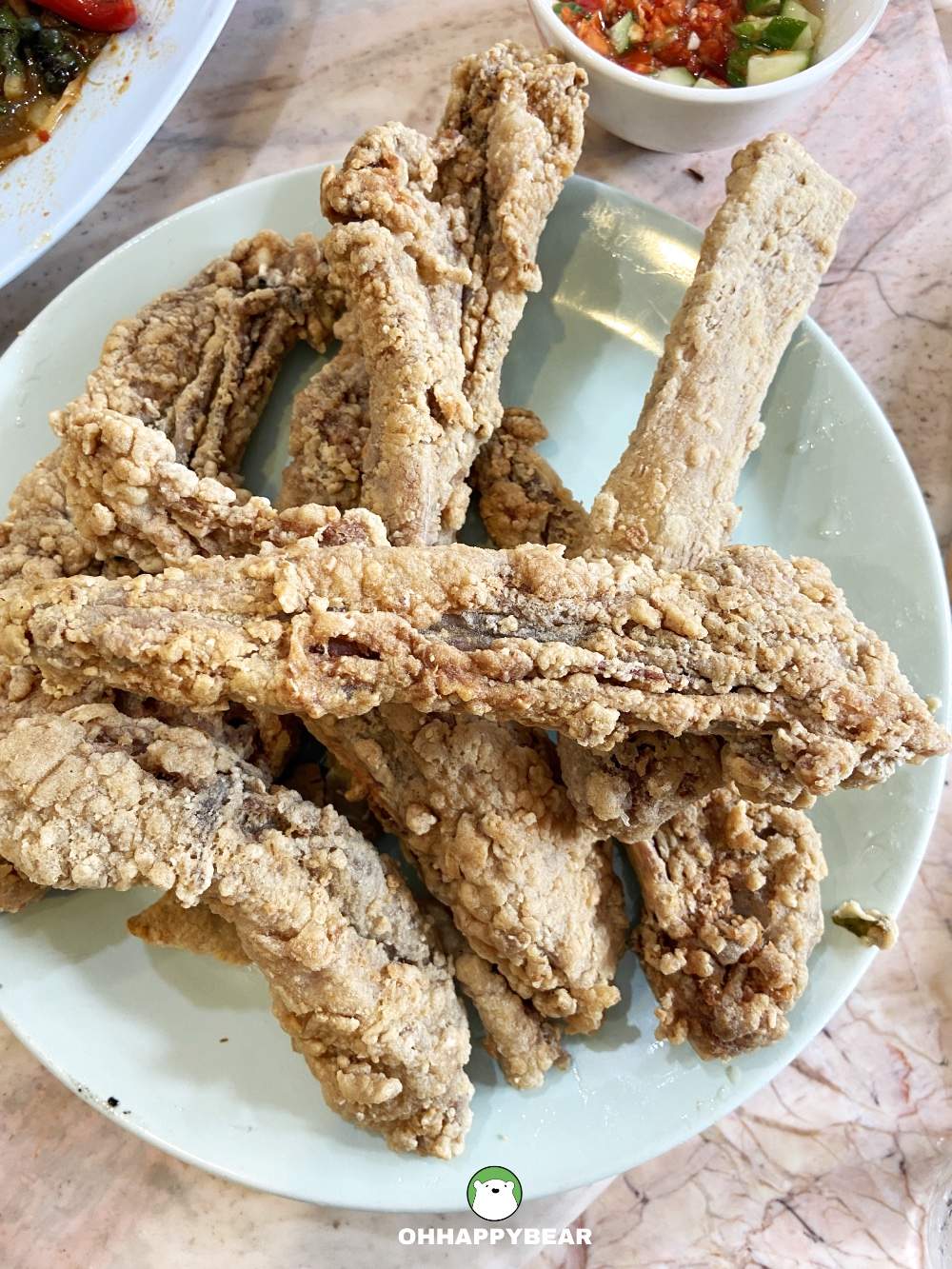 Above and below: At Charoenthip Restaurant, we ate delicious dishes made from freshwater fish: Cheng Pla Krai Tod (troncons of featherback fish battered and deep-fried), Pad Phed Look Chin Pla Krai, and a Chinese-Western pork salad which is very delish.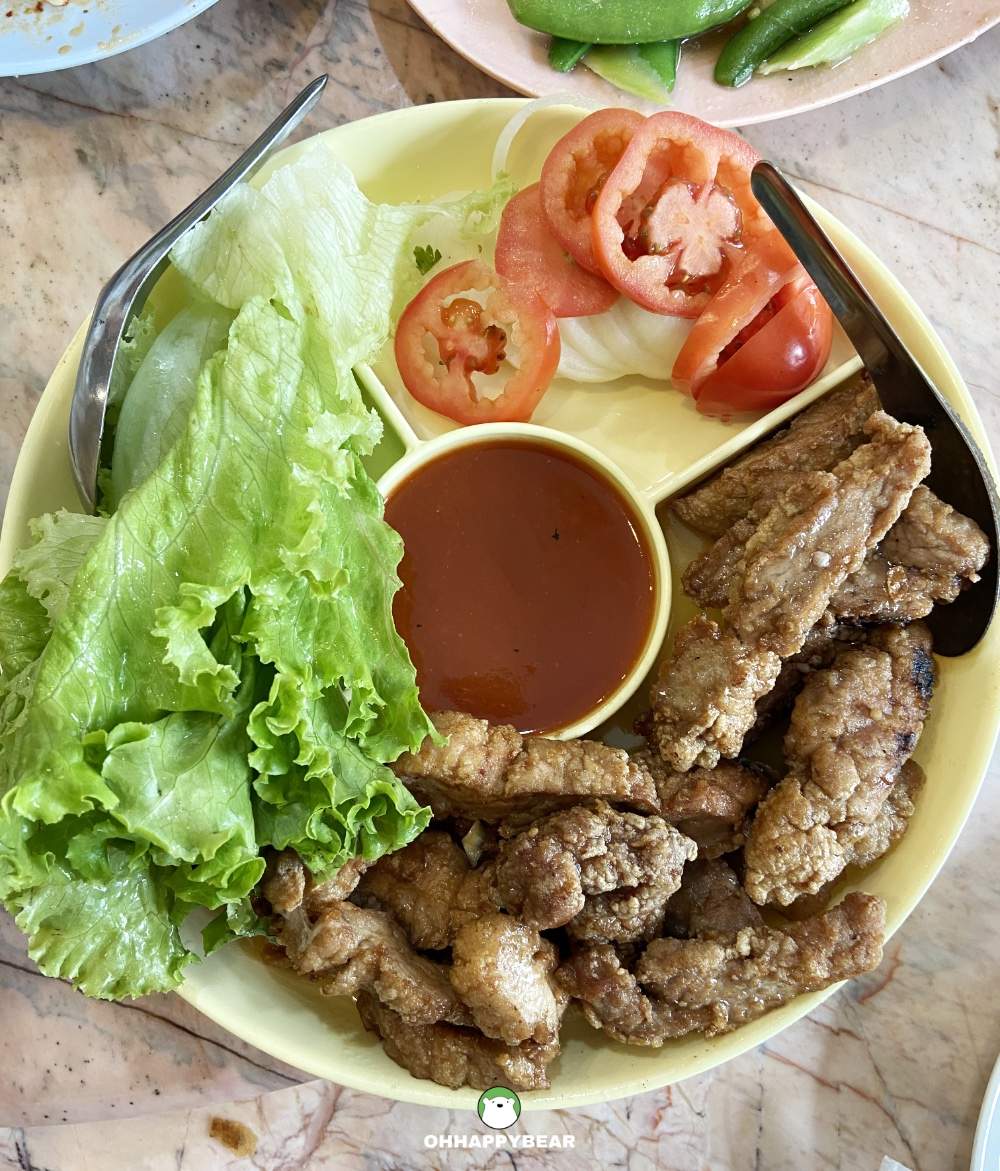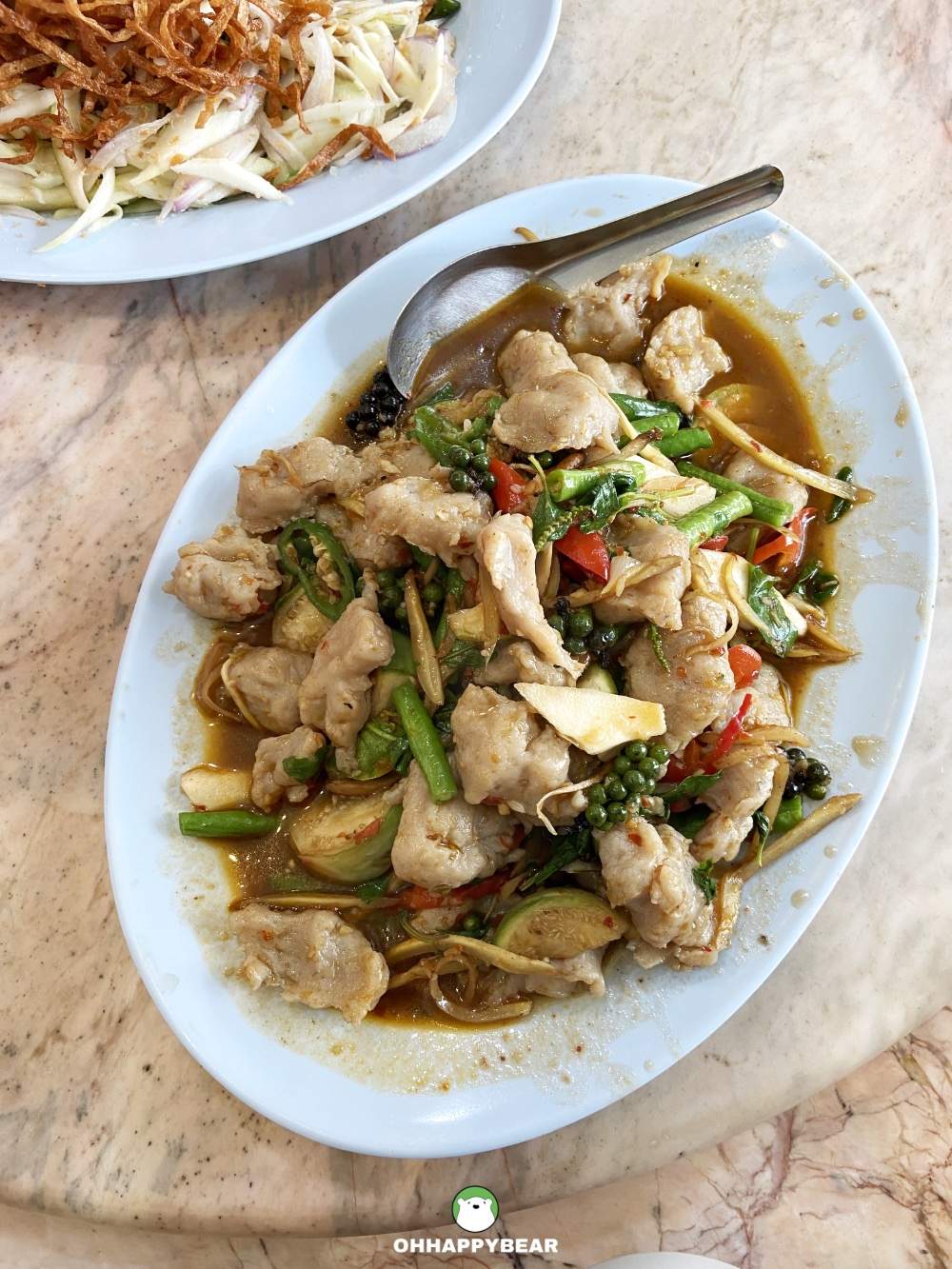 I had a chance to see Singburi for the first time on a trip with the TAT. They were promoting Sang See Sing, the 10-day-10-night town fair organised by the Singburi Tourism Council. We stayed overnight, interviewed the locals, and sampled their food. What I found just blew me away. This province is packed with local restaurants that serve decent, taste-and-price-wise, delicious, home-cooked, old-style Thai food. Lovers of all things old and disappearing in this country might want to come and sample it all before it's too late.
Pla Chon, the Snakehead Murrel, is not an uncommon fish in Thai cuisine. In fact, it is one of the most consumed everywhere. But then, the fish become much more special when we approach the so-called central plains, which is where the rivers come to merge, split, and merge. Pla Chon and other types of freshwater fish become something we usually order in the restaurants of Ayutthaya, Ang Thong, and Singburi. The rivers here, with the accumulated residue and minerals, produce delicious freshwater ingredients. And Pla Chon in Singburi is so delicious that it has become the province's most famous edible icon. The fish is everpresent in not just all kinds of savoury dishes but also in their specialty cake, Cake Pla Chon, the one-of-a-kind cake or perhaps one-and-only-in-the-world cake that has shredded Pla Chon as part of its cake batter.
Singburi might be under-the-radar, so to speak, but with an oversized food scene that reflects the natural abundance of the Central Plains. 
At Mae La Pla Chon, a huge and long-standing restaurant that is also a staple of Singburi, a grilled Pla Chon means a smoke-grilled, using coconut husks, Pla Chon that takes at least 3 hours to make. Phi Pong, the second-generation owner, showed us the kitchen where the grilling takes place. A grilled Pla Chon here is served with Nam Pla Wan, or a thick sweet fish sauce, blanched Sadao or neem, and a choice of spicy and sour dipping sauce.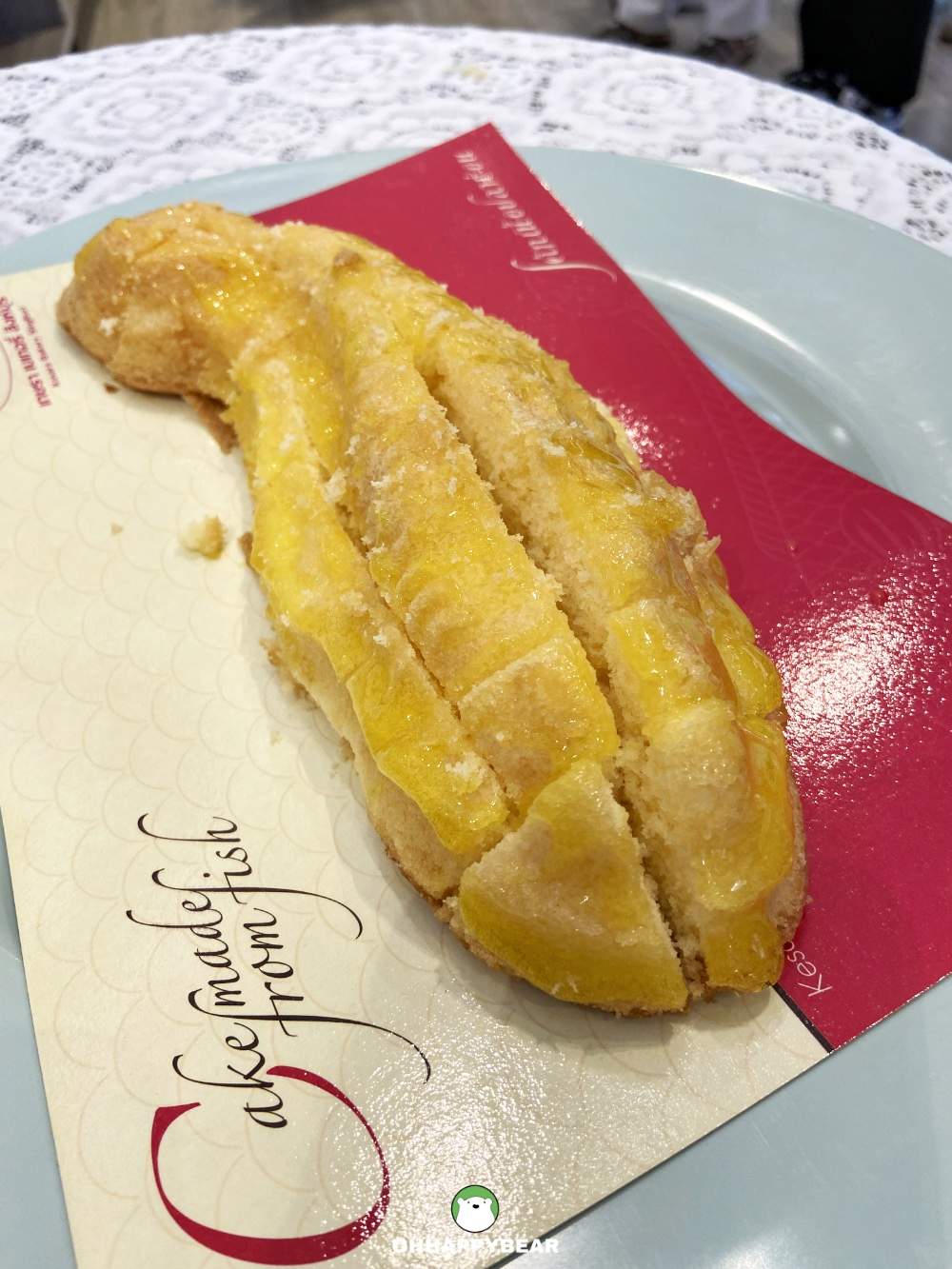 Above: Kesara Bakery's one-and-only Cake Pla Chon which is a butter cake with shredded Pla Chon flesh in the batter. The cake is laminated with pineapple orange jam. Below is their coconut ice cream with Pla Chon. Delicious.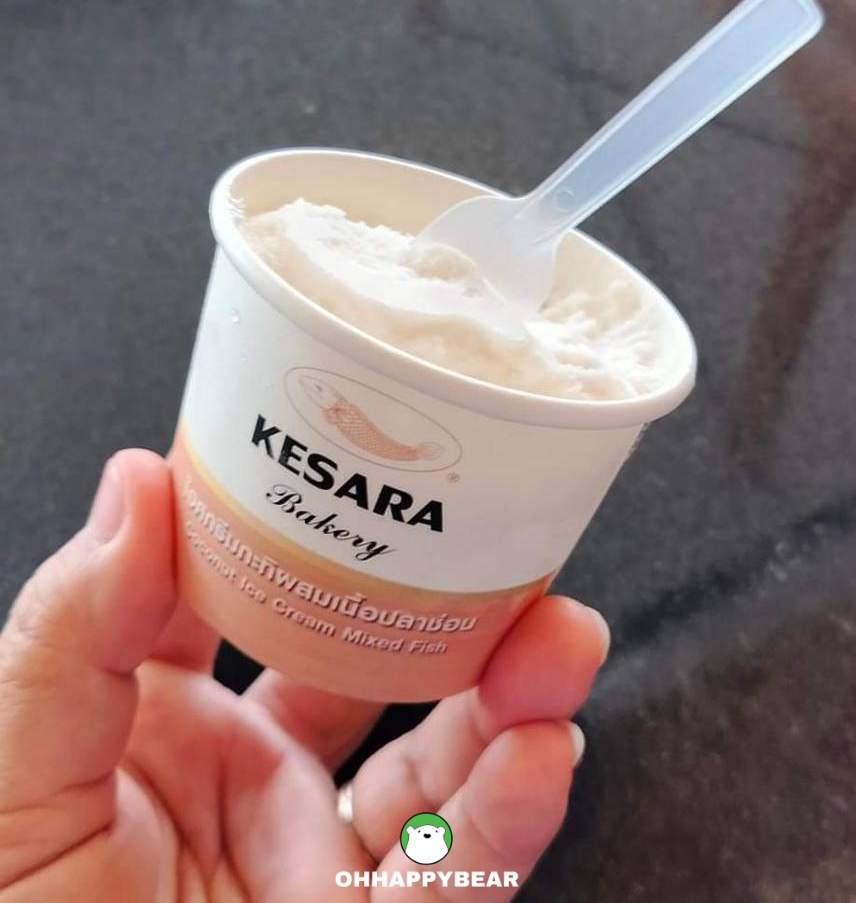 Cake Pla Chon was something I really looked forward to during that trip. I have been hearing about this strange cake all my life, but this was the first time I got to try it.
Khun Golf Kritsada, the second-generation owner of Kesara Bakery, the one that creates the cake, told us that his mother, Khun Kesara, an avid baker, conceived the idea back in the year 1996, when the province was running a campaign to promote Pla Chon as its iconic eat and his parents wanted Kesara Bakery to be a part of the provincial campaign.
"My mother started by adding the shredded flesh of fried Pla Chon into the cake batter, but it didn't work," explained Khun Golf. "The fish carried a strong aroma that couldn't mingle with a bakery. It took us a while to remove the fish smell properly. And when it worked, we created a 5-metre-long Cake Pla Chon for the festival. The reaction was beyond sensational. It was the first time ever that people came to realise that in a cake, there can be fish, too. People never ceased talking about it, really. And now, here it is. Our entire shop is dedicated to all things Pla Chon. Apart from the cake, which is a butter cake with Pla Chon coated with pineapple orange jam, we also have Pla Chon bone crackers, cookies, and so on. They are rich in calcium. And now our newest addition is 'Itim Pla Chon' (coconut ice cream with Pla Con), which you'll have to try it to believe it.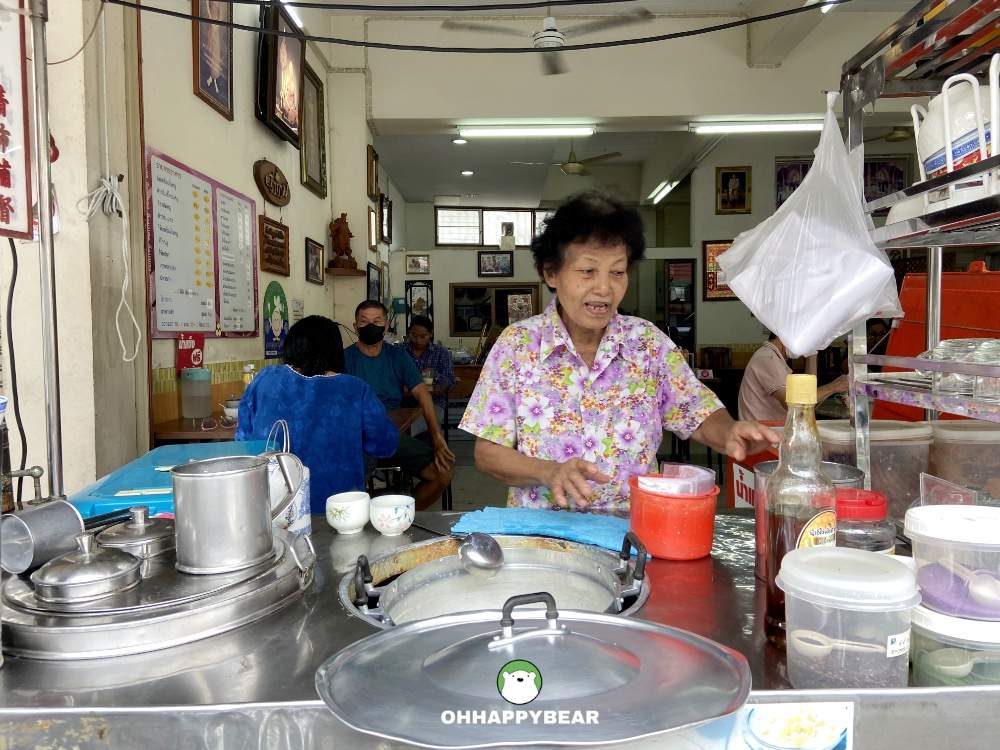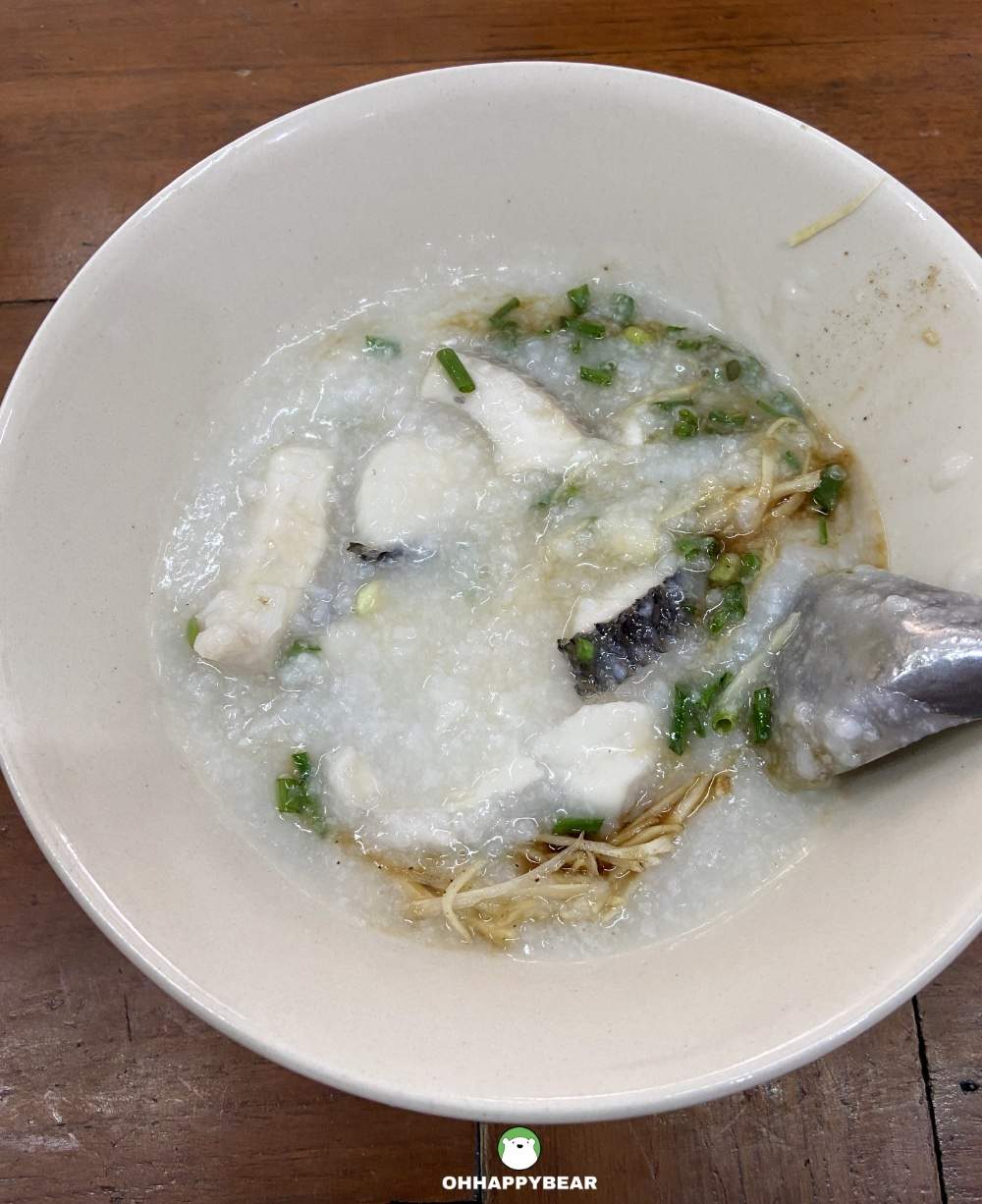 Above: The morning treats at Ood Nom Sod: fresh hot milk, kopi with condensed milk, and congee with fresh Pla Chon.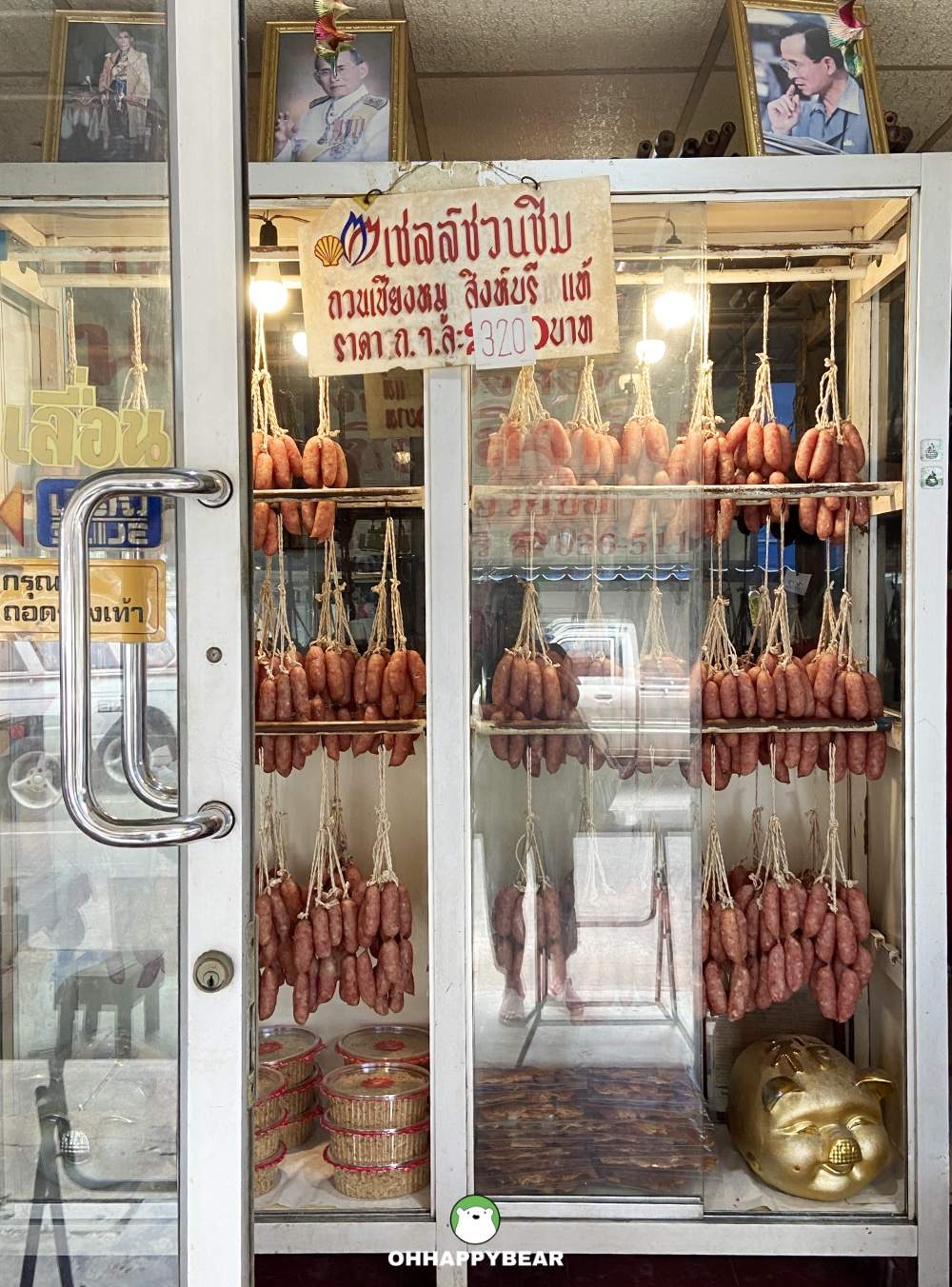 Above: For those looking for an old-school Chinese sausages or Goon Chiang Moo, head to Nai Him Guan Chiang for these fatty deliciousness. Make sure you call ahead to book, though.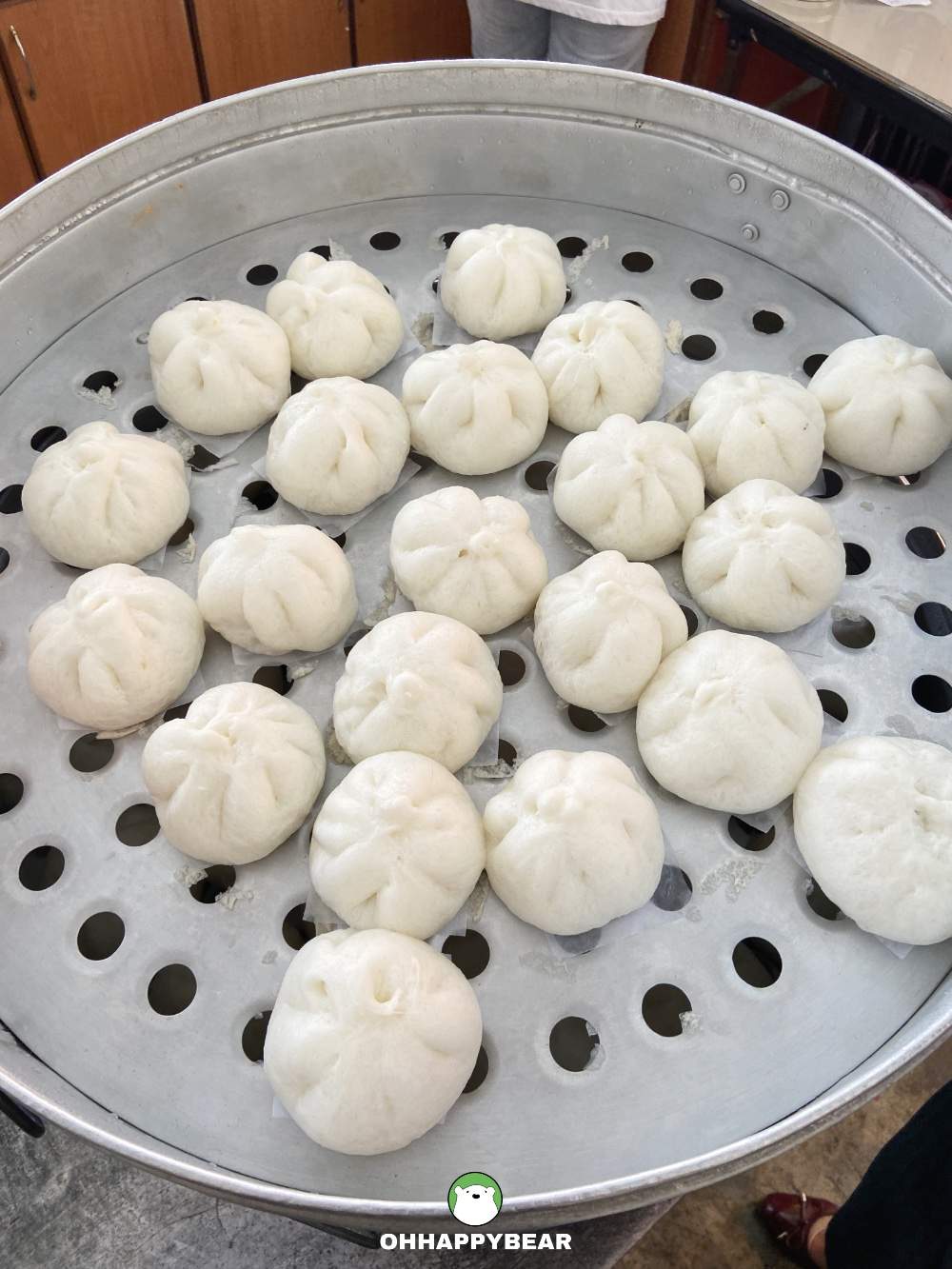 Above: Jamnien Salapao and their milk salapao specialty.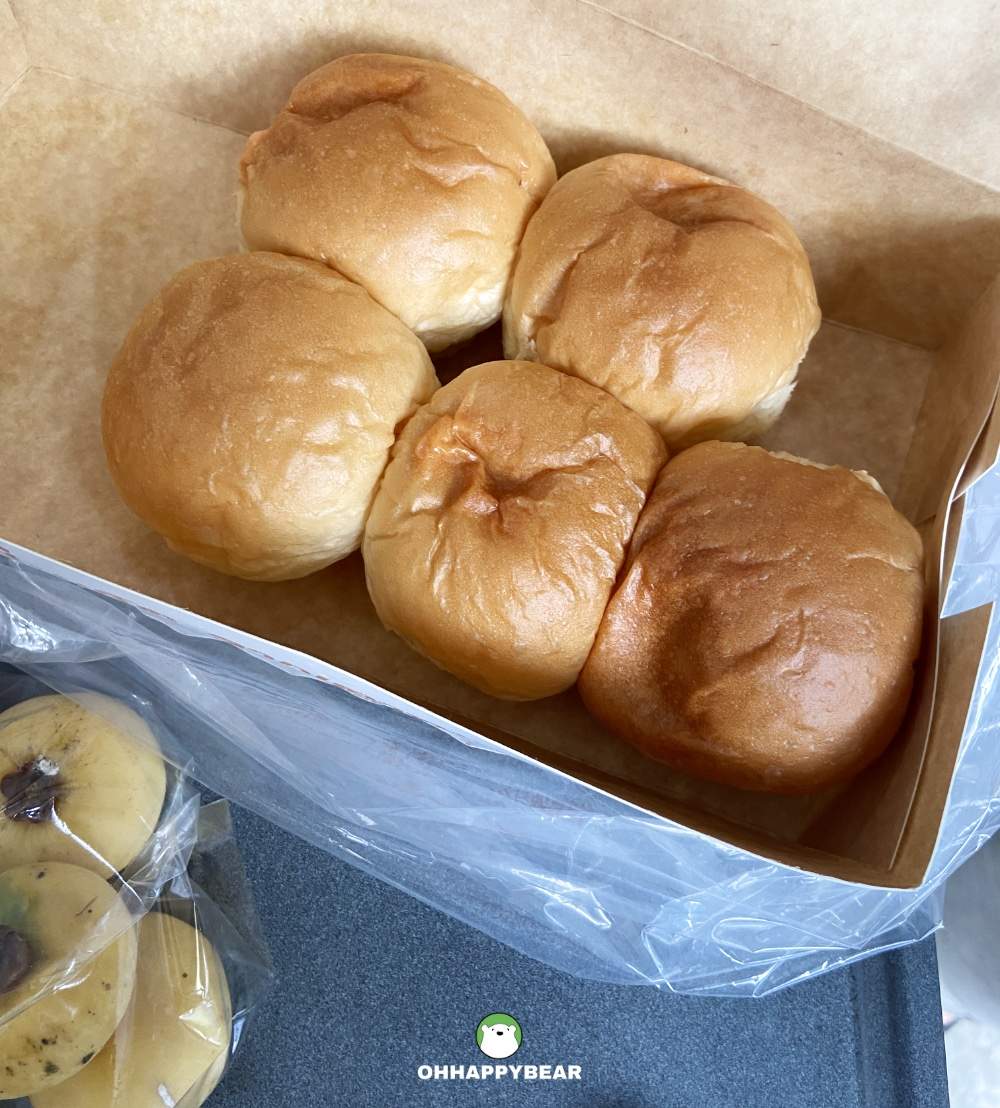 Above: Ban Klang Soi's rolls with egg custard or gaya or sangkhaya in Thai. Pillowy soft and delish. 
I woke up the next morning with a hunger for something local. Singburi might have its own Starbucks, but who'd need that when there's a place like Ood Nom Sod (อู๊ดนมสด) that serves steaming hot congees, rice soup, toasts, eggs in a pan (Khai Kata), and all kinds of hot drinks, including old-style coffee with condensed milk and hot milk, for breakfast? Being Singburi through and through, this place not only serves congees with typical choices of meats, pork, and all, but also with a choice of fish. And I guess you guessed what kind of fish is on their menu.
Yepp!! It's Pla Chon again. This time, it was thinly sliced, not unlike the fish congee one can find in Hong Kong or Macau, and briskly stirred to cook in a bubbling pot of congee. The fish is so fresh and juicy. I'd never imagine having freshwater fish in a congee, but here it is. And I liked it.
I have put my IG reels here so you guys can see more of the town. A listing, or a food trail to Singburi, is below. 
Singburi Food Trail
Mae La Pla Pao (แม่ลาปลาเผา): For all the food pictured on the top of this post. They are the original 'Mae La Pla Pao' with no branch whatsoever. You'll have to come to Singburi to have Pla Chon Pao a la Singburinian here. 
Paiboon Kai Yang (ไพบูลย์ไก่ย่าง): Thai-Isan fare with Pla Chon Pao, an alternative recommended by a local if you have tried Mae La Pla Pao before. 
Charoen Thip Restaurant ห้องอาหารเจริญทิพย์: Specialised in all things wok-fried, this place serves freshwater fish cooked in various ways. I like their pork steak which is a local Chinese take on the western dish. They make their own cider and sauce. Very delicious. 
Ood Nom Sod อุ๊ดนมสด: Early birds can enjoy all kinds of local breakfast here. From their front cooking stations are fresh milk, simmered and ready to be served, along with poached eggs, toasts, and, of course, a variety of congees that include one with Pla Chon. 
🍀🍀🍀