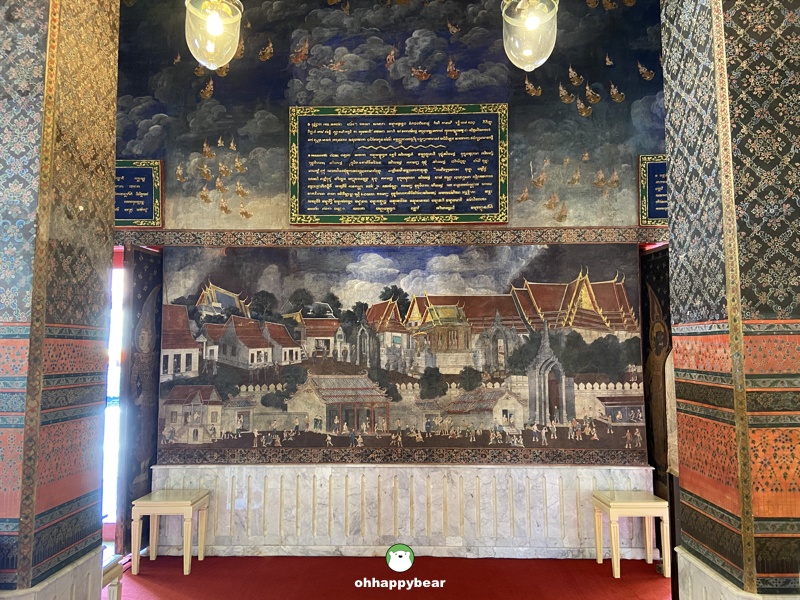 Above: The main mural at the Ubosoth of Wat Sena Samaram Ratchaworawiharn depicts King Rama IV on a telescope at the royal palace. The mural was done during the reign of King Rama V.
Ayutthaya, Thailand, (Updated 23 February 2021) – On a whim, and not exactly to my surprise, we went digging back into the past. The lockdown, as 'semi' as it has been for now in Thailand, is enough for us to stay alert in the time that Covid-19 breakouts just happened here and there, in some communities more than others, some even unexpectedly. It seems to me that we'd never know who is carrying and spreading it. Obviously, a lot of us don't really show symptoms until it is too late. So, the best bet would be to stay aloft, keep the distance, and be as vigilant as much as we possibly could. 
Above: An excerpt from the above image: King Rama IV stargazing. 
The thing is, even though we are used to be at home as both of us work as freelance writer and photographer, we still miss travelling badly. So, yes, Ayutthaya it is, only a stone's throw from home and we figure we could do it in a half-day. So, here is our itinerary. And it took us out of the typically ordinary routes people usually take when in the historical capital. We went to three temples, all of them out of the touristy map. And the one cafe that we visited also has its own unique service that I like very very much, 
♣
Although being located within the old moat of the ancient capital, this temple is not all ruins. In fact, despite its age that harks back around since the year 1863, this temple is all gleaming, but still, this is yet another ancient, but well-kept, temple with lots of visual treasures. 
Rebuilt on an old Ayutthaya-period temple by King Rama IV, Wat Sena Sanaram Ratchaworawiharn is a first-class royal monastery. When you hear the word 'ratchaworawiharn,' you'd know the class of a Thai temple. We come to observe and pay homage to the Buddha images – the main Buddha 'Phra Sambuddhamunee' พระสัมพุทธมุนี at the Ubosoth, the reclining Buddha, and Phra Indra Plang พระอินทร์แปลง who was brought over by King Rama IV himself a couple of years earlier to the completion of the temple. We also come here for the vibrant murals. I have heard that the paintings are exquisite, especially for their palette selections, and I was not in any way let down when I saw the real things. Also, these murals, done during the era of King Rama V, showcases portrayed something else rather than the usual Ramayana saga. Most of them, in exquisite pastel palettes, portray life in the royal palaces with soldiers in a variety of modernised uniforms. 
Click through to see the beautiful play-out of the murals. I particularly like the glowing moods of the golds and yellows in the Viharn of Reclining Buddha viharn. The highlights among the murals in the main viharn include the spread canvas in front of the main Buddha image, depicting King Rama IV on a telescope at the Royal Palace. A place to go if you like spending time browsing the old arts. 
♣
A coffee stop at this cafe is just suitable! We have enough of cake-and-coffee kind of place. And personally, I prefer Thai desserts over any kinds of any baked goods on any given day. Here, this charming cafe serves all kinds of espresso-based coffees plus a large assortment of Thai desserts. Love it to the max. The tastes are quite decent as well, and they are all beautiful.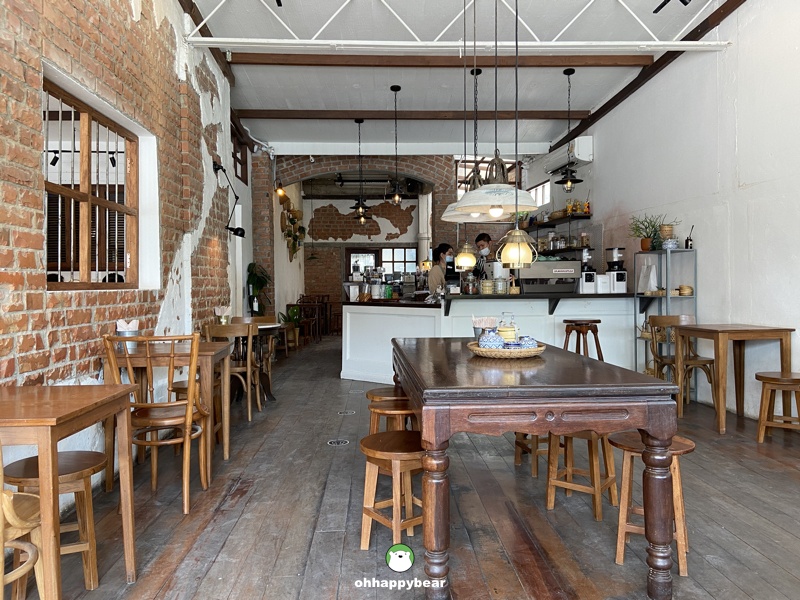 Above: Ban Khao Nhom in Ayutthaya provides a nice coffee break from browsing the ancient capital with espresso-based coffees and Thai desserts to match. Excellent!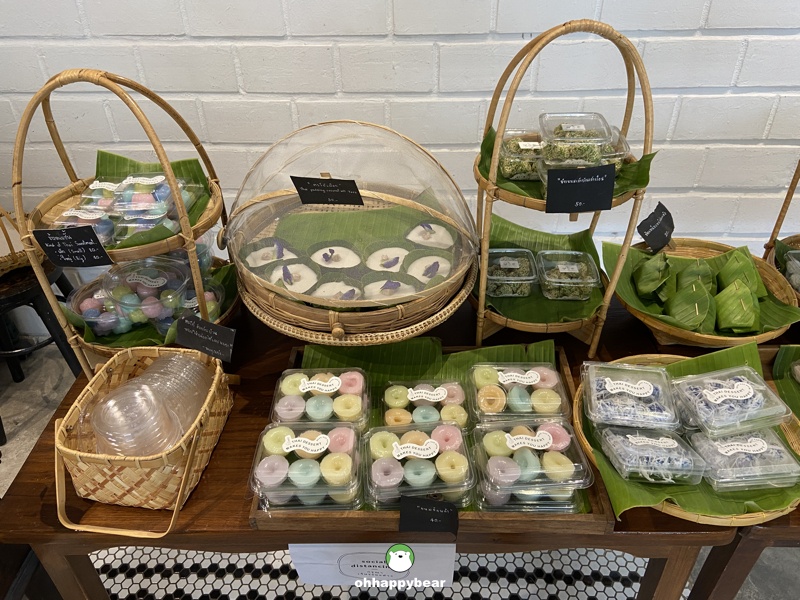 Above: You pick and pay from their spread of Thai desserts. 
♣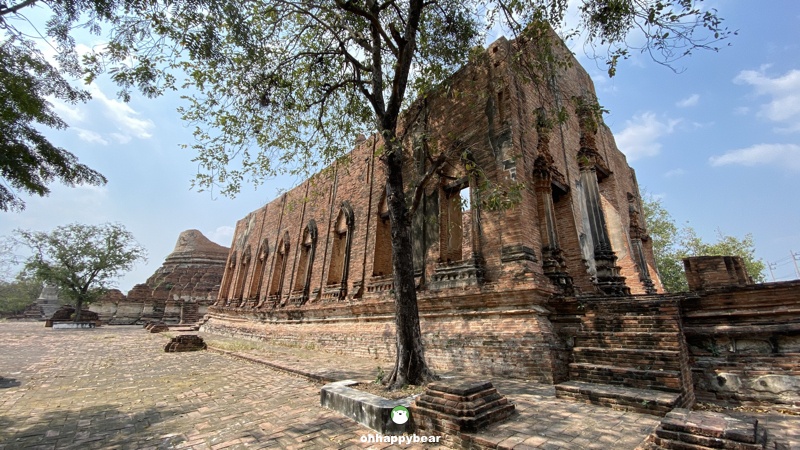 Above: The slightly curved foundation of Wat Kudee Dao's main ubosoth reflected that this temple might have been built during the early-or-mid Ayutthaya period. 
Here comes another highlight of this trip. Wat Kudee Dao has been on my mind since I read about its haunting mystery. About the hidden treasures that no one could explore, ever! And those who had tried it were cursed to their death or for life in continuous destructions. But with or without those stories, this temple portrays the heyday of Ayutthaya with the information provided clear and concise one can actually walk around and enjoy browsing through.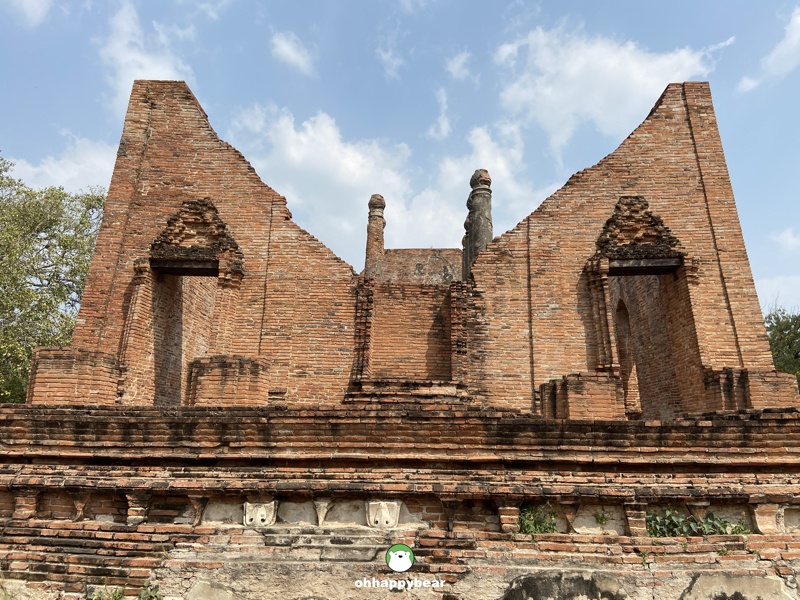 Above: The main difference between an ubosoth (ordination hall) and a viharn (assembly hall) is the presence of Bai Sema or Hin Sema or the stones that mark the boundaries of a monastery. 
Visiting enough Thai temples and you recognize the pattern. An ubosoth – or the ordination hall upfront, to be aligned with a principal chedi or stupa which is considered the most sacred structure in a Thai temple for it usually enshrines a Buddha relic. At the back of the chedi would be a viharn or an assembly hall where people come to pray and pay homage to Buddha images. 
Wat Kudee Dao is on the east side of Ayutthaya old moat. Although there is no evidence of its historical background or period of construction, its main ubosoth, built with a slightly curved foundation mimicking the structure of a merchant ship's hull, reflected the styles of royal temples of the mid-and-late Ayutthaya period. Also, the spire of the bell-shaped principle stupa that toppled down remains in place to remind us how grand this stupa once stood back in the day.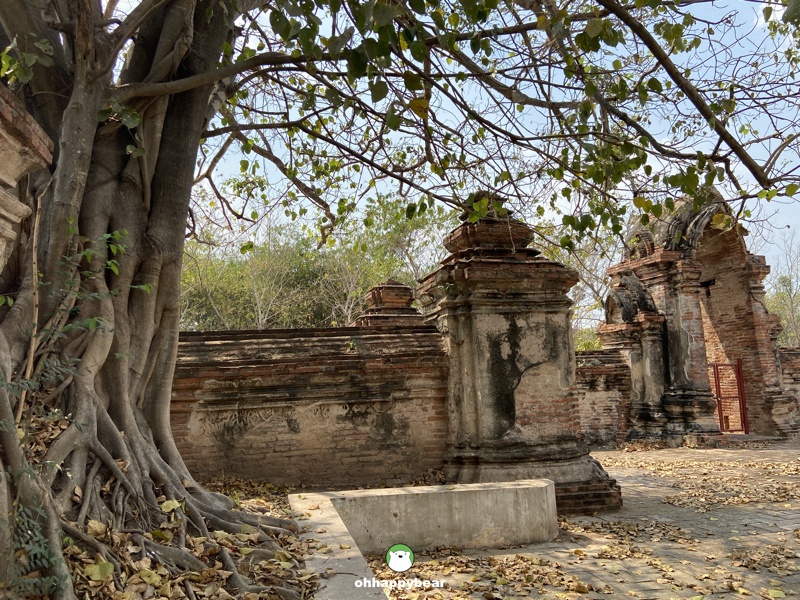 Above: At the back wall of Wat Kudee Dao where banyan trees still shade magnificent shades.   
Wat Kudee Dao is surrounded by big trees, although this area is riddled with residential pockets. A quiet, non-touristy temple to ponder back into the past. A great visit we both had!
♣
Above: The main attraction at Wat Phra Ngam – the gateway totally swallowed by the roots of a banyan tree. 
The story has it that this temple, as forgotten as it is being so out of the beaten track, has been revived mainly via a popular TV series. Wat Phra Ngam is located north and away from the ancient moat, and accessible via a very narrow, one-lane alley through sleepy communities. The highlight here is the entrance gateway that is completely swallowed by the roots of the banyan trees. Just behind that gate is the main chedi or stupa that, when the rays of the light pass at the right angles, becomes even more mystic and beautiful. 
There's not much of this temple but serenity, at least on the day of our visit. But as earlier mentioned, this temple is now being 'in' for visitors, many come prepared with period costumes for their dream IG shots. So, expect the crowds should you be there during weekends or holidays. 
 ♣
Let's stay in touch on Facebook, Instagram, and YouTube for more things, edible and beautiful, from Thailand. 😀
---