Interested in the deliciousness of the Thai South? Here is our first Vlog installment. And it is on the great delicious foods of Hat Yai, Songkhla.  
Hat Yai – the trading district of Songkhla province – is about 1,000 kilometres south of Bangkok. It is a multi-cultural metropolis packed with local deliciousness. Back in its heyday, Hat Yai was a huge hub of all things in this part of the country. Now, its railway hub still remains the springboard for those wishing to travel all the way to Malaysia via train. 
'Country Bum in the City' Vlog on Travelling and Eating in Thailand
---
Hat Yai Must-Do Listings:
1. Gim Yong Market (ตลาดกิมหยง)
Address: Supasarnrangsan Road, Hat Yai, Daily 5.30 – 18.00
Gim Yong market is the place to soak in the Hat Yai-ness. I love to buy imported nuts, dried ingredients and Look Yee (ลูกหยี) or the tamarind plum from Pattani I showed you in the video. The number of shops selling the same stuff can be too bewildering and intimidating, so my tip here is to walking around first and observing (from afar) the quality of your targets. And then once you choose the place, as for a trial, because most of the time every shop will be willing to give you samples. Also, buy in a small amount first on the first day, and if you like it that much, you can always go back for more. Also, take the name cards of your favourite shops, many also do the shipping nationwide.
2. Ah Restaurant (อ้า)
Duangchan Road, Hat Yai, Daily 10.30 – 22.00. T: (074) 261 010
A truly old-school Chinese eatery of Hat Yai with a faded green curved building, this restaurant has been a favourite of a good friend who is married to a native. She always ordered simple dishes like deep-fried yellow tofu that is served with 'salt' which, in fact, is a dipping sauce made from oil, salt, and chopped green onion. We, however, never got to try that dish simply because there's always something else that caught our appetite. 😀 But what we had was always also good. Although not the best Chinese foods that I have had, still good nonetheless.
3. Mun Duoey Tua (มัน เดือย ถั่ว)
Manasrudee Road, Opposite Robinson's parking lot and Hat Yai Rail Depot, Daily noon – 15.00. T: 081 598 8381
Hat Yai's speciality dessert of Mun Duoey Tua is simple, direct, and delish. This is a combination of candied tapioca, job's tears, and red beans, all served in a mug of crushed ice and sweetened coconut milk. I also love to have some extra serving of candied pineapple. It is sweet, aromatic, and tangy, which is good when paired with the creamy coconut milk.
This outlet at the rail station is the original branch sold by the mother. However, if you miss their short operating hours, you can also try the daughter's outlet on Hom Huan Road near Saeng Thong Witthaya school also in Hat Yai. This outlet is open from 9.00 – 16.00. T: 086 966 2327.
4. Centara Hotel Hat Yai 
is where we stayed for all the three times we have been to Hat Yai
The reasons are obvious. Great standard of service and hygiene, excellent location, big room, good pricing and scrumptious breakfast and dinner options (all Halal-certified). 
5. Cable Car on Khao Kor Hong Public Park
Daily: 9.00 – 16.00 (weekdays) and until 17.00 (weekend). Bt200 roundtrip per person for visitors, T: 074 800 431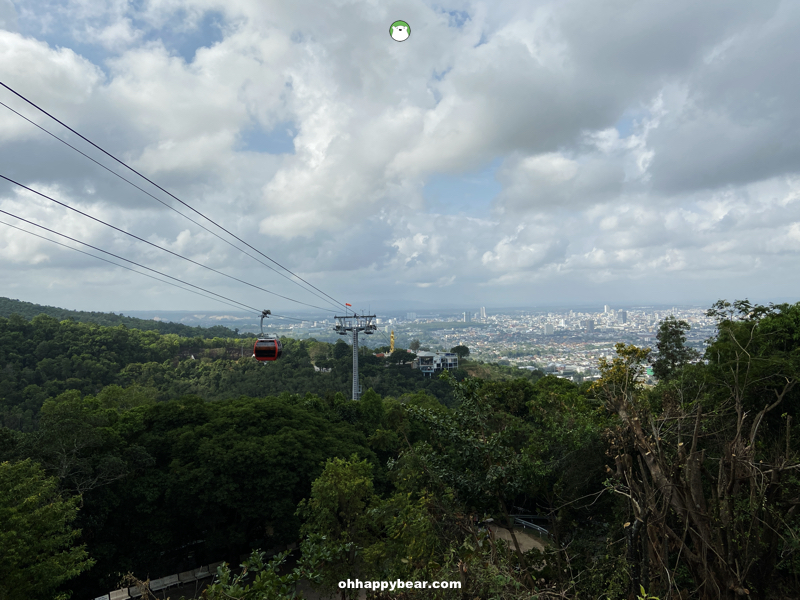 I didn't expect to enjoy it. At all. But the short ride over the top of green hills in the middle of Hat Yai turned out to be a treat. A place for a cheap date, maybe. For Bt200 roundtrip, you get to see Hat Yai in a new lofty angle. Over on the other side is a collective shrine of deities – from four-faced Buddha to Bhrama and Guan Yin and more. This is quite a popular place for nearby neighbours to come over and light up the firecrackers.
6. Songkhla Central Mosque Hat Yai
Lopburi Ramusuan Road, Khlong Hae, Hat Yai
The Central Mosque is one of the best places in Hat Yai to gawk at sunset. And let's hope you will get an amazing outbreak of the skies like we did that day. There's also a dirt road that circulates the reflective pool where most people will settle their cameras for the light shows of the day. Turned out that this is the place that I got to reflect. Things that come and go, things we thought were already very good turned out to be maybe only a second best. I had already taken tons of pictures of the mosque at dusk. The skies were bright orange, glowed from the back at the sunset. I posted on my IG and settled to listen to a podcast in the car while my hubby was still out filming. But then, I turned around to take another look at the mosque again and what I found was an even more amazing sky. Lights broke into zillion shades of pink, purples and gold over the deep blue background. It was even more amazing. So, yeah, I got out of the car and took another ton of images. It was such an amazing day.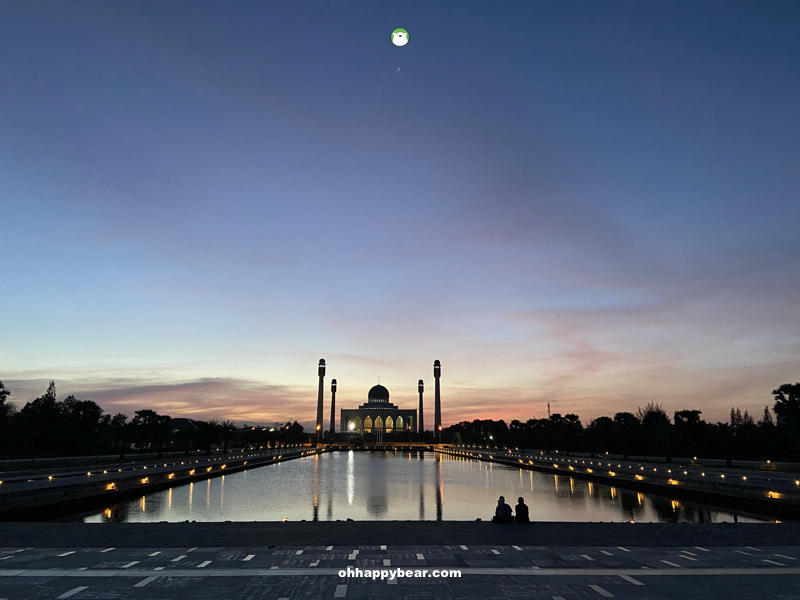 The other place for sunset is on top of Khao Kor Hong เขาคอหงษ์ – which is where the cable car is. Sadly, due to the cable car's service hours, you can't really coincide the sunset moments with the ride. The cable car's last service is at 4pm (or 5pm on weekend), but usually, the sun wouldn't set until 18.30. So clearly it has to be two individual trips, but a clear day up there is always amazing in our experiences.
7. Pa Gaew Khao Tom Pla (ป้าแก้ว ข้าวต้มปลา ข้าวผัดปลา)
Lamaipradit Road, Hat Yai. Daily (except for Sundays): 16.30 – 21.00. T: 089 738 2444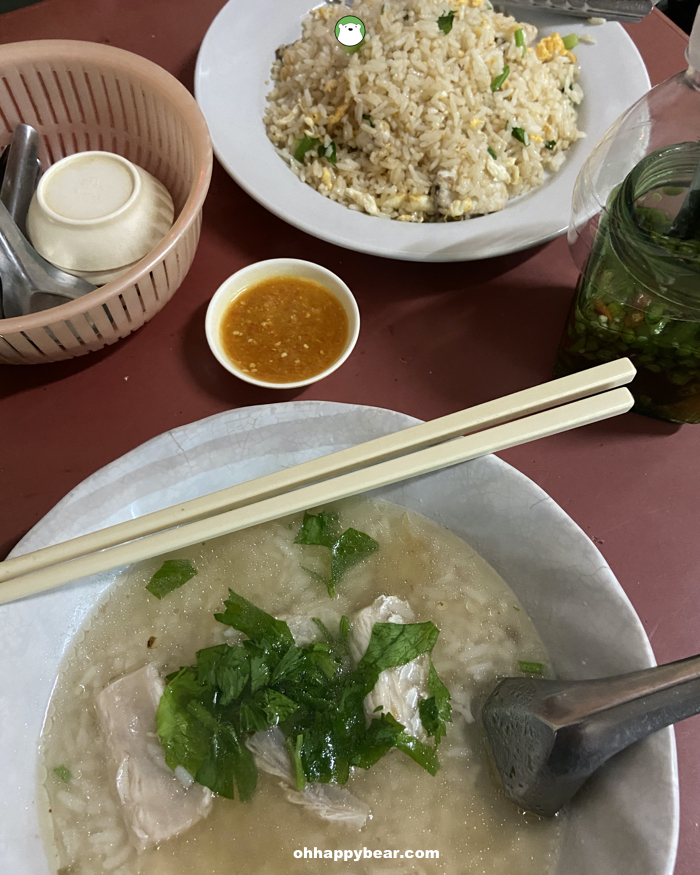 One of my favourite go-to light dinner places in Hat Yai, this small mom-and-pop seafood-based eatery was introduced to me by a good friend, Nong Nam Lieb หนำเลี๊ยบ, a Hat Yai native, an avid glutton. 😀 This is nothing fancy, boiled rice with snapper, shrimp, but the ingredients are always excellent. Also particular at this place is the fish fried rice. Usually one can find shrimp fried rice or crabmeat fried rice anywhere, but here, they also have very grainy and aromatic fried rice with sliced snapper, too. Best eaten with a bowl of clear Tom Yum seafood. Call them first to make sure they are open the day you plan to be there.
---