I call it a blessing when work takes us to new places. And most recently, we found ourselves in Nakhon Pathom, a small province very charming and historical not too far from Bangkok. 
Above: Chicken noodle and chicken rice at Guay Tiew Gai Thai Nai Tong (Sakha 3) at the morning market. They are open from 8.30 – 13.30. Other branches of the same place open at alternate times for day-round noodle slurping. 
So, we recently made a short trip to Nakhon Pathom to produce the two last episodes of the year 2019. I have always believed that outside Bangkok, there are hidden gems, and there are much more interesting lives outside the office cubicles. Sunshine, nice breeze, big trees, beautiful places and a lot of charming delicious home-cooked meals. Nakhon Pathom is an old small city. It is the home of Silapakorn University at Sanam Chandra Palace – one of the best universities in Thailand – built within a former palace of King Rama VI era. It is a gorgeous place and I totally recommend it.
Our mission on this trip is to film a story of Nakhon Chai Si Pomelo – Thailand's first GI (Geographical Identification) – protected fruit since 2004. This is the best base for Yum Som O – one of the most loved and served Thai dishes ever. Nakhon Chai Si – a low basin area part of the Chao Phraya Delta – is rich with a specific mix of natural nutrients perfect to breed a unique kind of very delicious pomelo, hence the GI sign and the long valued heritage.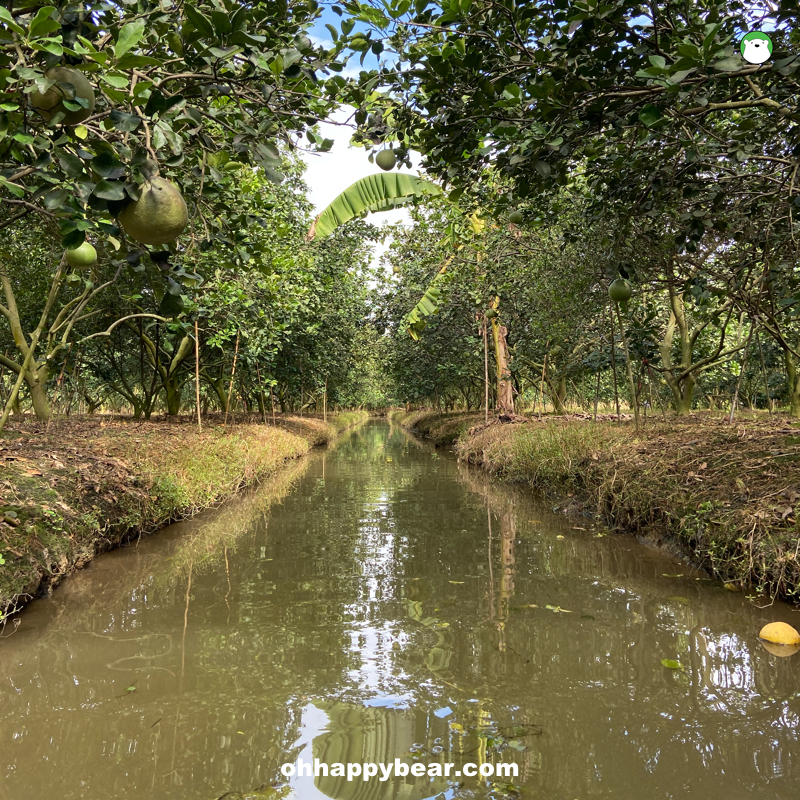 Above: In the pomelo orchard of the Pomelo Cafe in Nakhon Chai Si in Nakhon Pathom. 
But like many things in this world in this era, farmlands and the spaces for fruit orchards are on the decline. The big flooded back in 2011 destroyed most fruit orchards in the area and many growers left their lands for something easier. That means a real Nakhon Chai Si pomelo is getting harder and harder to find. We got to interview a couple whose lineages come from Nakhon Chai Si's pomelo orchards. They are the ones who can truly describe what can be called real Nakhon Chai Si pomelo with some tips to select and savour the fruits.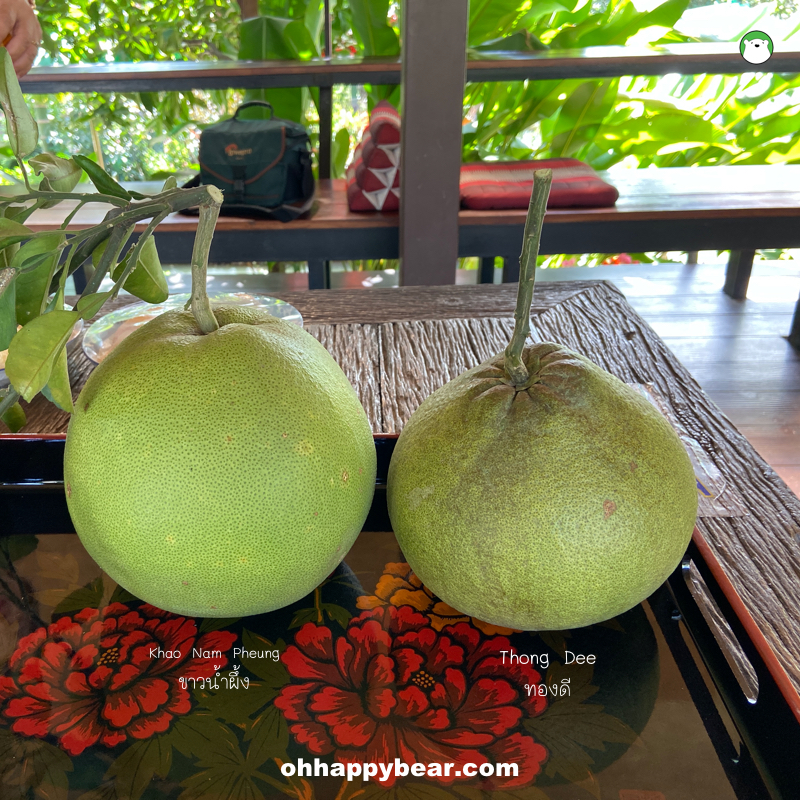 Above: The two signature Nakhon Chai Si pomelos – Khao Nam Pheung and Thong Dee. They are the first fruits in Thailand to be protected by a GI (Geographical Identification) sign since 2004. Below is their fleshes – white Khao Nam Pheung and pink of Thong Dee.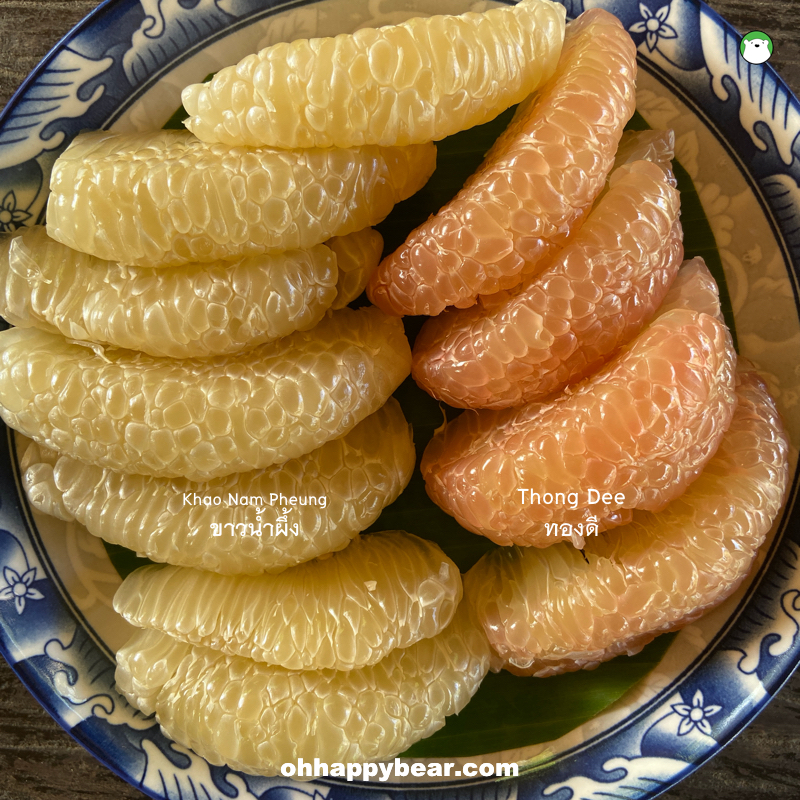 Above: Part of our delicious lunch at the Pomelo Cafe – Kanom Cheen Sao Nam with fermented rice vermicelli served with coconut milk, garlic, ginger and other trimmings.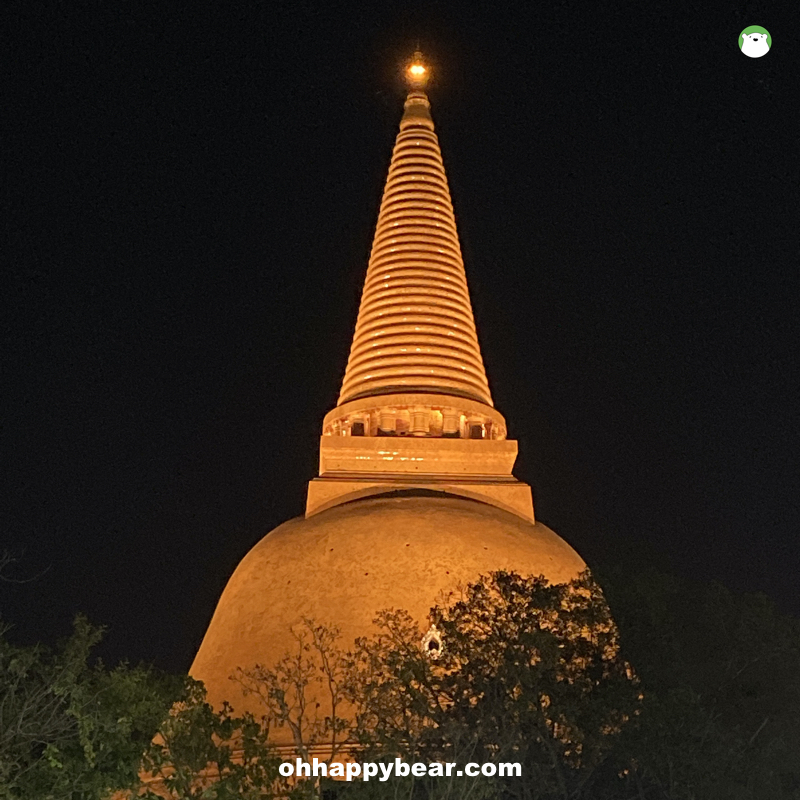 Above: The iconic and much-revered sight of Nakhon Pathom – Phra Pathom Chedi – an ancient, tallest, and largest stupa in Thailand that signifies the ancient establishment in this particular area that can hark back to 6th – 8th Centuries. 
We stayed at a riverside resort in Nakhon Chai Si area, which is about 26 kilometres south of Nakhon Pathom. It is drivable, and the scenes at the hotel are much nicer and more peaceful than the hectic of the city. But then, we couldn't come all the way here and miss out on Nakhon Pathom's famous foods. And here is my confession, while the town is famed for their BBQ pork rice and all things pork, we prefer simple things that quietly warranted by the locals. My husband, in need of a good spot to shoot the iconic Phra Pathom Chedi (above), googled 'what to eat in Nakhon Pathom' and found one place that looks good. We went there and liked it so much that we went back the next day for lunch. The place is called 'Yeur Pai เยื่อใผ่' and as turned out to be a local favourite for classic Thai dishes. This place, ironically, has never been written about in any food blogs I searched prior to the trip.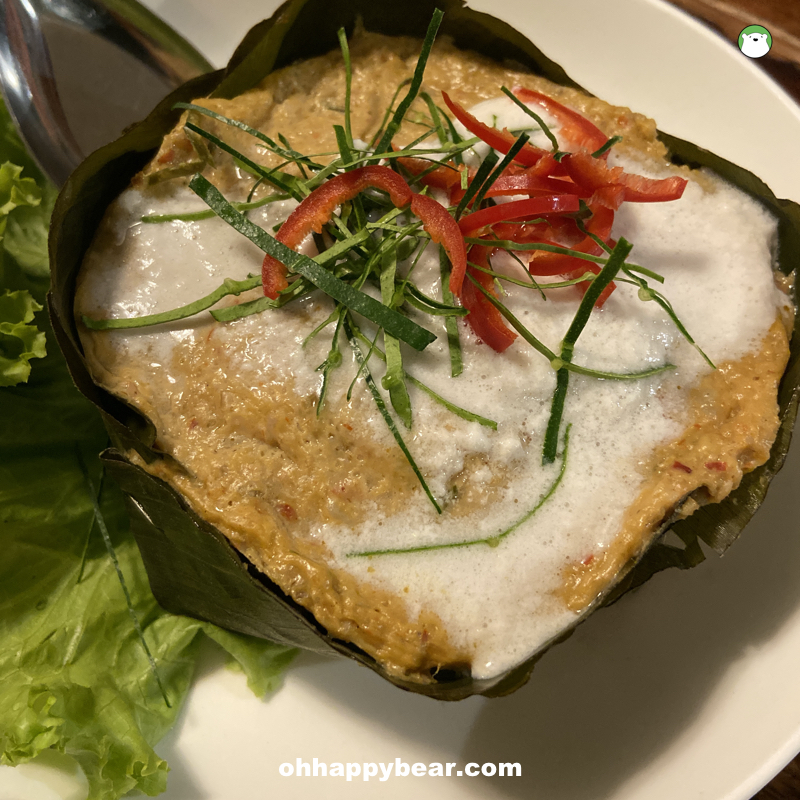 Above: Hor Mok – as large as my palms together – at Yeur Pai restaurant not too far from Phra Pathom Chedi. Daily: from 10.30 until dinner. Click name for map. Below is their delicious Yum Pla Dook Foo. 
Talking about classic Thai dishes and as a Bangkok native, I resonate more to central Thai food. And that includes things like 'Hor Mok' – or steamed curried fishcake (above), Yum Pla Dook Foo (salad of crispy fried catfish, below), a clear broth tom yum, and Tod Mun (fish cake). This restaurant is spot on in everything and they serve their foods in a hearty, big portion.
Above: The morning view from our breakfast table. 
We stayed at KS Riverside Resort & Spa in Nakhon Chai Si. The place is super nice, with lush landscape and by the river. The service was friendly and the room clean and comfy. I also tried their Thai massage at the spa and loved every minute of it.
Above: Assorted goat cheese from Little Goat Farm in Nakhon Pathom. Farmstead, artisanal cheeses made from the central plains of Thailand. 
But then, we also film this gem of a new world. A farm-to-table, or farmstead, artisanal goat cheeses. By a Thai lady. This is an against-all-odds kind of story and I love every bit of it. About 10 years ago, we were on the verge of modern food recognition, and milk, cows and otherwise, in Thailand was largely deemed not good enough for making cheeses. But things have changed over the years, and the art of making cheeses are now being practiced all over Thailand.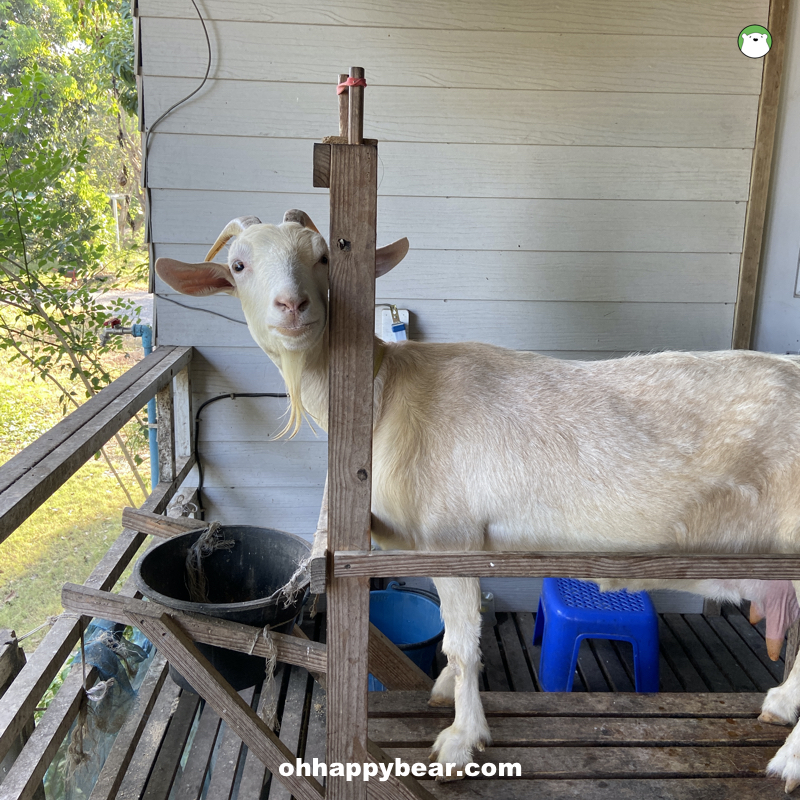 Above: A goat being milked as part of their daily routine in the morning of our visit. They are an inquisitive and lovely creature 😀
This goat cheese, though, is special. Instead of buying goat milk from farmers, this producer starts her own farm. It is all from an accident. She is a veterinarian, an equine specialist, who accidentally took care of goats and found herself too deep in the goat stories to quit. After her research in goat farm management, one thing led to another and now she is running a goat cheese production and sells to major French and Italian restaurants and hotels throughout Thailand.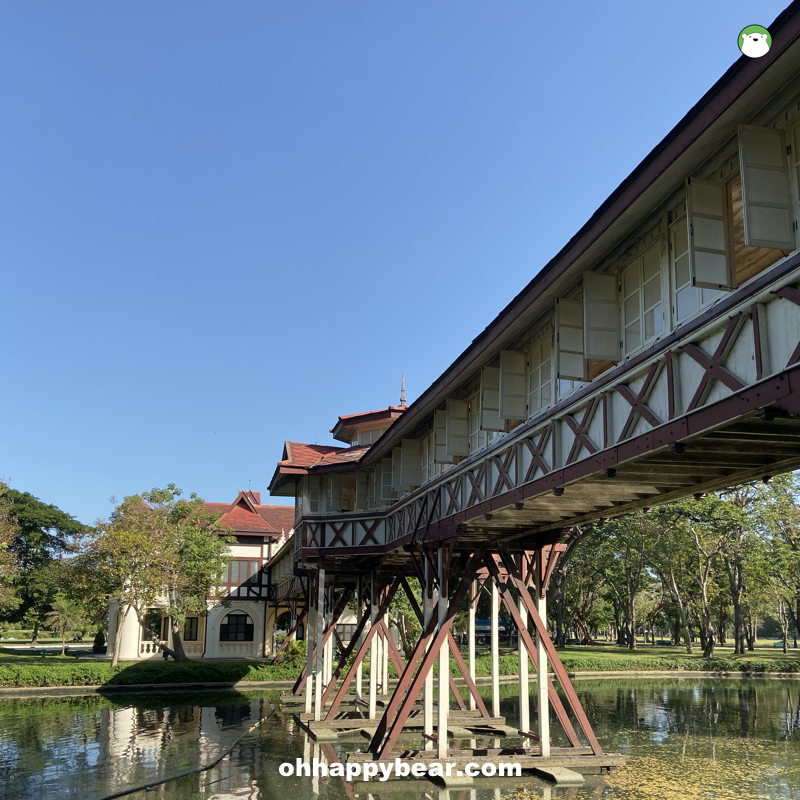 Above: The bridge over the man-made canal inside the Sanam Chandra Palace in Nakhon Pathom. This is a part of Phra Tam Nak 'Apirom Rudee' – an iconic building on the premises. The interior is open to the public during weekends.  
Sanam Chandra Palace is a place that anchors Nakhon Pathom with Thailand's modern histories. For locals of Nakhon Pathom, Khun Gai the cheesemaker includes, this palace has been a part of their lives since day one. Khun Gai recalls it as 'her backyard,' and others schedule their time to walk-run-exercise here each morning (from 5 am-9 am). But for out-of-towners like us, this place epitomises the times in the history books when Thailand was prospering with international trades (from the era of King Rama IV onwards), and the signs of the times are all in the European-styled buildings in Bangkok and many other major cities around town. The Sanam Chandra Palace is a beautiful place from that era, that was sadly cut short by the 'Siamese revolution' back in 1934.
Sanam Chandra Palace is open daily, but should you wish to see the insides of some mansions, go there during the weekend from 9 am – 5 pm, when some of the main buildings, including the European style Phra Tam Nak 'Apirom Rudee,'  are open for a guided tour. End of the month special includes the opening to the public of Phra Thinang Piman Pathom. For more information, call T: (034) 310 431.
Above: On our way back to Bangkok, we stopped for lunch and coffee in Sam Pran area. Their set Thai lunch was delish, as well as their Thai desserts. Lovely place.
---