Bangkok, Thailand (8 February 2021) — Here we are, in the midst of the COVID-19 pandemic. We are approaching mid-February; the new Lunar Year is coming up, and staycation deals are big in Bangkok. It is the way to go, the way most local luxury hotels are coping with the dreary tourism situation everywhere. Late last year, things in Thailand seemed to be perking up a bit, and we bought tons of vouchers (F&B, spa) as gifts as a way to spread pleasure and help local operators. For ourselves, we bought the Platinum Membership at The Sukhothai Bangkok which includes a myriad of benefits that we can redeem over the year. 
With the membership, we stayed a night at The Sukhothai Bangkok. For anyone who has been in town, you'd know that this is a kind of an urban resort hotel. This property, a cluster of low-rise buildings over their iconic reflecting lotus pond, was an epitome of Thailand's heyday as a rising economic power back in the mid-1990s. I used to be there quite often as a green financial reporter. Many big-name securities firms at that time would rather hold a meeting, or conference, or even a swanky party (there's one Cigar Lounge) at this very hotel. 
Today, after years of hiatus from the place, I found that The Sukhothai Bangkok is now having a new building overlooking a proper and tree-trimmed swimming pool. They call it the Club Wing, and we got upgraded to one of the four available Club Suite. You can see my short video above for a brief tour. 
Above: Me at The Loft, Waldorf Astoria Bangkok
Waldorf Astoria Bangkok is another of our local luxurious favourites. We stayed for a night and had a fabulous time for our 17th wedding anniversary late last year. You can read the blog here. 
Highlights of the Waldorf Astoria Bangkok: Bull & Bear and The Loft and also now Front Room with contemporary Thai cuisine. Delicious and good value! Not cheap, but good value! This hotel is well-designed and great for photo-ops. For more news and deals from Waldorf Astoria Bangkok, connect with their Facebook here.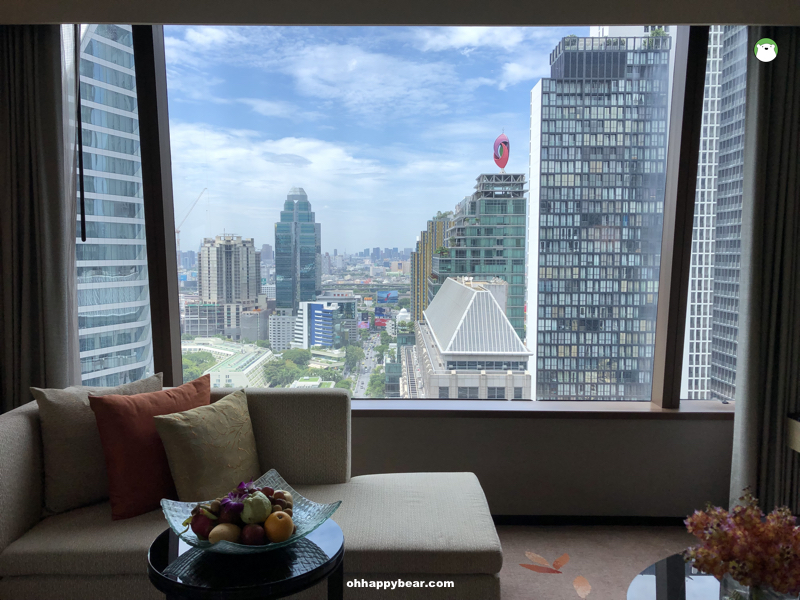 Above: The view from our Deluxe Corner Room at The Okura Prestige Bangkok
We had a chance to stay at the very posh and precise Okura Prestige Bangkok once and loved every minute of it. This hotel brings to town Japanese core hospitality known as 'Omotenashi' and you'll have to be there to find out all the details. Or, you can read my blog here first for a preliminary. Among their highlights include Michelin-plate Yamazato, Michelin-starred Elements, and seasonal Afternoon Tea and Sunday Brunch. 
The Okura Prestige Bangkok is now having a lot of incredible deals. You can keep up with their promotions right here via their Facebook.
---
Our VLOG LIST 'Country Bum in the City' 
---
More Guides to Southern Thailand