Above: Get ready for a Sunday Indulgence! At Up & Above, The Okura Prestige Bangkok, their Sunday Brunch's spread is one of Bangkok's most popular among families and gourmands.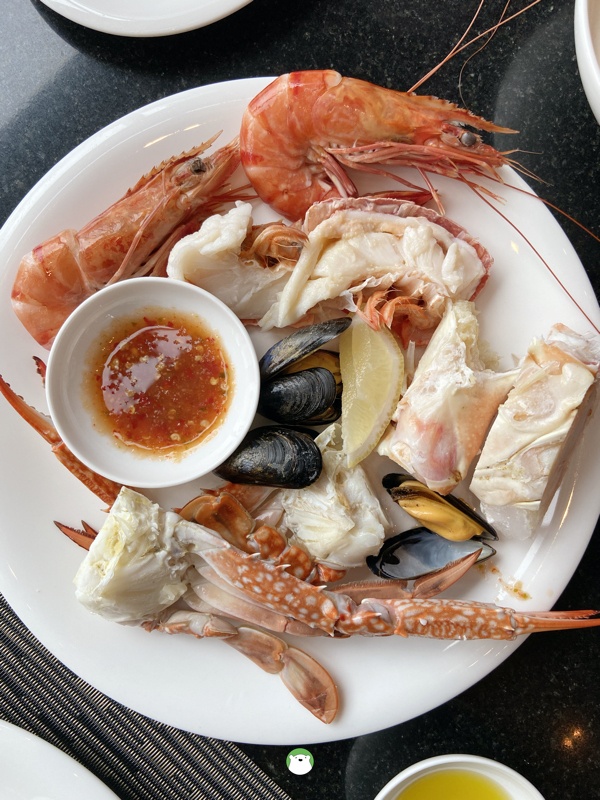 Above: My own plate of seafood with extra love going to the lobster and the juicy Bouchot mussels. 
Bangkok, October 21, 2020 – The Sunday Brunch at Up & Above at The Okura Prestige Bangkok is priced at Bt2,800++ per person for the Classic Package that includes juices, soft drinks, and mocktails. Children 6-12 years old at Bt1,050++ per person. Classic + Prosecco, Cocktails, Beers, and Wines = Bt3,500++ per person. Classic + Champagne and all other things = Bt4,100++ per person.
Cocktails on the menu include Thai Sabai, Classic Mojito, Wireless South Side, Absolutely Spicy. Beers – Chang Classic, Singha, Asahi, Federbrau. Wines – Jump Yards – Chardonnay, Australia; Lindeman Shiraz – Cabernet, Southeast Australia. Sparklings – NV Zardetto, Prosecco, DOC, Brut Veneto, Italy. Champagne – NV Louis Roederer, Brut Premier.
All come with extra per-person dishes of Grilled Canadian Lobster, Foie Gras, and Tiger Prawns. There're also endless pass-around tidbits from the kitchen, too. A real fanfare at each arrival as well. So be prepared for a huge meal! Every Sunday from noon – 15.00. For reservation: T: (+66) 02-687-9000.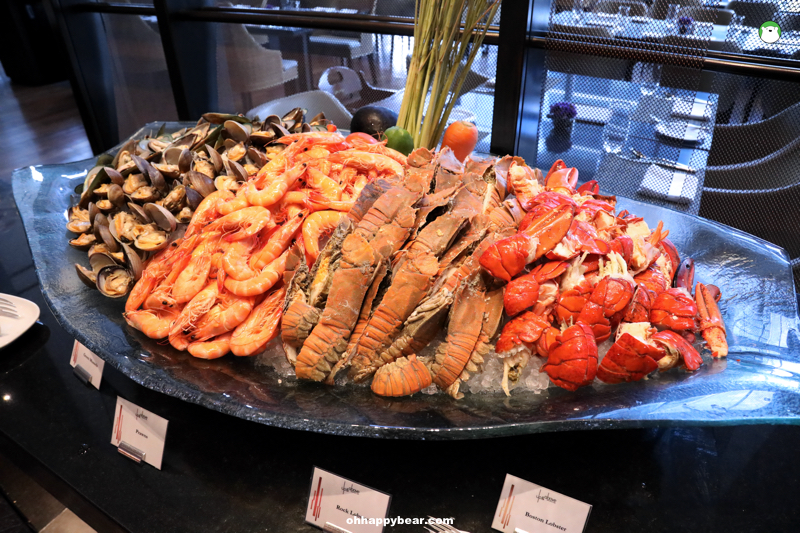 Above: Seafood on ice – aplenty and fresh – at the Sunday Brunch, Up & Above, The Okura Prestige Bangkok.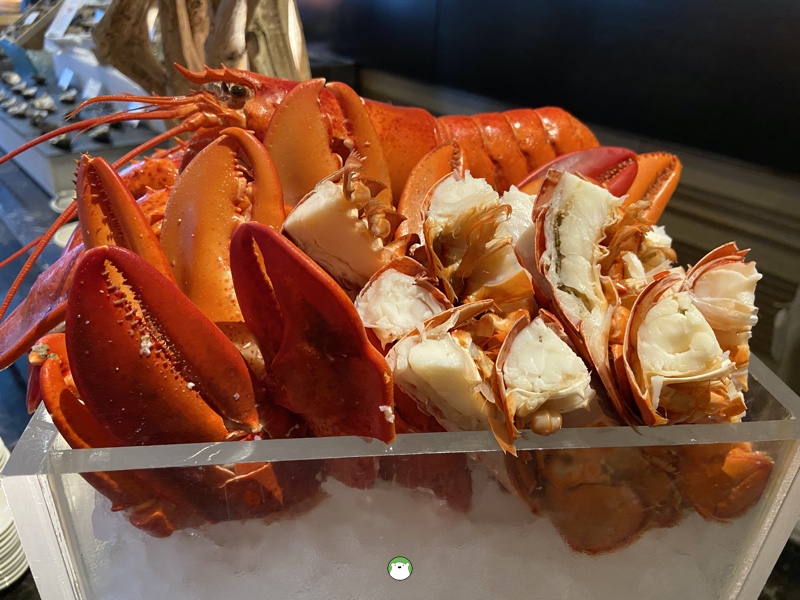 Above: Canadian Lobsters!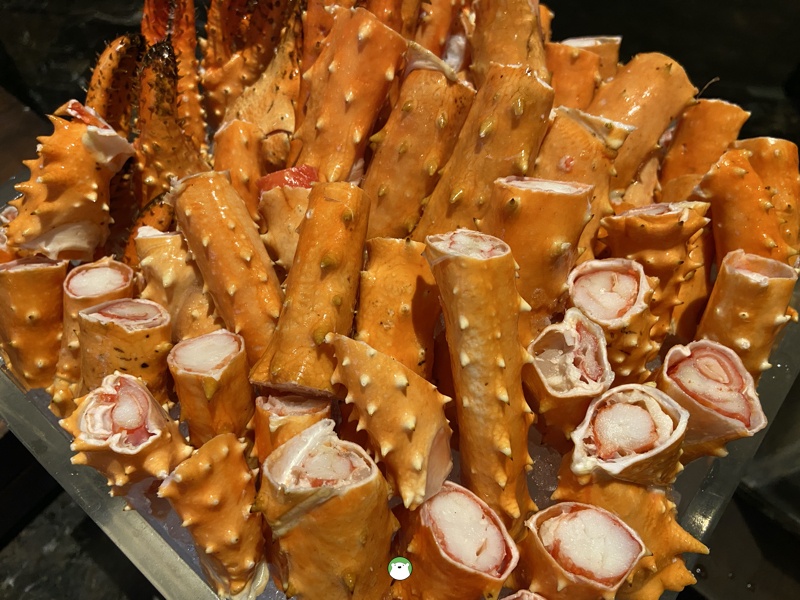 Above: Alaskan Crab Legs
Welcome to Bangkok's post-Covid-19 lockdown. For most of us, it means coming out to greet friends in person and most of the time, to treat ourselves with good foods that we don't have to cook ourselves.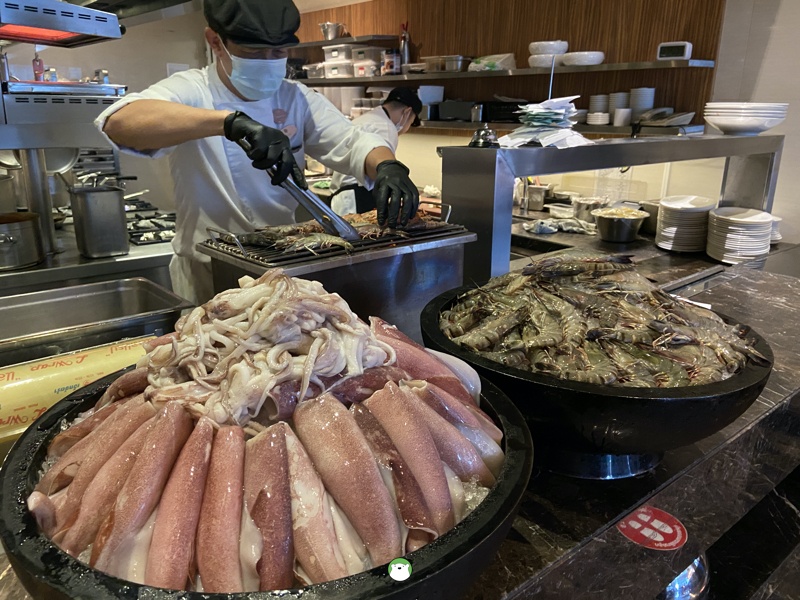 Above: Fresh squid and tiger prawns for BBQ.
Up & Above, The Okura Prestige Bangkok is also ready to welcome back their crowds. The place is packed with food at our arrival, and the entrance hall, believe it or not, is also packed with those early birds coming to catch the best of their spread.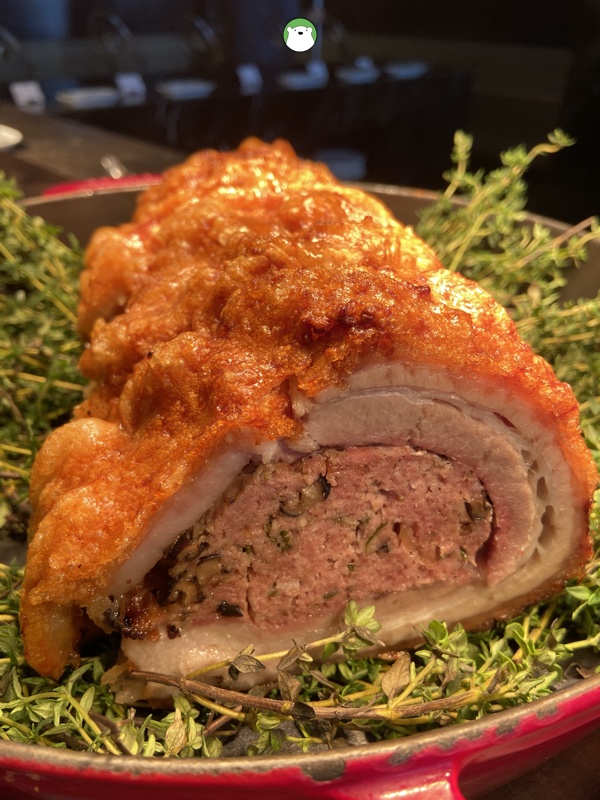 Above: A part of their meat section – a stuffed crispy pork 
For most Thais, Sunday Brunch is all about seafood. We usually rate a buffet in town by the quality of their chilled offerings. Here, as you can see, there is quite a sumptuous offering of seafood. From Thai crabs, prawns, shrimps, squid to Buchot mussels, razor clams, Canadian lobsters, Alaskan King crabs. Everything is aplenty and my suggestion is to take it easy. There are so much food to cover in this event.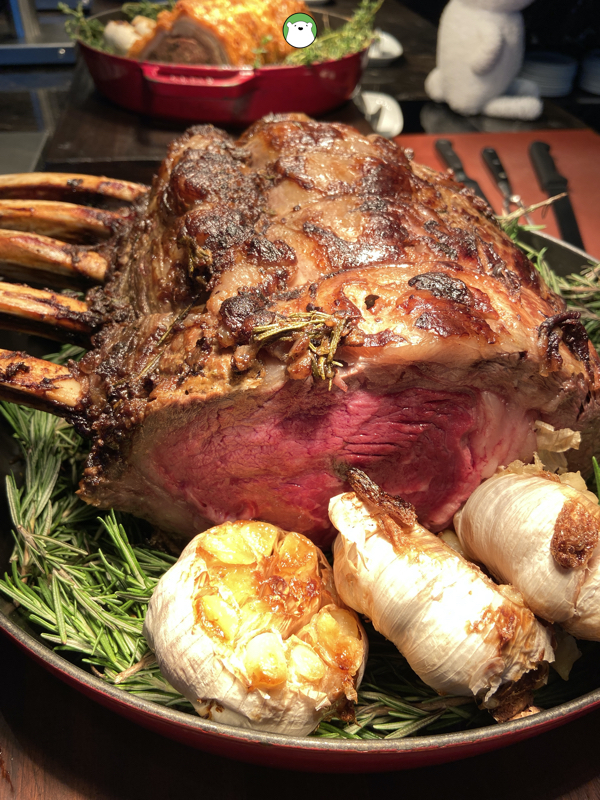 Above: Roasted beef with sweet-roasted garlic
Hot plates, at least on the day we were there, would satisfy meat lovers. Their offerings include lamb rack with crusted herbs, roasted beef (with sweet-roasted whole garlic bulbs), beef stews, fish in cream sauce, and so on. The trimmings in this section include grilled and poached veggies. Cauliflowers in beautiful florets, endives – halved and oil-poached, broccoli. You get your own meat-and-veg balance here.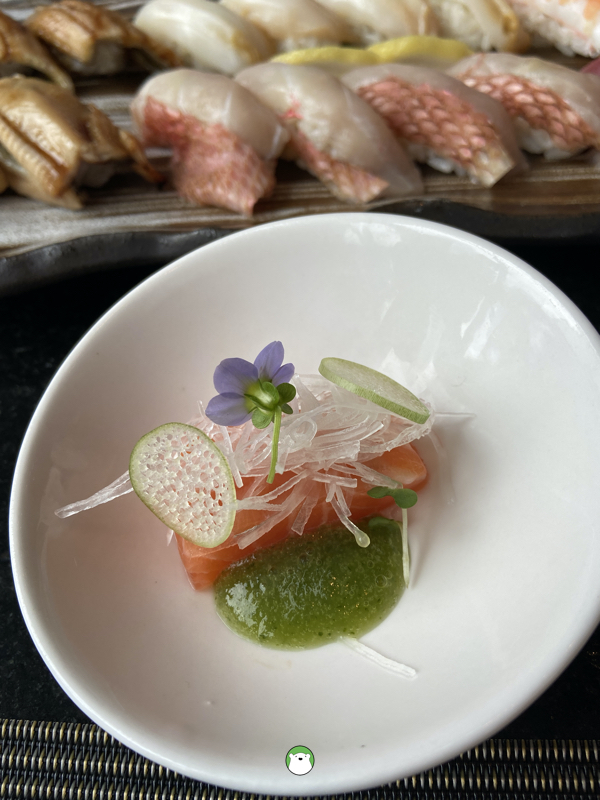 Above: Among the pass-around tidbits. Cured salmon something 😀
One thing that makes Up & Above different from other Sunday Brunch in town is their forte in Japanese cuisine. After all, their Yamazato is awarded Michelin Plate status. And it is one of my favourite places to eat a good Japanese meal. You can also read more via the link above. 
Back to the Japanese corner at this Sunday Brunch. Apart from the typical sushi, sashimi, rolls (made per order), there are also tempura, takoyaki, udon corner (the broth so delish you have to try at least a bowl). Also, near their salad and sweet section is their famous poached eggs, onsen eggs, that are usually exclusively served at their breakfast. This is the time to come over for this deliciously simple dish without needing to be their in-house guests.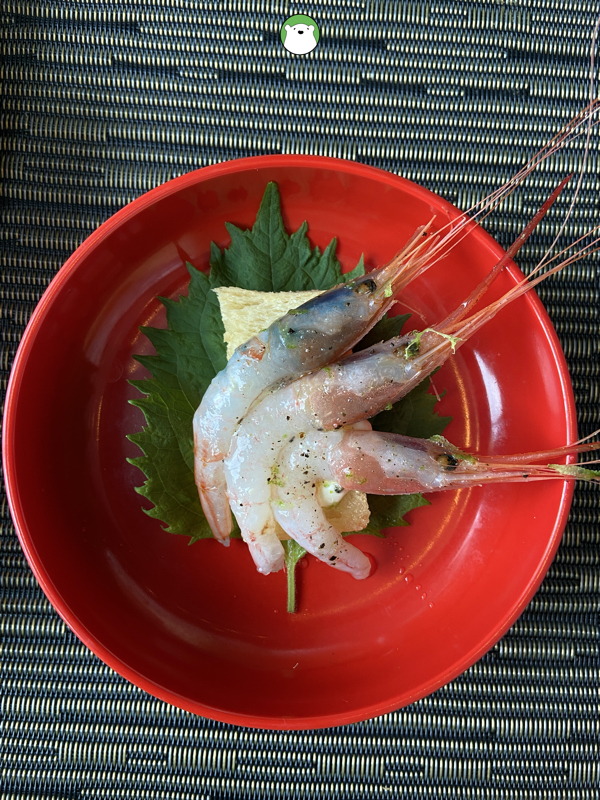 Above: Another pass-around – blue-belly shrimps something. 
And of course, there's also a section of Thai food with soup, curries, a variety of spicy salads (so-called 'yum') with rice. A small corner near a sea of desserts is also dedicated to salads, with burrata cheese, heirloom tomatoes, Ceasar salad, and so on.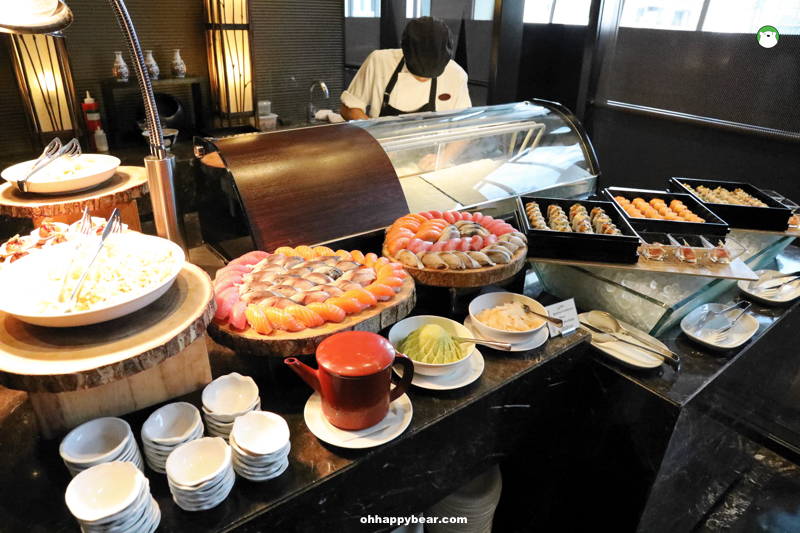 Above: Up & Above Japanese food spread
Half-way into our meal comes the sound of a tinkling bell, signaling the arrival of their extra 'pass-around' tidbits. This, after we have ordered our a la carte dishes of half a Canadian lobster, grilled and served with yuzu beurre blanc (below).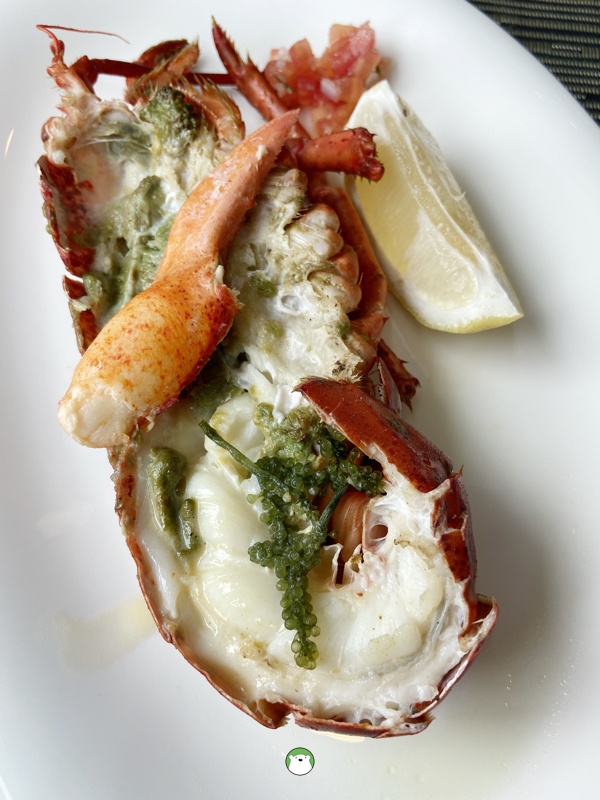 Above: Half a Canadian lobster, grilled and served with yuzu beurre blanc as part of individual a la carte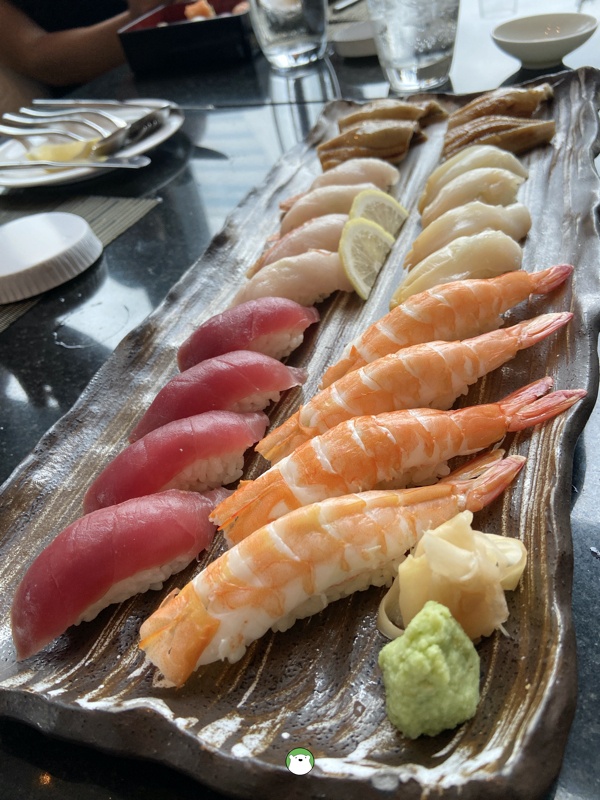 The fun about brunching at Up & Above is also about their desserts. Cheesecakes in cute presentations, white chocolate molded into oyster with mother-of-pearl inside. A lot of delicious Thai desserts and fruits. Among the pass-around is also a very realistic mandarin orange, served with a fanfare of dry-ice clouds, that, when cut, reveals green-white-and-orange layers as if a real fruit. So fun. Pre-booking is highly recommended.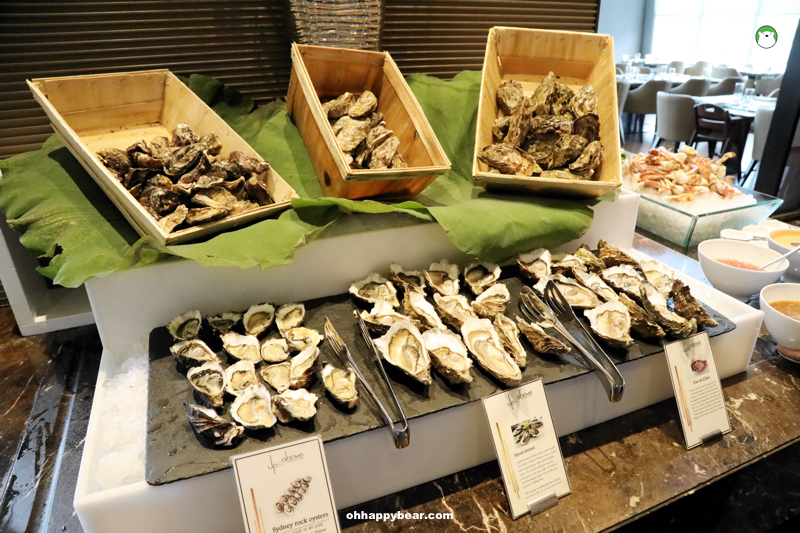 Above: A selection of oysters!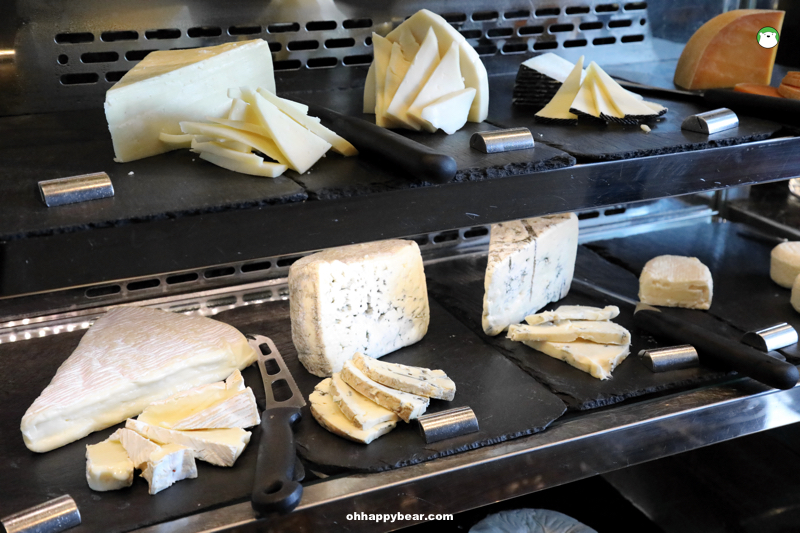 Above: And some cheeses!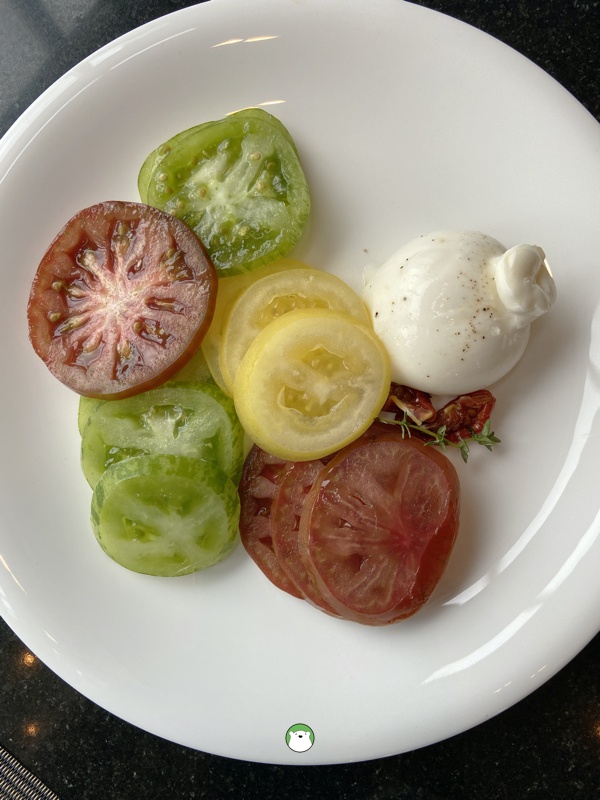 Above: My burrata cheese and heirloom tomatoes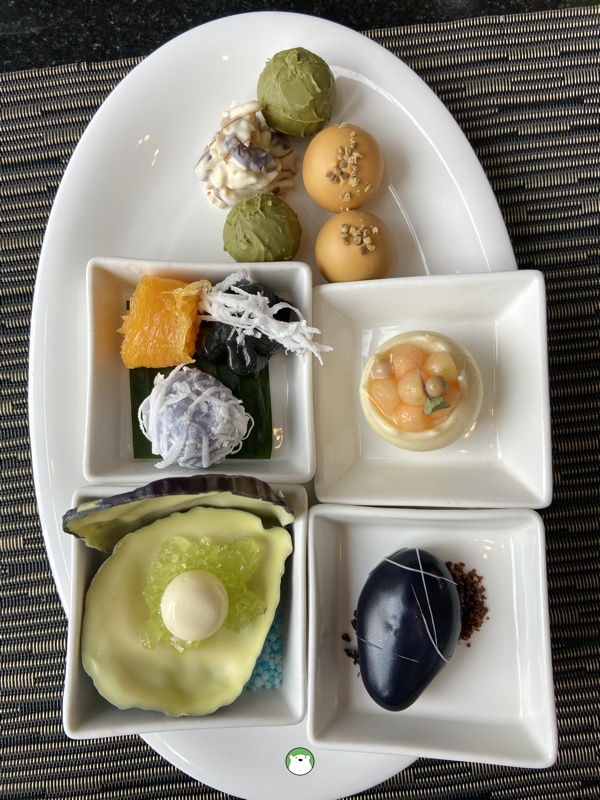 Above: My plate of sweetness!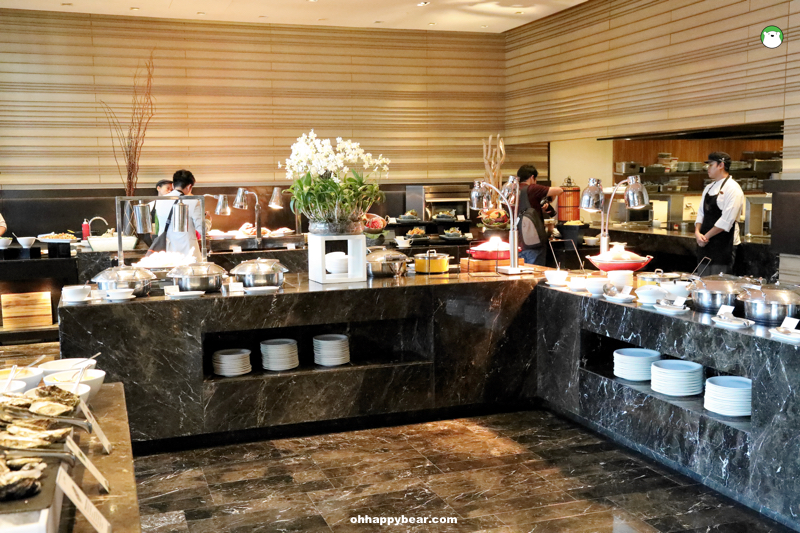 Above: Sunday Brunch vibes at Up & Above, The Okura Prestige Bangkok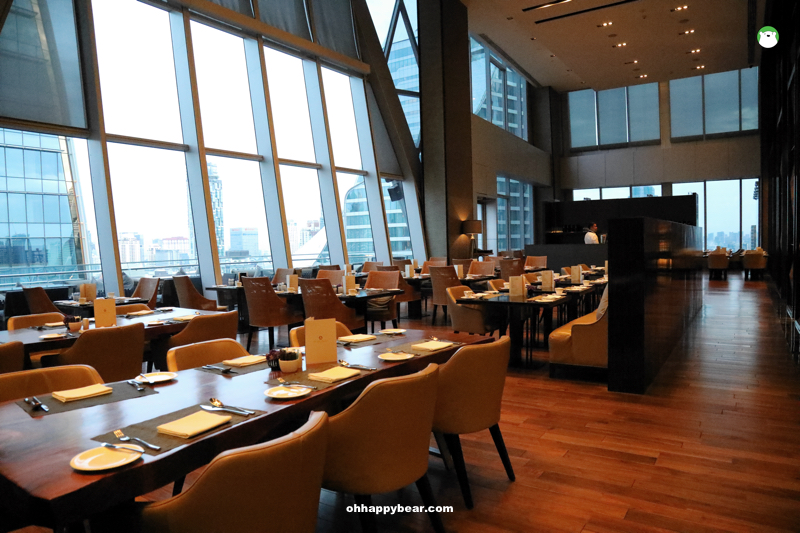 Above: Up & Above is on 24F of the building with this airy vibes, a lot of sunshine and great Bangkok CBD vistas. 
Up & Above, The Okura Prestige Bangkok, Park Ventures Ecoplex, 57 Wireless Road, Bangkok. T: (+66) 02-687-9000. For more information, visit their website, or Facebook page.
For the full review of the hotel, click here. 
---
More On Bangkok Food & Places
More on The Okura Prestige Bangkok