Bangkok's Sra Bua By Kiin Kiin at Siam Kempinski Hotel is welcoming guests back post-covid 19 lockdowns to enjoy their new winter degustation menu.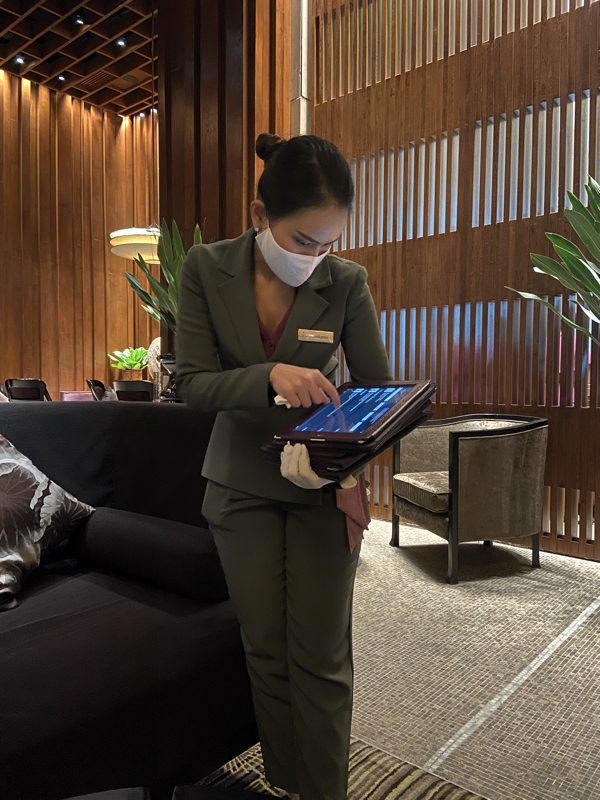 Mask-On, Sra Bua by Kiin Kiin's staff is explaining the menu + ask for personal food allergies and preferences. 
Here comes the hard reality: nothing is going to be the same after this. In Thailand, we emerged from COVID-19 lockdown disoriented. Bangkok is still empty, but we are very lucky to have escaped the harsher impacts of the pandemic (but still in a wait-and-see mode). Most places are now open. It is now quite business as usual. Hopefully, there will be no more resurgence of the disease, and that we can enjoy our lives, albeit a little quiet, in peace. 
Below are all their "Snack and Street Food Section"
A meal at Sra Bua by Kiin Kiin has a ritual, and it starts with a journey that takes you into the chefs' imagination and re-conceptualization of Thai cuisines. The amuse-bouche session, if you will, and here it takes about 30 minutes to nibble through all the snacks and street foods created from Chef
Henrik Yde-Andersen of Copenhagen's famous Kiin Kiin restaurant's memories and impressions on our Kingdom. 
Soya Meringue + Edible Bag of Crispy Rice

Among a few things that can serve as an instant solace, gratification, of all things, is a good fun meal with friends. Sra Bua Kiin Kiin, a one-Michelin-star Thai-ish restaurant at the Siam Kempinski Hotel Bangkok, is definitely a fun restaurant that serves very creative dishes with stories and memories and tidbits of personal experiences of the creators. They are now serving its winter journey menu as it is, as you know, October, and we are all counting down for winter.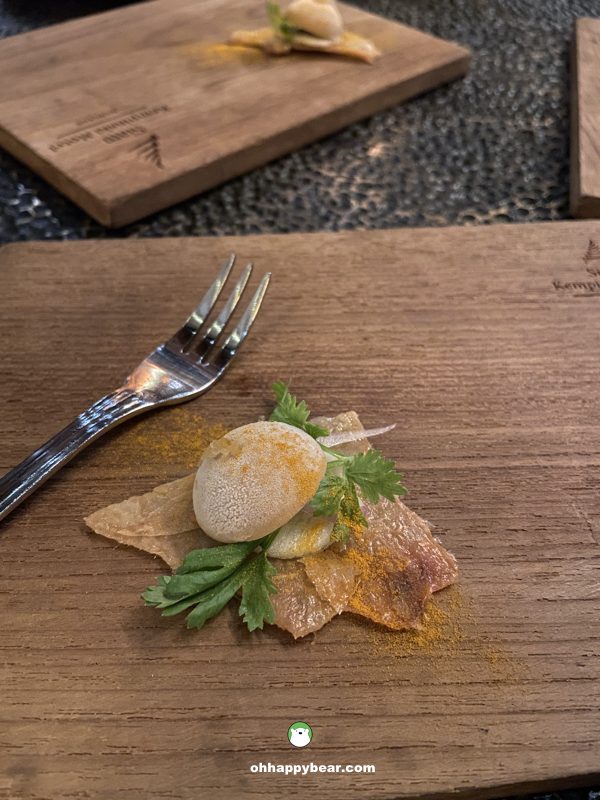 Chicken Skin with Peanut Ice Cream > Satay Gai 
As it turns out, Chef Henrik is also stranded at his home in Denmark. But he has been keeping his Bangkok colleagues – Sra Bua by Kiin Kiin Head Chef Chayawee Suthcharitchan and his entire team here – quite busy. Over Zoom and all kinds of technology-enabled communication channels, the Danish chef brings the elements of winter to this meal. It came in a form of ice-cold smoke. with a loud splash of lime juice. It came in a form of savoury ice flakes draped over smoked salmon. It came in a form of an igloo-shaped lychee-flavoured dome waiting to be cracked open, loudly with a spoon to let other people know that you are there already, and savour the creamy rose foam inside.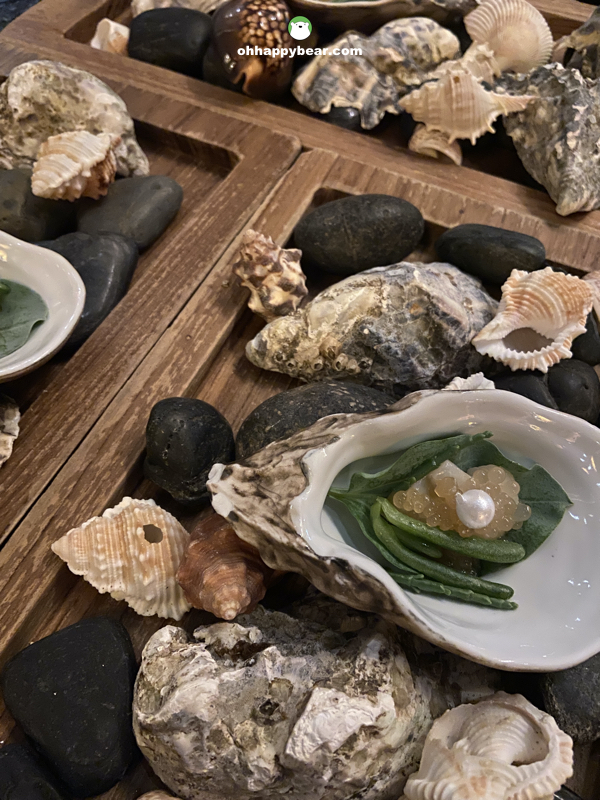 Oyster with No Oyster – In its place is the oyster leaves and scallop.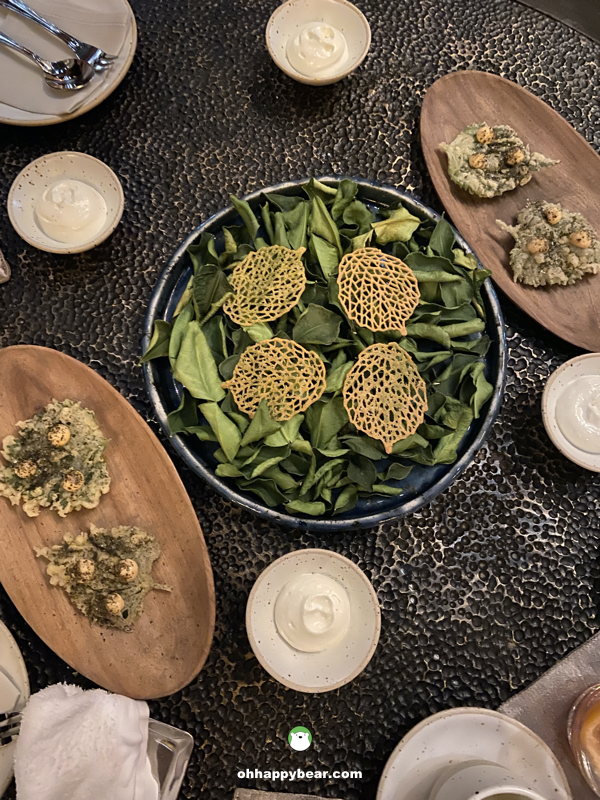 Kaffir Lime Crisps + Sour cream + Shiso Leaves tempura with Mayo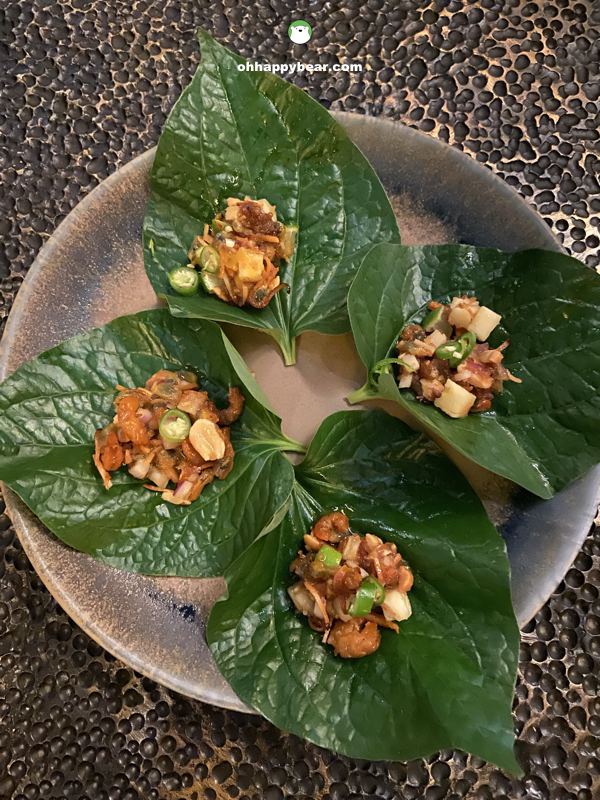 Miang Kham – delicious and refreshing with betel leaves and herbs plus passion fruits and pineapple! This one is assembled fresh at the table. 
PRICING: The Winter Journey set dinner menu is available at Sra Bua by Kiin Kiin until 31 March 2021 at THB 3,200++ per person for food only. A 6-course dinner is also available at 2,600++.

Lunch of the winter menu is also available: Four courses – THB 1,850++; Six courses – THB 2,600++. Additional wine pairings are priced as follows: Four courses – THB 1,200++; Six courses – THB 1,800++; Eight courses – THB 2,300++.

All dining prices are exclusive of 7% government tax and a 10% service charge.
Now we are at the table!
After the snacks and street food nibbling, it's time for the dinner itself. We are having the 8-course meal, and here are our foods.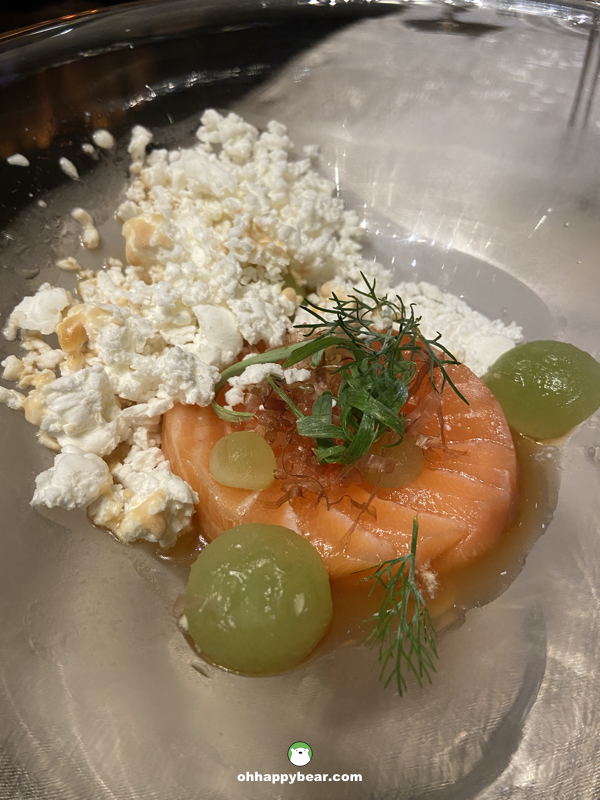 Smoked Salmon, Bonito, Wasabi Cream, Ponzu, Cucumber
When it first opened a couple of years back, Sra Bua by Kiin Kiin was received with scepticism, billing themselves as 'Thai restaurant.' But then, it kinda shines out of those doubts. With their own personality that makes its own place under the sun. For me, it is always fun to see how the Danish chef reinterprets Thai food. This is a new culinary experience best viewed and eaten with an open mind.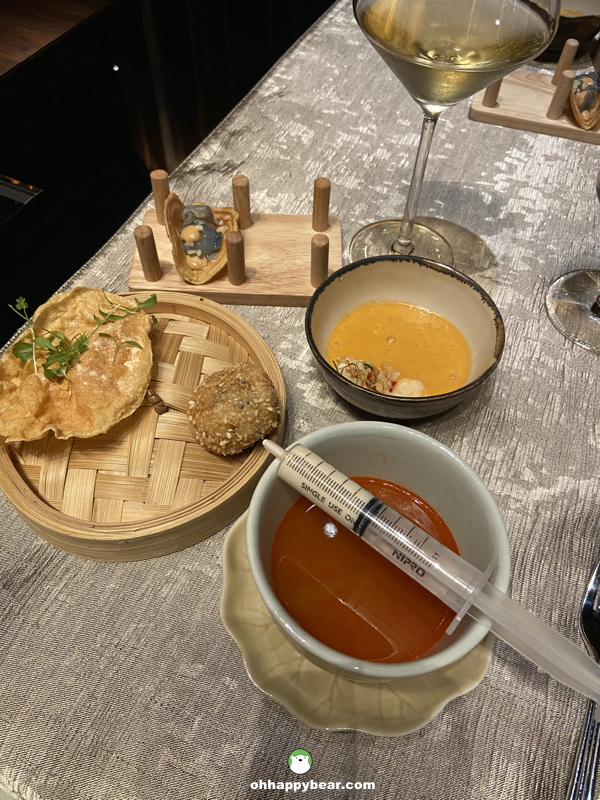 Tom Yum Soup, Prawn Cracker, Shrimp Taco, Lobster, Tofu Noodles. I love the trimmings. The shrimp cracker was so light and tasty, and the deep-fried shrimp dumpling with sesame so delish.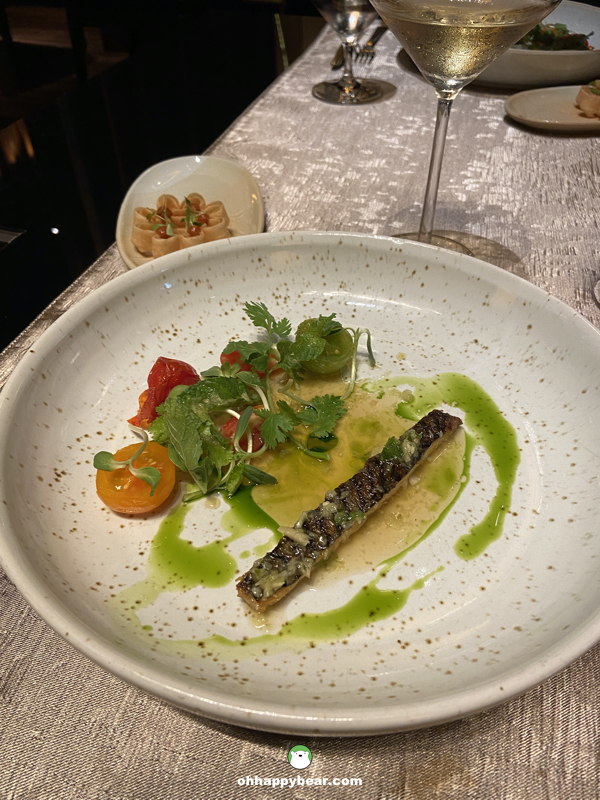 Third: Pan-Fried Mackerel, Baked, Fermented, Pickle and Fresh Tomato, Yum Dressing. Fresh, fresh, fresh. So tasty!
Tom Kha Veggies Soup, Truffle, Cauliflower Flan, Champignon Mushroom, Pickled Onion > Drawing from the vegan and plant-based trends worldwide, Chefs make this Tom Kha with all veggies, some paper-thin sliced to create a crispy and light texture. Delicious.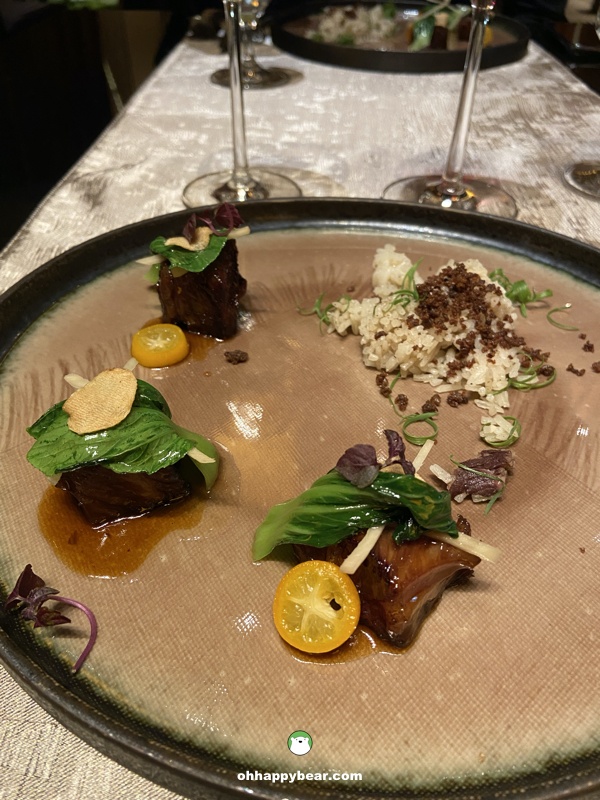 Beef-Glazed Sweet Soya Sauce, Pickled Kumquat, Crispy Beef Baked Rice. This one is slightly sweet with chefs drawing inspiration from Chinese cuisine. Delicious though. 
Lychee Flambé with Rose Foam>> with the table-side flamblé lychee nudged at the side of the pink globe. Such a refreshing and sweet winter. 😀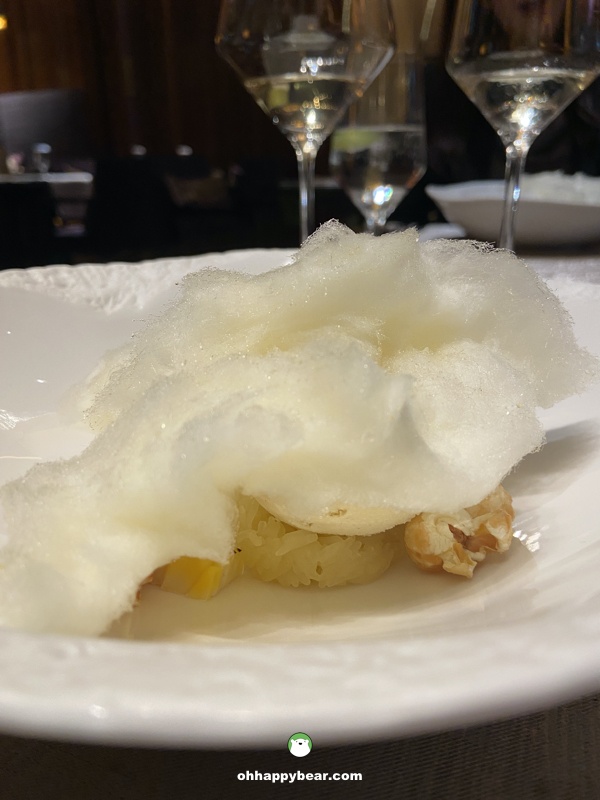 Grilled Sweet Corn, Sticky Rice, Corn Ice Cream, Candyfloss, Salted Coconut Soup
The Petit Fours
Another very exciting and smile-inducing element eating at Sra Bua by Kiin Kiin is their fun servings of the petit fours. Clementines are served in this elaborate pot complete with orange-flavoured filling.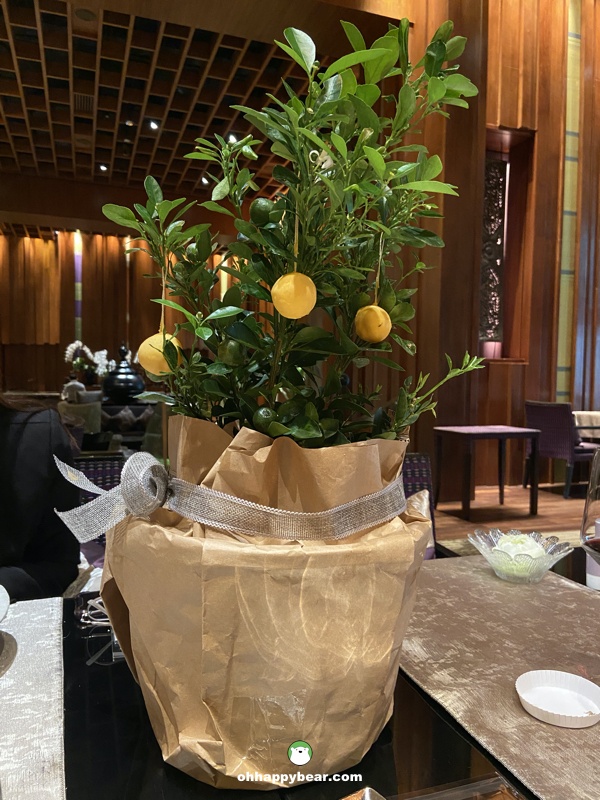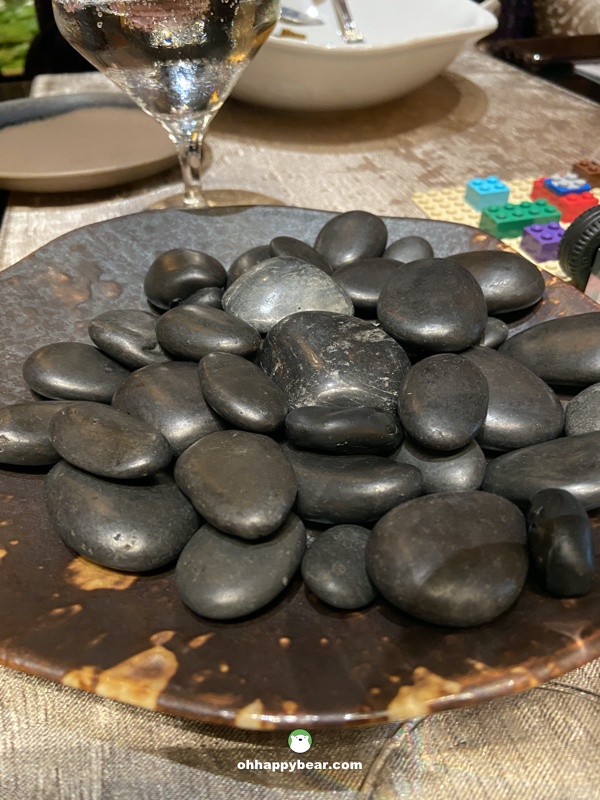 Plus the rocks. And the lego! 
Have fun!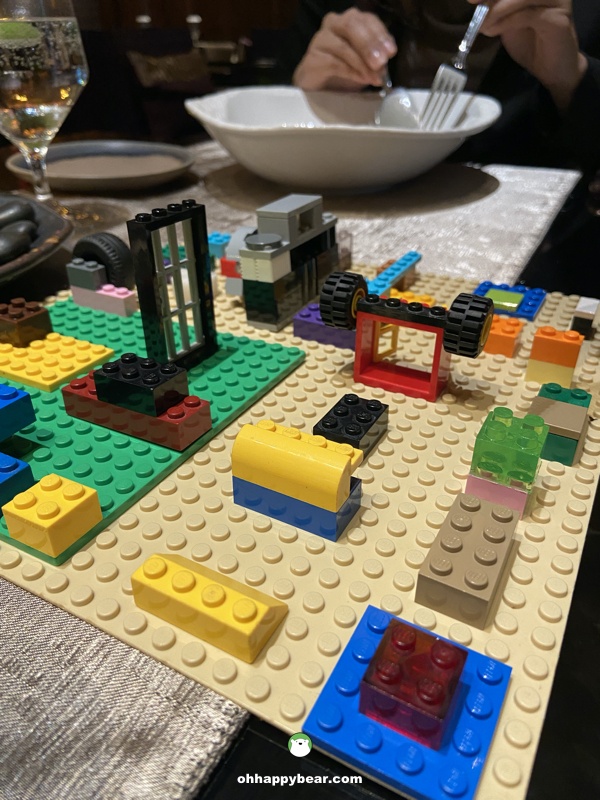 For more information about Sra Bua by Kiin Kiin or for reservation, call T: +66 02 162 9000. Daily for lunch and dinner: noon – 15.00, 18.00 – Midnight. 
---
More On Bangkok Food & Places
More on Bangkok Fine Dining Restaurants