🥦(ภาษาไทยที่ Facebook ค่ะ) Hey there, how many weeks has it been since the first day of shelter-in-place? I don't remember exactly, but these days I have been cooking and thinking a lot about food. And I mean a whole lot. On a daily basis, in advance, in terms of strategic logistics, in terms of tastes and wholesomeness. In terms of everything involved in our livelihood. In terms of planning well a single, weekly outing – to the supermarket and then to the vegetable stand in front of our community.
At home, there are just two of us. But I also shop for my parents who live not too far away. So, the lists are usually two-pronged – our houses (our menu) and theirs, since their preferences differ. As many experts have already mentioned, the pantry, the kitchen, the stocking system, and the fridge, as well as meal planning, are all essential to our survival these days. I mean, I try my best to make it fun, too. Why not? As long as we are able to stay at home, which is a huge privilege in itself, I am not complaining. Well, maybe a little sighing occasionally while walking loops in our tiny living room. But other than that, life is great. We are still healthy, we still have jobs, we still have ideas, energy, and all the fun and appreciation. We still look forward to things we can and want to do which we hope will be relevant with some meaningful values in life post-COVID-19.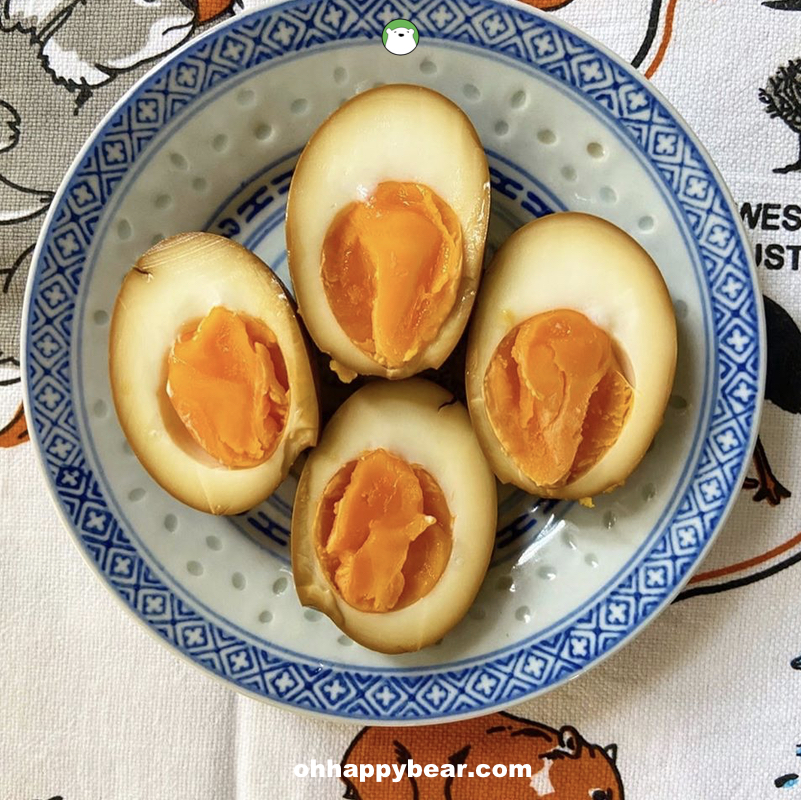 So, let me quickly share my pantry organisation with you. Roughly, there are four sections in my kitchen.
Dry Stock – with staples like rice, pasta, and all kinds of dry noodles that can keep basically forever. Also, sugar, salt, soy sauces of all kinds. Sesame oil, frying oil, olive oils, vinegar, pepper. Tinned stuff like tuna, sardines, pickles, and all that.
Freezer – I keep all my meats portioned and frozen. Chicken breasts, sliced pork, sliced fish, seafood, premade broths, etc.
Fridge – We live in Thailand and there's a bunch of insects going on, we keep our opened packages of rice, pasta, sugar, sauces in the fridge too. And that takes quite a space, but it is needed and I try to keep it at minimum. My vegetables are in three parts: herbs – staples such as spring onion and cilantro must be rinsed and spun to dry completely before being put in plastic containers. Soft greens and vegetables – including things like lettuces, mushrooms, morning glory, bok choi – that can be kept about 2-3 days max, I use them first. Hardy vegetables – heads and roots – something like cabbages, cauliflowers, broccoli, bitter gourds, radish – I usually keep some in stock and use them last for they last longer.
Fragile herbs such as basils and holy basils usually quickly perish, so I plan to cook them the day or the day after I buy them.
I also tend to buy cookies in a variety, nuts (cashews, peanut, walnut whatever looks good), dried fruits (raisin, cranberry), condensed milk (which I love to spread on white bread, raise your hand if this menu stirs nostalgia in you!), coffee beans also in a good lasting amount.
And, yes, garlic, shallots, ginger, turmeric – all these are kept in a basket outside the fridge. They keep longer that way. The fridge makes them moist and that means fungus.
Ok, so let's dive into my headlined tips. 
🍳 6-Minute Eggs
I use eggs straight from the fridge in this case.

Bring water to a boil. Make sure the size of your pot and the amount of water correspond to the number of eggs you are boiling. When the water comes to a boil, reduce the heat and let it simmer only gently.

Slowly and carefully drop (using a slotted ladle) each egg (I usually make about 4-6 each time) into the simmering water. Make sure to be super gentle for the eggs can break at this point. By dropping cold eggs into simmering water, you are loosening the membrane that lines the eggshells, making it easier to peel later.

After one minute, use the ladle to gently fold the eggs. Make sure the eggs roll (change its positions) in the water. These movements will help centre the yolk, and that means a beautiful OCD-style cross-section when done. 😀

Move the eggs continuously for about one minute. And then keep on simmering for another 4. That will be 6 minutes in total. Take the eggs out into chilled water. Crack the eggs gently in the water and let them cool enough to peel them.

And that's it. 😀
🍗 Perfectly-Juicy Poached Chicken Breasts
From your freezer, take out the portioned chicken breasts, defrost them by soaking the bag in lukewarm water until all parts are defrosted with no hard frozen bits left.

In a pot, bring water to a boil. Add salt and the available 'bouquet garni' to season the water. In my usual case, it means, cilantro roots (thoroughly cleaned), garlic, peppercorns, quartered onions. One or two of these should do. Or in a pinch, just salt is fine. Boil for another 5 minutes, then lower the heat to simmer.

Gently slide the chicken breasts into the pot. Keep it simmered with the lid covered for another good 4-5 minutes, depending on the starting temperature of your chicken. When you see that the chicken has firmed up, cut the heat and leave the chicken in the water with that lid still on for an hour until it is perfectly poached.

I use this perfectly-poached chicken in a variety of things. I usually hand pull the chicken and then add them into my Chicken Laksa (click for recipe), Thai-style chicken noodle, and even Thai-style chicken and shitake boiled rice.
🌶 Thai-Style Spicy Seafood Sauce Adds Delicious Extra Zing to Everything
Please scroll back up to the first picture and see the crushed sauce on top of the eggs and fish balls that I happily ladle over a plate of steamed rice. That's the Thai-style seafood sauce, and that's a source of extra tastes in everything. Here is a basic recipe guideline, you can, of course, adapt the proportion to your taste.
Fresh garlic, fresh chillies, and cilantro roots (optional) in a proportion of 1:1:1 – and you can adjust.
Using pestle and mortar, crush everything (add a bit of coarse salt into the mix helps make the process easier) until you get the consistency you want.
Add soy sauce or fish sauce in a ratio of 1:1 (depends), add some palm sugar and water to round it up and tone it down. Use this sauce to spice up your dish. For example, fried rice. I use it a lot with seafood, of course, but I also use it with salty and sweet dishes like soy-sauced eggs, braised pork legs, baked glass noodles with shrimps, even steamed eggs and tofu. This is a versatile sauce to make in bulk and keep it in a jar in the fridge for further taste-enhancing opportunities. 🥦