In Japanese tradition, the finest is always the simplest. Nothing loud, nothing fancy, no so-called frills. You are not to focus on the orbit, not on the distracting lines, but only on the pivot, the essence of the whole show. And that applies to this one delicious eating experience of mine at Ginza Tenharu at Gaysorn Village in Bangkok, eating a tempura omakase dinner, where the freshly-made tempura – and nothing else – is only the main attraction.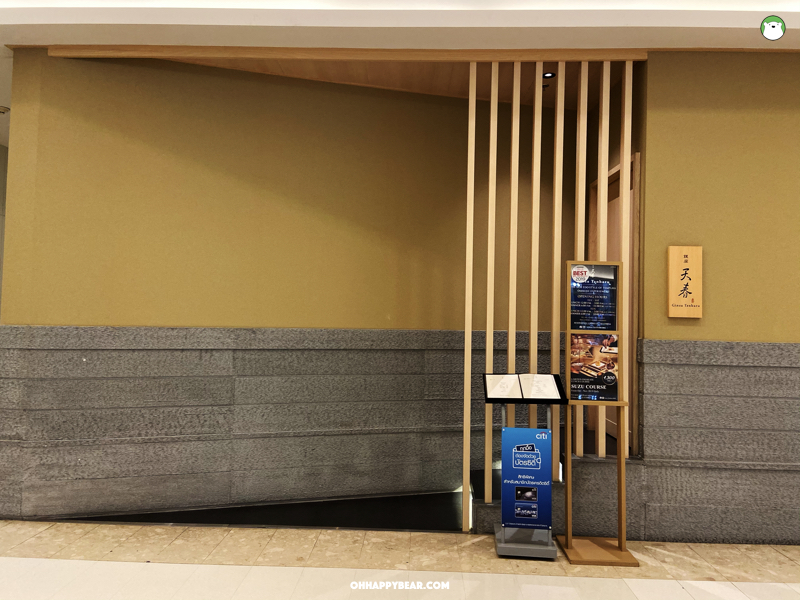 Above: The very sleek and simple entrance of Ginza Tenharu – 3rd Floor, Gaysorn Village.
Ginza Tenharu serves only tempura – in omakase-style or chef's table in the Japanese term. That means no itemized menu to order, just the different courses depending on the arrangements and numbers of the ingredients to be served, and the rest depends on the chef's decisions and sequences. For dinner, Ginza Tenharu has two options — the Yugiri course (Bt4,500++) and the Oborotsuki course (Bt6,500++) with extra premium bites and special dishes. We just had a fantastic dinner of the Oborotsuki course, and this is our report—unbridged. 😀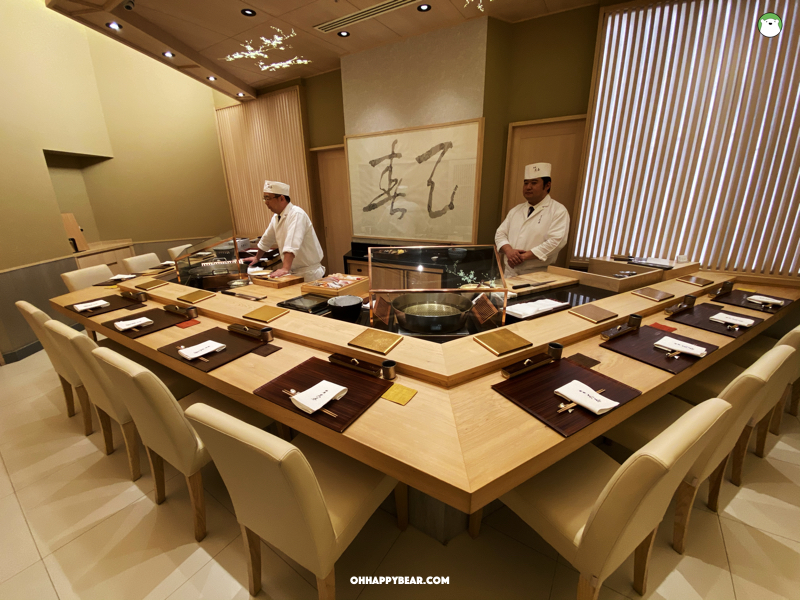 Above: Ginza Tenharu in Bangkok is the largest of its kind. This is a small, cosy, and personal dining room with only 5 seats in Tokyo, 8 seats in Singapore, and 12 seats in Bangkok with two chefs each mastering their own tempura station and taking care of each wing of the table. 
Being a tempura omakase restaurant means serving fresh ingredients by the season. All of the items are always flown in from Japan on chef's demands. The chef in charge is Chef Daiki Kawaguchi – the executive chef who opened the original Ginza Tenharu in the Ginza district of Tokyo. The reason for this tempura master to be here and nowhere else is that the Ginza Tenharu in Bangkok, at Gaysorn Village, has the most seats – 12 in all.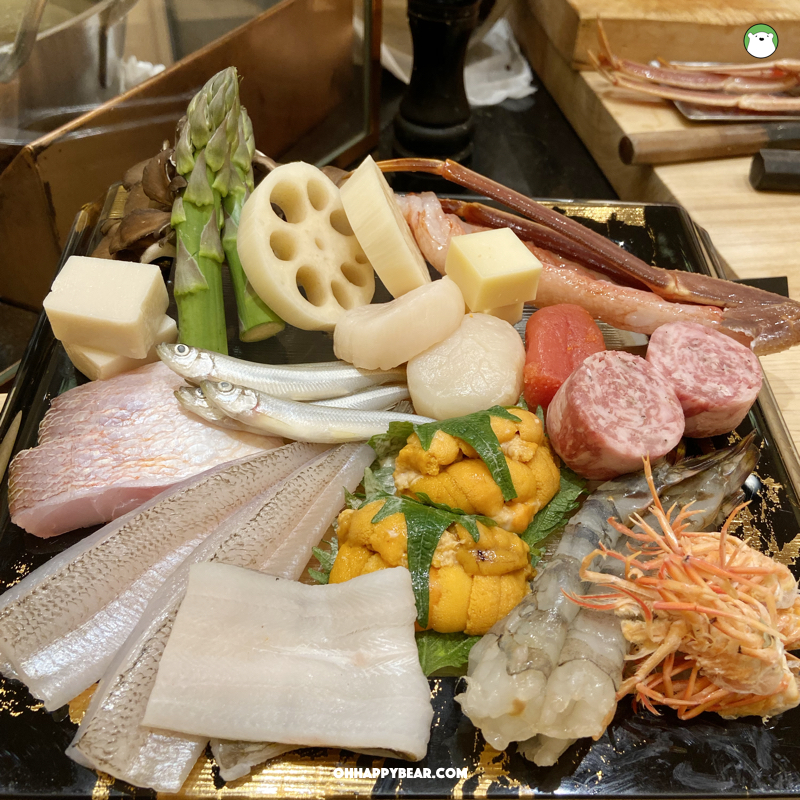 Above: The fresh ingredients in the Oborotsuki Course
Once we have chosen the course, the chef would take a brief time prepping the platter – and then presents us what we are going to eat throughout the dinner. On the menu, it says 12 bites of tempura + appetiser + special dish + shokuji (rice or noodle) + dessert. But let me tell you, prepare to be stuffed and even explode. This is a huge meal. A really special and delicious one.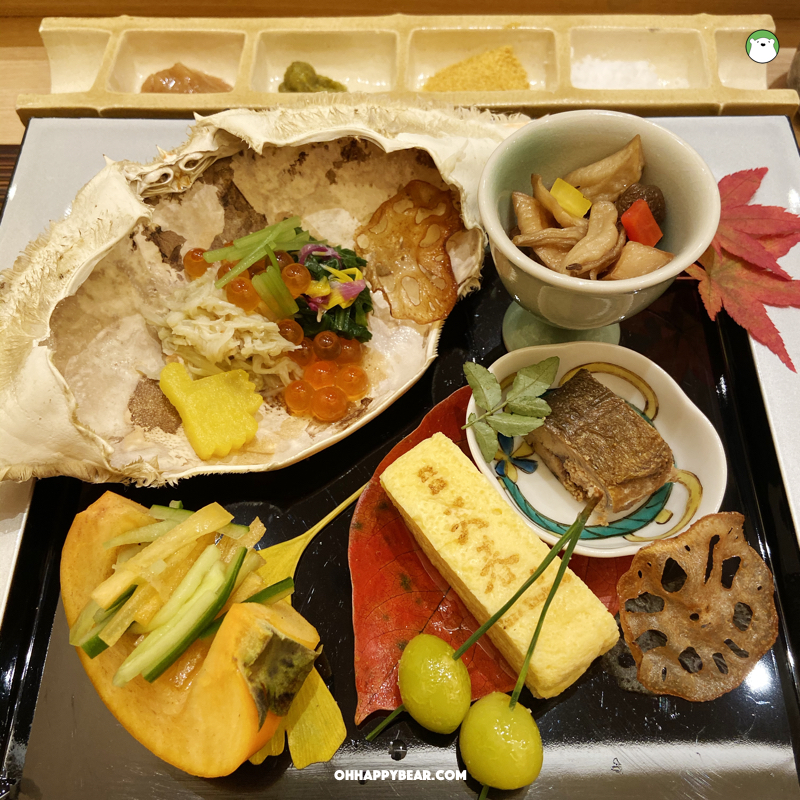 #1 = Appetisers – Kani crabmeat, salmon roe, pickled greens, mushrooms in a sweet and sour sauce, Ayu fish stew, deep-fried green ginkgo seeds, persimmon, and deep-fried lotus roots. 
All are special items, especially the green ginkgo seeds which is the season's special. This is a combo platter of different textures, hot and cold, crunchy and soft, refreshing and salty.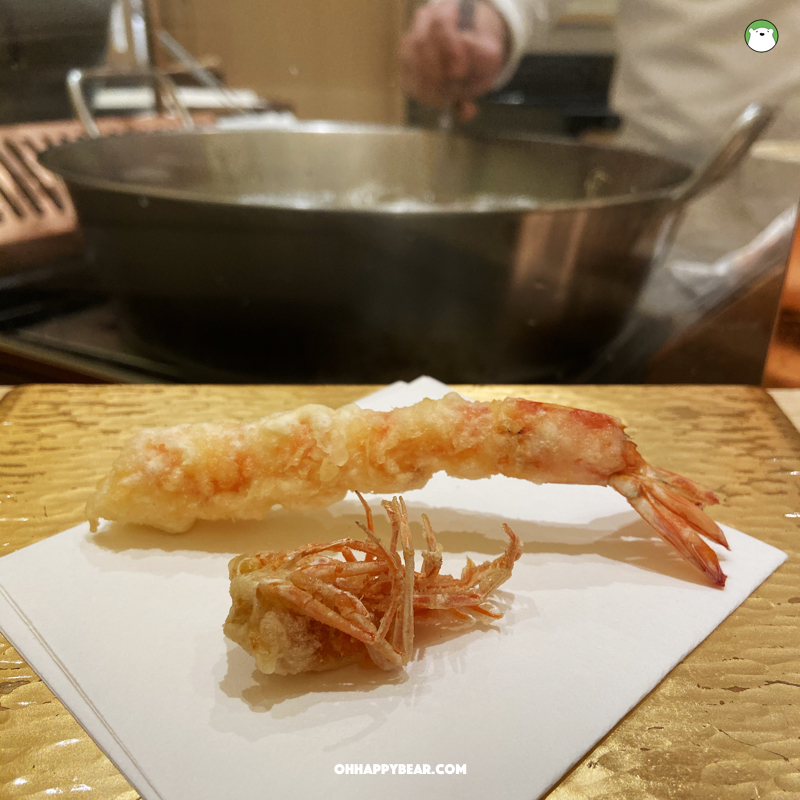 #2 = Kuruma Ebi (Japanese tiger prawn) + head 
The shrimp is flown in fresh each day. And Chef Kawaguchi tells me that this particular shrimp is a measure of a tempura master. In his word 'Anyone can tempura this shrimp, but not everyone can do it equally." Yes, if you are familiar with the Japanese way of determination, it's all resting upon details best executed. This shrimp is perfectly fried – thin, almost-not-there super crusty crust and juicy and sweet shrimp inside. Also, the head is delish. All crunchy, a little bit salty.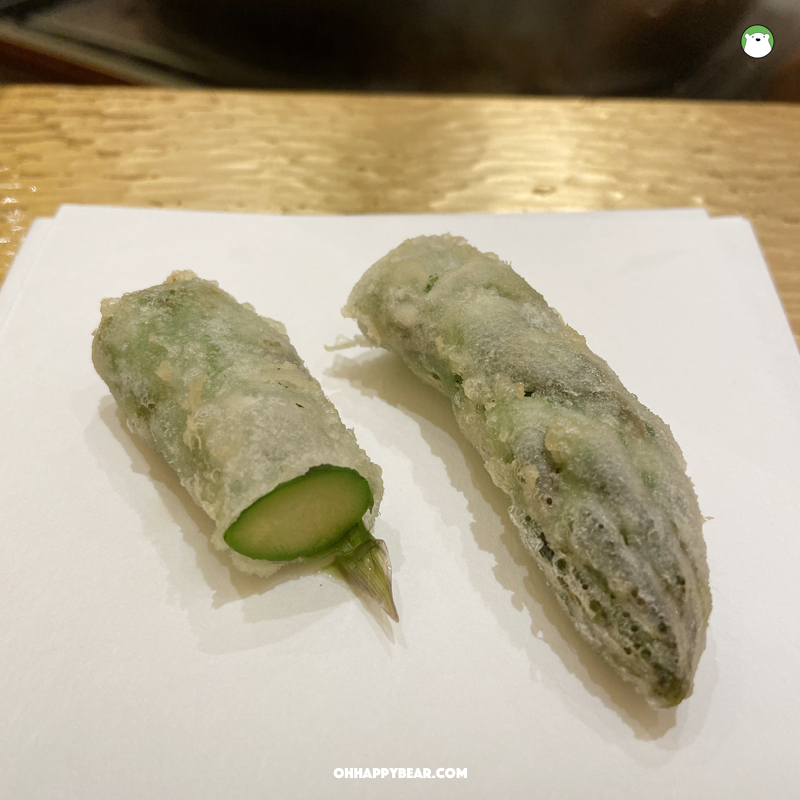 #3 = Japanese asparagus
On the table are 4 types of salt to be paired with the tempura at Ginza Tenharu— Koto island, Nagasaki's pure salt, curry salt, yusukosho (salt + Yusu), and nankou ume (salted plum). And then there are also tendashi — the regular tempura sauce with finely grated daikon, green tea salt (that comes with the wakasagi above), and the sukiyaki sauce that is served with the A5 Wagyu beef below.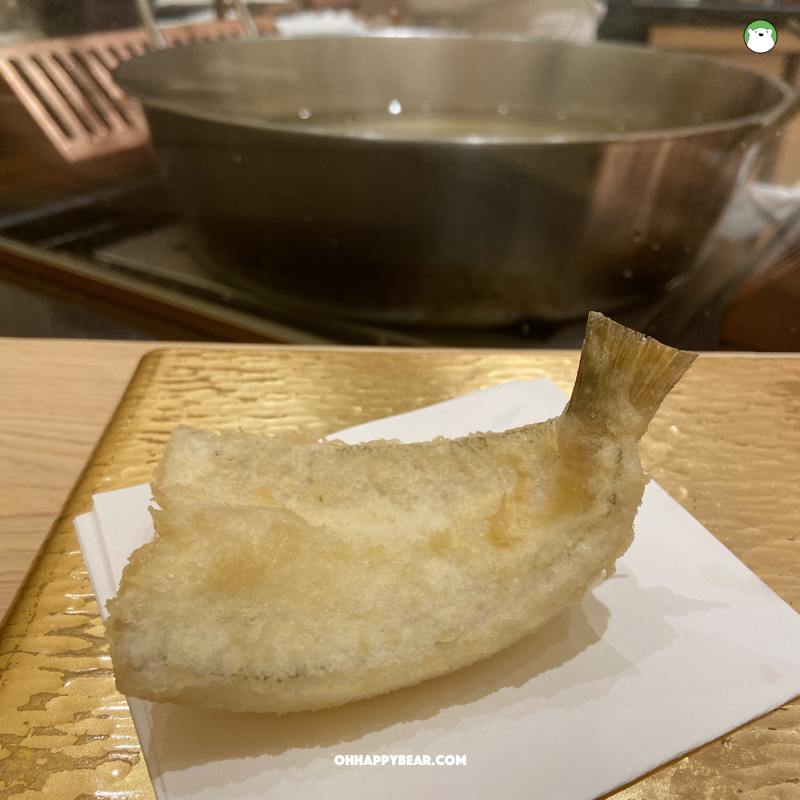 #4 = Kisu or Japanese whiting
Tempura, for me, is a snack, although it isn't in the Japanese culture. They are a crunchy sidedish prior to the main bowl for lunch, for example. I also read through and found that Tempura is, in fact, a Portuguese original. But in Lisbon, we ate their 'Peixinhos da Horta' – the batter-fried green beans – the original 'green fish,' the one that started it all as the Portuguese meatless treat in the 16th Century. While the Portuguese keep their recipe original with a meaty and softer crust, the Japanese clearly had adapted this recipe to their liking. Tempura — as freshly and particularly fried as they are here at Ginza Tenharu — unveils the precise setting of the temperature and timing of the Japanese. Also, the different dipping sauces are a long way from the original which is a white, creamy type not unlike a Tartar.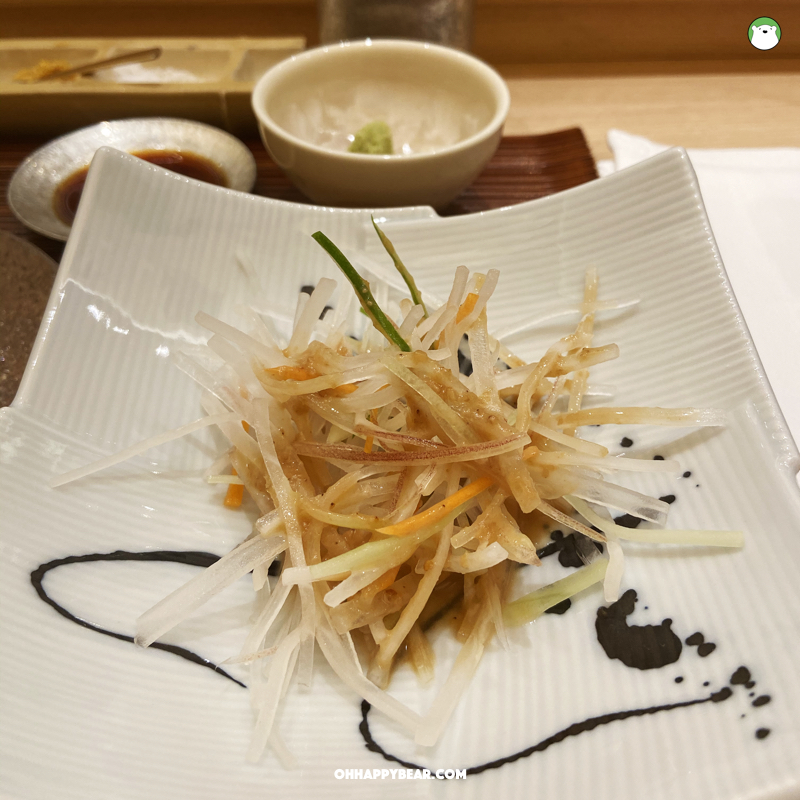 #5 = Daikon (Radish) salad with sesame dressing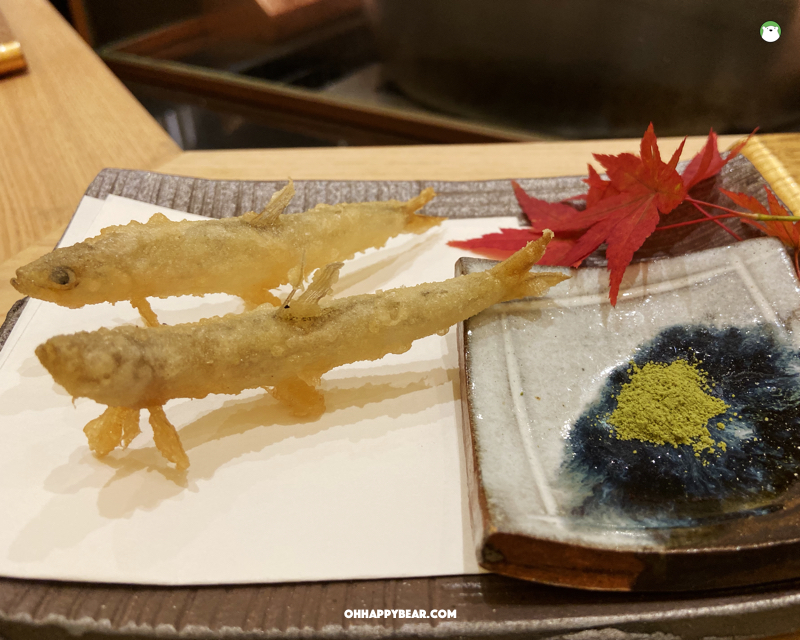 #6 = Wakasagi – the small fish that is harvested via ice fishing – served with green tea salt.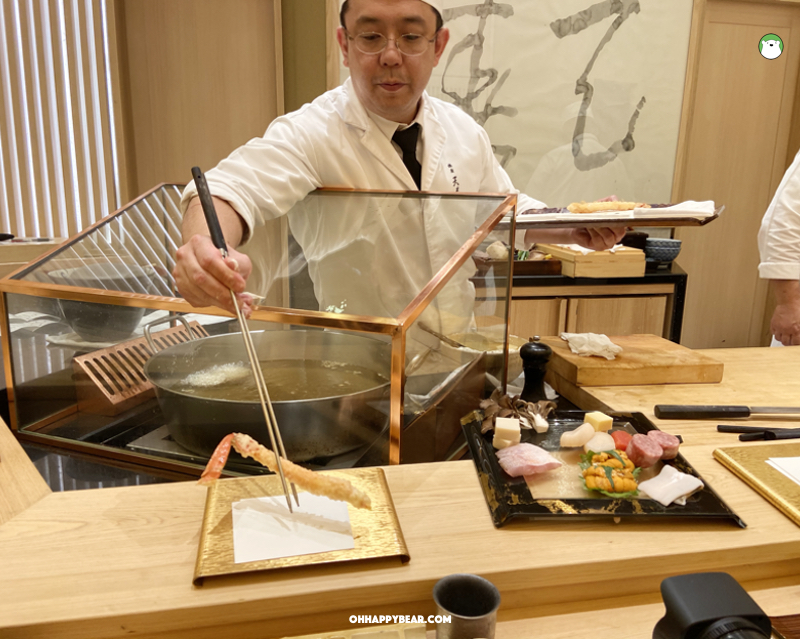 #7 = Zuwai Kani – Kani crab leg. 
Eating at the counter, looking at the chef prepping and frying away each bite and serve them on a piece of paper is a great experience. If you are chatty, ask away and he will be more than happy to recite the story of each ingredient. I take my time between bites, trying to discern everything. The textures, the tastes, the experience. I liked it.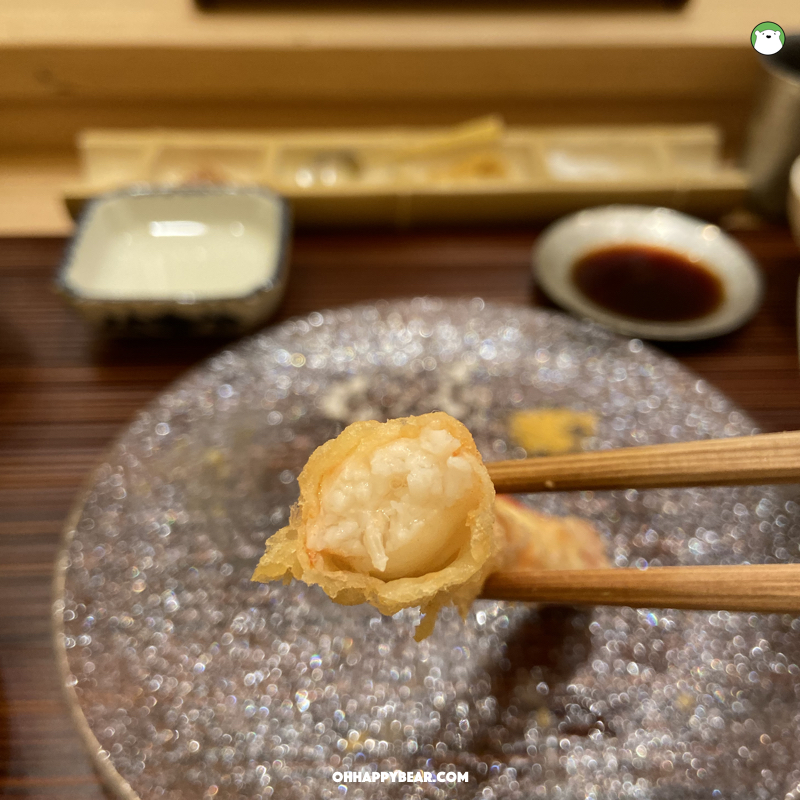 Above: The juicy interior of Zuwai Kani.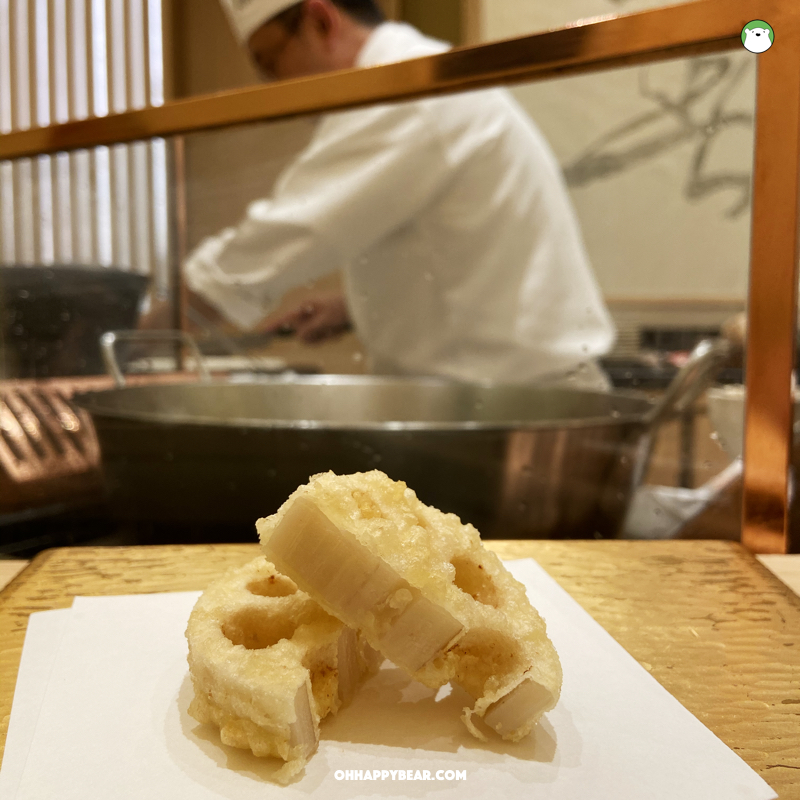 #8 = Japanese lotus roots – so crunchy. 
#9 = Hokkaido scallop – in medium-rare.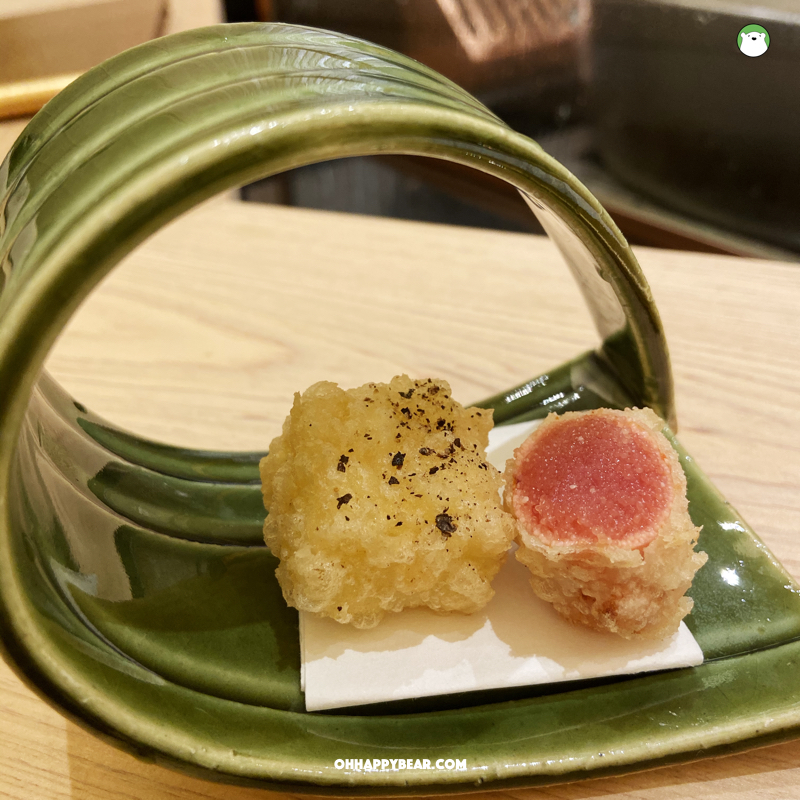 #10 = French Gruyère cheese + Mantaiko or Pollock roe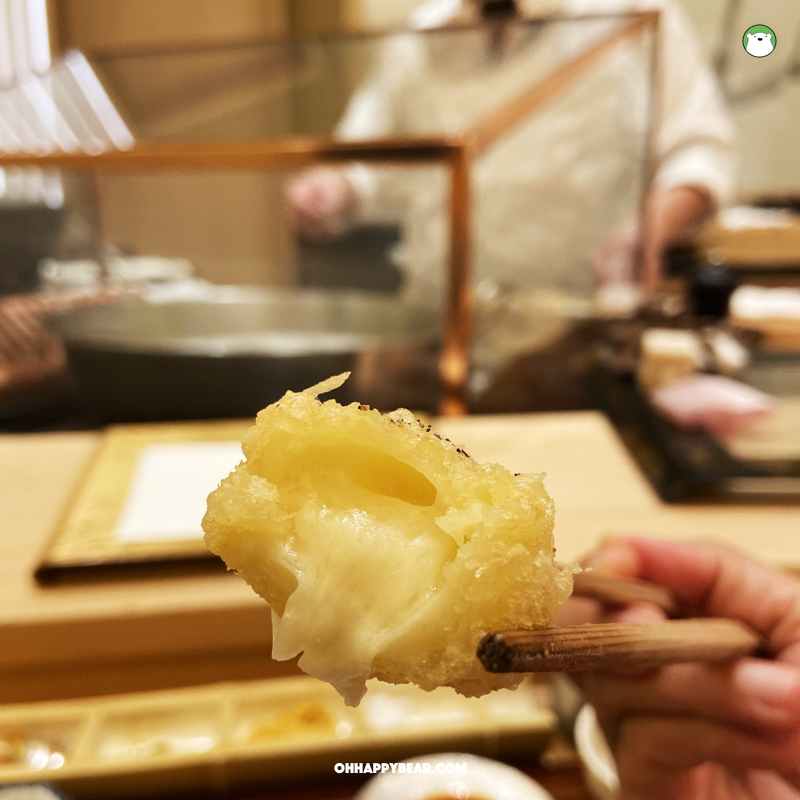 Above: The interior of the gruyère cheese.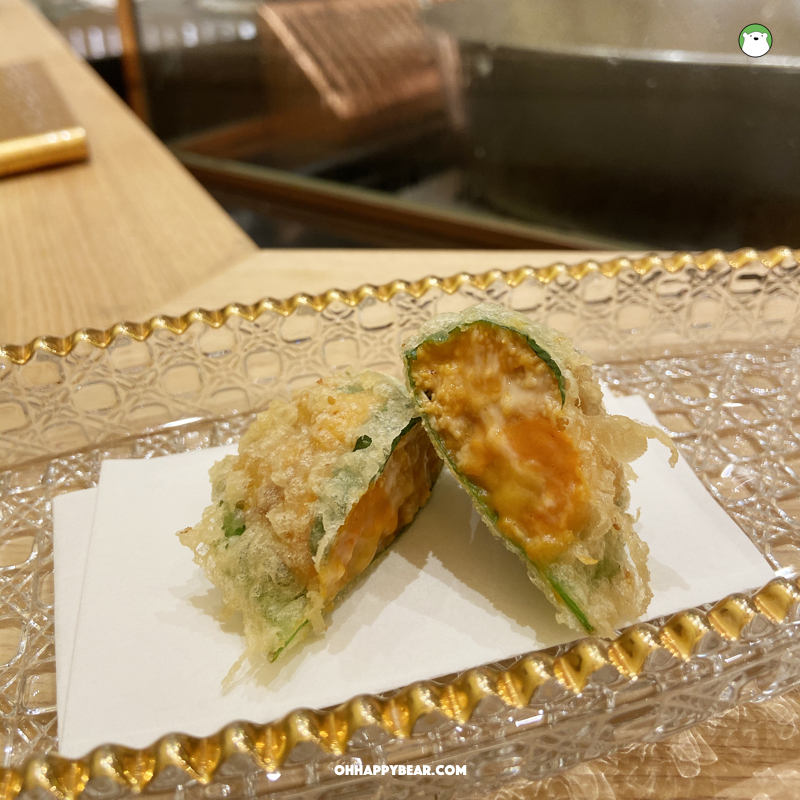 #11 = Bafun uni wrapped with Oba (Shiso) leaf.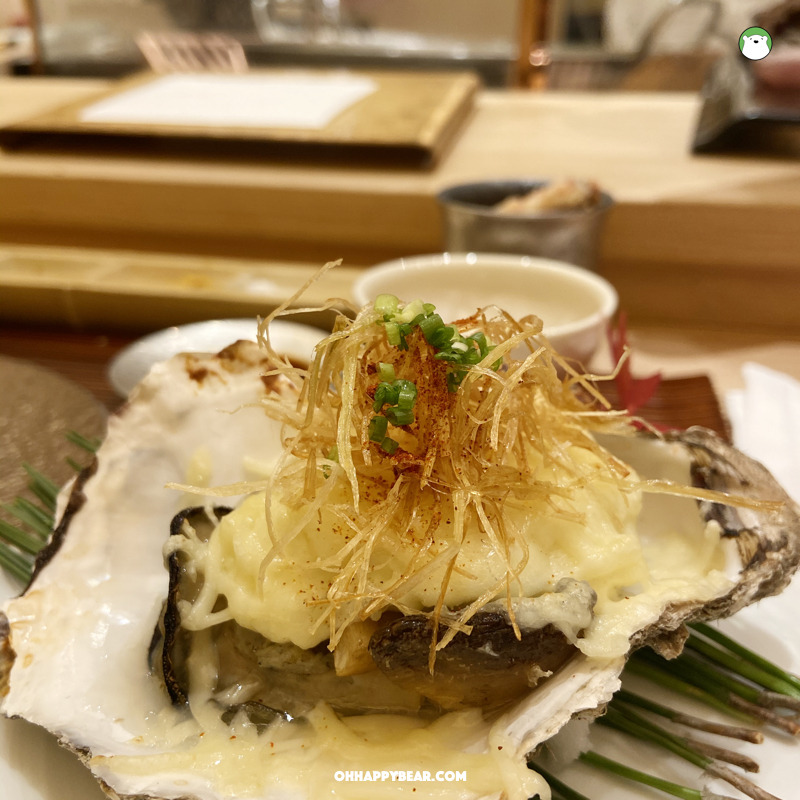 #12 = Special dish only available in the Oborotsuki course is this Kagi gratin with Japanese oyster. This special dish changes monthly.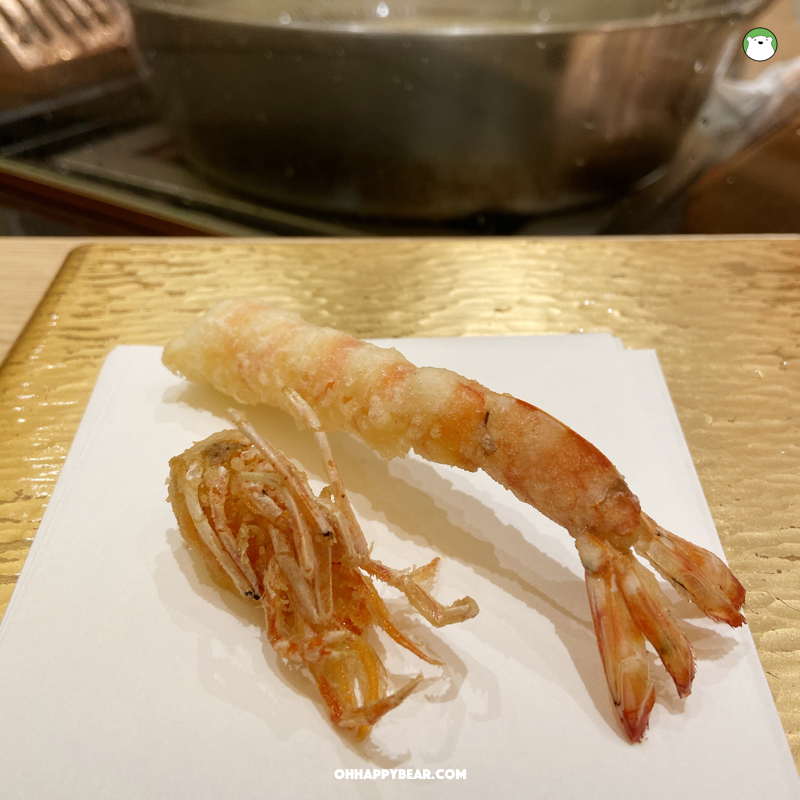 #13 = Another Kuruma Ebi – a double delicious 😀 only for the Oborotsuki Omakase. 
#14 = Goma Dofu Kani Angkake – soft tofu served with crab meat sauce.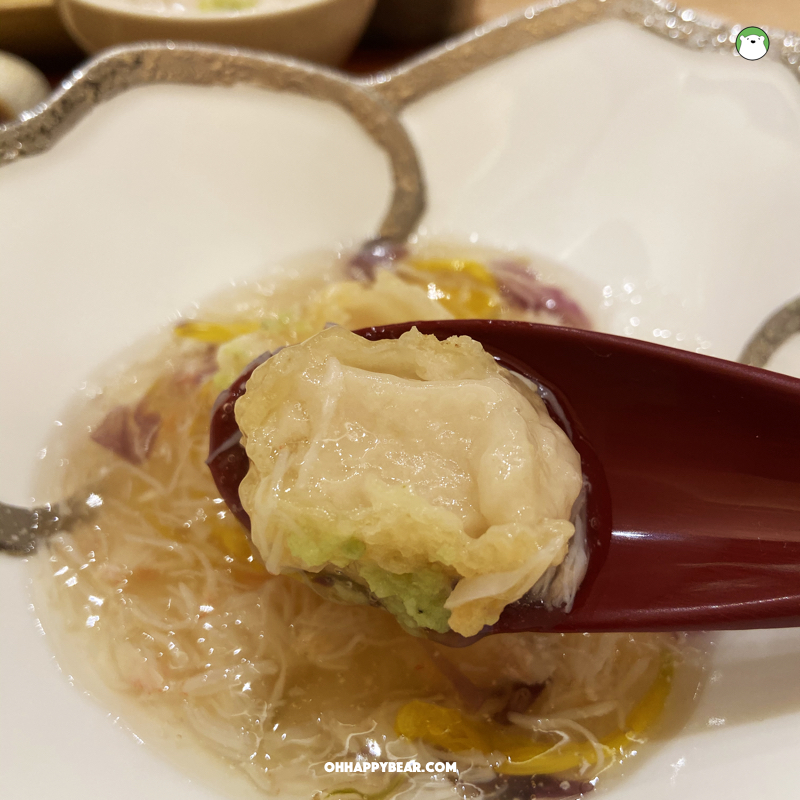 Above: The interior of the soft tofu. So delish. 
Halfway through the course and, as you might have guessed, I am full to the brim. This big course has a sequence of alternating textures and tastes – the crispy prawn, the crunchy lotus root (love it), the savoury uni, the creamy oyster, the silky tofu and light crabmeat sauce. And then back again to the crunchy + juicy sea bass (love it), and all the crunchy and a bit stringy black Maikate mushroom. And back again to the crunchy, almost as-if-battered-with-panko-itself-but-not salt-water eel, and then the savoury and oily and beefy A5 Wagyu beef – paper-thin sliced and rolled into a hearty bite, served with onsen egg yolk in sukiyaki beef sauce. This can the bite that push people to go for the Bt6,500 Oborotsuki.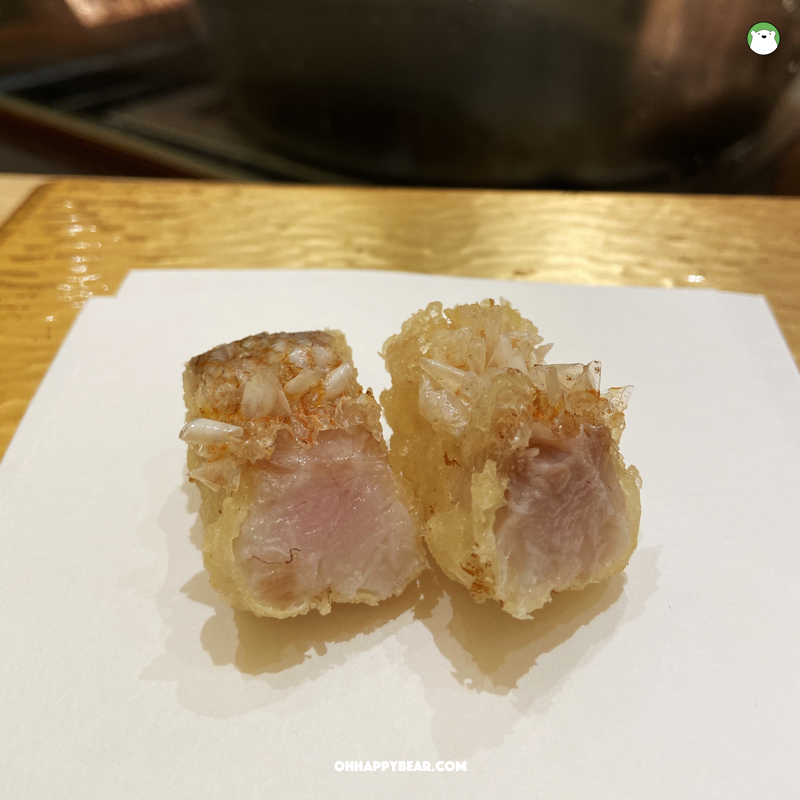 #15 = Adamai – sea bass – with crispy scale and juicy meat. So delish. My favourite bite.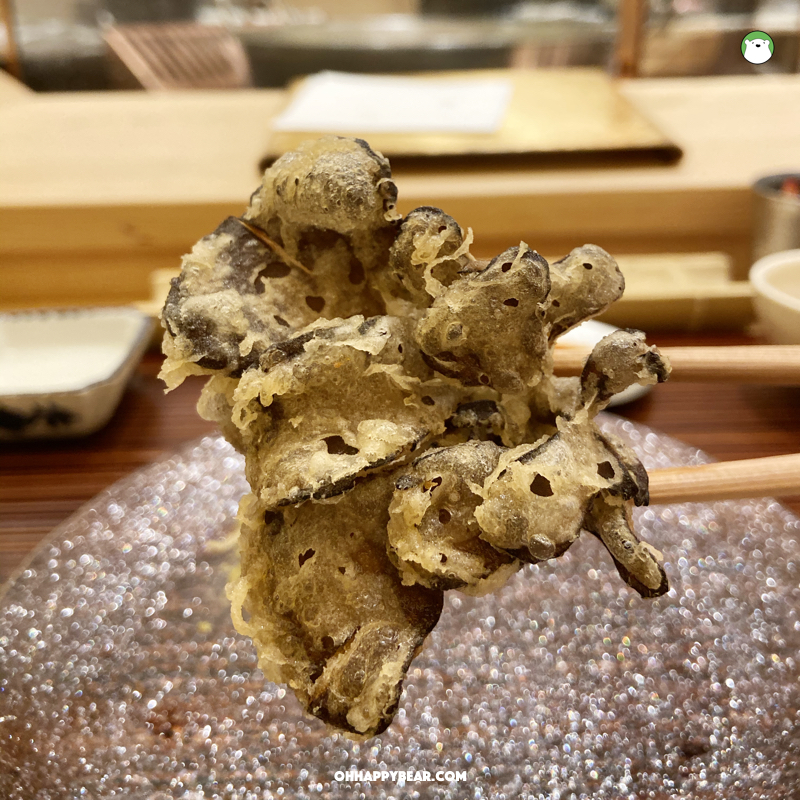 #16 = Black Maitake mushroom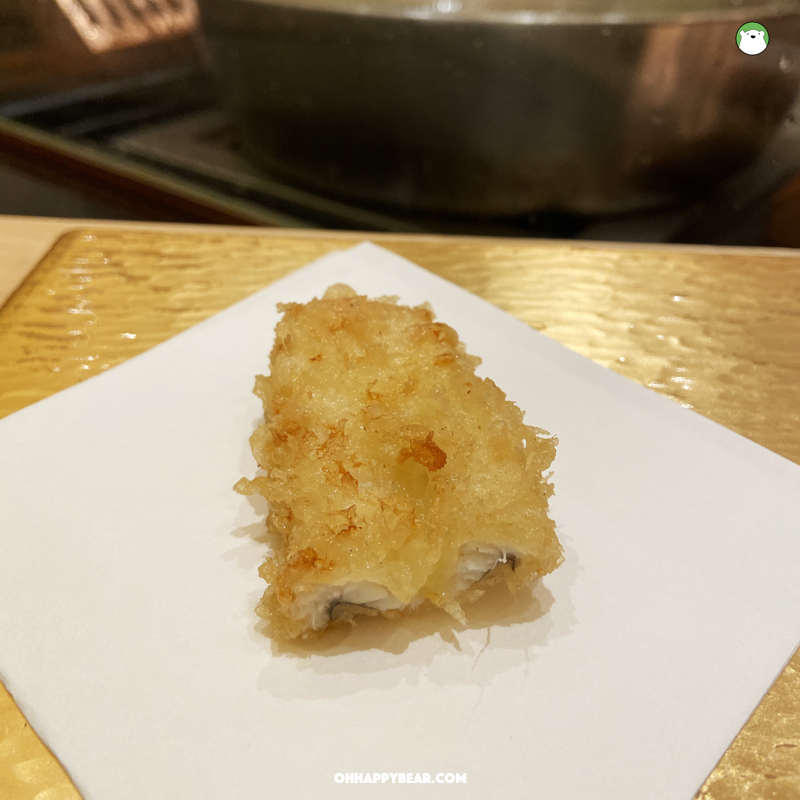 #17 = Anago – salt-water eel with special frying technique that creates a panko-like crispy curst.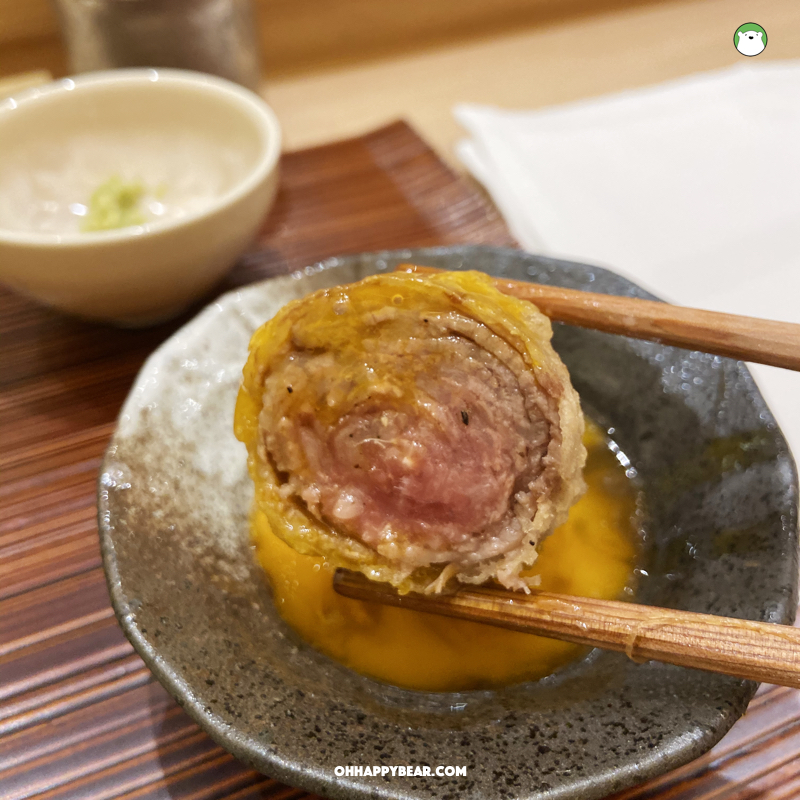 #18 = A5 Wagyu beef – rolled into a bite, tempura-fried, served with onsen egg yolk and sukiyaki beef sauce.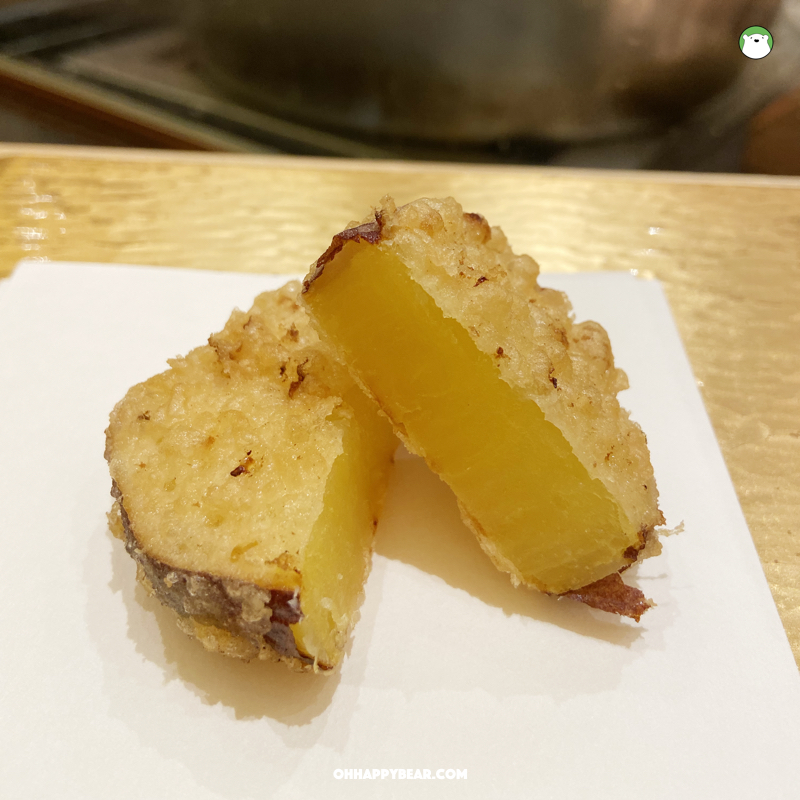 #19 = Sweet potato – lovely lovely lovely. 
And even the humble sweet potato was super delish. Pre-boiled in this case and then flash-fried. Crunchy crust, and then the steaming hot tender, almost jelly-like springy texture is just so awesome.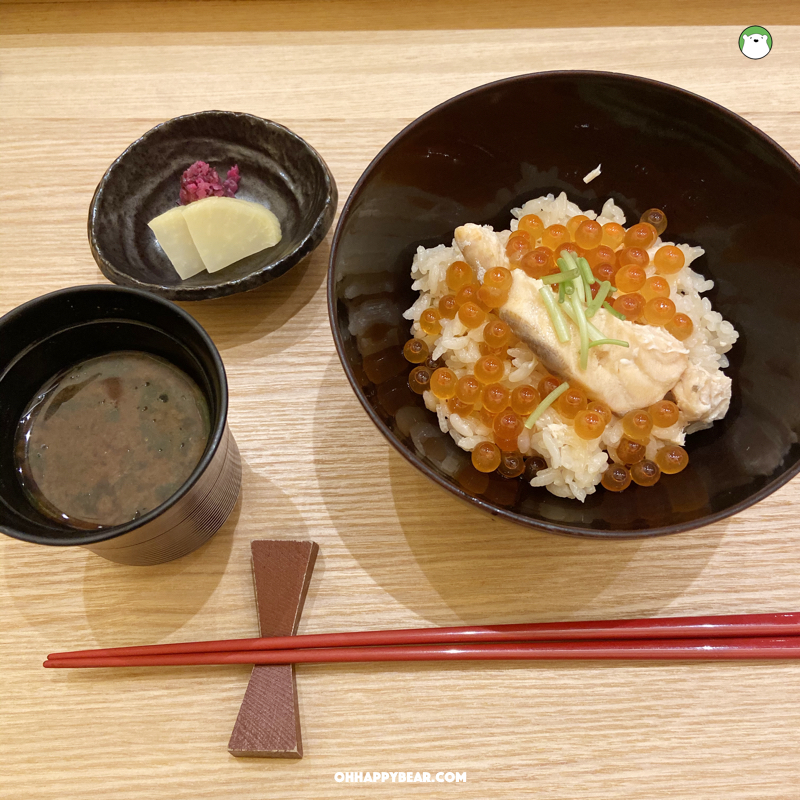 #20 = My hubbie's shokuji of choice – baked rice with salmon and roe. 
The Oborotsuki course comes with a choice of rice or noodle bowl. We choose different things and I later find out that my delicious udon is also something very special. It is called Gotou Udon – a fine type and a specialty from Nagasaki which is deemed one in five best udons of Japan. It is served with clear broth and a huge portion of Sakura Kaki Age (shrimp tempura cake).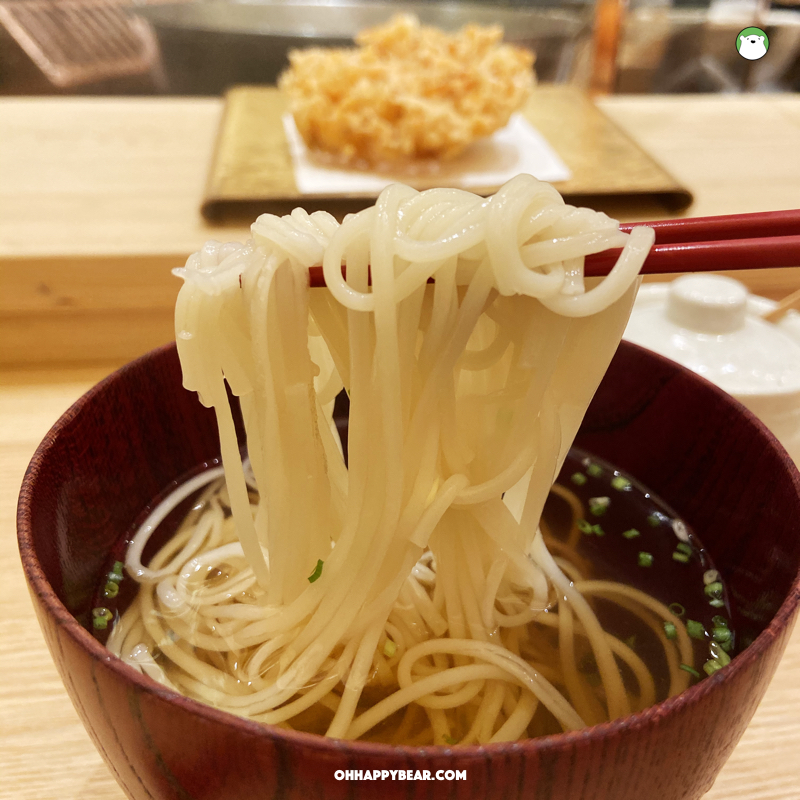 #20 = My choice of Shokuji – Gotou Udon – the fine and very delicate udon from Nagasaki – one in five best-rated udon of Japan – and it is served with Sakura Kaki Age or Sakura Shrimp Tempura below.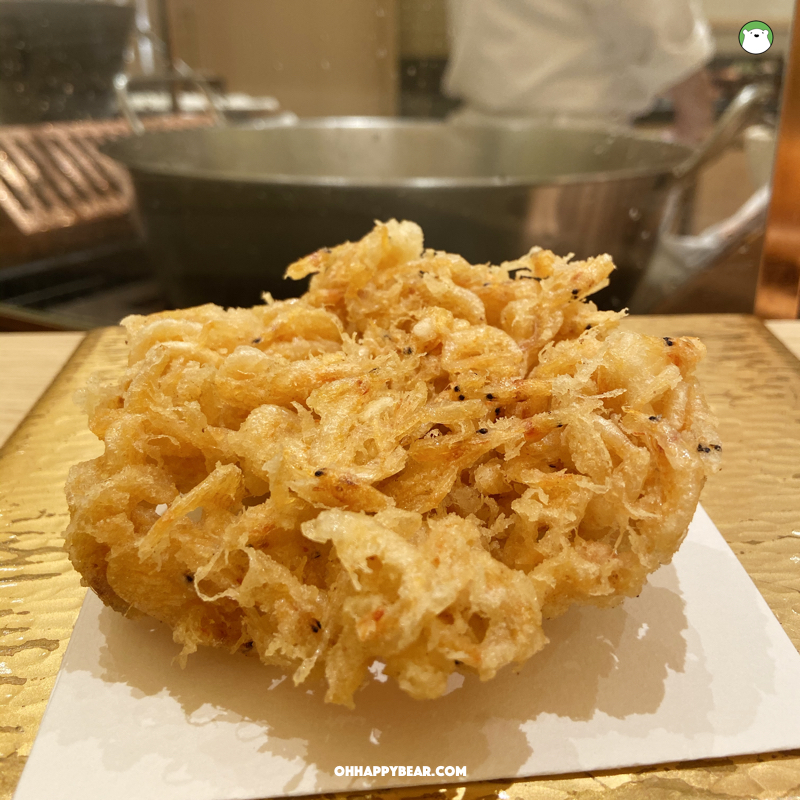 Above: The Sakura Kaki Age or Sakura Shrimp Tempura served with the udon.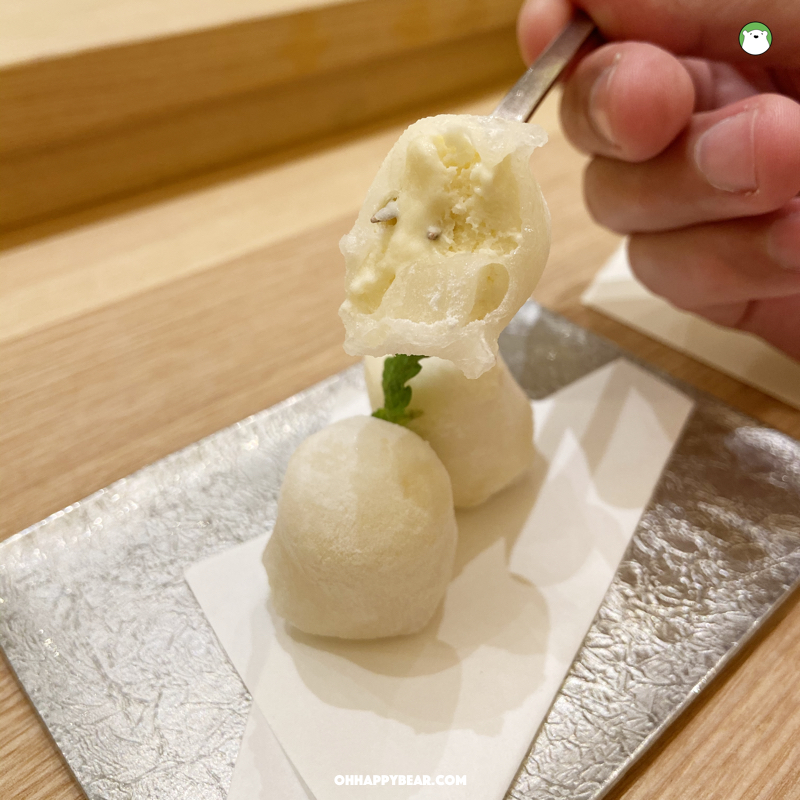 #21 = Mochi ice cream for his dessert.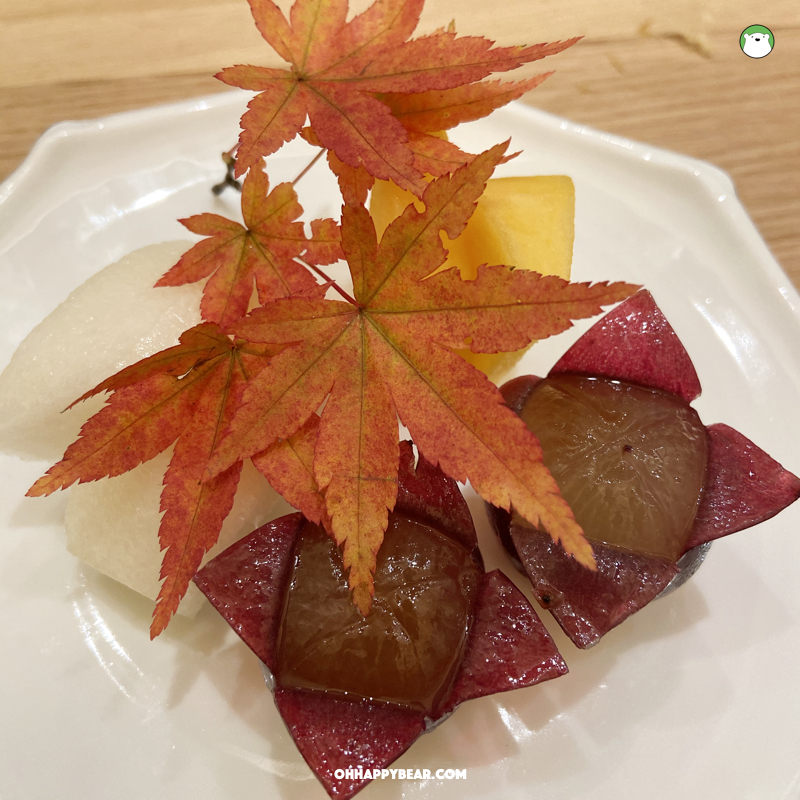 #21 = Fruits for dessert for me. Delish. 
The above two are the desserts. All delish, but I would say if you feel like exploding, go for the fruits. They are superb!
Ginza Tenharu, 3rd floor, Gaysorn Village, Bangkok. Lunch: 12.00 – 14.30 (last order 14.00), Dinner: 18.00 – 23.00 (last order 21.30) Dinner on Sundays: 18.00 – 22.00 (last order 20.30), Closed Mondays. T: +662-070-0014. For their menu, CLICK HERE.