Above: Get ready for another food coma! Sunday Brunch at Up & Above, The Okura Prestige Bangkok has one of the widest (and wildest) offerings in Bangkok. 
Sunday is coming around and you are looking for a good place to wind down with the family. Somewhere where food abounds, choices endless with friendly and vibrant vibes. So here it is – Sunday Brunch at Up & Above at The Okura Prestige Bangkok. Their Sunday Brunch has been deemed one of the best in town. And here, first things first, are the pricing and details:
Classic Sunday Brunch with juices, soft drinks, mocktails at Bt2,800++ per person. Children 6-12 years old at Bt1,050++ per person. Classic + Prosecco, Cocktails, Beers, and Wines = Bt3,500++ per person. Classic + Champagne and all other things = Bt4,100++ per person.
Cocktails on the menu include Thai Sabai, Classic Mojito, Wireless South Side, Absolutely Spicy. Beers – Chang Classic, Singha, Asahi, Federbrau. Wines – Jump Yards – Chardonnay, Australia; Lindeman Shiraz – Cabernet, Southeast Australia. Sparklings – NV Zardetto, Prosecco, DOC, Brut Veneto, Italy. Champagne – NV Louis Roederer, Brut Premier.
Every Sunday from noon – 15.00.
All come with an a la carte dish of grilled Maine lobster (half per person) served with grilled scallop.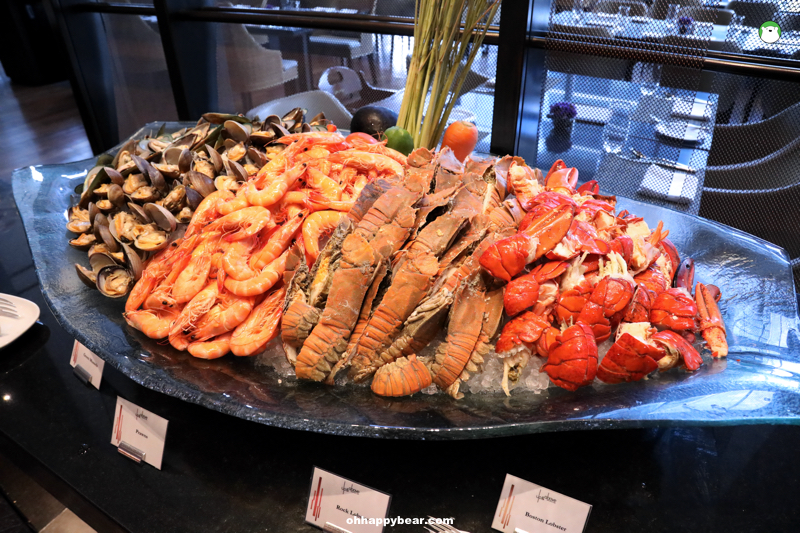 Above: Seafood on ice – aplenty, fresh and delish – at the Sunday Brunch, Up & Above, The Okura Prestige Bangkok. 
Let's face it, you'll need to prepare a little when planning for a good Sunday Brunch at the Up & Above at The Okura Prestige Bangkok. The offerings are humongous, and if you plan to sample most of them, I think you'll need some wise strategies and a good time slot to spend. Good news is that the Brunch here starts at noon and don't end until 15.00. So, you'll plenty of time.
Above: Freshly-grilled seafood to add on another layer of fragrant deliciousness. 
Most people would tackle seafood first. In Bangkok, the quality and the variety of seafood has become a default measure of a great buffet in town. The more, the better. Lobster? Yes, it's a must and it must be plenty, too. Here, they have a huge ice bed brimmed with choices – rock lobster, prawns, and, yes, lobster tails. All fresh and juicy. Perfect with a cold flute of champagne, or even better, a spicy and sour Thai-style dipping sauce. For those looking for the grilled versions, there're those too, cooked fresh and served at the hot plate station. I personally find the grilled seafood tastier than the fresh and chilled version.
Above is the seafood paella – and the below is the must-eats oysters in seasonal varieties – all make delicious company with sparkling and champagne. A way to treat yourself right on a Sunday.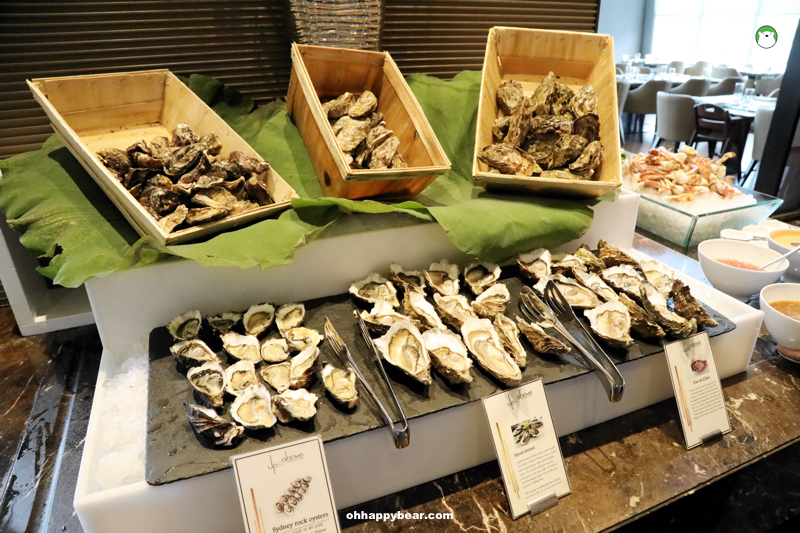 For a big Sunday Brunch like this one, I find it particularly fun to take a chance sampling all the cheeses available. In fact, the cheese section would be my primary go-to section whenever I have a chance to eat a buffet with a good selection of cheeses. This is my personal indulgence – to have a little bit of everything in one plate. They are best with honey, biscuit, and preserved fruits.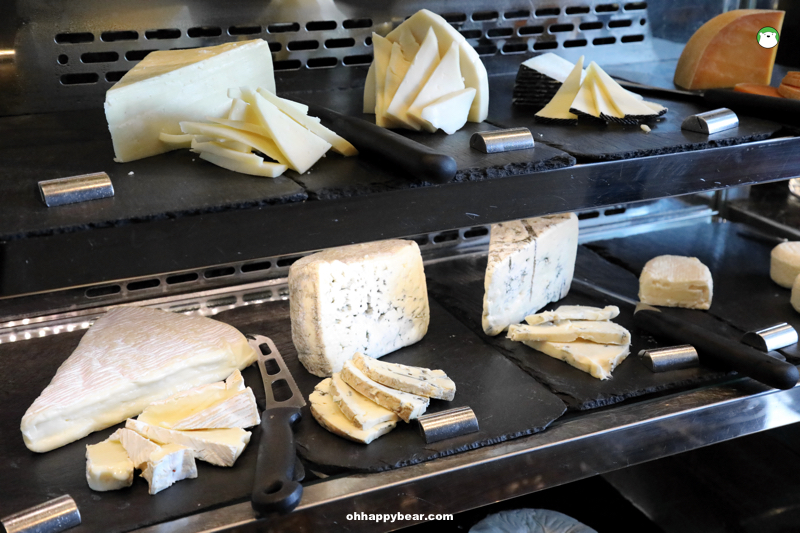 For those into the roast section, be prepared for a hearty affair. A leg of lamb, whole-roasted chicken, Beef Wellington, for example. Eat away, and see which one is the best and you can always go back for the second serving. But if not, given you can somehow take control of yourself, there are so much more here that you can always try.
Above: A beautiful piece of Beef Wellington makes a staple at the roast section at the Sunday Brunch at Up & Above. 
Above: Whole-roasted chicken as a choice, a chef is carving the chicken and plate them upon order. 
The fresh pasta section is not too far away. And the sloppy-formed, flour-dusted appearances of them all are, for me, just too irresistible. Fresh pasta – cooked a la minute per order – is one of the best things here at this Sunday Brunch. You can go for the simplest sauce – fettuccine with garlic oil and chilli, for example, or with the spicy seafood sauce. All to fill you only a bit more, just enough to tide you by to the next munch. 😀
Above: My heart melts at the sight of these sloppy-formed, flour-dusted fresh pastas. 
As a Japanese heritage luxury hotel, The Okura Prestige Bangkok is also well-regarded for their Japanese food. For those into Japanese fine-dining, I would really recommend you to check out Yamazato – where many great-value lunch sets are served along with the traditional Kaiseki-Ryori meals and a wide array of their hearty and delicious a la carte. You can read my full review here for a reference naka. Please note that their Kaiseki-Ryori is a must and it is a delicious journey into the Japanese culture. Beautiful set with best seasonal ingredients.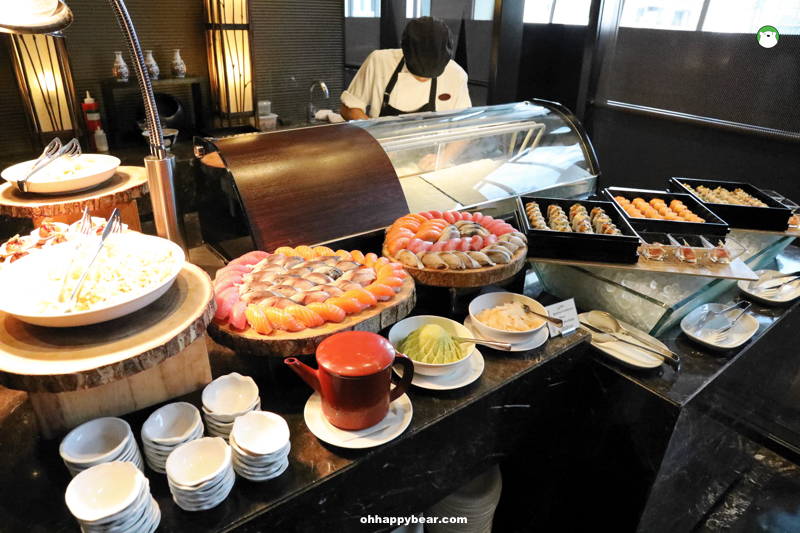 Above: One look at these humongous offerings of sashimi and sushi at the Sunday Brunch at Up & Above. Assorted tempura is also part of the deal. 
That leads us to these vast arrays of sushi and sashimi section at the Sunday Brunch. This is a heaven for Japanese food fanatics. You'll get to load your favourite munches without anyone trying to stop you. For me, I go for a plate of mixed sashimi and then a few pieces of unagi rice. Maki rolls are also made upon order. Just fantastic.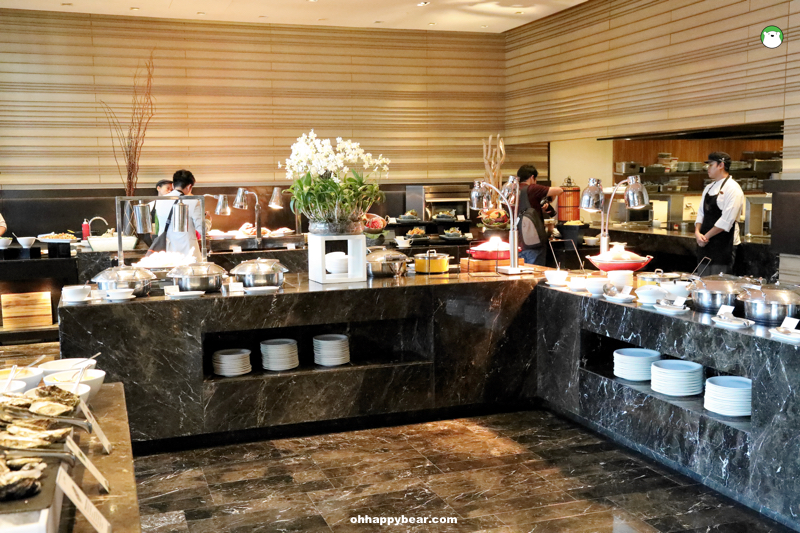 Above: Fresh seafood on ice, the hot-plate section with Thai and Asian dishes served with rice and noodles, oysters, Japanese food section and more at the Sunday Brunch of Up & Above at The Okura Prestige Bangkok. 
Above: The much-coveted grilled lobster and scallop as part of their Sunday Brunch. 
And then, there is a lovely and beautiful section the sweet finale – the well-crafted desserts. I'd say you should seriously plan ahead and definitely keep a large-enough room for them all. They look and taste equally great. Various kinds of cakes, layered and not, mousses in a few flavours, chocolate truffles (so so good), chocolate fondue with fresh fruits on skewers, and best of all Thai desserts in banana-leaf bowls and basket. Mango and sticky rice (wonderful), for example, and the candied banana served in plenty of coconut cream. All scream 'eat me,' 'eat me.' And who could resist that?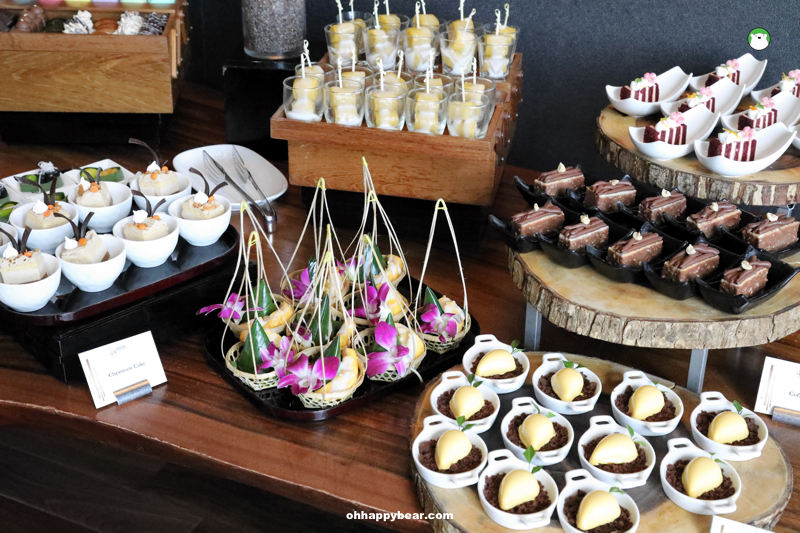 Above and Below: Desserts are well-crafted and occupy a large section. Beautiful tidbits of cakes and Thai desserts mingle here. Remind yourself to keep a large-enough room for these. All look fantastic and taste equally amazing.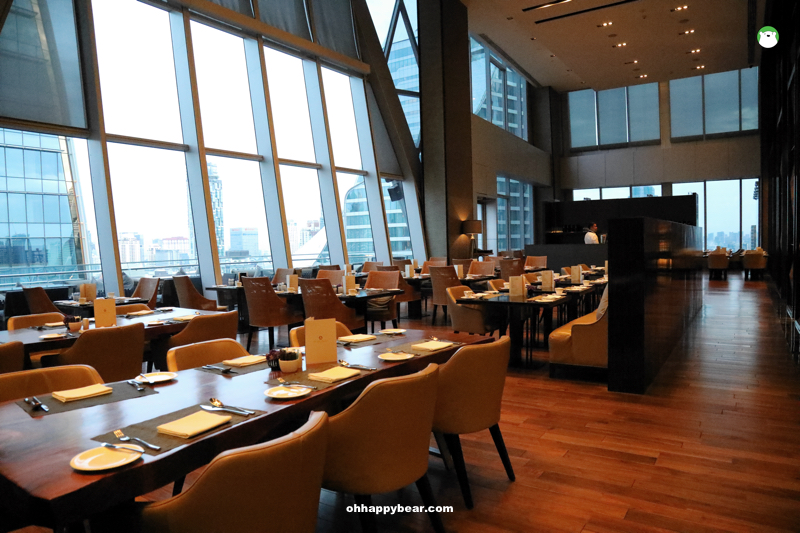 Above: Up & Above is on 24F of the building with this airy vibes, a lot of sunshine and great Bangkok CBD vistas. 
Up & Above, The Okura Prestige Bangkok, Park Ventures Ecoplex, 57 Wireless Road, Bangkok. T: (+66) 02-687-9000. For more information, visit their website, or Facebook page.
For the full review of the hotel, click here. 
---
More On Bangkok Food & Places
More on The Okura Prestige Bangkok