Above: The Okura Afternoon Delight – the classic afternoon tea served in Japanese-style wooden box at The Okura Prestige Bangkok. A real must-try. No need to wait upon the season. 😀
Strangely, but truly, a cup of tea provides an ever soothing solace unlike others. Feeling jittery and overwhelmed? Treat yourself to a good warm cup, a quiet corner, a time to ponder and reflect, and most likely, you are renewed. Emotionally, yes. But if there are some delicious munchies involved? Physically and mentally, too. 😀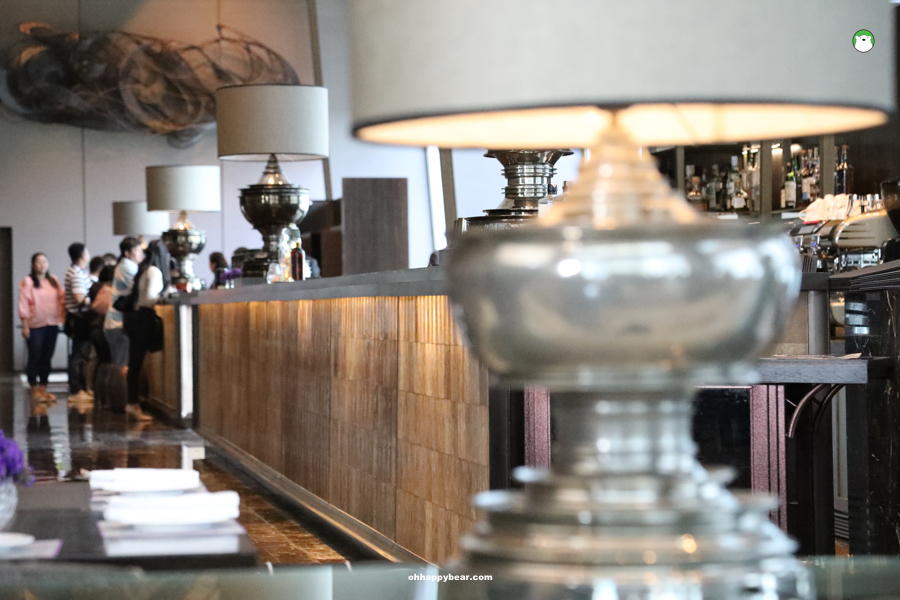 Above: Up & Above at the Okura Prestige Bangkok is on 24F of the hotel. 
Afternoon tea, although not so much of a typical Thai meal, has been a part of the urban Thai life for decades. An appearance of steaming hot, homemade scones in various flavours here and there, fruit jam and native, so they say, clotted cream, and the heart immediately get an exuberant kick. Who can resist the classic combination of stick-in-your-palate scones and a good time conversing or reflecting over tea.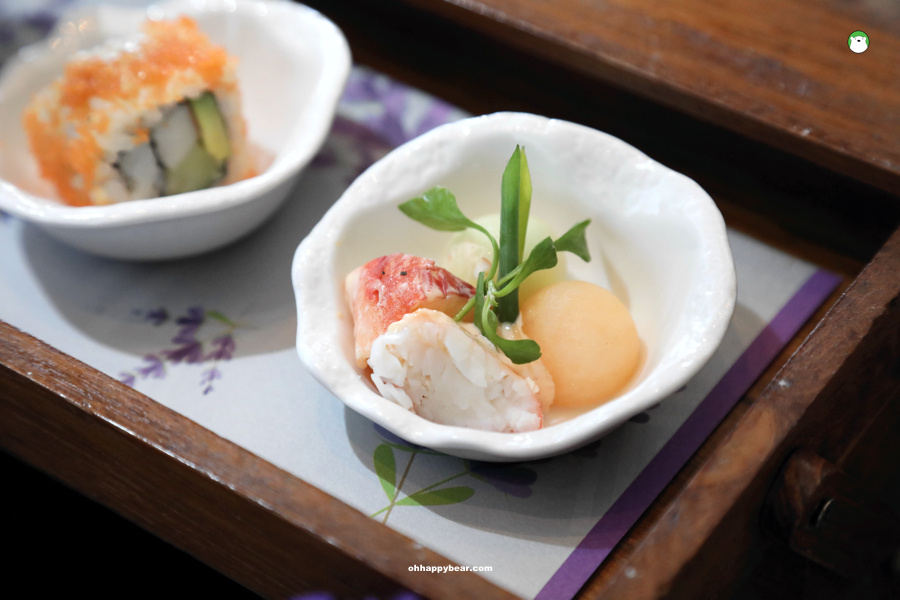 Above: In their Afternoon Delight, the classic afternoon tea set is delicious selections of savouries and sweets. Pictured are (from left) California Roll and King Crab served with Japanese melon, spicy tobiko mayo and spring onion.
And then there are five-star luxurious establishments that guarantee those good times. These afternoon tea sets are good for whenever you feel like it. Their choices are the warrants of mood-lifters. Or if you come by the right season, you can also treat yourself with the best of the times, the new tastes and texture, just so life can be even more interesting. Edible, delish, and refreshing.
The Up & Above Bar on the 24 Floor of The Okura Prestige Bangkok on Wireless Road, afternoon teas are served according to the seasons. But there is also a staple, the classic that reflects also the hotel's roots in the Japanese culture. This is 'Afternoon Delight' – with the delicious pastries and savouries served in a wooden box and ceramics that exude fine and luxurious Japanese-ness.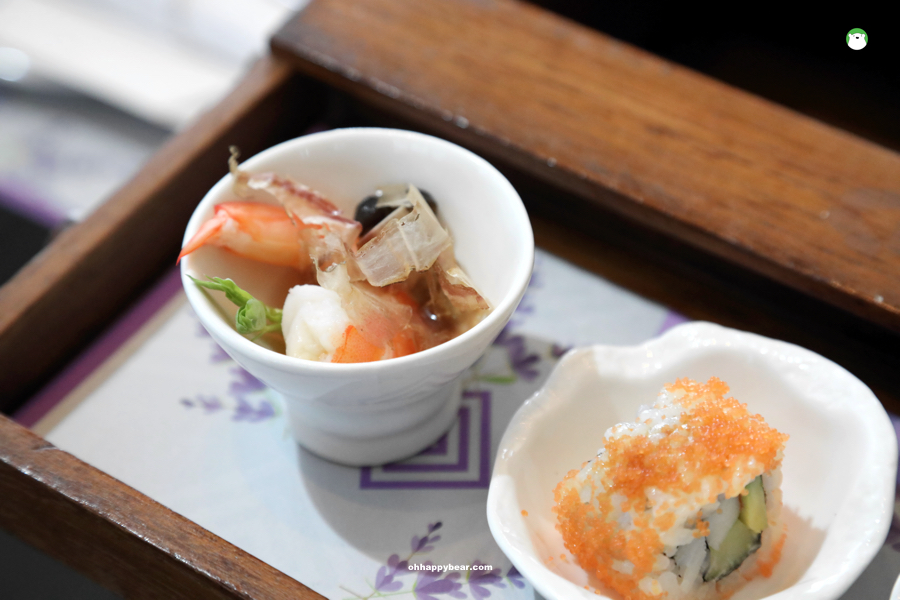 Above: From left Marinated Tiger Prawn served with shimeji mushrooms and a subtle tastiness of the chilled dashi.
The foldable and very cute box is meant for two people to share. Of course, it is packed with savouries and sweet bites, and a pair of chopstick is required. 😀 Starting from the savouries, we began with the deliciously refreshing Tuna Tanaki with a dash of wasabi cream and soy pearl. Then, we moved on to the marinated tiger prawns, stopped briefly to appreciate the crunchy and sweet texture of the prawns, shimeji mushrooms and a subtle tastiness of the chilled dashi.
For those into rolls, the good news is that they also serve California roll in this set. Paired with pickles and soy, no less. A familiar taste that is always welcomed. The last but not least on this section is King Crab served with Japanese melon, spicy tobiko mayo and spring onion.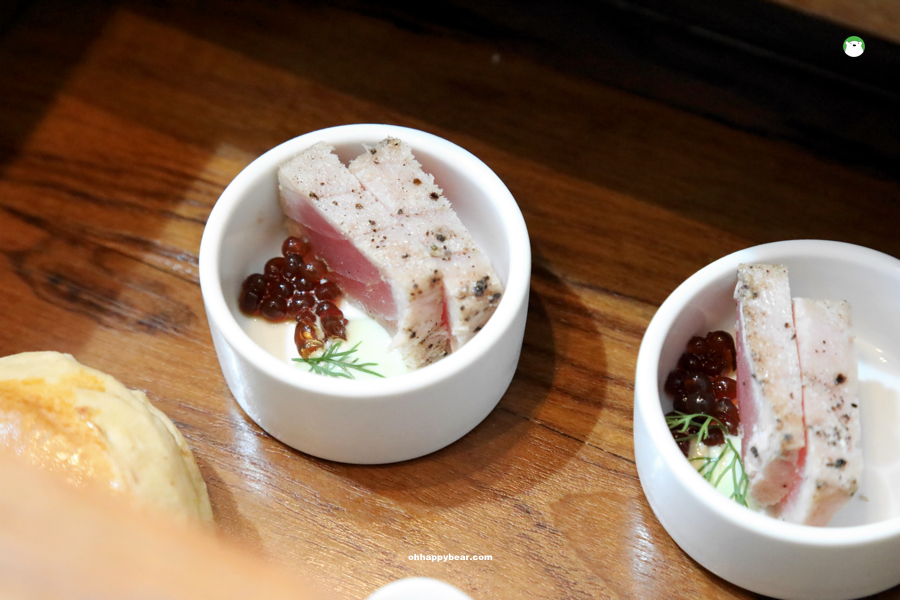 Above: Tuna Tanaki with a dash of wasabi cream and soy pearl
Moving on to the sweet section, there are great things to be happy about. Green tea daifuku – green and enticingly plump – are there for the first sweet munches. But then, for someone who cannot get enough of scones, especially the freshly-baked one, my hand instinctively reached for the scone first, broked it in half, diametre-wise, and smear one side slightly maybe too generously with the clotted cream and jam. What an afternoon tea would be without this mandatory bite? And the scones here are delish. Appropriately crumbly and sticky, and fragrant – all for a great scone. I also have to say that their homemade clotted cream is beyond my expectation. Thick and creamy. Delicious.
Above: From left – Matcha chocolate pralines, macarons, green tea daifuku and freshly-baked scones. 
At this point, I was beyond exploding. One piece of everything can accumulate a lot in a happy tummy. But may I urge me to go on. Continue. For their Matcha chocolate pralines (the white ones that look like the big bright pearls) are to die for. And their macarons are appropriately light, with beautiful legs, and not too sweet.
Above: The Up & Above lounge is a great place to observe the comings and goings of the hotel. 
All those descriptions of the bites and I haven't touched on the details of the drinks, yet! At Bt1,290++ for two, the aforementioned set includes two drinks. You can choose from a selection of Mariage Frères teas that include white, green and black teas. For those into herbal alternative, choose from Saro Royal Lotus Tea with choices from Jasmine Lotus tea and Lemongrass Lotus to Ginger Lotus and Roselle Lotus.
Coffees are also among the choices. In hot and iced form. All from Illy.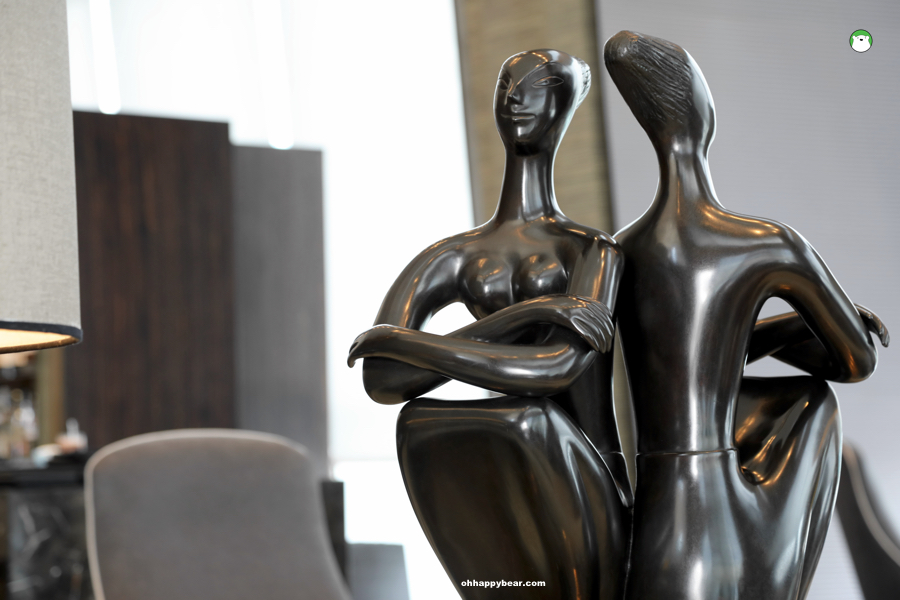 Above: Some of the hotel's lovely statues – a part of their artsy collections that adorn the entire area. 
But then, you might find this tea an opportunity to spice up things a little. When in a Japanese-clan hotel, why not do what a Japanese can. Order this tea with sparkling sake is a choice. The price is Bt1,750++ for two. Or if you want to go Prosecco, it's the same price too and you get two glass of Prosecco instead of the tea. But all in all, nothing tops Champagne version. All bubbly and happy at Bt2,750++ for two, and you get a memorable afternoon tea so special that no one in the world has anything on you. 😀
Up & Above, The Okura Prestige Bangkok, Afternoon Tea is served daily from 14.00 – 17.00. For more information and reservation, call T: (+66) 02-687-9000. Check out their website and Facebook for news and updates.
---
More On Bangkok Food & Places
More on The Okura Prestige Bangkok