Previous posts on front room, Waldorf Astoria Bangkok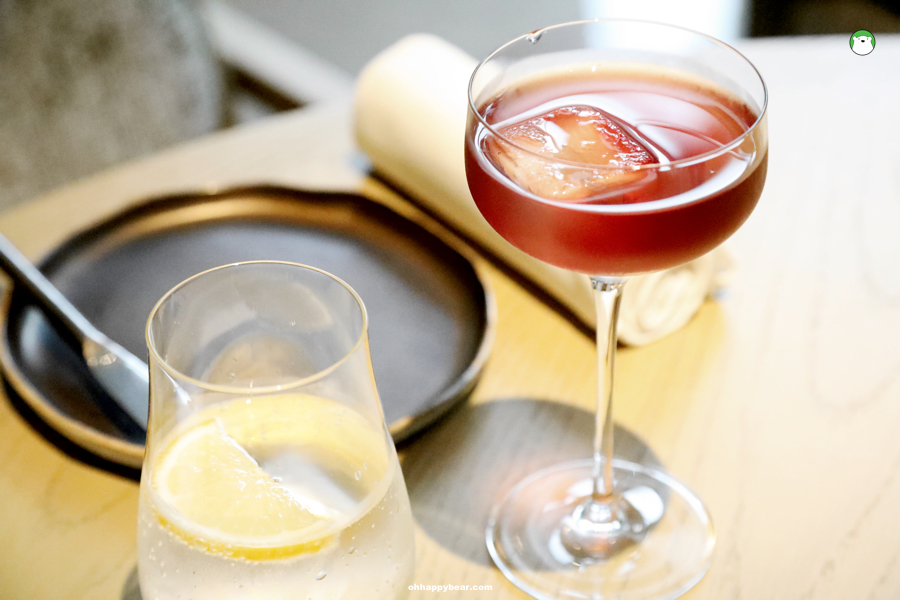 Above: Welcome drink at Front Room features something from the Thai North – black sticky rice from Chiang Rai is turned into a refreshing tonic. 
It all has been almost a year that Front Room at Waldorf Astoria Bangkok debuted their creative and delicious footprint in Bangkok. Hailing the words 'Thai-Inspired Nordic Cuisine' is not an easy task, yet they seem to be gaining traction among eaters who look for a different kind of deliciousness. An adventure on the palate, something that a foodie must try and tinker. For me, the question is still 'how could they think of that?'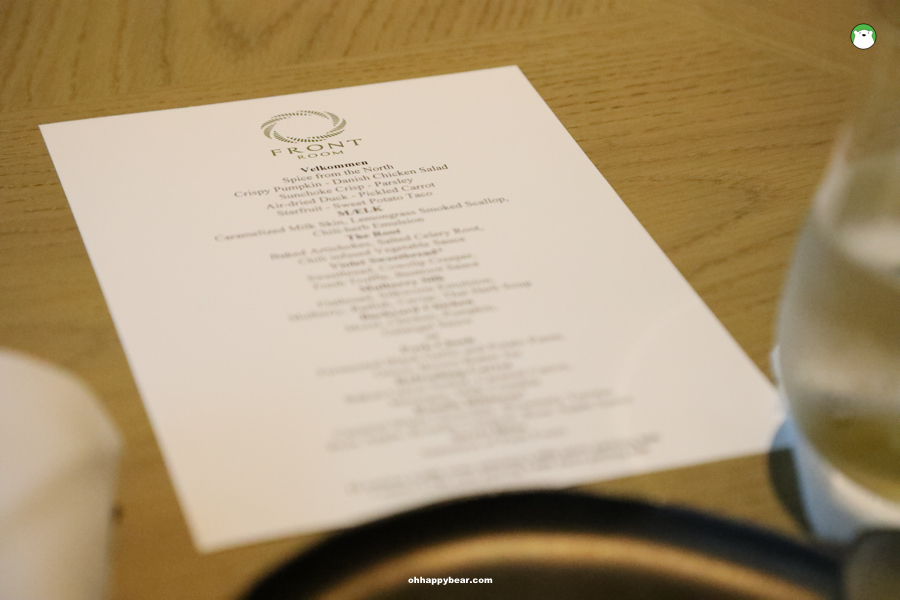 Above: Front Room's new seasonal menu features meats and roots – all things that exude earthiness and wilderness. An adventure on the palate. 
Velkommen (Welcome)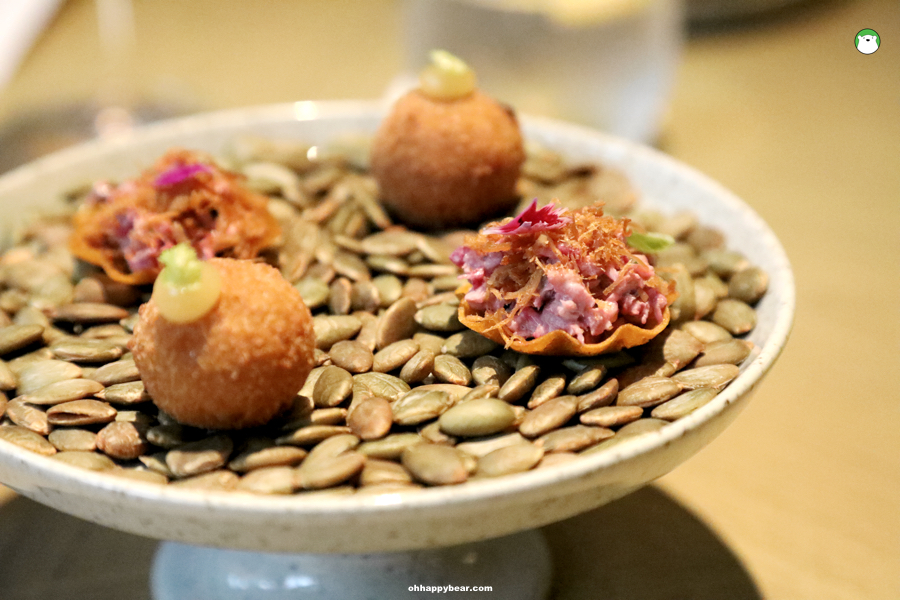 Above: Left – Spice from the North (pig's brain croquette is touted as Thai northern foie-gras, with Northern cooking and spices underlying this delicious concept). Right – Crispy Pumpkin – Danish Chicken Salad – with the chicken salad a Nordic staple.
True to form, Front Room is all about new delicacy experience. The new menu features the concept of 'meats and roots,' and half-way through our 10-course, I really felt like we were walking, well, through the woods, thanks to all the earthy flavours and dishes Chef has curated for this purpose.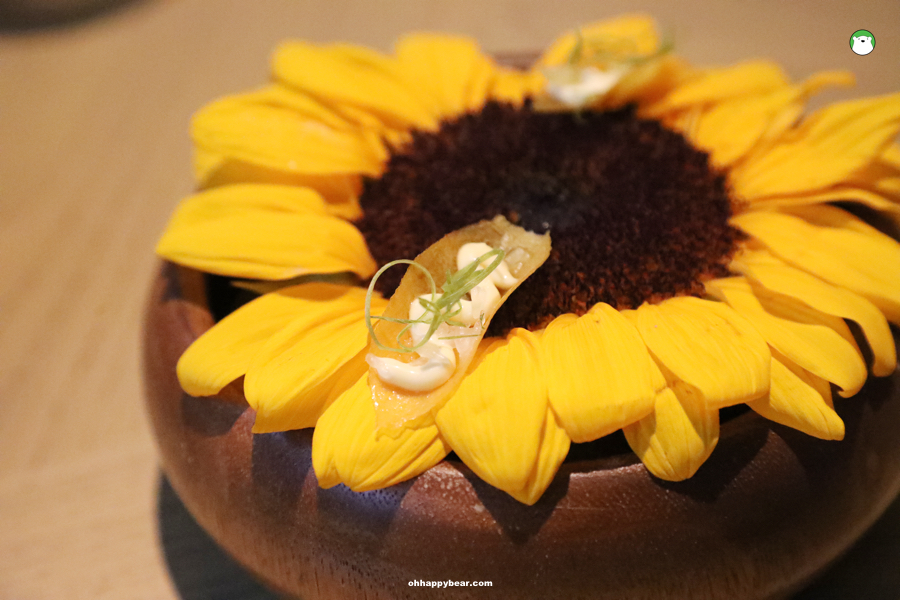 Above: Sunchoke Crisp – with a tangy note from the saffron mayo. 
We went for the juice-pairing option (Bt800++) on top of our 10-course meal. This dinner took quite a while, but if you are curious and excited about food, you will love every minute of it. I am a fan of Chef Fae – Rungthiwa Chummongkhon – the chef de cuisine who hails from Chiang Rai and spent years working in many star-studded Nordic kitchens in Denmark and Germany. As a woman myself, I also advocate for her and admire her determination when it comes to combining creative ideas and actual pleasures on the palate.
Above: Left – Starfruit – Sweet Potato Taco; Right – Rice crouton with cured duck and Northern Thai spices and roasted rice.  
Front Room's meal starts with Velkommen – Danish for the welcome – that includes five small bites to whet your appetite. Pig brain is cooked in banana leaf – Thai Northern style – and made into a creamy croquette. The fragrant spices of the Thai North also enhance the tastes. Chef Fae says for some people, pig brain equals foie gras for its creamy taste and texture.
I also loved the starfruit taco – with the starfruit compote still retaining its unique aroma that goes so well with the savoury note of toasted rice.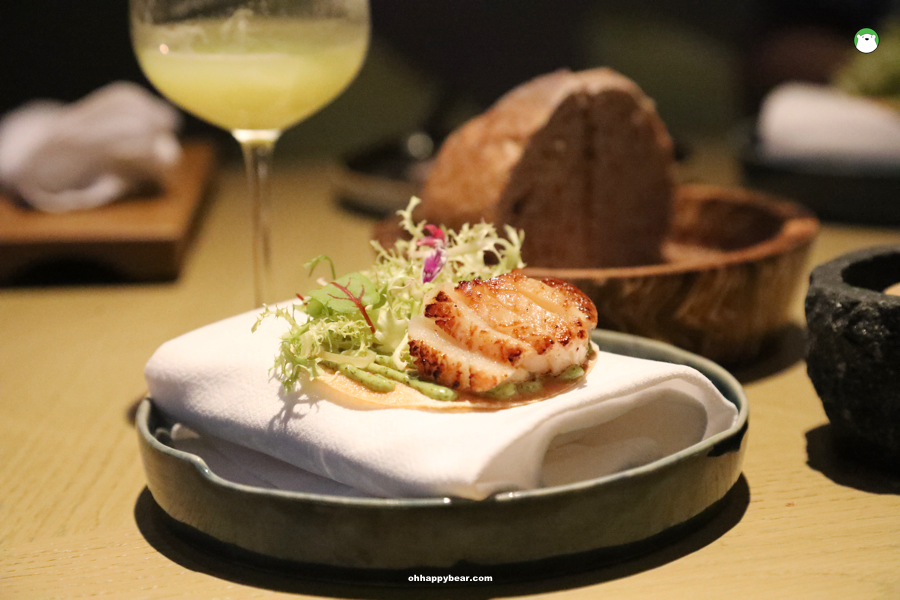 Above: MÆLK – Caramelised Milk Skin, Lemongrass-Smoked Scallop, Chilli-Herb Emulsion. Juice: Guava and green apple juice infused with rosemary and kaffir lime leaves. 
Fresh milk is reduced to form a semi-hard shell in MÆLK and provide a nutty base for the creamy and naturally sweet scallop. The chilli-herb emulsion adds to the zing. This is delicious.
Above: The Root – Baked Artichokes, Salted Celery Root, Chilli-Infused Vegetable Sauce. Juice: Carrot and green apple juice infused with galangal roots. 
Chef Fae is a master of ingredient manipulation. Or handling, and understanding. I love it when a chef can execute an awesome dish without having to depend too much on meats. Anyone can grill a perfect steak in my opinion, but Chef Fae, again, wowed us with the above dish. The carrot was grilled, thinly peeled, and reassembled with the stuffing of all things vegetables. Cooked differently, each vegetable gives different tastes and aroma. Depths differ, too. Love this one.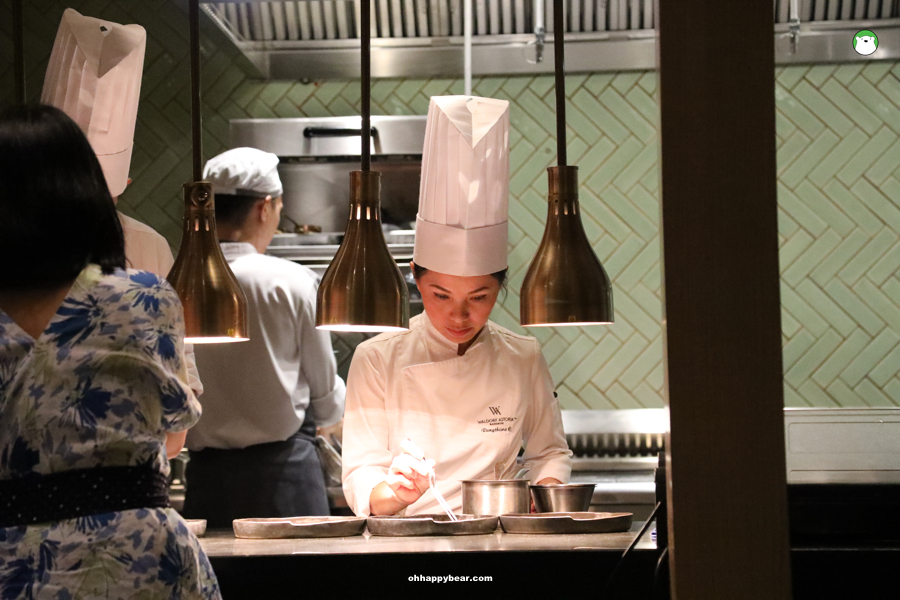 Above: Chef Fae – Rungthiwa Chummongkhon – hailing from Chiang Rai – the Northernmost province of Thailand, with all creativities and mastery of cooking.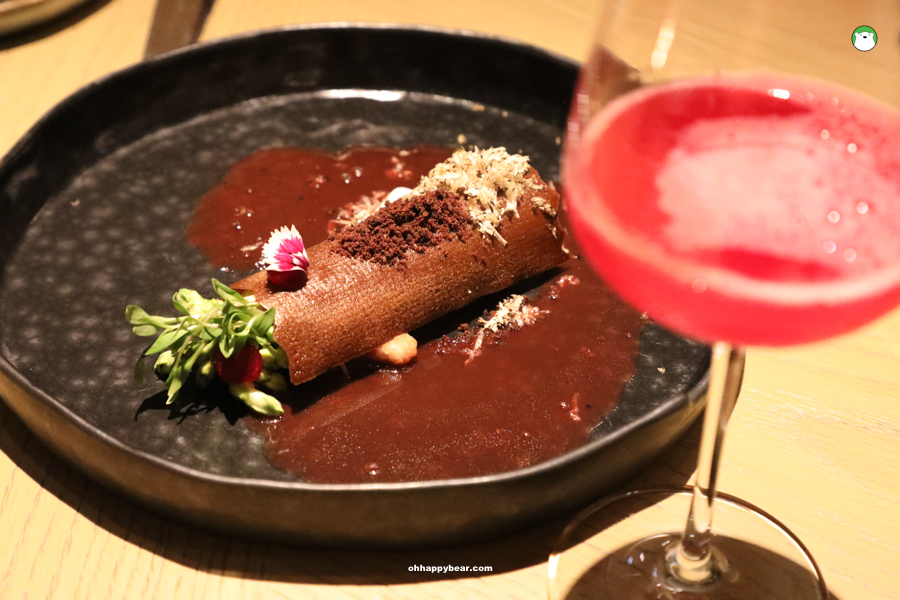 Above: Violet Sweetbread – Sweetbread, Cowslip Creeper, Fresh Truffle, Beetroot Sauce. Juice: Beetroot, pineapple, and jicama juice. 
The highlight for this ten-course tasting menu is the sweetbread above. The creamy bits are batter-fried and paired with arrays of vegetables – fresh and blanched, and then ladled with fresh truffle and beetroot sauce. Upon eating this dish, we got to the gist of the tasting menu. We were walking in the woods. Earthy, wild, and green.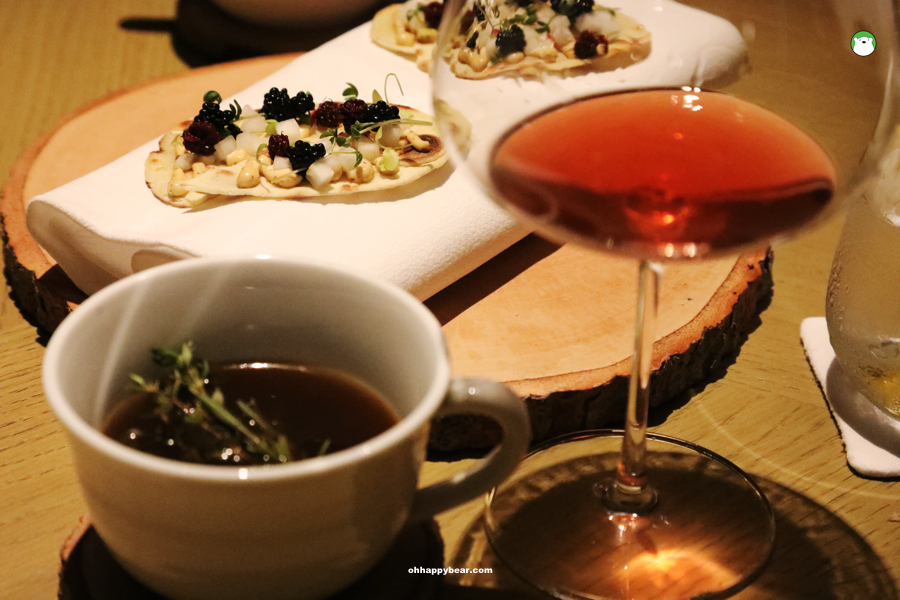 Above: Mulberry Silk – Flatbread, Silkworm Emulsion, Mulberry, Radish, Caviar, Thai Herb Soup. Juice: Guava, starfruit, and mulberry juice. Pictured is the unfiltered 2018 'Danby' Grenache from Australia. 
But if you think the sweetbread is wild, wait until you are served with silkworm emulsion (above). This is the course that the earthiness appears in full bloom. Caviar, crunchy radish, and then deep-flavoured soup infused with rosemary. All new tasty combination. All flavoursome, creative, and yes, if you don't think too much about eating those worms, delicious, too.
Above: Backyard Chicken – Morel, Chicken, Pumpkin, Galangal Sauce. Juice: Carrot and guava juice infused with lemongrass. 
The main courses feature chicken and pork – both rivals in its own kinds of depths. In the chicken dish above, the deep flavours of the meat and sauce are lifted by the brightly pickled pumpkin. Its light and sourness give the dish a tasty layer. A great combination.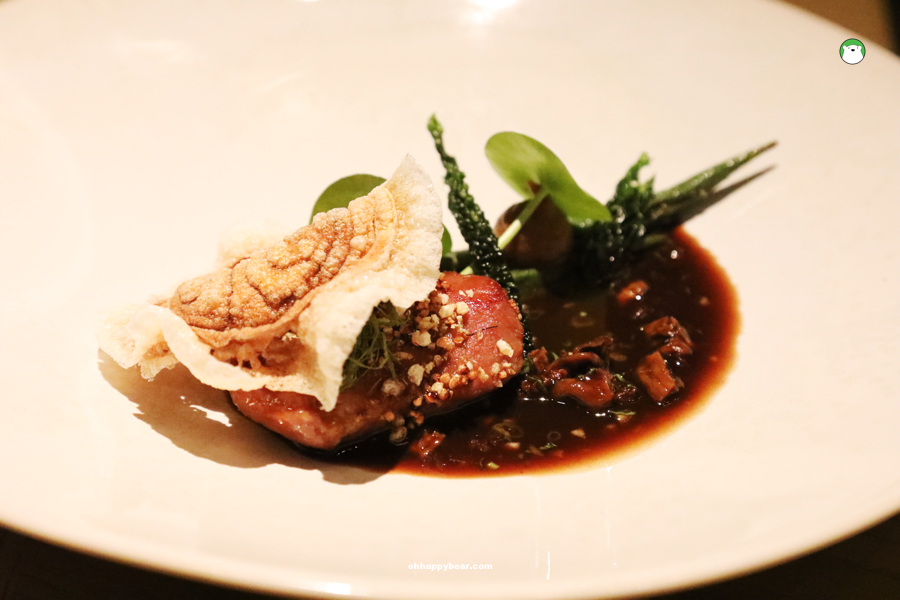 Above: Pork Cheek – Fermented Black Garlic and Potato Purée, Onion, Brown Butter Jus. Juice: Grapes and starfruit infused with spices and lime zest. 
The visual beauty of the pork cheek dish is something I really liked. The pork cheek is stewed and still very juicy. With this dish, Chef pushed us further and deeper into the woods with the additional tastes of fermented black garlic and potato purée. The swirling crown on top is a crispy-fried, rice-crusted, paper-thin onion. All things so well-thought, and the taste awesome. It is delicious in its own way, no need to find references.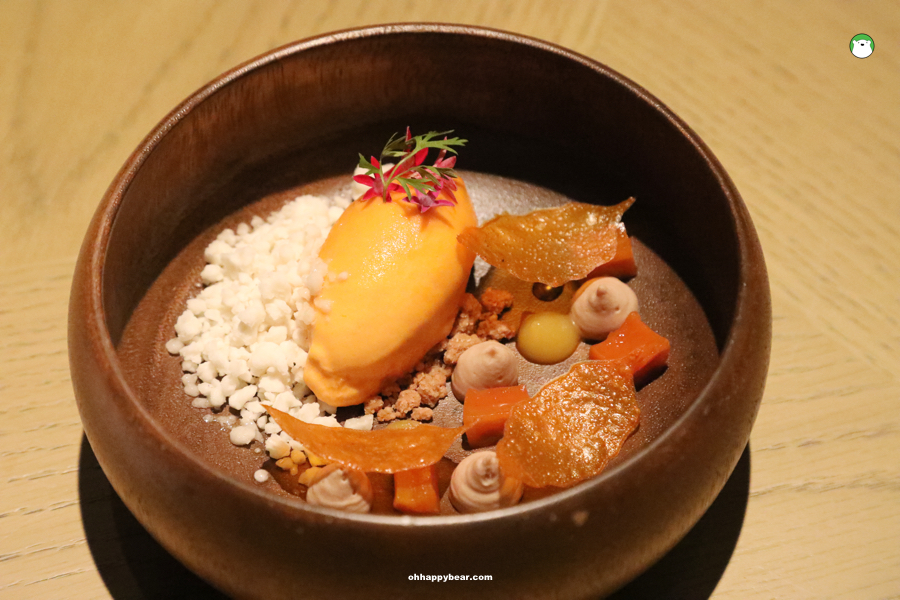 Above: Refreshing Carrot – Baked Carrot Sorbet, Caramel Carrot, Meringue, Milk Crumble. 
It is now time for desserts, and the 10-course serves three (3). Yes! 😀 Chef Fae is known for her ability to create sweets out of savoury things. Something a lot of people never thought of, but she proposed, tried, and served it. With great fanfare, too.
Carrot is grilled for sweetness, and then made into 'sorbet.' As creamy as it is, Chef Fae told me that she didn't add any cream into it. Carrot, with all its natural sweetness, literally makes itself into this lovely, velvety treat.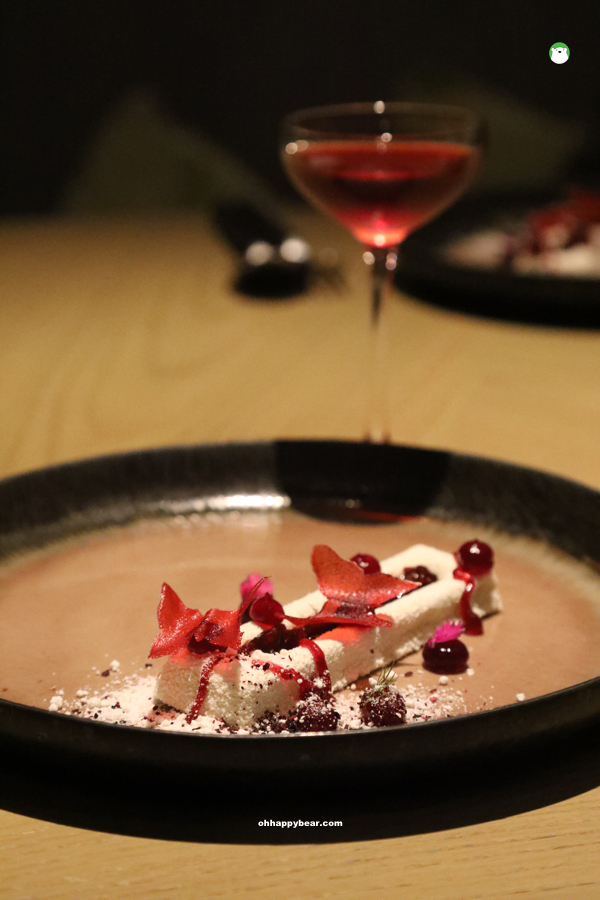 Above: Rosella Hibiscus – Caramel White Chocolate, Rosemary Terrine, Rose Apple, Rosella Compote, Rose Apple Sauce. Juice: Fermented Rosella Honey. 
And the final dessert – like a great finale – gives a final sweet punch to the whole thing. White chocolate – thin and crumble – is paired with rosella, rose apple and rosemary. Wholesome sweet, I may say, so so good. A really wonderful experience for foodies with curious minds while in Bangkok.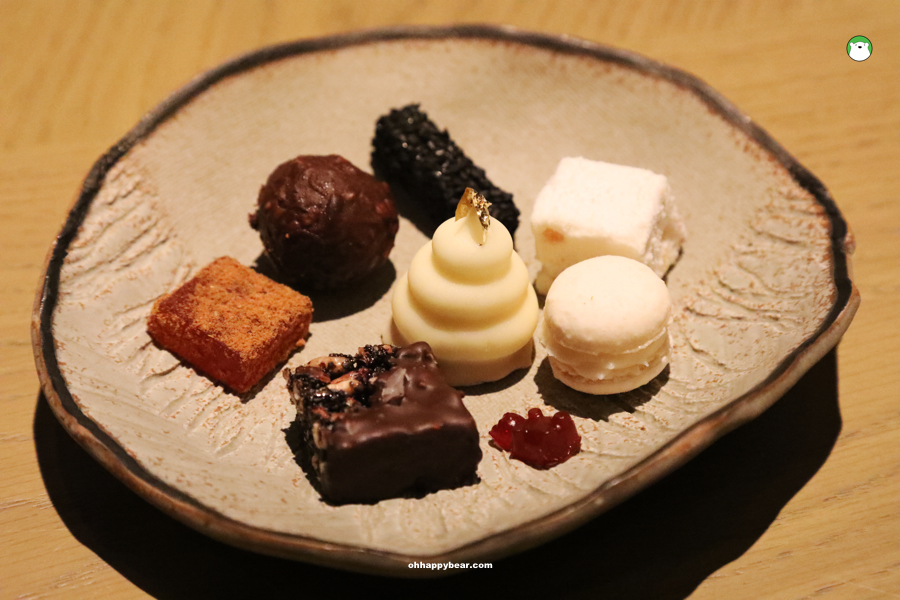 Above: All from their Petit Fours that you should save a real space for. Everything is so well-thought-of. Delicious and so very creative. 
On the final note, I would say juice pairing is a wonderful experience. I have always wanted to try how a tasting menu can be paired with juices. And they served freshly-made juices which are all delight. But for some courses, wines might be better. For example, the sweetbread, the chicken, and the pork. With all the deep flavours presented, a good acidic glass of wine would really help to enhance the whole thing.
The degustation menu is available in 7-course at Bt2,700++, and Bt2,500++ for wine pairing, and Bt600++ for juice pairing, or 10-course at Bt3,300++, and 2,900++ for wine pairing, and Bt800 for juice pairing. 
Front Room at Waldorf Astoria Bangkok. DINNER Mon – Sat: 17.30 – 22.30. T: +66 2 846 8888. For more information and updates, follow them at FRONT ROOM FACEBOOK + INSTAGRAM.  The full menu is available HERE.