Above: From African American recipes, from right: Green Creole Red Rice Beans, Beef Stew, Southern Collard and Pan-baked cornbread.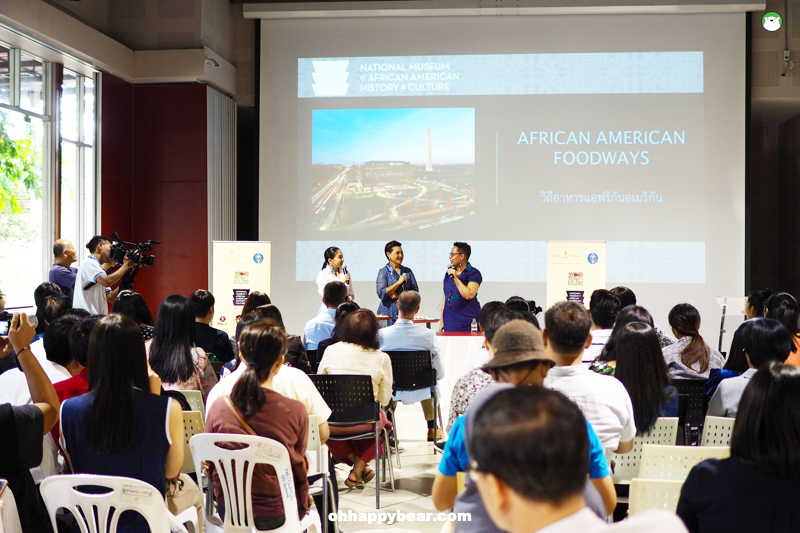 Above: The panel at the recent talk featuring (from left), the MC Khun Ning Saraichatt Jirapaet, M.L. Kwantip Devakula and Dr Joanne Hyppolite.
Food is a bridge that manages to cross all continents. In Thailand, we see the adoption of the Portuguese eggy desserts of Fios de Ovos (egg threads that we call Foi Thong) and all its yolky clans locally known as the golden desserts after their amber-rich hues. There is also the old-school steamed and burnt coconut cake of Babin – so-called after its Portuguese roots 'Queijadas de Coimbra' – that has been a staple in our cultural cradle province of Phetchaburi. Food migrates, that many have already noticed, but I never thought that African American foods can be – somehow amazingly at least in terms of tastes and beliefs – linked to our Thai dishes until this event.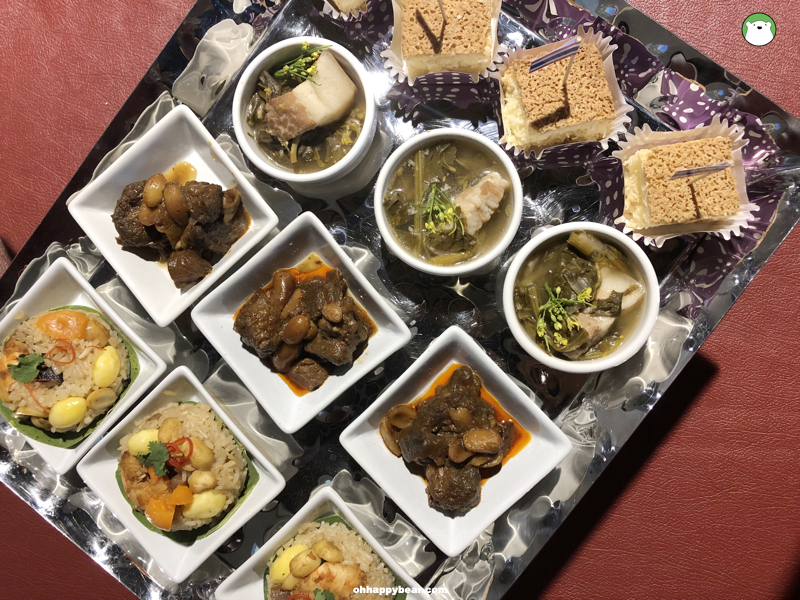 Above: From Thai recipes, from bottom: Lotus-leaf rice, beef massaman, pickled cabbage stew, and crispy coconut cake (salee krob).
Dr Joanne Hyppolite, the curator of Smithsonian National Museum of African American History of Culture in Washington D.C., came all the way to Thailand where, at the Museum Siam in Bangkok, she delivered her speech on how African American foods had travelled and taken new roots in different parts of the USA. From the South and dispersed its way through the North of both coasts, African American dishes – mostly collectively known as 'Soul Food' but mean much more – have been adopted, occasionally unknowingly, into the daily meals we oftentimes see and love.
In Thailand, the adapting and pairing African American recipes to the Thai ones was tasked to M.L. Kwantip Devakula – a local celebrity food judge and a food author. She studied the similarities of the recipes and matched four African American dishes with four Thai ones:
The US Southern Collard which looks like a mixed vegetable stew with a hint of sourness from vinegar was compared to the Thai northern style stew of pickled cabbages – with its natural sourness paired with pork belly.
The US Green Creole Red Rice Beans which is a delicious layman dish of bean stew served over steamed rice was matched with Thai-Chinese baked rice in lotus leave.
The US beef stew was compared with Thai beef massaman.
The US pan-baked cornbread was paired with an old-school Thai sweet snack of 'Salee Krob' or crispy top coconut cake.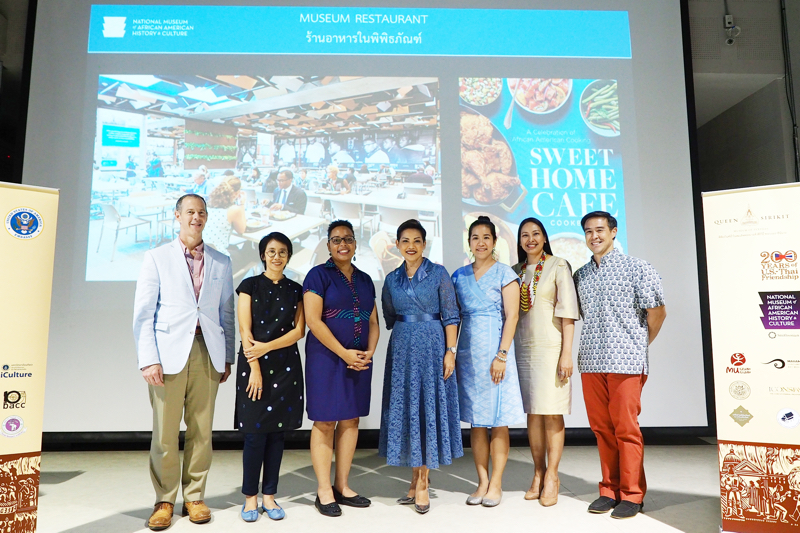 For those interested in the links between Thai and African American cuisines can look further at perhaps the Sweet Home Cafe Cookbook. Sweet Home Cafe is the cafe serving southern and African American cuisine at the Smithsonian National Museum of African American History and Culture.
Listen to all the stories, the journeys of the people who bring along their home foods, it fell on me that we are, in fact, one big delicious family. 😀 So, don't act like a stranger to one another!