Above: Baby corn and asparagus get a gourmet treatment at Front Room. All veggies are packed with flavours in their degustation menus. 
[SPONSORED]
Since its debut late last year, Front Room at the Waldorf Astoria Bangkok has paved a new culinary path with a thought-provoking 'Thai-Nordic' cuisine. Led by Chef Fae Rungthiwa Chummongkhon from Chiang Rai, Front Room is however known for another thing – their fantastic all-gourmet vegetarian and vegan dinner. Their non-meat options are no less well-thought-of and delicious than their regular fares.
You can read about Front Room's debut menu and their culinary concept in my previous post here. 
Or
Read about Front Room's Latest Seasonal Menu (released August 19)

here

.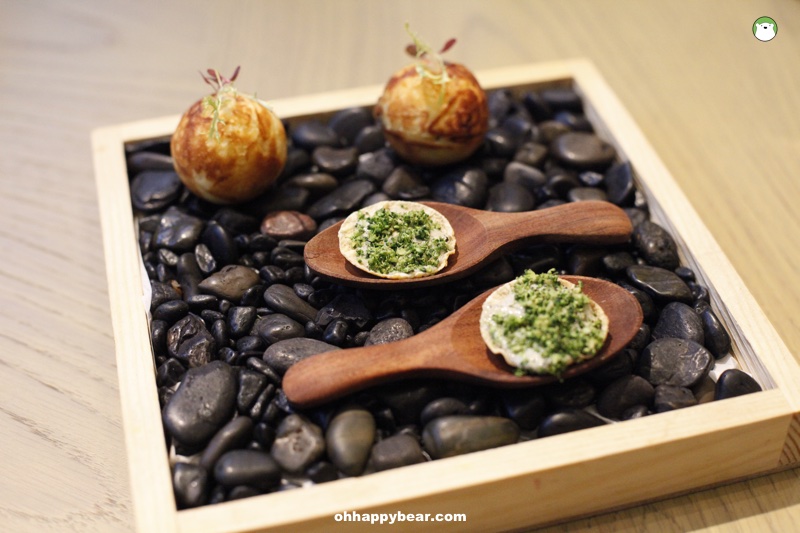 Above: Two of the four served amuse-bouches: Danish puff with shitake stuffing (top) and milk emulsion with broccoli (better eaten immediately when served while still nice and warm). 
For what I know about Chef Fae, she is a real master of ingredient manipulation. Give her a beet (like in her debut menu in my previous post), and you get a large array of different tastes right back. What I like most about her is her ability or, more importantly, her mindset that treats every ingredient equally. I don't see her more excited about truffles than she is with spring onion. She cooks pearl barley with not only skills but also ideas, resulting in different textures that make one otherwise simple dish very very awesome.
Above: A salad dish of celery with celeriac wontons wrapped with lemon puree and sea asparagus. 
The idea behind the vegetarian menu at Front Room is that those who choose it can have a similar experience with those who do not. Vegetarian, in this case, means you still get to eat cheese, eggs and milk. Vegan (meaning none of that above) options are also available, but you will have to notify the restaurant beforehand so they have enough time to prep properly for you.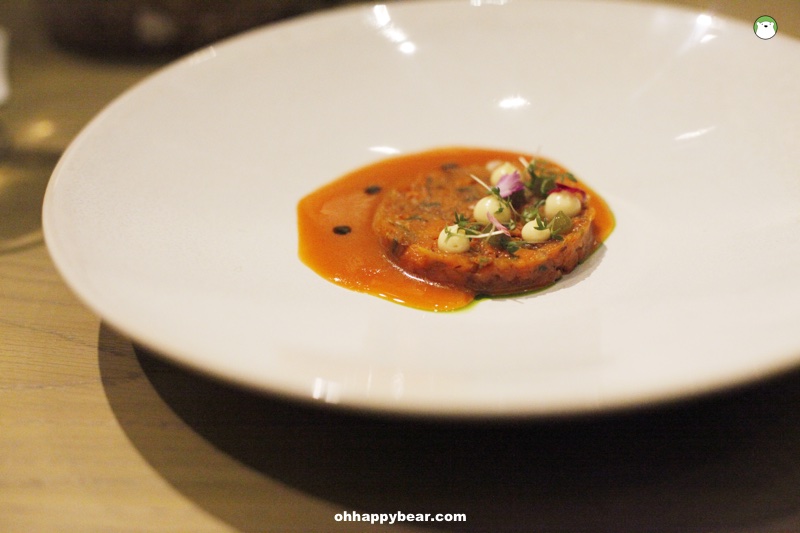 Above: Carrot is paired with bitter orange and rice mayo. 
Front Room has just changed their seasonal degustation menu early this January (2019). Winter everywhere including in this beautiful Kingdom results in less fresh produce. Sprouts are rarer, in contrast to root vegetables, legumes and dry beans, hence a series of dishes designed to reflect that fact. While the regular menu features more seafood, the vegetarian menu leans on bright flavours of picklings, jams, and mousses borrowed from Nordic food-preservation kitchens. Light and deep picklings, different times that you left the veggie in the jar, result in assorted taste nuances, creating a delicious variety of tastes in a singular dish.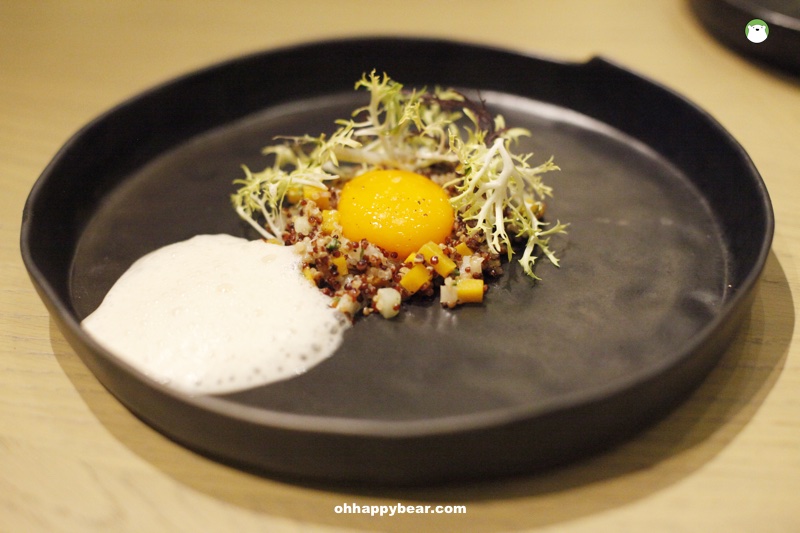 Above: Reborn with egg yolk confit in dill oil served on a bed of quinoa salad and pickled pumpkin. 
Confit – the art of slow-cooking a protein in fat – is also employed with egg yolk together with thyme (the herb) to create a subtle aroma. A mixture of grains, quinoa, for example, are fluffed with small cuts of pumpkins flavoured with something Asian like soy sauce and something Western like brown butter to create strong-binding flavours that have become something unique at Front Room.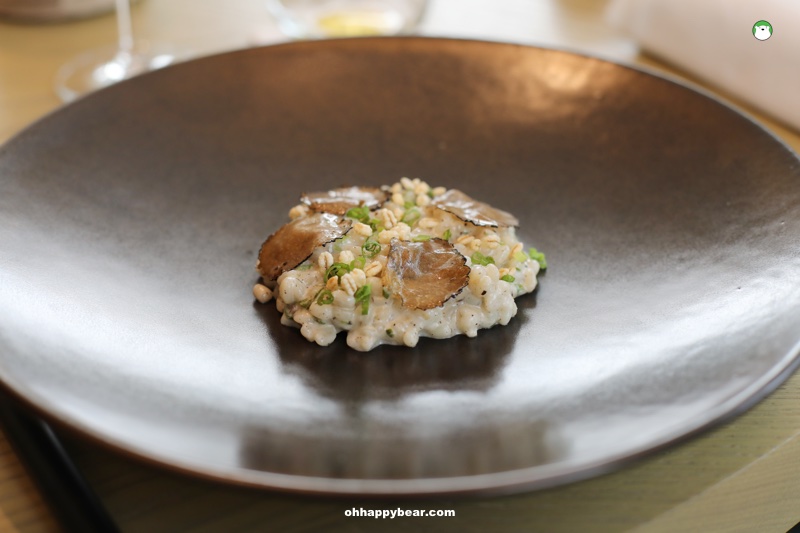 Above: A very creamy and aromatic pearl barley porridge served with fresh black Italian truffle.
The vegetarian menu here is not something totally different from their regulars. Chef Fae adds and subtracts, deconstructs and builds, reduces and increases. The pearl barley that is a delicious side in the duck dish becomes the main star in the vegetarian equivalence but amped up with slices of fresh truffles, for instance.
The tastes of the whole vegetarian menu are vibrant, tasty and clean. A great balance between refreshing and satisfying. Clean and indulgence. Vegetarian but never left out.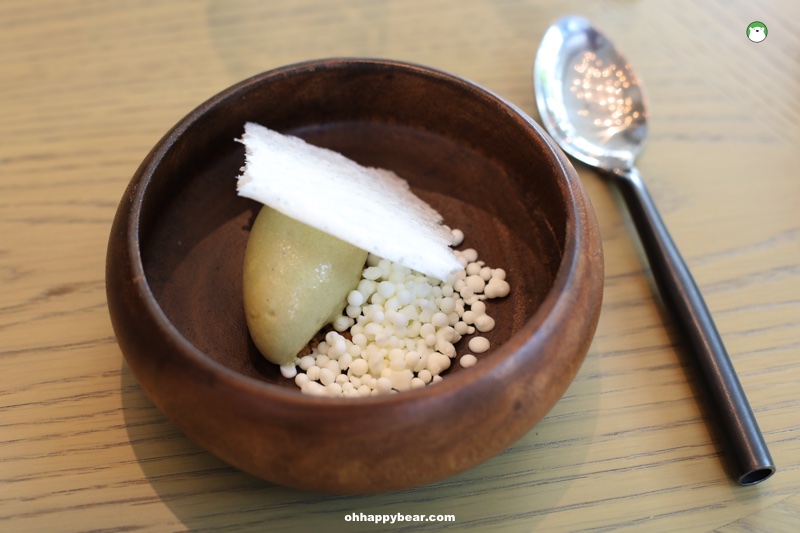 Above: I am Young! Tamarind sorbet with milk chip. 
The desserts at Front Room is something that I like very much. Ingredients that are usually considered 'savoury' are made into desserts. In the previous menu, they were basils and asparagus. This time, it is eggplant. Grilled and made into sorbet. Candied and made into a garnish. Chocolate was burnt for the burnt aroma and crushed into crumbles. Mulberry was juiced, frozen and made into granita, adding to the sweet and sour and fragrant elements. Totally sublime.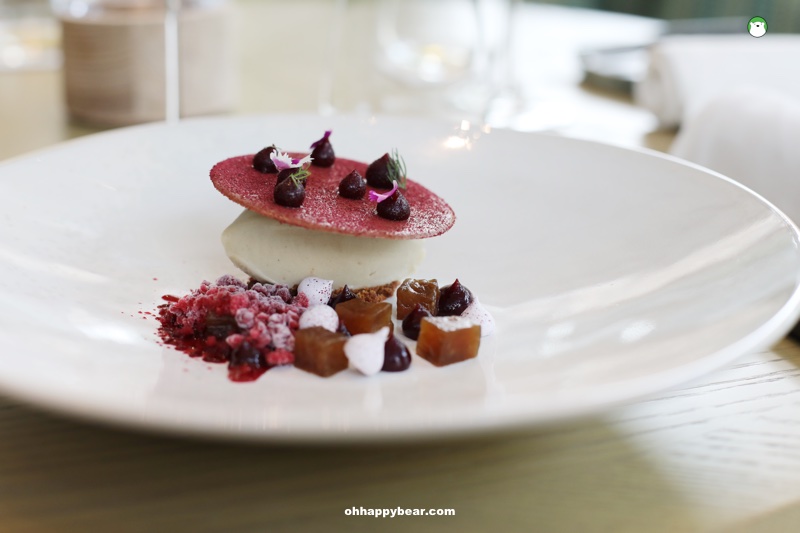 Above: Eggplant sorbet with candied eggplant, mulberry mousses and meringues, chocolate mousse chip and bitter chocolate crumbles.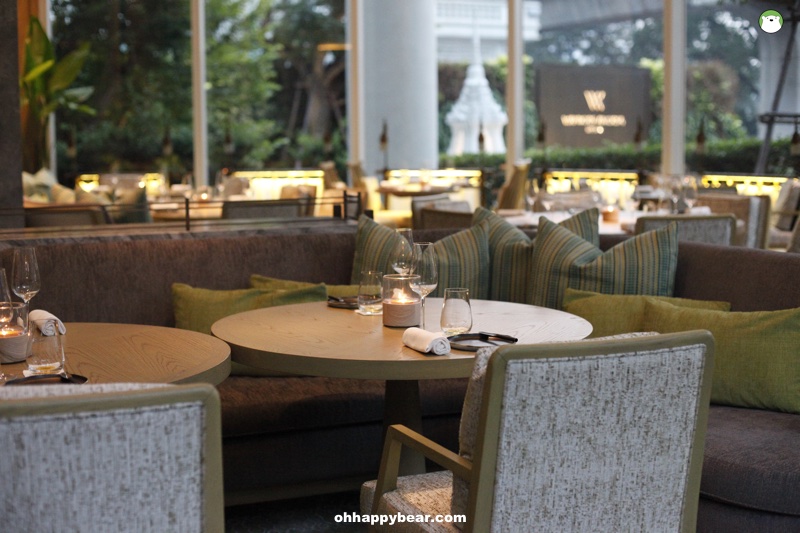 The degustation menu is available in 7-course at Bt2,700++, and Bt2,500++ for wine pairing, and Bt600++ for juice pairing, or 10-course at Bt3,300++, and 2,900++ for wine pairing, and Bt800 for juice pairing. 
Front Room at Waldorf Astoria Bangkok. DINNER Mon – Sat: 17.30 – 22.30. T: +66 2 846 8888. For more information and updates, follow them at FRONT ROOM FACEBOOK + INSTAGRAM.  The full menu is available HERE.