When it was debuted years ago, Erawan Tea Room inadvertently set a trend that would later become the hottest one of the current time – bringing back Thai foods and desserts and make them all cool again.
But now, it seems, even after years into their operation, the place is now making another statement that is equally very awesome. First, they are not serving you plastic straw now, unless you ask for one. Second, their menu features sustainable signs, meaning they are buying seafood from small-scale fisheries who conduct their fishing businesses in a certified organic or sustainable way. Consumers are having more moral and environmental choices in their foods, and the fact that a big business such as this five star hotel is now showing their support to a fisherman network is just very inspiring.
Above: Erawan Tea Room's signature lychee iced tea and crispy shrimp rice crackers and toasted chilli dip.
For those who haven't been to Erawan Tea Room, allow me to make an introduction. This place is a tea room slash Thai restaurant. Their full Thai menu features delicate and beautiful dishes prepared by veteran Thai Chef Achara To-ussami and her team. Dark wood is the main colour theme. You will see an old-style wooden ambiance punctuated with green-and-blue celadon ceramic wares and bright-coloured cushions and pillows. A good place for a comfy friendly Thai meal in Bangkok CBD.
Above: The 'Tea Room Appetisers' (front in Phoenix celadon), and rice cracker with pork+shrimp coconut dip (khao tang na tung). 
The small-scale fisheries is a project by the Earth Net Foundation – a local organisation whose jobs include procuring certified organic products all over Thailand. They are a part of Green Net Cooperative, and their seafood, coming from Phetchaburi, Songkla, Pattalung, Krabi, Phang Nga and Satun, are certified by the Organic Agriculture Certification of Thailand (ACT) with full tracks for traceability. Not every dish at Erawan Tea Room features these ingredients, so look for the dish with the signs of blue fish (for small-scale fisheries) and fishing hook sign (for certified sustainable seafood, some farmed and sourced) in the menu if you'd like to try their products.
Above: Petuna ocean trout in tom kha soup, Bt360. 
Small-scale fisheries include fishermen who are supposed to be conducting their fishing old-school that is supposed to be minimum invasive to the oceans. So, by supporting them, we are supposedly supporting the old livelihoods of the fishermen who are still earning his life by making daily catches on his small boats. I wrote supposedly because as we all know, there are always reasons to be paranoid because people might not be doing what they say they are doing. But I do very much hope they are. 😀
Above: Pineapple fried rice that features sustainable seafood (crabmeat and shrimp) with chicken, ham and pork floss, Bt330. 
So, here are the foods that we ate for lunch at the Erawan Tea Room not too long ago. Delicious and beautiful. Good for anytime. And I saw they have a very impressive vegetarian menu, too. And with that I secretly hope they will be setting another great eating trend around (eating less animals). Some dishes feature the ingredients from the sustainable sources, some don't. It is only natural. A restaurant this scale can in no way procure all sustainable resources for their kitchen. But at least, they are being honest about it. Please read captions for the food details.
Above: Choo Chee Goong – Tiger prawns in red curry and coconut cream (Bt890).
Above: Their all-time signature: sticky rice and mango, Bt240.
Above: My all-time favourite – Kanom Krok – crispy rice pudding, Bt180.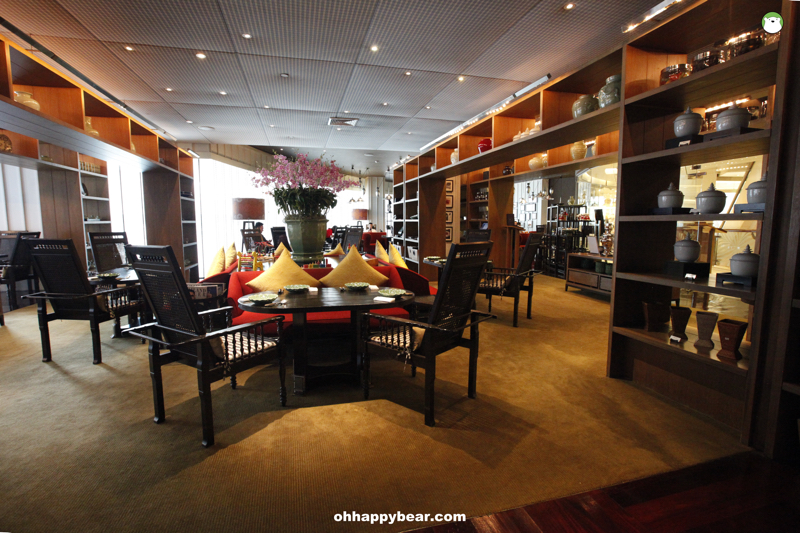 Erawan Tea Room also features impressive 'vegetarian' selections which I would definitely go back and try. The offer all-you-can-eat Mon-Fri at dinner and Sat-Sun at lunch for Bt950++ per person. Afternoon tea set starts at Bt600++.
Erawan Tea Room, Grand Hyatt Erawan: (BTS: CHIDLOM) Lunch: noon – 14.30, afternoon tea: 14.30 – 18.00, dinner: 18.00 – 22.00. All-you-can-eat: dinner every day at Bt950++.