During our one week in Singapore, we experienced deliciousness in great magnitude. And still, we missed out on so many. This is the first post in our Singapore series. These are the most scrumptious foods of Singapore that we would very much like to recommend. And with this post, we thank our good friends over there. You know who you are 😀
This is part 1, part 2 is 

here. orders not arranged by preferences. 
1.

Hokkian-style Prawn Mee at Tekka Food Centre
This long-standing Hokkian-style prawn noodle is set right in the middle of Little India. Eat this and you can walk around to digest it. A great health plan.
Even now that the third generation is taking over when we were there, the father (2nd gen) was cooking, hence our luck to see the master in action. Prawn mee is so aromatic with prawn + pork soup. Choose from their various choices of noodles (mee pok = flat egg noodle, round egg noodle, bee hoon = rice vermicelli, or hor fun = flat wide rice noodle). The 'dry' version means your chosen noodle is coated with their house-made chili sauce (you get to choose between tomato or chili sauces), I prefer their soup version with my favourite hor fun (flat wide rice noodle) fully submerged in the steaming fragrant soup. The attention to detail here is above par. You might find the serving bowls themselves a little greasy, but look at the prawns, all neatly halved and cleaned. The wonderful, hearty meal you can have in Singapore at S$4-6. Note the hours and be there as soon as you can.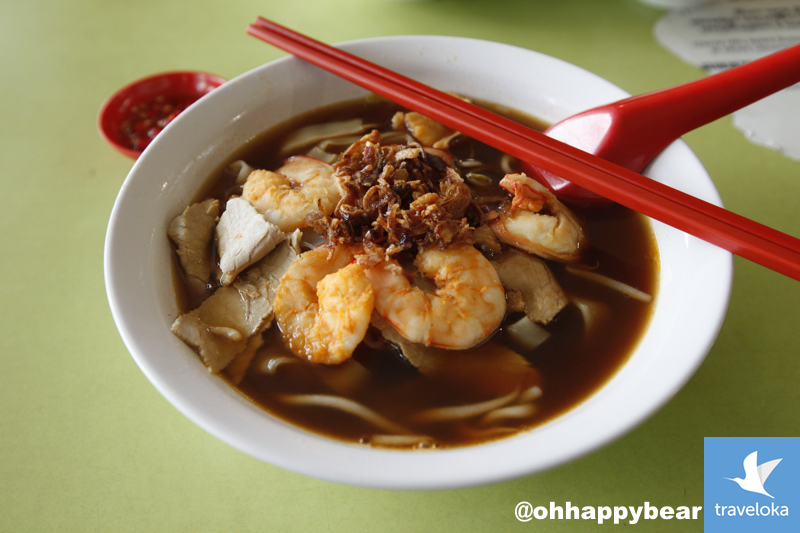 Above: Hor fun with prawn mee soup.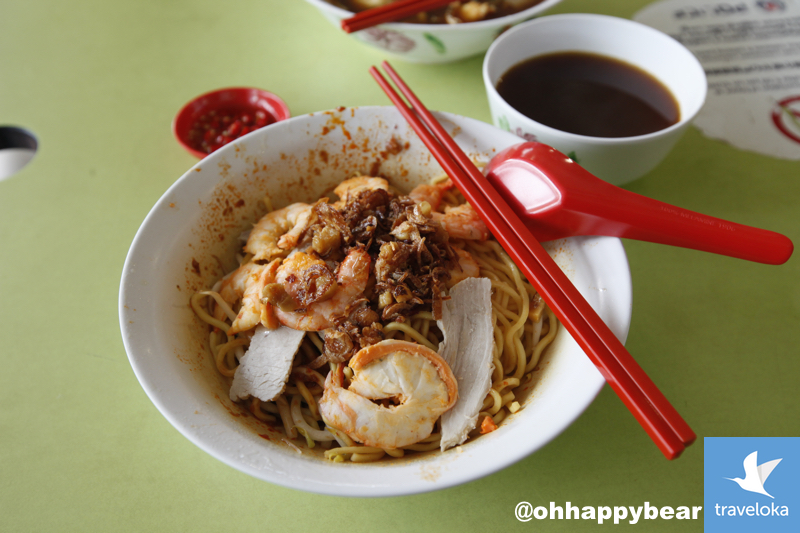 Above: Round egg noodle dry is coated with housemade chili sauce and served with prawn soup.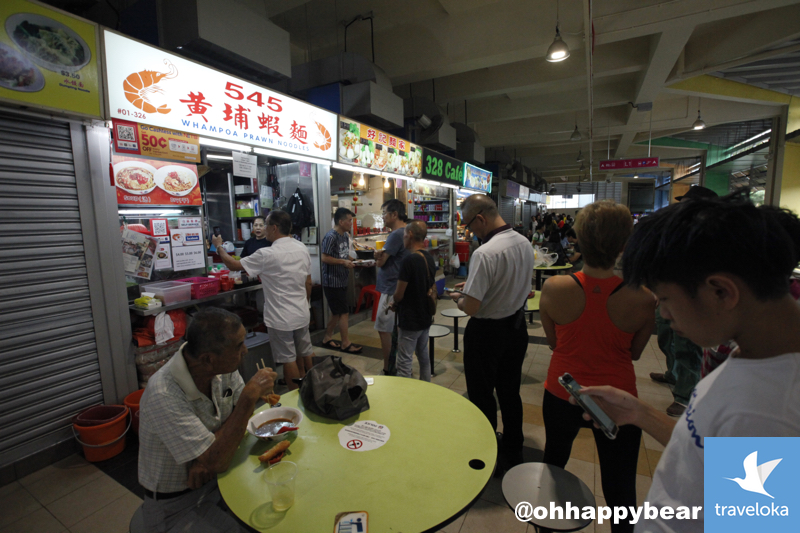 545 Whampoa Prawn Mee (Map), #01-326 Tekka Centre in Little India, Daily (Closed Wed + Sat): 06.30 – 14.00.

2.

freshly cooked Zi-Char at Kok Sen in China Town
Kok Sen in the China Town of Singapore is the epitome of old-school zi char-style eats that locals still prefer. Excellent by trade (versus marketing stunts), this nondescript restaurant has been on Michelin's Bib Gourmand list for a couple of years. A sensation of something great and fantastic about to happen to the stomach occurred as soon as we lined up for a long, and usually solemn, queue outside their closed door. Their lunchtime opening is at sharp noon and not a second earlier. At the tick of the clock, the door was pulled up, people streamed inside in droves, chasing for the available chairs and tables. Reservation, if you can make it, is highly recommended. Do not fret over the Chinese-only menu on the walls, just ask for their tourist menu with English descriptions, pictures, and prices. Small, medium, and large portions are available for each menu.
We totally love their stir-fried hor fun noodle with chunky fish fillets and black beans, hor fun with medium-prawn and eggs, bitter gourds with pork ribs, prawn paste chicken (so good), curry fish head, and stir-fried morning glories with shrimp paste. Good value for money. And skillful wok-frying, beyond-any-words delicious.
Keong Saik Road where Kok Sen stands used to be Singapore's prominent red-light district. Now the street has become so hip, brimming with cool cafes and restaurants. Take your time to browse if time and weather permit.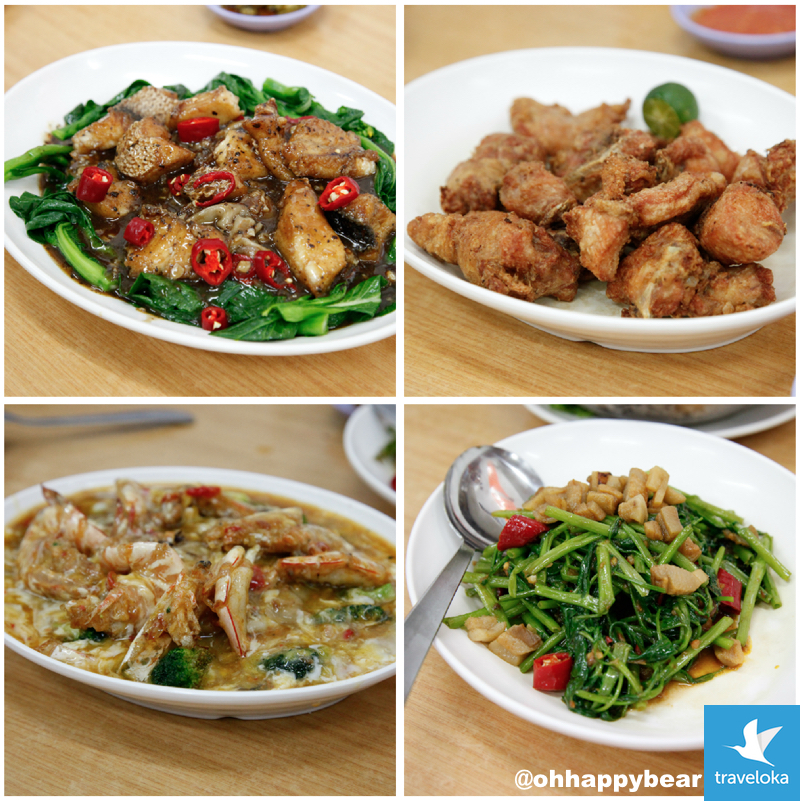 Above: Hor fun with chunky fish, shrimp paste chicken, hor fun with egg and small prawns, stir-fried morning glory with shrimp paste and pork rinds.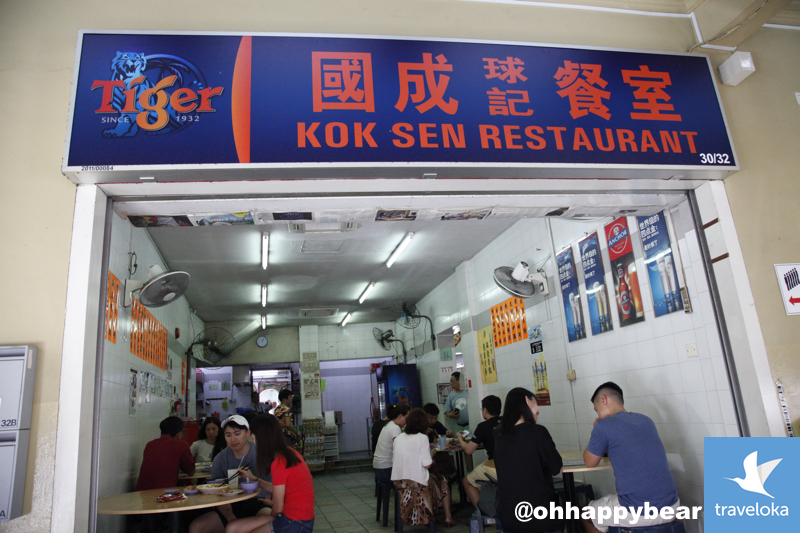 Kok Sen Restaurant (Map) #30 Keong Siak Road, Singapore. Daily: Noon – 14.30, 17.00 – 23.30, T: +65 6223 2005.

3.

iconic chicken rice loved by many singaporeans
Singaporeans we met all quite agreed that chicken rice and Bak Kut Teh are their national dishes. But where they would actually go for the best chicken rice? Now I got the answer, and it is not that media-fatigued place where the queues are always lengthy with tourists.
Heng Ji Chicken Rice on the second floor of the China Town Food Centre is a favourite dive for local foodies when it comes to this old-school national comfort dish. This place is praised for still cooking their chickens the old way, by alternately submerging the whole birds into the simmering soup, perfecting juicy meat at the end. Also, the rice is still cooked with real chicken fat, hence naturally fragrant, with a light couscous-like texture. While Singaporean chicken rice is not as prominent in ginger and garlic as the Thai version, it must be served at its best with three sauces – dark soy, house-made crushed chilies (for sourness and spiciness), and fresh minced ginger sauce (my fav). Connoisseurs, of course, will go for the thigh meats. Again, notice the hours and go as early as you can.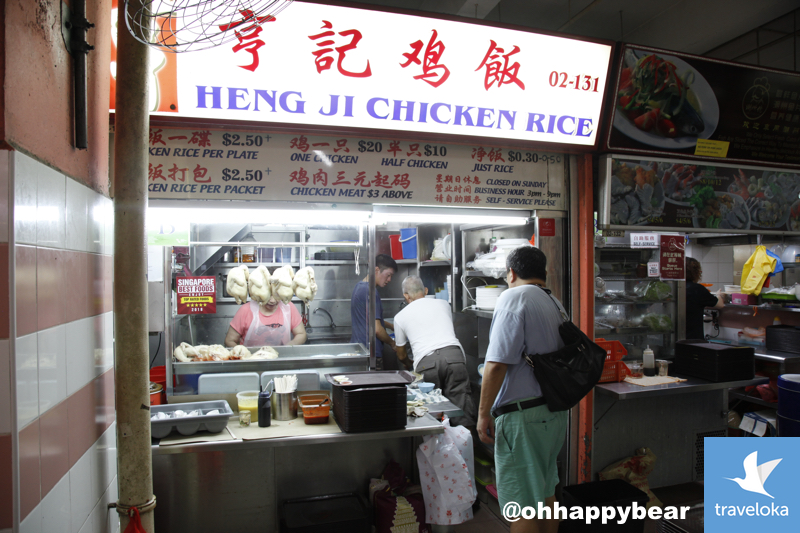 Heng Ji Chicken Rice (Map) #02-131, Second floor, Chinatown Silk House, Smith Street, Singapore 050335. T: +65 6327 1654, daily (closed Sun) 15.00 – 21.00 or until run out.

4.

TEOchew-style pork + fish ball noodle in bedok
Singapore is not short of good noodles, but this Teochew style pork + fish balls + shrimp noodles at Bedok Shopping Complex piqued my curiosity about how food really did travel. This particular style of pork-based clear soup, naturally sweet and subtly fragrant, served with your selection of noodle, minced pork, shrimps with spoonfuls of crispy pork rinds and crispy shallots is so similar to what we generally called 'pork noodle' in Thailand. But in Thailand, we use crispy fried garlic and cilantro together with the spring onion whereas in Singapore they use crispy shallot and only spring onion as herbal garnishes.
Lau Lim Mee Pok has been around for over half a century, now the shop is run by the second generation who expanded the franchise all the way to Indonesia. Good quality food, excellent value for money, plus scrumptious side dishes such as old-style Lao Zhong Zhong (assorted fried goodies, and prawn fritters), Malay-style breakfast of Nasik Lemak and Singaporean kaya toast and soft-boiled eggs + kopi are also available because the queue, again, is usually long. This place is open from breakfast until late afternoon.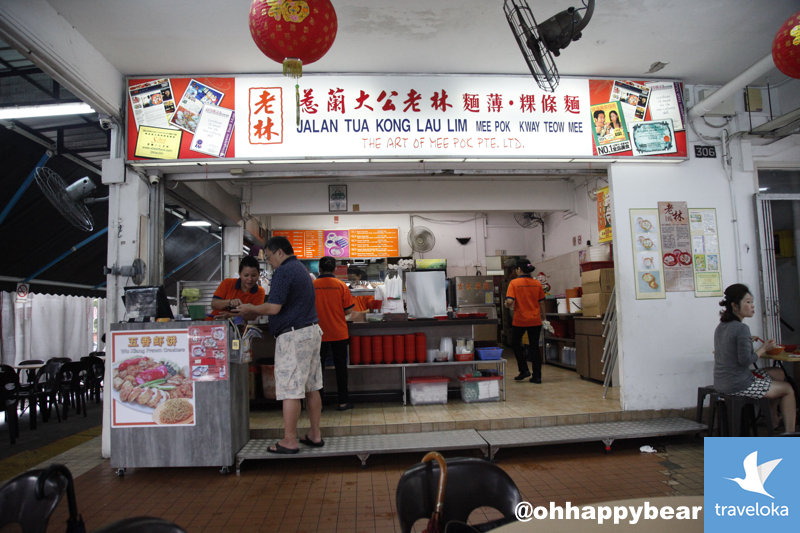 Lau Lim Mee Pok (Map) #306, 308 Bedok Road, Bedok Shopping Complex, Singapore, Daily: 6.30 – 17.00, T: +65 6241 0201

5.

the best banana fritters in singapore at the maxwell food centre near china town
Mark the date, this coming October would be the last month that this number one banana fritter of Singapore will operate. Corlinn Lim – the second-generation owner/proprietor of the famous and legendary (and really really scrumptious) Lim Kee Banana Fritters has announced and confirmed (with us again, too) his absolute retirement. He is just 52 years old, way too young for that step in life, but Mr. Lim was adamant despite the loud and clear outcry from the local foodies. 'I am getting tired; the behind-the-scene process and preparation took long hours. There are so many things you didn't see here. And no one could do the fritters the way needed. I used to train my own brother for three full years. To no avail!! The devil, as you say, is in the details."
The secrets are in everything that makes for this naturally sweet and juicy banana encased in this amazingly light, crispy, and perfectly crunchy batter. A good selection of the Rajah banana from Malaysia has to collide well with the balanced batter – a mixture of three types of hand-milled rice flours for delicious consistency. Also, the frying temperature, the quality of the oil all make up these perfect, perfect banana fritters. This banana fritter alone makes for a really perfect reason to hitch a flight to Singapore. ASAP.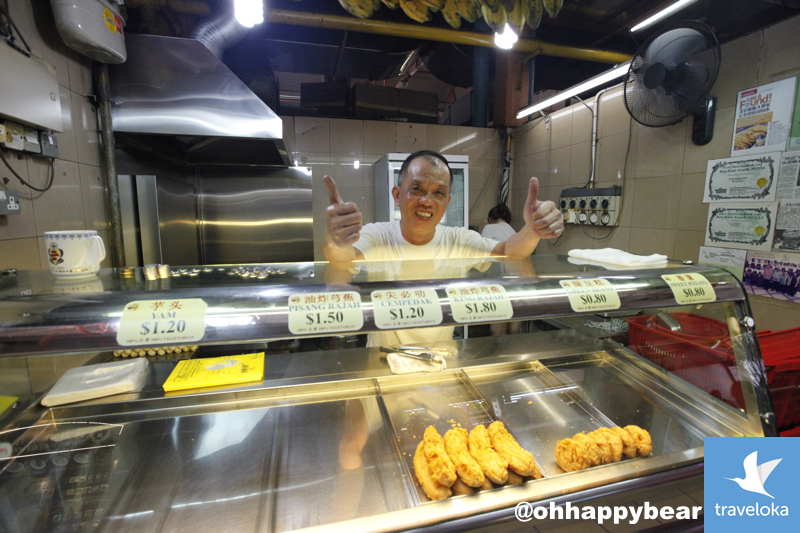 Above: Mr. Corlinn Lim who announced his retirement to be this October, created an outcry among Singaporean foodies for they will never again get to eat the delicious banana fritters that has been around since 1952.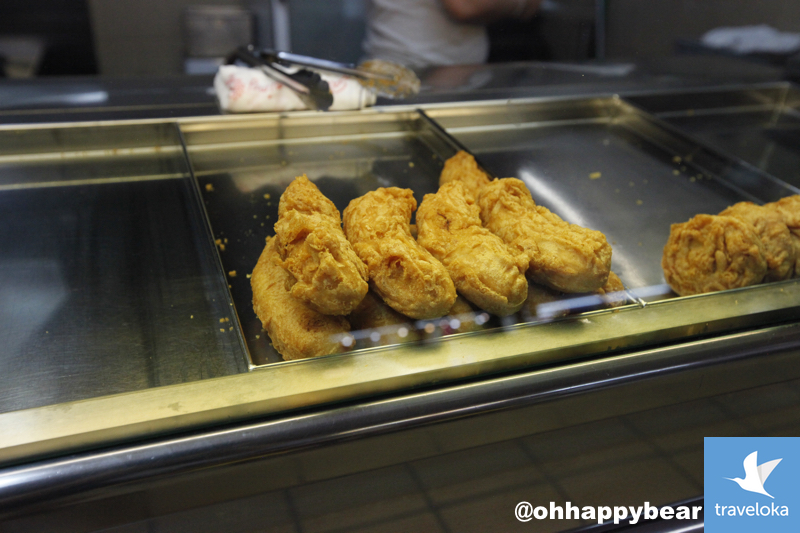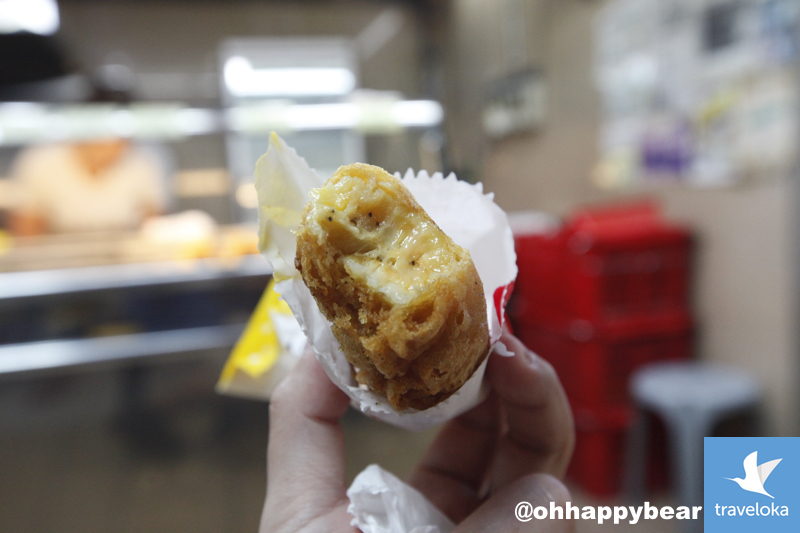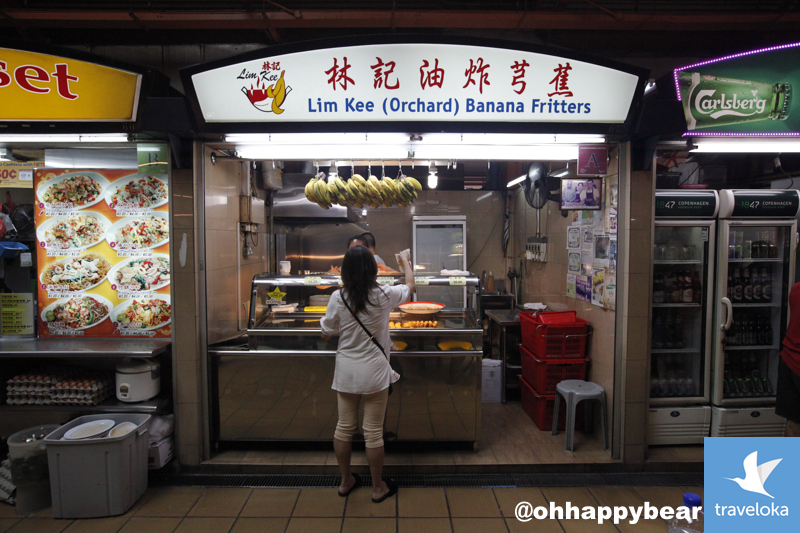 Lim Kee (Orchard) Banana Fritters (Map) #61 Maxwell Food Centre, open daily: 11.00 – 19.00 or until the stock lasts.
MORE ON SINGAPORE