Since
when that Thailand has become a land of degustation menu? I guess it's just something that happened when we have loads of aspiring young chefs looking for a way to showcase their new cooking. Take
Saawaan
, for example, a new addition to Thai fine-dining that only offers a tasting menu of Thai food, interpreted by the two young female and very interesting Thai chefs.
The restaurant is located in Soi Suanplu, just off Sathorn Road. Or Sathorn Soi 3, roughly about half way between BTS Chong Nonsee and MRT Lumpini. Or if you drive, parking (free two hours, Bt30 for each extra hour) is available at the nearby Somerset Park Suan Plu apartment. Saawaan is a glass-clad shophouse with black and gold its primary shades. The place only serves dinner, from 18.00 onwards. Its small place with just a handful of tables means you might want to make an advanced reservation, although walk-ins are also welcome.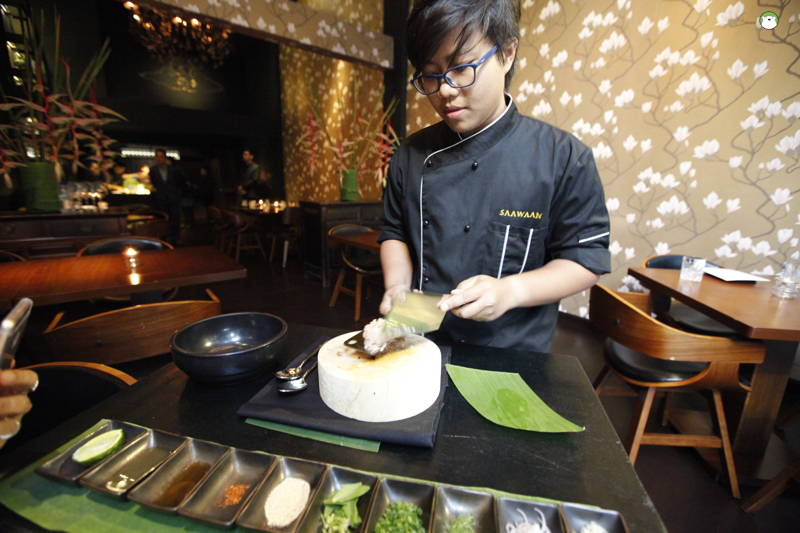 Saawaan means heaven in Thai, and in this case they are deconstructing ubiquitous Thai dishes and reinterpreting them into a whole new dining experience. The tasting menu consists of 10 courses, yet you will end up eating 13 thanks to the additional amuse-bouche, intermezzo and petit fours at the end. The price for the food is Bt1,950++ per person (about Bt2,300) and for drink you can choose from a free-flow wine pairing (7 wines, for additional Bt2,350++ or about Bt2,750) or free-flow tea pairing (4 teas, for additional Bt680++, or about Bt800). Although the menu is pretty much fixed, you can still inform them of your food allergies and aversions, if any.
Since this is a new form of Thai classic dishes, what you see on your plate might not be what you get. Classic 'son-in-law' eggs or usually soft-boiled eggs deep-fried and coated with thick tamarind + palm sugar syrup and served with toasted shallot and dried red chilies are served here in a new form. In the shell. The tamarind sauce is made into a thick paste, palm sugar into a syrup, toasted shallot into a cream and coriander into a purée. A totally makeover of this old recipe, and you are encouraged to mix everything for the wholesome flavours in one bite.
Saawaan's chef de cuisine Sujira 'Aom' Pongmorn, at a table-side visit, explained the adaptation of 'Goi Pla' or Thai style ceviche usually made from red meat but here from seawater fish. Thai food is always dominant by herbs, and in this case fresh and super aromatic mix of laab-style aromatics (shallots, lemongrass etc..) finely julienned, hence mixed so well into every bite.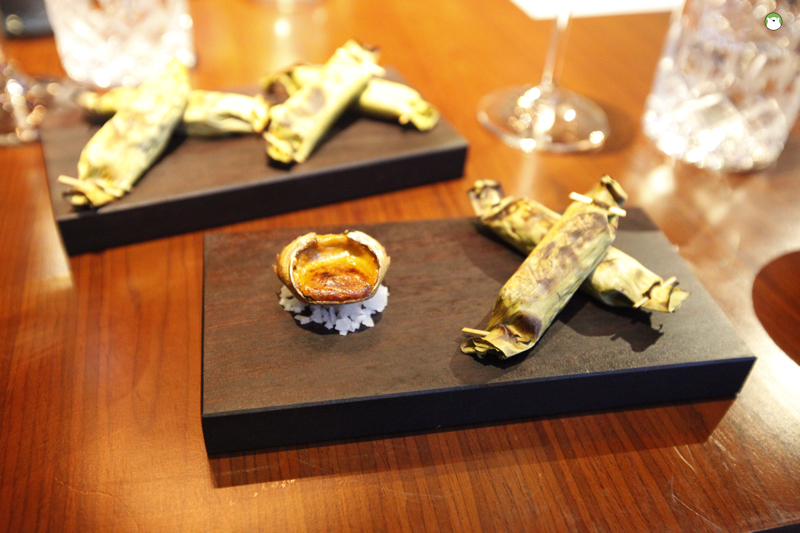 Thai food is known for requiring a lot of prep time if you choose to do everything yourself. Take the ubiquitous curry paste, for example. Buying a ready made sachet and pop it into a pot is one easy story. But then, if you really want to know all about the paste or to make it exceptionally delicious, you will need to learn the ingredients. And there are more than 10 for each type of curry. Well-made curry paste gives a well-round, fragrant and fresh tasting result. And that means a good balance and keen judgement of herb-spice ratios and careful selection of everything. I love that although Thai food is already very tasty and scrumptious, Chef Aom manages to create some surprises in each dish. Coconut milk replaced water in the grilled sticky rice that is served with crab roe curry (pictured above) and one-minute cucumber pickle – the beautiful garnish in below dish of fermented beef salad – adds a refreshing taste we never we knew we wanted in that dish. Plus the shredded deep-fried ginger deepens the overall flavours of this already very tasty dish so well.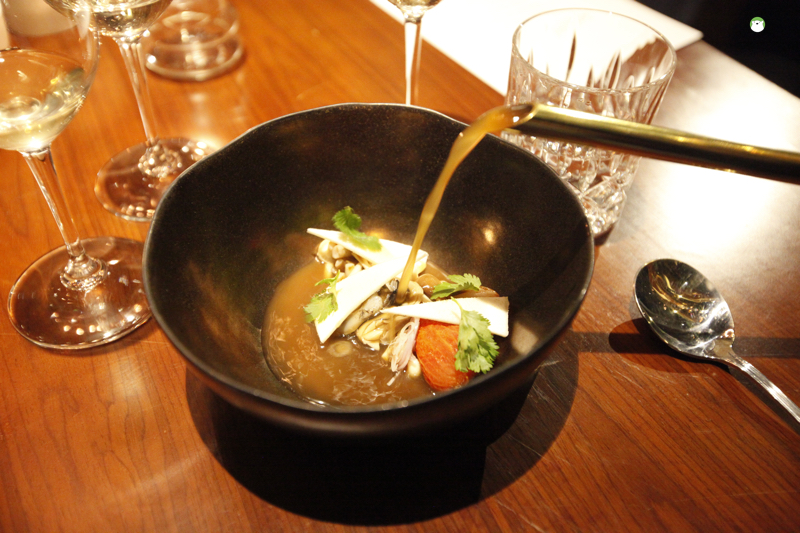 By taking the cooking methods as the menu theme, Chef Aom makes a soup of 'tom klong' which is different from tom yum by the fragrance of the toasted herbs. I personally wish the soup is a bit more fiery, like a good bowl of typical 'tom klong' should be. But this bowl here is not too bad. More of a well-rounded, smooth-going taste that pairs pretty well with the daintiness of the fresh oysters.
I think the highlight of this meal is their 'pad krapaw plamuk' or stir-fried squid with holy basil (below). Usually, a complete hearty one-plate meal of 'pad krapaw' is favoured with an over-easy-yet-crispy-at-the-edge fried egg. Here, not only that they gave this common dish a total plastic surgery, they even transformed the egg by pickling the yolk and zesting it to serve. The squid was finely finely sliced into string fettuccini form, coated with the squid ink and stir-fried with holy basil sauce. A novel and fun way to experience this familiar flavour.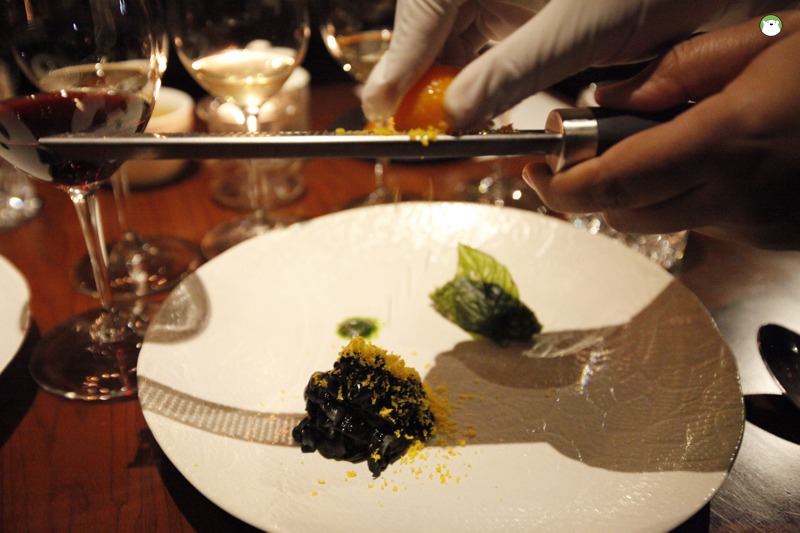 Our main courses come in two dishes. One is Iberico Secreto pork dry-rubbed with toasted chilies and rice and charcoal-grilled to a pink interior. The meat was juicy with intense flavours from the rubs. The young tamarind sprouts were used as edible and fragrant garnish.
Below is the final savoury of 'free-range chicken in white curry served with 'forget your husband' rice. White curry is a type of curry with no chillies but intensified in flavours with a bunch of strong herbs – lemongrass, kaffir lime leaves, garlic, shallot – in a simmer until fragrant and then balanced out with tamarind pulp and fish sauce. Usually you will find this type of white curry matched with sun-dried beef, but here, they serve it with rouletted chicken (so juicy), and a spade of the hill-tribe sticky rice known for its divinity of deliciousness that can easily hypnotize you away from your husband (or wife, I suppose). The grilled pineapple proves to be a lovely sweet/tangy touch.
Saawaan also features Thailand's rising star of a pastry chef – the French-trained 'Paper' Arisara Chongphanitkul who is known for her fun twists with Thai flavours adding into very very classic French pastries. At Saawaan, her featured 'egg custard with pumpkin' or sangkaya has a long list of about 10 different ingredients – all French. Coconut sugar cream anglaise, pumpkin custard, coconut rum gel, pumpkin seed praline, pumpkin tuile, and so on. The result is the dish below. Still very French in the prep, but totally Thai in taste.
The last dish was Chef Paper's petit fours – somsa citrus tart, jasmine meringues (the white part of the garland), mango + passion fruit candy (the yellow part) and then durian chocolate truffle. Love them all. Just fantastic.
Saawaan: 39/19 Soi Suan Plu, Sathorn Road, Bangkok. Daily (closed Tuesdays): 18.00 – 23.00. T: (+66) 02 679 3775. Map.
---