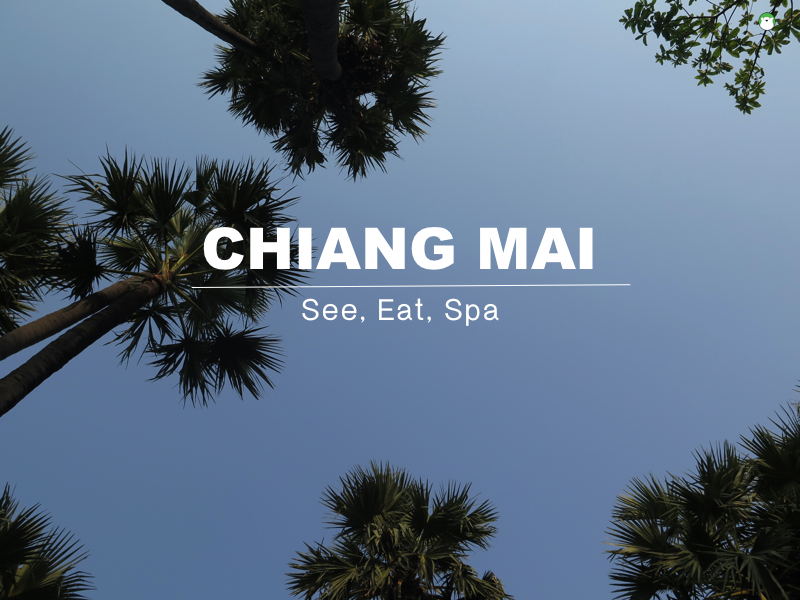 It's late March and the scorching summertime climes are in full swing. But Chiang Mai – usually the locals' destination for the cooler months (if any) – has just proved that it is, in fact, an all-seasons place to be. The province that is dubbed the Thai capital of the north definitely has more to offer when it comes to delicious food, gorgeous, gorgeous temples and award-winning spa destination. This is a short trip of two nights and three days, and here are what we gloriously achieved in terms of 'see.eat.spa' during the time.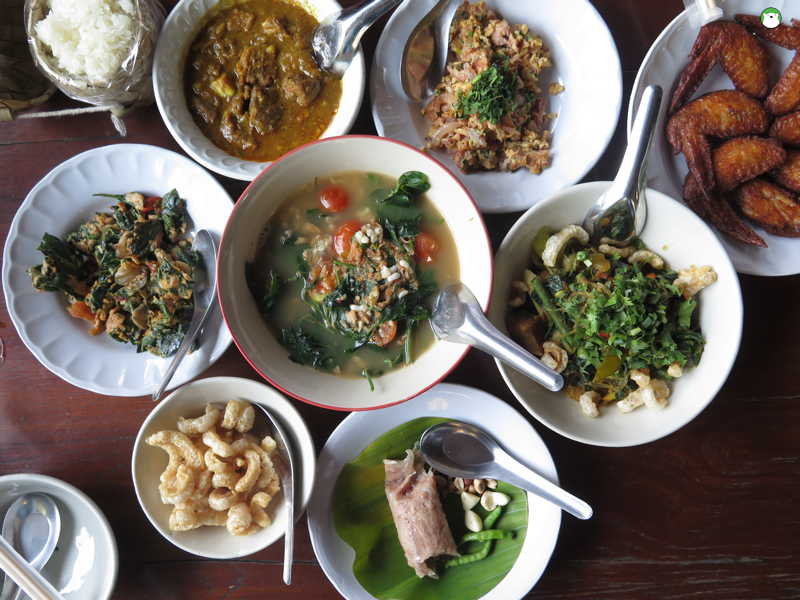 EAT>>
Heun Jai Yong (เฮือนใจ๋ยอง). This Lanna-style homey restaurant immediately made us feel right and truly at the heart of Chiang Mai.
Off the plane in the afternoon the first day, and we had this super lovely meal. And felt fantastic. The Northern cuisine is comparatively milder in tastes than other regional cuisines in Thailand, but it seems to me that this is not the case. The foods here are quite tasty.
Thai Yong
(ไทยอง) people who now settled in the
San Kam Paeng area of Chiang Mai
are descendants of Burmese people who migrated within the expansive Lanna empire two centuries ago. And they, thankfully, brought along their delicious foods and culinary cultures.
In the pictures are highlights of our meals: preserved pork sausage (jin moo) stir-fried with eggs and cilantro, deep-fried chicken wings, crispy pork crackling, gaeng hung lae (Burmese style curry), spicy herbal soup of mixed veggies and red ant roes.
Heun Jai Yong (เฮือนใจ๋ยอง) Open daily (closed Mondays): 10.00 – 16.00. T: (+66) 086-671-8710. Click here for map.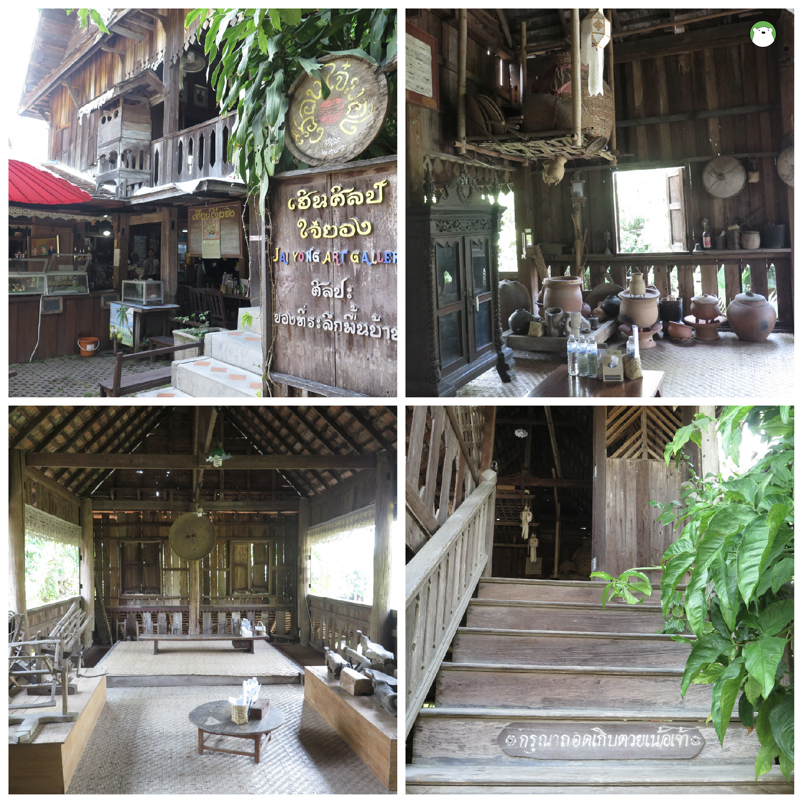 STAY + SPA >>
RarinJinda Wellness Spa Resort (ระรินจินดา)
. This resort is smacked in the middle of Chiang Mai's historic quarter of
Wat Kate community (ชุมชนวัดเกต)
. A trading hub since the time of the Lanna empire, this location by the river Ping has a long and interesting history, harking back for more than five centuries.
RarinJinda
– a well-kept luxury resort with their own dedicated spa + full treatments and facilities – is an award-winning wellness destination. And with its super-convenient location, you can come here indulging in their treatments, and mixing your days conveniently with some city-exploring possibilities.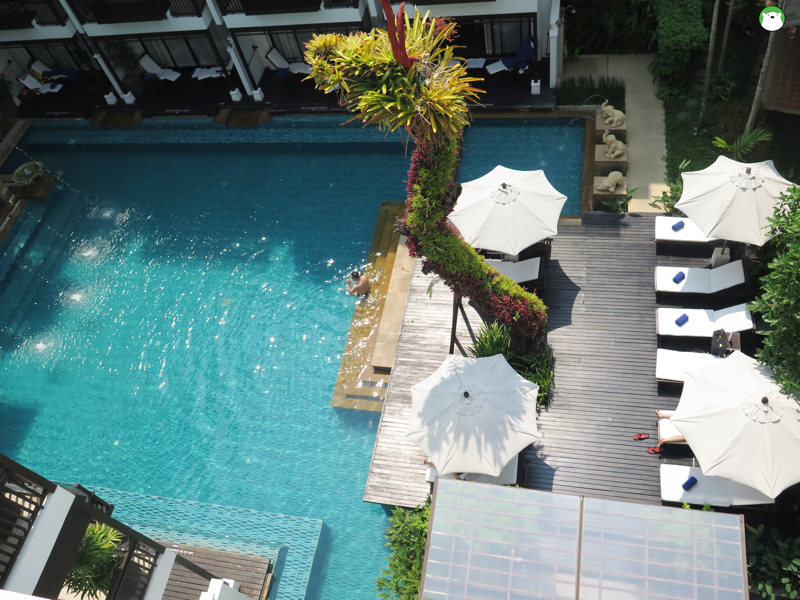 Spa + Guest Room >> RarinJinda has 35 guest rooms, each with generous space (from 46 sqm, 53 sqm, 93 sqm and 164 sqm), located in three separated buildings that enclose its common swimming pool. Its spa building is multi floors of massage rooms, Vichy shower, Hydrotherapy tub, infrared sauna. The ground floor houses their state-of-the-art indoor heated hydrotherapy pool (pictured below), and semi-outdoor 'onsen' area with three pools: hot spring pool (40-42C), cold pool (18-10C) and soda carbonated pool (34-36C). The onsen pool uses the concentrated onsen essential minerals acquired from the Gero hot spring in Takayama prefecture of Japan.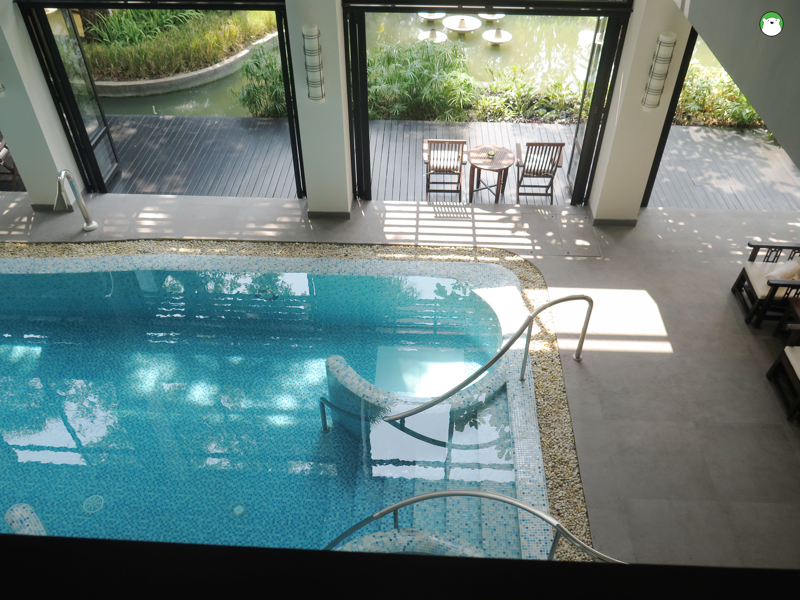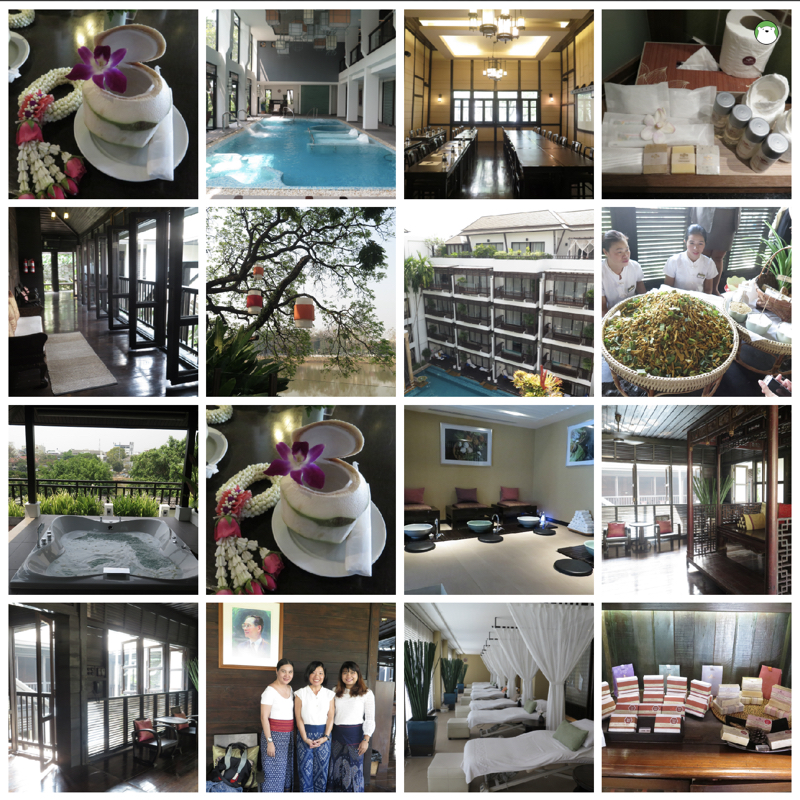 This resort also has a lovely history to this particular area of Chiang Mai. Coming here, you will see many giant, spreading and super awesome trees just about everywhere. Also reminiscences of the old days are many of the remaining magnificent wooden mansions. RarinJinda's lobby and reception are in a historic 140-year-old antique teak house in a Burmese-colonial style that was popular back in the day.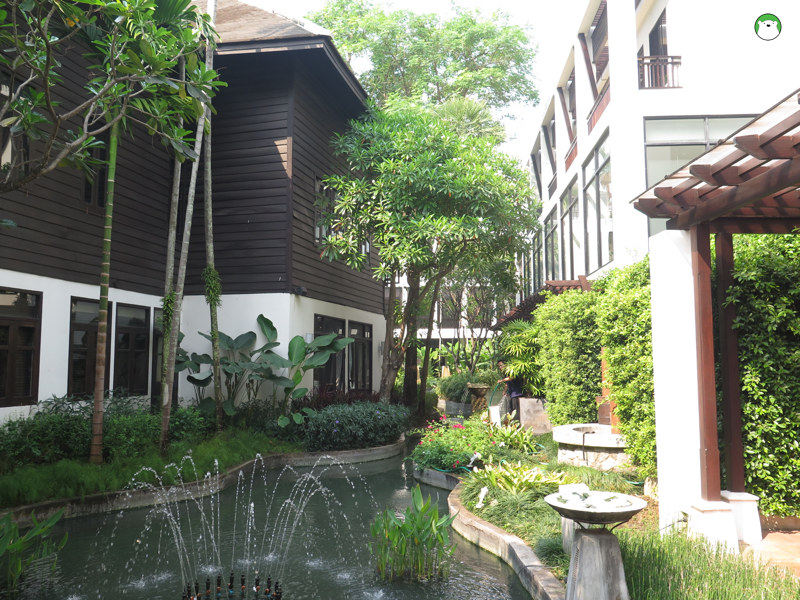 This house used to belong to Dr. Jinda Singhnetr (นายแพทย์ จินดา สิงหเนตร) – a medical doctor whose self-dedication throughout his entire career made him a prominent, outstanding and much-loved person in Chiang Mai. Dr. Jinda passed away in 1985, his own house, that he bought from Mr. Saan, a Burmese log merchant, has now been completely restored into the loving hands of RarinJinda (part of whose name is a tribute to the doctor). The complete restoration works earned this building an Architectural Conservation Award from the Association of Siamese Architects.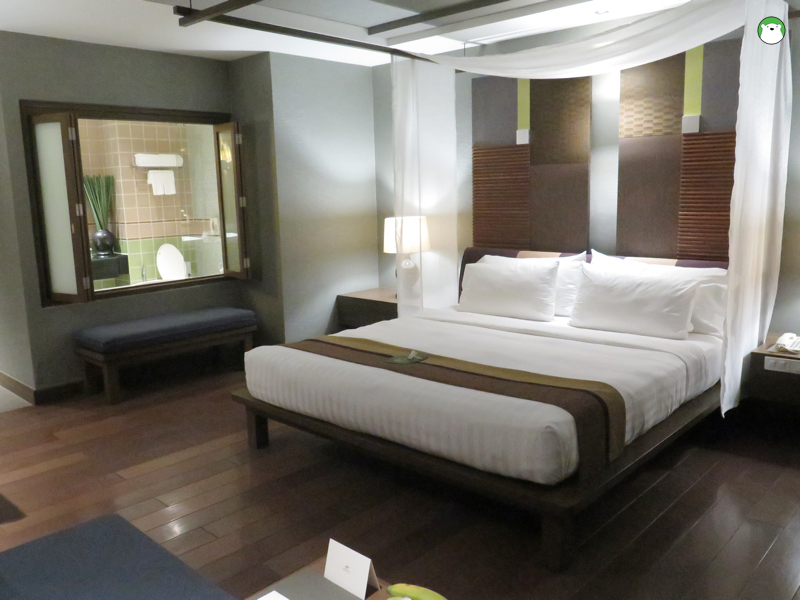 Room + Amenities >> Above is my room for two nights. A 53-sqm deluxe pool access with terrace by the pool and Jacuzzi. Awesome for instant pool treatment because the common pool is just right on my balcony. In fact, this is my second time staying at RarinJinda, and its room, fully equipped and so well-maintained after all these years, is as cosy and comfortable as I remember. The designer cared about the ergonomics; things look beautiful as well as they are comfy and sensible when used. Main and separate lighting switches are well-designed. It's great that I can turn on/off separate lights for reading, night lights and so on and master switches at the door and at the headboard for convenience. In-room amenities (soaps, lotions etc) are all spa-grade. Love its herbal, relaxing scents.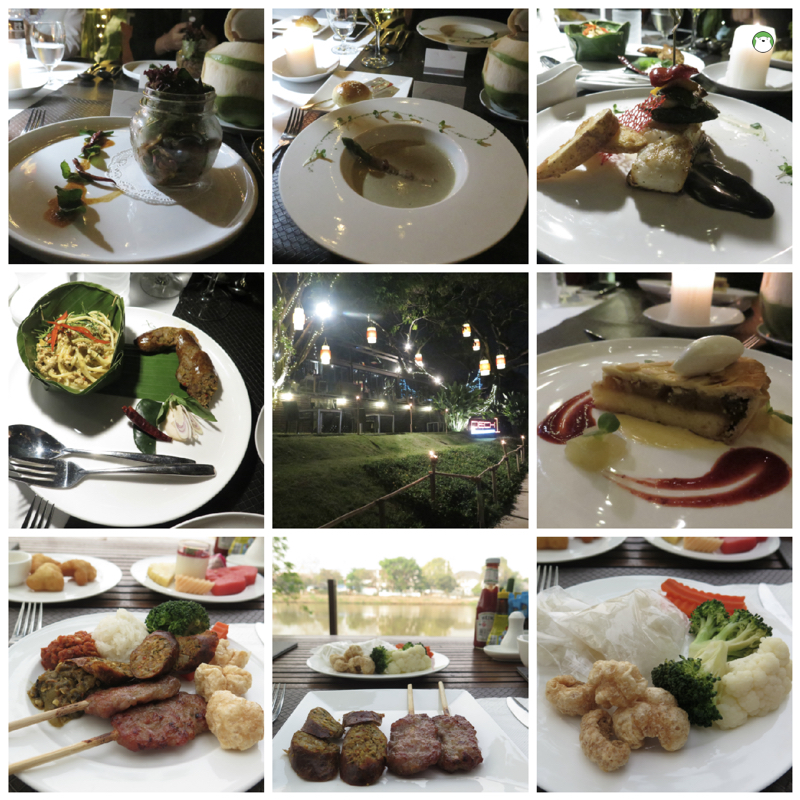 Breakfast + Dinner at Deck 1 Restaurant >> Pictured above are our hearty evening repast and breakfast at Deck 1, RarinJinda's main restaurant. The dinner was from their a la carte menu, a good mixture of Thai and Western. Delicious fusion of Thai tastes and western familiarities. Salad with laab-style (toasted chilies mix) of grilled pork, cream asparagus soup served with fragrant dinner roll, Chilean sea bass served with charcoal + champagne sauce and spicy spaghetti stir-fried with creamy sauce and Chiang Mai's famous 'sai-ua' (ไส้อั่ว herbal pork) sausage.
For breakfast, with the choices of Chiang Mai's staples such as spicy green chili dip (nam prik noom), grilled pork on skewer, sai-ua and sticky rice, I totally forgot about the usual staples of toasts and eggs. Just my real inner preference for Thai food. Always.
RarinJinda Wellness Spa Resort, 14 Charoenrat Road, Tambon Wat Kate, Chiang Mai. www.rarinjinda.com. T: (+66) 053 303 030. Click here for map.
---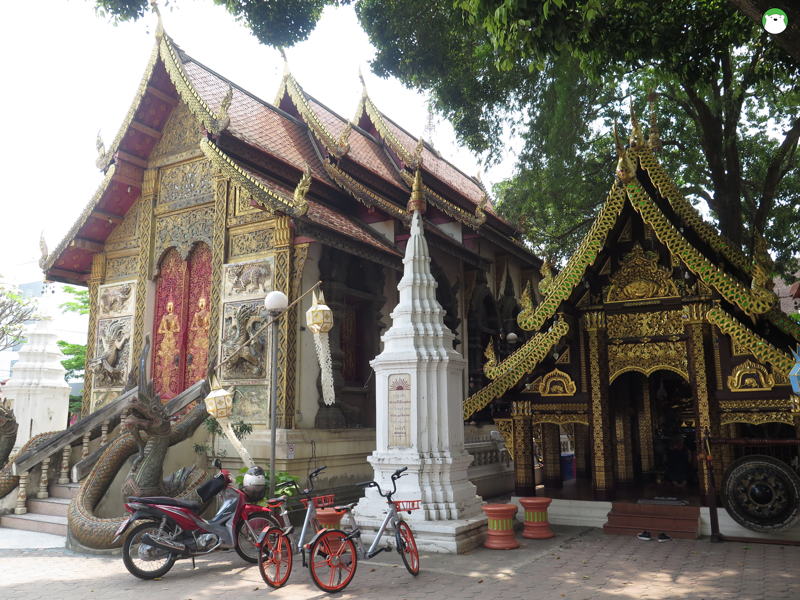 SEE >>
Wat Kate Karam or Wat Kate (วัดเกตการาม)
. This exquisite temple has been the center of this particular community since the year 1428 (590 years ago). It was recorded that this part of town saw a great mixture of people from cultures such as Burmese, South Chinese, Chinese, Khamu trivesm British, Indian, American missionary, Sikh, Muslim and more. And that might reflect in the exquisite patterns and decorations of this ancient temple, too.
Wat Kate is only a short walk from our resort. Its ancient stupa an auspicious symbol for those who were born on the year of the Dog, hence a lot of dog ceramics and figurines as a tribute. But they also have ceremic figurines of other zodiacs for those not born in the Dog year, too. In order to be a complete temple, one must contains three key elements: an ordination hall อุโบสถ, a praying hall วิหาร and a stupa พระธาตุ. Wat Kate has all three, hence a main sacred place in the area that people gather on big religious days.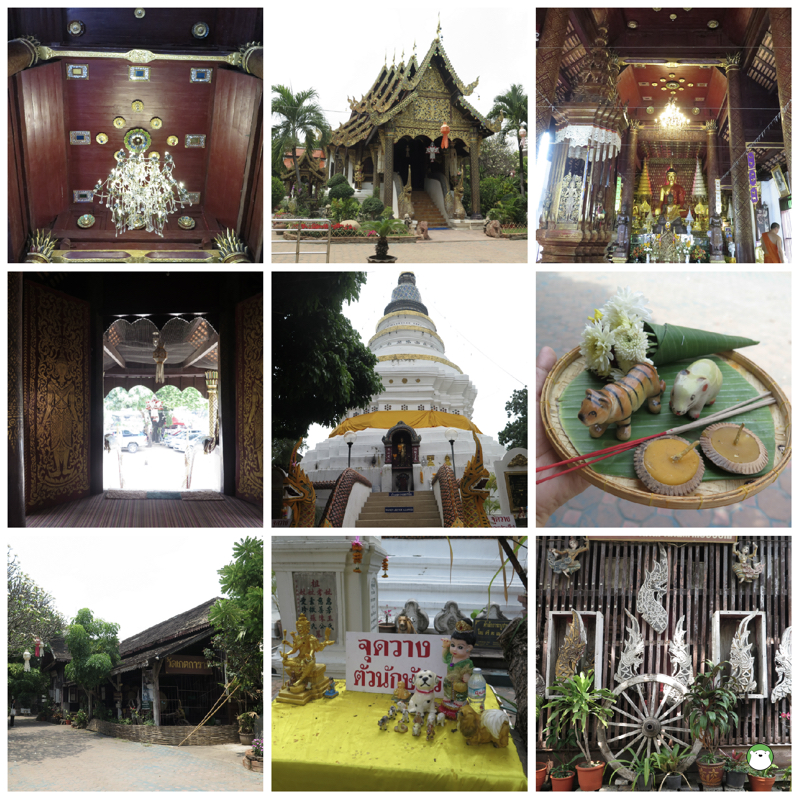 ---
EAT >>
An Ja Kin Villa Chef's Table (อันจะกินวิลล่า).
"An Ja Kin Villa"
means
the villa of people who can afford to eat and, personally because it's also important for me, choose to eat well.
And that applies perfectly to our experience there. Run by a passionate cook
Khun Goy
, whose previous life in Bangkok involved number-crunching, strategic-planning, purchasing-dealing and a lot of traveling before she decided to put her foot down and said to herself 'enough is enough' and migrated her body and soul to her dream city of Chiang Mai. "I came here for food," she said. "There're so much you can do in the city with lots of great produce like Chiang Mai."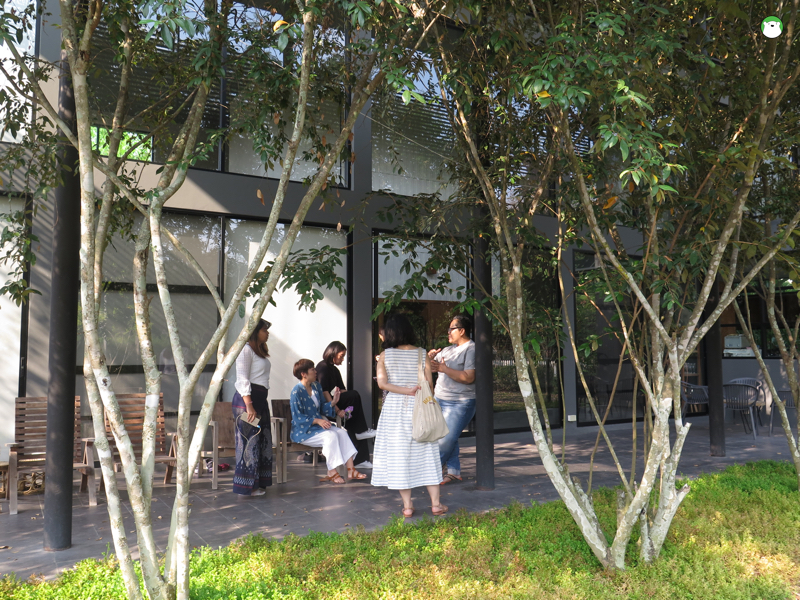 Set in her own home with herself as the cook (I say chef/owner in today's chefy parlance sans apparent drapes of tattoo), the guests who she strictly accepts one group per day, at least 4 up to 12 people max, will get to enjoy Khun Goy's hearty, scrumptious homey meal. We tried Khun Goy's Western menu and that just blew our mind. Everything was prepared with loads of love and care. This is pure pleasure, and nothing can beat that. Her knowing selections of raw ingredients and solid basics of cooking. This is the best meal EVER in my life. And I think the big part of it is the host herself. Very warm, very generous, and genuinely ego-free. Love this lady.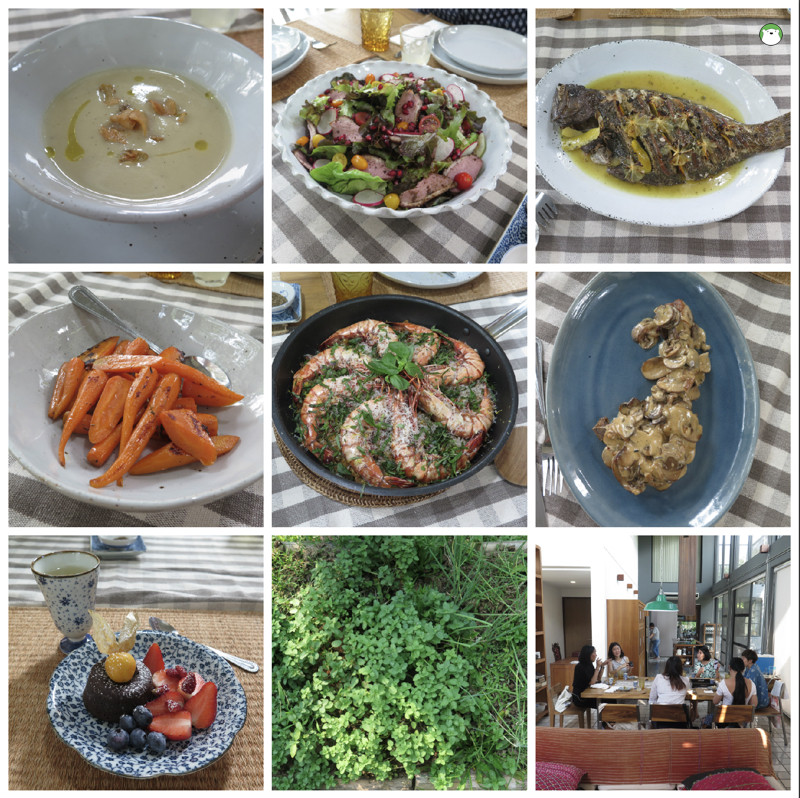 Above picture is our entire meal. We had a Jerusalem artichoke cream soup, sprinkled with its crispy self. The soup doesn't contain any potato and additional starch, hence light and, as Khun Goy explained, packed with the root's natural fibre. Then, we were served with this giant and refreshing bowl of mixed organic salad with 'duck breast pastrami' dressed in honey mustard vinaigrette. In the bowl were Khun Goy's own homegrown heirloom and cherry tomatoes, too. Very special. The fish course was 'Indian Halibut' baked whole with lemon and anchovies. Super tasty. Then, even when we were almost too full, we munched on to her delicious, tender and juicy baked pork chop ladled with creamed mushroom sauce served with a side of tender butter-fried-and-rendered carrot. Caramelized and sweet and fragrant. Again, forgive me for repeating, this is just awesome!
But that's not all. The finale savoury dish which in a Chinese culture would be the fried rice of the whole multi-course meal, is riso (rice-shaped pasta) stir-fried and baked with giant-sized tiger prawns. The pasta was packed with flavours and nasal pleasures (bacon, rendered until almost nonexistent except for its fragrance, onion and generous amount of dried chili flakes). So delicious.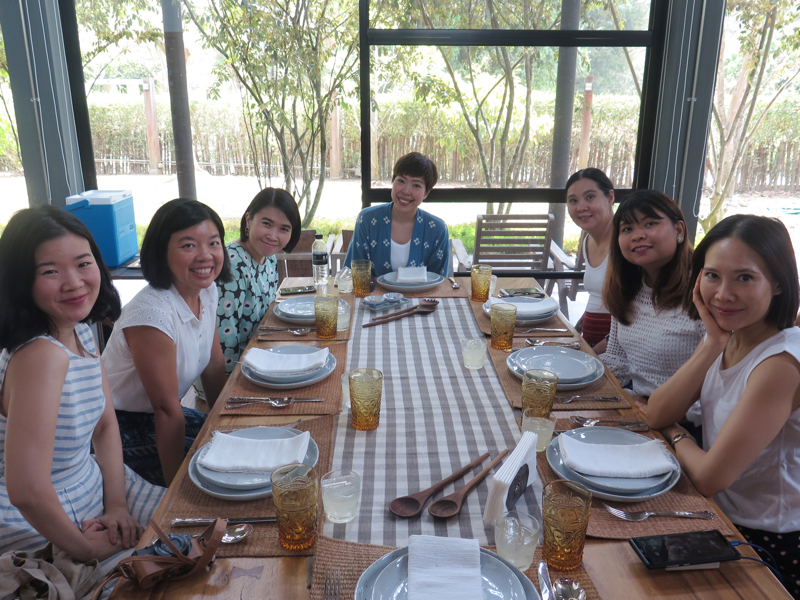 For dessert, we all went nuts when served with 'Chocolate cake lava' with lots of berries and paired with Lychee green tea. Khun Goy, saying that since she is not a real, trained pastry chef, this is as best as she can do. But according to our unanimous consensus, she doesn't need to be a 'trained chef.' She excelled with her passion. And we all tasted it. It was all fantastic. Loved it.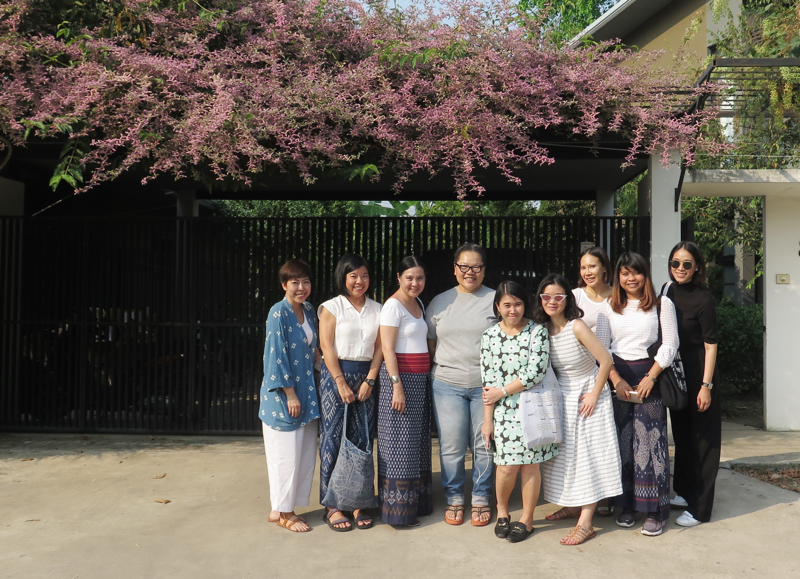 An Ja Kin Villa, Hang Dong area, Chiang Mai. Advanced booking only. T: (+66) 0905614296. Click here for map.
---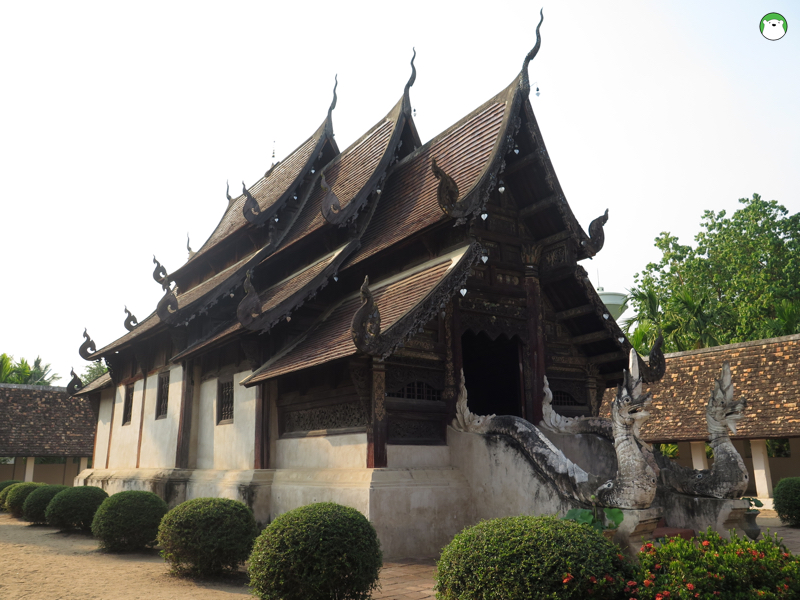 SEE >>
Wat Ton Kwen (วัดต้นเกว๋น)
– this super ancient Lanna style temple is a quiet escapade from it all. This temple is serene, quiet and gorgeous. Wat Ton Kwen is the only temple in the north of Thailand with this well-preserved 'sala jaturamook' or the assembly pavilion that is said to be as old as one century and a half.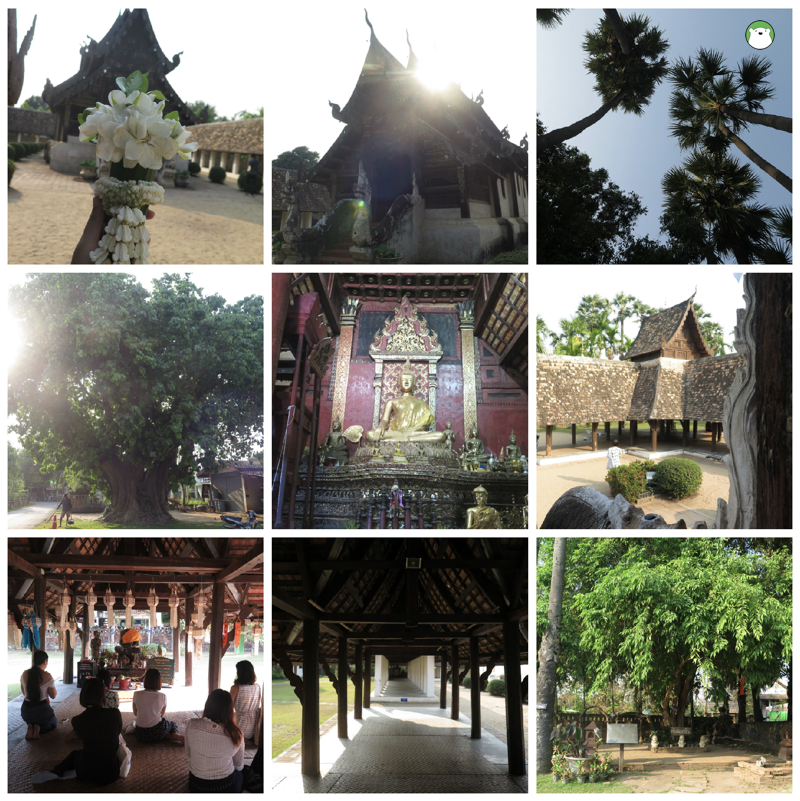 Wat Ton Kwen is so peaceful, we brought along own 'Ket Tha Wa' or jasmine bouquet and garland for the rite. The grounds of this ancient temple are not paved, but covered with sand. Each Songkarn festival, locals would bring back the sands they believe they have taken away from the temple throughout the year with the sand pagoda buiding ceremony.
---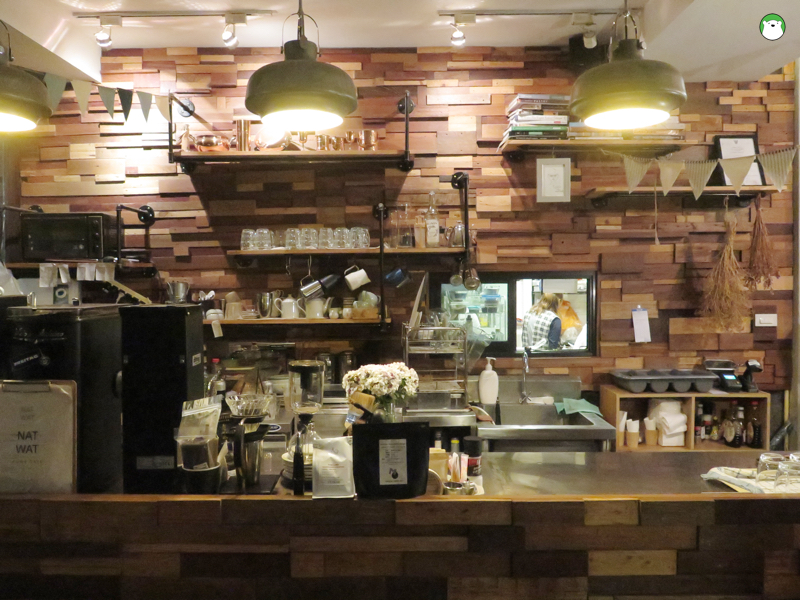 EAT >>
Natwat Home Cafe, Wat Kate branch
. Dinnertime came around too quickly. And we had our delicious 'healthy' dinner at this homey cafe near our hotel. Natwat is run by the chef/owner whose name is Natwat. The place has been open for five years, with a second branch also in 'Suthep' area of Chiang Mai. The food is delicious western.
1. Homemade brioche toast served with chicken liver paté and pear chutney, 2. tomato and shrimp bisque with seafood, 3. apple & celery salad with red (sun-dried tomato) pesto and toasted pine nuts, 4. sweet and sour poached salmon in coconut milk with pineapple salsa (drawing inspiration from Thai summer rice vermicelli called 'kanom cheen sao nam), 5. crab remoulade, 6. coq au vin on spiced lentils and garlic potatoes and 7. the dessert of infused summer berries with run logan ice cream.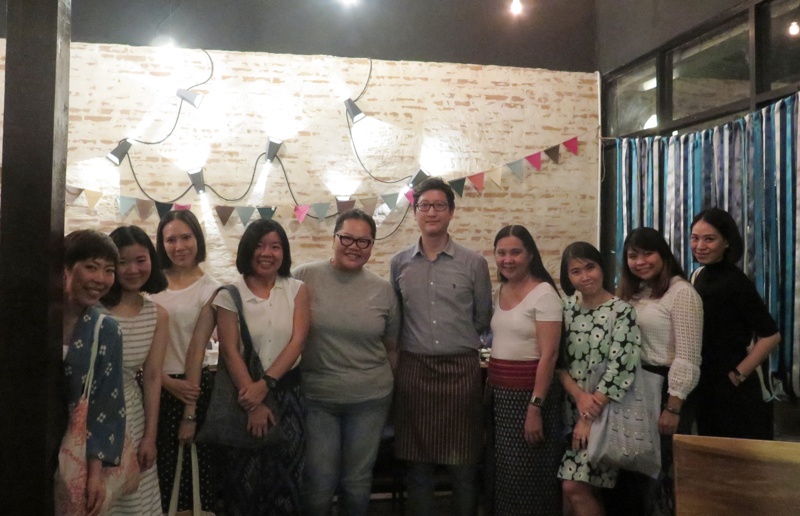 We flew to chiang mai on bangkok airways, asia's boutique airlines with wonderful passengers lounges at bangkok suvarnabhumi and chiang mai. www.bangkokair.com.
Cheers to RarinJinda for hosting this lovely lovely outing to Chiang Mai. For more information about RarinJinda and their spa treatments, visit www.rarinjinda.com.
---