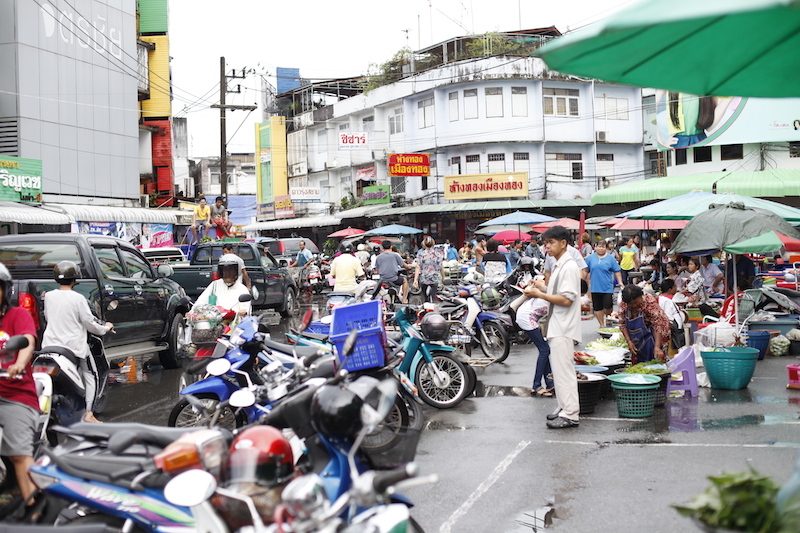 A town's market is always a great place to start exploring local foods. In the case of Chantaburi, their main fresh market – 'Talad Nam Pu' – is the main draw. Named after a fountain erected as a roundabout in the middle of the entrance plaza, Talad Nam Pu is bursting with fresh produce, cooked food and Chantaburi's famous ingredients twice a day: early morning from dawn or about 5am until about 9am and again in the evening from perhaps 4.30pm onwards. I guess the fountain is also the makeshift clock for the market hours, too. When the market is on, the fountain is flowing. It was off when we came back out in the below picture when most of the merchants wrapped up their stalls and called it a day.
พาเที่ยวชมตลาดนำ้พุเมืองจันทบุรีกันค่ะ ตลาดนี้มีน้ำพุอยู่ด้านหน้า เป็นทั้งเครื่องหมายทางเข้าและวงเวียนเล็กๆ ที่รถต้องวนผ่านเพื่อเข้ามาถนนอีกด้านของตลาด น้ำพุจะเปิดตามเวลาทำการของตลาดอีกต่างหาก หากไปตอนน้ำพุเปิดอยู่มีน้ำกระจาย ก็หมายถึงร้านค้ายังขายอยู่ แต่หากไปเจอน้ำพุแห้งผาก ก็แสดงว่าเค้าปิดหมดแล้วนะคะ ให้มาใหม่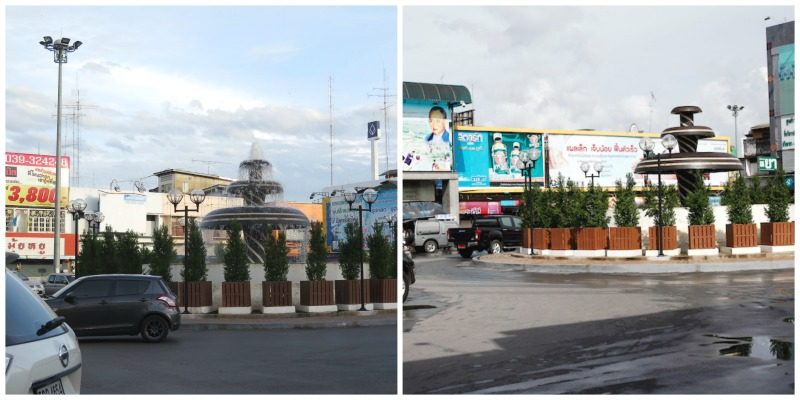 We were at Talad Nam Pu one morning for breakfast. We found this alley with stalls selling one good breakfast item to another. The stall of freshly-fried Chinese doughs served with Chantaburi's unique clear and sweet sauce is upfront. The pork brown rice congee is conveniently located next. And they all share the seating area with another stall selling hot drinks like coffees (Thai style with condensed milk) and poached eggs. This is so the breakfast alley of this market. And it is located right next to the jewellery store Thong Sampan (see below for the picture).
เราไปทานอาหารเช้ากันที่ตลาดวันหนึ่งค่ะ ตลาดน้ำพุเปิดสองช่วงคือ เช้ามากๆๆ ตั้งแต่เช้ามืดจนถึงประมาณ 9 โมงเช้า และตอนเย็นซัก 16.30 น. เป็นต้นไป มีทั้งส่วนอาหารสดและอาหารที่พร้อมรับประทาน จะซื้อกลับบ้านหรือนั่งทานก็ได้ตามสะดวกนะคะ
เดินเข้าไปด้านข้างขวาของน้ำพุ จะเห็นร้านเพชรทองสัมพันธ์ 2 ให้พุ่งไปเพราะซอยข้างๆ นั้นคือซอยที่มีทุกอย่างสำหรับมื้อเช้าค่ะ เริ่มต้นด้วยปาท่องโก๋ หรือที่ชาวจันทบุรีเรียกว่าจาโก้ยหรืออิวจาโก้ย (เหมือนชาวตรัง) ทอดใหม่ๆ อร่อยมากๆๆ รับประทานกับซอสหวานๆ ใสๆ เหมือนน้ำจิ้มปอเปี๊ยะทอดนะคะ ชาวจันทบุรีเค้าทานกันแบบนี้ แต่ส่วนตัวลูกหมีว่าจาโก้ยทอดใหม่ๆ อร่อยมากๆ อยู่แล้วค่ะ ร้านถัดไปคือร้านโจ๊กข้าวกล้อง มาข้นๆ รสชาติดีทีเดียว คนขายน่ารักมาก ขยับร่มให้ตามแดดอีก ติดกันก็เป็นร้านขายกาแฟ ไข่ลวก ทั้งสามร้านมีที่นั่งรวมกัน จะสั่งร้านไหนมาทานก็ได้ สุดยอดค่ะ ชอบมากๆ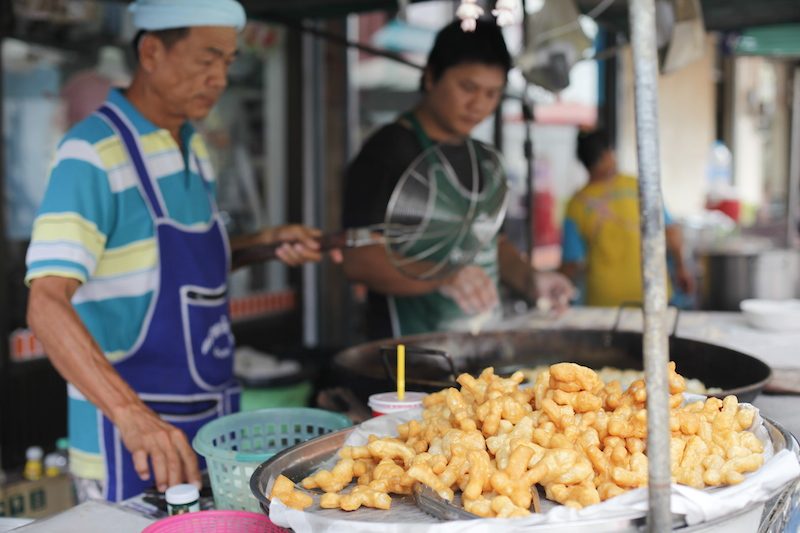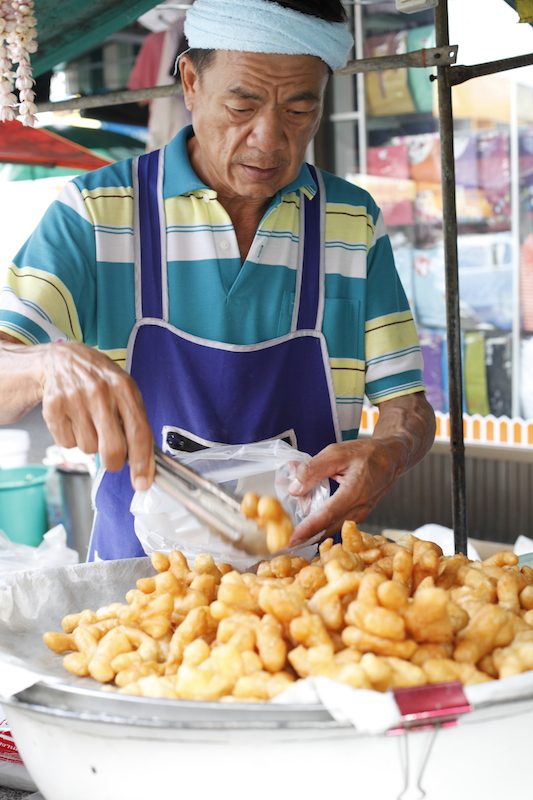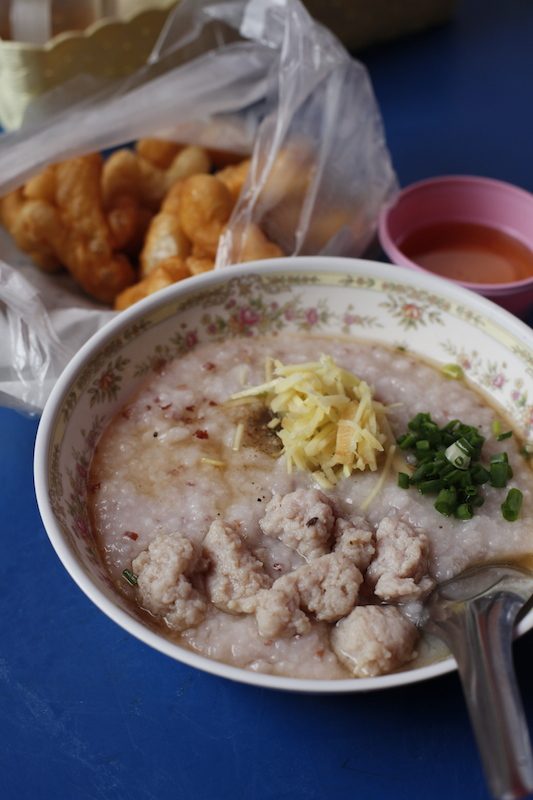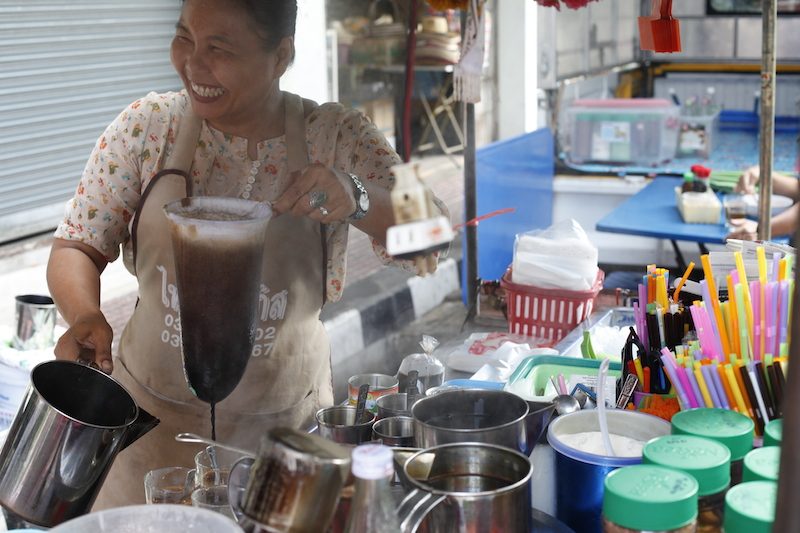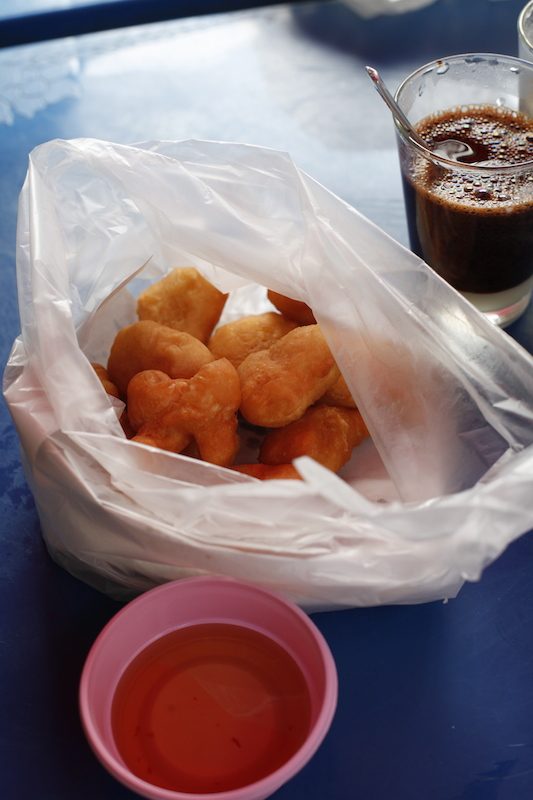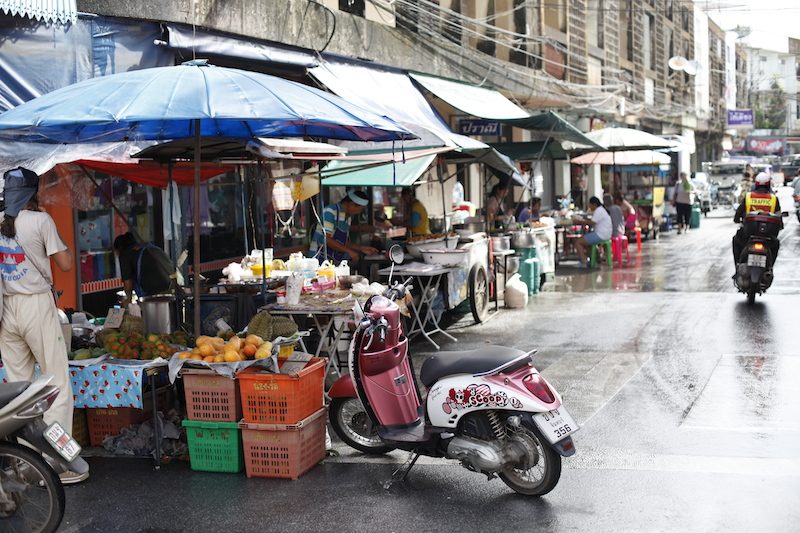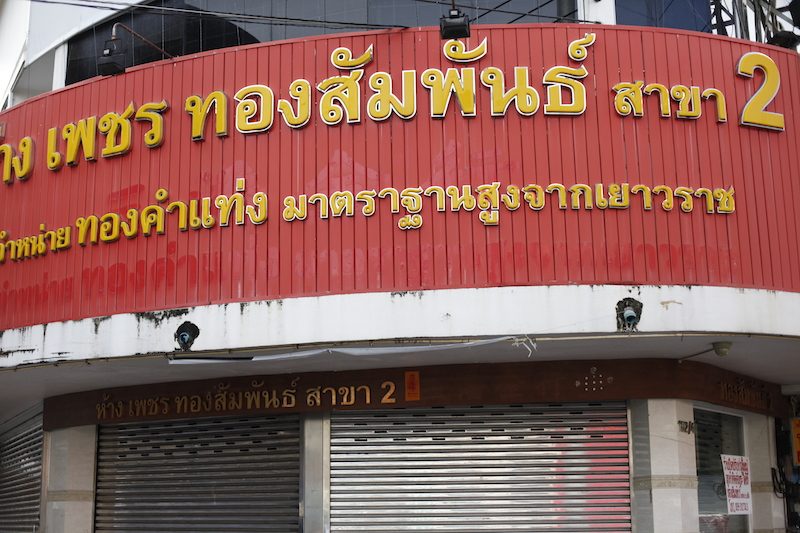 ทานเสร็จก็เดินย่อยเข้าไปในส่วนของตลาดซักเล็กน้อย เห็นอาหารทะเลที่สดมากๆ ลูกหมีเห็นแล้วได้แต่กรี๊ดๆๆๆ ทุกอย่างดูดี น่าทาน น่าซื้อสุดๆ ในตลาดมีร้านขายกระเพาะปลา ก๋วยจั๊บ ถัดมาอีกก็คือร้านขายเส้นจันท์ผัดปู และหมูชะมวง ของอร่อยเมืองจันท์ ที่คนจันท์บอกให้มาลองดูค่ะ
ด้านข้างของตลาดคือร้านขายของแห้งต่างๆ มาเมืองจันท์คงต้องลองดูพริกไทยนะคะ มีมากมาย หลายยี่ห้อราคาใช้ได้เลย (ประมาณกิโลละ 600 บาท) เส้นจันท์แห้ง และอื่นๆ อีกมากมาย ในอดีตจังหวัดนี้เป็นท่าส่งพริกไทยไปทั่วโลกซึ่งอาจจะเป็นสาเหตุหนึ่งที่ทำให้อาหารที่จังหวัดนี้อร่อยดีค่ะ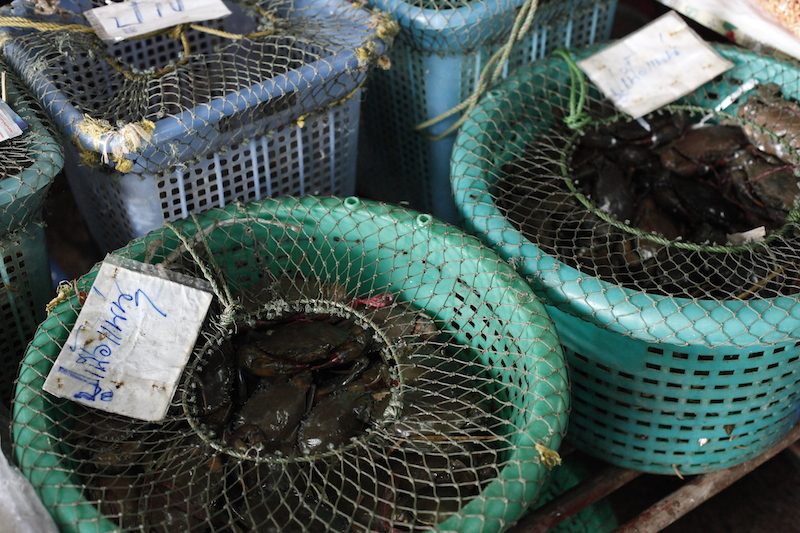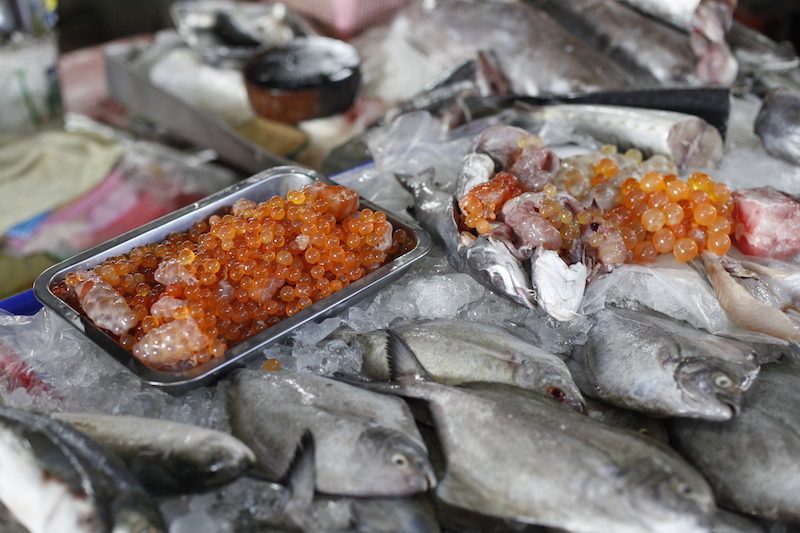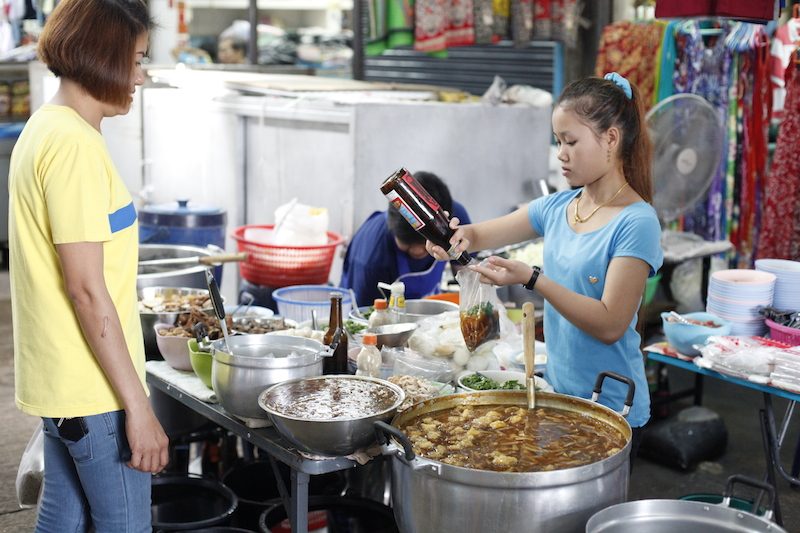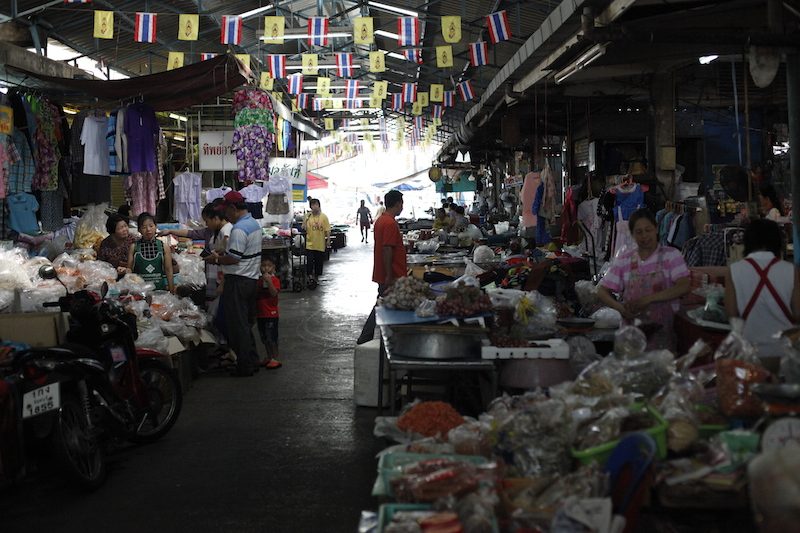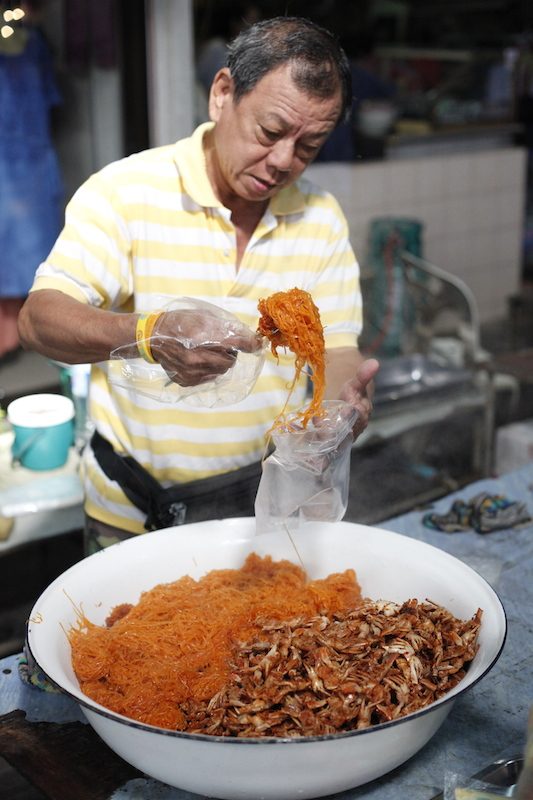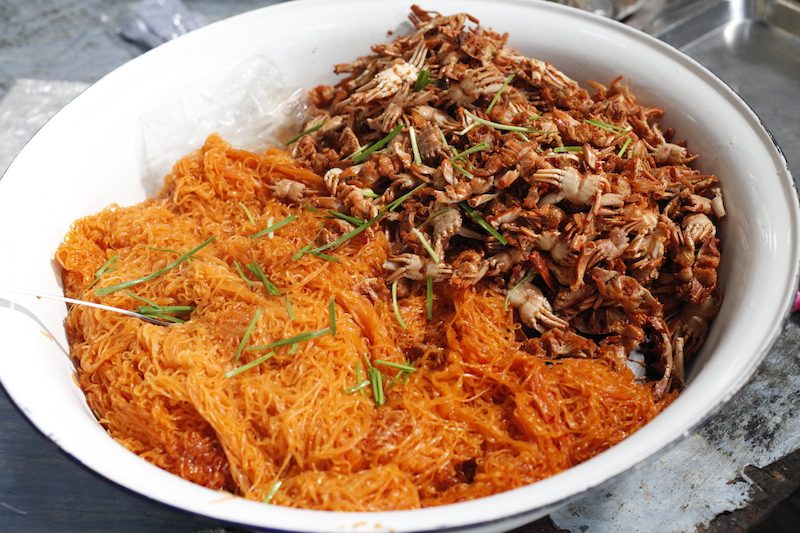 ---
เรื่องและภาพมีการสงวนลิขสิทธิ์ | words and images are copyrighted.